10 Best Golf Shafts for Irons Reviewed
In a
Hurry? Editors choice: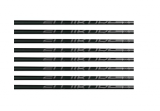 Test Winner: Fujicura Pro Series

Upgrade and customization of iron shafts is not a new concept since it's been going on for many years. In the past, it was carried out by professionals or players who were highly skilled and who were personally involved in the customization of their golf clubs.
Nowadays, it's not only highly skilled professionals but every golfer who has certain skills is interested in replacing their stock shafts with ones of higher quality in their
irons
. Today, even the material has changed, so when it comes to iron shafts, the use of
graphite shafts
becomes dominant.
Both types of materials have certain advantages, and they provide optimal playability so that golfers can decide what works best for them. In this buying guide, we have selected the best 10 to help you make a better decision for their upgrade in an easier and more convenient way.
Standout Picks
Criteria Used for Evaluation
Features
Every product has a few unique characteristics that distinguish it from others within the same category. These characteristics enhance the performance of the product and give a clear idea of what golfers can expect from it. Regarding golf shafts, there are several features we paid attention to.
The main focus, of course, was the performance they deliver and their playability. Next is the flex and the number of flexes the golfers can choose from, and if a model exhibits a certain variety within this area, that makes it more attractive for golfers who look for more adjustability with their style and performance. The degree of the torque, which is related to the shaft stiffness, was also taken into account, as it indicates the general feel and performance. Plus, those shafts that have a greater variety in their kick point, weights to choose from, tip section, and tip diameter were scored more.
Model
The technology is developing with the speed of the light and along with it, golf shafts have developed to an unsurpassed level. This refers to the materials that they are made from, the technologies integrated within their production and the performance they deliver. If in the past golf shafts were just the sticks that the golfers attached the clubhead to, the ones are manufactured in this century and the end of the last century are characterized with advanced sophistication and development. And the frequency of which every new model is launched is even more impressive. Therefore, we thought it was important to value the release date, i.e., when a particular model was launched on the market. The highest scores regarding this criterion feature those shafts that have been recently released or mark the latest addition to the company's array.
Materials
Regarding the choice of materials, it is limited to two types of materials, graphite, and steel. However, with technological advancements, steel shafts are slowly being replaced with graphite shafts. We say slowly because steel shafts are still highly appreciated by many golfers, especially advanced ones because they offer extraordinary control and very subtle feel.
However, as we have mentioned above, with the rise of new technologies, graphite is taking over, so there are more and more graphite shafts that deliver performance similar to steel which is a huge step forward. Graphite shafts are made from carbon fibers that are organized in sheets so-called flags, rolled together to create a hollow shaft. The reason for the graphite dominance over the steel is the fact that it is lightweight and delivers a variety of flex.
Compatibility
This criterion considers the opportunity to use each of the shafts with the irons ranging from 3 to the pitching wedge, and some of them are even appropriate to be used in hybrids. Here we have also considered whether the shaft is made with a tapered tip or a parallel tip. Some models are made with more versatility than others, and particularly name-brands offer unique designs and enhanced feel and performance. Some of the models provide the opportunity to golfers to customize and pre-cut the shafts prior to the purchase, while others offer only fixed deals.
Value
This criterion matters for many as the price of the shafts can highly influence the purchase. As with the majority of golf products, there is a huge price discrepancy between the least and the most expensive ones. The most expensive shafts are usually premium ones that have been made with cutting-edge technologies and integrate the highest-quality materials. But, you can still find many excellent shafts on the market for considerably lower prices too. Therefore, this list includes iron shafts that represent good value for the money and high-quality regardless of the prices they have.
Top 10 Picks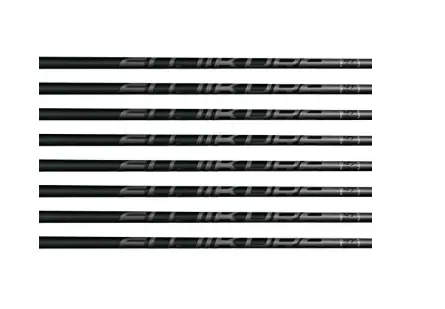 Fujikura has been one of the most prominent shaft manufacturers and it enjoys the status of premium quality an exceptional design. Even though Fujikura is well-known for the driver shafts, they have been producing iron shafts for quite some time with equal success is the have with the drive shafts. This model, Pro Series, is there most popular one and many golfers claim that it is one of the best ever made.
Read more
Performance
There are many golfers out there who still believe that nothing can replace steel shafts in irons. Even though there is some truth in this claim, graphite shafts have been drastically perfected that their functions have been significantly improved with the use of new technologies that are able to deliver steel-like performance, and improved balance for more consistent swings.
Features
These golf iron shafts include 8 shafts for 3 through pitching wedge irons. They are made with the company's proprietary high-density composite core which delivers dial-in swing weights. This technology is unique because it delivers performance-stability and control, which is comparable to steel swing weights and steel lengths that no other manufacturer has been able to accomplish. The high-density composite core material has been added to the tip section so that it yields more speed. HDCC is 62% denser compared to the standard model material which is usually used in the composition of graphite shafts. There are multiple varieties of flexes available with each purchase. The lighter weight makes sure that golfers get more club speed, greater stability, and more control. The HDCC material has a significant capacity to reduce vibration, allowing softer feel which is what makes these iron shafts better compared to steel shafts.
Cost and value
Many experts and golfers who have tried these golf iron shafts claim that they deliver game-changing prospects and their main characteristic is exceptional distance, balance, accuracy, and control. The proprietary technology which delivers game-enhancing design and the high quality of the materials make this shafts model one of the most expensive.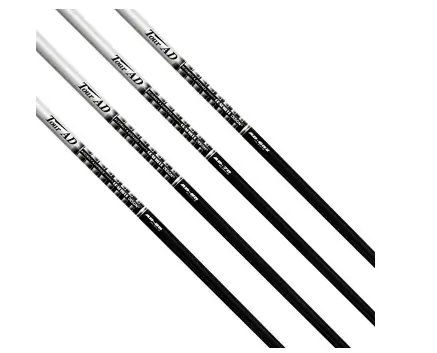 High-end golfers know that steel shafts deliver optimal control and maximum precision when playing with irons. As a result, not many golfers wanted to replace their steel shafts with graphite ones until a few years ago. However, with the expansion of modern technologies and the innovations that took place in shaft manufacturing, nowadays we can see more and more advanced golfers playing with graphite shafts in their irons. Graphite Design Tour AD-95 is one of the most advanced and more sophisticated graphite iron shafts intended to appeal to high-end golfers.
Read more
Performance
If a high-end golfer decides to switch from stainless steel shafts to graphite shafts, he/she needs to be sure that they are going to have the same or even better feel than the stainless steel shafts. Therefore this Graphic Design Tour model has been made to deliver this same steel feel without sacrificing any playability and versatility. They're made to deliver mid-spin and high launch trajectories and more distance.
Features
This is a premium model that offers top-notch performance and considerable versatility when it comes to weight. Golfers can choose from the ultra-light 50g to up to 115 g so that they find the perfect match for their irons. There are two available flexes, and golfers can choose from stiff and X- stiff flex, and also they have the possibility to order pre-cut golf iron shafts from 3- iron through the pitching wedge. This model offers only a .355 taper tip.
Cost and value
Premium models are called premium models because they integrate the highest quality materials and the most advanced technologies utilized in the manufacturing of high-end products, therefore, this is a premium model sold for a high price. Advanced golfers can have unmatched feel and performance which outperforms even the steel shafts. S,o if you're looking for ultimate quality an unprecedented performance and if you can afford them, then these are the golf iron shafts to go-to.

3

. Matrix Ozik Program F15 95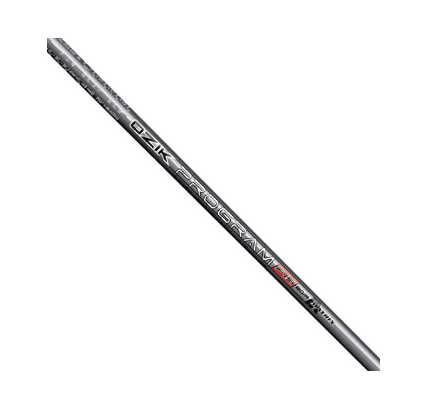 Matrix Ozik is also one of the most prominent shaft manufacturers that deliver reliable performance. The model Program F15 comes in many varieties including shafts that replicate the feel and the weight of steel shafts. The extreme variety of weights and lengths and flexes can help you find the perfect match for your clubs since not many golfers like drastic changes when making replacement of their stock shafts.
Read more
Performance
The OZIK Program F15 has been designed for players of all levels. The unique graphite design delivers optimal control that is characteristic of steel shafts, and this creates unsurpassed impact. Program F15 delivers mid launches and it is the spinning profile which delivers lower spin compared to the original Program family. This model can be seen in the hands of some of the most prominent golfers in the world.
Features
Program F15 95 is a model that is suitable for irons and hybrids as well. It is one of the higher weighted golf iron shafts with 95 grams, but its heavier weight makes it very controllable. The program F 15 features an enhanced HD platform and it's profile allows tighter horizontal and vertical patterns, compared to steel shafts that feature similar weight. This is a Next Generation design which provides more efficiency, accuracy, and better overall performance. The Regular, Stiff and X-stiff flexes are available to meet the needs of players with different swing speed.
Cost and value
This price of this shaft is on the higher end, however, the exceptional control and accuracy that you're going to have from this shaft justify its high price point.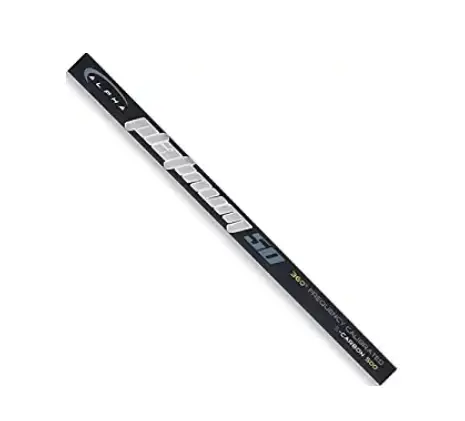 What gets your attention when you first take a look at this iron shaft is the fact that it comes with a lifetime guarantee that it has unbreakable structure. But, it is not just the claim of being unbreakable that is attractive when it comes to Alpha Platinum model, it is its peculiar design, and exceptional performance that attracts many golfers. There are more features that characterize Alpha Platinum, so read below to find out.
Read more
Performance
The company claims that you will have an unmatched feel when playing with these shafts. The model boasts consistent performance and even more consistent energy transfer. The smooth feel will bring you more control over the clubhead which results in more precision, more distance, and less dispersion in high launches. Many golfers claim that after switching to Alpha Platinum the ball trajectories got straighter with more controlled spin, and longer distances.
Features
Alpha Platinum model has been designed to meet the needs of golfers of all playing levels and profiles. Different weights range from ultra-lightweight of just 50 g to 60 and 70 g which make them not only the most durable but one of the most versatile too. Even if you have a super-powerful swing speed you can rest assure that this shaft is made to resist your power but enhance your performance and lower your score. It has been produced with "S Carbon 500" modulus fiber, while the Charcoal Matte finish, makes it very attractive too. The length of the shafts is 41 inches except for Platinum 50 iron L and LL flex which are 42 inches. The lifetime guarantee makes them one of the most attractive models on the market.
Cost and Value
As this is model is one of the newest, and the most popular ones, it comes with above the average price point. However, these golf iron shafts are designed to appeal to golfers all levels and provide them with optimal control and refined feel, so with the features they boast, the model is a great value for the money.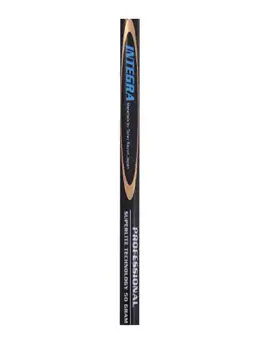 What is really hard to find on the market is a graphite shaft which weighs less than 60 g since many manufacturers avoid making these shafts. However, Integra determined to convince golfers that playing with their shafts which weight less than 60 grams will bring them many benefits. One of the greatest advantages of lightweight shafts is the ability to achieve longer distances and more overall success. This Japanese company is working hard to set new standards when it comes to lightweight graphite iron shafts.
Read more
Performance
Many golfers thought that coming up on the market with graphite shafts of 50 g is a total madness but Integra has proven them wrong. This ultra-light shaft features an optimal increase in the swing speed and it is a great help to those golfers who need a boost to swing the ball further. The technology which this shaft is made with makes it stronger and not that delicate as the many golfers think.
Features
This is officially the best and the world's longest, and lightest Japanese graphite shaft which is only 50 g. The company claims that the Japanese Torray Rayon graphite is the best material in the industry which compares to high-end and premium ones. It comes in 4 available flexes with .370 parallel tip and it is 40 inches long. The shaft is CPM balanced and FILAMENT wound.
Cost and value
The fact that this is the lightest iron shaft makes it unique and one of a kind. The material that is used in its production is of the highest quality, and the overall manufacturing process speaks dedication and performance. The price is more than affordable considering the type of material used in this model.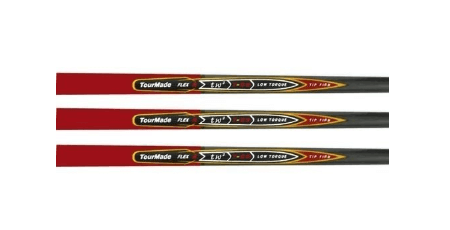 Shaft replacement is not a luxury that only those who can afford it have the privilege to enjoy it. TourMade REAX 65 is a graphite shaft which offers great performance, maximum stability, and consistency at the rock bottom price. This is a perfect solution for any golfer who is looking for well-performing shaft upgrade that integrates advanced technology for a budget price.
Read more
Performance
Many of the shafts on our list exhibit a great variety when it comes to their performance. It offers several flexes, which means it is appropriate for any players' skills. You can choose from senior, regular, and stiff flex. It is a very stable shaft which allows maximum control and stabilization throughout the swing. It is very lightweight, a feature that points to the facts that it is distance-enhancing, and it delivers optimal launch angle and ball spin.
Features
Tour Made REAX is an iron shaft model which features patented technology for maximum performance. The Axial Composite Nanofibre technology reinforces the key power points in the shaft by weaving composite carbon fibers for enhanced feedback. It has low torque tip stiffness and mid low band point which produces ball spin, and optimal launch angle. It has neutral all four quadrants with virtually no spine. It delivers better diffusion of load and maximum energy transfer with tighter shot dispersion thanks to the Low-Twist geometry. The lightweight construction of 65 g is very fast, accurate, with more distance, and incredible feel.
Cost and value
We introduced this model with the emphasis on its budget price. Considering the number of technologies used in its production, and the versatile use it has, this might be one of the best value iron shafts that deliver impressive performance for the money you pay for it. It's not the cheapest of course but for the money, it definitely pays off.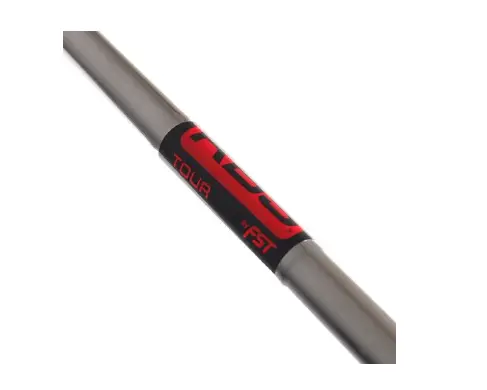 Companies seem to be restless in finding ways to produce sophisticated products which integrate innovative technologies but some models are simply made to stay, and they give the impression that they never go out of fashion thanks to their spotless workability and performance. This refers to KBS Tour which is among the most favorite iron shafts that golfers pick. This is a steel shaft which feels a bit stiffer, and it's great for long and consistent ball flights.
Read more
Performance
Much of the research that has been carried out on golf irons, has shown that golfers prefer the seven iron over the others since it is the most used iron of all. This stiff flex iron shaft is an excellent option for those golfers who would like to improve the ball trajectories and reduce slices or fades. It can help you maintain consistent ball flights and achieve straighter trajectories. It is also suitable for higher ball spins thanks to its lightweight structure, and it can be used by amateurs and professionals alike.
Features
KBS New Tour boasts versatility since it comes in 5 flexes with a different weight that ranges from 110g to 130g, so it can fit a wide variety of players. This shaft is of lighter weight and it is 38.5 inches long and it has.355 taper tip. It features a low to mid launch with a torque of 1.9*.
Cost and value
KBS Tour is a very reputed and well-known golf shaft manufacturer, and their products have been used by many Tour players around the world. This new and upgraded shaft confirms once again the high quality of the manufacturing process, and the fact that many players have replaced their stock shafts with this one proves it is worth the money. Since this is a single shaft, the price is considerably high, however, it matches the performance you get.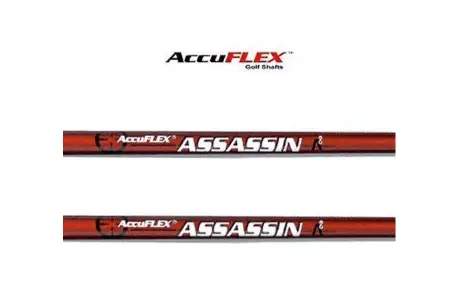 Many players often wonder if the shaft that they have selected will be the right one for them. If you're never sure of what would be the perfect fit for you, AccuFLEX Assasin is one of the recommended golf shaft choices because it is the shaft that is designed to fit a wide range of players' skills thanks to it's a quick impact recovery and the ability of the shaft to easily load. AccuFLEX is one of those brands that enjoy huge popularity among golfers of various skills. Below we provide the reasons why we have included this iron shaft in this buying guide.
Read more
Performance
This is another upgraded version, and the Assasin A2 Nano is a graphite shaft made with nano weaving to provide maximum strength and optimal control so that it doesn't twist on impact, and is capable to transfer much more energy to the ball. The results that you have when playing with this shaft is a narrower shot dispersion and highly-improved distance. The shaft is very lightweight and it is very versatile too, so the company touts it is the shaft that has been used by over 90% of golfers.
Features
This is the model that has won many competitions and it has an award-winning design. It is available in a Regular, Senior, and X stiff shaft option, and the reason why it is suitable for golfers of many skills is the fact that it comes with flexes the range from A flex to X-flex. It features an amazing amount of feedback, consistency, and feel for explosive distance and perfect performance when the club and the ball interact. It comes in the standard version of 41 inches with the weight that varies from 69 grams and extends to 70 and 71 grams. It is a mid-launch shaft which has a mid soft tip to meet the needs of players with different swing speeds.
Cost and value
AccuFLEX is considered to be the most popular A2 shaft which is now available in irons. The award-winning design and the ability to produce more speed marks this shaft as one of the best. The price it has puts it in the mid-range, making it an excellent value for the money.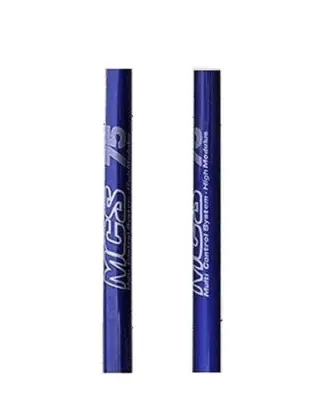 Blue crash features a redesigned axial graphite shaft model which features next-generation technology performance. It is a model that has been upgraded with much better materials and engineering techniques so that golfers have more feel and maximum stability which outperforms everything else that has been designed by MCs.
Read more
Performance
Feel and control are the two features that are most needed when it comes to irons. When shafts deliver a good feel, you know how to control the club, and since the shaft is the engine of the club, it should provide golfers with speed and control. And this is exactly what you can expect from this model. The lightweight design will provide you with enough speed with the long irons, while the innovative technology delivers stability and spin control.
Features
This iron shaft model is designed with the exclusive Recoil Technology which is known to deliver maximum feel in the shaft which is crucial for utmost performance. This model is recommended for high and mid handicappers with swing speeds ranging from 60 mph to 100mph. The material has been improved as well, so in this model, you get higher strain denser carbon fiber, which is a Next Generation flex technology. with the high band point and the stiff tip, golfers can expect uniformity, accuracy and superior control. For high initial launch and straight trajectory without extra spin, this model takes advantage of filament wound technology, which puts the two concepts off low spin and high launch together.
Cost and value
Many golfers have a very positive experience with this shaft model. Weighing only 75 g, which is not the lowest, but it is certainly on the low end when it comes to lightweight shafts, this shaft guarantees that you will produce more speed with every swing. The engineers put together different technologies so that they could provide a perfect blend of high launch and low spin. But also, the 19 layers nano external composite guarantees extra stability. And all this performance and technology don't make these products very pricey, so you can have them for a very reasonable price.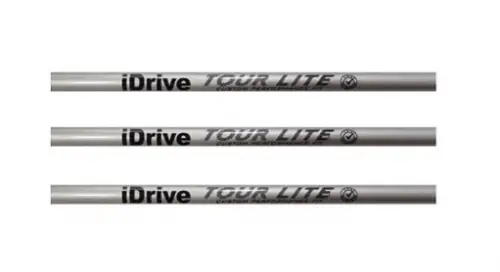 This brand has been on the market for quite a short time, however, it soon gained trust from many golfers. And when a new product enters the market and achieves such success for a short period of time, this means that the company really tried hard to integrate quality performance at a good price. The lightweight construction makes iDrive Ultralight 60 golf iron shafts an excellent choice if you are looking for a lightweight graphite shaft.
Read more
Performance
Lightweight shaft directly influences the weight of the club as well. So if you are a golfer who is looking for less weight for more speed and a way to enhance the overall performance, then this is a very good model. According to reviewers almost all of them said that they were able to gain more distance after the installation of this shaft.
Features
This model is a prototype nano graphite iron shaft and comes in two weight varieties of 61 and 64 grams which means it is 10 grams lighter compared to the standard shafts, which makes it the hottest tour shaft in the industry. This shaft takes advantage of filament wound technology to create high lunches and lower spin with the long iron but extra spin with the short irons. If you are a golfer with swing speed that ranges from 60 to 100 mph, you should give a try to this shaft.
Cost and value
Unlike many other low weight iron shafts that have stability issues, I Drive Ultralight model has been designed with better control, torque, and tight dispersion for more stability. Excellent for high and mid handicappers this is the shaft that will make a difference in your performance.

Subscribe to our Newsletter