Best Fitness Tracker for Golfers
In a
Hurry? Editors choice: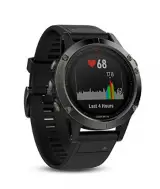 Test Winner: Garmin Fenix 5 Sapphire

Considering a golf fitness tracker? It is amazing what watches can do nowadays. The days when they were considered just watches are long gone, and now they are
multifunctional devices
that can trace the way your body works, the energy and the calories you spend, the way you sleep, the way your heart works.
These fitness trackers represent a unique way of experiencing the outcome of the exercise and they provide direct insight into the success. Plus, they show you how your heart is handling the impact of the exercises and if it is ready to tackle the pressure.
Golfers can count the number of steps that they have walked, the way they have played the game and the body response. From one to another there are some differences, so we have chosen the best ten that can help you improve your performance.
Standout Picks
Criteria Used for Evaluation
Advanced Features
There are plenty of features that these watches offer to the buyers so that they are inspired to search for more in their performance, set goals and analyze them. In line with the usual fitness tracking that we looked for as an obligatory feature for these watches, like the ability to measure distance, taken steps or the number of burnt calories, we considered more advanced characteristics at these wearables that make them specific and peculiar. So, we highly valued integrated GPS, Wi-Fi connection or Bluetooth in order to synchronize them with smartphones. In addition, the heart-rate monitors, the possibility to download applications, all those specific golfing peculiarities such as swing analysis, distance, dog lays, hazard were also considered to be a great advantage. Because music nowadays is becoming a basic part for doing all sports, golfers, too, appreciate the possibility to listen to their favorite piece of music while walking from one hole to another, we rated highly those watches that offer music download or synchronization.
Battery Life
One thing is certain, the better the battery, the higher the chances to use the watch. So, we can say that battery life is a sign of durability since it determines the level of satisfaction of the buyers. This means if the watch has a longer battery life its reliability will be greater, which leads to better performance. The longest battery lifespan we can see in a watch is about 30 days when GPS and all accompanying smart functions are turned off or up to 5 days when all functions are activated.
Watch Face
We didn't only consider the watch face and the ability to be modified, but here we considered the overall design of each watch and the style each of the features. Let's start with the size of the display, it is a fact that larger screens appear to be more attractive to golfers due to the greater visibility and greater inclusion of detailed information displayed on each selected mode. The possibility for customization of certain golf fitness trackers and adjustability for personal types of dials and watch faces makes the watch look more personalized and unique.
Ease of Use
It takes dexterity to be able to use these watches and many athletes find them extremely difficult to operate and too complicated to navigate and scroll through all their functions. The latest launches exhibit an improved way of navigation so that buyers get the maximum benefit from having them. Some of the watches feature exclusively touch screen navigation, others feature buttons for larger mechanical control. Being able to go through the watch by using the buttons in combination with touch screen is the most preferred combination and therefore, those watches which have it are scored with maximum points
Top 10 Fitness Trackers for Golf
1

. Garmin Fenix 5 Sapphire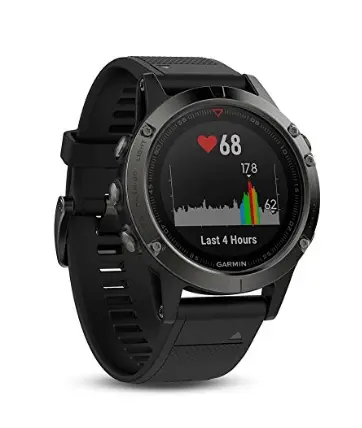 Some people refer to it as the gem from Garmin as this watch has received many awards and proudly carries the title of being the best in its class. As Garmin is a company which is a leader in GPS tracking and production of devices for the army, military, and for vehicles, no one can question its excellent quality and performance. In addition to its quality, there are many features that it offers, such as golf courses, distance, and maps tracking, hazards, etc. Plus, it has multi-sport modes that allow tracking various specific sport performance metrics.
Read more
Features
When going through all the features this watch has, you can't but as yourself: Is there anything that Fenix 5 can't measure? Well, probably no, since it outperforms all multi-sport watches. It can track your progress in almost all sports thanks to the integrated profiles which are suitable for various sports. This golf fitness tracker measures your heart rate without having to wear a chest strap, with the help of Elevate wrist heart rate technology. Plus, it counts calorie loss, the number of steps, and it even monitors your sleeping cycle. It features VO2 max estimator that calculates the volume of oxygen you need and the capacity. It can be synchronized with your smartphone and automatically sends the readings of your progress. Garmin obviously goes beyond basics and it measures golfers' readiness, cadence, altitude, aerobic and anaerobic readouts, running and walking speed, heartbeats per minutes and many more. The other profiles include swimming, paddling, skiing, snowboarding, and many more. When it comes to golf, it lets you measure yardage, hazards, you can download courses, it can automatically detect shots and measure their trajectory, swing speed and so on.
Design
There are several Fenix watches that come in different sizes so that the watch can fit your wrist and your style. It is recognizable by its rugged design with its stainless steel bezel, there are five buttons on both sides for easier management. The display features bright LED Chroma high-resolution and it can be easily read even on the brightest sun. The display is scratch resistant and it can be connected on the internet through Wi-Fi enabled for direct sharing of your uploads.
Cost and Value
It is hard to include all the features that Fenix 5 offers, so if we have already attracted your attention you should go ahead and test it yourself if the hefty price tag is not an obstacle to get it though. This watch is one of the most technologically advanced ones, so even though it is very expensive, it is worth the money.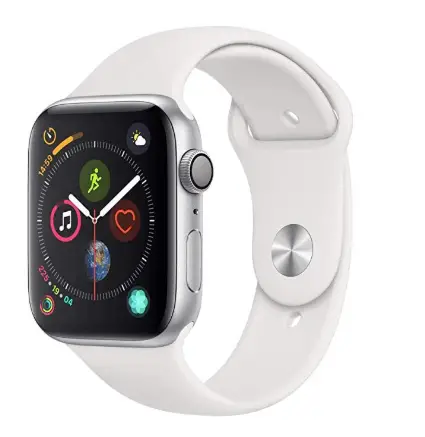 As impressive as their iPhones and iPods are, Apple's watches have been among the most successful in the last few years because we can see the technology that made an impact on the way we perceive smartwatches. I wouldn't even call them smart watches but rather a multipurpose body scanner that has a total insight into our body in a way that we will never have. The 4th generation of these golf fitness trackers exhibits such sophistication in terms of design and functionality that hardly anyone will stay indifferent to its capabilities. So, read below to see what it does.
Read more
Features
We can simply call this golf fitness tracker a well-being body reader because it has been re-engineered to focus on your heart rate as you go on with your activities. The Digital Crown offers haptic feedback which is mechanically operated and it is the gateway for scanning the work of your heart. There are dual sensors, the standard optical one and the electrical which is designed by Apple, and this one is super smart which takes you ECG and you can send it to your doctor. Another extra useful feature among the multitude is the fall detector which can initiate an emergency call in case you are not able to confirm that you are fine. It can track many sports with all the specifics of every sport. The standard GPS tracking, the gyroscope, and the accelerometer can sample various motion data and share it all with the synchronized device.
Design and Performance
It is impossible to share everything this watch does, from personalized coaching and guidance to health advisor and fitness tracking, it will all be there. What else is particularly impressive is the sleek and larger display design that looks futuristically modern. It is 30% larger than the predecessor and it looks seamlessly integrated into the case of the watch. The readings are much more detailed and visually enhanced with clear colors. You can choose from two sizes with three aluminum finishes and one stainless steel and many interchangeable bands.
Cost and Value
Apple's smart technology has never ceased to impress us with the advanced technologies they integrate into their devices, such as this watch. Every detail it has is made with a specific cause and nothing there sticks out as unnecessary. It is a device that is bound to change your lifestyle because you will get to know your body much better which will be an inspiration for improvement. How many times have you thought about the price? Probably many, right? It is expensive, one of the most expensive, but worth the money.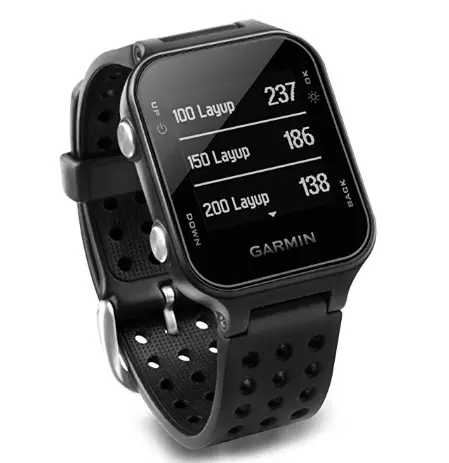 We are back with the Garmin brand since it is obvious that golfers love are inclined to opt for watches that are made by Garmin because it has excelled at providing quality technology. So, let's take a look at the Approach S20 Golf Watch and see what makes it one of the best watches in the industry today. Packed with features and wonderful design it is worth to take a look at the details.
Read more
Garmin Connect Golf
The tech industry has excelled in demonstrating and sharing several of the best products available today as it comes to creative ways of connecting people. This particular watch, for example, includes the functionality of Garmin Connect Golf that you download to your phone. The feature allows people to track their performance, share it with a community, and also seek guidance on what is the most preferred way to play the game. One of the golf watch's finest advantages is the digital scoreboard. This watch, for example, keeps track of a user's ranking through the round. This also gives an individual a view of the front, back, and middle of the greens. The golfer can also position the pin manually for an accurate hit to match the location of the day. As many similar Garmin watches, it also comes packed with more than 40 000 courses worldwide.
Design
This is among the most modern looking Garmin watches which reflects golfing elegance and pro style. It has a larger display that provides clear and accurate readings. It is a smartwatch too, so via Bluetooth, you can get connected with your smartphone and receive all the notifications that you are expecting without looking at your phone. The rubber and silicone bands can be easily replaced so that you keep your stile fully matched with this fancy watch.
Cost and Value
Regarding the cost and value of this watch and golf fitness tracker, we can say that it is perfectly designed complying with the masterful quality by Garmin. Golfers can be assured that this watch to withstand the test of time alongside its features. The price of this watch reflects its real value and by no means can we say that is overpriced. Sometimes, if you are lucky enough, you can great deal for the watch on special discounts or deals.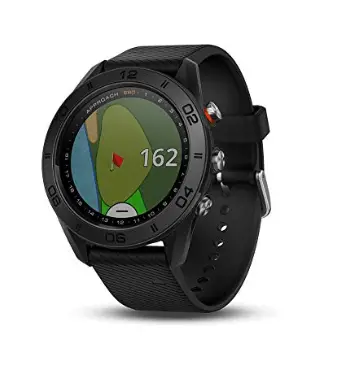 Approach X60 is the most popular golf watch and to appeal to them Garmin included 40,000 worldwide courses and free updates, slope adjusted distance, swing analysis, and auto tracking of the ball. But it isn't just a golf watch because it has a multisport versatility and there are sport profiles for cycling, running and swimming. When it comes to convenience, the Quick-fit feature allows the user to easily interchange bands. As with most of the Garmin, Approach S60 is a smartwatch too that can be synchronized with a smart device or connected to the internet so that you can download apps, display notifications and choose from the wide range of watch faces.
Read more
Features
Designed particularly to appeal to golfers, this watch comes preloaded with 40 000 golf courses including yardages and pinholes with a real-time updates. The shots can be automatically detected with the help of the auto-shot feature which systematically logs them in and the players have the possibility to monitor their game afterward. There are multiple other features which let you measure the distance to the holes, pin positioning in order to practice measurements and fulfill your daily goals. Also, with the swing-tempo, you can calculate the ratio between the upper and lower swings. As we have said in the introduction, it can be connected to compatible apps and synchronized with a smart device. It also features some circumstantial practicalities such as weather info, oxygen level input, HRT, fitness readiness, your health status, etc.
Design
It is considered to be among those elegant and sleek watches for the course, offering the possibility for versatile use since you can use it as a watch that can be worn anywhere due to the interchangeable bands that are as versatile as the watch itself, so you can choose from sporty silicone, sturdy stainless steel or the elegant leather. Regardless of your choice, they are comfortable to wear. There are three main color touchscreens which are highly visible during the brightest days. When it comes to its battery, Garmin claims that when used in constant golf mode, you can expect 10 hours workability and if you use it in a watch mode you get 10 days of use.
Cost and Value
Despite being expensive, golfers simply love it, because it is everything a golfer needs for improved performance such as maps of courses, hazards, success tracking, notifications and much more. Some even think that it has more than features than they would ever need, however, that's what distinguishes good from the average, right?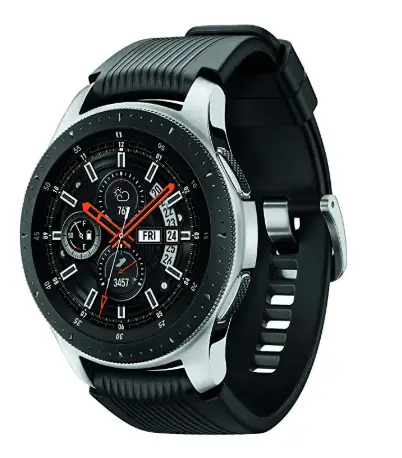 There's much to be impressed about when it comes to Samsung Galaxy watch. It is very advanced golf fitness tracker at its basics which will bring insight into your body rhythm and heart-rate status. With solid battery life and outstanding performance which is simply typical for Samsung, you can track your progress and the response of your body to the intensity of the exercises no matter which sport you are tracking. It is compatible with both, iOS and Android, which means you can synchronize it with your smartphone and get an instant reading available for social share.
Read more
Features
Samsung Galaxy Watch is the watch that is able to track your heart-rate rhythm, sleep and wake cycles, it counts the calories that you burn, it is a useful reminder to keep moving and features a built-in guide for meditation and breathing sessions, especially when you feel stressed. It is very well-made and has high endurance and impact level since it is made with Corning Gorilla Glass DX+ which protects it from scratches, shutters and drops, extreme temperatures, and it is also waterproof. Thanks to the advanced integrated sensors and GPS technology, it automatically tracks all the activities you are doing, and it detects when you switch to different activities from the ones that you previously were doing. It can automatically track up to six exercises and manually up to 40.
Design
As you can observe from the photo, it has a very stylish design and the buyers can choose from two sizes and three different colors in order to better complement your style. You can also choose from the wide range of stylish faces and the various replaceable bands. The display is 1.3 inches wide and it has a SAMOLED display which perfectly shows the readings even during the brightest sunshine.
Cost and Value
Getting yourself a Samsung watch means getting a device that has been recognized by its quality, performance, and reliability. Plus, you get a product with the highest quality, excellent customer and maintenance service. You can have it connected with electronic devices, you get much more power and more storage. But, all these bells and whistles come with a high price which claims status and luxury.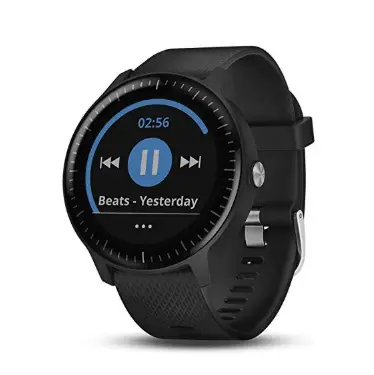 What Garmin did to bring a smooth variety into the way we experience one multi-sport watch was to upgrade the existing Vivoactive 3 to Vivoactive 3 Music, which lets you transfer music or download up to 500 songs music storage so that your sporting experiences become more joyful and all that walking on the course gets much more pleasant. In addition to this feature, this multi-sport watch tracks your performance, gives you an insight n the way you play golf and measures the heart rate with its optical heart rate sensor. Plus, it gets you to access to Garmin Connect IQ app store and you can even use the "contactless" payment via Garmin PAY.
Read more
Features
The reason why we chose this watch because it is a multi-sport watch that can track your performance in multiple sports such as golf, running, swimming, skiing, snowboarding and many more. Being an excellent golf fitness tracker, it comes with GPS activity tracking, VO2 Max monitor, heart-rate sensor, VO2 Max monitor, smart functions and payment, sleep and real-time stress tracking, keeping data on many sports activities via apps. Regarding battery life, Garmin says that it lasts for a week in regular use and up to 13 hours with constant GPS use. This is not the best battery when it comes to such a device, but no one uses GPS tracking all the time, so the optimal duration would be two to three days when used moderately.
Design
This upgraded music option comes only in black and it looks dynamic and vivid and it resembles a regular watch. It has a circular display, a comfortable band and it can be easily worn all day long. The size of the display is 1.2" with 240X240 pixels with a color screen which makes it easier to read during bright sunshine. It has one button on the side for managing some of the functions, the rest is handled on the touch screen which is very easy to use and it can be even used while wearing gloves.
Cost and Value
This watch puts together multi-sport GPS tracking and sports performance, health status, and lifestyle dynamics, so it is a good choice for those golfers who combine sports metrics and readings and enjoyment. You can enjoy your favorite sport, track your scores and enhance your performance, have an insight into your health and enjoy music while playing golf, all that coming from a watch. Having said that, we don't think it is overpriced as some buyers have stated because it is a quality watch from a remarkable manufacturer.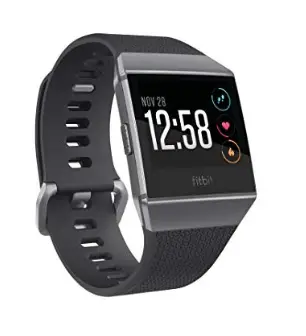 If you are looking for a watch that combines large display with sufficient elegance Fitbit is the watch that will make the impression and won't go unnoticed. Thus designed, it is a watch that says a lot and does a lot too! It can track a variety of sports, it can optimize your training sessions and it even has a feature that substitutes your personal trainer so that you benefit the most while training. And this is one more model that offers music entertainment while you're walking from one hole to another.
Read more
Features
This smartwatch and a good golf fitness tracker is made to make your performance on the golf course meaningful by displaying everything you have done and instructing you what improvements should be made. From the personalized Fitbit Coach which provides video workouts to tracking performance, you'll have all at your display. The built-in GPS provides readings on your distance, speed, and location while the SmartTrack feature automatically recognizes what you are doing so you don't have to manually select them. You can utilize the personalized dashboard which will remind you about your targets and it will instruct you how to perform them better. In addition to this, you can entertain yourself while walking on the course by downloading 300+ songs. Plus, you can make a payment, have detailed weather reports, and much more. Many sports people rely on their heart rate rhythm so that they can adapt the intensity of the exercise, and therefore Pure Pulse gives you accurate heart rate tracking for improved performance, it measures your calorie burn and health status. The are various sport modes which track workouts and provide real-time readings while SmartTrack function automatically records the exercises. Plus, you can get exclusive exercises right on your screen powered by Adidas.
Design
The stylish and large screen will never go unnoticed with its sleek design and faces that can be selected in accordance with your preferences from the Fitbit App Gallery right on your phone. The case and the frame of the golf fitness tracker are constructed from silver gray aluminum with a two-toned remarkable silicone band.
Cost and Value
This is an extraordinary watch supported by Adidas to provide you with training sessions. Being packed with multiple functions and storage such as GPS tracking, gyroscope, pedometer, altimeter, smart notifications, and the big and sleek design, it stands next to the leaders in wearables. What makes it the perfect choice is half the price it has compared to some of the best ones, so we can certainly say it is an excellent value for the money.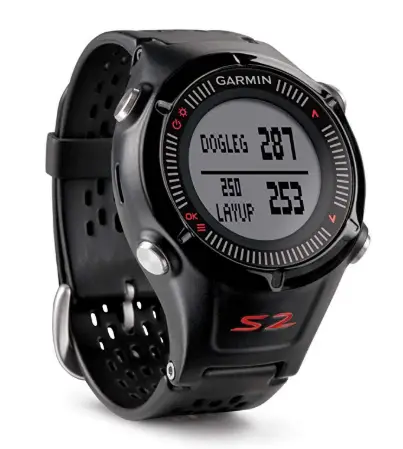 Among all watchmakers, Garmin has been the most dedicated company to providing appropriate golf readings and it is no wonder that we have included several of their watches. With the presentation of each model, we have said a lot about Garmin, and many buyers eagerly expect to see more launches. Therefore, we have selected Approach S2 as one of the specifically designed the watch to reach golfers. Preloaded with over 38,000 courses worldwide, this watch is going to help you increase your performance and track the way you play the game so that you make greater progress.
Read more
Features
We can't say it is better than Fenix 5 Series, but what we can say is that you will enjoy its performance since it is jam-packed with a variety of features that make it worth being on our list. The watch can lock in and measure yardages from different distances such as front to the middle or to the back of the green. Also, it can also track dogleg distances and to provide information about the hazards. Another great feature that makes it a perfect choice for the everyday golfer is the ability to connect the digital scoreboard tracker to your laptop via the USB cable so that you carefully analyze your performance. This comes especially handy for starters and those who are keen on developing their golfing abilities.
Design
The design of the Approach S2 watch is both durable and easy to use. It isn't cumbersome, although its display is quite large compared to some sleeker models. But, as this year brings us back the large displays not only in watches but in smartphones too, it provides plenty of useful information. The overall construction is very durable and the rubber bands are removable so that you can customize it.
Cost And Value
As we discuss the cost and value of this watch, we first need to summarize its features so that we can have a real perception of what it does. So, the watch durable and well-designed and can practically enhance golfers' performance to their fullest. Having said that, the price of this golf fitness tracker is not overly expensive and many golfers say that it is a match to the performance it provides.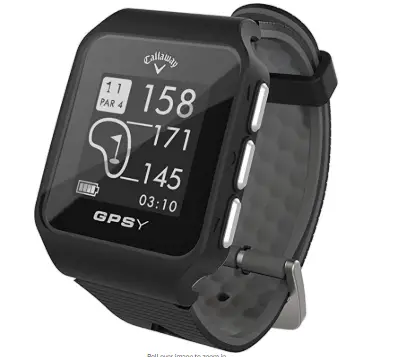 Callaway is a brand name that is closely related to golf gear, as a matter of fact, it is a leading brand in the golf industry, and their range of products is fairly wide and impressive, ranging from golf clubs to apparel and equipment. It doesn't come as a surprise that we have selected Callaway watch as one of our recommended fitness trackers, especially since it provides not just the basic fitness readings but every measurement that can enhance golfers' performance. It has the recognizable Callaway style which borders luxury and detailed elegance.
Read more
Features
This is a quality golf watch which boasts technological advancement which is crucial for the success of the product and it is the key component why it has been selected first place. This means that golfers can expect premium accuracy not just in telling the time but in providing a detailed reading of the performance status. In fact, Callaway watch can track distances to the front, back, and the center of the green, in addition, to carry distances, layups, and doglegs. And, it wouldn't be a golf watch if it didn't come preloaded with free courses, more than 30 000 to be exact. We are happy to say that the battery of this sports watch is masterfully designed with quality in mind for golfers that crave for a long-lasting battery. In fact, the battery can last 10-12 hours in GPS mode and 90 plus days in the regular mode alone.
Design
Even at first glance, you get the impression that it is the highest quality watch which has unique style and elegance. The display is large, readable and understandable. It is a sleek model with interchangeable bands that can make it appropriate for every style. It is very lightweight and comfortable.
Cost and Value
This fancy looking watch is bound to represent Callaway in its best light, with a few flaws though. According to golfers, it is an excellent watch that provides fairly accurate readings with some issues with the satellite reception of the GPS signal. However, these issues are fairly infrequent and they don't diminish the value of the watch which isn't as expensive as some other watches on our list.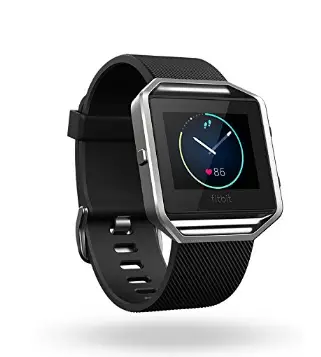 When this watch hit the scene, it stirred emotions as no other sports watch ever before. The Fitbit holds the reputation of the most versatile fitness tracker for athletes to track their heart rate, distance, steps, and more. It is also a good option if you are on the budget side but want a full package of all possible readings especially for the golf course, we have a great one to share with you.
Read more
Features
This watch has some of the most interesting and innovative features, even though many of the watches on our list have surpassed the initial amazement that they provided. For instance, their technology SmartTrack automatically logs and records the exercises as you are performing them. In the case you fail to log it in yourself, you don't have to worry because the app does it for you! It is smart enough to rely on it completely, set weekly goals, and check your overall performance on the go. This specific watch has multiple smart functions too. For instance, then it allows to make calls and receive text alerts and remind you of calendar alerts. This means you can connect your smartphone to the watch via Bluetooth and fully rely on it as you are walking confidently across the course.
Design
Not only is Fitbit Blaze a functional 24-hour fitness tracker, but it is also a stylish watch with a sizeable touch display that looks modern and attractive. The ability to connect it to the internet and download different faces make it interesting and fancy, while its ability to replace the leather bands lets you adjust it to match your style.
Cost and Value
We believe that it offers practical and modern features when it comes to technology, high-quality, design, and features. Plus, the watch comes in six colors to choose from. In a nutshell, it is a good and functional fitness tracker that will prove to be well worth the money.

Subscribe to our Newsletter