Best Golf Elbow Braces Reviewed & Rated for Quality
In the sport of golf, there are often times where a bad gesture, bad move, or bad swing can actually cause harm to your body. With that, it is not only crucial to exercise to ensure proper flexibility and body movement, but also it is important to stretch. Therefore, whether you run on the treadmill or use some exercise bands to stretch out your body, it is very important to start working out early on so you can perform better on the golf course.
Featured Recommendations

Copper Recovery

Our rating
Breathable Compression Fabric
Price:

See Here



Venom Compression

Our rating
Anti-Slip Design
Price:

See Here



Simien

Our rating
Impressive Materials & Construction
Price:

See Here


However, if you missed the memo and you are starting to feel the pain of the sport in your elbow or forearm, then you may need to consider wearing a brace. A forearm or elbow brace can aid an individual from sharp shooting pain, which may cause other more harmful effects in the future. With that in mind, we took it upon ourselves to search up and find, for you, the top ten best elbow braces. An elbow brace essentially uses shock absorption techniques to ensure that the pain is minimized while also compression the muscle and minimizing the painful area. So, enjoy the top ten best elbow braces, and check out our criteria to evaluate the best elbow braces in the case you want to learn how to pick out the best product for you.
10 Best Golf Elbow Braces
1. Copper Recovery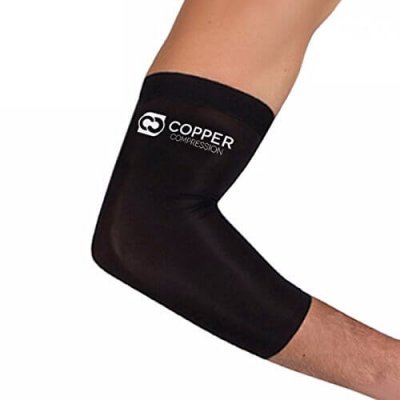 The first brace on our list comes from a brand that knows a thing or two about compression products. As the first item, we want to mention that this brand is high-rated with plenty of positive reviews to back up the quality of their products and their dynamic value. This is the Copper Compression Recovery brace and here is the first of two features.
Expand to see more
Breathable Compression Fabric

When creating a product such as this, not only does an individual need a quality fabric but it needs to have specific features. For instance, a fabric that is breathable allows for an individual to be able to wear the product all day and also allow it to sit comfortably in the area. Alongside this, the breathable fabric needs to be designed to maintain joint stability while also not limiting the individual's movements. Well, this product does exactly that.

Supportive Design

This product is specifically designed to support sore muscles and joints on the body. To add to this, it also has a long-lasting and beneficial effect on the individual wearing it by allowing the arm to heal properly and without strain. With that, it allows for a full-on easy pull-on support that can be worn all day and all night without irritation or pain.

Cost and Value

To speak on the cost and the value for this brace, it is important to note that it has three different sizes to choose from. With this, the sizes vary from medium to x-large. Now, what is most unique is that each size is actually priced around the same level so individuals do not have to be concerned with the price going up because of the size of the brace itself. Overall, this product has 3k reviews and 4.5 stars in the industry.
Breathable construction fabric that is made to last.
Maintains joint stability.
No itchiness or irritation.
Comfortable and secure fit design.
Versatile and easy to wear all day long.
Great for all ages and fitness levels.
Supports sore and stiff muscles.
Can be worn on both left and right muscles.
The customer service is excellent.
May take a while to get used to.
May fit a bit tight at first.
2. Venom Compression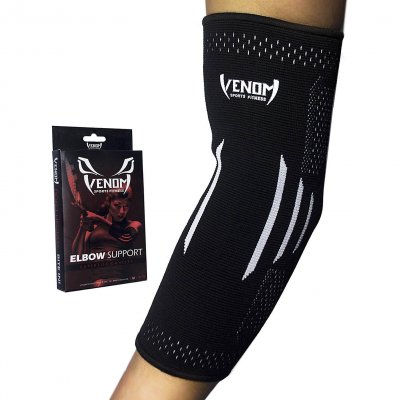 If you need a brace that is designed for the rehabilitation of joint inflammation, this may help. This product is designed with elbow tendonitis in mind. Overall, it aids for individuals that have elbow pain,
golfers
' pain, and need increased blood flow to the specific area. With that, it is strategically designed to reduce muscle aches and swelling that are caused by elbow discomfort. If you want to alleviate pain, this is a quality product.
Expand to see more
Anti-Slip Design

This particular product is designed with an anti-slip design that is firm and flexible. The grip allows for an individual to focus their attention on the activity at hand rather than on whether or not the band will fall off. With this, individuals are guaranteed that the band will stay in place effortlessly.

Highly Elastic

One of the many benefits of this band is that it is highly elastic, and it is a high-quality fabric that is guaranteed to withstand much of the wear and tear from constant movement. It does retain its elasticity and it is designed for better support on the golf course and while performing any physical activity.

Cost and Value

As far as the price, this product has various sizes to choose from and that causes the price to fluctuate. Most importantly, the design is highly beneficial, and individuals will benefit from the overall fact that it is a targeted compression and heat retention product. It enhances the way an individual feel and heals their pain. Now, what is even better news is the fact that this brand has 1.9k reviews and they are all five stars, which adds to their excellent credibility and brand history.
Comfortable and lightweight.
Eliminates physical pain and discomfort.
Highly elastic and durable.
Allows for excellent heat retention.
Targeted compression and quality.
Has plenty of positive reviews.
Did not last.
May feel a bit itchy at first.
3. Simien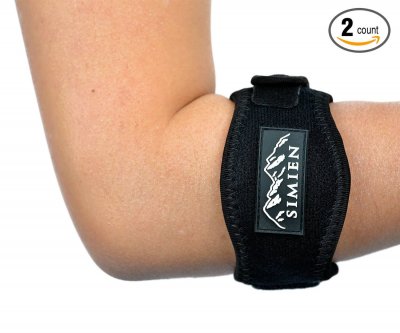 It is time to talk about a two-count brace that comes with a bonus sweat wristband and a quality e-book that helps discover and address elbow pain. With plenty of positive reviews, we want to discuss the amazing value that is the Simien Elbow Brace. Here are two select features to discuss.
Expand to see more
The Material Composition

One aspect to consider this product is the material composition. The material composition is a high-quality 65% neoprene material alongside 35% nylon. The overall design is breathable, elastic, and also extremely durable for all-day wear and tear. The best part is that an individual gets two braces for the price of one.

Versatile

This product is very versatile. First, it is one size fits most type of design and it can be placed on both the left arm or the right arm. It also works for both men and female arms and it comes with a hook and loop strap that does not cut off circulation or cause any discomfort.

Cost and Value

To discuss the cost and the value benefits for this product, we agree that this brand is of the most excellent value and design benefits. To add to this, we agree that individuals will benefit from the two for one deal for the price. In fact, the price is also currently lowered so individual's need to jump on board if they want a value deal.
Bonus item and free E-Book.
Quality instruction on preventing elbow pain.
Amazing value with two braces.
Versatile design with a one size fits most.
High quality material composition.
Great customer service.
May not fit some people comfortably.
May not aid in elbow pain.
4. DashSport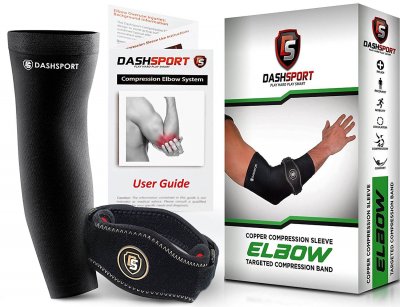 This next brace happens to include a PDF with everything that an individual will need to know to prevent elbow pain in the future. With that, this compression elbow sleeve is a quality product that is designed for effective relief and will aid in the recovery process quickly and effortlessly. Let's discuss the first benefit of this brace.
Expand to see more
Copper Nylon

This product is made with a quality nylon material from the Copper brand. With that, the nylon happens to not only be highly durable, but it has a large list of benefits to consider. These benefits include the fact that the nylon is fully anti-bacterial and odor resistant. This is exceptionally great, especially if you are an individual that sweats often.

High Performance

This product is also a high-performance fabric that is intended to keep you warm during cold temperatures and also keep you cool during hotter temperatures. With this, it allows for a flexible mobility design that has no chafing or skin irritation when worn during high impact sports or something as simple as tennis or golf.

Cost and Value

In discussing cost and value, we have discovered that this product is made to be very high quality and the reviews tout how effective the design is. To add to this, it has a creative design that is intended for expert use and enhanced durability. Overall, for the price, it is an excellent product worth taking into thought if you want a durable and comfortable design.
Complete relief from elbow pain.
Copper nylon material is durable.
Breathable and anti-microbial.
Comfortable fabric that is made to last.
Different sizes to consider.
100% money back guarantee.
Does not work quickly.
May not remove all pain.
5. Kunto Fitness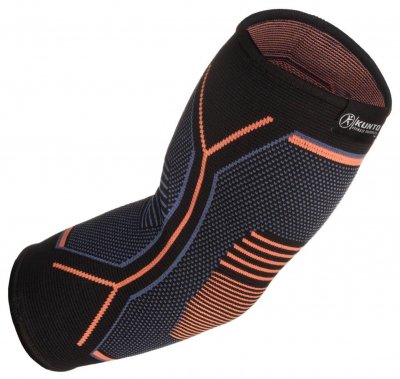 The next brace on our list is expertly crafted to offer full pressure across your elbow joint for fast relief and healing. This product allows for moderate relief from a variety of many different ailments. If you have golfers' elbow or you suffer from joint or elbow pain, this is the product that can take it away. Let's talk about the Kunto Fitness Elbow Brace.
Expand to see more
The Construction

This item is designed with excellent construction in mind. This item has a superior support quality design and enhanced comfort benefits that relieve itchiness and other discomforts. Overall, it helps with mobility and helps during the relief process of your arm. The no-slip design also allows for an individual to feel a grip sensation that ensures the product will not fall off.

Four-Way Stretch

This particular material is a four-way stretch material that allows for a full range of mobility features. An individual can rest guaranteed that their mobility will not be hindered. On top of this, it is comfortable and allows for an individual to still pursue passion or activity without discomfort or lack of motivation due to minimal support or freedom.

Cost and Value

This item is excellent for any specific activity that requires a bit of elbow release. To add to the design, it is a compression sleeve that offers a full range of benefits that reduce joint pain in the arm. Therefore, we recommend it if you want an excellent product that is designed to last. It has 1.3k reviews and plenty of happy customers for the excellent and low price.
Amazing utility with full range of movements.
Incredible construction qualities.
Form fitting design and maintains joint stability.
Quality benefits and durable.
Durable fabric with grip.
No discomfort or itchiness.
Neoprene is breathable.
May not have enough pressure on specific areas.
6. Tomight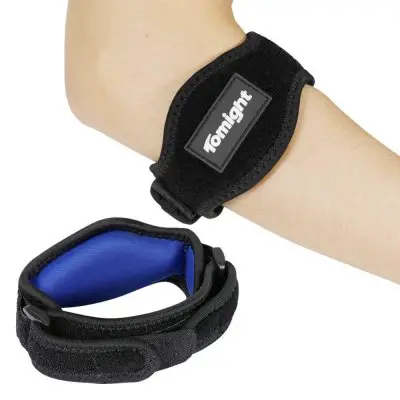 If you are seeking a functional and easy to wear product that compresses the upper forearm energy and absorbs pain in the arm, then we have a great product for you. The Tomight Sports is a phenomenal product that is very high quality, easy to wear, and has an expertise sewing design with double strings that make it more stable and easier to wear than ever before.
Expand to see more
Comfort Level

This product, according to many reviews, has a higher quality comfort level than other braces in the industry. Part of this is due to two factors, the material, and the design. First, the material is a reinforced neoprene material that allows for the skin to not get cut or rubbed. With that, the design is a double-Velcro design that is adjustable and allows for the user to easily be able to adjust the tightness of the brace.

Compression Pad

Part of what makes this product one of the most shock absorbing is the compression pad. Essentially, the compression pad covers the area where shock absorption would be most apparent and from there, it would ease the pain, throbbing, and discomfort of the pad. This level of quality has given this product a 4.5-star value and plenty of positive reviews.

Cost and Value

To discuss cost and value for this item, we see this brace as being very high quality, well designed, and easy to wear all day long. More so, it allows for the pain to be minimized through the shock absorption pad. It is also water resistant and comes with a tough Velcro strap that essentially makes it impossible to take off. For the simple price, individuals can select between three color choices, pink, blue, and green.
Versatile functionality.
Easy to wear all day long.
Double layer durability.
Expert sewing design to be anti-wear.
Can be worn in numerous areas of the body.
Does not irritate the skin.
Can be somewhat small.
May not cover all the pain in one area.
7. Sleeve Stars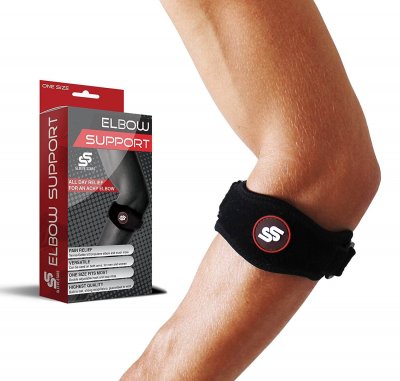 If you are starting to feel the start of elbow pain and discomfort, then it is time to consider a quality elbow brace. This next product is known as the Sleeve Stars Elbow Brace and it is designed to relieve pain in the elbow and pain that may be connected to playing golf all day. With that, users will feel more comfortable and be able to minimize the after-effects of elbow pain such as carpal tunnel and arthritis with this excellent product.
Expand to see more
Does Not Wear Out

It is a synonymous conclusion among the hundreds of individuals that have worn this product, that this item does not wear out. This particular elbow brace is designed from neoprene and nylon, which, make it an excellent and long-lasting product. Alongside this, it also is reinforced with quality stitching and designed from some of the highest quality construction techniques to ensure that it does the job of pain relief without wearing and tearing easily.

Gel Compression Pad

This product is designed as a gel compression pad, the gel compression pad allows for shock absorption and pain relief all day long, allowing for individuals to feel more comfortable and more relief. To add to this, the compression pad is a high-quality pad that causes relief even when it is taken off. Essentially, the compression gel absorbs much of the shooting pain and then tightens the muscle, allowing for enhanced comfort.

Cost and Value

To discuss the cost and value for this excellent product, we see this item as well worth it, especially if you have a lot of pain in your arm. With this, it eliminates the pain and discomfort and creates a comfortable cushion for individuals to be able to focus on the task at hand. For the price, which is not a lot, individuals will enjoy pain relief and a compression pad that enhances the way you perform on and off the course.
Thoughtful design that is easy to wear.
Convenient and secure pain relief.
Versatile brace for many individuals.
Supreme comfort with flexible materials.
Breathable materials that do not get hot.
Moisture wicking and water resistant.
Individuals do not notice any changes.
8. Spartan Strength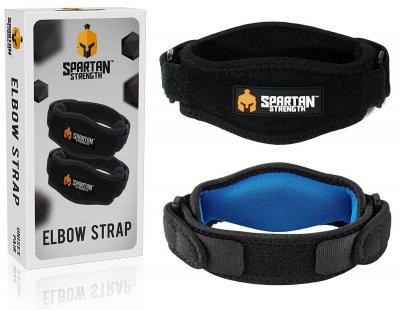 As the next band we are going to talk about, the Spartan Strength Elbow Band is created to remove forearm pain and other discomforts. With this, individuals are guaranteed an excellent product that is designed to move pain in areas of the body and also allows for an individual to wear it all day long even when working out or playing golf. Here are two features of this great product.
Expand to see more
Therapy Gel Pad

This item is made of a comfortable compression design that uses targeted pressure to effectively remove and relieve pain in specific areas. With this, the superior gel therapy pad is designed so individuals can feel more comfort and less pain. Also, when you take it off, you notice and feel the relief of the pad.

Adjustable

This particular pad is made to be fully adjustable and is designed with various sizes in mind. It is a one size fits all design that can fit muscular arms or even small and skinny elbows. With this, the fit is adjustable, secure, and it is designed from a durable and strong material that ensures maximum durability and comfort for all-day wear and tear.

Cost and Value

To discuss cost and value, this product has a great value design for individuals that want to feel relief right away. To add to this, it is expertly crafted to be easy to wear, easy to adjust, and easy to clean. It is a breathable material and for the price, it is an effective product. It has 4.5 stars and plenty of positive reviews if you are considering checking this specific item.
Effective pain relief and quality design.
Comfortable compression benefits.
Targeted compression through a pain relievers pad.
Adjustable design.
Can fit many different arms widths.
A bit costly compared to other brands.
May loose stitching after a while.
9. PowerLix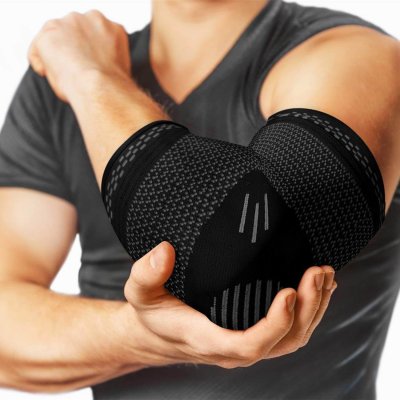 This next product has a high-quality powerful protection design. It not only is intended to cover one specific area, it actually is large enough that it will cover your whole elbow, part of your bicep, and part of your forearm. It is a long-sleeve design that comes in a pain, which is intended to treat elbow pain, arthritis and more. This is the PowerLix and here are two features to discuss this excellent product.
Expand to see more
Premium Quality Design

This product is designed from a premium quality design. The premium quality design of this product is a supported elbow sleeve design that is made from a compression fabric that is also highly breathable. The neoprene material is high quality and is also not itchy at all. With this, it is odor free and keeps your arm dry by wicking away moisture.

Anti-Slip Design

The design of this product does have a knitted technical design that ensures the sleeve stays in place, no matter what an individual does. This design gives you a smooth and soft compression feel that acts as a second layer of skin that will not slip off easily. With that, individuals are guaranteed that this product will remove pain and enhance the way that you feel.

Cost and Value

To discuss cost and value for this excellent product, we see this item as very high quality and also well-designed for individuals that want a full-support sleeve compression elbow brace. Now, the design is beneficial, however, it is not for everyone. Especially, if you do not like the feeling of compression or tightness. Overall, it works very well and minimizes pain in larger areas of the arm compared to the smaller braces in the industry.
Full support while maintaining your peak.
Full range of motion.
Elastic and moisture-wicking design.
Odor free and easy to clean.
Compression support for all areas.
Five-star product.
Comes in two color choices and different sizes.
10. LiveUp Sports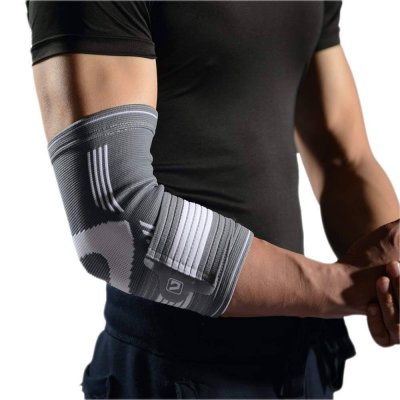 This is the last compression brace on our list and it is time to discuss the LiveUp Sports Elbow Brace. This product is high quality, well designed, and made from an elastic bandage material that ensures individuals will feel comfort and relief of pain during any exercise or sport. If the sport of golf is starting to cause a bit of arm pain, it is time to considerer this product.
Expand to see more
Three Dimensional Breathability

This product has three different material qualities that make it a high-value brace. The materials are rubber, polyester, and nylon. These materials together form a bond of comfort, elasticity, anti-odor, and beneficial comfort. Alongside this, it is lightweight, breathable, and does not get hot while wearing it. The level of breathability of this product is due to the nylon and spandex blend that allows for air to pass through without the product losing its compression benefits.

100% Quality

This product comes with a money back guarantee and an 18-month warranty. Essentially, individuals can easily wear this product all day long and it will not wear and tear as easily as other brands. It does come with a 1000% quality guarantee and individuals can easily return it, no questions asked, if unsatisfied. To add to this, individuals can easily wear it all day long for effective relief.

Cost and Value

As far as cost and value, the price of this item is currently discounted, and it happens to be well priced for the design. Overall, the design is very effective, and it does come in different sizes to choose from. It is recommended to not machine wash the product because it may wear and tear in the wash. With that in mind, it is a great product to consider overall.
Comfortable design.
Easy to wear.
High elastic compression strap design.
Easy to wear all day long.
No-slip cuff design.
Ultra-comfortable material.
Breathable and moisture -wicking.
May not work well in all conditions.
The durability is not as high quality as other brands.
Now that we have talked about the top ten, do you notice the evidently beneficial effects of wearing one of these products? If you are starting to feel the pain, it is time to consider getting one if you want to minimize pain in the elbow or in the arm. Moving forward, it is time to discuss the criteria for evaluating the best braces and we want to share what users can look for when buying the best brace. With such a large variety of different products out there, we wanted to evaluate the best ones and discuss with our audience which products are worth considering and why. Let's move onto the criteria.
Criteria Used in Choosing the Best Golf Elbow Braces
The Design
As we said above and as you can tell based on our list, there is a wide variety of different braces in the industry. There are braces designed to compress pain, absorb it, and minimize it. With that, they all have many different benefits. So, let's discuss the different designs of a brace so you can better select the best one for you.
There is a brace that is designed as a gel brace or foam. Essentially, you place the compression pad in a way where the gel is positioned on top of the pain. The way this works is by compressing the specific area and once you start to feel a shooting pain up the muscle, tendon, or vein, the foam or gel absorbs it and you start to feel a sense of relief. Think of it as having the same benefits as shock absorbent foam. With that in mind, these type of braces is highly beneficial for individuals that have shooting pain in specific areas of the body.
These type of brace are designed to cover a whole area and are designed to compress the muscle family. Instead of compressing one specific tendon, muscle, or vein, it, in fact, is designed to target the whole entire muscle group in the elbow or the arm. This is for individuals that feel more progressed pain and feel that they need relief in a larger area of the arm. With that, compression brace is designed to be very comfortable and still allow for a full range of motion.
The Features
How can I golf effectively if I have a tight compression product on my arm? Well, a compression brace is essentially designed to help minimize pain in a specific area without the individual being hindered from the sport. To add to this, we want to talk about the many features of a brace that aid an individual and make it easy to continue your game or workout.
Most braces are made from a material quality made of nylon, rubber, or neoprene. This material allows for the product to wick away moisture, so an individual is not feeling the effects of a wet and tight muscle group or skin. With that, it allows for the user's arm to be dry.
There is no point in wearing a brace unless you can wear it while performing. Therefore, they are all designed with a full range of motion. A full range of motion allows for an individual to wear the brace and not feel hindered. This is due to the elasticity and stitching of the product.
A quality brace will be designed to be breathable. A breathable brace will have the benefits of allowing for air to pass through so an individual wearing it can be more comfortable all day long. This is more common with compression braces.
Elasticity is a common design benefit of a properly designed brace. The stitching, construction, and material will be designed to be effectively elastic so it is easy to war, and easy to take off.
The Fit
The fit of the brace may just be the most important factor in selecting a quality product. The fit of the brace is what ensures an individual will be comfortable and the product will work as designed. So, if you are selecting a quality brace, here are two specific aspects to consider the fit of the product.
There is the "one-size-fits-all" brace. These tend to be fully adjustable and have a Velcro strap design that allows for an individual to wear it all day long and easily be able to adjust it at their discretion. With that in mind, the one size fits all also do come in various sizes but can be easily adjusted to fit your arm.
The braces that act more as a sleeve are designed to be elastic but come in various sizes because they are not adjustable. Therefore, if you are considering a sleeve, it is important to consider that it may come in various sizes to keep in mind.
Now that we have talked about the three most important aspects to keep in mind if you are looking for an elbow compression band, it is time to answer some of the most common questions.
FAQ
Frequently Asked Questions
Q: Can you wash the brace?
A: Most commonly, no! You do not want to wash the brace because it may be subject to wear and tear and may easily break apart if not careful. With that, if you have to wash the brace it is recommended to hand wash the product and not machine wash.
Q: What if the brace is "too tight"?
A: If the product is too tight and you cannot adjust it, many brands will allow you to return it for a larger size. However, keep in mind that a brace is designed to be tight around the muscle, that is the purpose of the compression benefits.
Q: How long before I noticed results and benefits?
A: Many individuals will notice results and benefits after a couple of times of using the brace. However, keep in mind that it may take a while before your pain starts to go away completely.
Q: What if the Velcro is starting to wear and tear?
A: Most brands use Velcro because it is designed to start tight and work very well. If it starts to wear and tear, some brands have a warranty that comes with the purchase and you may be able to return the product.