Best Golf Elbow Braces Reviewed & Rated for Quality
In a
Hurry? Editors choice: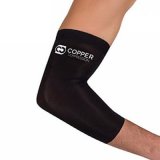 Test Winner: Copper Recovery

In the sport of golf, there are often times where a bad gesture, bad move, or bad swing can actually cause harm to your body. With that, it is not only crucial to exercise to ensure proper flexibility and body movement, but also it is important to stretch. Therefore, whether you run on the treadmill or use some exercise bands to stretch out your body, it is very important to start working out early on so you can perform better on the golf course.
Standout Picks
Criteria Used for Evaluation
Style
There is a wide variety of different braces in the industry. There are braces designed to compress pain, absorb it, and minimize it. With that, they all have many different benefits. So, let's discuss the different designs of a brace so you can better select the best one for you.
Gel / Foam
There is a brace that is designed as a gel brace or foam. Essentially, you place the compression pad in a way where the gel is positioned on top of the pain. The way this works is by compressing the specific area and once you start to feel a shooting pain up the muscle, tendon, or vein, the foam or gel absorbs it and you start to feel a sense of relief. Think of it as having the same benefits as shock absorbent foam. With that in mind, these type of braces is highly beneficial for individuals that have shooting pain in specific areas of the body.
Compression Brace
These type of brace are designed to cover a whole area and are designed to compress the muscle family. Instead of compressing one specific tendon, muscle, or vein, it, in fact, is designed to target the whole entire muscle group in the elbow or the arm. This is for individuals that feel more progressed pain and feel that they need relief in a larger area of the arm. With that, compression brace is designed to be very comfortable and still allow for a full range of motion.
Breathability
A quality brace will be designed to be breathable. A breathable brace will have the benefits of allowing for air to pass through so an individual wearing it can be more comfortable all day long. This is more common with compression braces.
Materials
Moisture Wicking
Most braces are made from a material quality made of nylon, rubber, or neoprene. This material allows for the product to wick away moisture, so an individual is not feeling the effects of a wet and tight muscle group or skin. With that, it allows for the user's arm to be dry.
Full Range
There is no point in wearing a brace unless you can wear it while performing. Therefore, they are all designed with a full range of motion. A full range of motion allows for an individual to wear the brace and not feel hindered. This is due to the elasticity and stitching of the product.
Fit
The fit of the brace may just be the most important factor in selecting a quality product. The fit of the brace is what ensures an individual will be comfortable and the product will work as designed. So, if you are selecting a quality brace, here are two specific aspects to consider the fit of the product.
One Size Fits All
There is the "one-size-fits-all" brace. These tend to be fully adjustable and have a Velcro strap design that allows for an individual to wear it all day long and easily be able to adjust it at their discretion. With that in mind, the one size fits all also do come in various sizes but can be easily adjusted to fit your arm.
Compression One Size
The braces that act more as a sleeve are designed to be elastic but come in various sizes because they are not adjustable. Therefore, if you are considering a sleeve, it is important to consider that it may come in various sizes to keep in mind.
Subscribe to our Newsletter