10 Best Drivers for High Handicappers
In a
Hurry? Editors choice: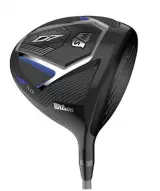 Test Winner: Wilson Staff D7

If you thought that golf drivers for high handicappers are designed just to scale up the sales of the
golf manufacturing companies,
after reading this article we will prove you completely wrong. As high handicappers differ from advanced players, thus the clubs they use feature some specific characteristics that differentiate them from the others.
Drivers for high handicappers play the key role in golfers' performance since every beginning of the game, off the tee, often represents a psychological moment that either motivates golfers or discourages them completely.
If you wonder what makes them different, we'll mention the size, the weight and the forgiveness they deliver. Each of them has specific features that fit them in the category best golf drivers for high handicappers, so if you want to find out more, read below.
Standout Picks
Criteria Used for Evaluation
Features
High handicappers are two-digit players who lack the strength and the skills of better players in almost all aspects of performance. These golfers are usually those who play golf from time to time, golfers who have just started playing golf, seniors or recreational players. What these golfers need from the clubs they use is a bit more assistance from their clubs to achieve substantial results. Golf drivers for high handicappers need to feature certain features that provide this assistance.
Forgiveness- This is probably the most important feature for every high handicapper because a highly forgiving driver will help golfers have the ball launched higher in the air with a longer and straighter trajectory. Forgiving drivers have a center of gravity positioned back and low for higher launch and low spin.
Large sweet spot-when the clubhead is oversized and the face is made hotter with more flex so that a spring-like effect is created. Larger sweet spot means more forgiveness because it produces long trajectories even when golfers hit the balls off-center.
Lightweight construction- when the driver is lighter, it is easier for golfers who have a slower swing speed to produce a full-blown swing effectively. This also includes the shaft which needs to be made from graphite.
Adjustability
Adjustability-when we talk about adjustability, we usually mean loft adjustability, weight adjustability and shaft selection with specific, customizable grip.
Loft adjustability- these drivers usually feature adjustable hosel which can customize the lofts that range from 9 to 12 degrees, opposite to bonded hosel design which has a fixed loft.
Weight adjustability- certain drivers are engineered with movable weights that can be moved from the front to the back of the clubhead so that golfers can specifically set the weight to match their style and lie conditions. When moving the weight back and low, is usually a position that is the most appropriate for high handicappers.
Shaft selection- the opportunity to select the shaft and customize it with the specific flex offers additional custom fit design for improved performance.
This criterion has made the greatest difference regarding the best golf drivers for high handicappers since not all the drivers can be adjusted. However, we have to emphasize the fact that adjustability of the driver doesn't make that driver bad, just it won't provide you with the ability to customize it for your own needs.
Ease of Use
We have previously defined high handicappers as golfers who don't play golf to make a living, so they don't take the game as seriously as better players. This means that the entertainment factor shouldn't be neglected and golfers expect from these drivers to assist them in their performance. As we have described in the "features" criterion, the fact that they are forgiving, oversized and with a large sweet spot, make them easy to use and good golf drivers for high handicappers.
Effectiveness
An effective golf driver for high handicappers is the one that has the above-mentioned features and which can deliver the expected performance such as longer ball flights off the tea, straighter trajectories with low spin and longer distance. Many of the drivers do deliver these performance characteristics if you are a good player with fast swing speed, but the point of best golf driver for high handicappers is to help golfers perform in the same manner, without putting extra effort. Based on their design and the reviews provided by users, we were able to determine the effectiveness rate that each of the drivers delivers.
Value
Buying a driver can be a sizeable investment, depending on the type of driver you'd like to invest in. However, this category of golfers is the most varied when it comes to their preferences. Some recreational golfers like to possess their own clubs, but look for some good bang for the buck, and there are golfers who prefer high-quality, latest releases that feature all the bells and whistles.
This is exactly the reason why we have included such a wide variety of golf drivers for high handicappers that differ in their price points because of the date of release, the technology that has been utilized in their design and the brand-name they have.
Top Rated Drivers for High Handicappers
Subscribe to our Newsletter