10 Best Golf Distance Finders
last updated
Aug 13, 2019
The days of guessing the distance to the next target and looking for the nearest distance markers are long gone as the modern technology made it possible for each golfer to have an individual device that will calculate the distance to the flagpole or any other object on the course. Golf distance finders represent one of the most necessary units for all kind of golfers to help them lower the score and perform much more accurately.
Everyone is aware that golf distance finders, or rangefinders, are crucial to have a clear perspective of where, how and how fast you need to shoot the ball, but the ever-present dilemma is which one to choose?
We know how time-consuming is the process of searching for the most appropriate golf distance finders, so we have selected the best ones in premium and budget category which boast accuracy and reliability.
In a Hurry? The test winner after 32 hrs of research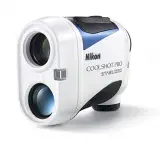 Nikon Coolshot Pro Stabilized
Why is it better?
Stabilization technology stabilizes the viewfinder and the laser for more control and accuracy
ID technology for slope measurements
External LED indicator visually informs when the slope function is off
Crystal clear red OLED display and 6x magnification
In a
Hurry? Editors choice: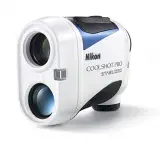 Test Winner: Nikon Coolshot Pro Stabilized

36
Researched Sources
239
Reviews Considered
32
Hours Researching
39
Products Evaluated
Accuracy
Features
Durability
Visibility
Value
By Default
In Depth Review Top 10
Nikon Coolshot Pro Stabilized
Bushnell V4 Tour Shift
Callaway 300 Pro
TecTecTec VPRO500
WoSports
Leupold GX 2i3
LaserWorks Pro X7
Precision Pro Slope
PeakPulse 6 Pro
CaddyTek CaddyView V2+ Slope
Table of contents
Criteria Used for Evaluation
Frequently Asked Questions
Sources
Best Golf Distance Finder Reviews
1

. Nikon Coolshot Pro Stabilized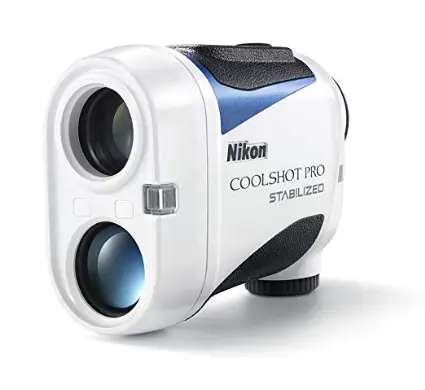 Stabilization technology stabilizes the viewfinder and the laser for more control and accuracy
ID technology for slope measurements
External LED indicator visually informs when the slope function is off
Crystal clear red OLED display and 6x magnification
Nikon is a world-renowned optics manufacturer that constantly launches products that stand up its name and reputation. It is the company that makes premium-class golf distance finders with reliable performance and quality. This model features the second generation of the company's exclusive stabilization technology that delivers much-improved viewfinder for unsurpassed control and accuracy.
Read more
Technology
Plenty of features that integrate breakthrough technologies, make Nikon Pro Stabilized one of the best golf distance finders. It features the proprietary ID (Incline/Decline) technology which yields slope-adjusted distance, i.e., the horizontal distance plus the height. This mode can be turned off to make it tournament legal and the Actual Distance Indicator flashes to notify that this mode is not in function.
Accuracy
The measurement range it calculates goes from 8 to 1200 yards with accuracy up to .75 yards within 700 yards, 1.25 yards from 700-1000 yards and 1.75 yards beyond 1000 yards. The Locked On technology ensures golfers that the measurement provided is the one to the flagstick and not to a tree nearby with the visual green circle displayed. The next-gen Hyper Read displays the measurement results in about 0.3 seconds which is one of the fastest rangefinders on the market. When you hold the power button for 8 seconds it will continuously measure the range to find the distance to small or thin objects so that you know the distance to hazards, trees, mounds within seconds.
Display
The red OLED display is one of the brightest that you can find in a rangefinder since it provides adjustability of the brightness for optimal visibility in different light conditions. The multicoated optics and the rear diopter ring for fast focus deliver clear view for everyone.
Cost and Value
Pro Stabilized is one of Nikon's latest distance finders which deliver the most stable distance reading with multiple modes and functions. It is completely water and fog proof and it is very lightweight. The compact and ergonomic design allows golfers to fit it in their hands or any golf bag pocket. The price it has is on the high end but for the price, you get optimum quality and reliable performance.
2

. Bushnell V4 Tour Shift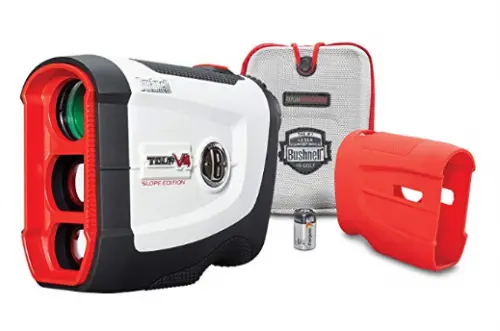 PinSeeker with Jolt technology delivers a vibrating notification when the laser locked onto a golf flag
Slope mode that is easily turned on and off
Bushnell Golf Application with 36,000 maps included
6x magnification, 1-yard accuracy, ranges 5 to 1000 yards
A few golfers reported battery issues
One of the most dominant manufacturers of optic and visual aid tools and gear, Bushnell, has been the most dominant within the rangefinder spectrum on the golf course, and it claims absolute supremacy as their golf distance finders are used by 99.3% of the PGA Tour pros. There are multiple reasons for its dominance, such as reliable and accurate readings, utmost precision and versatile functions. The Tour V4 model is one of the golfers' favorites, so read below to find out the reason why.
Read more
Technology
The main feature that defines this model is PinSeeker with Jolt technology that provides golfers with a vibrating alert to notify that the laser has locked onto the flag. This provides confidence and assurance that it is not a false alert or a false-positive target. The slope compensation technology adjusts and calculates the yardages depending on the degree of the slope which provides golfers with more precision, while the slope-switch technology allows golfers to easily switch the slope function on and off.
Accuracy
The sole fact that it is PGA Tour golfers' favorite golf distance finder talks a lot about its function and accuracy. The measuring distance ranges from 5 to 100 yards, with about 400+ yards to a flag. The accuracy it displays is up to 1 yard.
When purchasing a Bushnell Tour rangefinder you get the access of the Bushnell Golf App which includes access to more than 36,000+ courses layouts in 30 countries with hole layouts with distances and 3D flyovers with the distances to the front, back and the center.
Display
It has a clear and bright display with five times magnification zoom and fast focus system. It performs equally well during the bright sunny day as in heavily shaded areas, however, at night it does not provide the reading.
Cost and Value
When it comes to distance finders, Bushnell dominates the market with the cutting-edge technology that the company has integrated into its products and the high quality they feature. This range finder is fast, accurate and easy to use. Plus, you get the Bushnell app for free with maps included and two years guarantee. Since Bushnell is the market leader, its products are fairly high priced as this rangefinder is.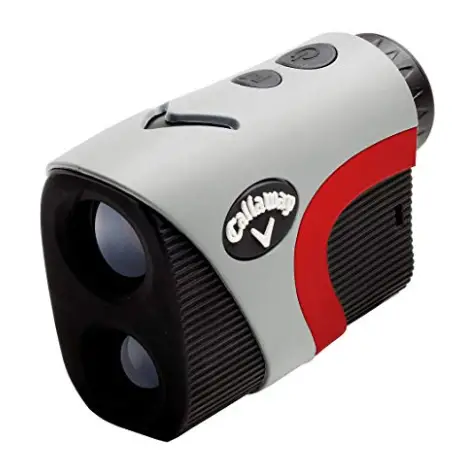 Slope technology calculates the incline and the decline and calculates the distance
P.A.T technology locks onto the pin from up to 300 yards away
Unique Birdie feature audibly confirms the distance acquisition the flag
5-100 yards range with +/- 1yard
An LCD display and 6x magnification
A few golfers reported accuracy issues
Not only is Callaway one of the best golf gear and equipment companies but it is also one of the most versatile ones, producing almost everything that is golf-related, from golf accessories to golf distance finders. Callaway 300 Pro is outstanding rangefinder, delivering fast and accurate readings, made with one of the most advanced technologies coming from Callaway. It is many golfers' favorite golf distance finder so to find out why you should read the description below.
Read more
Technology
The featured technology is the proprietary Pin Acquisition Technology which can lock onto the pin from 300 yards away in the most accurate manner without considering the trees and other objects in the background. It has an authentic Birdies feature which delivers 'chirp' sound to let golfers know that the distance to the flagstick has been acquired. The slope measurement technology can calculate the angle of incline and decline so that the slope distance is calculated. However, to use it in a tournament, you can switch the slope function off with a click of a button.
Accuracy
Callaway 300 Pro boasts extreme accuracy that measures from 5 to 1000 yards. Plus it features scan mode which can scan the landscape to pick up distances to multiple targets such as water hazards, greenside bunkers, trees, etc.
Display
The LCD display it features is easy to read and it shows both yards and meters to the target, PAT indicator, Zero-In Aiming technology indicator, and slope-related information. It features 6 times zoom for easy targeting to the pin and landscape scan.
Cost and Value
This ergonomic and easy to use golf distance finder is ideal for anyone on the course, from Tour players to first-time golfers as it delivers all the necessary information. It is water and fog resistant, lightweight and convenient. Made by Callaway means that it is backed up by superior technology and the highest quality materials. What comes as a surprise for those who appreciate Callaway products is the mid-range price which means excellent value for the money you pay.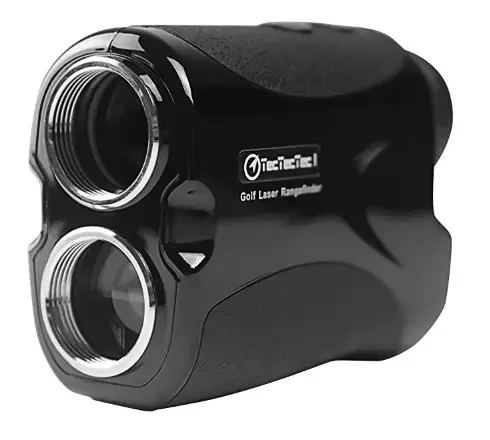 New, 2019 upgraded golf distance finder
Pinsensor technology that measures overlapping multiple objects
Three modes, normal, scan and pin mode
Multilayered optics and bright, easy to read display
Water and fog resistant, easy to carry and lightweight
There isn't any other golf distance finder on the net that has as many positive five-star rating as VPRO500 has, giving it the status of being the most favorite golfers' rangefinder. It is quick, accurate and flexible, allowing golfers to develop or enhance their golfing abilities. Equipped with diopter adjustment functionality, it is designed to suit its purpose regardless if you are near or farsighted.
Read more
Technology
The new Pinsensor technology which has been upgraded this year will deliver accurate and fast measurement of overlapping subjects. This means that you can measure the distance to the flag regardless of the background objects. It works in three modes. The Normal mode is used to aim and gain distance of individual targets that are close or straight forward, while the Scan mode can deliver the distance to multiple objects while scanning the terrain and planning difficult shots. And the Pin mode is used when the flagstick is surrounded by multiple objects or when the circumstances are less than ideal.
Accuracy
TacTacTac VPRO500 is a premium distance finder which can provide very fast measurement to the selected target with 1-yard accuracy. It measures up to 540 yards with continuous scan mode.
Display
The display is clear and bright and displays the distance and the battery status, flag icon for pin mode, and continuous measurement mode. It features multilayered optics with rotating eyepiece for zooming the target.
Cost and Value
This new upgraded release features a higher price point compared to its previous version. However, it brings improved features and more reliable performance. Plus, it comes as a full package including a carry pouch, CR2 battery, microfiber cloth, and quick start guide. It also comes with a 3-years guarantee and an opportunity to return the product if it fails to meet your expectations within 30-days from the day of the purchase.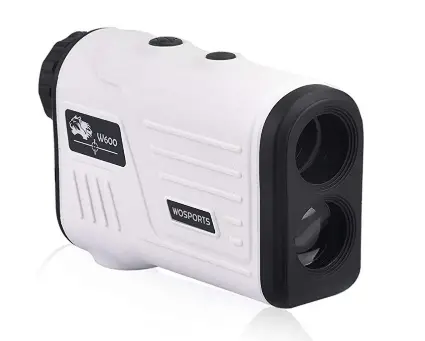 Multifunctional rangefinder with all golf-related functions
There are four modes, three of which are golf related
Measures distances from 5 to 650 yards and 180 yards to the flagpole
Complete package with a year guarantee
Issues with the battery compartment
Not all the golfers out there have the means or are they willing to break the bank for a premium name-brand rangefinder. This fact is well known to many manufacturers that make inexpensive, high-quality golf distance finders. Such is WoSport, made to deliver all the necessary distance information for a very budget-friendly price tag.
Read more
Technology
WoSport is multifunctional, laser rangefinder which besides hunting, it is fully enabled to deliver golf readings. So, it will provide you with information regarding the range, angle, slope distance correction, flag-locking functions, and speed functions. There are four available modes with different functions. The M1 is used for targeting or continuous measurements while M2 has a pin seeking function that vibrates once it has locked onto the pin. The third mode features the slope function and it works in the same way as the M2 just the slope function calculates the inclinations and declines. The fourth mode is the scanning mode that determines the speed of an object across the screen which is a hunting feature.
Accuracy
This rangefinder delivers accurate measurements of golf slopes that range from 5 to 650 yards and 180 yards to a flag lock. It is very precise and the accuracy ranges +/- 1 yard. The readings it delivers can be displayed in yards and meters.
Display
The display is clear and visible which reads the required information under the mode that is used and the measurements it calculates. It features 6x magnification which helps golfers determine the visual field and plan their next shot.
Cost and Value
As we mentioned in the beginning, this is a distance finder that belong to the budget class and which is among those that are more reasonably priced. But, don't be fooled by the price tag, as this model has been one of the highest-rated, budget-category rangefinders.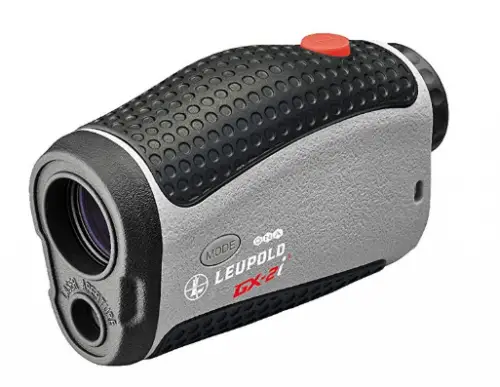 Incredible precision and speed with the proprietary DNA technology
PinHunter 3 Laser technology makes zeroing in on the target faster by filtering background images
Audible tone when the target is found and the distance is displayed
Club recommendations based on the True Golf Range
Some golfers mentioned stabilization issues
Leupold made some unexpected moves when in 2017 the company introduced the cutting-edge DNA (Digitally Enhanced Accuracy) technology to bridge the gap between the regulations that refer to rangefinders and the prospects of the units being used on the course. Among all golf distance finders, Gx2i3 is one of the most refined and tech-packed to deliver unmatched levels of precision and speed. With its bright, color display and the incredible resolution of 1/10th of a yard, you will enjoy its benefits on the course.
Read more
Technology
Leupold GX 2i3 is one of the most versatile golf distance finders delivering a variety of information and measurements besides the distances. The Club Selector and TGR (True Golf Range) provide club selection recommendation which is based on the hitting strength, environmental conditions, slope for greater accuracy. This feature can be turned off to make it legal. There is a fog mode included that helps golfers cut down on false readings.
Accuracy
The PinHunter 3 Laser technology clears out the images from the background by making zeroing on the target much faster and easier. The Leupold GX Prism Lock Technology audibly notifies the golfer when the rangefinder finds the target and the distance is immediately displayed. The scan mode is activated upon one touch, delivering information regarding hazards, trees, bunkers, etc. It delivers 400 yards to the pin, 865 reflective yards. The measuring accuracy is .50 for less than 100 yards.
Display
The bright and clear display is one of the most precise delivering visual images with a resolution to within 1/10th of a yard against all textures and colors in the background. In addition to basic readings, the display will indicate the altitude, temperature, incline, decline and other atmospheric conditions.
Cost and Value
This might be one of the best mid-priced golf distance finders on the market today. The rough texture of the casing, the completely waterproof construction, and the ergonomic design make it convenient and easy to use. Considering all the versatile functions it has and the prime accuracy, it is one of the best-valued rangefinders that you can find on the market.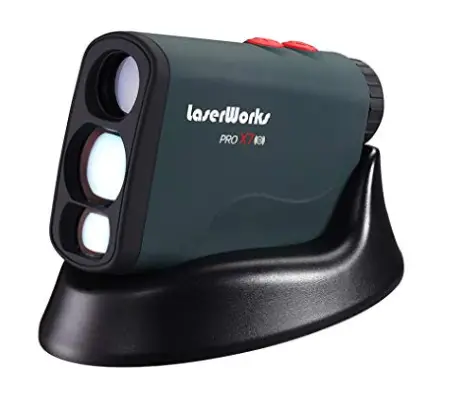 Charged wirelessly from a base that is charged on a USB charger
It has battery capacity from 5000 to 8000 measurements which is about 6 months
It has seven distinctive modes (Scan, Slope, Pin…)
High resolution and very precise +/-0.5m<200m, +/-1m>200m
How many times has it happened to get to the course and realized that the battery of your finder had turned dead, or it doesn't pick the distance quite well because of the poor battery? Probably it has happened at least once and it hasn't been a nice experience. Well, with LaserWorks Pro X7 the chances to experience the awkward situation of not knowing the distance, or to borrow a rangefinder from a golf buddy are almost zero. With a wireless charger with a USB charged base, and 5000-8000 measurement times capacity, you can be confident that you will have all the information regarding distance and the terrain itself.
Read more
Technology
The familiar Pin-sensor technology has been utilized in this model to deliver accurate readings even when there are overlapping objects. There are 7 modes, ranging from Standard mode/Scan, Horizontal distance measuring, Fog mode, Vertical height measure, Pin lock, Golf slope compensation, and Speed. The Slope mode allows you to have the distance calculated including uphill and downhill compensated values.
Accuracy
It features a high-precision measurement system with a resolution of about 0.5 yards when the target is within 200 yards. When measuring distances over 200 yards the resolution is +/- 1-yard. The maximum range it measures is 656 yards.
Display
The display is very vivid and bright and easy to read the measurements. It has an adjustable eyepiece and 6x magnification for clearer imaging.
Cost and Value
This is an amazing golf distance finder with all the perks that modern and premium ones feature. It has everything you need for accurate measurements to any target including the hazards and overlapping objects. It is waterproof and dustproof, and it comes as a full package including a case, charging base, a USB cable, a cleaning cloth, and an instruction manual. You get all this for a price point that is the lowest compared to all the others on the list.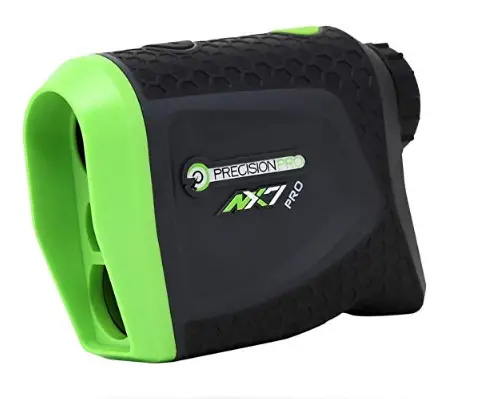 Adaptive Slope technology with on and off function
It delivers short vibration bursts once the target has been acquired
Maximum 800-yard range with 1-yard precision
Free lifetime battery replacement and a two-year warranty
It doesn't have a scan mode
Like most of the distance finders, Pro Slope has been made to provide accurate distance on flat or inclined surfaces. No wonder that the latest releases include this possibility, even though it is not tournament legal since it provides golfers with a sense of distance while practicing and lets them select the right club. It is precise, reliable and it features all those characters that are integrated into the most prominent golf distance finders.
Read more
Technology
Precision rangefinders have been designed in collaboration with golfers and their instructions. The research and the multiple tests ensure that they are in line with current golfers' demands. The Adaptive Slope Technology delivers the option 'play as' distance so that golfers make a simplified decision on which club to choose. The Pulse Vibration Technology brings you the confidence to hit the target by simply delivering a short vibration that ensures golfers that the distance delivered is the right one.
Accuracy
Accuracy is everything when it comes to rangefinders, and Precision NX7 Pro Slope boasts ultimate precision and reliability. It has an 800-yard range capacity and it displays 1/10-yard measurements with one-yard accuracy. The accuracy is confirmed with the vibration bursts once the target has been acquired.
Display
It is built with crystal clear optics and bright display which provides the measurements in a very short time even for golfers who have shaky hands. It features 6x magnification with reliable quality and no blurry visions.
Cost and Value
Precision NX7 Pro Slope offers a full-pack of services for ultimate satisfaction. In addition to the features that we have just described it comes with a two-year warranty, 90-days money-back guarantee and free battery replacement for life after you have registered upon purchase. These benefits come with a price tag which is within the mid-range so it is an excellent value for the money.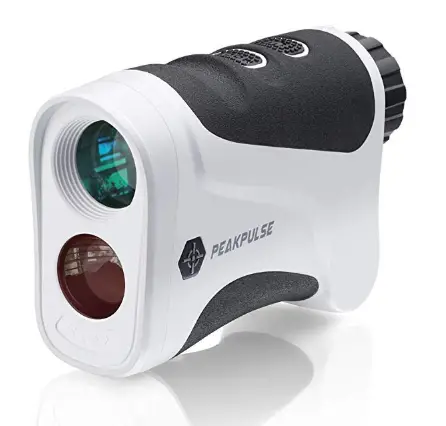 Slope function that can be easily turned on and off
Flag Acquisition technology with vibration alert
Fast Focus System for golfers who wear glasses
400 yards range with 1-yard accuracy and 6x zoom
It doesn't have a scan function
Every golfer wishes to have a top-performing, high-end Bushnell rangefinder, however, for many that idea is just wishful thinking considering the extremely high prices. It is true that top-notch golf distance finders cost quite a lot, but in case your budget is limited, you'll still be able to find much cheaper distance finders that can provide similar results. Talking about the budget category, PeakPlus 6 Pro is an excellent rangefinder that seems to has it all.
Read more
Technology
Slope technology is getting more and more popular, so if this was a premium limited feature just a few years ago, it is hard not to find it in the latest releases. PeakPulse delivers distance calculations with or without the slope function by just toggling the button on and off. Another very useful feature is the flag acquisition with vibration technology, a familiar feature among much pricier golf distance finders that confirms that the flag has been acquired.
Accuracy
Any rangefinder would be worthless if it lacked accuracy, so this is the first thing you need. PeakPulse 6 Pro will provide you with the exact distance to the selected target with accuracy to 1 yard and it can shoot distances to the 1/10th of a yard. Plus, with the help of the Advanced Acquisition Technology, all the background objects get filtered out to ensure golfers that the target is the flag and not something behind the flag. The maximum range it has is 400 yards, which is not an impressive feature though.
Display
The yardage readings are delivered on the bright, color display. The clear optics, 6x zoom and the Fast Focus System makes it adjustable for golfers who wear glasses too so that it keeps the vision clear.
Cost and Value
If we talk about good value for the money, this is the model that deserves a five-star rating. Featuring almost everything that pro golf distance finders feature, from slope function, pin acquisition with vibration alert, 6x zoom and fast focus system, to ergonomic design and waterproof construction, they all speak high performance. It comes as a full pack with a case, battery, and cloth with one year guarantee. The price it has is unbeatable and it is an excellent value for the money.
10

. CaddyTek CaddyView V2+ Slope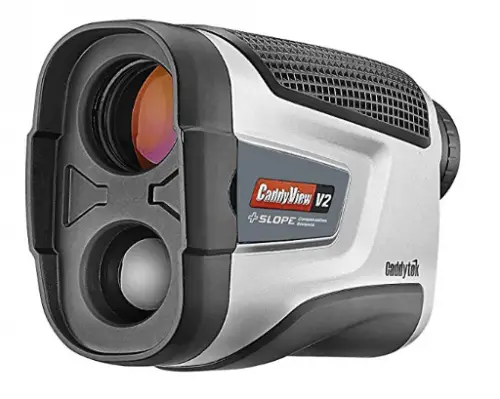 Mode-Switching patented one-step button from slope to non-slope mode
Flag seeking technology acquires the distance to the flag excluding the objects behind
Ranges from 5 to 800 yards, 5 to 250 to the flag with 1-yard accuracy
Clear and bright display with 6x zoom
Waterproof, ergonomic and very compact design
For many golfers, the performance they get from the rangefinder is crucial for their performance, and sometimes it can mean saving many strokes. CaddyView V2+ Slope has been one of those golf distance finders that offer a full pack of features to enable golfers to get maximum advantages from it. The compact, waterproof and ergonomic design and the excellent accuracy guarantee that you are going to maximize your performance and lower your handicap.
Read more
Technology
This model features a patented one-step mode "Mode-Switching" technology which enables golfers to use the slope mode for a compensated slope distance measurements and to turn this function off when playing in tournaments. The slope, when practicing, will help you better choose the club and get a better sense of the distance measurements. FlagSeeking technology can calculate the distance to the flagstick without taking into consideration the background objects such as trees and bushes making sure that it is the flag you need to aim to.
Accuracy
The distance range that you can calculate with it goes from 5 to 800 yards and 5 to 250 yards to the golf flag. It is very accurate rangefinder with an accuracy of +/- 1-yard.
Display
The images on the display are bright, with high resolution and very clear. The rotating eyepiece enables you to adjust the visual field for your needs and it offers 6x magnification.
Cost and Value
This golf distance finder is an excellent option if your budget is tight. It will provide you with correct measurements so that you know which club to select. With the slope function and pin seeking technology, waterproof design, and a hard case, it is a generous offer for a very affordable price.
Criteria Used for Evaluation


Accuracy
The main reason why anyone would buy a golf distance finder is to have an accurate distance reading to the flagpole, hazards and scan the terrain. So, it is more than obvious that the accuracy would be the first criterion that matters. You don't have to have all the bells and whistles in a rangefinder, but what you need is reliable accuracy which will influence the choice of the club and the intensity of the stroke you'll have.
The ten selections of the best golf distance finders have been selected thanks to their exceptional accuracy, a claim made by buyers and manufacturers. As you can see from the score attributed to each of them, none of them lacks this feature, guaranteeing performance and confidence on the course.


Features
The features in the golf distance finders enabled us to categorize them better and rank them accordingly. It is always the rule of thumb that the more features the better, and this rule applies to rangefinders too.
The distance range capacity would be the first feature that matters and we can see a considerable gap that starts from 400-yard range to 1200-yard range with 0.5 to 1-yard accuracy. Of course, those that have a larger distance range have been valued higher than those with lower distance range.
Another important feature is the slope mode function. There are many technologies developed to deliver this possibility and most of the golf distance finders offer the possibility to have the distance calculated with the slope mode on and off. The slope mode is not tournament legal, so the possibility to have it off is very important.
The scan mode and the ability to deliver measurements when there are overlapping objects is highly required since it will help golfers make better club selection and plan difficult shots.
The vibration alert or audio alert that comes as a confirmation that the target or the flag has been locked onto is the confidence that golfers need on the course, so having this feature makes things much easier.
Waterproof, ergonomic and compact golf distance finders that come in a full-pack offer with a carry case, a cloth and batteries are a much-preferred choice among golfers, so we took this into account within this criterion.


Durability
While we were looking for the best golf distance finders, we came across golfers' complaints about short durability of certain models, so we wanted to make sure that the ones that we would pick will be those that will serve you for a long time. We can't claim that the ones on our list won't break down or fail to deliver the distance, as nothing is made to last forever. However, we can assure you that these rangefinders have the lowest number of negative reviews regarding this criterion, a fact that speaks for itself that they are made to last.


Visibility
The visibility of the target you're aiming to is of high importance so that you can plan your future steps. The lens quality is crucial here and some of the golf distance finders feature multilayered lenses that have a wider pupil and larger perimeter of visibility to enable golfers to scan the area better. Also, almost all of the rangefinders come with an LCD, color display that delivers the information in bright colors and extreme visibility. The magnification of 5 to 6 times and the fast focus systems allow golfers who have impaired vision to better adjust the image and get the target without any issues.


Value
Like everything else when it comes to golf products, the price variety is striking and often golfers feel insecure of what makes a good golf distance finder, especially when two seemingly identical products feature extreme price difference.
When it comes to such a difference it is usually a matter of a name-brand and a no-name brand. So, it is usually up to golfers to decide what their preference will be. Name-brands usually include the most groundbreaking technologies and the highest quality of materials, but interestingly enough, many new companies are trying to integrate supreme quality and performance within their products too in order to attract more golfers.
This is the reason why we have compiled our list with differently priced golf distance finders so that every golfer has the chance to select what is best within his/her financial possibilities.
Frequently Asked Questions
q:

Are there any golf distance finders that provide other measurements except distance to the target?

a:

Yes, there're a few models that offer temperature, altitude, and other atmospheric conditions.
q:

Is it crucial for a distance finder to have the possibility to turn the slope function off?

a:

If you plan on using it in a tournament than you will have to use it without the slope function off since the slope mode is not legal.
q:

Do I need a top-notch distance finder to get the most accurate distance?

a:

The fact that a golf distance finder is rated as top-notch means that it integrates the latest and the most advanced technologies for much-enhanced performance. However, if you need it for recreational purposes only, and if your budget is limited, there are many other averagely designed and cheaper models that will provide good distance readings.