10 Best Golf Clubs Reviewed
In a
Hurry? Editors choice:
Test Winner: Ping G410 Plus Driver

In the ocean of golf clubs, the task of finding the best ten seemed to be like looking for a needle in a haystack (or ten needles) and each was supposed to be different from another. There are hundreds of different models, each with a specific function aimed to appeal to different types of golfers with equally varied styles and skills.

As this buying guide makes no exemption from the type and the category of the best golf clubs, we have selected a wide range of clubs, from full sets that are aimed to appeal to high handicappers to individual clubs for better players. In order to make this guide the most beneficial, you will find the best golf clubs in each category they belong to, from drivers to putters. We have explained the reasons why we have selected them and what performance you could expect from them.
Standout Picks
Criteria Used for Evaluation
Brand
Why did we choose name-brand products? The reason is pretty straight forward. This is one of those buying guides that, on the one hand, involve the broadest selection of possibilities, but on the other hand, it is limiting as we needed to choose those clubs that stand out in the way they have been made and the performance they deliver. So, what you are looking at, are the best of the best.
Therefore, in order to entitle the products with the labeling 'the best in the category', they needed to stand out in the way they have been made, the technologies used and the materials utilized in their manufacturing process. And such complex approach can be seen utilized by the most prominent companies that invest a lot of money in research and development so that they reach their final outcome which is often a ch-improved version of the previous model that was introduced on the market. So, it is not just the name, it is the dedication, the technology, and the finances spent to get the labeling 'the best of the best'.
Release Date
When someone is choosing the best golf clubs, the person usually is looking for the most advanced club that he/she can buy so that it delivers an optimal performance which is made to yield. As the latest technologies are rapidly growing and reaching areas that haven't been reached before, thus golf clubs are constantly developing in line with the overall technical development. Therefore, the release date does matter, as it means that each new model will be a bit more advanced and sophisticated compared to its predecessor. So, our list contains the most superior models in each category that have been released within the last few years with the accent of this and last year's releases.
Versatility
If you carefully took a look at the content of this buying guide, you must have noticed the extreme variety in the selected models in regards to their function and use on the course and the level of difficulty, i.e., the type of players they have been aimed at. So, from full sets that include the most necessary clubs intended for beginners and high handicappers to various individual clubs such as irons, woods, and hybrids, every kind of player kind find its perfect match. What is also important to note, is the fact that if one line of clubs exists in the category of irons, the same can be found in the rest of the clubs. So, these representatives stand for the whole line of clubs and most of them appeal to golfers of various handicaps.
Value
In the search for getting the best value for the money, ignoring this criterion would mean underestimating the essential interests of our golfers. Mind you, though, this doesn't mean that we have selected the cheapest products we could find, on the contrary, many of them are very expensive, but in addition to featuring a very high price, they do deliver performance and are characterized with certain features that can be rarely found in other similar clubs. So, what we considered was to include the ones that represent outstanding value for the money.
Top Rated Golf Clubs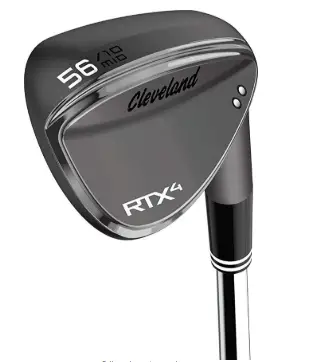 Progressive design and progressive CG for better consistency, feel and control
Sharper and deeper grooves for better slicing
Durable Lasser Milling with Centered Rotex Milling
Four sole options for greater versatility
Cleveland wedge dynasty stretches back to 1979 when they launched their first blade wedge, and up until now, we have seen some meticulously perfected designs when it comes to wedges, making Cleveland reign the throne of wedges. This fourth generation represents design excellence and it is aimed to better plays. It is a complete transformation of tour wedge concept, as Cleveland says, it is a paradigm shift seen in the ability of the wedge to produce more spin, more versatility, and more feel.
Read more
Design Features
The first instance of the refined design of RTX 4 can be seen in the 4th generation Rotex Face Technology which delivers more spin, better distance control and accuracy. The all-new lesser milling and the deeper and the sharper grooves deliver much more consistency and better performance through the grass. The CG is positioned closer to where golfers hit the ball and with the progressive back shaping, the CG is adjusted by loft which enables golfers to hit easily all types of short game shots. Plus, higher lofts resemble more traditional wedge shape while lower lofts feature straighter edge and they are more compact.
Sole Options
The greatest versatility can be seen in the four sole grinds so that golfers can execute the toughest and the most challenging shots around the green. This means golfers can choose from Full, Mid, Low, XLow sole depending on their game style and their needs. Full Sole is actually the traditional mid-bounce intended for stability, extra support on bunker shots and for golfers who hit a medium to a large divot. Mid Sole has a V-shape that has a leading edge which is open on face shots and it adds more stability on full shots. Low Sole has a C-shape design which yields heel and toe relief and total versatility. The XLow Sole is perfect for hitting with a very open face and for tight lies.
Cost and Value
This tour-inspired and the tour-intended wedge has been created with constant feedback from the most prominent tour players, leaving nothing to the chance and making it the ultimate winner in this category of wedges. It is pricey, but its price justifies its supreme quality and ultimate performance.

2

. Tour Edge CBX 119 Fairway Wood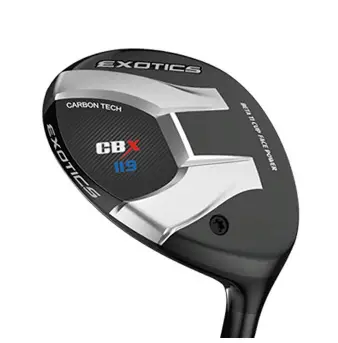 An updated version of the award-winning CBX based on the feedback of 50+ PGA professionals
Combo-brazing titanium cup face
Stainless steel body and carbon fiber sole
CG optimization by saving 25% of the weight
Less speed and ultimately greatest distance
Last year was a boom year for Tour Edge CBX as it reached the 'most wanted' status thanks to its high-performing features, outperforming some of the most established names in the game such as TaylorMade, Callaway, Cobra King and so forth. As Tour Edge has always been driven somewhere between the best and the acceptable, this was a quantum leap for the brand that has been struggling for years to get the well-deserved appraisal and be placed in the same rang with the pillars of golf gear manufacturers. And, as if six victories hadn't been enough, Tour Edge additionally improved the CBX design with the CBX 119 based on Tour players' input and feedback. Below we reveal the improvements they have made.
Read more
Features
To achieve less spin without compromising the MOI, Tour Edge designers created wider and deeper Speed Ramp Sole which has larger carbon-fiber soleplate while the face is made from combo-brazed beta-titanium. To shift the CG to the most optimal position, they freed up about 25% of the total weight and manipulated it for optimal performance, making it one of the best golf clubs on the market featuring shorter length from heel to toe and deeper face.
Performance
Designed like this, the designers were able to achieve much further distance that one would hope for with highly reduced spin. This is supported by the numerous testings that were performed, proving that CBX 119 is the longest fairway currently being sold on the market.
Cost and Value
If the predecessor of this model was given six awards and was able to win many competitions, there's a bright future ahead of this model too. As the accent is put on distance, the preliminary testings and trials prove that currently, it is unbeatable. So, you have already guessed that the price tag is fairly high, as the quality of the club is high too.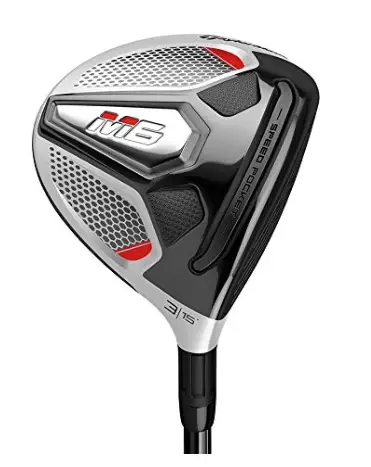 TwistFace technology- it curves the face so that it brings more forgiveness
Deep and large carbon crown delivers excellent playability
Speed Pocket design increases the COR area
TPU slot insert improves the turf interaction
One of the leaders in golf manufacturing, TaylorMade made a huge impact with its latest series that were launched on the market simultaneously, featuring the same TwistFace technology for increased accuracy and correction of mishits. M6 is a bit bigger compared to M5 which means more forgiveness and according to pros, it is absolutely hot and powerful. Actually, M6 is currently the fastest fairway with such forgiveness.
Read more
Key Features
The breakthrough technology of this fairway is the Twist Face technology for the first time utilized in a fairway wood. The face has been modified, i.e., it twists open to increase the loft high on the toe so that it straightens the ball flight. Also, by twisting the face closed and de-lofting it, the golfers get substantial fixing of the low-heel misses. Another feature is the Speed Pocket which for M6 has been re-engineered so that golfers get more speed when they hit low. There's been a new TPU slot insert on the sole so that it eliminates turf drag from the Speed Pocket.
Performance
This is the most advanced fairway from TaylorMade that optimizes the performance by placing the CG right behind the center delivering explosive energy transfer at impact. The low CG which is obtained by the new carbon composite crown that increases the mass in the head keeps the MOI very high and this leads to extreme forgiveness.
Cost and Value
TaylorMade M6 is one of those fairway woods that are made to bring a very substantial change in the way you perform in your long game. It is made to deliver excellent results even when golfers produce mishits while aerodynamic sole helps the golfer to generate more speed. It is a game changer that comes with one of the best shafts Fujikura Atmos Orange 6 with a fairly high price tag.

4

. Callaway Strata Prior Generation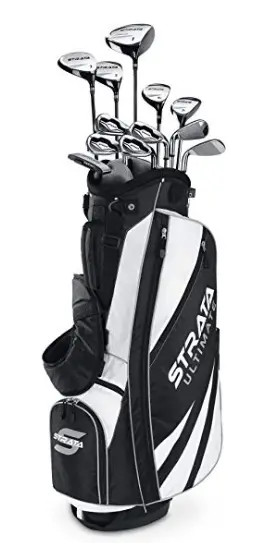 An 18-piece set including high quality, ergonomic bag, and five headcovers
Titanium drive with extreme forgiveness
3-wood and 5-wood with a large sweet spot
Hybrids 4 and 5 instead of the long and impractical irons
Stainless steel irons ranging from iron-6 to PW and SW
Accurate, precision milled putter for more putts
There are so many different golf clubs as there are different types of golfers which can be seen in retailer shops and online offers. From single clubs to complete sets, golfers often get confused and have no clue of what to get. As we have included in this buying guide single clubs, thus we have included full sets of clubs including the most necessary clubs. Full sets are usually intended for beginner golfers or recreational golfers who don't hit the course very often. Callaway Strata is ultimately the best set sold on the market thanks to its design and high-quality. So if you are looking for a set, take a look at the features of this set.
Read more
About the Set
Since we are talking about a set, it means it comes fully equipped, including a bag. It is a cart bag of high quality with many extra pockets and ergonomic stripes. Even though there's a wide range of options when buying Callaway Strata regarding the number of clubs you decide to include in the bag, we have selected the one that includes them all. Officially, it is an 18-piece set which includes 12 clubs, five headcovers and of course, the bag.
Clubs Features
We'll start with the driver first. It is made from titanium and it has a large sweet spot which means more forgiveness to help golfers have the ball airborne. The set also includes a 3-wood and a 5-wood which have a more aerodynamic shape of their heads that allow better club management and which deliver high flying shots. These three woods come with a headcover. Instead of the long irons, there are two hybrids 4 and 5 which have extreme forgiveness and a large sweet spot. They come with headcovers too. The irons start from iron-6 and include a pitching wedge and a sand wedge. Made from stainless steel and high flight technology, they deliver distance, forgiveness, control, and accuracy. The putter features precise face milling which is designed for increased distance control and accuracy so that golfers get more balls into the hole.
Cost and Value
Sets are usually designed for beginners or golfers who play from time to time. There is a wide range of sets and their price drastically varies, however, the model that we're discussing here has been a featured number one by many golf sites and experts. The quality of the clubs it includes means that golfers will be able to use them for a long time without failing their expectations. However, for such a quality one needs to pay, so this is also one of the most expensive sets too.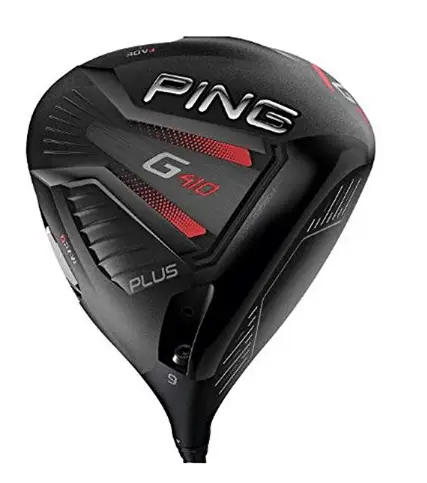 Movable Weight Technology allows weight adjustability in three positions
Crown turbolators for more aerodynamics
Titanium face with actual grooves for alignment and more speed
One of the most forgiving drivers on the market
Low spin and more distance
Ping is a leading company in many golf areas and whatever they make is well-thought-of with a perfect sense of necessity, advancement, and performance. As it is a company that is known to be focused on forgiveness and playability, this new driver is all about customizing it to be able to deliver impressive long shots out of the tee box with greater speed and distance and less spin. What marks this driver is the adjustable weight which Ping has added to a driver for the first time. There's much more to talk about this driver, so read below to find out more.
Read more
Features
How is this adjustability achieved? It is a pretty straightforward concept. 16-gram tungsten can be removed from the central position to heel or toe around a track in the back of the clubhead. When you move the weight to the back or draw position the center of gravity moves for 2.5mm so that it delivers an additional distance of 10 yards without affecting the MOI. When it comes to its face it is forged from Ti 9S+ titanium and then welded, while the white lines that you can notice are real grooves. The crown of the head has so-called turbolators whose purpose is to enhance the aerodynamic effect. Another new thing when it comes to G410 is the adjustable hosel which is new and can't be replaced with previous Ping models.
Performance
What golfers can expect from Ping G410 Plus driver is definitely more forgiveness, stable shots and consistency in their game. As it has a faster face and better spin profile, you can expect less spin and straighter shots which will eventually deliver more distance. The fact that it allows golfers to adjust the weight and the hosel means that it appeals to a wide range of golfers with different skills and performance styles.
Cost and Value
This is the most recent model that Ping has made and it is all about adjustability that leads to better performance. Less spin, more distance, this is what drivers are all expected to do, and Ping does it perfectly well. If you are expecting forgiveness up to the point that it makes no difference between the center and of center shots, this is the driver to go to. Well, if you can afford it as this is a very pricey piece of the club.

6

. Cobra XL Speed 2019 Set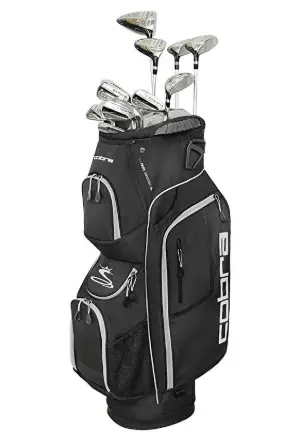 A set that includes a cart bag with a 14-way top and 12 clubs
7 zippered compartments with insulated beverages pocket and headcovers for the woods
Oversized titanium driver with a large sweet spot
All the clubs are made with perimeter weighting and very forgiving
4 and 5 hybrids replace the long irons for better performance
One of the best manufacturers on the golf market, Cobra King, has been stirring emotions for quite some time with the introduction of their latest Speedback technology and Cobra Connect, a feature that records golfers' performance and both of them deliver new concepts for optimum performance. This latest super forgiving set might not include all the bells and whistles coming from Cobra but it does offer superior performance and playability for high and mid handicappers.
Read more
About the Set
Nothing that comes from Cobra Golf is of average quality, neither is this set. It comes with a premium design cart bag which is made with a 14-way top and 7 zippered pockets of different sizes including an insulated beverage cooler pocket which has the capacity of fourteen 12 oz. cans. When it comes to the clubs, there are twelve clubs, i.e., it includes a driver, 4 and 5 hybrid, 3 and 5 wood, a sand wedge, a pitching wedge, 6-9 irons, and a blade putter. These golf clubs are exactly what a beginner golfer would need to develop an everlasting passion for the game.
About the Clubs
These clubs belong to the game improvement category and are characterized by extreme forgiveness, which is exactly what high-handicappers would need. To start with the driver, it is oversized with low and back weighting which enables golfers to achieve more distance and straighter flight. The 3-wood and the 5-wood feature the same back and low weighting which in combination with their shallow profile effectuate into towering shots from the lie. Instead of the long irons, there are 4 and 5 hybrids, which is more than expected for a beginner set, as hybrids are easier to handle, deliver higher launch and allow greater stopping power into greens. The irons, starting from iron 6 to SW and PW are low profile, cavity back irons with a deep undercut design and perimeter weighting for higher launches and stability.
Cost and Value
This recently-launched set is what high-handicappers had been looking forward to as for just a fraction of the price, they are now able to practice and enhance their performance with clubs coming from such a reputed manufacturer as Cobra is. By the way, when we said a fraction of the price, we didn't want to say they're cheap, what we wanted to say is that the set is less expensive if you compare it with individually bought clubs.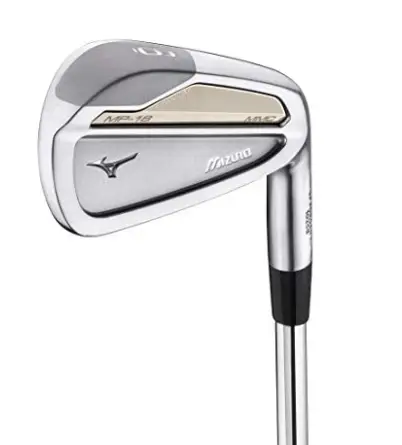 Multi-material construction includes carbon steel head, titanium and tungsten weight
Balanced control, piercing ball flight, and consistency with every shot
Mizuno's pro craftsman personally finishes the grinds of each iron
Shorter blade length and low heel profile
Densely concentrated grains for better feedback
As Keith Mitchell made this model his selected iron set, many players realized that Mizuno has once again made a superb iron design, and indeed, this muscle back iron has a lot to boast about. Made with a 'human touch', with a shorter blade length and progression into sharper compact wedges, MP-18 is shedding some light upon what it means to play with the most responsive irons.
Read more
Features
Three materials have been utilized to make these irons and deliver tour-like playability and performance. The head is made from 1025E carbon steel which is six times harder than the standard stainless steel with added titanium grain for more feedback and precision, while small insertion of tungsten, position the weight in accordance with the iron number for optimal performance. The shorter length of the blade with the low heel profile and the narrow topline make each club optimized for more distance, precision, and accuracy.
Performance
The Harmonic Impact Technology fine-tunes the head allowing golfers perfect feel with each club and immense feedback. In other words, the distance and lower spin are expected with the long irons, while much more spin, control, and precision can be seen with the short game. Even though these golf clubs are designed to meet the needs of the better players, they do yield forgiveness which is combined with distance and control. In addition to the stock offers Mizuno allows customization and shaft replacement.
Cost and Value
It is no accident that these golf clubs are part of this list, as when it comes to irons, Muzino seems to be unsurpassed in many aspects and it is the cutting-edge technology and the precision achieved by carefully finishing every head with handmade grinds seem to be the formula for Mizuno's success. The price, of course, is high, but their value is equally high so in this case, you get what you pay for.

8

. Odyssey White Hot Pro 2.0 Putter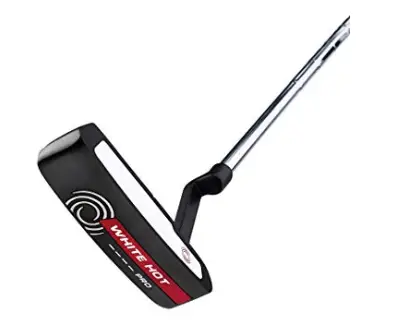 Jumbo grip for a perfect control
Alignment guide for a straight shot
White Hot inserts for extra sound and feel
Full Golf Shaft Hosel for upwards strokes
Well-balanced
Callaway has been making some super fine designs lately, and when it comes to putters the improved version of the Odyssey line seems to be one of the most favorite among golfers. Its sleek design and the ultimate performance have placed this putter very high, ranking the best with no negative comments whatsoever. With its oversized grip and longer length, this blade putter is designed to put the control in your hands, so read below to find out more.
Read more
Features
This is the improved version of the previous White Hot and you can see an improvement in every bit of it. It features White Hot inserts that deliver more feel and sound. It is interesting to note that the heel to toe weight allows it to be more responsive with each stroke and more forgiving. What matters for most golfers is the ability of the club to provide help and the alignment aid that it has does exactly that, it promotes consistent strokes with much greater accuracy. The Full Shaft Hosel is the hallmark of this putter making sure that all the strokes are upwards in order to ensure efficient putts.
Performance
One of the crucial elements about putters is to enable you with the extra feel and superb control so that you can deliver the right stroke with the right force. It needs to be balanced with a super hot face and clear alignment guide for perfect putts. And that's the description of Odyssey. The jumbo grip and the extra control it delivers will make you fall in love with this putter.
Cost and Value
This has been on the market for a while and it has received very responsive feedback and appraisal for being one of the best putters. That's not something that has taken us by surprise as Callaway has been terrific in perfecting their golf clubs, making the best golf clubs that you could find. As this not their latest generation of putters, the price is less expensive compared with the latest ones, so if you want a good quality putter for a good price point, this is it.

9

. Srixon Z U65 Utility Iron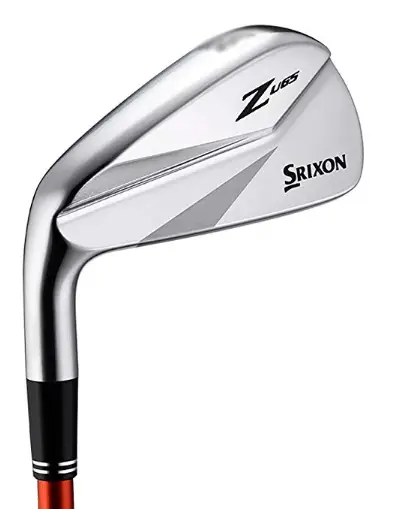 Hollow construction and forged face
Weight adjustability for customized performance and higher initial launches
It delivers more spin control and more distances
Comes with stock graphite shaft
Have you ever wondered what to use after you hit the ball off the tee box? Like, have you been pondering whether it would be better to continue with the fairway woods, or the hybrids, or maybe long irons? Hybrids are a great replacement for longer irons, but they are often the golf clubs that high-handicappers prefer to use (there are many pros who use them though), and the long irons seem to be a bit too difficult to manage. Therefore, there's this club called utility iron which has the function of replacing the long irons and it is mainly aimed at better players. So, if you are interested to know more about this iron, read the description below.
Read more
Features
It is interesting how Srixon was able to make a utility iron which would give tour-performance with a more forgiving design. The hollow construction and the larger head with its lower center of gravity make it very stable and forgiving and the lightweight stock graphite shaft gives even to mid-handicappers an opportunity for iron replacement. Another advantage of this iron is the weight adjustability which can be set to an as small port on the toe, an option that allows customization when needed for better precision.
Performance
Z U65 functions as a replacement iron for better players. It is more forgiving if you compare it with long irons, and that's what PGA tour players are looking for because it gives them more control over the shots, however, they are less forgiving than hybrids, which once again, makes them more suitable for advanced players. If you compare this utility iron with an iron that has the same loft, it delivers higher launches with longer trajectories and the landing is much softer. The utmost control that players have is irreplaceable, while the feel and the sound yield instant feedback about the shot quality.
Cost and Value
With each new model, Srixon has drastically improved its quality and performance and this latest utility is the most technologically advanced compared to its previous models. It delivers enough spin and control, but it is the distance that characterizes it as a premium model. The glowing five-star-only reviews are enough proof that this utility works like a charm and it completely matches the description. Even though more expensive than buying a single matching iron or a hybrid, it is worth the money.

10

. Wilson Ultra Complete Set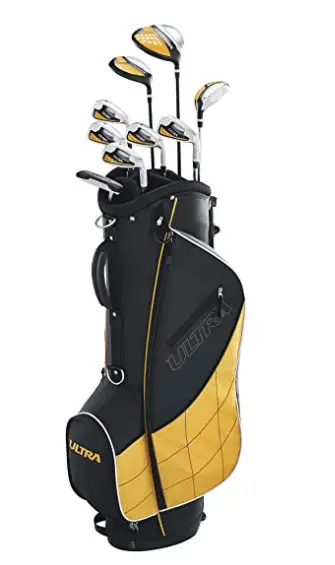 Game improvement design focused on getting more speed and distance
Titanium matrix driver with a hot face and low CG
Very forgiving irons with perimeter weighting for all game aspects
Alignment putter with Paddle grip improves the aiming
Ergonomic and lightweight bag with many differently-sized pockets
This is one more set that has been designed with the beginner golfer in mind and which includes all the necessary clubs that you will need in the initial stage of golf. We have specifically chosen Wilson because it is popular among two groups of golfers: beginners/seniors and better players. And what the company does, it is of the highest quality. This set is the most sold set, ranked very highly, so take a look at its features to get to know it better.
Read more
About the Set
As it is the case with the other settings on this list, the golf club set also comes with a lightweight and ergonomic bag but this one is a stand bag with a self-activating stand mechanism. It includes numerous pockets of various sizes and a strap to carry it on your bag. The number of clubs is, however, lower and it includes the most basic ones that are necessary for the beginners' stage. So, inside the bag, you'll get a putter, a driver, a fairway wood, a hybrid, and irons from 6 to 9 with headcovers for the woods.
About the Clubs
What counts for all these golf clubs is the maximum forgiveness they offer, making the set a perfect starter for beginners. As they feature the game improvement concept, they focus more on generating more speed and distance. The titanium matrix driver has an oversized clubhead with a very low center of gravity so that it gets easier for golfers to have the ball up and high. The irons are also oversized with perimeter weighting and a greater sweet spot to make the off-center hits more effective. The alignment putter features soft paddle grip and it is designed to improve the aim and the putting skills.
Cost and Value
This is a very decent set containing the most necessary clubs that will help all the beginners develop better-golfing techniques and enhance their performance. The forgiveness and the game improvement concept make them very forgiving. Another exceptional plus is the very affordable price point they have, so taken overall it is a great value for the money.

Subscribe to our Newsletter