10 Best Senior Golf Clubs
In a
Hurry? Editors choice: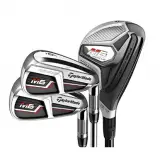 Test Winner: TaylorMade M6 Combo Set

Unlike many other sports which require
high-intensity activities,
golf is a sport that enjoys great popularity among elderly players thanks to its smooth movements. The chances to walk for a few hours on the course, to be active, exercise your body and socialize with friends make it the best sport for the elderly.
In addition to senior-novices in golf, there are also better players- seniors who have mastered the game perfectly well and at this age, they need a little help from their golf clubs. New to the game or experienced, there are some factors that mark the 'seniority' status, such as slow swing speed, less agility, slower tempo, less focus and need for speed.
In this guide, you will read which are the best golf clubs for seniors who have just started to play, mid and low-handicappers with an overview of their performance and budget implications.
Standout Picks
Criteria Used for Evaluation
Ease of Use
The most important aspect for all seniors is the ability to play the game in the most effortless manner regardless of their tempo, swing speed and the level they are. From beginners to better plays, the benefit of having clubs that will allow enhanced performance without wasting energy is a concept that is much appreciated. In this direction are made all the new releases that we can see on the market.
So, what makes a club easy to be used? There are many things, but forgiveness and speed enhancement are the key factors. Some of the most prominent and the newest models are designed to allow golfers to see an increase in the distance without ever making a change in the swing speed. Plus, the better the club, the easier it is to perform some of those tricky short game shots. This led us to the assessment of the clubs from the driver to the putter, to be able to determine if they can be used with ease or not. The score next to the product informs you how easy to play with they are.
Features
There are certain features that make clubs suitable for seniors and their physical abilities. Forgiveness of the clubs is something that makes all the difference when swinging, so if the club is more forgiving this means you will have further ball flight and much longer distance. But the distance depends on the swing speed. However, there are clubs that add more speed even if your speed is not powerful enough. Another important feature is the flex and the type of the shaft. Seniors choose graphite shafts and senior flex which helps them easily hit the ball, without applying too much energy with every shot. The type of the grips also matters, and the larger, softer and smoother the grips are, the better hold of the clubs the golfers will have.
Versatility
This criterion involves the number of clubs that each offer includes and the way they can be used. It has nothing to do with the quality, it is merely the inclusiveness of the clubs and having everything in one place. Within this criterion, a higher score was given to those products that included full golf set of clubs, including the bag as they allow golfers having everything they need for the course.
Value
Among the factors that influence the decision whether you'll buy a certain product or not, it is the price which is crucial, and it simply can't be ignored when someone decides to invest a considerable amount in golf clubs. You must have noticed that we can't possibly say that the prices are uniform and they range from reasonably priced to extremely expensive. As it is often the case, name-brands apply much higher price points, but there's a good reason for that. The prominent names in the golf industry spend a lot of money on research and development and as a result, they often launch products that include a new concept, idea, technology or design. Therefore, the price of the newest designs is often the highest. This list is extremely versatile and includes the best golf clubs for seniors taken from every perspective, such as the best regarding the price, the number of clubs, the latest designs and those that are the best overall.
Bottom Line
As these products are very versatile in terms of their quality, year of release and the number of clubs used in a set, plus the fact that some come in a bag, we have decided to take the bird's eye view and sum up the main points that we considered.
Namely, this guide is about the best golf clubs for seniors, and obviously, there are many kinds. So, the bottom line is that we have selected those that are the most playable and efficient in the budget, medium and premium category. So, whatever you opt for, these clubs are the most playable ones and will bring fun and enjoyment on the course.
Top Rated Senior Golf Clubs
1

. Cobra King F8 Combo Set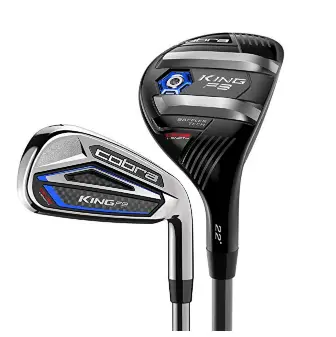 Cobra has been the center of attention for a while, but this is the model that has reintroduced the one length model for all senior golf clubs which caused a mix of emotions, from absolute appraisal and acceptance to maximum rejection. However, even those who resent the concept, have to agree that consistency-wise, there's nothing better. The concept of one-length clubs means that each senior golf club has the same length, the same weight, and the same lie angle so golfers don't have to spend much time practicing each separate iron. This means consistency and better performance.
Read more
What It Contains
It is a set that includes one hybrid number 5 and irons from number 6 through the gap wedge. All these senior golf clubs are the same length and weight, matching the one of the 7-iron. This is especially convenient for seniors, as they would have the same setup on the course, they don't have to pre-adapt their body posture for each specific movement and according to golfers who use them, you will soon get to see the difference.
About the Clubs
These golf clubs for seniors are not only size-related convenient, but they are also packed with the latest technology to bring more distance, more control, and more accuracy. Each club features forged VFT Pwrshell face with a variable thickness which makes the sweet spot larger and much more forgiving. Another innovation, something that hadn't been seen in an iron is the Carbon Feel Technology, i.e., carbon fiber medallion which has the purpose of supporting the face while at the same time it dampens vibrations and delivers improved feel and sound. The Progressive Spin Technology makes the grooves different in accordance with the number of the iron. So, V-shaped grooves on the 4-6 irons reduce the spin, U-grooves on the 7-PW enhance the spin, while the wedges (GW, LW, and SW) feature special wedge-spaced grooves for even more spin for approaching the green shots.
Cost and Value
If we talk about ultimate performance and superior help coming from the golf clubs for seniors one is using, Cobra rules in this field. F8 One-length clubs are no doubt the best golf clubs for seniors, and graphite shafts with the choice of the flex are one more plus added to the convenience. The price is high, but the quality, the feel, the enjoyment you'll get on the course, they will be equally high, so no doubt they are superior compared to some of the senior golf clubs reviewed in this guide.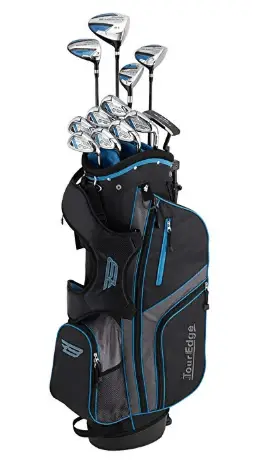 Many senior golfers take up golf for the first time in their life right after retirement, finding it to be one of those sports that have a unique feature to combine movement, agility, and social involvement. However, even though it might be the least impact-intensive game, it still requires speed, strength, and precision as the key features for launching the ball high and performing well on the course. Hence, any novice plus a senior wouldn't like to spend much money on the equipment that he/she will be using them occasionally. Therefore, this Tour Edge complete set is an excellent combination of value and quality.
Read more
What It Contains
This is a complete set that contains all the necessary senior golf clubs that a senior golfer could need on the course. Actually, there are twelve clubs in the set, a driver, 3 and 5-wood, 4 hybrid and irons from 5 through the sand wedge and a putter. There are headcovers for the driver, the hybrid and the woods and all of them come in a lightweight bag.
Clubs Features
All the golf clubs for seniors are made with the game improvement technology so that they deliver forgiveness and quick launch off the face. The titanium matrix driver is 10.5 degrees of loft with added weight on the heel and toe sole area. The face is ultra-thin and allows golfers to easily launch the ball. The stainless steel fairway woods are easy to hit from any lie. The stainless steel hybrid features a low-profile design which much easier to hit than the long irons. The irons are cavity back with toe to heel weighting and an undercut cavity for more precision, especially in the short game. Finally, the Anser-style putter features a popular white finish and alignment aid for smooth strokes and better putts.
Cost and Value
Tour Edge has been advancing immensely in the last few years, and the Bazooka line has been their most popular line of full-sets. It is a perfect blend of quality and game improvement performance, making it an excellent value for the money.

3

. TaylorMade M6 Combo Set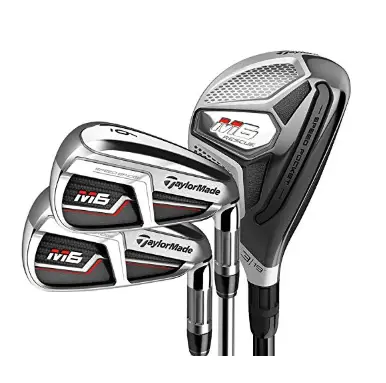 M6 line is the latest release coming from TaylorMade and so far it has shown great success. It was simultaneously released with M5 line, however, M6 is much more forgiving, allowing golfers to enjoy more successful shots even when they often produce off-center hits. What matters for seniors is the availability to choose graphite shafts and senior flex, and together with the advanced design, they are sure to turn their golfing experience into an ultimate pleasure.
Read more
What It Contains
This combo set comes in several configurations regarding irons, and two hybrids (4-5). The configurations regarding irons differ in the number of wedges you'd like to purchase but they all include from 6 through PW. The hybrids feature a novelty in their design and for the first time in a hybrid you can see Twist Face technology, the face has been twisted so that it produces equally successful shots as if they were center shots. This means that you can expect much more speed and as a result, further flying ball. That's just a fraction of what they all feature, so read further to get to know their design.
About the Clubs
The types and varieties used in engineering M6 are more than stunning and we will name just the most important ones, those that clear out the function of the senior golf clubs and why they are one of the best golf clubs for seniors. They feature Speed Bridge structure that enables the use of the thru-slot Speed Pocket which makes the face much more flexible at impact by generating more power for more speed. The face is ultra-thin, made with the patented Inverted Cone Technology that improves the feel and the sound, while the advanced HYBRAR compression damper filters the unwanted vibrations and enhances the feel even more. All in all, the effect is penetrating ball flights with straighter trajectory and low spin when it comes to the long game and more spin and control when comes to the short game.
Cost and Value
As this is the latest TaylorMade release, it brings innovations and improvements on several levels, which means you get much better performance without changing the speed of your swing. At the same time, it is one of the most expensive golf clubs for seniors on the market, but that shouldn't come as a surprise if you consider all the advancements included in the engineering process and the quality one gets when investing in these golf clubs for seniors.

4

. Wilson Profile SGI Senior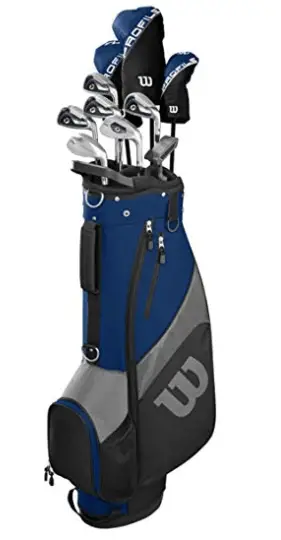 Wilson claims that this set contains everything you need so that you start the game the right way and many golfers who have tried playing with this set share the same thoughts. We don't have any doubts about the superior quality of these senior golf clubs because Wilson has the reputation of having developed some of the best technologies that focus on game improvement concept which helps high and mid-handicappers to get better on the course with a little help from the best golf clubs for seniors. Profile SGI is a new set, so let's take a look at its features.
Read more
What It Contains
This is a complete set which includes a very convenient cart bag which has large zippered compartments for storing your accessories and double padded shoulder strap so that it can be carried as a backpack. The senior golf clubs are particularly designed for senior golfers, and all of them come with lightweight graphite shafts with senior flex (except the putter) and the soft grips are larger than the ones made from stainless steel. The bag includes a driver, 5-wood, 5-hybrid, a putter, irons from 5 to pitching wedge and a sand wedge.
Clubs Features
High-lofted drivers are easier to hit and they have larger sweet spots in order to improve the ball flight which will result in a greater distance, and such is the driver included in this set. The 431 stainless steel irons have perimeter weighting with a very low CG which is the key for greater accuracy. The sand wedge is engineered to allow better flop shots and more greenside control which is gained through its wide sole and very low weighting. The putter features alignment aid for easier and more precise putts.
Cost and Value
Wilson is a reputed company and the Profile series is the only one that features the so-called 'custom fit in a box', meaning golfers have the chance to choose the lengths, flexes, grip size and lofts from thirteen different options so that they fit perfectly to their physical characteristics and their golfing style. The price is more than reasonable, so according to many senior golfers, these golf clubs for seniors are a good value for the money.

5

. Callaway Strata Ultimate Prior Generation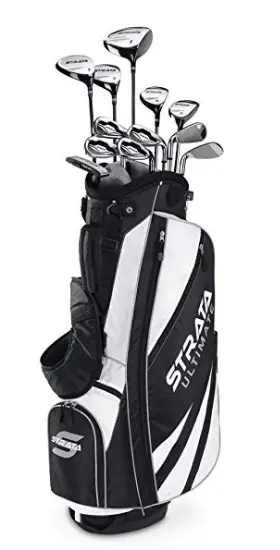 A list which is comprised of golf clubs, without Callaway Strata wouldn't be complete, and there's a big reason for that. The set includes senior golf clubs that are made with the best technologies developed by Callaway to ensure that golfers get maximum distance without increasing the swing speed. These are not specifically designated as golf clubs for seniors, however, their design, their combination of feel, distance and control make them suitable for anyone looking for a performance boost, such as elderly golfers. Callaway Strata means reliable quality, so let's take a look at the features that this set has.
Read more
What It Contains
Strata Ultimate contains twelve clubs, a driver, two hybrids, two fairway woods, two wedges, four irons, and a putter. That's a complete set that a senior would use on the course. The senior golf clubs come in an impressive stand bag in black and white color with many zippered pockets for storing accessories and easy to carry straps. There are also five headcovers included for the driver, the woods and the hybrids.
Clubs Features
These golf clubs for seniors have a very impressive design which makes golfers feel self-confident on the course. The titanium driver has a large sweet spot for explosive shots off the tee, even if they are mishits they wouldn't feel like such. The 3 and 5-woods are also very forgiving and you can expect to deliver high flying shots thanks to the aerodynamic head shape. The hybrids replace the long irons and you can play with them from any lie much easier and with a better feel. The irons and wedges are made with the high flight Callaway technology which delivers distance and control that leads to better accuracy. The putter is engineered with precise face milling which brings balance, accuracy and distance control for more putts.
Cost and Value
This is an impressive set and anyone who buys it can be confident that it is one of the best golf clubs for seniors made for high to mid-handicappers by Callaway. It isn't cheap, but it isn't way too expensive and if you consider the excellent consumer service and the highest Callaway quality, this set makes an excellent value for the money.

6

. Callaway Big Bertha OS Combo Set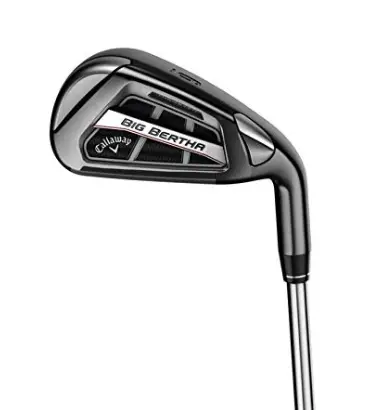 Not all senior golfers are beginners and not all of them need extra flex graphite shafts, nor do they seek ultimate forgiveness. There are seniors who have been playing for quite some time and who need a bit of forgiveness for added distance and who are happy to go with the best, premium designed senior golf clubs. Such is Callaway's Big Bertha OS, and even though it isn't a very recent model when it was launched a few years ago, it was a game changer. Read below why we have included it in this guide and features this combo set has.
Read more
What It Includes
First of all, we included Big Bertha because of its advanced technology that promotes higher launch and long carry when it comes to long irons and considerably increased control when it comes to the short irons. This is a combo set and it includes 3 and 4 hybrids and 5 to pitching wedge irons. Another plus is the availability of senior models which are made with senior flex and which in general, is lightweight and easier to use. However, it is not only the flex, but it is also the whole construction which is much lighter than the standard model.
About the Clubs
The senior golf clubs are designed with the so-called EXO-CAGE construction and which allows strategically positioning of the weight in order to increase the forgiveness they deliver. But it isn't just the unique design of the EXO-CAGE, but the progressive center of gravity which moves the location of the CG of each separate head from the highest to the lowest loft for increased performance in the long and the short game. Actually, it is the Tungsten-Loaded Wave technology in the sole that lowers the CG in each of these golf clubs for seniors, while the 360 Face Cup Technology makes the face flex more and delivers faster ball speeds and more distance.
Cost and Value
I don't think there's anyone playing out there who hasn't had the chance to get a glimpse at Big Bertha. Those who are using it, boast extreme forgiveness of off-center hits and added distance. The stock shafts include graphite shafts with the hybrids and Temper steel with the irons, yet, the company offers customization for a better fit. The price of this set of golf clubs for seniors is now much more affordable than it used to be, so you have a great chance to own your personal Bertha for a super price.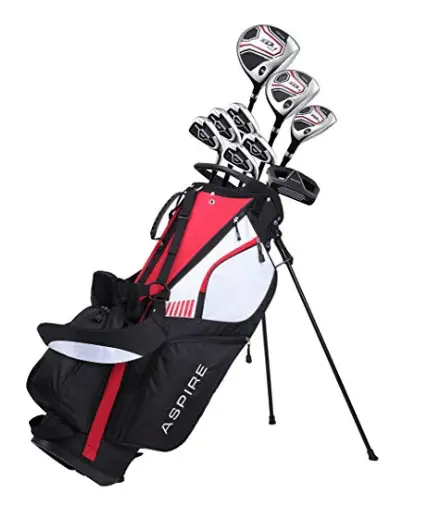 There are several key features that make up good golf set for seniors, such as forgiveness, being lightweight, equipped with a senior flex shaft and having a good, preferably fiberglass, extra large senior grip. Aspire XD1 ticks every box on the list for being the perfect golf set for seniors. It looks elegant and it will contribute to your enjoyment on the course and motivate you to spend more time having fun with your senior golf clubs.
Read more
What It Contains
This a very elegant set that besides the golf clubs for seniors, it includes a bag which is designed in three colors, red, white and black, and this is clearly a unisex design that can be used by men and women equally. It is a stand bag with padded straps and it has several zippered pockets where you can store all your accessories. There are ten clubs inside the bag and three headcovers, one for the driver, for the wood and the hybrid.
Clubs Features
Forgiveness and playability are the greatest features of this set and it can be seen in its titanium driver which is oversized and which is very forgiving to yield greater distance and speed. The woods and the irons are made from stainless steel with perimeter weighting and low center of gravity to achieve longer distance and more speed. The "A" flex shafts used in these golf clubs for seniors are 40% lighter than steel shafts and that helps seniors to achieve greater distance without increasing their speed. And finally, the putter is well-balanced with alignment aid to help golfers focus better.
Cost and Value
In addition to having very positive reviews about the performance of this golf club for seniors, it also belongs to the budget category and it costs less than a single brand driver. Golfers who have been using it claim that it is durable and matches the description. So if you are looking for value for the money, you've found it here.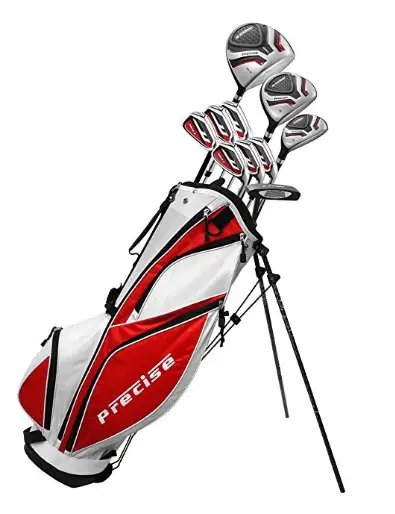 Until recently, PreciseGolf was a completely unknown name in the world of golf, however, the company has decided to step up and their array is pretty much impressive. It is hard to make a huge breakthrough unless you invent something that hasn't been invented so far (which is hard to do), so the company took another path to overcome competition. They offer high-quality design and durable materials for much lower price points. For the purposes of this buying guide, we have selected MDXII set which is particularly designed for senior golfers.
Read more
What It Contains
The main feature that makes this set particularly appropriate for senior golfers is the use of graphite shafts with senior flex, which are much lighter compared to those made from stainless steel. This is a full set containing ten senior golf clubs, a driver with a headcover, a wood with a headcover, a hybrid with a headcover, 5-PW irons, and a putter. They come in a stand bag with dual straps which can be carried as a backpack.
Clubs Features
Elderly golfers lack strong swing speed to produce far-reaching trajectory and that can ruin all the fun on the course. Therefore, the company made these senior golf clubs with much more forgiveness and low center of gravity to produce far-reaching distance without any increase in the speed and additional effort. The driver, the first club used off the tee is made from titanium with an oversized head and together with the graphite shaft, it launches the ball high and far. The irons are excellent for high shots, accuracy, and control and the small speed pocket found on the sole adds more speed, while the putter has an alignment aid for sinking more putts. Golfers are advised to avoid graphite shafts in putters though since it can be easily broken at the hosel because of the offset.
Cost and Value
Even in the introduction, we mentioned that the company offers high-quality golf senior golf clubs for a much lower price point. This is exactly the case with this set because the price is simply unbeatable.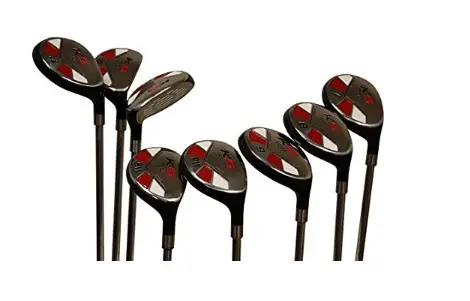 I don't know know if you have met golfers having all their clubs replaced with irons, but it is possible, and it is actually made to meet the needs of those golfers who lack speed and strength in their swing to produce high launching trajectories. It does look weird taken from an observer's perspective, however, for those who need them, it is a real relief to own them. That's the reason why we have selected this Majek model because, according to many golfers, they are the best golf clubs for seniors. If you are interested to find out more about them, read below.
Read more
What It Contains
Unlike most of the models that we have reviewed here, there isn't a bag that comes with them. However, they do make a set and there are eight golf clubs for seniors in total that stand as an alternative for your irons. Each of them comes with a lightweight graphite shaft with a premium senior flex. As elderly persons suffer from arthritis and joint-related conditions, these come with large, high traction, black pro velvet grip.
Clubs Features
Even though unusual, these senior golf clubs are made in cooperation with members of UCLA's engineering department guaranteeing impeccable performance and success. They replace irons from 3 to PW and from the way they are engineered it can be seen that more weight is positioned behind the sweet spot making them extremely forgiving. As the cavity back is deeper than usual, it leads to tighter shot dispersion and this, in turn, leads to greater accuracy. What seniors need is speed, and the speed is achieved through the aerodynamic design that reduces the drag, wide thin to crown design that positions the CG lower and together with the graphite shafts they accumulate power for greater distance.
Cost and Value
If you are one of those skeptics that fail to believe that hybrids can replace irons, give them a try and check for yourself the magnificent work they do. If you lack speed and need support from your golf clubs for seniors, then these are just perfect. Plus, there are hundreds of reviewers who claim the same, i.e., that they have seen improvement in their game. And the final part, the price is more than reasonable, so your satisfaction will be doubled.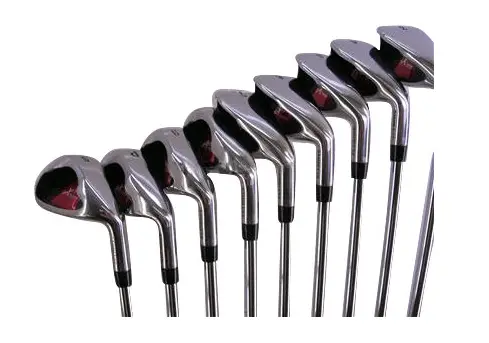 Irons are very tacky to use, and for elderly golfers, they might come up more problematic as one would expect, since, in order to use them properly, you'll need more feel and control, especially with the short irons. However, with years, the grip and the feel are not as strong as they used to be, so it becomes harder to deliver high launches with further trajectory. Extreme X5 irons are specifically made with the senior golfer in mind to deliver more feel, more accuracy, and more consistency. Learn more about these golf clubs for seniors below.
Read more
What It Contains
This is a set of eight irons starting from iron number 3 through the pitching wedge. The game improvement concept is dominant in these irons and they come a bit longer compared to the standard size. All of them feature graphite shafts with extra large grips, specifically made to deliver better feel and improvement with every shot.
Club Features
The game improvement concept is seen in the utilization of two pieces of stainless steel which results in a hollow body, a design that moves the weight to the bottom and deep of the club head, at its perimeter. This result in these golf clubs for seniors is a low center of gravity, and high moment of inertia which promotes more forgiveness and more solid feel on every impact for greater consistency. The sole is wide and it has a higher launch angle which delivers higher trajectory and greater stopping power, while the turf interaction is improved for greater distance. Long irons hit straighter and longer too.
Cost and Value
These irons are made to make senior golfers more satisfied with their performance and enjoy the game of golf in a much better way. The grips, the flex, the size of the clubheads, they all speak game improvement concept and the reviewers claim that they have seen much better results once they started using them. For the price point they are being sold, they are an excellent value for the money.

Subscribe to our Newsletter