10 Best Golf Clubs for Senior Women
In a
Hurry? Editors choice: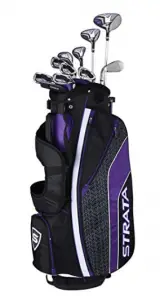 Test Winner: Callaway Strata Ultimate

It was just half a century ago when everyone took it for granted the meaning of the acronym 'gentlemen only, ladies forbidden', and, of course, no women were seen on the course. Fast forward today, women proved that there's no area where they can be forbidden. On the contrary, women have shown themselves to be as good golfers as men are. And as there are young, there are also many senior ladies driving and squashing the ball, both, novices and experienced.

However, not everyone plays with the same clubs as every golfer is different from another. Women differ from men in many aspects, which has created the need for specialized clubs for women and senior ladies. So, if you are looking for the best golf clubs for senior ladies, we have selected the most suitable ones which deliver enjoyment and fun on the course.
Standout Picks
Criteria Used for Evaluation
Ease of Use
"Focus on remedies, not faults."- Jack Nicklaus
After a certain age, our physical strength decreases and we are not as agile as we used to be. This is the general truth of the aging body and even though there are exceptions to this 'rule', the majority of people feel that way. This is the reason why many sports have the category 'senior', and despite being much more limiting in other sports, in the game of golf this category includes golfers of age 50+. Golfers that fit this category, and especially women, may find their strength and swing speed decreasing and in case it is an experienced golfer, their handicap goes higher. So, this is the reason why seniors need special treatment when it comes to golf equipment. Lower swing speed need for forgiving clubs and women need lighter clubs with good and soft grips. This is the reason why we have looked for easy-to-use sets and we have selected those that are designed as such and those that are the most highly rated as being the most playable.
Materials
"To give yourself the best possible chance of playing to your potential, you must prepare for every eventuality. That means practice."-Seve Ballesteros
Depending on the manufacturer, there is a wide range of clubs used for golf clubs for senior ladies. And, it is not only who the clubs are intended for, but what kind of club that is and what its purpose is. When it comes to drivers, these are usually made from titanium or matrix titanium. Full titanium drivers are more durable and deliver more stability, while matrix drivers are not completely made from titanium, but there's just one layer. They feel a bit heavier compared to full titanium drivers and are less expensive. When it comes to woods, hybrids, and irons, it is their shape and the manufacturing process that distinguishes them but not the material. Within this category, all of these clubs are mainly made from stainless steel, featuring cavity back design, which means the irons are hollow inside. This is usually a game improvement concept and allows more weight to be placed lower and deeper to allow more forgiveness.
Graphite shafts with an L-flex are usually a must for all golf clubs for senior ladies, the only exception is the putter which mostly features stainless steel shaft because of the risk of breaking at the hosel due to the offset.
Speed
What senior ladies lack when it comes to their performance, is definitely high swing speed and that's exactly why there is a category of golf clubs for senior ladies. Speed is the key component because without speed you won't be able to effectuate each shot into a high-flying and straight trajectory which will get the ball to the fairway. This can cause an increased level of stress, frustration, and inability to enjoy the game which will, in turn, lead to giving up the game. Luckily, the clubs that we have selected are engineered to enhance the speed and consequently the distance without demanding from the golfers to put additional effort. This is proportional with the score that we have attributed to each club type, i.e., the higher the score, the more energy generating the clubs are and more distance and speed you'll have.
Value
Once we like a product, the next question we ask about that product refers to its price as it is the most decisive factor whether that product, in this case, the clubs, will be part of your equipment or not. The prices attributed to golf clubs vary as the golfers vary themselves, so the most important thing is to decide what kind of clubs you are looking for and then search for them within the appropriate financial framework. In order to meet everyone's needs, we have included different types of clubs with different features, materials, made from different manufacturers and consequently, different price points. We are always driven by the motto 'the best value for the money', so the scores given to the clubs regarding this criterion reflect what value you get for the money you pay.
Top 10 Picks
1

. Cobra 2018 F-Max Superlite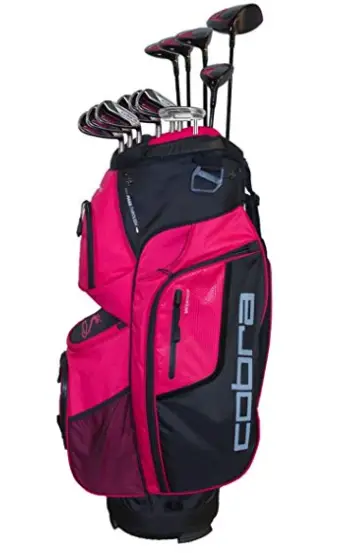 Coming from the supreme ruler of golf equipment and gear, Cobra F-Max set is designed with the most advanced technology developed by Cobra to enable most women to feel satisfied on the course with their performance. Since their research showed that more than 80% of the women golfers are over 70 handicap and medium swing speed, this means that most of them need some kind of help from the golf clubs for senior ladies and additionally, if we take into account the limitations that come from elderly age, it is more than a fact that it is the golf clubs for senior women that need to be adapted to have a full involvement on the course. That's the reason why Cobra has designed this set first place.
Read more
About the Set
It features ultralight configuration with much lighter shafts with soft, ladies grips so that women with slower swing speed benefit from them. It is a full set consisting of a very lightweight cart bag with multiple zippered pockets and a cooler insulated pocket for keeping the drinks cold. There are twelve golf clubs for senior ladies in the bag, a driver, two woods, two hybrids, irons from 5-SW and a putter.
Clubs Features
These golf clubs for senior women are designed to promote maximum playability and unhindered performance. The offset driver features E9 forged face and back to heel weighting which is very easy to use. The 3 and 5 woods are engineered with fast forged face inserts and very forgiving weighting for towering shots from any lie. The hybrids also feature forged face inserts with highly aerodynamic head to help golfers deliver higher launches with improved stopping power, something that is hard to be achieved when using the long irons. Getting to the irons, they are low-profile, perimeter weighting with progressive hosel lengths and progressive offset. With their undercut cavity and grooves design, they deliver tailored feel for each separate iron number. The putter is mallet-style, well-balanced with optimum feel and control.
Cost and Value
If you are a senior lady who has been playing for a while, but you find that your swing speed is failing you and you are looking for some performance boost, you'll find these golf clubs for senior ladies very motivating to play with. Even though they are much more expensive compared to some other models on this list, the pleasure on the course and the satisfaction they provide is priceless.

2

. Callaway Strata Ultimate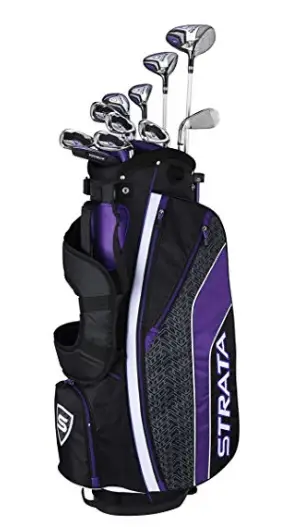 Callaway Strata has been one of those club sets that have been ruling this area of golf equipment and both, men's and women's sets come in different configurations and adjusted specifications. Strata Ultimate is designed for mid-handicappers who prefer full club set for complete convenience and reliability on the course. We say reliability because Callaway has been one of the most technology-driven manufacturers which have been launching new, innovative designs for quite some time. This modernized technology can be seen in this new model, Strata Ultimate which boasts distance and accuracy.
Read more
About the Set
When you first take a look at the bag, it inspires the confidence of quality and durability. It is a lightweight stand bag with multiple zippered pockets and a back strap for carrying it around in case you plan on walking. The bag includes a driver, 3-wood, 4 and 5 hybrids, 6-9 irons, including a pitching wedge and a sand wedge a putter. There are headcovers for the drivers, the wood and the hybrids. The driver and the wood come with graphite shafts, lady flex.
Clubs Features
For explosive shots, one needs a high swing speed, or in case that's lacking, then a good, full titanium driver with a large sweet spot would do the job. These hybrids golf clubs for senior women replace the long irons and the ones include here feature speed technology that will help you deliver high-launching trajectories and perform with much more confidence. The 3-wood has a unique aerodynamic head shape for high flying shots from any lie. The stainless steel irons are engineered with high-flight technology for greater forgiveness, control, and accuracy. The pitching wedge and the sand wedge are made with grooves that enhance the spin and deliver much better feel. The precise face milling on the putter helps golfers get a better distance control and more putts.
Cost and Value
One of the companies that govern the golf gear production is Callaway, offering new technologies, innovative designs and enhanced performance. This golf set is just one piece of the company's array and it appears whatever it produces it is with unsurpassed quality. So, this set of golf clubs for senior women for the price which it has is more than excellent value for the money and it is highly recommended.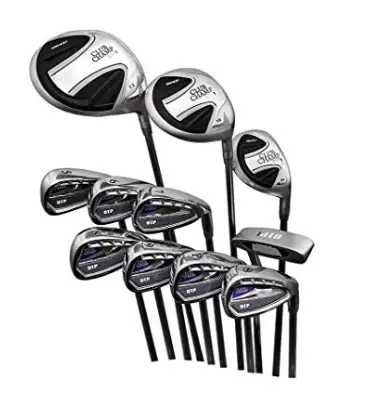 In our search to find the best golf clubs for senior ladies we came across two extremes, there were mostly beginners' sets or pro and tour clubs which were mainly aimed at competing pros. The least of a choice we could find was for mid-handicappers, so when we came across these clubs and analyzed how they are engineered, we knew that these should be part of this list. So, we invite you to read below and find out more about these clubs.
Read more
About the Set
This is not an ordinary bag-with-clubs set, as there are is no bag. However, these golf clubs for senior ladies are designed for mid-handicappers in mind, so probably they can come as a replacement of the less advanced clubs. The set includes a driver, a fairway, a hybrid, irons from 5 through SW and a pro-style blade putter. There are nylon-padded headcovers for the driver, the hybrid and the putter to protect them from scratches or external impacts.
Clubs Features
The 13-degree forged-alloy driver comes with a low-torque graphite shaft and L-flex which is perfect for senior ladies in order to help them generate more speed for extra distance off the tee. The fairway wood is of 18 degrees with the same type of shaft and aerodynamic head shape, engineered to produce long shots with greater control and distance. The 24 degrees hybrid replaces the long irons, and with the low-torque shaft help the golfer to achieve longer trajectories and more control. The stainless steel irons come from 5 through SW are designed for greater forgiveness and much better feel on the approach shots. The Pro-Style blade putter is made with Tru-Roll face technology which yields golfers better control over the ball for more putts.
Cost and Value
These golf clubs for senior women represent an excellent opportunity for an upgrade of your golf bag and you have the choice to choose 7, 9 or 11 pieces. They are made to help you master your swing speed and the short game shots, delivering enough forgiveness and accuracy, but at the same time, they allow you to get more feel and more control. The price point they are being sold at is super affordable, and even if they don't meet your expectations you won't have the feeling of having your money wasted.

4

. Precise Premium Ladies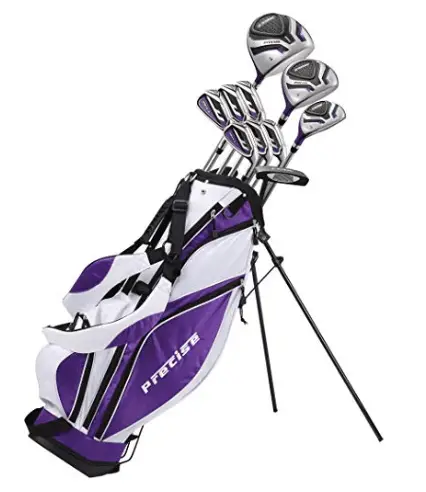 It is never too late to start doing whatever you feel like doing and that can't be truer when it comes to golf. As a matter of fact, there are more senior-beginners in golf than in any other sport which just proves that it is still the number one sport among the elderly. This set is engineered to boost the fun on the course for high handicappers and beginners who have just started playing golf. It is very highly rated, so let's take a look at its features.
Read more
About the Set
As we mentioned, this is a greatly recommended set for senior ladies and high handicappers as it delivers an excellent performance. There are ten golf clubs for senior ladies in the set, including a driver, a hybrid, a wood, 5-PW irons, and a putter. They come in a very nicely designed stand bag with shoulder straps so that you can carry it as a backpack if you plan a lot of walking on the course. There are three headcovers included for the driver and the woods, plus there's a rain hood too! There are different sizes available.
Clubs Features
As it is often the case, there's a titanium 460cc driver for seniors that features a large sweet spot for maximum forgiveness. The woods and the irons are made from stainless steel with perimeter weighting that helps golfers increase their stability and performance. The putter comes with an alignment aid to help practice accuracy and increase the number of sunk putts. The graphite shafts are ultra light, high modulus 100% graphite, ensuring maximum flex for all these golf clubs for senior ladies.
Cost and Value
The outstanding performance of these golf clubs for senior ladies in this set combined with the impressive aesthetics, made it stand out in the crowd. Many reviewers claim that it is worth the money and that you'll enjoy spending more time on the course of practicing with them. The price tag is also attractive and it is one of the most budget-friendly clubs on the market.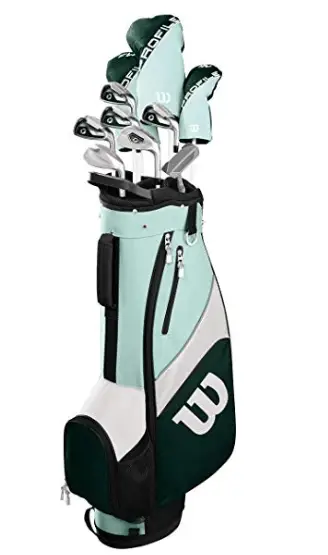 In our buying guides, we have talked so much about Wilson since it is one of those companies that have developed technologies and lineup of golf products that focus on all players types. The versatility found in Wilson products is found nowhere else and there are many different configurations which can please even the pickiest golfers. Plus, this Profile line features the so-called 'custom fit' and it has thirteen possible varieties to choose from. The women's collection comes in several sizes and flexes to appeal to as many women golfers as possible.
Read more
About the Set
What makes this set suitable for senior ladies? There are a few things, among which is the fact that it is very lightweight and there are graphite shafts on all the clubs except for the putter. The grips play a very important role and they are particularly sized for women with soft and weather features. The whole set looks elegant and stylish with the cart bag of premium quality with three spacious pockets and a padded strap and the matching headcovers. The twelve golf clubs for senior ladies in the bag include a driver, 5-wood, 5-hybrid, irons 5-9, a pitching wedge, a sand wedge, and a putter.
Clubs Features
The driver is high-lofted, a feature that has been used lately to help golfers with slower swing speed to launch the ball higher in the air and send more drives in the fairway. The 431 stainless steel irons feature deep perimeter weighting with a low center of gravity which extends the sweet spot and increases the launch, the accuracy, and control. The wedges feature wide soles with perimeter weighting for better turf interaction, control, and feel, while the putter has alignment aid for more sinks in the hole.
Cost and Value
This is an excellent set for ladies who are high to mid-handicappers and what you can expect is enhanced performance and ability to increase the distances of the tee box. They integrate Wilson's quality and design and guarantee durability and long term use. The price is more than reasonable and since it includes almost all the golf clubs for senior women that you'll need on the course, it is an excellent value for the money.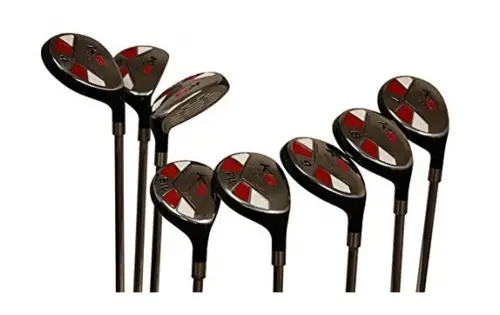 What makes a company stand out in the crowd is the care for its customers and taking into account their needs. Majek inquired from 1000 senior ladies to share their difficulties with the golf set and most of them pointed to the irons as being the hardest to deal with. Not only are they specific to use as each golf club for senior ladies has a different length, weight, and a lie angle, but in order to deliver spinning shots when it comes to the short game, one needs to have developed certain skills regarding the opening of the club and hit down on the ball. Therefore, in conjunction with UCLA engineers, Majek created a full-hybrid set made for senior ladies to make each golf session fun and enjoyment.
Read more
About the Set
This set is actually an all-hybrid set which replaces the irons from 3 through PW, made with aerodynamic oversized head shapes which deliver ultra forgiveness, much more effortless shots and further distance, control, and precision. All the golf clubs for senior ladies come with high-velocity graphite shafts with a lady flex and high-lofted angles.
Clubs Features
In order to perform easier and deliver more forgiveness, these golf clubs for senior ladies feature a deeper cavity back design that creates much tighter shot dispersion, yielding increased accuracy on mishits. The weight is positioned back and low, behind the sweet spot, while the aerodynamic design reduces drag for the ball to fly straighter and with a higher speed. The wide and thin crown design positions the center of gravity lower to promote higher launch angle and in combination with the lightweight graphite shafts it considerably increases the distance. The black crown and the arrows make the alignment easier and plus it eliminates the glare.
Cost and Value
According to players who have been using these hybrids, you are likely to see a quick improvement in your performance and an increase in confidence. No matter if you have played golf before or you are a scratch golfer who is giving a try, these will provide the enjoyment on the course that you have always hoped for. They are very reasonably priced too for the performance they deliver.

7

. Top Performance Aspire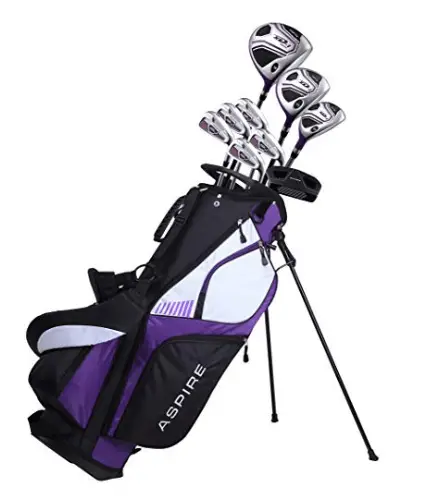 Women have always paid attention to style and design and talking about design, this one is rocking. If you are looking for a design which will be head-turning, this is the go-to model. It looks impressive with the shiny purple color and the combination of silver and black. But it isn't just the design that makes it popular, it is the overall performance and the quality of these golf clubs for senior ladies too. By the way, there are three color choices available, so in addition to the dominant purple, you can choose cherry or pink.
Read more
About the Set
This is a have-it-all set that includes twelve golf clubs for senior ladies that are the most needed on the course. It is particularly designed for ladies, as it is extremely lightweight and forgiving with ladies flex and graphite shafts for the woods and the irons. It comes with an upgraded stand bag which has an ergonomic handle to lift it and a strap for carrying it on the shoulder. There are several pockets of different sizes and 3 matching colors. The set includes a driver, 3-wood, a hybrid, 6-PW, and a putter.
Clubs Features
These golf clubs for senior women are absolutely gorgeous and when you take a look at the driver's face you'll notice that it has laser markings as the alignment for better accuracy. It is a titanium matrix driver with an oversize head and extreme forgiveness. The irons and the woods are made from stainless steel, they feature perimeter weighting and in combination with graphite shafts, they are very easy to use. Seniors will surely benefit from them as they are super light and easy to hit. The putter is well-balanced, easy to stroke, with an alignment tool.
Cost and Value
We talked a lot about the quality and the design of these golf clubs for senior women, so the price is the next thing we should discuss. As there are three colors of choice, the sets are differently priced due to the inventory stock. So, depending on the actual demand they vary. However, even at the highest price point they are affordable and belong to the budget category.

8

. Power Built EX-550 Hybrid Iron Set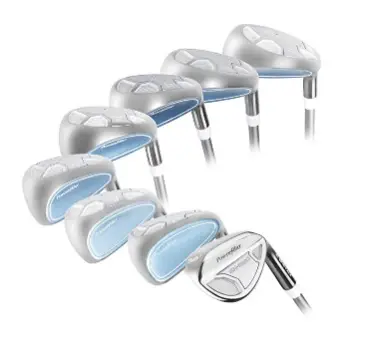 If you have been playing golf than you know that irons are the most difficult clubs and playing with them requires particular skills, especially difficult are the longest irons and the wedges. Many golf manufacturers have found a solution for the problem with the long irons and they have replaced them with easier-to-play hybrids. But that usually referred to irons number 3 and 4. However, not long time ago, some manufacturers decided to replace all the irons with the corresponding hybrids and the golfers' feedback was impressive. This model consists of hybrids only, so take a look at its features to find out more.
Read more
About the Set
Senior ladies should search no more if ease-to-play golf clubs for senior ladies is what they are looking for. The manufacturer claims that these are the easiest ones produced and those buyers who have tried them, confirm that they match the description. There are eight golf clubs for senior ladies in the set, they run from 4-9 plus a pitching wedge and a sand wedge. Unlike some other standard sets, this is just an iron-replacement set meaning you won't find a driver, woods, or a putter.
Clubs Features
These golf clubs for senior ladies feature a hybrid design with aerodynamic head and wide sole on the long irons for greater forgiveness and straighter and longer shots, while the short irons feature narrower sole for enhanced precision. The hollow cavity construction and the thinner face enhance the face flexing for greater speed and distance. What makes them unique is the extreme forgiveness on the mishits and the ultralight graphite shaft with L-flex adds more speed with every stroke. The sand wedge is the only club that features traditional design for better control on the greens.
Cost and Value
If you have been struggling with your irons, these clubs are a game changer and they are going to bring excitement and enjoyment in your game. You are going to feel a notable difference in your performance and for seniors, that's what matters the most. Their price is on the lower end too, even though they are not the cheapest golf clubs for senior ladies in the market for sure.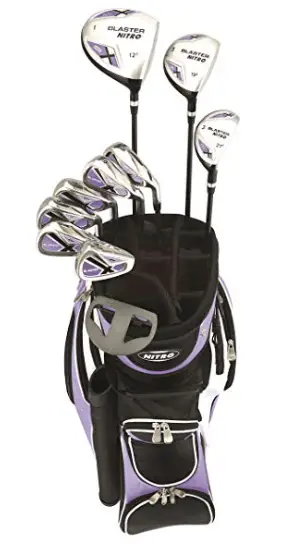 There are a few factors that need to be taken into account when it comes to golf clubs to senior ladies. The first one is the weight of the clubs and it should be as low as possible as it is the same with the shaft which needs to be lady flex. Also, what most of the seniors need is more forgiveness and distance-enhancing properties as seniors' swing are declining with the aging process. This Nitro Blaster set is a suitable option for enhanced performance and more speed. Its quality has been certified by the PGA, so read below to find out more.
Read more
About the Set
The company claims that this set is made to meet the needs of any golfer's skills, but the design itself and its features seem to be the most appropriate for high to mid-handicappers. These golf clubs for senior ladies come with uni-flex shaft and oversized head for greater forgiveness. The set comes with a nice looking bag with several large zippered pockets and a strap. The clubs included are a driver, 3-wood, a hybrid, 6 irons and a putter with three covers.
Clubs Features
The greatest feature of these golf clubs for senior ladies is the extreme playability and performance thanks to the oversized club heads and the low center of gravity achieved through the perimeter weighting. The driver is especially easy to hit due to its low torque and the high kick point without sacrificing accuracy and distance. The wood is low-profile and low loft which is very easy to play from the fairway or the tee. The hybrid will help golfers deal with the difficult shots from the rough with an unbeatable balance that allows control and distance. The irons feature wide soles, especially in the low irons which brings more feel and ability to master the flop shots. The putter features perimeter weighting too and comes with alignment aid to boost precision.
Cost and Value
I don't think you will find a less expensive set on the market nowadays and this an extremely affordable offer. The reviewers claim that the product matches the description and that it is an excellent value for the money.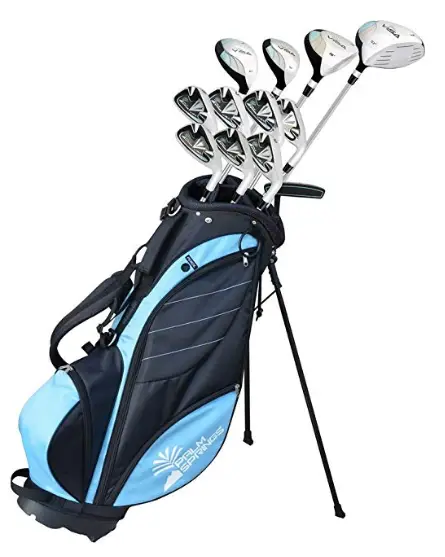 The first thing that attracts your attention is the premium, attractive design of these golf clubs for senior women. Made for golfers who are still in the learning phase or seniors who have found a decrease in their swing speed, the overall design of these golf clubs for senior ladies is to help you overcome the obstacles that slow speed might incur. They incorporate the latest features of game improvement technologies and are easy to use, straight and highly forgiving.
Read more
About the Set
The set incorporates an oversized driver, 3-fairway wood, two hybrids, 5-PW irons, and a putter. All of them come in a deluxe stand bag with a 7-way divider so that it helps you keep your golf clubs for senior ladies organized with very roomy pockets, a rain hood, and a carrying strap.
Clubs Features
The driver, as it is the club you start off the tee has a huge sweet spot and it is much more forgiving, so it will produce longer and straighter shots. The 15-degree fairway wood is smaller than the driver but with equally large sweet spot and forgiveness. It is engineered with a low profile sole, ideal for hitting off the grass without a tee. There are two hybrids included (3 and 4) to replace the longest and the most difficult irons. The stainless steel irons come from 5-PW, designed with a high MOI and lower CG for more forgiving, consistent shots. The putter is back weighted for more reliable and solid putts.
Cost and Value
If you are a golfer who is still developing the swing or a senior who has lost the strength of the swing speed, these golf clubs for senior ladies can help you enjoy the game more by seeing the ball flying further and straighter. Plus, the forgiveness and the lightweight of the irons will help you easily handle the approaching shots. These are budget clubs and are excellent value for the money.

Subscribe to our Newsletter