10 Best Golf Clubs for Senior Women
In a
Hurry? Editors choice: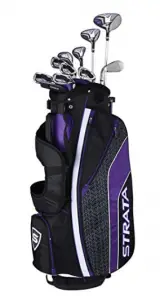 Test Winner: Callaway Strata Ultimate

It was just half a century ago when everyone took it for granted the meaning of the acronym 'gentlemen only, ladies forbidden', and, of course, no women were seen on the course. Fast forward today, women proved that there's no area where they can be forbidden. On the contrary, women have shown themselves to be as good golfers as men are. And as there are young, there are also many senior ladies driving and squashing the ball, both, novices and experienced.

However, not everyone plays with the same clubs as every golfer is different from another. Women differ from men in many aspects, which has created the need for specialized clubs for women and senior ladies. So, if you are looking for the best golf clubs for senior ladies, we have selected the most suitable ones which deliver enjoyment and fun on the course.
Standout Picks
Criteria Used for Evaluation
Ease of Use
"Focus on remedies, not faults."- Jack Nicklaus
After a certain age, our physical strength decreases and we are not as agile as we used to be. This is the general truth of the aging body and even though there are exceptions to this 'rule', the majority of people feel that way. This is the reason why many sports have the category 'senior', and despite being much more limiting in other sports, in the game of golf this category includes golfers of age 50+. Golfers that fit this category, and especially women, may find their strength and swing speed decreasing and in case it is an experienced golfer, their handicap goes higher. So, this is the reason why seniors need special treatment when it comes to golf equipment. Lower swing speed need for forgiving clubs and women need lighter clubs with good and soft grips. This is the reason why we have looked for easy-to-use sets and we have selected those that are designed as such and those that are the most highly rated as being the most playable.
Materials
"To give yourself the best possible chance of playing to your potential, you must prepare for every eventuality. That means practice."-Seve Ballesteros
Depending on the manufacturer, there is a wide range of clubs used for golf clubs for senior ladies. And, it is not only who the clubs are intended for, but what kind of club that is and what its purpose is. When it comes to drivers, these are usually made from titanium or matrix titanium. Full titanium drivers are more durable and deliver more stability, while matrix drivers are not completely made from titanium, but there's just one layer. They feel a bit heavier compared to full titanium drivers and are less expensive. When it comes to woods, hybrids, and irons, it is their shape and the manufacturing process that distinguishes them but not the material. Within this category, all of these clubs are mainly made from stainless steel, featuring cavity back design, which means the irons are hollow inside. This is usually a game improvement concept and allows more weight to be placed lower and deeper to allow more forgiveness.
Graphite shafts with an L-flex are usually a must for all golf clubs for senior ladies, the only exception is the putter which mostly features stainless steel shaft because of the risk of breaking at the hosel due to the offset.
Speed
What senior ladies lack when it comes to their performance, is definitely high swing speed and that's exactly why there is a category of golf clubs for senior ladies. Speed is the key component because without speed you won't be able to effectuate each shot into a high-flying and straight trajectory which will get the ball to the fairway. This can cause an increased level of stress, frustration, and inability to enjoy the game which will, in turn, lead to giving up the game. Luckily, the clubs that we have selected are engineered to enhance the speed and consequently the distance without demanding from the golfers to put additional effort. This is proportional with the score that we have attributed to each club type, i.e., the higher the score, the more energy generating the clubs are and more distance and speed you'll have.
Value
Once we like a product, the next question we ask about that product refers to its price as it is the most decisive factor whether that product, in this case, the clubs, will be part of your equipment or not. The prices attributed to golf clubs vary as the golfers vary themselves, so the most important thing is to decide what kind of clubs you are looking for and then search for them within the appropriate financial framework. In order to meet everyone's needs, we have included different types of clubs with different features, materials, made from different manufacturers and consequently, different price points. We are always driven by the motto 'the best value for the money', so the scores given to the clubs regarding this criterion reflect what value you get for the money you pay.
Subscribe to our Newsletter