Best Golf Clubs from Beginners to Intermediate
In a
Hurry? Editors choice: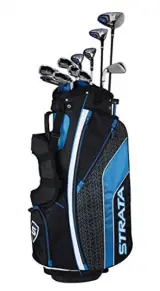 Test Winner: Callaway Strata

It is often the case for golfers who transit from beginner to intermediate level to invest some more money in good quality golf clubs for beginners to intermediate because within this stage of their performance skills they get confident enough that they will continue playing golf.

Since you are reading this article, this means that you have become utterly perplexed by the vast offer of different types of golf clubs being labeled "from beginners to intermediate", inasmuch that some of them exhibit completely different features from others within the category with huge price gaps.

So, what should you buy and how much should you pay for them? As these questings are rolling in your head, we have compiled the list of the best golf clubs from beginners to intermediate golfers to make the selection process easier and distinguish their features so that you know what to expect from each club.
Standout Picks
Criteria Used for Evaluation
Features
As features are those characters that make the products recognizable, so, when it comes to the best golf clubs for beginners to intermediate players, there are a few that are defining and that can be attributed only for these clubs.
Forgiveness- this is the key element in each club. If the club is not forgiving, then a high or a mid handicapper can have a hard time delivering long and straight shots or a little greenside control.
Large sweet spot- this is often achieved when the center of gravity is positioned deep and low while the face of the club flex and bounce more all across it, extending the sweet spot and allowing mishits to produce sufficient distance and speed.
Perimeter weighting- perimeter weighting is acquired when the weight of the club head is positioned low, towards the heel and the toe, which in turn results in more forgiveness and larger sweet spot. Cavity back and oversized club heads feature perimeter weighting.
Shafts- high and mid handicappers usually lack swing speed and the graphite shafts are much easier and flexible compared to steel ones, so they can help golfers have a faster and stronger impact on the ball.
Versatility
This criterion includes the variety of clubs included in the set and ability these clubs to be used by golfers of both categories. As you could notice, there are full sets that include all the necessary clubs for the course, and some sets include just irons and hybrids or irons and wedges. There are also sets that consists of hybrids only as a replacement for the irons. And, of course, the more clubs there are in the set, the higher the ranking it has.
Ease of Use
When we discussed features above, we said that forgiveness and the sweet spot are crucial at this level. This means that the clubs need to be easy to play with. Why do they have to be easy? Well, while on one hand, it is always good to be challenged, on the other hand, too much challenge won't be motivating for players who are still in the learning stage and that can lead to frustration. Therefore, companies purposely develop forgiving and oversized clubs so that golfers don't feel that their performance is jeopardized by a hard-to-hit club.
Value
Cheap or expensive? A brand name or no-name manufacturer? Are they worth it, will I be using them? These are the questions that most of the golfers ask before they decide to purchase a golf set or golf clubs. As the market abounds with all possible types of clubs, it is easy to be tricked if you don't know what you are buying and what you will need them for. Even in our buying guide, there are golf clubs from beginners to intermediate level in the budget and brand categories. We have discussed the advantages of the brand-name products over the others and the difference in the quality. However, there are no-name products that still boast playability and quality. That's called value for the money, and this is what we focused mostly on. The higher the value of the product and the lower the price, the higher the score it received on our list.
Top 10 Picks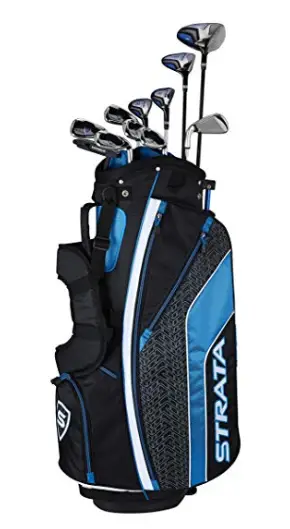 If you have ever asked a more experienced golfer to recommend a complete, top-quality set, they would probably recommend Callaway Strata, as this is the set that has been ruling the market for quite some time. There are many Callaway Strata models and configurations and Callaway wouldn't be what it is if they didn't bring some changes and updates to their existing offers. It is one of the most influential golf companies with specific emphasis on research and development, so in this latest release, you'll get some of their latest technologies.
Read more
Set Features
This is a set that is comprised of clubs that are going to add distance to your game and much more forgiveness for complete satisfaction. It is a full set that consists of a high-quality bag which has many zippered compartments and there are padded straps for easier shoulder carry. The bag comes with twelve clubs and headcovers for the woods. The clubs include a driver, a 3-wood and a 5-wood, 4 and 5 hybrids, 6-9 irons, a pitching wedge, and sand wedge and a putter.
Clubs Features
The clubs are made to meet the needs of beginner golfers who transit into the intermediate level. There is no strict limit between the two levels, however, intermediate level implies that you are able to produce various types of shots, with additional help from your golf clubs for beginners to intermediate. The full-titanium driver is made to produce explosive shots off the tee, while the fairway woods will help you launch the ball high with more flying speed and longer trajectories thanks to their aerodynamic shape. The hybrids that are included in the set are excellent alternatives to long irons and, if you are like most of the golfers at this level, you'll get better performance with them. The stainless steel irons feature high flight technology and excellent control and accuracy with a lot of forgiveness to help you master the short game. The puter features precise face-milling which delivers better balance and control for more putts.
Cost and Value
This is a set that comes from one of the top-tiers in the golf industry, so what you are going to find in it are high-quality golf clubs for beginners to intermediate and reliable performance. When it comes to its price, it is higher compared to many similar sets, but if you consider buying individual golf clubs for beginners to intermediate, then it will cost you more than this set, so it is a good value for the money.

2

. Cleveland Launcher HB Iron Set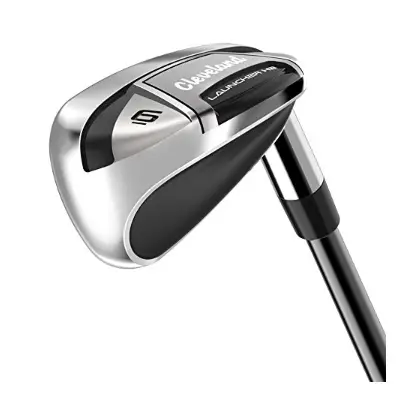 The Launcher HB golf clubs for beginners to intermediate line which was released last year turned out to be one of the most successful lines that Cleveland has made aimed to appeal to a recreational golfer and deliver a combination of simplicity and performance. To do this, the company got its attention to higher launch, more forgiveness, and straighter shots. This line of golf clubs for beginners to intermediate reminds of the previous HiBore irons which were very popular a few years ago, but this one is packed with the latest technology too.
Read more
Set Features
This is a Cleveland Launcher HB set which includes irons from 4 through PW. There are also possibilities to customize this set and make it all-inclusive with all the wedges that the company is offering within this line. The distinctive look of these golf clubs for beginners to intermediate is what makes them different and appealing with a notable difference among short irons that resemble more the game improvement irons, while the mid and the long irons look like hybrids. The golfers can choose from steel and graphite shafts.
Clubs Features
These golf clubs for beginners to intermediate feature a fully hollow construction through the set and that enables repositioning of the weight low and deep to the perimeter in order to make them more forgiving. The HiBore crown which is used in each establishes the CG even lower and it is because of this crown that the golfers are able to launch the ball higher, while the steel face inserts enable the face to flex more so that the ball flies with much faster speed. The club heads feature internal rib design that delivers a very pleasant feel and sound at impact.
Cost and Value
These are premium irons for beginners that integrate the latest game improvement technologies and are aimed to appeal to golfers who know that golf is and will be their passion for a long time. Having the brand name of Cleveland means lifetime service and the possibility for an upgrade. All this comes with a price, of course, which much higher compared to most of the golf clubs for beginners to intermediate here, however, according to many buyers, they are most definitely worth the money.

3

. Tour Edge Hot Launch 2 Iron Set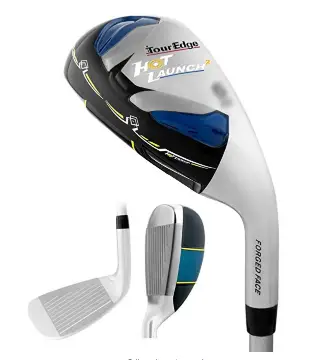 The steady step that Tour Edge has been pacing brought the company among the best ten golf manufacturers that design new concept, new technologies, and new performance-oriented features, rather than imitating existing ones. Especially when it comes to their releases from the last few years, they have won major competitions and brought some really nice designs. This hybrid-iron set is classified as super game improvement and is made to inspire high handicappers to reach lower scores.
Read more
Set Features
The set includes seven clubs, from iron 4 through the pitching wedge. The clubs are sold as a set, but there is a possibility for golfers to buy an individual club. These are made with the use of the company's new technology which features change in the shape to yield unsurpassed performance when it comes to irons. All the clubs come with headcovers which match the design of the clubs.
Clubs Features
These golf clubs for beginners to intermediate are designed to make the short game as fun as possible by removing the burden the golfers feel when they are insecure in their iron game. They are characterized with increased head volume which means more forgiveness on off-center shots and their thin-forged face brings more flex and spring-like effect and more distance. The hollow hyper steel body combines with forged maraging steel face which has a variable thickness for maximized ball speed, while the heavy sole and the cavity design increase the launch angle and the forgiveness.
Cost and Value
Tour Edge is one of those innovative companies which take care of their customers who are on the budget and their golf clubs for beginners to intermediate are almost never priced highly. The same refers to this set as well, so even though it is the latest design, its price is even below the average for a set like this.

4

. Wilson Staff Deep Red Tour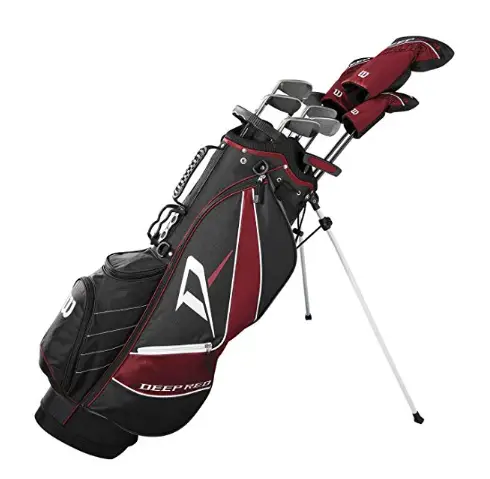 Wilson Staff's array of clubs is surely the widest among the manufacturers with a segmented focus on all kind of players, categorized into sets and individual clubs. Even when it comes to sets, the company offers a wide range of products in this area with constant upgrades as their technologies are being upgraded too. This set is one of the latest upgrades coming from Wilson, which includes premium components and materials to boost golfers' performance.
Read more
Set Features
This is a full set that includes ten golf clubs for beginners to intermediate, a bag, and three headcovers. Even though it is not precisely stated who this set is aimed to, from the number of the clubs and the gap between the 3-wood and 5-hybrid, it is certain that the greatest benefit would have beginner golfers with some experience on the course, as the set does include a sand wedge which is often excluded from absolute beginner sets. It has three available sizes that range from standard, teen and tall with graphite shafts for the driver, the fairway and the hybrid and steel shafts for the irons.
Clubs Features
The driver features a unique aerodynamic head design that provides improved launch and stability at impact to produce straighter shots at a greater distance. The hybrid features a larger face which concentrates the weight low and functions as a replacement for the long irons. The fairway wood has also a low CG and compact head shape to improve the play from a variety of lies. The six perimeter weighting, stainless steel irons feature extremely deep cavity which maximizes the accuracy and greenside control. The putter has a heel/toe shape, with a soft polymer face insert and visual alignment features.
Cost and Value
This a decent set that has obvious improvements compared to older Wilson Staff sets. We can see the improvements in literally every golf clubs for beginners to intermediate and see a noticeable game improvement design. The price point is within the average range, so anyone who needs a full set with advanced game improvement features can consider this set.

5

. Cobra Baffler XL Combo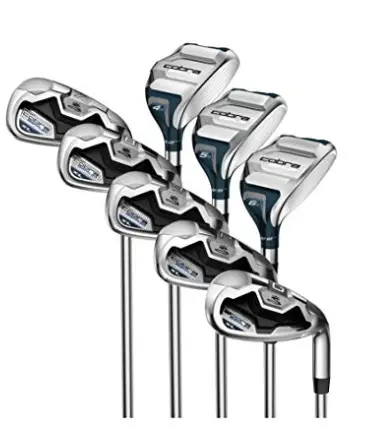 You know that one of the most prominent golf companies is Cobra Golf which has enriched every player's experience with their innovative and game-enhancing designs. Cobra produces various types of clubs to meet the needs of golfers of all skills, from absolute beginners to tour-players. This Baffler combo set is one of those sets that is intended for the aspiring golfers who look for superior quality and more inspiration from the clubs.
Read more
Set Features
Cobra's first Baffler line was among the most sold and the most successful clubs back in the time, and this set is an upgrade of the previous models. However, it does integrate Cobra's more advanced technologies that make the game much more inspiring and motivating. This set of golf clubs for beginners to intermediate contains 3 hybrids (4,5 and 6), 7-9 irons, a pitching wedge, and a gap wedge. This set is unique in many aspects, as it includes 3 hybrids and a gap wedge which is a rarity to see it included in a set.
Club Features
This model features large rails which have the purpose to deliver optimal turf interaction from any lie and allow a greater and faster speed of the club head that results in even further distance. All the clubs have an oversized unsupported face with greater flex which results in more speed under the impact, with low CG and extended sweet spot. This turns every shot into success, even if your shot results into a mishit.
Cost and Value
This is one of the best golf clubs for beginners to intermediate on the market when you're looking for a game-enhancing set which has the capacity to deliver more than you could get from ordinary ones. The fact that it includes three hybrids and a gap wedge makes it unique and more suitable for intermediate level. The price for this Cobra set is reasonable and appropriate for anyone who has decided to invest some money in a good golf set.

6

. Mazel Single-Length Iron Set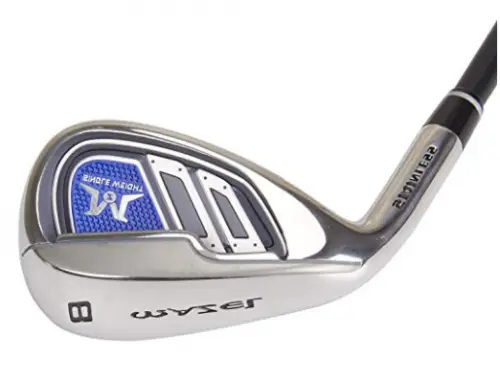 Have you had the chance to take a look at single-length irons that have been gaining in popularity recently, especially after Cobra launched its single-length iron set? Many other budget companies have decided to follow Cobra's example and engineer their own single length iron sets. And this is not because of the simple copy-paste concept but due to many positive critics coming from golfers who have been using them. The idea behind these clubs is convenience, practicality, and consistency.
Read more
Set Features
So, what do golfers get if they play with one-length irons? The designers say there are many benefits. When they use one-length they keep the same body posture, the same setup, they are the same weight and have the same angle with the same feel, so golfers don't have to get used to different specifications of all the clubs. The length of these golf clubs for beginners to intermediate is the same length as the 7-iron and what they bring are consistency and enhanced performance. There are nine clubs in the set from iron 4-9, including a pitching wedge, sand wedge, and a gap wedge.
Clubs Features
These irons are made from stainless steel and cavity back design with a large sweet spot and a wider sole design. The way they are made move the CG lower so that they can launch higher balls, longer and straighter. These are an excellent option for those players who need a blend of consistency and forgiveness in order to practice further shots. Because they are game improvement irons, they come with graphite shafts and high-performance rubber grip which is shock absorbing and anti-slip.
Cost and Value
Before we say a few words about the price of these golf clubs for beginners to intermediate, did you know that the word 'mazel' means 'good luck? The company gave this name to the set to bring golfers good luck while they play their favorite game. However, put fun facts aside, these are good clubs to play with and many golfers have rated them the highest. Will finish about Mazel with a comment on its price; the set belongs to the budget category and it is an excellent value for the money.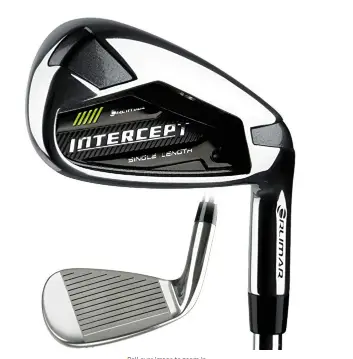 Orlimar is another budget company that has decided to give a try to the single-length clubs as they are showing an increase in the overall use and more and more people opt for single length-clubs. We have already included another single-length set of clubs, which is another proof that their demand is on a steady rise. The length of these clubs is the same as the 7-iron, which is the one that is the most preferred among golfers and in the same way as the other sets, they promote consistency and better performance.
Read more
Set Features
This set includes seven clubs, irons 5-9, a pitching wedge and a gap wedge. As many golfers say, the adaptation to the single length club is very quick and if you are a beginner golfer, the chances are that you'll learn much more easy to deal with these irons than with the standard ones. The shaft that comes with these irons is made from steel with Orlimar custom velvet grip.
Clubs Features
These golf clubs for beginners to intermediate are made with the Face Flex technology on the irons 5 and 6 so that they boost distance a provide proper trajectories and distance gaps throughout the set. The cavity back design made from stainless steel and the advanced undercut cavity promotes excellent accuracy and control. All the clubs feature a low center of gravity and perimeter weighting to launch the ball high and far. Each of the irons has the same balance, weight, lie and flex which promotes consistency swing after swing.
Cost and Value
These irons are well-made and deliver durability and highly rated performance features. What you can expect from them is superior game-improvement features and ability to develop your swing consistency. They are affordable too and appeal to golfers of all ages and skills.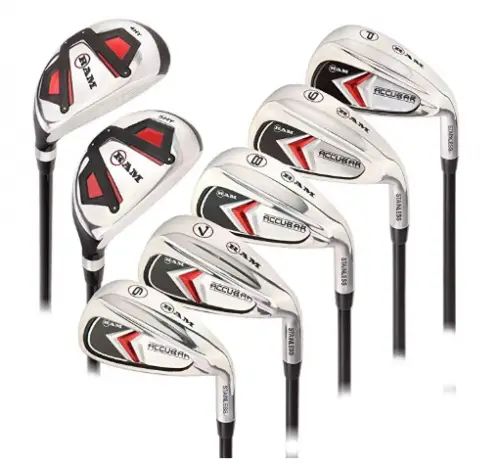 If you are a golfer who looks for an upgrade of his equipment, especially when it comes to irons and hybrids, we might have something for you. Ram Golf has just released this new set which is made with high-to-mid handicappers in mind. The game improvement concept is integrated into the design of these clubs, so you can rest assured that they will fit your level and will work towards the improvement of your handicap.
Read more
Set Features
The company claims that it is a premium quality set and it includes 7 iron clubs. As a matter of fact, there are five irons from 6 through the pitching wedge and two hybrids of 24 and 27 degrees. All the clubs come with a graphite shaft in regular flex and standard size grips. The graphite shafts on these golf clubs for beginners to intermediate make it a perfect option for slow swing players who need an extra boost for longer ball flight.
Clubs Features
The irons are made from stainless steel and, as these are game improvement irons, they feature a cavity back design with a wider sole for a better turf interaction which leads to less drag and more distance. The irons have a large sweet spot that makes them highly forgiving which enables golfers to play with greater consistency and more satisfaction. The hybrids feature an innovative design which features aerodynamic head shape and a higher ability for higher flying balls. These replace the difficult-to-use long irons and increase the golfers' satisfaction on the course.
Cost and Value
Not only are these golf clubs for beginners to intermediate easy to use, but they are also equally affordable too. The price they have is a perfect fit for golfers who are on the budget side and who don't play golf very frequently.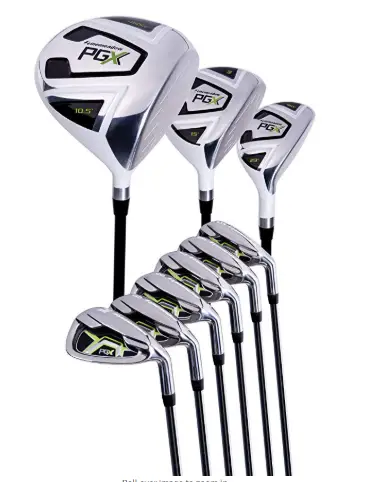 Pinemeadow has been getting more and more popularity recently, as their recent line of clubs has exhibited a serious approach and much detailed craftsmanship with specific attention to details. This budget-friendly company is trying to seriously challenge the established names in the world of golf by offering high-quality brands that have proven to be very playable. The model PGX is one of the latest company's releases and enjoys great popularity on the course If you want to find out more about this lineup, read below.
Read more
Set Features
This is a full set, the only difference compared with other full sets on this list is the absence of a bag. The clubs come in a pack that can't be further used, so you'll need to get yourself a bag if you are buying golf clubs for the first time. However, if you're replacing your beginner clubs with these ones, then this set will be just enough. When it comes to the number of clubs, we'll say it is a basic one as there are just nine of them, i.e., it consists of a driver, a 3-wood, a hybrid, 5-PW irons and headcovers for the woods and the driver. As you could see the putter is missing too.
Clubs Features
These are excellent clubs that feature increased craftsmanship and which are particularly made for golfers who have been playing golf long enough to get to a higher level and make an investment into clubs that they are going to use them for quite some time. The oversized 460ccc driver with a large sweet spot will help you get the ball where you'd like it to fly, and the wood will launch higher and longer flights from the fairway. The hybrid is an excellent replacement for the long irons and will help you develop dexterity in this part of the game. The stainless steel irons are made with wide sole for higher launch and more spin in the short game. The driver, the wood and the hybrid come with a graphite shaft while the irons come with stainless steel shafts.
Cost and Value
Here we get to the best part. You will hardly find a set of clubs that are designed like this for the price this set has. They cost less than a name-brand club which does make a difference, especially if you are a recreational golfer who doesn't spend much time on the course.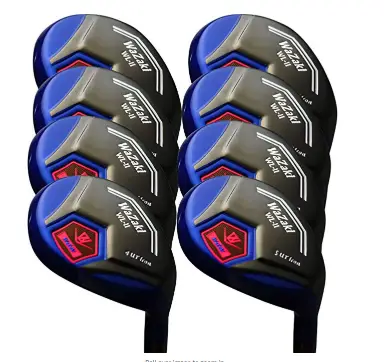 There are many things that beginner and intermediate golfers are struggling with, but among the most difficult obstacles that they come across is the use of irons. And it is not always the long irons, it is short irons too, as they need particularly advanced ability to handle the wedges. As a result, many golf companies have dedicated a full line on producing only hybrid sets as a replacement for the difficult irons. This Japanese company has turned out to deliver the finest quality when it comes to all-hybrid sets and according to golfers, these golf clubs for beginners to intermediate are a game changer. Read below to find out why.
Read more
Set Features
Wazaki has been on the market for a while, but last year's design brought an all-new concept in the hybrids approach. First of all, they stand out with their design, i.e., the black finish and blue and red paint on the top make them look unique and recognizable on the course. The set includes 8 clubs which are all an alternative for the long irons. They are much easier to play with, and they come with an MWMF Bushikadna Shaft which has the same stiffness of the butt as of the tip which brings stability and balance and it is available in three flexes, regular, stiff regular and stiff.
Clubs Features
These golf clubs for beginners to intermediate feature an innovative club shape design with recently developed, innovative technology which is aimed to bring more forgiveness and faster ball speeds. The body of the club head is now very thin on the top while it is considerably thicker on the bottom which places the CG very low. This design delivers to golfers much lower spin and higher launch. The face features variable thickness and it is thinnest so far, made to flex on impact with larger sweet spot and more forgiveness for your mishits. The company allows buyers to select from a light shaft and a pro-shaft.
Cost and Value
These cubs have a very high-rating from golfers who actually use them and they are most recommended for game improvement category. Plus, the price you'll pay for them is most certainly reasonable, especially if you bear in mind that all of them come with a headcover.

Subscribe to our Newsletter