10 Best Golf Club Sets for Intermediate
In a
Hurry? Editors choice: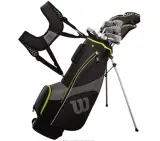 Test Winner: Wilson Profile SGI

Have you reached the point of understanding all golf-related aspects and learned how to swing the ball further and more accurately? Have you been able to launch the ball from the sandpit and beat par? And most importantly, do you feel that
your clubs
are no longer good enough to help you get more speed and distance? If the answers to these questions are positive, then your advancement in the game is evident and you've reached the intermediate level.
And this is the level when golfers mostly decide to invest in clubs that will help them improve their performance. However, many are perplexed by the wide range of products offered on the market and feel confused about whether a set or individual clubs would better suit them. Sets are more convenient, and for that purpose, we have selected the best golf club sets for intermediate players.
Standout Picks
Criteria Used for Evaluation
Compatibility
There are many products on the market that offer a wide range of choices for beginning golf players, however, one needs to search a bit deeper to be able to find an adequate golf club set for intermediate players. You may wonder why is that so, but there are a few reasons for that. First of all, it is hard to specifically say who is intermediate and who haven't reached that milestone, as it often depends on a person's individual skills and the time spent on perfecting the shots. So, the common perception is that once a player feels that he/she has outgrown their beginners' clubs, the time for replacement has come. Secondly, many players decide to buy one club per time as they are often costly and in case they invest in several, it will surely affect the budget. And this is where these sets step in, they are less pricey than buying individual clubs but they are not as adjustable as the others. However, during our careful selection process, we were able to single out the sets that specifically address the needs of intermediate players in the way they are made and the number of clubs each set includes.
Adjustability
This criterion includes availability to make an adjustable purchase in regards to the length of the clubs, the lofts, the hosel, or to select a shaft in accordance with golfers' individual needs. The availability for custom fit is often seen in more expensive, name-brand sets and this option is actually what makes the difference. More economically, budget-friendly ones often lack this opportunity which in the last few years has been perceived to be highly needed as a slight change in the loft or in the shaft can make a world of difference in somebody's performance. So, naturally, the greater the possibility for a custom fit, the higher the ranking.
Features
Features are those characteristics that make a product stand out in the crowd with its specific design and peculiarities. There are certain requirements that distinguish these sets from those intended for beginners and which make them the best golf club sets for intermediate players. The clubs that belong to these sets need to be made from stronger material and more durable. Such would be titanium or stainless steel, they need to be forgiving with a large sweet spot, but at the same time to allow golfers more feel and control. These sets often include more clubs among which, there are usually two hybrids, two fairway woods, and two wedges (a pitching wedge and a sand wedge). The overall compactness of these sets is higher, making them suitable for golfers who have passed the beginning stage.
Ease of Use
The reason for this criteria is very straightforward. Golfers first and utmost need satisfaction on the course from their performance. Well, they surely won't get the satisfaction if they fail to swing long distance trajectories or if they have unsuccessful puts. And, most of the players of these levels are recreational golfers who don't have much time to practice, so the more forgiving the clubs are, the greater the success. This will increase their confidence and will motivate them to frequently visit the course.
Value
So, when it comes to the price one pays for a set, the gap is huge. From just a few hundred to more than a thousand dollars, these sets have something for everyone. Golfers often think that when it comes to the clubs they are using, the price determines the quality which is completely not true. There are some very good sets that can be purchased for a lower price point, and what matters the most is the quality, durability and the effectiveness of the product. It is true that some name-brands are better as they guarantee the higher standard, but some of the sets we have included are praised to be of even higher quality despite not being brands. The key is the high value for the money spent, and we believe that we have found the best.
Top 10 Intermediate Golf Club Sets
1

. Cobra F-Max Superlite 2019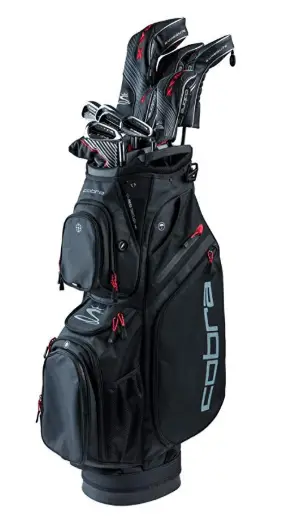 If you've been awing the latest Cobra clubs, especially the Superlite lineup and its immense influence it has been having on golfers' performance, but you are aware that you haven't reached that phase to invest into superior quality products, then you can satisfy your desires with this magnificent golf club set for intermediate that comes from Cobra. The clubs in the intermediate golf club set are made to meet the needs of senior golfers who have a decrease in their swing speed, beginner or intermediate players who seek distance boost without increasing their swing speed.
Read more
What It Contains
It definitely looks powerful, featuring equally stunning Cobra design, and even at first glance, you know that these are premium quality intermediate golf clubs. There are 14 clubs in the bag, including the driver, 3 and 5 fairway wood, a hybrid number 4, irons from 5 to pitching wedge and a sand wedge, and a putter. The bag itself is of premium quality too, magnificent stitching, a 14-way top, and 9 zippered pockets plus one large insulated cooler with up to 14 cans capacity. This bag speaks style and sophistication as the clubs do too.
About the Clubs
The offset driver is made with a forged E9 face and the weighting is positioned deeper towards the heel which is the formula for distance and speed. The 3 and 5 hybrids also feature a fast forged face inserts and very forgiving weighting so that you get towering shots from any lie. The 4 and 5 hybrids are designed in the same back/heel weighting and feature fast forged back insert which enable golfers to deliver higher launches and more stopping power into the greens. The perimeter-weighting irons made with a deep undercut cavity, have progressive hosel lengths and progressive offset so that they deliver improved feel, distance, launch, and control. The putter is well-balanced and helps golfers achieve more putts.
Cost and Value
Everyone who has even the slightest interest in golf and knows a bit about it knows that Cobra is one of the greatest names in the world of golf. It is one of the most innovative companies that bring sophistication and advancement to the highest possible level. Even though these clubs are not the company's most advanced designs, they do represent the company's high-quality and they guarantee advanced performance and durability. Having said this, they are highly priced and compared to the other products on our list they are the most expensive, but those who know what good value for the money means, they know that Cobra F-Max Superlight stands for it.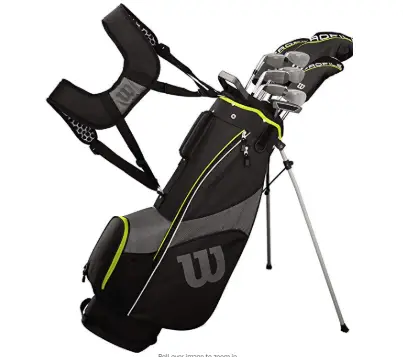 Wilson's tradition in golf manufacturing stretches to the beginning of the last century and the company has been very successful in developing new technologies for advanced performance and tour quality. However, Wilson is also popular in developing golf equipment and accessories that are intended for beginning and intermediate players and their array in this respect is huge. The golf club set for intermediate golfer that we have selected is Profile SGI, designed for golfers who are entering deeper into the world of golf and who need more clubs of better quality and durability.
Read more
What It Contains
The clubs are mainly engineered for teens, however, thanks to their sturdy design and the materials used, they are used by adults too. The game improvement technology makes them not only very forgiving but also accurate and far-reaching, as the distance is the hallmark of these clubs. They come in a stylish, self-activating stand bag with many zippered pockets for storing accessories. There are 11 clubs in the golf club set for intermediate and headcovers for the woods. This Profile line is the only one that offers customization from thirteen options regarding club length, loft, grip size, and the flex, making it the most adjustable golf club set for intermediate of this kind.
About the Clubs
In order to excel in their game, golfers need confidence and assurance that they do achieve progress as they continue practicing their swings. Therefore, all of these clubs are made with a large sweet spot, featuring greater forgiveness. Thus, the titanium driver is oversized and together with the wood and the hybrid they help golfers practice and develop their long game shots, i.e., distance and accuracy. The 431 stainless steel irons start from number 5 and include both, a sand wedge and a pitching wedge with a wide sole and excellent turf interaction. The head-to-toe putter is well-balanced and helps golfers get precision and control.
Cost and Value
For the quality and the Wilson technology utilized on this product, Profile SGi is an excellent value for the money. It isn't as expensive as some other similar products, plus it is made by a great manufacturer and it integrates the game improvement concept in every club.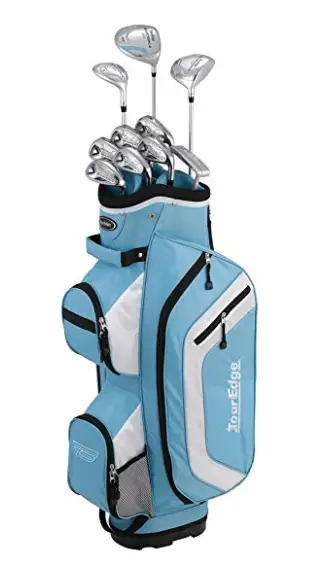 As women have different arms' length and swing speed, some manufacturers produce intermediate golf club sets that are intended for women only so that they match women's needs. We have specifically selected Tour Edge Bazooka 260 as it has been the most popular golf club set for intermediate among women with high to low handicap as it is set that isn't easily overgrown. The design and the quality are superb, so take a closer look at its features below.
Read more
What It Contains
Intermediate players are mainly high and mid-handicappers, which means they most surely need additional help from their clubs to experience improvement in their shots and achieve longer distance with every swing. Therefore, Tour Edge Bazooka represents a blend of value and technology with game-enhancing features to help players lower their score. All the clubs are oversized and forgiving and the golf club set for intermediate includes all those that mid-handicappers are likely to use. This means together with the stylish cart bag, you get a driver, 5-hybrid, 3-wood, a putter and irons 5-PW.
About the Clubs
The driver, as we mentioned is oversize, featuring 460cc titanium head with high MOI that allows higher forgiveness and longer ball flight. The woods and the hybrids are made with a white finish which enhances the contrast between the clubs' leading edge and the ground, allowing better focus. The center of gravity is positioned low which increases the sweet spot and the ability to produce high-flying shots. Stainless steel irons feature an undercut cavity for greater control and accuracy. The heel-toe weighted putter is made with easy-to-use alignment aid to produce better putts.
Cost and Value
This is one of the most popular women's golf club sets for intermediate that is made to meet high and mid-handicappers needs, increase their confidence on the course and improve their performance. It is extremely budget-friendly, so for the money, you get quality, performance, and immense satisfaction.

4

. Callaway Women's Strata Ultimate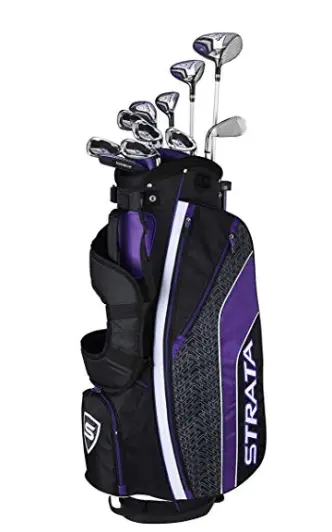 We have already included a Strata golf club set for intermediate golfer in this buying guide, but as we mentioned, there are many different Strata golf club set for intermediate that differ in many aspects. Unlike the other model, this is a current generation one, featuring the latest golf technology to provide reliable performance from tee to green. The intermediate golf clubs are engineered to deliver ultimate distance which in turn will help you lower your score.
Read more
What It Contains
What you'll find in the bag is exactly what an intermediate player needs for explosive long swings and high-launching and fast-stopping balls. It includes a driver, 3-wood, two hybrids, 6-9 irons, two wedges (PW and SW), a putter all of them placed in a stand bag including four headcovers for the woods and the hybrids. The bag is sturdy, lightweight and durable, with automatic stand mechanism and convenient pockets for storing accessories.
About the Clubs
The full titanium driver will help you deliver explosive shots off the tee as it is very forgiving and it won't "punish" you for the mish-hits you make. The 4 and 5 hybrids are alternatives for the long irons so that you can easily launch the ball high into the air with much more confidence. The 3-wood is very forgiving, designed with aerodynamic head shape for long and high trajectories. The stainless steel irons and wedges feature high flight technology that provides golfers more control and accuracy. They are very forgiving, with a low center of gravity and wider sole design for greater turf interaction. The putter features precise face milling designed for better accuracy and control to sink more putts.
Cost and Value
Callaway is a high-end brand and as such it offers high-quality, durability and performance. Regardless of the type of product, you'll buy with the Callaway name on it, you should be confident that it is a product that will last. The same applies to this set, it is made with Callaway proprietary technologies for high to mid handicappers that need some extra boost from the clubs. The price matches the overall Callaway quality, so even though a bit more expensive, it is worth the money.

5

. Callaway Strata Tour Complete Prior Generation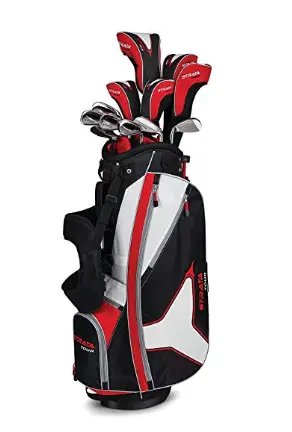 Callaway Strata line is not just one intermediate golf club set nicely placed in a bag. It has more than 20 varieties and they are not just for beginners but for more advanced players too. Even though the differences are often so small for players to notice at the beginning, after playing for some time the difference becomes more and more obvious. The thing is, even though the forgiveness and the playability are never questioned, the inclusiveness of more advanced clubs such as a sand wedge or a pitching wedge makes them more suitable for intermediate players. Such is this Strata model so read below to find out what it includes.
Read more
What It Contains
If we follow the basic principle of "the more the merrier", then you should be more than happy with this one. Designed to increase your performance, the set includes 18 pieces including a bag. It is a high-quality cart bag with ergonomic straps and several zippered compartments of different sizes for storing your accessories, and an insulated cooler pocket for storing your drinks. The bag comes with a driver, two hybrids, two irons, two wedges, a putter and five covers for the woods and the hybrids.
About the Clubs
As we always start with the driver, the one that is included in the bag features an oversized 460cc titanium head with a forged face and extended sweet spot which will help the golfers to achieve greater distance off the tee. The fairway woods have a more aerodynamic head shape in order to enable golfers to get high, flying shots. The hybrids represent a substitute for the long and impractical irons so that your success is greater on the course. The irons are made from stainless steel and they are designed to offer control and forgiveness, while the mallet putter has a visual alignment to enhance the accuracy and have many successful putts.
Cost and Value
If you have passed the beginners' phase, developed swing techniques, and have reached the intermediate phase, then this is the golf club set for intermediate that, according to many golfers, is made to help you excel in your performance with clubs that are constructed for your level. Compared with some similar models this is on the high end, however, when it comes to quality and durability, no doubt it is well worth the money.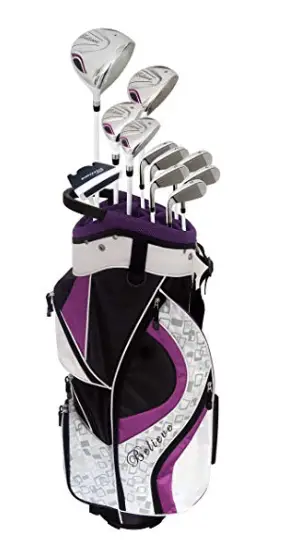 As golf is becoming a game of the modern generation and more and more women are taking up golf as their favorite free time activity, not many of them know that the name 'golf' is completely against women's involvement in golf whatsoever, as it is an acronym that stands for 'gentlemen only ladies forbidden'. Well, the only thing left from those dark ages for women is the name only, and this intermediate golf club set proves how much women have been involved in this game. Believe Ladies is a full golf club set for intermediate designed for women golfers who have passed the beginning stage. But that is not the only benefit that comes from purchasing this intermediate golf club set. Believe has been supporting the fight against breast cancer and $5 from each product are donated for this cause.
Read more
What It Contains
The combination of gray, purple and white makes the design of the bag and the matching headcovers very stylish and attractive. They are actually a designer bag and headcovers, the bag featuring a 14-way divider, glove holder, seven zippered pockets, umbrella sleeve, and a rain hood. All the clubs inside the bag come with a ladies flex graphite shafts which are lightweight and easy to play with. There are 11 cubs inside, a driver, a putter, two hybrid irons, a wood, and six irons.
About the Clubs
It is the largest allowed driver for extra forgiveness to make the off-center shots more productive, which means added distance and less spin. The 3-wood is also forgiving and it helps golfers to launch high shots off the tee and the fairway. There are two hybrids that replace long irons and six stainless steel irons that feature a wide sole design to launch the ball higher and out of the rough. The mallet-style putter has a clear alignment aid to allow for more precise putts.
Cost and Value
This is a product designed by Founders Club and it is truly efficient and easy-to-use. It is one of those budget-friendly, reasonably priced golf club sets for intermediate that allow convenience and functionality without having to spend a boatload of money. It is a great value for the money.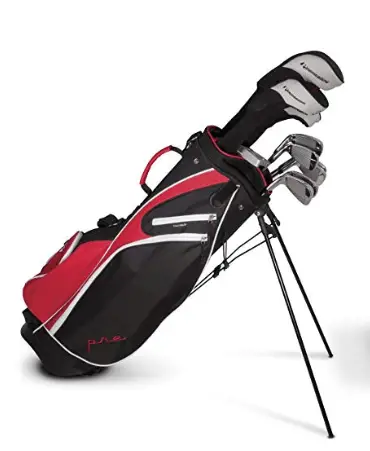 If this is your first time buying your full intermediate golf club set or if you have outgrown your beginners' one, then no wonder if you feel perplexed by the vast number of offers that you have come across on the market. The reason why Pinemeadow PRE should be taken into consideration is its completeness, the compact design, sturdy look and the great performance it delivers. We'll talk about the clubs and what to expect from them, so read below to find out.
Read more
What It Contains
For improved performance you need confidence and for the confidence, you need a lot of practice and good clubs. This model, made by Pinemeadow, includes everything you need so that you excel the way you swing the ball and develop greater control and accuracy. It comes with a high-quality, dual-strap bag with an integrated kickstand that contains a driver, a wood a hybrid, 4 to PW irons, a putter and three headcovers for the driver and the woods. The bag comes with a rain hood too.
About the Clubs
The clubs in this intermediate golf club set are made to meet the needs of mid-handicappers and therefore feature some specifics that are worth mentioning. The driver is made for maximum distance so that your short game would be of par 4s and 5s. It is titanium enhanced and comes equipped with a graphite shaft. The fairway wood and the hybrid will get you covered for the middle distances from the fairway and the rough and from any angle possible. The wood comes with a graphite shaft while the hybrid is fitted with a steel shaft. The perimeter-weighting stainless steel irons feature a cavity back design, a large sweet spot, and tour-style grip. The weighted putter allows you to align the ball precisely and have successful putts.
Cost and Value
The best part about these clubs is the price they are being sold at. If you consider the number of clubs that are included in the golf club set for intermediate and the quality of the bag, the performance and the quality of the shafts, it is clear that we are talking about an excellent value for the money.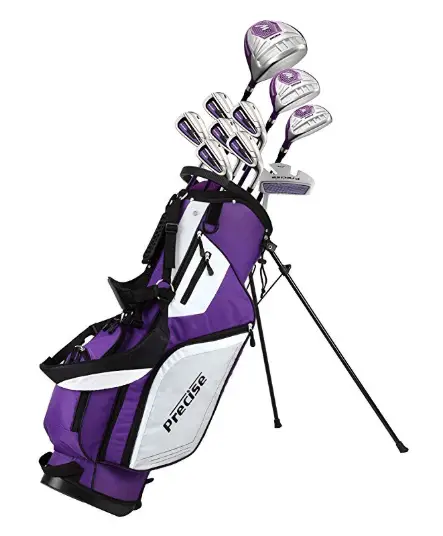 Many women prefer to play with clubs made specifically for a female type of performance which mostly means smaller length and easy-to-hit clubs. Precise M5 is one more model that focuses on more forgiveness, distance boosting and more accuracy. The whole intermediate golf club set is very lightweight, stylish and attractive.
Read more
What It Contains
The first thing that attracts your attention is the unique color choice of the bag and the matching headcovers. It is a stand bag that comes with a dual strap allowing to carry it like a backpack. The bag has many different zippered compartments where you can keep your belongings. The bag includes irons from 5 -PW, a driver, 3 and 5 wood and a hybrid. There are three different sizes that golfers can choose from to match their size.
About the Clubs
These are decent clubs, oversized and forgiving, as that's the formula that leads to improved performance for beginning to intermediate golfers. The titanium driver comes with a graphite shaft to easily lift the ball in the air and to achieve a greater distance. The woods and the irons are made from stainless steel with cavity back design and extreme forgiveness that allows golfers to lower their score. The putter comes with an alignment aid, a useful feature for enhancing control and balance.
Cost and Value
We all know that a golf club set for intermediate can cost a lot of money, some premium ones cost thousands of dollars and that's a real investment. But, let's face reality! Would you spend a few bucks if you were just a recreational golfer? Most of the players who have reached past beginning stage are happy to have a set that will provide them enough practice to enjoy the game without breaking the bank. And this is exactly such a intermediate golf club set.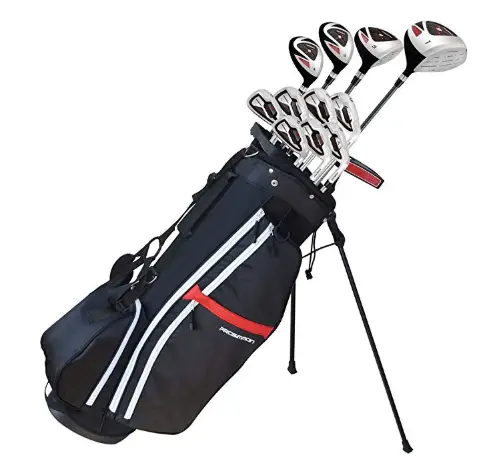 In the game of golf, the line between beginner golfers and the intermediate ones is blurred and it is more or less based on a person's individual advancement rather than on certain pre-set criteria (even though they do exist). When it comes to the clubs one is using, the same applies here. When the player feels he/she has outgrown the clubs that he/she is using, this means that the person has gained more skills, swing speed, and taken overall, the person has improved the game. V2 model is the improved version of the X9 series and it is made for developing golfers who still lack speed and skills to be called better players.
Read more
What It Contains
If you are a person who swings with more than 120 mph an hour (which you are probably not since you are reading this buying guide) than these are not for you, but everything else below that will help you get where you wanted to go. They are game improvement clubs with a large sweet spot and excellent forgiveness and include as many clubs as an intermediate golfer would use on the course. There are 11 clubs in the golf club set for intermediate, a driver, a fairway wood, two hybrids, irons from 5 to PW and a putter and a deluxe stand bag with dual straps and many zippered pockets.
About the Clubs
The titanium matrix driver with the oversized club head and the 3-wood feature extended sweet spot and superior forgiveness that make them easier to use and deliver longer and far-reaching shots. The hybrids replace the long irons, and the golfers say that these are much easier to handle to achieve greater distance and boost your self-confidence. The stainless steel irons are also very forgiving and designed to make the short game much easier. The putter is well-balanced and the alignment aid will help you achieve more putting precision.
Cost and Value
Even though this is a brand that isn't as popular as some other brands on the list, the intermediate golf club set itself is very popular and it is among the best-rated ones, joining Callaway, Wilson, Cobra, at least when it comes to this category of clubs. It is also an excellent opportunity for those golfers whose budget is rather tight and can't afford more expensive name-branded ones.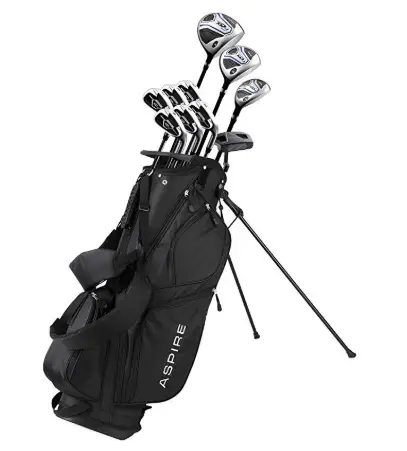 If you don't feel like investing a lot of money in a golf club set for intermediate golfer simply because you are not sure that you will hit the course as often as you would like, then Aspire XD1 is a great new option that was recently launched as an upgrade of the previous Aspire model. The game improvement concept built-in the clubs makes them suitable from beginner to intermediate level players who need lots of practice with more forgiving clubs. Find out more about Aspire XD1 below.
Read more
What It Contains
When we talk about an intermediate golf club set, it mostly comes with a bag, and the one included here is a very nice deluxe, dual-strap, ergonomic stand bag which is very convenient for carrying your equipment and your accessories. It has many zippered pockets of different sizes to keep your belongings secure. There are nine clubs in the intermediate golf club set and three headcovers to protect the woods matching the bag.
About the Clubs
Despite not being as complete as some other models on the list, the clubs that come with the bag are the most necessary ones to help get more precise and much more experienced in the shots you make. The driver is oversized, made from titanium with a graphite shaft, a design combination that allows further distance off the tee and more successful ball launches. There is one fairway wood and one hybrid to make the process easier in choosing the right club, as inexperienced golfers often are struggling with the choice of the clubs too. The irons (6-PW) are made stainless steel with True Temper steel shafts for much higher control and accuracy. The mallet putter comes with an alignment for better accuracy.
Cost and Value
This is one of those golf club sets for intermediate golfers offers that are considered basic, but at the same time include everything that an aspiring golfer could use on the course. What matters the most is the forgiveness they deliver so that you can have proper shots. The bag is of good quality too, but the best part is the price which is more than affordable, making these clubs one of the cheapest on the market.

Subscribe to our Newsletter