10 Top Golf Club Brands Reviewed
In a
Hurry? Editors choice: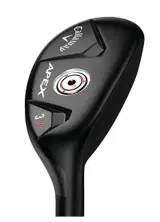 Test Winner: Callaway Apex 19 Hybrid

If you are a golfer, you must have come across some of the most prominent brands in the golf industry and consciously or unconsciously, you know at least five of them, as these five are the top-tiers in the golf industry.
What you probably don't know is how they have gained the status of being the ultimate leaders in golf club engineering and what marks their manufacturing process. You are probably associating them with high-end prices and luxury designs, but do you know the cause for that? Do you know what kind of technologies and
patented designs
they have developed and what makes them different from the rest?
This buying guide has all the answers for you! We have selected the best golf club brands together with their most prominent golf club to help you make a better decision next time you are going to make a purchase.
Standout Picks
Criteria Used for Evaluation
Brand
No wonder that we selected this criterion as the first one, as we obviously had to analyze the best golf club brands in the world today. I'm sure that whoever has even the slightest interest in golf, knows these brands or at least half of them, and if you are even a beginner golfer, chances are that you have in your bag at least one club of them. The reason is very simple. They are the most dominant brands in the golf industry taking up more than 70% of the market. There are many reasons why they are so dominant, and if you have read the descriptions provided for each brand you already know why.
These brands spend endless hours on research and development inventing new designs and better technologies that are going to deliver improved performance in every segment of golfers' performance. It was because of these companies that golfers play the golf the way they do it today, because of their advanced approach we have seen such shifts in terms of materials used, forgiveness, perimeter weighting, game improvement designs, graphite shafts and so on. The order they appear is not relevant with their influence on the market and for each brand, we have selected the latest line of clubs which features the newest and most advanced approach in their manufacturing process.
Versatility
In this buying guide, we tried to represent each brand with the clubs that are mainly associated with it and which have made the brand popular and well-known among golfers. We also took care to include all possible types of clubs used on the course as you could have a glimpse on everything that is being sold on the market today. Even though the featured products are selected to represent the most specialized area of each brand, it doesn't mean that the rest of their products are not as good as the selected product. It is mainly due to limitations of the article itself that we had to select only one. So, it is important to note that all of these brand manufacture clubs with extraordinary craftsmanship, and very often their product line is not only limited to clubs, but it also extends to golf balls, gear, accessories, and equipment.
Release Date
This factor was somehow self-imposing because when the best golf club brand is represented, one tends to know what the brand is currently offering on the market and what are the latest technologies and designs. Initially, we wanted to single out the most popular within the last few years, however, as we went through their range of products, we realized the importance of representing the latest releases so that any golfer could know what are the most prominent products on the market. Bear in mind, though, that companies have new releases almost every single year, so the competition is huge and very powerful.
The Ultimate Golf Club Brands List
Subscribe to our Newsletter