10 Best Golf Clothes Brands
In a
Hurry? Editors choice: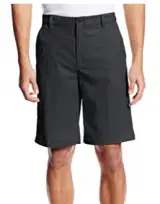 Test Winner: IZOD Classic Fit Shorts

Nothing exhibits such versatility as the golf apparel seen on the course. There are hundreds of companies that have at least one production line intended for golf clothes, as they need to integrate certain features that follow the specific movements of the golfers.
Best golf clothes need to be a flexible, four-way stretch and to deliver comfort and unprevented movement on the course. Plus, they need to be made from moisture-wicking materials so that golfers always feel cool and dry. Certainly, the last but not the least is the style. A golf course is an excellent place for the fashion industry to promote their latest pieces of
clothing
through the golfers they sponsor.
It was hard to make the selection, however, we selected the most popular, the most innovative and the most technologically advanced
clothing items.
Standout Picks
Criteria Used for Evaluation
Versatility
This buying guide is all about versatility as there is no specific featured product, nor is there a specific manufacturer that we wanted to promote. The selection was based on the users' experience and their satisfaction related to certain products that come from the most popular sports manufacturers. All the brands selected on this list are the most popular ones and are those that can be seen on the course. Plus, most of them are featured by the most prominent tour and pro golfers who promote the latest designs. It was incredibly difficult to make the selection, therefore, we made the decision to pick a specific piece of a garment based on its popularity, quality and the season when it is worn. So, we have practically covered almost anything that can be seen on the course.
Value
All the competition among the companies is based on two basic things, superior quality, and excellent value for the money. When these two criteria blend in, there's the definition of excellent value for the money. However, in real life, things aren't black and white. Inexpensive and of superior quality is more of wishful thinking than something that can be easily achieved and there are many reasons for that.
Some companies invest most of their funds in the research and development section so that they come up with new technologies that will increase the playability and the effectiveness of the products and offer the golfers an excellent value for the money. Other, tend to come up with recycled products so that they promote an environmentally healthier environment and reusable goods. Some, outsource their basic materials and fabrics from different parts around the world in order to produce the finest goods. All these methods require huge financial burden and investment. So, you have probably realized that none of the promoted products are cheap, however, all of them feature price points that range from affordable to relatively expensive, depending on the actual estimation of the product's worth.
Comfort
Comfort is crucial in sports performance and if the clothing that the golfers wear isn't as comfortable as they would need, then it would be extremely hard for them to perform well. When it comes to playing golf, there are certain requirements regarding these criteria. First of all, the materials must be performance materials such as elastin, polyester or cotton which are thin enough so that they don't prevent the golfers from walking or swinging. Summer clothes are supposed to be thin, light and to have the ability to dry easily and keep the players cool, while winter clothes are expected to lock the warmth in but not to obstruct the air flow and the breathability of the materials. The most important feature related to comfort is the ability of the materials to stretch in all four directions so that players are able to have full blown shots.
Features
Features are all those factors that make the products distinguish from one another and which provide the clothes with certain characteristics and technologies that make them performance-oriented. For many players, the ability of the materials to keep them cool and dry is of utmost importance and that is especially valid for summer apparel. This means they are expected to feature moisture-wicking properties and to allow enhanced breathability and air flow. Another feature when it comes to winter clothing is the ability of the materials to keep the players warm, but not to make them sweat. The materials are expected to be thin but to feature thermal-locking property. Another important feature is the UV protection and we highly valued those products that provide UPF 50 UV protection, ensuring golfers that they will be protected from the harmful sun rays as long as they need to spend their time on the course. Also, when it comes to weather elements protection, we included jackets and wind shirts that protect the players from the rain and the wind. And lastly, the more stretch the material is, the better playability you can expect from that material.
Style
Everyone wants to look stylish and modern. However, this is one of those features that is the hardest to determine due to different golfers' preferences and definitions of what stylish and modern is. We can't make a claim what is trendy or what is modern based on our subjective likes or dislikes, however, we specifically selected those products that do feature certain contemporary trends or turned to those timeless designs that can be worn anytime.
Top Rated Clothing Brands
1

. Nike Dry Victory Stripe Polo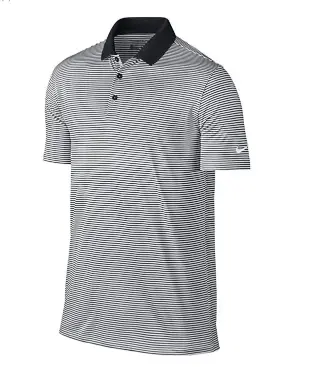 High-quality and modern designs
The company offers different styles and designs
More than 20 patented technologies that anchor Nike's success
Comfortable, modern and always trendy models
I don't think there's anyone in the world today that hasn't owned a piece of garment with the Swoosh logo on it, and the company itself doesn't require any special introduction on what it represents in the world of sports. However, unless know nothing about golf, there hasn't been any other world-renowned company that has been as much associated with golf as Nike is. And it all started more than 20 years ago when Tiger Woods signed his first contract with Nike. Ever since, it has been producing golf apparel and equipment, promoting itself on the courses worldwide.
Read more
Nike Range of Products
But, it is not only Tiger Woods through whom Nike has been promoting itself on the course. Brooks Koeperka, Rory McIlroy, Michelle Wie are among those who use the course as Nike's runway to feature the latest of the company's designs. There's practically no stone turned in their golf line. From complete apparel, footwear, headwear, accessories, equipment, and gear, a keen golf lover will find it all in Nike. And, the reason for the glowing success of the company doesn't lie only in the million dollars contracts they sign with the players, but in their never-ceasing innovative technologies that enable athletes to achieve maximized performance. Among those that stand out the most are Dri-Fit, Nike Pro, Therma Fit, Nike ACG and many, many more.
About the Featured Product
This polo shirt is the one which has been the most popular among golfers, and maybe the reason behind is the fact that Tiger Woods has worn the same model. It is made from 100% polyester and the technology that it features is Dri-FIT, a high-performance one that enables the materials such as polyester, to wick the moisture away, move it to the surface where it easily evaporates making the golfers feel dry, cool and comfortable. It is a standard fit design with a ribbed collar that prevents curling and the jersey fabric is very lightweight and comfortable. It comes in many color choices and it is a design that is never out of fashion.
Cost and Value
When it comes to high-quality Nike golf clothing, the price tags are generally speaking a bit high, however, there are also great variations, depending on the particular model, size and color. For example, this polo shirt has a variable price tag and it ranges from below the average to above the average, depending on your color choice and the selected size.

2

. Under Armour Match Play Pants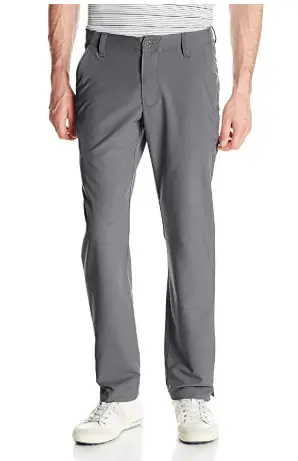 Wide range of golf products for a complete look on the course
Multiple technologies to enhance performance
Specially designed materials for utmost comfort
Reasonably priced products
Even though the company has been with us for a fairly short period of time, over the years it has become one of the most popular, reliable and sports performance manufacturers that feature style, design, and comfort. The company's vision clearly states that they offer a performance solution that athletes never knew they needed but once they had them, they figured out that they can't live without them.
Read more
Under Armour Range of Products
If John Spieth's style hasn't been enough to provide you with a full insight into the company's special dedication to commit an entire production line to golf, then maybe the info about the company and their technology will broaden your horizon. Initially, we wanted to stress each of the technologies that UA have developed but after realizing that they have seven in the category Stay Cool, six in the category Stay Warm, two in Stay Dry, eight in Stay Ready and five in Stay Moving, we discarded the idea as it is impossible for the purposes of this buying guide. However, we are happy to invite you to take a look at the vast range of products, from pants and trousers to jackets, polo shirts, footwear and bags, and headwear designed particularly for golf.
About the Featured Product
We could have easily chosen anything, as one product is barely enough to represent the company's golf clothes brand. As we were limited to one product only per company, we have selected these pants simply because they are one of the most highly rated Under Armor products sold on the market. They are stylish, made from moisture-wicking material that keeps you stay dry no matter how long you've been moving and how hot it is. The material is extra flexible and stretch and dries almost instantly when it gets wet. It has a flat front and four pockets and it stands as a tiny representative of the UA quality designs.
Cost and Value
Everyone will agree that once you wear anything from UA, you simply get addicted to the company's impeccably comfortable and unique designs. Plus, it is a socially responsible company and dedicated to sustainable development which means part of its funding goes to research and development. And even with that, we can't say that it sells its products expensively. Thus, take for example these pants. They are surely not cheap, but they aren't very expensive either which makes them a good value for the money.

3

. Callaway Midlayer Long Sleeve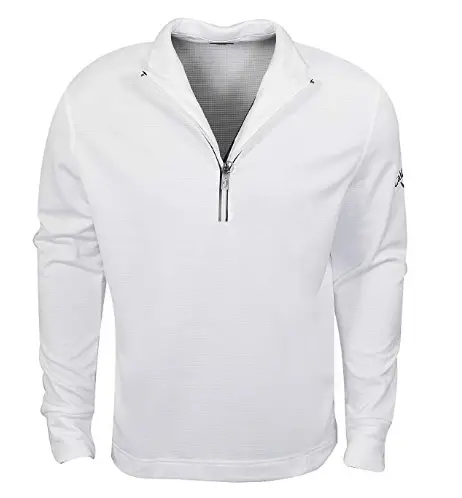 A versatile product line that ranges from gear, apparel, and accessories to all types of equipment
Superior name-brand quality design
Opti-Therm, Opti-Dry, Opti-Shield, and Opti-Therm technologies deliver full fabric potential for a premium performance
There are a few manufacturers that are known to be the pillars in the golf industry and Callaway is one of them. There hasn't been a single golfer that hasn't admired the excellence of the brand, be it the clubs, the balls or the apparel. Whatever Callaway makes, it is made with absolute precision, innovative design and full attention to details. Their piece-of-art products stand as a confirmation that perfection in style does exist.
Read more
Callaway Range of Products
Callaway clubs and balls are claimed to be among the best as the company is engaged in outsourcing the best materials and at the same time it employes the best designers to create recognizable and performance-oriented products. Similarly precise and perfection-driven are the apparel designers who have been doing a great job in creating pieces of clothes that are remarkable on the course. Also, their three well-known technologies, Opti-Stretch, Opti-Dry, Opti-Shield, and Opti-Therm are a guarantee that golfers can hope for nothing but the best.
About the Featured Product
This pullover is made from 100% polyester as it is high-performance material and it allows being treated appropriately by the utilization of various technologies. The featured Opti-Therm technology which is applied in this design maintains your body warmth by creating a barrier between the wearer and the cold weather. The Opti-Dri technology keeps you instantly dry even when you are profoundly sweating, while the Opti-Stretch technology enables you to perform spotlessly on all your swings and shots thanks to the superior stretching ability of the material.
Cost and Value
When a company invests in its golf clothing production line, it usually takes time, effort and means, and therefore it shouldn't be taken as a surprise the fact that these products are often priced considerably higher compared to the average products. Indeed, almost all Callaway products feature a relatively high price point but at least you know that what you are buying is an excellent value for the money.

4

. FootJoy Short Sleeve Windshirt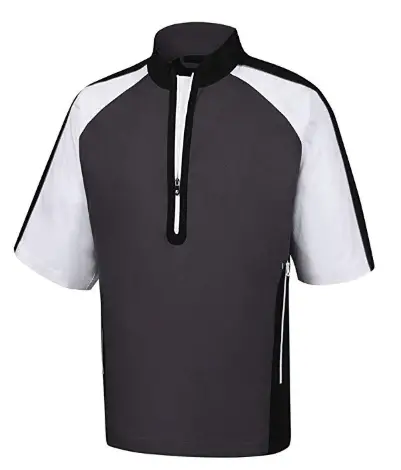 Premium and unique design
Top notch technology and impressive craftsmanship
Wide range of apparel, footwear, accessories, and headwear
FootJoy is officially considered to be the number one company in shoe production in golf and it is where it holds most of its success. However, the company has been going steady not only in delivering the best shoewear but golf gloves, accessories and apparel too. The last twenty years have seen an amazing boost in the development of the one and a half old company. It is one of that ultra-premium, top-notch manufacturers that is hard not to spot.
Read more
FootJoy Range of Products
Have you admired the style of Justin Thomas and Webb Simpson? If you have, then you can literally copy-paste their looks and show off the same elegance and sophistication on the course. As with most of the companies that we have selected for the purposes of this article, FootJoy has committed itself to design clothes and accessories that make any golfer's looks complete. Their luxury products are aimed at the most discerning golfer, combining tradition, sophisticated and innovative design and perfect craftsmanship which top the company up.
About the Featured Product
We have selected this short sleeve wind shirt out of their entire golf clothing line because of two reasons. Firstly, it has a very unique design, there's nothing similar on the course in this category that can rival the looks of this wind shirt. Secondly, it is made simply perfect. It is a stretch shell material that offers a four-way stretch which allows golfers to have an unobstructed range of motion. The striking mock neck with the contrasting ½ zip closure and the short raglan sleeves make it one of the most comfortable wind shirts ever.
Cost and Value
FootJoy is a top-notch company when it comes to the best golf clothes, featuring the finest quality materials and impeccable craftsmanship and unique and recognizable designs. Their technologies are cutting edge and that comes with a price point much higher than most general sports brands. But, if you look for premium and one-of-a-kind design, the price is worth the money.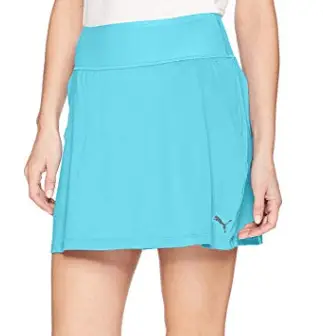 Superior quality and modern design
More than 30 existing patented technologies shape the brand's success
Performance fabrics and sophisticated models
Wide range of products
Seeing Rickie Fowler and Lexi Thomson swinging on the course is pretty much impressive, but nothing less can be said about their outfit which, from head to toe, comes from Puma. As a matter of fact, it is now Cobra Puma so their offer is pretty much completely golf apparel oriented and Rickie has been developing his own line within the company. The immense advertisement, combined with the piece-of-art designs and the latest technologies, have made Puma the leader in the world of golf.
Read more
Puma Range of Products
There are literally speaking, hundreds of proprietary Puma designs in clothing, footwear, and accessories production lines. There's nothing you can't find and the best part is the constant upgrade and improvement they make over their products. The company cooperates with many other companies in order to bring the best in all aspects. Its aim to become the fastest growing company in the world is closely being achieved and its women's apparel line has been receiving the highest and the most positive feedback. There are over thirty patented technologies that Puma has developed making it one of the most innovative sports companies.
About the Featured Product
Since women's collection is spiking in its popularity, we have decided to represent this solid knit skirt which has become an absolute hit in 2019's golf apparel. We can see the latest Pwrshape technology featured in the skirt, i.e., in the waistband helping you to retain your shape. It is made from 92% polyester and 8% spandex which feature dryCELL technology which makes it instantly dry even if you sweat profoundly. The shaping inner short and the silicone gripper tape prevent the short from riding up and at the same time deliver maximum comfort.
Cost and Value
We'll put this shortly, it is Puma and it is the latest 2019 design, so as you might expect, it is not cheap. However, the quality and the performance it provides is more than faultless. The same can be said for all Puma designs, as they are made of the highest quality, but with the quality comes the price tag too.

6

. Adidas Adi 3-Stripes Classic 1/4 Zip Jacket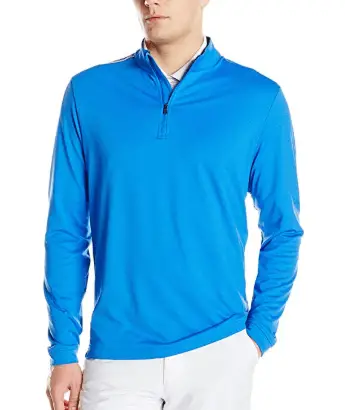 Specific, sport-oriented apparel and footwear
Multiple technologies which answer the needs of the athletes
Four-way stretch fabric, especially important for golfers
The three stripes design has marked the sports performance of hundreds of athletes around the world in almost any possible sport, so it kind of comes as no surprise that we have included it in this buying guide. Their various sports lines are quite impressive and nothing less can be said about golf too. And Adidas did a great job in trying to promote their golf line in the best possible manner, by employing some of the best performing and best-looking golfers such as Dustin Johnson, Jessica Korda, and some more.
Read more
Adidas Range of Products
If you have been paying close attention to what the sponsored players wear each time a tournament is on, then you must have been impressed by the variety of styles and designs coming from Adidas. However, it is the quality and the innovative technologies that mark the brand's success and the popularity it has. Talking about innovations, we'll mention just a few which are the most popular ones form the impressive patented technologies that the company has developed. Such are, Climacool for ventilation, Climawarm keeps the warmth, Climaproof-water, and wind resistant fabrics, Primaloft-isolation fabrics and so forth. All in all, the company offers sportswear for unobstructed performance in all conditions.
About the Featured Product
This particular ¼ zip jacket comes in ten color varieties. It is a very stylish jacket that can be worn as an outer layer when the weather is quite cool but not cold. It is made from 96% polyester and 4% elastane. This french terry fleece fabric is made to deliver comfort and warmth while at the same time it keeps you dry and fresh. It will make you feel great on the course, so your only focus should be how to improve your swing, as this is a four-way stretch material which is the most elastic one for unhindered performance.
Cost and Value
Adidas is one of those mass sports companies that deliver a vast range of products, styles and specific-sport oriented designs. When it comes to golf, they are of premium quality and made in accordance with the specific golfers' needs, so the prices attributed to golf apparel are more expensive compared to the general items. When it comes to this golf pullover, its price varies and it depends on the color and the size which the buyer selects.

7

. Titleist Golf Ball Marker Hat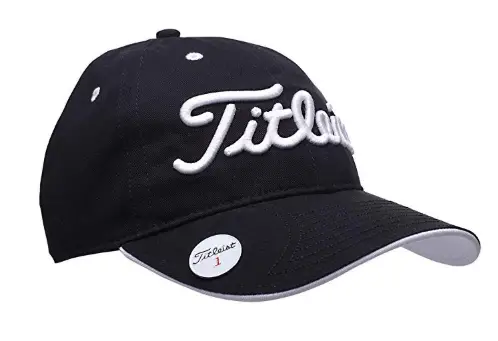 A cutting edge-technology and top-notch design
Exclusive manufacturing excellence
Wide range of products
Moisture-wicking materials
What do Webb Simpson, Adam Scott, Max Homa, and Justin Thomas have in common? If you've been watching them play, you'll notice that all of them wear the same brand of hats- Titleist. Well, I'm sure that when it comes to Titleist you all associate them with the premium quality clubs and equipment, however, it is the Acushnet Holding Company that joins together Titleist and FootJoy when it comes to apparel and accessories, providing the opportunity for Titleist to offers its own branded headwear and clothing items.
Read more
Titleist Range of Products
Every advanced golfer has at least one piece of equipment which has the signature of Titleist, but for many, the real pearl is the Titleist hats that are very popular among golfers. In addition to the headwear, there are different types of apparel that have the name of Titleist, such as T-shirts, pants, bags, and accessories. Even though Titleist and Foot Joy are part of the Acushnet umbrella, when it comes to hats, Titleist holds the prime position.
About the Featured Product
Having the Titleist script means delivering confidence to golfers that they will have the best of the quality found in a hat. This is a superior performance hat which is designed with the focus on the slightest detail and which is made to deliver an excellent performance thanks to the careful selection of designer materials and craftsmanship. It is a tour performance hat that features moisture wicking sweatband which prevents moisture build up and running down your forehead and face. The material is colorfast and there's a deep color assortment to chose from. The hat features a relaxed fit and it has added ball marker which enhances the functionality of the hat.
Cost and Value
Wearing a Titleist headwear means style, fashion, and exclusive manufacturing excellence. It is the quality golf apparel that many golfers are looking for and that is what for most golfers matters. So, when it comes to the prices of Titleist products, they represent a reflection of the performance you get. So parallel to the superior quality, you get a high-end price too.

8

. IZOD Classic Fit Shorts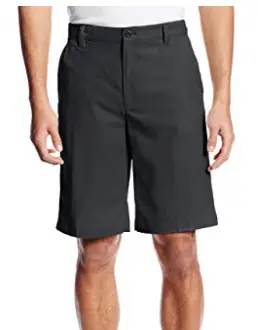 Stylishly designed pieces of clothing
Swing Flex technology for four-way stretch performance
Moisture-wicking technology for keeping you dry and cool
Sun-control technology to up to UPF 50 protection
What this company is known for, is the fresh American style which focuses on a relaxed state of mind and unsurpassed comfortable feel. This means that the company features a cozy style and design which brings comfort and maximum performance. The wide range of their performance-packed golf collection includes polos, pants, and jackets which boast fresh approach into the way golfers feel on the course.
Read more
IZOD Range of Products
Being comfortable on the golf course is the ultimate condition for maximum performance, and the comfort comes from the clothes and the footwear that the golfers wear. Getting to the eighteenth hole requires a lot of walking and a full range of movement, and IZOD has been committed to delivering the most comfort you could hope for. Marc Leishman, Scott Piercy, and David Leishman are among the golfers who have put their trust in the company's golf apparel quality.
About the Featured Product
These pants are made with the Swingflex Stretch fabric which has the capacity of stretching in all four directions which is crucial for golfers. The moisture-wicking properties prevent you to feel sweaty and wet as the material pulls the moisture away on the surface and keeps you dry so that you feel cool and refreshed. Being aware that the sun's harmful rays can penetrate into the skin through the clothes we wear, the company has added a sunblocking UPF-50 UV protective factor so that you can confidently play on the course knowing that your skin is sufficiently protected.
Cost and Value
Izod is a company that offers excellent quality products for a price that is just a half, sometimes even the third of the prices that name-brands have. The company appeals to everyone that wants to look stylish and modern but at the same time not to waste a fortune. The same refers to these shorts. Their price varies in accordance with the color selection and the size, but all the variations are within the affordable range.

9

. PGA Tour Short Sleeve Airflux Solid Polo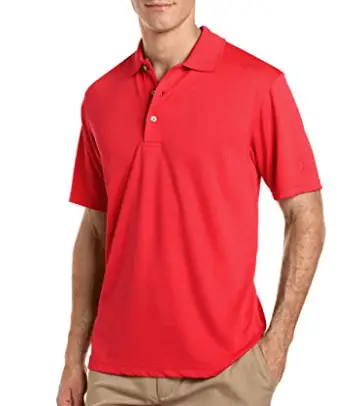 Designer clothes made with professional golfer in mind
Timeless models and creations that appeal to a wide range of golfers
Airflux and SunFlux technology make the golfers dry and protected
Socially responsible company
PGA Tour is not truly a company in its sense of the word since it has been established as a tax-free membership organization comprised of professional golfers whose goal is to expand the PGA TOUR and thus increase players financial benefits while at the same time keeping the integrity of the game and socially contributing into charities. The fact that it is a golf-oriented, and socially responsible organization, makes it even more appealing to golfers of all kinds. So, seeing Rober Sterb featuring PGA Tour on the course looks pretty much appealing, so read below to find out more about the company and its line of golf clothes.
Read more
PGA Tour Range of Products
PGA Tour golf apparel is designed by the leading designer Perry Ellis which creates his masterfully made pieces of clothing in the attempt to offer golfers variety in their choices and to maximize their comfort. The performance features that make PGA Tour of good quality and competitive with the other brands include the technologies utilized in the manufacturing process such as Airflux, Sun-shielding materials, and moisture wicking properties. Golfers can choose from polo shirts, pants, trousers, jackets, fragrances, etc.
About the Featured product
This polo shirt is designed to bring the utmost comfort and playability on the course. There are several preconditions that need to be fulfilled in order to allow golfers to perform the best they can, among which is having high-quality, comfortable golf clothes. The polo shirt has been designed to wick moisture from the skin on the fabric's surface and thus keep the golfers cool and dry. The Airflex technology delivers a constant feeling of air-flow, while the SunFlux UPF 50 finish protects you completely from the sun.
Cost and Value
As we have already said in the introduction, the performance-oriented broad line of clothes makes PGA Tour appealing to all kind of golfers. Most of their designs feature timeless design or style that can be worn by different age-groups of players while the technologies used in their production enhance their playability and boost the performance of every player. Bearing in mind all these features, we can confidently say that PGA Tour golf apparel brand, including these polo shirts, is an excellent value for the money.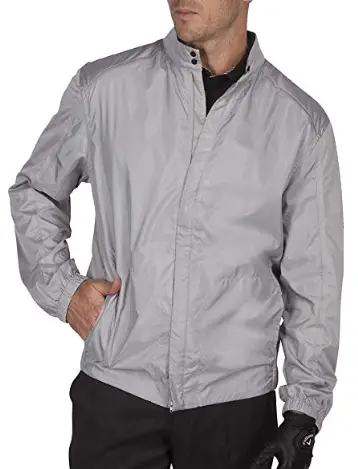 Very stylish and functional golf collection
All-year-round range of products that shield you from elements
Moisture-wicking technology that keeps you dry
High-quality, performance materials
There are many golf companies nowadays and there are many product lines designed particularly for this sport, however, among the most sold apparel online are the products coming from this relatively unknown company. Even though the name might not sound familiar, the pieces of clothing that Three Sixty Six produces are characterized with premium quality and very functional, daily style. Most of them have the stylish golfer in mind, so read below to find out more about the product and the company.
Read more
About Three Sixty Six Range of Products
The company is following the world trends, so everything you see labeled with the company's logo is made of high-quality and fashion design. Their collection is designed for all seasons, made to protect you from the elements and to provide with the comfort that golfers need on the course. This golf clothing collection includes short and long sleeve polo shirts, windbreakers, pullovers, thermal fleece jackets, sweaters, and rain jackets.
About the Featured Products
There are two reasons why we have selected this particular jacket. Our goal in this buying guide is to provide you the readers with sufficient information about the product, however, on the other hand, to represent a piece of clothing that you will find useful for all year round. This particular jacket has an only five-star rating, praised to be an excellent value for the money. It is water and wind resistant, lightweight and four-way stretch. You can freely move around the course, take full-blown swings and enjoy your performance. It is perfect outerwear for cool weather when there's light drizzle, when you need just enough protection from the spring/fall wind and when you feel chilly.
Cost and Value
If you take a look at the golf apparel collection of this company, it is inevitable to notice the sharp-looking style that their designers feature. And that does not refer to this jacket only, but for almost anything that they produce. And the buyers appear to be very satisfied with their purchase too, as you will hardly see any negative reviews. The averagely priced products make Three Sixty Six products even more attractive as they are often priced almost double less the price of the famous name brands.

Subscribe to our Newsletter