Best Golf Cart Covers Reviewed & Rated for Quality
In a
Hurry? Editors choice: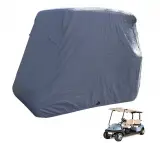 Test Winner: Formosa Deluxe 4 Passenger

Is there a surprise storm on the way? Have you woken up to humidity damage on your golf cart? If you fear the worst when it comes to damage to
your golf cart
, we want to share the top ten
best golf cart covers
. No individual wants their quality golf cart to suffer through damage because of rain, overnight humidity, snow, or a major heat wave. Not only can the paint chip, but the fabric can get damage, and the glass can crack, or worse. Let's not even talk about any iron, wedge, or putter damage! That's where it can get even costlier!
Standout Picks
Criteria Used for Evaluation
Value
As the first key criteria in picking out the best golf cart covers, we found that the overall quality of the golf cart cover is crucial. Not only does the quality need to be able to withstand the elements, but also years of wear and tecluar. With that said, the best way to determine which products were top of the line was to read individual reviews. Our intention is to always share products that are 4+ stars and have plenty of positive reviews to back our research. In this case, we have discovered different types of golf cart covers in different sizes, colors, and other qualities that made them unique.
Materials
The material quality of the golf cart cover may be the most important part. A golf cart cover is quite simple, it is designed to give maximum protection to your golf cart and ensure that it can withstand the elements. With that in mind, the material is the first criteria we took into consideration to determine the overall quality. The materials that we learned most golf cart covers are made from are polyester, nylon, and some are made with a material synthetic blend. However, nylon appears to be the most common and durable.
Size
The size of the overall golf cart was one of the most important elements that we took into consideration. We wanted to share different sizes because we wanted to ensure all golf carts were covered, literally! Individuals will notice that there are different sizes of golf carts from two-seaters to four-seater. It is important to keep in mind which golf cart cover size is ideal for your golf cart by measure the cart and comparing it to the cover.
Now, most golf cart covers that are intended for storage have the same style. However, golf cart enclosures are a bit different. They are intended to cover the golf cart while it is moving while allowing plenty of visibility for the passenger and the driver. Golf cart enclosures are designed with clear windshields so individuals can easily see out and drive. With that said, other style elements of a golf cart enclosure include foldable roll-back doors, zippers to enclose, and maximum protection against the elements. Enclosures are ideal for rainy days on the course or cold times while traveling around in a golf cart.
Durability
As another key element in picking out the top ten best golf cart covers, we wanted to ensure that all were durable enough. With that in mind, the durability really is determined by the material. With further research, we discovered that many golf cart covers have similar design aspects to make them really durable. For example, most golf cart covers are designed to be water-resistant. In fact, then the material can easily wick away moisture and water on rainy days. This is to protect the golf cart and the material. Another design aspect to make it rather durable is a wind-resistant design feature known as 'golf cart cover air vents." Air vents are designed to allow wind to move through the golf cart cover so it does not inflate like a balloon. With that said, air vents also allow for minimal moisture to build up under the golf cart cover, which can damage the cart. Another durable design element is that most golf cart covers are made with an elastic bottom band design that is intended to protect the cart and give it a snug fit.
Subscribe to our Newsletter