Best Golf Cart Bags Reviewed & Rated for Quality
In a
Hurry? Editors choice: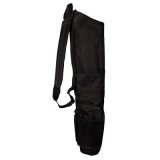 Test Winner: ProActive Sports 5" Sunday

It's safe to say that we can all agree, walking around a golf course and carrying a golf bag can become exhausting. This could not be truer for the golf courses that are quite significant in size an feel like a never-ending journey to the 18th hole.
Solution? Golf cart. And what's better? The golf cart bags on this list can attach to your golf cart. Such a beneficial invention! The best item for golfers will be large enough to hold lots of gear,
enough golf towels
, all the golf balls, etc. while still being able to fit in your cart and in your vehicle. These particular products are available in many varieties including advanced models as well as cheaper ones, which are more affordable.
Standout Picks
Criteria Used for Evaluation
Materials
The Material
The material used in construction is one of the most important aspects that an individual should take into consideration. The reason being is that the material design will be able to hold the frame and durability together. With that in mind, we wanted to ensure we were including products that were specially designed for quality in mind. With that said, many of the products featured today have a blend of materials from an extremely durable nylon, to a synthetic leather that reflects quality and style.
Now the reason the material is so important is that since it will be exposed to wear and tear, the material needs to hold its end of the bargain without breaking or tearing.
Durability
Durability & Design
As the next important element that we took into consideration, we included durability and design because they go hand and hand. No brand will suffer design for durability or durability for design, they work in a tangent. With that, there are numerous different styles and designs that an individual can choose. For example, design-wise, we noticed in the process that brands will offer different styles of golf cart bags that will range from 4-way holders to 5-way, 6-way, and 14-way. With that said, we can say that there are a plethora of designs. However, can they match the durability factor that a golf cart bag needs to stay in the game?
Well, when it comes to durability, we took many different factors into consideration. For example, we wanted to ensure that the zipper pockets were of a great quality to be able to hold any item. Another important aspect that we wanted to ensure was durable were the pockets, the inside design, the inseams, the padding, the straps and other important areas of major traffic. The reason being that we wanted to ensure each part was designed with maximum endurance in mind for the individual that will be having longs days of carrying the golf cart bag around. Now, if you are a golfer and you plan on having a full day at the range, what are you most seeking in your golf cart bag? These are the questions we seek to answer the following criteria. With that, we will begin with compartments and storage pockets.
Size
Compartments & Storage
As the next criteria on the list, one of the most important aspects of a quality golf cart bag is the compartments and storage pockets. Now, this was a vital aspect that we took into consideration depending on the golf cart brand and the pockets. What we mean is individuals notice that some of the golf cart bags that we included on the list do not have any pockets, or if they do, it's only one or two. With that said, we wanted to ensure that the design was of the best quality and could withstand whatever an individual placed inside.
Now for a quality bag, brand, or design that is intended with many compartments and storage pockets, we took different factors into consideration that determined whether or not we kept the bag on the list. For example, some of the storage bags included a compartment specially designed to keep water bottles cool. At times, the compartment was lined with a thermo-interior and a moisture-wicking design. With that said, other brands included a gear compartment for shoes or golf equipment, while some had a compartment for valuables such as cellphone or wallet. With features such as this, we wanted to ensure that we included a wide variety of golf cart bags. Now, how does that affect the carrying abilities of the bag?
Weight
Lightweight & Functional
As the next criteria on the list, one aspect that was very important was the lightweight functionality. For example, we wanted to ensure that all products were designed from the best materials but that once full, they would not be too cumbersome or too heavy that could potentially disturb or minimize the functionality. With that in mind, we took into consideration that premium carriers designed for the professional golfers are not too lightweight as it is. However, many smaller products are very lightweight and ideal for the everyday golfer.
One that comes to mind is the stand-up carrier that includes a double-pole design so they can stand up easily. These, in particular, are very lightweight and are easy to travel with, even filled with gear. However, the bigger premium ones are heavier and tend to be designed in that way because they are meant to be carried around on a golf cart.
As far as functionality, we wanted to ensure that all the were functional and able to withstand their value as far as design and space. With that in mind, we had to weed out many different golf cart bags that were improperly designed and have many different design flaws for the cost.
Value
Cost And Value
As we take cost and value into consideration, this happens to be one of the most important criteria that we always have to keep in mind. We believe that cost and value should be a dance that is perfectly balanced. With that said, we believe no brand on this list is overpriced or not worth the price for the value. For example, the 4-way small golf cart bags are perfectly designed for an easy carry and simple experience that costs a fraction of what a quality premium product costs. With that said, consumers will notice that there are two premium manufacturers, the last two, which have been known in the golf industry for years.
Alongside this, there are also two that are expertly designed for fans of Arizona State of Florida State University. These do go up in price a bit just because they are a collectible item. However, we still believe that for the price, they are completely worth it. With that in mind, we believe that users will appreciate the quality of each item and how the brand has priced it accordingly. Now that that is over, let's cover two other important aspects of golf cart bags we took into consideration when picking out the top ten.
Color
Colors & Variety
Colors and options was a crucial component when picking out the top ten. The reason being is that we wanted to ensure that there was variety in the mix and that users felt there was a wide array of options. With that said, many manufacturers have different color choices available. Our readers will notice that in the pro's section, we will often mention when a brand has multiple colors. What we did notice is that many brands that are priced well below the average or offer a simple design, only have one color option. For example, the standup designs only come in one color option for the price. With that in mind, we have no doubt that consumers will be able to find the ideal bag for their everyday adventures.
Best Golf Cart Bag Reviews
Subscribe to our Newsletter