Best Cargo Pants for Golfers
In a
Hurry? Editors choice: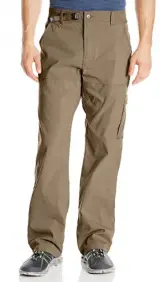 Test Winner: prAna Stretch Zion

How many times have you heard the saying 'Rules are to be broken'? Every now and then, we hear the saying, trying to justify actions against the social and moral standards, and while the concept is often misused, the perspective behind has often been the driving force of many social transformations.
By no means do I have the intention to encourage you to break the rules, just to point to a phenomenon of such a case on the course when it comes to the rigid
golf dress code
. " No Cargo Pants" is what golfers saw in their clubs until recently, but, didn't we see the president Obama wearing them on the course?
Even though greeted with much criticism, that set the way for the young generation of golfers to start modifying the dress code rigidity and as a result, their popularity has drastically risen. Here're our recommendations!
Standout Picks
Criteria Used for Evaluation
Comfort
No matter where you'd like to spend your free Sunday, on the golf course, mounting hiking or having a barbeque in the backyard, comfort is the first thing you'd look for and in case you lack it in your clothes, you will definitely be on the way to change them. No, if we take into account that a golfer doesn't really enjoy changing clothes on the course, it is imperative to have the most comfortable clothes there, so that he/she could have full focus on the swings and the performance. When it comes to golf cargo pants, their purpose is to provide functional comfort and practical effectiveness. However, not all of them are as comfortable as you might expect. What we mean by comfortable is the ability to have them on for several hours without experiencing the feeling of tightness, itchiness, discomfort, and annoyance. So, how were we able to determine if the trousers were comfortable or not? We took into account two factors. Firstly, we considered the technical aspects of the trousers, i.e., the way they were stitched together with added gussets, the seamless or seamed stitching, and the type of the materials. Secondly, we got a closer look at the reviews provided by the buyers, their personal experience and the experts opinions. Then, we summarized the result and got the score that can be observed next to this criterion of each product.
Features
When we consider the features of a certain product, we usually want to point out that those characteristics stand out as more than expected, as individual properties of the product itself. This means that when we were piling up and then narrowing the list down, we were guided by the characteristics of those trousers that aren't found in all average ones. What we took into account here is the number and the size of the pockets and the storage capacity they have, the way they fit, and since we realized the looking baggy isn't a preferred style, we paid attention to select those which have a standard fit. Then we took into account whether the trousers can be worn during hot or cold weather, or if they are thermoregulated which means they can be used during all seasons. And one more thing that was considered here was the color choices and the value in terms of good quality for the money.
Materials
The battle among the leading companies is always in the way they utilize the materials with the help of modern technologies to provide much better performance. This is obviously a big deal since you can often see that in two different products the labeling states that it is the same material, but the quality varies. Therefore, we considered the material and the way it was treated. So, from the winner, which boasts proprietary Zion stretch material, which is flexible and allows a wide range of movements, to cotton twill and poly/cotton ripstop, which are materials that have special reinforcement and which allow unhindered movement regardless of the circumstances. All of these materials are extremely durable and can endure even the toughest torture. The cotton twill is a material that keeps you warm so it might not be a perfect choice for the summer, while the other materials are lighter and not as thick as the twill.
Durability
One of the reasons why people opt for cargo pants is their durability since most often fashion companies design them for functional or tactical purposes. However, as everything else varies, so does the durability of the trousers. Besides the material which we talked about, the zippers, the buttons, the stitching, everything that makes up the fabric into a piece of garment and holds it durably together was carefully scrutinized so that we get the final score.
Style
I don't know if you know that cargo pants we initially designed for the army so that the soldiers can have their gear safe with them. However, over the years, especially with the rise of the hippies and the related trends, they become a mark of the urban, street fashion and ever since, they have always been present in the fashion trends. Until recently, many golf courses have had many strict rules when it comes to wearing them on the course, but as many people opt for them, and as they are made more flexible and functional, we see them on the course too.
Style is something that is rarely discussed as good or bad since that is an individual representation, but we decided to stick to more regular fit style which bridges the gap between too baggy and teen style and more fit and athletic style.
Top 10 Cargo Golf Pants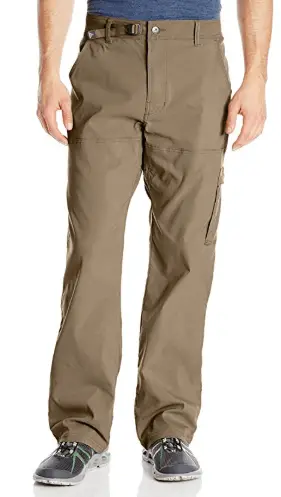 What is interesting about these golf cargo pants is that they can be classified in several different categories and that's mainly because of the material they are made from. The thing is when initially the designers of prAna were looking for a super flexible and stretch material which could be used for the widest range of uses, from the city streets to mountain hikes and even the golf course, they were unable to find what they were looking for. Therefore, they worked hard and designed Zion material which represents everything they were looking for. Ever since 1992, that material has been the trademark of the company and its popularity has never ceased.
Read more
Fabric Features
So, why are these golf cargo pants called trousers, cargos,sweatpants? As we hinted, the answer lies in the material and the design. They are made from the proprietary Zion material which is extremely lightweight, flexible and stretchy and which has been treated with water repellent coating. Hence, it can be treated differently, in accordance with the attributed function, and it can be a perfect material for the golf course because it will provide you with an unrestricted performance. On top of it, this material has UPF 50+ rating against the harmful sunrays, it dries fast and doesn't retain moisture.
Design
The reason why we categorized these trousers as cargos are very simple. There are a few cargo deep pockets that can be used for storing many things and their design features standard classic loose fit. Since they are loose in the thigh area and due to the adjustability of the waistband, you are not going to feel uncomfortable even for a second, providing the necessary coziness that every golfer needs on the course. The inside part has ventilated inseam gusset that adds more ventilation and the lower legs are designed with snaps which let you roll them up and increase the air flow.
Cost and Value
It would be awesome your trousers to be able to endure extreme conditions, to wear them during hot and cool weather, to protect you from the wind and the rain, to be stain resistant and to wear them even in the mud. And, yes, these trousers can do all of that! Not to forget to mention that you'll look great too! Wondering about the price? They aren't inexpensive, but they are the best investment that you could possibly make.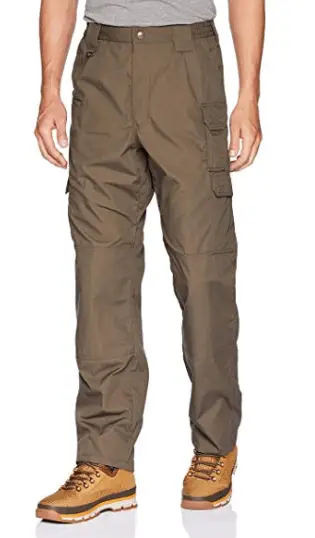 Golf is a very versatile sport and in terms of activity it can be very active if you play regularly by the rules and walk through the course, or it can be less vigorous if you decide to use a cart, but in both ways, you'll need proper clothes to be able to have your swings as effective as you have intended. This means your clothes should be flexible, to protect you from the weather elements and endure more demanding utilization. 5.11 is a prominent brand that designs the toughest trousers for the most challenging circumstances, and it deserves to be on our list.
Read more
Fabric Features
The patented fabric which is made from 65% polyester and 35% cotton ripstop makes them the most durable and able to withstand the toughest torments that you could possibly put them through. The material is stretchy, breathable and it features Teflon finish which provides stain, water, and soil resistance. Due to the fact that it is an extremely stretch material, it will allow you an unhindered performance so that you shine on the course with full-blown swings. The stress points are made with triple stitched reinforcement while the key seams have enhanced bar tacking.
Design
The cargo golf pants have multiple purposes and can be worn every day with maximum comfort and content thanks to the stretch material, the classic fit, and the sports design. They feature a self-adjusting waistband that is excellent for a customized fit and avoiding discomfort. These trousers feature an incredible 12 pockets of different sizes for different purposes, making you sure that whatever you have for the course it will be accommodated there. Even the keypads come with an inseam which is stitched from the inside.
Cost and Value
For ultimate durability and unprecedented performance coming from trousers, these are among the leaders. The best part is that they can be worn during mainly all seasons, which means they keep you cool during hot weather and make you feel warm during the cold days. Price-wise, they are expensive but well worth the money.



As a golfer, I am sure that what you mostly need for the course when it comes to the choice of cargo golf pants is maximum comfort, moisture-wicking properties of the material and getting rid of that terrible sensation of the sweatdrops rolling down your legs as you are positioning at the tee. And that is the moment that can ruin everything. It might start causing you frustration, discomfort, and embarrassment which, as expected, often lead to deterioration in the way your performance. Luckily, Columbia is one of those companies that have mastered the production process of weather clothes, so this model could easily be what you are looking for.
Read more
Fabric Features
These trousers are quite different regarding the choice of the material compared to all the other products that we have selected for this list. They are engineered with Silver Ridge Ripstop nylon which has silver threads interwoven within and it is processed with the most sophisticated technology proprietary for Columbia. The fabric is all about providing total protection from elements which can be seen in the use of Omni-Shade UPF50 technology which delivers maximum UV protection from the sunbeams and Omni-Wick technology that gives the fabric the ability to wick the moisture away, keeping your skin dry. The material has a thermal cooling function which makes you feel cool during the hot weather and warm when the weather gets cooler.
Design
The material is not the only variety these trousers have compared with the others on the list, but their design as well. Namely, they are convertible which means that they can be transformed into inseam short cargo golf pants thanks to the zippers on the knee which allows the lower part to be removed. They feature a universal, classic fit and elastic waist for better adjustability to personal preferences. There are several pockets in different sizes such as the side Velcro pockets, large side zippered pocket, and other side pockets.
Cost and Value
If we summarize what these trousers are characterized with, we can come to the conclusion that they feature all the requirements needed for premium performance on the golf course, starting from the cooling effect, moisture-wicking property, UV protection, the convertibility, and comfort. Their price isn't cheap, but it ranges from extremely affordable for some colors and sizes to very expensive.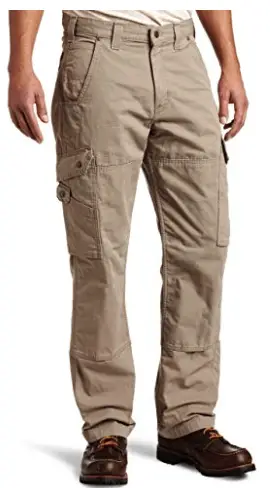 Getting a pair of trousers from a company that has been able to prevail on the market for more than a century means that you are investing in the long-lasting quality and premium craftsmanship. Originally made for workers who go through tough conditions in their work, they have extended their use in a variety of situations, from hiking to golf. If you have ever wondered if these are convenient for the course, the way they engineered will provide you with sufficient comfort and flexibility to move in all directions while protecting you from the elements.
Read more
Fabric Features
These ripstop trousers are built with extra reinforcement to endure the toughest ordeals. The ripstop cotton ensures optimal comfort and flexibility, but also a certainty that you can spend the day wearing them without feeling uncomfortable, itchy and tight. The way cotton is woven delivers maximum resistance to ripping, wear and tear and plus, it blocks the cold wind from getting in. They aren't thick, but neither are they thin, so you could expect to wear them when the weather is cool or warm, but not very hot, nor very cold.
Design
The front construction is double-made and rugged with the added durability of Cordura-lined front edge and large back pockets. The two cargo pockets with snap closures are ample enough to ensure storage for most of the accessories you need on the golf course. In addition to these pockets, there are many utility pockets that provide enough space from the smallest to the biggest accessories you might need for reaching the 18th hole. As they are trousers that you might wear throughout the day on many occasions, the most needed comfort is enhanced with the gusseted crotch for unrestricted movement. The relaxed fit that sits just slightly below the waist adds to the comfort and the ability to have unhindered motion.
Cost and Value
These golf cargo pantscome from the company that puts the fabrics under rigorous testing so that they meet the most stringent durability standards even before these fabrics are turned into garments. That just partially provides us with the insight of the quality control these trousers have. The overall process means premium quality which comes for a higher price tag.

5

. Tru-Spec 24-7 Tactical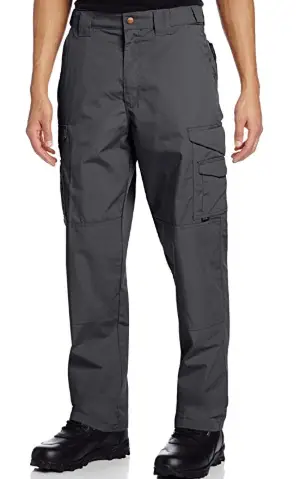 These are the original tactical golf cargo pants that are designed to go through intensive torture in every sense of the word and come out as winners. Not only are they suitable for the golf course, but you could use them for doing every kind of physical activity, police duty, military tasks, hiking under the most strenuous conditions and much more. If you want trousers for every possible occasion, utility and comfort then these are serious candidates for that purpose.
Read more
Fabric Features
Made from 65% polyester and 35% cotton rip-stop fabric, it ensures maximum reinforcement which can be seen in the way they resist every single impact. They feature a Teflon coating that enhances their ability to resist water, stains, and fading. The knee area is fitted with double reinforcing with built-in pad pockets. This means that they can be worn during all seasons and will provide you with sufficient feeling of comfort and free range of movement thanks to the slider waistband.
Design
Ok, we know that tactical cargo golf pants have been initially designed for military and the army, however, their practicality didn't remain unnoticed and they found their use in different areas, from work and construction to hiking and the golf course. This versatility comes as a result of the stretch material and the trendy look they have. The number of differently-sized pockets is what makes them stand out, so basically, there are extra deep front pockets, two more knife/accessory pockets, plus there're expandable back pockets with Velcro closure and one more utility pockets. Don't forget that there're integrated knee pad pockets and bellowed side gussets which have two internal magazine compartments.
Cost and Value
Well, you might not need all these pockets for the golf course, but in case you have forgotten your accessory bag they can literally replace it. From golf balls, ball markers, golf tees, to rangefinders, keys, wallets, and even a tablet, you can be sure that the pockets will accommodate them. The price they have isn't cheap, however, when you just consider how durable they are, it makes sense.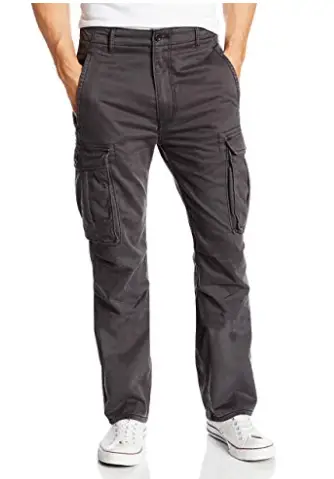 Many golfers avoid wearing golf cargo trousers because they consider them baggy and unstylish, which is none of these Levi's trousers. For everyone's great pleasure, we have got these super stylish trousers that come from the inventor of the first denim jeans. The multipurpose versatility and the few color choices allow you to find your perfect match.
Read more
Fabric Features
We all know what Levi's are famous for, so they didn't fail to use the most famous material in the production of these trousers too. The twill fabric is actually cotton which has been woven in the diagonal twill pattern and which has enhanced durability and comfort. It is the type of material that will make you feel comfortable and warm. This material is perfect for cooler days.
Design
Many reviewers stated that this model makes a difference in the way cargo style is featured in the world, so they are designed to have a classic fit with classical button closure. The pockets are slant but they aren't baggy and extremely wide as we could see in some other models. The two cargo pockets, one on each thigh are sizeable so that you can store in them your basic golf accessories. The rise is high, on or a bit lower the waist but they are roomy in the seat which provides unrestricted movement, especially when kneeling or bending down.
Cost and Value
If you are looking for golf cargo trousers that fill the gap between baggy and loose, and slim and tight with a convenient use, then Levi's are here, made for that role. The number of satisfied buyers is impressive and we hope that you can enjoy them too. Money-wise, if you frequently purchase items online, you are probably aware that it is not uncommon for companies to have different prices for the same item but in different color and size. It is the same case here, just that the price difference isn't that big and the lower prices are really affordable.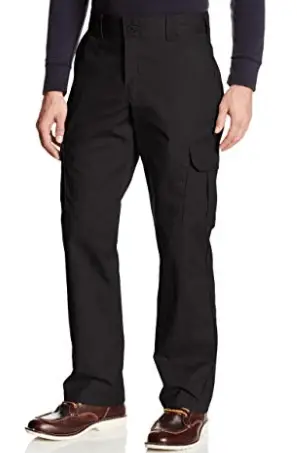 Dickies Flex are trousers that are designed to move, as the company says. And that is enough reason to attract a golfer's attention since what most of the golfers normally do, is walk on the course. Long hours! As the name implies, the flexible material they are made from is responsible for the easy walk through the course without feeling uncomfortable, itchy and annoyed. It is a must for every golfer to be able to enjoy the course with the most pleasant and functional apparel, and that mostly refers to trousers and the tops. Dickies is the choice for those golf lovers who welcome the idea of having the most important accessories with them while enjoying the game.
Read more
Fabric Features
It seems that the most durable trousers come from companies that have prevailed for hundreds of years on the market, such as Dickies. It is a trusted name on the market of high-quality clothing, and in the same manner, these trousers were created. As we mentioned in the introduction, they are made from very durable twill material composed of 65% polyester and 35% cotton, which is very flexible and breathable. The material is also moisture wicking, another great feature for golfers who spend warm days on the course. Besides this material is easy to maintain, it doesn't wrinkle and it is stain resistant. That's simply the perfect combination for the course.
Design
The great material is not the only positive thing in these trousers but it is the design as well. They feature a regular slim fit design with a straight, tapered leg and sit below the waist. What stands out in these golf cargo pants is the attention to details, such as the side seam front pockets and back welt pockets, multi-use cell phone pocket, heavy duty brass zipper, expandable cargo pockets, multi-use pocket on the leg and tunnel belt loops. Their durability and sophisticated design made them a favorite choice for many different professional profiles.
Cost and Value
Dickies is one of the most trusted names when it comes to workers clothing and the brand has been more than successful in delivering trousers that are able to endure the toughest working conditions. Their price greatly varies from super affordable to fairly expensive in accordance with the actual color choice and the selected size.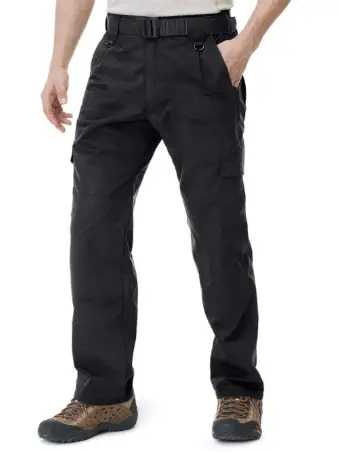 If you are looking for a tactical pair of trousers that will let you play golf with all your accessories next to you, with premium quality and design, but for a bit lower price tag than the premium ones, CQR is the option that you could consider. They are made from an excellent choice of materials to deliver maximized comfort and performance. So, let's take a detailed look at what they boast about.
Read more
Fabric Features
Made from 65% polyester and 36% ripstop materials, nothing makes them of less quality compared to many more expensive similar models. This means that you get super endurable pair of trousers that can go through many different ordeals without giving any sign of wear and tear. In order to appeal to as many people as possible, not just military professionals but golfers, workers, professionals and many other people who are looking for trousers that can be used practically everywhere, they are coated with Duratex finish which has the same properties as Teflon. This means that they are resistant to any liquids, dirt, contaminants and fade resistant. Plus, these golf trousers don't wrinkle or shrink which allow you to spend more time on yourself and less time on maintenance.
Design
The trousers are designed primarily for military and law enforcement and their durability matches the one that can be found in the highest performance fabrics, and that's the reason why their popularity has spread to the other fields of use, from daily construction work, urban street style fashion and even on the golf course. For a perfect fit, they are made with elastic, action waistband which makes you feel much more comfortable if you intend to wear them for a long time. There are 8 pockets in different sizes, some of them intended for tactical storage such as non-flap magazine pocket, deep front pockets which are large enough to be accessed even with gloves on and tactical Velcro flap pockets. In order to keep you secured and protected while doing many tactical activities, there's a dual-layered bottom pattern.
Cost and Value
These trousers feature premium performance quality for a much lower price compared to those priced twice as much as these ones. They are easy to maintain and can be utilized for highly demanding tasks. The number of positive five-star ratings are just enough confirmation that they fit the description.

9

. LA Police Gear Urban Ops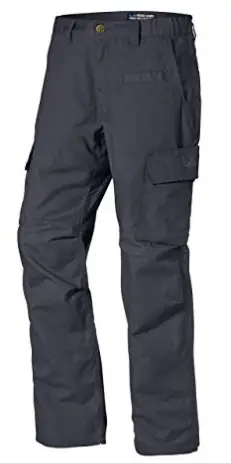 When a company utilizes all the experienced gathered throughout the years to produce trousers for people who are always on the move, you get Urban Ops Tactical Cargo Pants, the company's great success which can be seen from the hundreds of five-star ratings given by satisfied buyers. They represent an awesome blend of lightweight material and durable and extraordinary stitching and design, bringing together comfort, durability, and style. We invite you to read below to find out more.
Read more
Fabric Features
The type of material used in the production of these trousers is of the highest quality, i.e., 65% polyester and 35% cotton ripstop, meaning, the two materials are combined together in a special form of weaving to deliver reinforced garment which will be resistant to wear and tear. The flexibility of the material is top-notch and they are a perfect fit for golfers who love performing full-blown swings. The material dries out quickly and it doesn't retain moisture, so you'll be more than comfortable of the court.
Design
When reading the reviews from the buyers, there's one thing that stands out the perfect fit! Even though they are cargo pants, they have an athletic fit and by no means do they look baggy or old-fashioned. Since cargo pockets make them cargo pants, there are two of them on both sides, plus there are slip back pockets and a single front slip-pocket and front pockets for knife or flashlight clip. To enhance the convenience of the trousers, the designers added slanted cargo pocket flaps to access them even when you are sitting. The waist is adjustable and elastic, however, there are six belt loops for adding a belt. The overall construction is enhanced with 22 individual bartacks. In order to provide maximum comfort and unhindered movement, there's gusseted crotch and articulated knees which allow you to move in any possible direction.
Cost and Value
LAPG is a well-known company when it comes to quality and endurance so these trousers will provide you with the same expected performance and design. Unlike some other products on the list, these feature no price variation so you will find them reasonably priced, matching the quality and design they offer. Thus, we could say that they are a good value for the money.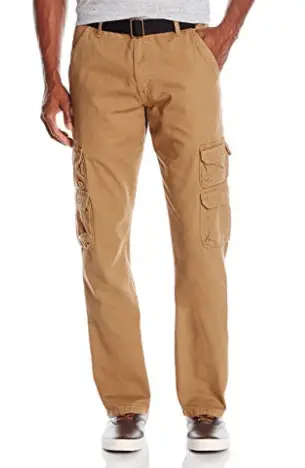 What we really like about the choice of the products that we have selected is the fact that most of them come from the forefront American companies that have been fashion inspirers and innovators. Wrangler is one more company that has been dictating the mainstream fashion trends while at the same time it preserves the national and traditional heritage. The trousers that we have selected from Wrangler call you to explore the unknown, to move forward, be bold and be yourself. These are not just random words, these are a true representation of the unique style of these cargo pants for golfers.
Read more
Fabric Features
As Wrangler is predominantly jeans manufacturer, the well recognizable twill design doesn't surprise us in these trousers. The material used for this extra durable waving is 100% cotton which delivers maximized comfort, softness, and breathability. The twill comfort is the perfect material for cooler days because it keeps you warm and protected from the winds. However, during the summer this material might not be so recommended.
Design
Their design is recognizable and very stylish. The relaxed straight leg fit with the natural waist and the relaxed seat and thigh area provide optimal comfort for the whole day. They feature eight pockets for maximum storage from which four are cargo, two are back pockets with flaps and two are stash pockets. The straight bottom leg makes them unique with a design like this among the other products selected here.
Cost and Value
If you are a bit tight on your budget but still want to reap the benefits of wearing extra comfortable cargo pants which will provide you with ample storage for everything you need for the golf course and at the same time you'll look trendy and stylish, then Wrangler is another pair of trousers that fits the description. Looking good doesn't have to cost you a fortune and Wrangler trousers are the proof for that.

Subscribe to our Newsletter