10 Best Golf Balls for Senior Golfers
In a
Hurry? Editors choice: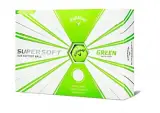 Test Winner: Callaway Supersoft

Age should never stand on the way headed to the golf course regardless of your age. As a matter of fact, statistics show that the game is still highly popular among
seniors
, proving that when there's a will, there's a way. And the 'way' in this context is choosing the right equipment designed to ease the obstacles that the aging body can bring.
Besides customizing your
clubs
, you should use best golf balls for seniors too, so that you indulge in the game and get the same confidence and excitement as you once used to have. This is a crucial step towards frustration-free performance since these balls are made to bring out more speed, more distance, and more control. We will help you determine which model fits the best your golfing style and what to look for to defy your slow swing and have a great performance.
Standout Picks
Criteria Used for Evaluation
Ease of Use
"Age is no barrier. It's a limitation you put on your mind."- Jackie Joyner-Kersee
As we are getting old, our body is becoming weaker and the strength that we used to have is not as powerful as it was. This is especially true when it comes to sports, so different sports have different regulations regarding who can be considered a senior. In golf, a senior is a person of the age of 50 and more since it has been determined that the skills and the reflexes considerably weaken and deteriorate after this age. So, this group of players needs equipment and gear which will provide them equal pleasure and satisfaction while playing the game as they are used to it. Hence, many companies produce balls that feature softer feel so that players with slower swing speed could produce further distance and less spin. However, this is a broad description and it does not apply to everyone equally, and that's the reason why we included a wide range of ball types that are particularly made for this group of players, but their mutual feature is to bring ease of use and satisfaction in the game.
Features
"Do you know what my favorite part of the game is? The opportunity to play."- Mike Singletary
There are several features that we focused on, and these distinguish the good ones from the those that players consider not so efficient. As there are matching models to all existing golfers' styles and levels, we carefully selected those that are intended to meet the needs of seniors. What makes a ball playable is its ability to go longer distance regardless of the swing speed (to a certain level). In order to be able to perform like that, it needs to have at least two-piece construction, or three to five piece construction if we need those that perform well in off the tee, approaching the green and the putting green. And seniors, don't forget the option of practicing your ball hitting and putting on an indoor golf putting green. The speed and the low spin are usually determined by the core, so it needs to be low-compression core which is very soft and which gradually becomes firmer towards the perimeter. In order to deliver good performance with the irons, some manufacturers utilize an outer core or a mantle, while for the greenside shots, the cover and its aerodynamic design determine the performance. These features can be found in our selected models which single them out as one of the best.
Effectiveness
"Never let the fear of striking out get in your way." - Babe Ruth
Did you know that some people have been using the same gear for more than 20 years just because of its effectiveness and ability to deliver what the players are hoping to get? Not that there aren't any other substitutes good enough to replace them, but it has been scientifically proven that once players find what they need, it is hard to make them switch to something else. Therefore, many manufacturers are giving their best to root this kind of confidence in the players' trust, so that they have a faithful group of customers. The first thing to achieve their goal is to manufacture products that will offer golfers exquisite performance and high-efficiency, even if the players themselves are not as good as they would like to be.
This is the reason why we focused on this criterion so that we offer products that will make you feel satisfied with your purchase in the long run. However, as the efficiency is hard to measure, we had to rely on golfers' reviews, experts' opinions, and manufacturers' claims in order to be able to make a trustworthy summary of each product's performance. Our conclusion led us to the list of the best-selected products above.
Versatility
"Golf is like fishing and hunting. What counts is the companionship and fellowship of friends, not what you catch or shoot." - George Archer
The purpose of this buying guide is to be able to offer senior golfers the best range of products that will meet their needs. On one hand, when we consider this group of players we get the idea that they are the ones who feature lower swing speed and we more or less consider them to be in a search of products that will provide them additional help to perform better. On the other hand, there are senior golfers who have still retained their power and strength and who need tour performing capacity in order to level up their performance. This is the reason why we have looked for products that feature versatility and which can be used by multiple types of golfers.
Value
There hasn't been any other sport that lets players lose their balls as golf is. It has been calculated that about 300 million golf balls are lost per year which leaves the question: "Are they worth the money?". We'll tell you right away that they most definitely are, however, you need to be aware of what you are looking for and what is the specific purpose that you are buying them. If you need them for a practice purpose only, then it is a good idea to invest in cheaper options, however, for tournaments and competitions, it is good to invest in better ones. Anyway, when we talk about good value for the money, then, we usually think about products that offer maximum playability for the lowest price point.
Top 10 Picks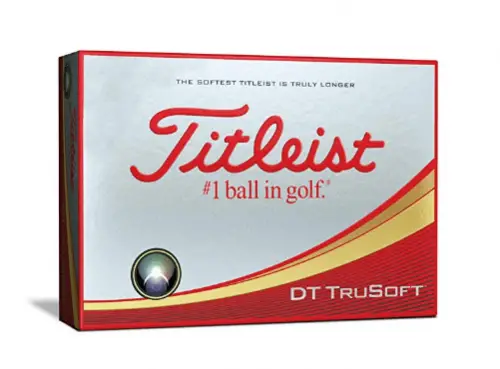 It is a well-known fact that softballs and low-compression core deliver more distance compared to hard ones when it comes to high to mid handicappers or seniors. And it seems logical that the designers from Titleist have designed a model that boasts extreme softness and enhanced playability. These are an updated version from their older model with a redesigned core and a brand new cover making it one of the softest Titleist models ever produced.
Read more
Features
The main feature that makes this model stand out is its ultimate softness off the tee, on the approach shots, and around the green. The technology used in the production of this model features TruTouch Core which is a low compression core that is much larger and which can generate very low spin when played off the tee or for the approach shots. The cover features TruFlex cover that is made by the proprietary Titleist technology for more spin for the short game. The TruSoft Flight feature optimizes the aerodynamics so that the balls for seniors have a piercing flight.
Performance
For many players, this model brings the best chances for boosted performance and playability on the course. Made as they are, golfers can expect extended flight and stability with almost no spin in the long game. However, when you approach the green they are made to deliver much more spin and increased stopping power.
Cost and Value
These balls for senior golfers will not only provide you with maximum performance, but they carry the Titleist name which guarantees established quality and durability. With them, you are most likely to achieve a longer distance and playability off the tee, on approach shots, and around the green. Money-wise, they aren't as expensive as some other Titleist models making them well worth the money.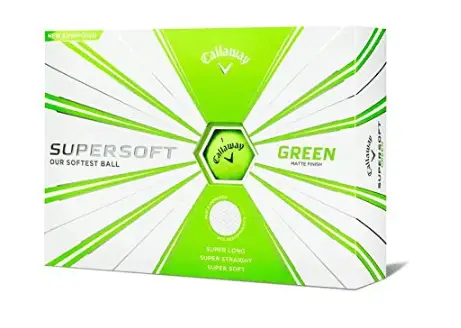 Among the cons that elderly golfers experience is the decrease of the swing speed and inability to effectively reach a long distance. Modern technologies have been very helpful in providing assistance to everyone who is struggling with the different aspects of the game, among which slow swing when it comes to the long game including the spin and control when it comes to the short game. Therefore, Callaway has produced a line of golf balls for seniors that offer players maximum performance in all the aspects. This Supersoft model is designed particularly for seniors, so, let's take a look at what features it has.
Read more
Features
One of the main features of this model is its ability to fly straight and long by delivering the softest feel possible. The reason for this feeling is the ultra soft and ultra-low compression core which is designed to deliver fast speed and to boost the accuracy with each shot. The proprietary HEX aerodynamics design reduces the drag and makes the lifting power much more enhanced. The ionomer cover features trigonometry formulation which has low compression and it is the latest improvement that comes from Callaway. There are four color varieties that you can choose from.
Performance
When we talk about the performance of these products we need to bear in mind that these are literally the softest distance balls for senior golfers with immense forgiveness designed to help you reach your maximum potential. The low compression core functions as the engine which launches the ball into a high and straight trajectory that produces long distance shots. The HEX aerodynamics is responsible for low drag, while the trigonometry design allows you to perform with much-emphasized control and accuracy.
Cost and Value
Callaway is not just any brand and every golfer knows that whatever comes from this company there's a certain value in it. It is also true that most of the products that have the Callaway logo come with a high-end price, however, the company does have a special way to treat its most faithful customers-the, senior golfers, offering them this super soft model for a super affordable price.

3

. Taylor Made 2018 Project (a)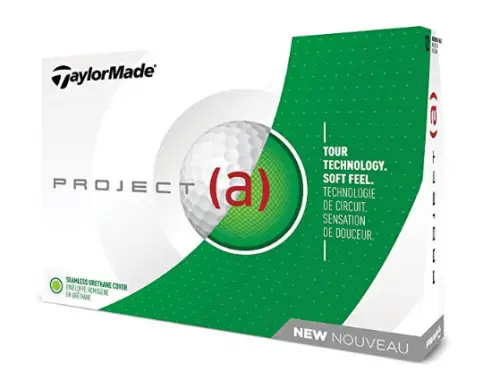 Taylor Made probably is the company that features the most versatile and best ball for seniors on the market and it shouldn't come as a surprise that many golfers start using them even from day 1 on the course. The modern technology applied in the manufacturing process and the ability to find a way to appeal to all golfers' skills make them highly versatile and attractive. Project edition is one of the latest lines of products coming from Taylor Made and there are different models for different players' skills. Project (a) is intended for seniors and beginners and to find out more about the design and the performance, read below.
Read more
Features
This golf ball for seniors features a three-layer design and it represents an improved version of previous Taylor Made models and this improvement can be seen in the new core and the dimple pattern which are claimed to deliver improved performance. The core is dual, i.e., there's an inner core that that is larger and softer which can reduce the spin whereas the outer core is stiffer and it can increase the velocity and the rebound. The Soft Tech urethane cover allows for more control with all irons and wedges, while the 322 dimple pattern prevents the drag for more speed.
Performance
This three-piece model is of a great quality which can be determined from the materials used in the manufacturing of these balls. What players can expect from Project (a) is definitely more distance, enhanced speed and less spin in the long game. Things change when it comes to the short game where you can expect more spin when using the wedges.
Cost and Value
This is not the most expensive model but not the cheapest too. Even though it is a more high-end model which has been made to deliver exquisite performance and satisfaction on the course. Even though Taylor Made has qualified these balls for high-handicappers, thanks to the materials used and the playability they feature, they can be used by a much wider range of golfers.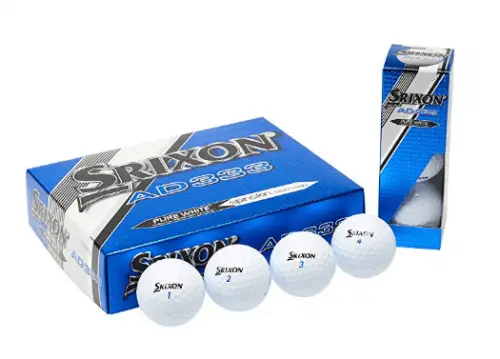 Srixon is a manufacturer that has established itself among the leaders in the golf balls production, by offering different models that fit different levels of players. This model has been rated very highly thanks to its versatility and high-performing features. So, if you are looking for a complete ball for senior golfers that can be used from tee to green, this model is definitely the one that fulfills all the criteria for an all-around ball.
Read more
Features
What stands out in this model is the unusual, proprietary combination of two compounds, rabalon hr+, and Pana-tetra to create a very thin cover which is characterized with a high level of impact, weather and scratch resistance. This combination makes this model one of the most durable ones that can be found on the market today. In order to achieve highly-performing features, the core of the ball increases the launch thanks to the energetic gradient grow, while at the same time, it has the capacity to maintain the greenside performance.
Performance
This model makes many golfers happy, especially those that lack strength in their swing, but on the other hand, it is functional when approaching the green delivering more spin and reduced drag. This makes them deliver a very consistent trajectory, dispersion and distance control with every single shot. Many golfers claim that they have seen an improvement in their speed, accuracy, and control after starting using this model. So, high handicappers and seniors are most likely to benefit the most.
Cost and Value
There are multiple models made by Srixon, but this one seems to meet the needs of different skills golfers from beginners to average ones. The balls are particularly durable, resistant to weather elements and deliver soft feel. These golf balls for seniors are made to offer sufficient performance from the teeing spot to the putting green, making them very versatile and functional. Plus, this is one of the most budget-friendly balls that Srixon has offered, so it is a great value for the money.

5

. Bridgestone Extra Soft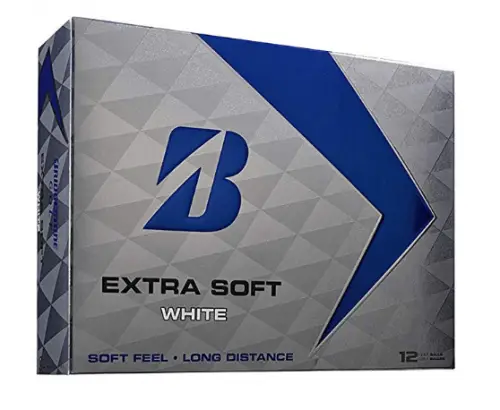 Multilayer, urethane-covered balls are attractive for pro players, however, their harder feel and lower forgiveness make them difficult to play with, especially when it comes to senior golfers who need more forgiveness and softer feel to be able to achieve longer distance. That is exactly the reason why we have selected this model. It is aimed to meet the needs of the recreation golfers who lack enough strength to make the ball fly over 180 yards. Their construction doesn't only help golfers to achieve speed, but it also helps them perform well when approaching the green.
Read more
Features
It is a two-piece golf ball for seniors that is characterized by a soft core which becomes gradually firmer going from the center to the perimeter and this formulation is the key for maximized distance and lower spin. The cover is made from ionomer and this material makes it one of the softest balls ever produced by Bridgestone but it doesn't sacrifice the distance or the accuracy, something that was long considered to be a drawback when it comes to softer models. This model comes in three color options, white, yellow and pink.
Performance
The company has invested a lot in analyzing golfers' needs and performance and in their research, they have concluded that 78 percent of golfers play with a wrong ball model which deteriorates their performance. This model is made to make the game more enjoyable by increasing the achievement level and thus making the game more meaningful. Anyone playing with this model is expected to see longer distance flight and the spinning will be reduced to a minimum. So, even if your swing is slow you can still expect some more distance.
Cost and Value
We mentioned that soft models are getting more and more popular because they are easier to play and deliver greater satisfaction while on the course. However, that is not the only reason why these models are so preferred. There's one more reason for their popularity, that's the price this model features and it is a very affordable one.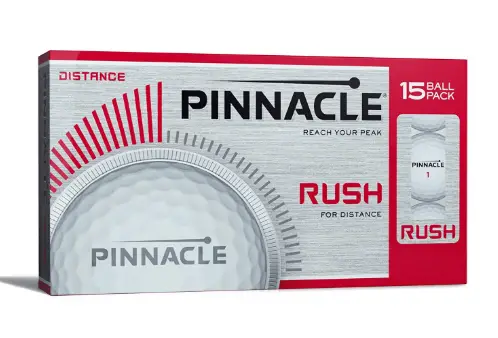 As it is the case with most of the selected choices that we have had in this guide, Pinnacle Rush belongs to the same soft category that has become a very popular choice for golfers all around thanks to the super soft feel they deliver. This model features dialed-up construction for superior performance.
Read more
Features
This model has been particularly designed for achieving more distance than a slow-swing player would normally get. In order to fly further, the core of the ball represents the engine thanks to its proprietary energy infusion design which takes the ball far without creating unwanted spin. The ionomer cover features a very sophisticated icosahedral dimple design with 332 dimples that deliver consistent ball flight and a powerful roll.
Performance
This model is advertised as the one that will help you reach your peak performance and according to the buyers who have been using these golf balls for seniors, their performance completely matches the description given by the manufacturer. If you have tried many other models and still haven't been able to improve the speed of your swing which will consequently result in more distance, this model is great for you.
Cost and Value
This is an exceptional offer from Pinnacle that will allow you to enjoy the game of golf without much fuss over not being able to reach the desired distance. Their affordable price will additionally relieve you from being worried if you happen to lose many of your balls during the game as you won't have the feeling of wasting much of your money.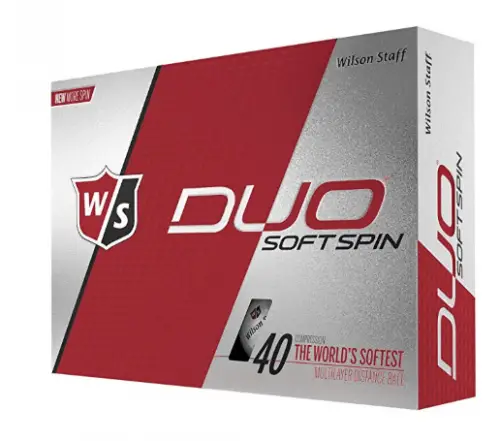 Wilson claims that Duo Soft Spin is the world's softest multilayer soft spin ball that features double function and hence the name. It is aimed for aspirational golfers who seek both, low spin on long distance shots and more spin in the approaching shots. The combination of distance and spin makes them a perfect choice for golfers who search for ball assistance on both ends. In case you'd like to learn more about Wilson Duo Soft Spin, read below about their features and performance.
Read more
Features
This is a three piece ball designed to appeal to different types of players, from high to low handicappers, seniors, and beginners. It is an excellent choice for golfers who have been played for a while and reached the level to be able to distinguish the feel and employ certain control over the shots they deliver. However, the fact that it features 40-compression, which is the lowest that Wilson has produced, men that it is a softball which offers more forgiveness that you'd expect from a tour oriented ones. The HPF mantle and the ionomer cover create a higher spin rate on the approach shots and maximum control. This model incorporates 302 dimple pattern which allows for longer distance.
Performance
Duo Soft Spin is an exceptional type of golf ball that delivers performance for all types of shots and which grants players increased softness and feel. The 3-piece Surlyn balls for senior golfers feature the lowest driver spin rate, but at the same time they boast with 15-20% increased spin rate compared to Duo Soft when it comes to controlling and accuracy when using the higher lofted clubs.
Cost and Value
Put shortly, the price Duo Soft Spin represents excellent value for the money. The three-piece construction and the playability it has with the driver, approach shots and on the green is solid and versatile and that is what senior golfers most need.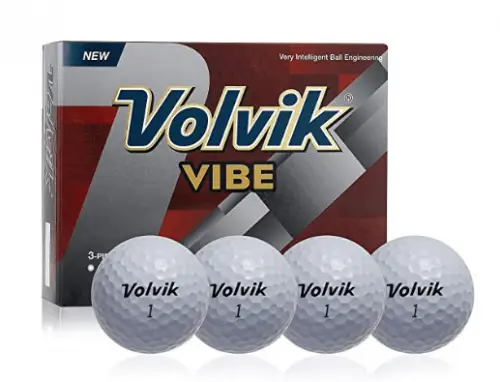 Being a senior includes different skill levels, from very beginners to pro golfers. So, when choosing the best products in this category, one needs to be careful not to exclude any possible option for the appropriate level. This is the main reason why we have included this model as it is made to be used, without any drawbacks, by anyone. From beginners to tour players, this model is supposed to deliver optimal performance and playability. We invite you to read below to find out more about the ball.
Read more
Features
Maybe it is the design itself and the use of specific materials that make the ball appealing to anyone who uses it even senior golfers. It is extra soft and it features tour-quality design. It is a three-piece construction which uses an interesting blend of urethane cover with a low compression core and that makes this model soft and playable at all levels. The 336 quasi-cuboctahedron dimple pattern delivers extra control and greenside spin in the short game, while the reduced aerodynamic drag enhances the flight time which translates into more distance.
Performance
The soft feel that this model provides is mostly chosen by mid and high handicappers as the design itself promotes longer trajectories, less spin and more distance. However, the company claims that this ball type can be used by golfers of any skill without decreasing their performance level and this feature is the one that makes them perfect for senior golfers. In addition to delivering speed and distance, it is also designed to allow more spin when it comes to using wedges, together with providing more control and accuracy.
Cost and Value
Seniors know the best which models and brands work and which fail to perform well. So, if you have been into the game for a longer period of time you already know that Volvik produces different types of balls for different types of golfers' skills and they have never disappointed their customers. The latest Vibe model brings ultimate refreshment in their offer and unsurpassed quality and is one of the best recommendations for a golf ball for seniors. The price this model is sold is reasonable, bearing in mind the quality and the feel you get.

9

. Precept Laddie Extreme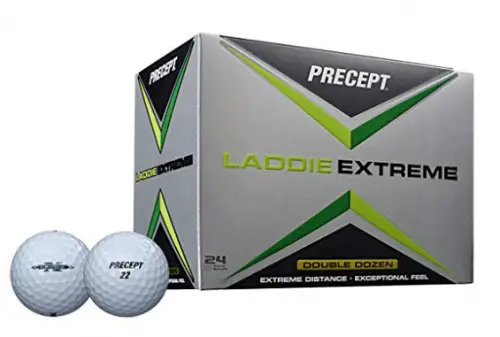 If you are an average golfer who is focused on looking for an excellent value for the money, Percept would probably put an end to your search. These balls are rivaling the most popular Callaway and Titleist balls in terms of quality and durability and are considered the best possible choice for mid-ranged golfers. Their playability can be seen in the effect they provide with adding more speed and distance in the off the tee game. To find out whether this model will fit your style, read below.
Read more
Features
Laddie Precept is a model that is designed to enhance speed and distance of the ball and it intended for golfers with slow swing speed and high handicappers. The model features low-compression, high-velocity muscle fiber core that is made to foster the speed and the launch, preventing spin and slice occurrence. The upgraded 372 aerodynamic dimple design prevents the drag which means it makes the shot faster and more effective. The cover is made from Touch N' Control ionomer which delivers a great control in the short game.
Performance
As we have already said, this model is made to make the game of high and mid-handicappers more meaningful and satisfactory. You will most certainly enjoy seeing your driver shots as productive as you have always dreamt of while having much more control when you use the wedges. All-in-all it is the model with a very high ranking.
Cost and Value
As it often happens, when a product is popular, besides the great performance it delivers, it is often the price point that adds to its value, such is the case with this model. It is a well-performing ball for senior golfers type which comes for a great price and that makes it an excellent value for the money.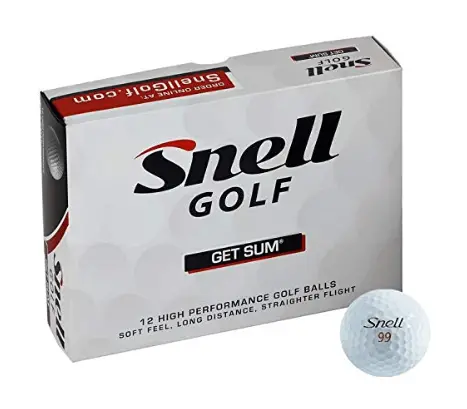 Even though the name might sound rather obscure, the features that this ball type has and the technologies used in its production make it on the same standard level as the ones that come from Titleist, Taylor Made, Callaway and etc., designed to deliver tour caliber performance. This three-layer golf ball features everything you might be looking in a premium quality golf ball. Plus, it conforms to USGA standards and it can be freely used for tournament play, so in case you got interested in it, read below to find out more.
Read more
Features
It is made with a large core which is very soft and has low compression, allowing the ball spin as little as possible. There is a mantle that is designed to control the performance of the iron and the cover is made from cast urethane helps the golfers get more control over the wedge performance. It is an excellent choice for senior golfers.
Performance
What surprised the golfers when they played with these balls for seniors, what the extreme playability that they feature and the ability to deliver long and straight shots besides their high handicap. The same workability can be found in the short game, the spin is sufficient to allow high launches with immense stopping power. The putting performance is also ranked very high, so all in all, they bring satisfaction of the course.
Cost and Value
Don't be tricked by the relatively unknown name of this producer, since it is conquering the golf ball market with steady steps. Many experienced golfers and experts have rated this brand model as a top quality and high-performing, so we can freely state that you can rely on it in every aspect of the game. The price they are currently being sold at, is more or less affordable, especially if we consider the playability it delivers.

Subscribe to our Newsletter