10 Best Golf Balls for High Handicaps – 2021 Buyers Guide
In a
Hurry? Editors choice: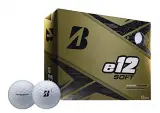 Test Winner: Bridgestone e12 Soft

When you have just started playing golf or when you don't practice very often, what you can expect is a high handicap score. But, have you heard that golf balls can help you lower it and better your performance?
The new technologies tend to push the boundaries every day, so the designs are becoming more complex. This way manufacturers achieve better products and result in offering golfers more
advanced equipment
which will help them to overcome their difficulties with the swing speed and accuracy.
In this line, there are golf balls designed for high handicap players which are made to fly longer and easier with a much softer feel. Choosing your ball carefully and wisely can be crucial for your game improvement and enjoyment which will eventually lower your score. Therefore, in this buying guide, we have selected the best 10 best golf balls for high handicappers.
Standout Picks
Criteria Used for Evaluation
Speed
When it comes to golf, the speed of flight is not always what makes the difference in results. Usually, it is the swing speed combined with the model of the golf ball that makes the difference. Fast swing speed is suitable for firmer feel models since every fast swing makes the ball compress fully and therefore it flies longer. But for players who have slow swing speed, this is not the case, if they use firm core models, they may feel like they have hit a rock. For this reason, it is always better to choose a model that has low compression core and softer feel so that the ball flies much further. And since we're talking about golfers with slow swing speed, this means the softer the feel and lower compression core, the greater the speed.
Durability
Most golf balls for high handicappers covers are made from a surlyn (sometimes known as ionomer) or urethane. The quality of the coating material greatly contributes to better durability on the course. Surlyn is cheaper and softer material and therefore it is featured in cheaper models. But nowadays, by utilizing specific technologies, it has been improved to a level that enables cut- proof firmness. Many models are even abrasion-proof as well (if they survive). The urethane is somewhat more expensive, so it is usually found in more expensive ones. This is a very durable material and a high-quality one. But aside from these two as most common materials, there are some varieties, such hybrids which are mixtures of the two. But keep in mind that when you consider durability, it is not only the material itself but also the technology they are manufactured with, the number of layers (pieces) and the types of the core which is usually made from rubber or titanium. Some companies even provide guarantees of durability as they perform very rigorous testing before they are sent to the market.
Responsiveness
Under impact, some balls are made to generate and release explosive power and as a consequence, they fly long distances. What makes the ball responsive is the core. In the reviews, we could see that there are many different designs, single or dual core, designed to improve responsiveness. This is the reason why some companies make them with high energy and low compression. And not to mention how much time manufacturers spend on research and testing of cores to make these balls as responsive as possible. The compression of the core can be crucial to the responsiveness, so it is good to know what level of handicap you are to select the right compression for your best performance.
Features
Some strokes can make side spin which can be difficult to control if you are not very precise. So, ball accuracy can be crucial to your score. If you fail to achieve accuracy, then the longevity and distance of flight might become unimportant. Although the player's abilities and skills are important, we must note that the type of ball will significantly influence the final outcome. And this is important because the ball flight trajectory is the one that takes it to the right distance. Therefore, the model should feature outer layer and dimple design that will be aerodynamic and penetrating, reducing side spin and ultimately keep its flight line steady until it lands on the position you would like to. And if it has these features and performance, you can be sure it is accurate.
Ease of Use
High handicappers are in a learning process which can be structured (classes, instructor, lessons) or unstructured (they know the basics and spend some time with their friends on the course), which means they need golf balls that will promote their performance, not inhibit it. Therefore, the models that we have selected are not only distance oriented and with a soft feel but they are also very forgiving, allowing you some errors on the course. This makes them easy to use and appropriate for beginner or senior level.
Subscribe to our Newsletter