10 Best Golf Balls for High Handicaps – 2023 Buyers Guide
In a
Hurry? Editors choice: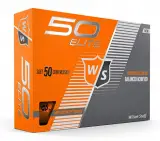 Test Winner: Wilson Staff Fifty Elite

When you have just started playing golf or when you don't practice very often, what you can expect is a high handicap score. But, have you heard that golf balls can help you lower it and better your performance?
The new technologies tend to push the boundaries every day, so the designs are becoming more complex. This way manufacturers achieve better products and result in offering golfers more
advanced equipment
which will help them to overcome their difficulties with the swing speed and accuracy.
In this line, there are golf balls designed for high handicap players which are made to fly longer and easier with a much softer feel. Choosing your ball carefully and wisely can be crucial for your game improvement and enjoyment which will eventually lower your score. Therefore, in this buying guide, we have selected the best 10 best golf balls for high handicappers.
Standout Picks
Criteria Used for Evaluation
Speed
When it comes to golf, the speed of flight is not always what makes the difference in results. Usually, it is the swing speed combined with the model of the golf ball that makes the difference. Fast swing speed is suitable for firmer feel models since every fast swing makes the ball compress fully and therefore it flies longer. But for players who have slow swing speed, this is not the case, if they use firm core models, they may feel like they have hit a rock. For this reason, it is always better to choose a model that has low compression core and softer feel so that the ball flies much further. And since we're talking about golfers with slow swing speed, this means the softer the feel and lower compression core, the greater the speed.
Durability
Most golf balls for high handicappers covers are made from a surlyn (sometimes known as ionomer) or urethane. The quality of the coating material greatly contributes to better durability on the course. Surlyn is cheaper and softer material and therefore it is featured in cheaper models. But nowadays, by utilizing specific technologies, it has been improved to a level that enables cut- proof firmness. Many models are even abrasion-proof as well (if they survive). The urethane is somewhat more expensive, so it is usually found in more expensive ones. This is a very durable material and a high-quality one. But aside from these two as most common materials, there are some varieties, such hybrids which are mixtures of the two. But keep in mind that when you consider durability, it is not only the material itself but also the technology they are manufactured with, the number of layers (pieces) and the types of the core which is usually made from rubber or titanium. Some companies even provide guarantees of durability as they perform very rigorous testing before they are sent to the market.
Responsiveness
Under impact, some balls are made to generate and release explosive power and as a consequence, they fly long distances. What makes the ball responsive is the core. In the reviews, we could see that there are many different designs, single or dual core, designed to improve responsiveness. This is the reason why some companies make them with high energy and low compression. And not to mention how much time manufacturers spend on research and testing of cores to make these balls as responsive as possible. The compression of the core can be crucial to the responsiveness, so it is good to know what level of handicap you are to select the right compression for your best performance.
Features
Some strokes can make side spin which can be difficult to control if you are not very precise. So, ball accuracy can be crucial to your score. If you fail to achieve accuracy, then the longevity and distance of flight might become unimportant. Although the player's abilities and skills are important, we must note that the type of ball will significantly influence the final outcome. And this is important because the ball flight trajectory is the one that takes it to the right distance. Therefore, the model should feature outer layer and dimple design that will be aerodynamic and penetrating, reducing side spin and ultimately keep its flight line steady until it lands on the position you would like to. And if it has these features and performance, you can be sure it is accurate.
Ease of Use
High handicappers are in a learning process which can be structured (classes, instructor, lessons) or unstructured (they know the basics and spend some time with their friends on the course), which means they need golf balls that will promote their performance, not inhibit it. Therefore, the models that we have selected are not only distance oriented and with a soft feel but they are also very forgiving, allowing you some errors on the course. This makes them easy to use and appropriate for beginner or senior level.
Top 10 Picks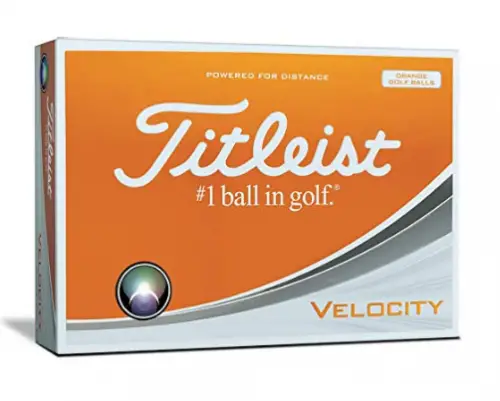 Did you know that Titleist is the company that has had about 90 years of experience in golf ball manufacturing and that it is considered to be the number one brand in the world due to its stringent techniques and manufacturing practices that are applied on each ball separately? Plus, each ball is individually tested and examined before it is released on the market. This is a guarantee for success and the company is bound to reign this area in the golf industry. This model, Velocity, is designed to appeal to golfers who seek distance, such as high handicappers. It utilizes some of the 1000 patented technologies that the company has registered, so take a look at its features.
Read more
Features
Titleist Velocity golf balls for high handicappers are designed to enhance the distance that the golfers achieve in their long game. It utilizes the LSX core technology that promotes high-energy soft core that produces fast initial energy for all driver shots and better feel when it comes to the short game. The NaZ2 ionomer cover and the 332-dimple icosahedral design yield more aerodynamic speed, less drag and lower spin. These golf balls for high handicappers is available in white, orange and pink.
Performance
Titleist has designed the model Velocity to provide a long ball and explosive distance. Its solid core is one of the fastest within Titleist range. Also, its core produces fast velocity on full swing shots. Its unique dimple design, featuring a high-surface cover delivers high consistency of the ball flight. Plus, the softcore delivers good feel when approaching the green.
Cost and Value
If you strive for more distance, softer feel and ultimate quality, than Titleist Velocity is the model to focus on. The price tag is higher than most in this range, but it is due to the manufacturer's unique design and advanced technology that make this model impeccable. What you'll get is an excellent golf ball for high handicappers, designed to improve your overall performance.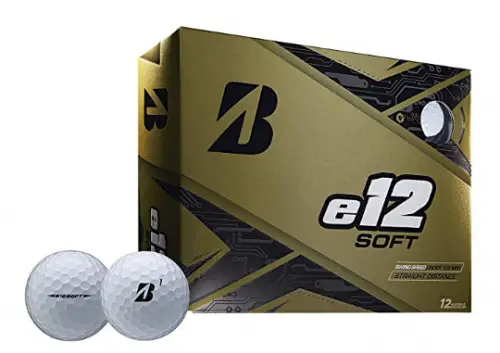 Many manufacturers try to make a point when they give a certain name to a product. So, if you were wondering what number 12 in the name stands for, you'll be surprised from the fact that it denotes 12 years this manufacturer invested in collecting ball fitting data in order to improve design and technology to produce the best one ever in this category! So it is expected that the overall performance of these golf balls for high handicappers is taken to a whole new level in the industry, and below you can read more about the improvement of Bridgestone e12 and its features.
Read more
Features
The Bridgestone e12 golf balls for high handicappers are a three-piece design which features outer Active Acceleration Mantle made of a polymer which is a high-performance material and has an added surfactant, which creates higher thrust and high initial velocity at impact. The outer layer is Surlyn, covered with dimples, featuring a patented dimple design- Delta Wing, contributing to smoother airflow during flight and reduced drag. Its core is soft and forgiving, with compression rating 50.
Performance
We have already mentioned that the initial velocity at impact is high and because of it, e12 Soft flies a great distance. The aerodynamic design of these golf balls for high handicappers also allows for much straighter trajectory during flight and thanks to the patented Delta-Wing pattern it can reduce the drag to a minimum. The soft feel makes it an excellent option for high handicappers because their usually slow swing speed will be boosted by the performance of this Bridgestone model.
Cost and Value
E12 Soft fits in the medium price range, as most of the golf balls for high handicappers we have reviewed here. So, maybe it is more relevant to speak about the value of e12 Soft, rather than the cost as the quality and the particular engineering process is what makes it different. So, as we have mentioned, this item has been developed and improved in a period of 12 years leaving enough space for the manufacturer to spend a lot of time paying attention to every single detail.

3

. Wilson Staff Fifty Elite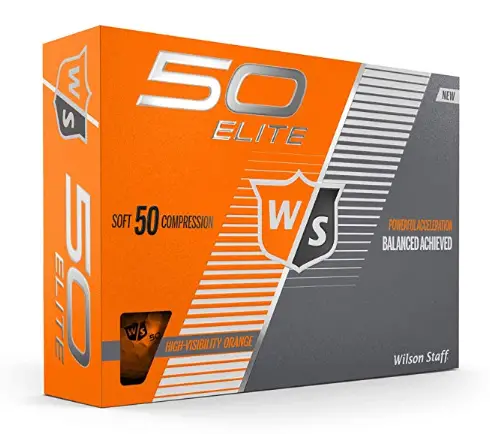 If you want a real softball, you can never go wrong with any model that comes from Wilson. The company makes an incredible number of variety of golf balls which range from super soft to very hard. It is the world largest manufacturer in this area, so there's practically nothing that you can't find made by Wilson. Now, if you are striving for a soft and enjoyable game, this model might be the right golf ball for high handicappers.
Read more
Performance
As its name implies, its compression of the core is fifty, which makes it a very low compression ball. It is particularly designed for golfers who have driver speed of less than 95 mph which is on the lowest possible scale of speed rating. Also, this is one of the softest on the market (some even compare it to the old, 2000's rubber balls). It flies straight and smoothly for 80-85 mph, although some players who have slower swing speeds might find that it doesn't go the extra distance for them. What else you can expect from the ball is good greenside control.
Cost and Value
Uniquely designed for extreme performance, this item seems to be more than welcome to your package. If only you could play better instantly with it, you might realize that you have chosen the right one for life (or until Wilson surprise us with better and improved one). If your swing speed is low, you will achieve the best distance with a softball like this. Definitely worth buying and trying, this golf ball for high handicappers deserves to get a chance to be played.

4

. Callaway Chrome Soft X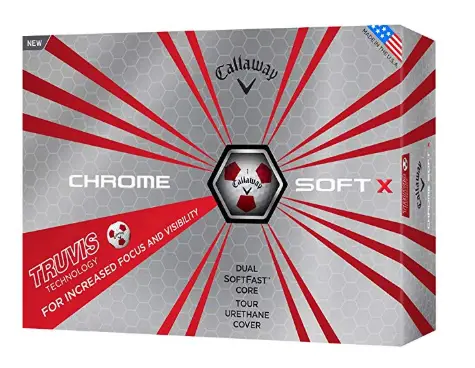 Callaway has launched a wide range of different types of golf balls which are engineered with different technologies for different types of golfers' skills and needs. It is one of the most prominent golf companies which have made an impressive impact in the way people perceive and play the game today, so no wonder it is part of our buying guide. This golf ball for high handicappers is all about boosting distance, which means it is appropriate for high handicappers that are willing to invest in the improvement of their performance.
Read more
Features
These golf balls for high handicappers are a game changer featuring dual SoftFast core which is engineered to deliver more distance from the driver and the woods, while at the same time yield more control in the short clubs. Chrome is designed with the proprietary HEX aerodynamics which guarantees longer carry and much lower and straighter ball flight. It features tri-ionomer mantle for less spin in the long game and more spin when using the wedges. The urethane cover is extremely durable and guarantees long term use.
Performance
This model is of supreme quality and it is one of those models that has been given the highest possible rating with no whatsoever negative reviews. What you can expect from it is a complete performance in all the aspects of the game and maximum satisfaction. The Truvus pattern on the surface of the ball enhances its visibility while it flies, reducing the chances to lose their favorite golf balls for high handicappers, even if it falls in the woods or the hazards.
Cost and Value
If you're not involved in the golf manufacturing process, you'd hardly think that it is such a complex task that requires a lot of research, test, and trials, development of new technologies and focus on constant improvement. And if a model features a very high price, this is because it is a groundbreaking model that makes a difference in the performance it delivers. This is exactly what this model is and even though very expensive, it is worth the money (unless you tend to lose your balls).

5

. TaylorMAde Project (S)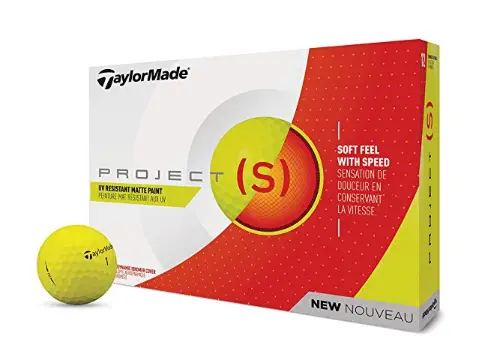 These golf balls for high handicappers target the 8-18 handicap golfers which are rather a large span. But still, many balls might target the same range of handicappers, but offer many different characteristics that might influence your game positively or negatively. And it wouldn't be a Taylor Made model if it hadn't been made with their proprietary technologies to enhance the performance. Talking about performance, it is low spin, less drag and more distance that you can expect from it.
Read more
Features
TaylorMade Project (S) is a three-piece construction that features a new Dual-Distance core which features softer and larger inner core which works well for reduction of the spin and better feel. Its compression rating is 60 which is fairly low, so you can expect a soft feel. The cover of these golf balls for high handicappers is made of a polymer which is highly resilient and also contributes to maintaining velocity. This soft ionomer cover improves the control and the feel around the greens. It features a 342-dimple design which reduces drag and backspin for better distance.
Performance
The dual-core featured in this TaylorMade model is made to reduce driver spin, but to add more spin with the wedges. So, it makes sense that the reduced driver spin in combination with the reduced drag ultimately adds more distance. The feel is soft due to the softer core compression and the specially designed soft cover, which is at the same time very durable.
Cost and value
TaylorMade Project(s), when it comes to their price, belong to the medium price range. As they are made with a really modern and performance oriented technology and materials, you can expect to improve your game. What is a plus, it targets a particular group of golfers, which means although it narrows the niche for them, for players it means that the ball is more accurate and fits better.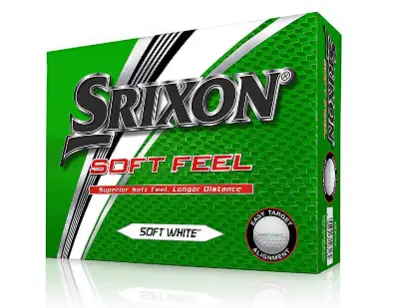 Srixon has made some improvements to the previous model to add features that would, in general, improve their performance. Since this is an improved model, it is aimed to provide better distances. It is the softest Srixon model, which is the perfect option for high handicappers. The manufacturer claims it is made to have a penetrating flight and that it is suitable for different weather conditions, it is said to fly straight even during windy weather conditions.
Read more
Features
Srixon Soft Feel for men features a low compression core (compression 60) which is energetic, gradient one and provides soft feel on swings. This is a newer golf ball model, having 12 points lower compression than the model launched previously. These golf balls for high handicappers provide a low spin and a high launch. Its cover is thinner and softer, made of ionomer. Again, when compared to the previous model the cover is thinner for 11 percent and it is often for 5 percent- rating according to testing in a category of low compression balls. In the outer coat, there is a dimple design of 324 dimples.
Performance
This model comes on the market as the tenth generation of the manufacturer's Soft Feel Golf Balls, and it is softer than ever. Their thin cover improves the shot control, the stopping power and greenside spin performance. Their dimple design and technology contribute to the minimization of drag, so it can fly further for greater distance and into a more penetrating trajectory. And it is worth noting that it has a straight alignment arrow, which yields square set-up and improves target focus, but also a greater accuracy.
Cost and Value
Srixon is an experienced brand in this area of production and it is among those that golfers put a lot of trust in their models. These golf balls for high handicappers will provide you with a great soft feel during your game, as well as good overall quality. The model is perfect for high-handicappers because it is soft and far-reaching and because it is very budget-friendly.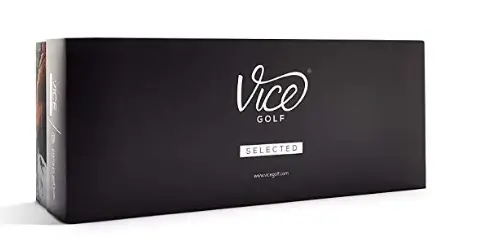 Sometimes when you search for the best golf balls for high handicappers for your game it can be a headache. You could spend a fortune while searching for the one that suits you best, and also it can cost you a lot of time and effort (if you don't lose them with every swing). For that reason, we are very glad we have found a pack containing different Vice models so that you can decide for yourself which one suits you the best. After all, when you play the whole pack, you will at least know what your preferences are.
Read more
Features
More and more attractive are those tiny little packs that include a variety of a brand's products so that buyers could try them all and make up their minds which one would be the perfect fit. Vice figured out that the company will see an increase in the sell if they do the same trick, so they launched on the market this versatile offer that includes the following models: Vice Pro, Vice Pro Plus, Vice Tour, Vice Drive, and Vice Pro Soft. All these models differ in their composition and the performance they deliver.
Performance
Vice Pro Plus is a golf ball for high handicappers that is created to give a responsive and gentle feel while keeping a stable flight trajectory. It has been optimized to give a tremendous distance. Vice Pro Plus is designed to provide a soft feel while being very durable. Its dual casing is there to enable lower ball flight and deliver extra distance. Vice Tour is durable, and unlike the previous two models, it features surlyn cover, which does not jeopardize the soft feel. Its simple design gives more stability to the ball during flight. Vice drive is a durable one, with a cut- resistant surface. It is said to be an extremely tough ball, but still, it has a soft core and therefore it retains a soft feel and it goes long. Vice Pro Soft is a really durable one. Its core is designed to be responsive while giving a soft feel. This is the only ball in this pack that has a matte finish.
Cost and Value
This is a really practical pack because of the unique opportunity to try different types of golf balls for high handicappers. Maybe some of them have features that are more suitable for more experienced golfers, but perhaps it is a plus as you can make a difference and know first-hand what makes for you a better ball.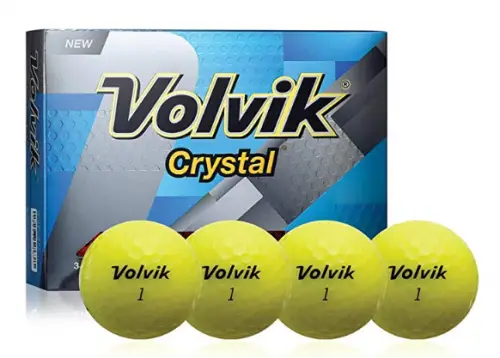 High handicappers could try to lower their handicap by trying to find a ball that fits their performance. So we have found a design that is a tournament-like when it comes to distance, but still, it is suitable for slow to medium swing speed. These are made with quite an innovative technology, and feature materials that usually aren't featured in the classical ones, so this is a unique blend from the two categories.
Read more
Features
This is a premium level three-piece golf ball designed to add some more distance to your driver shots. Its outer design features a 322-octahedron dimple pattern design which is aerodynamic and helps reduce the drag. Actually, it is the world's first patented dual-core design. The inner part of the core is very firm and it gradually becomes softer. Its compression is 80, with the cover hardness of 64, featuring Zirconium Z-I Outer Cover.
Performance
These premium golf balls for high handicappers are designed for players with slow to mid- swing speeds, who like more explosiveness and a soft feel. The feel they have is soft at impact and they achieve longer distance thanks to the special dual core. The Volvik Crystal elevates control on the short game by the low compression core which adds more feel. The crystalline and Surlyn cover enable optimal spins, and also it is very durable. The flight trajectory is stable due to its dimple pattern. It is optimal for golfers with a swing speed of 60-95 mph and it features an immediate stopping power on the green and more spin.
Cost and Value
The features this Volvik golf balls for high handicappers have, make them extremely competitive to the range, so if you opt for them, you chose playability and performance in the long and the short game. This model belongs to the moderately-priced golf balls for high handicappers.

9

. Nitro Maximum Distance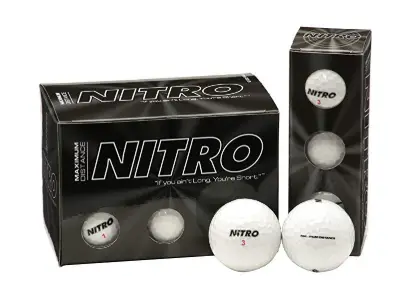 Tournament balls can be tricky to use since they may not be suitable to control if you are inexperienced player, especially if they are firmer, so a model that is somewhere in between can do the trick in case too softball deprives you of the control you'd like to have over it. The company claims that this model can be used by anyone due to the average compression rating and feel and tournament construction titanium core. Don't be discouraged if you are a high- handicapper- not all tournament construction models deliver the hard-to-hit performance preferred by advanced golfers. Besides, this golf ball for high handicappers is designed to bring a longer carry and straighter trajectory, which is exactly what high-handicappers need.
Read more
Features
What makes these golf balls for high handicappers go faster is the ultra-reactive titanium core which has the ability to optimize the energy transfer from the club to the ball, making it fly much further than usual. It has a symmetrical dimple design which makes it aerodynamic with high-velocity effect. It has a cutproof cover, reported to be virtually indestructible, made from Dupont Lithium Surlyn. It is an all-around model that delivers more distance off the tee and less spin, however, it does increase the spin when using the wedges and short irons. It is available in white, pink, orange and yellow.
Performance
The reactive titanium core is what makes the Nitro Maximum Distance fly further, with much more speed to achieve distance even when golfers' swing power is very low. The symmetrical dimple design helps golfers to reduce the spin and to deliver explosive distances, while at the same time they reduce the drag and create better lift, contributing to longer shots and good spin control. Another feature of this model is flight consistency regardless of the conditions.
Cost and Value
These are exceptionally durable golf balls for high handicappers that are made from high-quality materials and carefully constructed for all-around performance. This product conforms to USGA rules completely, so it is appropriate for any purpose. It is also one of the least expensive models which will make your experience on the course much more fulfilling.

10

. Chromax High Visibility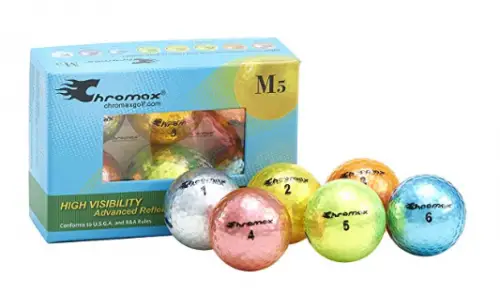 We have reviewed many different designs of balls with vibrant colors that are highly visible during a flight but these ones have a reflective coating, so the color is even more visible. It is made to absorb the light, so it is easy to track it in the air, and you can easily locate them in the rough and on the fairway. Besides this exceptional quality feature, it is also performance- oriented, however, the extreme visibility is the competitive advantage of the model. And besides used for fun, this model confirms with the USGA tournament standards, so you can use them for any purpose.
Read more
Features
Chromax M5 is the manufacturer's latest model. They feature a Surly coating which is patented and durable. The dimple design of this model is larger than the usual, and the 75-rating compression core is specially blended to increase control and distance. There are plenty of color choices: pink, orange, purple, blue, gold, silver, neon green and yellow. And here we must underline that the color seems to be the main feature which differentiates them from the others since it is very visible and therefore easy to track or locate, especially suitable for golfers struggling with impaired eyesight.
Performance
These golf balls for high handicappers conform to USGA standards and with the R&A Rules for tournament play. They are more durable due to the coating which delivers great control around the greens while giving the ball longevity to be able to play several rounds. The model is competitive when it comes to high visibility because it has a unique undercoating, which absorbs light so that it can be seen easily in the air or in the rough.
Cost and Value
This model is an excellent option to have fun and keep your golf balls for high handicappers for yourself, but they are also very popular among junior golfers. Regarding their overall performance, we can say that they are very solid, however, their price is a bit higher if you consider that each pack has 6 inside, while most of the standard, better ones are 12 in a pack for the same price.

Subscribe to our Newsletter