10 Best Distance Golf Balls Reviewed
In a
Hurry? Editors choice: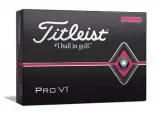 Test Winner: Titleist Pro V1

What is the paramount in the game of golf? You'll say to put the ball into the hole in as few as possible shots (obviously), however, to get to the hole you'll need to get it
off the tee box
. And to do that, you need speed and distance. Well, distance is not easy to get. You need a powerful swing and masterful shot with no slice and low spin so that it launches straight where it was headed.
So, unless you are a pro, you are most likely struggling to get a few yardages more with every shot you take. And this is where these distance golf balls step in. Over the years, their design has been drastically changed, so if in the past there was practically one model (just a ball), now there are many varieties that contribute to mastering a specific aspect of the game.
Standout Picks
Criteria Used for Evaluation
Accuracy
This criterion comes as an answer to the question that we posed in the introduction and therefore regarded it as highly important. Even though the subject of our discussion today is distance, if you are not able to achieve accuracy, then far-reaching ball makes little importance. Some might think that each golfer has an individual responsibility and individual skill level that contribute accuracy, which is mainly true, however, the golf ball type that players use considerably influences the flight trajectory of the golf distance ball. If it is a model that is designed to be resilient and resist the air force and weather impacts, then it will be able to keep its position steady and land where it was supposed to, then we are talking about well-accurate model. So the score regarding this criterion next to each product displays the accuracy level of the models on the list.
Features
There are several features that mark the performance of these models and which differentiate them from the others. Some of them are made to deliver absolute playability and performance when it comes to all aspects of the game, others mainly focus on achieving more yardages while neglecting the other aspects of the game. But, as many players appreciate more all-around golf balls which can be as good in the long and in the short game, we gave those models higher score and valued them more. Such balls are generally speaking more advanced and appeal to advanced players more as they have complex construction of more than three pieces and are generally speaking more expensive too.
Materials
There are different types of materials used in the construction of these golf balls for distance, and their selection considerably changes the way they perform on the course. The two-piece ones are usually made from a rubber core and (mainly) ionomer cover. There is another material option for the cover which is much more expensive and frequently found in premium ones- cast urethane, so in case you are looking at a two-piece construction model, the chances are that it will be ionomer cover. Three-piece designs include a Surlyn mantle which adds versatility to the ball in its performance, while four-piece formulations feature an inner and outer core that is often made from rubber or a blend of several materials. All these materials mean almost nothing if the technology used to put them together is ineffective and fail to provide good performance. We are happy to say that all the products on the list are made to deliver enough distance and sufficient playability.
Versatility
Having a fruitful and relaxing game, even if you are in a training session means better overall productivity and increased confidence in your own abilities. We say this because it often happens players to feel demotivated and dissatisfied from their performance so that they even get on the verge of giving up. However, rarely do they realize that it might be the balls or the clubs they use which prevent them from lowering their scores. Therefore, it is significant for them to find the best ones that fit their handicap level, their skills, and their style. So, in line with this, we were careful to select models that will include extreme versatility taken from skill level perspective to type of the game point of view. The highest rating has those that feature maximum playability and effectiveness.
Value
Playing golf, simply said, can be a very expensive game, depending on what your attitude towards it is, your skill level and the overall engagement into it. Yet, compare it to the past elite-only status it had, it is much more affordable and you don't have to be a member of a local wealthy influential group to enjoy the game nowadays. Having said this, we can still see the discrepancy in prices of the golf gear, from the clubs to the balls. And yet, once again, the difference in the prices originates from the quality of the materials and the status of the manufacturer rather than the social phenomena and the implications that arise from them. Due to this, we included differently priced models in order to appeal to golfers with different financial abilities.
Top 10 Picks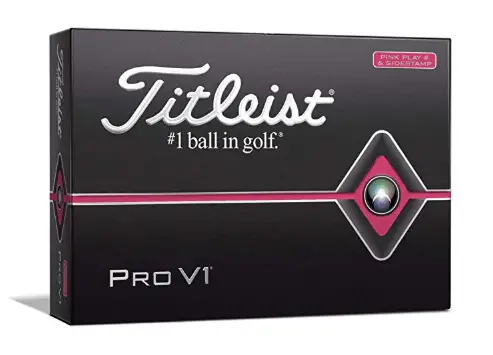 Titleist Pro V1 from 2017 has been the most successful and the most talked about model among golfers as it delivered unsurpassed performance, not seen until then. This year's upgraded V1 model comes with flying colors, offering everything that you have ever wished for in a golf ball. It boasts with premium design, a piece-of-art technology, and much better feel in both, the long and the short game. So, read below to find out what you can expect from the brand new masterpiece coming from Titleist.
Read more
Features
So, what changes have there been made? Titleist designers have got rid of what makes the ball slower, such as the thickness of the cover, i.e., this model features the same proprietary cast cover system which is made from thermoset urethane elastomer, however it comes with 17% less of it. The reason for this is seen in the claim that the cover lessens the speed, and by reducing it they enhanced the ability of the distance golf ball to fly faster. Just under the cover, there is the casing layer which optimizes the spin and the speed in the long game and in these 2019 models, the casing layer is larger. When it comes to the core there is actually inner and outer core which have more speed and less spin but which are designed to maintain the feel and the compression.
Performance
The company advertises it in the simplest possible manner, claiming that you can expect more consistency and more precision, but above everything, you will experience more speed. And more speed inevitably leads to much further distance and of course more satisfaction. The most powerful core engine is designed to allow golfers to achieve immense speed but to keep the feel. And when it comes to the short game, it is designed to drop and instantly stop thanks to the proprietary technology.
Cost and Value
Anyone who has at least the slightest insight in the game of golf knows that Titleist is one of the best manufacturers so these changes in the design place Titleist on the throne of golf balls for distance by delivering ultimate speed and distance. So if you want to play like Justin Thomas, Adam Scott, Paul Casey or Tony Finau (or at least try to play like them) take V1 and head to the course. The pleasure will cost you a little fortune, but you'll know that you're playing with the best performing balls.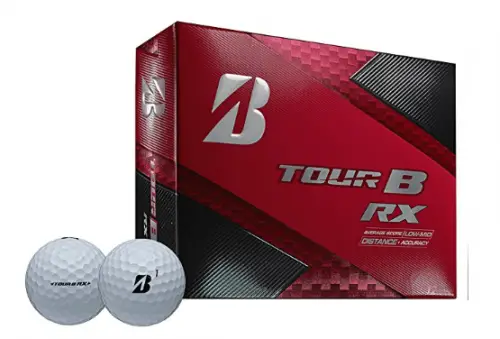 'When in Rome, do what Romans do'- a well known saying that invites travelers to accept local customs and traditions in the place where they are staying in order to benefit the most. Why are we saying this? Well, many golfers feel insecure when it comes to which type of golf balls they should use, as a recent study has proven that a bad game often results from the wrong golf ball choice. And this is not just the case with high- handicappers and beginners. Many advanced golfers face the same issues. So, have you seen what kind of balls Taylor Made and Bryson Dechambeau have been using recently? Yes, you are right, it is Bridgestone Tour B and this fact should clear many things out.
Read more
Design
There are several Bridgestone Tour B models (X, XS, RX, and RXS) and all of them differentiate in bits and pieces when it comes to their design. The RX model is made to appeal to golfers who have mid to low-swing thanks to their low compression rating. The three-piece construction has features that focus more on the distance and the Gradational Compression Core is the engine that leads to high driving speed. The 66-compression rating and the core's ability to decrease in side-spin deliver impressive distance and accuracy. The premium urethane seamless cover made with SlipRes technology and the dual dimple design contribute towards achieving higher aerodynamics and less drag.
Performance
If you are looking for distance, accuracy and maximized performance off the tee, then Tour B RX is the distance golf ball that will provide you with all you need, especially if high swing speed is not your cup of tea. The three-piece construction and the technology-packed design will provide you with the performance of the better players.
Cost and Value
Once Bridgestone moved from tire manufacturing to golf balls manufacturing, they have seen a considerable increase in their popularity. The fact that many tour golfers have decided to turn to Bridgestone is enough proof of their quality and the performance they provide. And when it comes to premium performance products, then it is expected to see them being sold for a high-end price point as this model is. Despite being pricey, the pleasure of playing with supreme golf balls for distance will be all yours.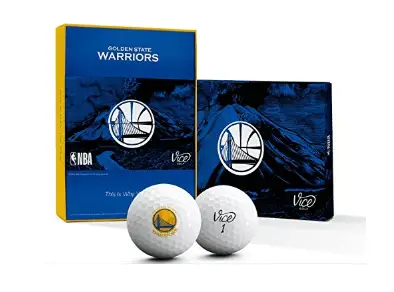 When a golf ball is compared to V1 in its performance, that means that it has reached the ultimate design and superior performance to the point that not many others can boast such glorious comparison. Vice does feature pro design and featuring a four-piece construction it joins the elite. The way it is designed and the way it performs appeals to mid to low handicappers who have sufficient control over the ball and the ability to deliver fast-swing shots.
Read more
Design
The core is the so-called engine and depending on its energy level, you get the performance level. The core of this model is of maximized size with high energy at impact so that the speed and the length of the flight increase. As the core delivers speed, the cover influences the spin, which is Vice Pro Plus is made from cast urethane by utilizing S2TG technology and making it playable, controllable and with a high degree of backspin. The outer layer is very versatile. It is made from the patented Dupont HPF which influence the differentiation in the spin, in regard to the long and the short spin. The second layer, i.e., the mantle is made from Surlyn which additionally influences the flight length and stability.
Performance
If you are an advanced player whose swing speed is fairly fast, with a good sense of control when it comes to the short game, then these golf distance balls will work like a charm. What impresses most players is their versatile playability and the change of low spin off the tee box and the fairway to high spin with the wedges. The macromolecular structure of the cast urethane delivers soft feel, accuracy, and control.
Cost and Value
If you have carefully read the description of Vice Pro Plus you have already realized that these are high-performance balls that appeal to mid-to-low handicappers. The complex, four-piece construction brings versatility in the game allowing golfers to make use of it. This model is not just randomly compared with V1, it delivers similar performance, but it also comes with a similar price, just a bit lower from the one of V1.

4

. Callaway Superhot Bold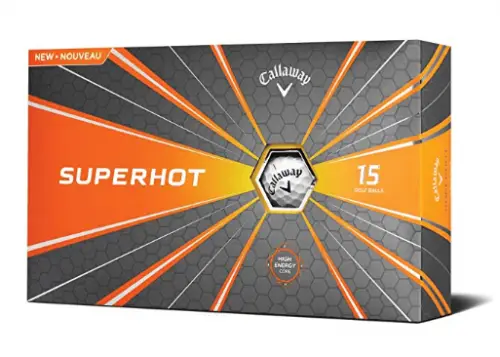 The striking matte finish in many different colors is the first thing the players notice, making Callaway Superhot Bold stand out on the course. The bold statement of superiority is seen in this design as Callaway is getting closer to their aim to overtake the golf ball market domination. This 3-piece construction model, designed for all skills golfers, is made to deliver distance and spin control.
Read more
Design
The core of this model is enlarged, providing more energy for faster speed and better aerodynamics in order to deliver more far-reaching distance and lower golfers' score. The proven superhot aerodynamics enhanced with the HEX 332 dimple pattern helps players to reduce the drag with every shot, have an optimal lift and keep the distance ball in the air as long as possible to achieve further distance. The soft ionomer cover and the mantle add more versatility, especially when it comes to increased spin in the short game, accuracy and moderately soft feel.
Performance
Even though Callaway has made these golf distance balls for golfers of all handicaps, the high forgiveness, and the soft ionomer cover make them particularly appropriate for mid-level golfers. What you can expect from Callaway Superhot Bold is an increase in yardages, straighter flight, and low spin, whereas, regarding the short game, you the spin gets considerably high, so it delivers soft feel and enhanced control over the ball.
Cost and Value
Callaway Superhot Bold looks and feels like a challenge to golfers to express their courage by having them on the course with flamboyant spotting colors and the superhot feel. Many buyers' comments describe them to be extremely playable and versatile. The price is fairly reasonable too, not extremely high, nor inexpensive, so for the playability you get, they are a good value for the money.

5

. Taylor Made Distance Plus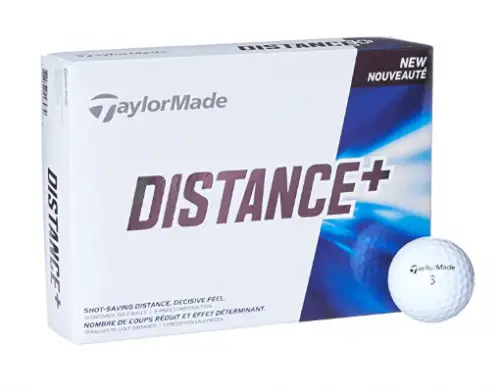 When you are mid to high handicapper, the chances are that you are facing challenges to produce a shot which will be productive in terms of accuracy and long and straight trajectory. The reason behind this might be the weak swing or not developed enough technique which will allow you to swing with power and precision. Any help coming from your clubs is more than welcome and here we include the balls too. These are made to deliver maximum distance, so read below to find out more.
Read more
Design
On the surface, this model looks like any other Taylor Made ball, but it is the inside that matters. I don't know how much you know about the construction of golf balls, but the number of parts that constitute the complete looks of the ball determines the way how it performs. This is a two-piece construction which is comprised of proprietary Iothane cover and 60-compression, softcore. The 342-dimple design makes it easier to achieve higher aerodynamics which contributes to lower spin and less drag.
Performance
This is a high-performance product that appeals to recreational, average golfer which needs a boost to get straight and long trajectory and less spin. They are made with the advanced Taylor Made technology which has been proven to deliver maximized performance. According to the golfers who use them, these are the most essential and the most productive distance golf balls that you might find on the market.
Cost and Value
Taylor Made Distance Plus golf balls for distance are all about getting extra yardage even if your swing is not as powerful as you would want it to be. They will deliver long ball flight off the tee or from the fairway in a manner that will make your performance much better and that will spark your interest in the game too, because, let's be honest, who wants to spend ineffective four hours on the course where you feel totally unproductive? Well, Taylor Made Distance Plus will change that for the most affordable price that you could expect from the most renowned manufacturer.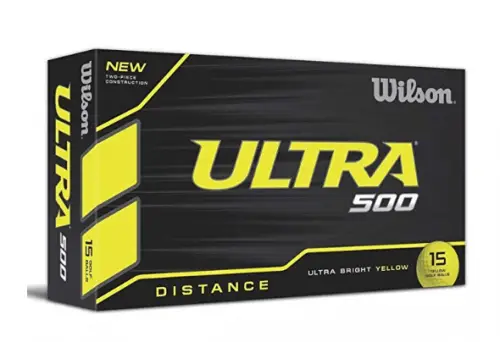 Well, if you have been playing golf for a while you must have heard that chitty chatty talk about Wilson being the most budget-friendly company that offers excellent value for the money. But it is never about the finances because if you didn't have the performance that you need, then the company wouldn't be as successful and popular as it is. And, there's one more thing when it comes to Wilson golf balls for distance. There are so many models, that once you start looking for what you need, you'll end up looking at about 6-7 models which advertise more or less the same thing. Even though confusing, the company is offering the best performance-focused models and when it comes to further reaching shots, this is the model that we have selected for you.
Read more
Design
These are made to deliver the further possible distance, especially if you are a beginner or a Sunday golfer who hasn't been diligently training the swing speed. So, the driving force of the ball is the high energy core that is made to deliver maximized flight trajectory and distance that is almost impossible for these golfers to achieve. The cut-through design with the durable ionomer cover and the titanium core help you get consistency in your shots.
Performance
This is a firm golf distance ball type which has a low-medium spin rate designed particularly to enhance the length of the trajectory ideal to have long par-5s shots with wide fairways. The thing about this Wilson model is that it develops consistency on the long shots, however, you are most likely expected to sacrifice the spin of the approaching shots which might be an obstacle for the most advanced players but not for the beginners though.
Cost and Value
As we have previously mentioned, Wilson has developed two streams of production lines, tour level and budget-performance line which integrates high-quality performance. The cut-proof construction guarantees durability and easy launch.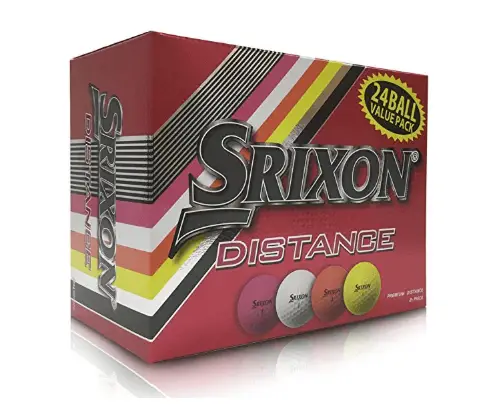 Have you ever used Srixon golf balls? Most probably you have as they are among those manufacturers that offer a variety of models that focus on every aspect of the game and make their models consequently. They are reliable and high-performing and are characterized by extreme playability. From the multiple offers that Srixon has launched, we have selected this particular model as the most appropriate for today's discussion.
Read more
Design
In order to be able to deliver as far as possible distance, this two-piece model has been made with a very unique core type that is able to deliver initial velocity for far-reaching flight. Namely, the patented design features high energy gradient growth core, made to be firmer in the outer layer and to be progressively softer as you get to its center. When the ball gets into contact with the club face, the explosive energy is transferred and it flies further.
Performance
Not only is this a long-distance ball, but it is also a well-performing one when it comes to the short game too. It delivers a very responsive light feel that allows you to have control with the approach shots and it has a fairly soft feel for maximum efficient putting strokes. This model comes in four color options, white, yellow, orange and pink and they exhibit extra visibility and ability to follow the ball in its flight.
Cost and Value
The most frequent packaging usually contains dozen or 15 distance golf balls and when buyers compare prices they usually consider a package of 12 as a reference point. However, this packaging comes with 24 golf balls for a price that is usually attributed to the reference pack of 12. This makes this model and excellent value for the money.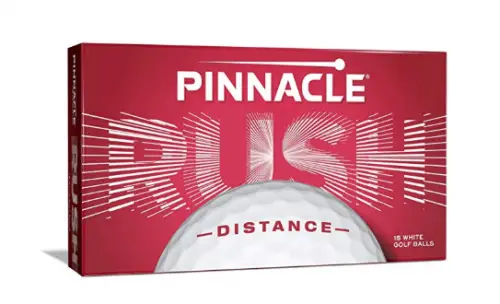 Golf is a fun game and it is not supposed to stress you out. However, many players, especially beginners, tend to get into panic mode after failing to deliver far-reaching shots. This psychological moment is understandable, and it can be especially emphasized if you expect some improvement in your performance, but you fail to achieve it. Pinnacle Rush is made to bring the fun back to the course and deliver extreme playability, performance, and distance. And that's the reason why we have selected these Pinnacle golf balls for distance.
Read more
Features
Company's passion to provide golfers of all skills to benefit the most from their swings is obvious in this model thanks to its design. The core in Pinnacle Rush is designed to function as the engine because of its high-energy, powerful design which helps golfers to effectuate their shots into high distance trajectories. The cover is made from durable soft ionomer with advanced icosahedral 332-dimple design. Made like this, it delivers less drag and more consistency.
Performance
The name of this golf distance ball tells us everything. These are high-performance golf balls that are designed so that they maximize the long game performance of those golfers who struggle to achieve far-reaching trajectory. Even though made to make the long irons and the driver shots more productive, the soft ionomer cover delivers maximum soft feel which translates into more control and consequently, greater accuracy in your short game too.
Cost and Value
Pinnacle has been making some very good performance balls which makes the game off the tee box much more inspiring and motivating. This model has been designed to meet the needs of low swing players who look for boosted help coming from the ball. The price is very reasonable and in case you are a high handicapper and tend to lose your balls, you won't have the feeling of wasting your money.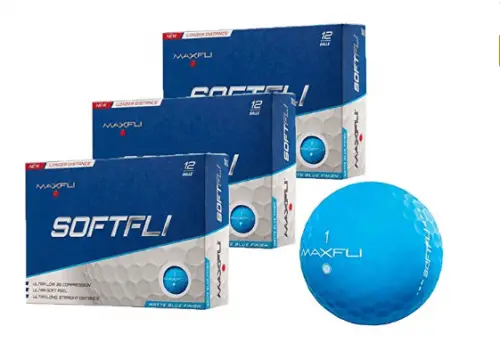 Rarely do we see blue golf balls, but these ones are designed to stand out on the course, both, with their color and their performance and if beginners use them, they will most likely get them back thanks to the color. Plus, they are definitely the softest golf distance balls manufactured by Maxfli, featuring a compression core of 35, which puts them in the lowest compression models overall. The soft feel and high forgiveness make them appropriate for a wide range of golfers enabling them to perform well from the tee to green.
Read more
Design
The soft feel that this model features comes from the lowest 35-compression core designed to provide exceptional feel and feedback. The core has been reformulated and redesigned to deliver an immense energy transfer so that the ball flies much longer and straighter. Consistency is one of the most prominent features achieved through the 332-dimple design and the ionomer cover making it very accurate and durable. The vivid blue matte cover makes this model very visible and unique. There are other available colors, such as orange, white, green and pink, all of them in a matte finish to reduce the glare when playing under the glowing sun and for higher visibility.
Performance
In the past, a softcore was often associated with slow speed and less distance, however, modern technologies nowadays have changed the way they perform. Many soft models of today are made to deliver ultimate performance in terms of both, soft feel and long distance. This model is, therefore, designed to bring confidence on the course, regardless of the swing speed of the golfers, making it one of the most far-reaching balls that golfers can buy.
Cost and Value
This is a premium made golf ball for distance which boasts versatility and high-end performance. It is made from premium quality materials and many golfers can make use of it. The pack includes 36 items which is triple of the standardized 12-pack for a very affordable price.

10

. Nitro Maximum Distance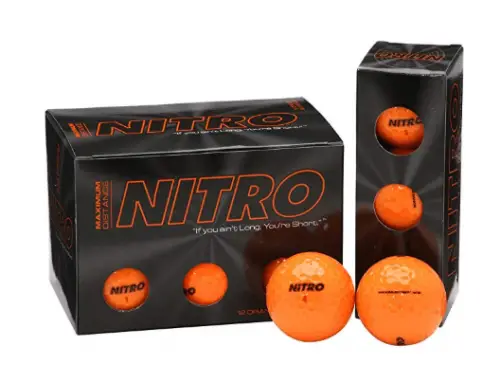 As the name of this Nitro model implies, it is all about distance and achieving a few more yardages. However, the design of the balls allows them to deliver top-notch performance in various aspects of the game, with the driver and the long irons, with the short irons and when putting. The company claims that this model meets the needs of all players, however, we would rather say that it is highly playable for most average golfers to high handicappers, but not the perfect choice for advanced ones. So, let's take a look at the performance features of this model.
Read more
Design
The titanium core in this two-piece model is of a higher power which provides sufficient transfer of energy from the club head onto the ball with explosive power. The cover, which according to the manufacturer is indestructible and cut-proof, is made from lithium Surlyn and delivers a soft feel for better performance in the short game. When it comes to the surface, it features symmetrical dimple design that launches the ball high with much-reduced drag, producing long trajectories and maximized spin performance.
Performance
The two-piece construction makes this model a very forgiving one which is a dream come true for beginners, seniors, and high-handicappers. The energy releasing core delivers straight and long trajectories with a low spin and more roll with driver and long irons shots but also, you can expect more spin and much softer feel when using them in the short game. Their soft feel and the ability to control the golf distance ball can be fully seen on the putting green.
Cost and Value
If we talk about value for the money, then this model will be among the best ones as their price is budget-friendly and won't affect your finances much, even if you are a beginner who is frequently losing his/her balls. The quality design and the durability they boast with makes them one of the most frequently bought models on the market, especially by recreation players.

Subscribe to our Newsletter