10 Best Distance Golf Balls Reviewed
In a
Hurry? Editors choice: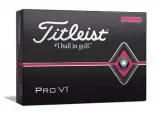 Test Winner: Titleist Pro V1

What is the paramount in the game of golf? You'll say to put the ball into the hole in as few as possible shots (obviously), however, to get to the hole you'll need to get it
off the tee box
. And to do that, you need speed and distance. Well, distance is not easy to get. You need a powerful swing and masterful shot with no slice and low spin so that it launches straight where it was headed.
So, unless you are a pro, you are most likely struggling to get a few yardages more with every shot you take. And this is where these distance golf balls step in. Over the years, their design has been drastically changed, so if in the past there was practically one model (just a ball), now there are many varieties that contribute to mastering a specific aspect of the game.
Standout Picks
Criteria Used for Evaluation
Accuracy
This criterion comes as an answer to the question that we posed in the introduction and therefore regarded it as highly important. Even though the subject of our discussion today is distance, if you are not able to achieve accuracy, then far-reaching ball makes little importance. Some might think that each golfer has an individual responsibility and individual skill level that contribute accuracy, which is mainly true, however, the golf ball type that players use considerably influences the flight trajectory of the golf distance ball. If it is a model that is designed to be resilient and resist the air force and weather impacts, then it will be able to keep its position steady and land where it was supposed to, then we are talking about well-accurate model. So the score regarding this criterion next to each product displays the accuracy level of the models on the list.
Features
There are several features that mark the performance of these models and which differentiate them from the others. Some of them are made to deliver absolute playability and performance when it comes to all aspects of the game, others mainly focus on achieving more yardages while neglecting the other aspects of the game. But, as many players appreciate more all-around golf balls which can be as good in the long and in the short game, we gave those models higher score and valued them more. Such balls are generally speaking more advanced and appeal to advanced players more as they have complex construction of more than three pieces and are generally speaking more expensive too.
Materials
There are different types of materials used in the construction of these golf balls for distance, and their selection considerably changes the way they perform on the course. The two-piece ones are usually made from a rubber core and (mainly) ionomer cover. There is another material option for the cover which is much more expensive and frequently found in premium ones- cast urethane, so in case you are looking at a two-piece construction model, the chances are that it will be ionomer cover. Three-piece designs include a Surlyn mantle which adds versatility to the ball in its performance, while four-piece formulations feature an inner and outer core that is often made from rubber or a blend of several materials. All these materials mean almost nothing if the technology used to put them together is ineffective and fail to provide good performance. We are happy to say that all the products on the list are made to deliver enough distance and sufficient playability.
Versatility
Having a fruitful and relaxing game, even if you are in a training session means better overall productivity and increased confidence in your own abilities. We say this because it often happens players to feel demotivated and dissatisfied from their performance so that they even get on the verge of giving up. However, rarely do they realize that it might be the balls or the clubs they use which prevent them from lowering their scores. Therefore, it is significant for them to find the best ones that fit their handicap level, their skills, and their style. So, in line with this, we were careful to select models that will include extreme versatility taken from skill level perspective to type of the game point of view. The highest rating has those that feature maximum playability and effectiveness.
Value
Playing golf, simply said, can be a very expensive game, depending on what your attitude towards it is, your skill level and the overall engagement into it. Yet, compare it to the past elite-only status it had, it is much more affordable and you don't have to be a member of a local wealthy influential group to enjoy the game nowadays. Having said this, we can still see the discrepancy in prices of the golf gear, from the clubs to the balls. And yet, once again, the difference in the prices originates from the quality of the materials and the status of the manufacturer rather than the social phenomena and the implications that arise from them. Due to this, we included differently priced models in order to appeal to golfers with different financial abilities.
Subscribe to our Newsletter