10 Best Beginner Golf Balls
In a
Hurry? Editors choice: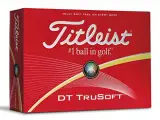 Test Winner: Titleist DT TruSoft Prior Generation

If you are new to this game, then probably you are hunting for all those must-haves, as many advanced golfers tend to instruct newbies on what is worth buying, but the more 'experts', the more confusion they create. We totally feel your dilemma, so we decided to jump in to clear things out.
As you progress into the game, you will get the clue, yet, golf balls for beginners are definitely part of the must-have
gear
, but once again, which ones are the best? You have heard all about best-performing, those 50-or-something bucks, but do you really need them? At the initial stage of the game, not that much, as you will lose most of them anyway. However, you will still need at least some help from your balls, particularly when it comes to achieving distance and low spin. Therefore, we have selected the best ones designed for beginners.
Standout Picks
Criteria Used for Evaluation
Ease of Use
"There's no such thing as a natural touch. Touch is something you create by hitting millions of golf balls."- Lee Trevino
The target group of this buying guide is the beginners, and for them, it is crucial to be able to show some progress in the way they play the game. This means, whatever piece of the equipment they use, it must be made to deliver more forgiveness than the regular counterpart, and this refers to golf balls too. This was also our main focus when narrowing down the products. In the ocean of various golf balls manufacturers and even more models, we had the forgiveness in mind when started to make the selection. In order to be forgiving, golf balls need to be soft and easy to hit so that they deliver more distance and less spin. And, as you could conclude from the article, all selected models emphasize soft feel and distance and all of them feature a high score in this criterion.
Features
This criterion is the one that distinguishes the most all the products in the list and which makes them differ one from another. When it comes to golf balls, there were several features that we took into account. As we mentioned above, forgiveness was the key component. This means each model needed to be designed with a soft and a low compression core with high energy spur in order to deliver maximum energy and energy transfer from the clubhead to the ball in order to see it fly long distance. Flying long distance means less spin and slices and that is achieved by the softcore and the mantle (if it is a three-piece ball) or the cover (if it is the two-piece ball). The cover is also important and practically when it comes to beginners golf balls, it is mainly made from ionomer and it is usually soft too. The dimple pattern and the high number of dimples (more than 300) increase the aerodynamics and reduce the drag which means more playability.
Effectiveness
This criterion is hard to measure and it usually requires personal feedback from the users. However, on one hand, being personal it often means including subjectiveness because what can work for one person might not work for another. And, to be honest, the ball is not going to fly on its own if it wasn't the golfer who is going to launch it. On the other hand, when you read the feedback and the comments of the players who have been using these balls, one comes to the realization that if the majority agrees that the ball is playable, highly-performing and effective, then it must be so. So, we scrutinized buyers' comments and the experts' opinions in order to be able to grade the effectiveness of each model and the score is displayed next to each product.
Value
This is a very important criterion because, as we have pointed out several times, beginner golfers tend to lose their balls very frequently. So, if you know that you are going to eventually lose the ball you are playing with, why should you invest in a very expensive one? Hence, we carefully selected those models that offer distance, playability, and ease of use, but at the same time, their price is not as expensive as the premium, high-end models. This selection wasn't that difficult to be made because most of the golf ball manufacturers are actually aware of this fact and they purposely price their offers intended to appeal to high handicappers as low as possible without decreasing the quality of the ball. To sum up, the list is comprised of models that feature low or fairly low price tags and their performance is in accordance with the needs of high handicappers.
Versatility
Even though many golf ball manufacturers tend to emphasize the distance as the key point of mastering when it comes to beginners' balls (which is true though), a good golf ball needs to have a certain level of versatility so that it doesn't only fly long and without a spin when it comes to the long game, but it needs to be playable in the short game too. This means when you are approaching the green, it needs to be made so that it delivers more spin, high launch, and instant stopping power. Or, when you roll it on the putting green, it should deliver a very soft feel, control and accuracy, and most importantly a great rolling capacity. Only when the ball features all these factors, we can say that the ball is versatile.
Top 10 Picks
1

. Titleist DT TruSoft Prior Generation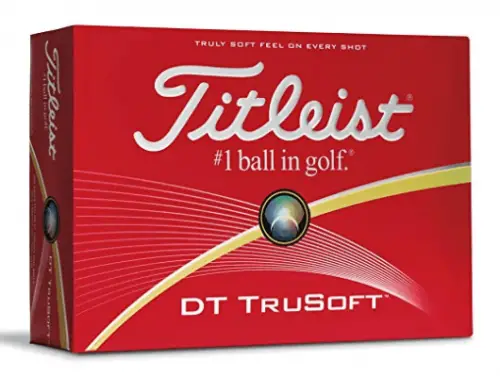 Who said that owing Titleist golf balls will cost you a fortune? This model, even though it is a prior generation model, seems to be made to attract golfers who have just started playing the game and are looking for a high-quality, name-brand product. They are performance-oriented and belong to the softest category that the company has produced. They are perfect for beginners because of two reasons. First, they are very soft and easy to hit and secondly they aren't as expensive as the majority of Titleist balls, so even if you do lose them, it won't be a great loss. Read below to find out how these golf balls for beginners are designed and what to expect from them.
Read more
Features
The DT TruSoft proprietary technology has been utilized in the construction of this two-piece model which has been engineered with, at that time, an innovative core and cover formulation for delivering low spin and an impressive distance. The high-speed low-compression core is designed to allow players to achieve long distance driver shots, while the cover is made from the purest and the softest ionomer which delivers unique soft feel. The aerodynamic consistent flights are guaranteed by the 376 dimples pattern in tetrahedral design.
Performance
This model encompasses the overall playability on the course and ensures golfers that they will have productive game wherever they are on the course. If you are soaring for distance, this model will deliver it to you, if you are approaching the greens, the control over the irons is impeccable and if you need added soft feel on the putting green, you will get it.
Cost and Value
Titleist is a company that has a very serious approach when it comes to a wide range of products they manufacture. Their precision manufacturing process and patented technology are the key factors in offering supreme quality products and regardless of the purpose and the type of the products, they all have one thing in common- reliable performance and durable design. Having said this, it comes as a surprise that golfers can actually purchase this model for an as affordable price as TruSoft has, which makes it an excellent value for the money.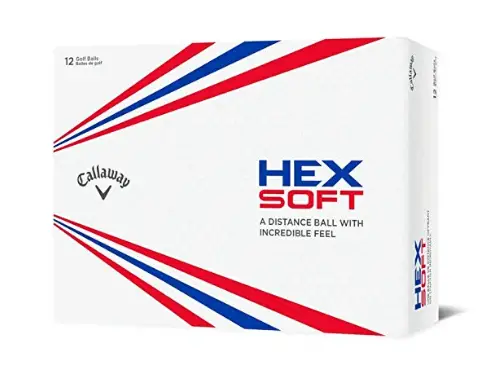 As a novice in the game, what you really need to make considerable progress is forgiveness from your clubs and forgiveness from the balls. And this is where Callaway Hex Soft fits in as it is among the most forgiving ones that Callaway has made. The forgiveness is delivered by the soft feel and the straight flight which comes from its design created to appeal to players who lack fast swing speed and control over the club.
Read more
Features
This golf ball for beginners features a two-piece construction, consisting of a super soft, low compression core which speeds up the ball and delivers an excellent feel in all the aspects of the game. It is made to reduce the spin as much as possible and to deliver more roll with the long shots. The cover is also very soft which is very useful in minimizing hooks and slices while maximizing the velocity.
Performance
What double-digit golfers would love about this Callaway model is the added distance and the forgiveness it delivers. Even though this is a mid-tier model which has been designed specifically to meet the needs of high-handicappers, it boasts perfection in its category and according to many players, they will help you achieve some more distance, especially if you are straight shooter, and which most probably you are, as novices in golf have only one target in mind: to keep the ball in the fairway.
Cost and Value
We'll get straight to the point, as for Callaway golf balls for beginners, these are very affordable balls and their price is lower compared to other Callaway models. Bear in mind that these are designed to boost speed and distance, which means they appeal to high handicappers who lack precision, so the chances of losing them are pretty much high.

3

. Taylor Made Distance Plus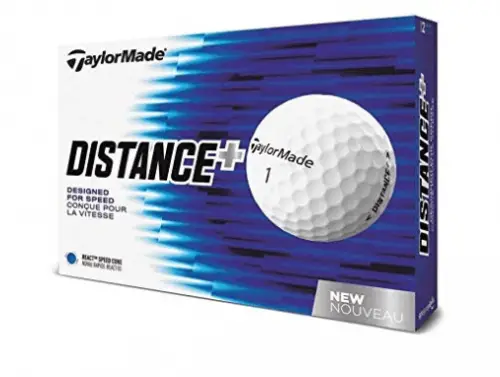 Taylor Made is one of the most renowned golf manufacturers that offer varieties of golf gear, from clubs to equipment, and their golf balls are very popular on the course. It seems impossible not to see someone playing with some of their models, which we have to say are plenty, designed to appeal to all possible skills. The model Distance Plus, as the name itself implies, is particularly designed to meet the needs of those players who need a booster to reach their peak performance when it comes to driver shots.
Read more
Features
According to many experts, this Taylor Made model can be described as essential and they are the most recommended balls for beginners. They feature the proprietary iothane cover which promotes more spin control and better accuracy. As distance is the main feature of this model, it comes thanks to its 60 compression rate and the 342-dimple design which increase the aerodynamics and reduce the drag.
Performance
Being among the leaders requires dedication, research, and development of new technologies which leads to creating patented products that boast sophistication and increased level of performance. And, even though this model is a mid-tier and does not feature the latest and the best technologies that Taylor Made utilizes in their latest and expensive golf balls for beginners, it has enough to boast extreme functionality and performance. That can be seen in the added distance players achieve and the reduced drag which makes them fly further and better.
Cost and Value
There are two main reasons why many experts recommend this Taylor Made golf balls to high handicappers (including the beginners too). The first one is the ability to fly further even if the swing speed of the player is not very strong and the second reason is the incredibly affordable price they are being sold at. So, having them on the course means enjoyment and satisfaction and no bad feelings even if they end up in the woods or in the water hazards.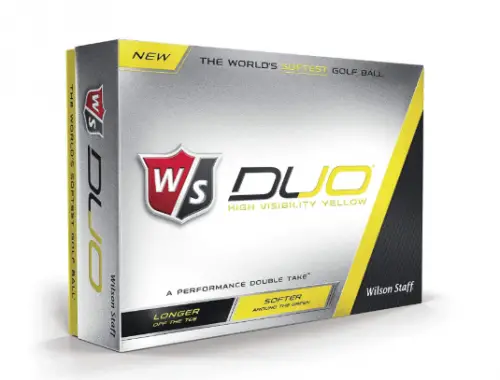 In case you didn't know, Wilson Staff has been producing low compression softballs since 1997 and this award-winning model is claimed to be the softest one that has been produced with groundbreaking compression of 29. Among the varieties of different Wilson Staff models, this ball is particularly appealing to high handicappers and players who have recently started to play the game. Read below to find out what this model boasts about.
Read more
Features
This model is actually the pioneer in soft and low compression production and throughout the years it has been perfected and improved. It features a high COR which increases its velocity that leads to long distance shots when you play with your driver or long irons. The two-piece construction comprises of all new, rich rubber core and ionomer cover with a seamless 302-dimple pattern. This type of design makes it soft and easy to hit with high-lifting power and low spin shots.
Performance
The ultimate velocity is what makes Wilson Staff Duo stand out as a high-performance model. The core is responsible for the powerful shots, while its low spinning construction delivers straighter ball flights. Golfers can expect consistency in their shots, longer trajectory, and good playability when approaching the green. There are two available color options when it comes to this model, high visibility yellow and optic orange.
Cost and Value
What makes Wilson quite recognizable among the players besides the quality products, is the reasonable prices they offer and the excellent value for the money. Having said this, this model is no different in terms of quality and price, so even if you are an absolute beginner, it is worth investing in this model as you will get the softest possible feel on the market.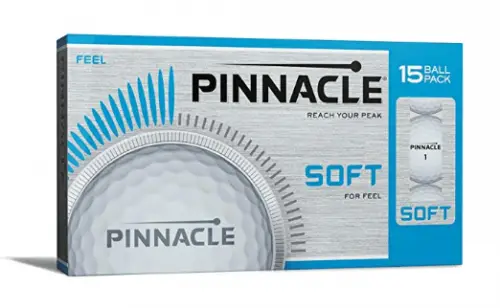 Pinnacle has been around for years and there's no doubt that they have been trusted by many golfers of different skill levels thanks to their reliable quality and good performance regardless of the model. This particular model is designed to promote speed and distance by minimizing spin so that golfers get much better performance. It is one of the most popular models that Pinnacle has made because it has a fairly affordable price, soft feel and is one of the best golf balls for beginners on the market.
Read more
Features
The core represents the driving force of the ball. It is low compression and features a proprietary design that is able to reduce the spin which in turn leads to speed and more speed means more distance. The cover is made from extra soft ionomer that makes the flight easier and which enables starters to launch the ball higher with added consistency. There are extra 332 dimples on the balls which reduce the drag which makes the ball more aerodynamic and capable of achieving further distance.
Performance
According to many players who have been using these golf balls for beginners, Pinnacle did a great job in implementing their latest technology in designing these balls as soft as they are without sacrificing speed and distance. The extra yardages you will get from the high-energy core are enough motivation to inspire you to visit the course more frequently. Even though many people say that beginners will hardly make any distinction among golf balls, the performance that this model delivers does make a difference.
Cost and Value
Now, if you have just taken up golf, it is not going to be economically justifiable to invest your dollars in balls that are not going to be with you for a longer period of time as newbies are terrible at keeping them. So, it is wise to get yourself ones that aren't going to be a burden to your budget. Pinnacle Soft model is relatively inexpensive, not that cheap though, but enough to know that you are buying good value for the money.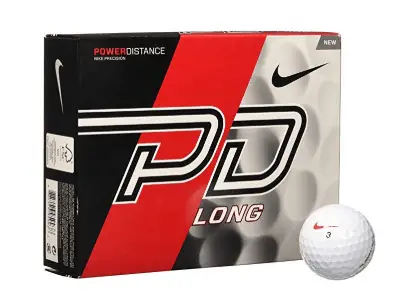 When you start playing the game and get hooked up to it, the very next thing you'd like to do is to get yourself equipped with the nicest of gear, especially if your budget is not short on spending on things you love doing. This is exactly where Nike PD9 fits, as this model is not inexpensive at all, but it does deliver maximum performance particularly when it comes to the long game. Plus, this model has been designed with the help and feedback from the most prominent names in golf, i.e., the ones that are sponsored by Nike. So, read below to find out what to expect from this ball.
Read more
Features
Even though this is a high-end model, the reason it is included in our buying guide lies in its long-distance performance and the excellent off the tee shots that the players are able to deliver. It features a high-velocity core which functions as the engine of this golf ball for beginners. The ionomer cover is soft enough to deliver that soft feel which is so important for players who have just started playing golf as it enables them to launch the ball high enough to get some more distance. The aerodynamics of the ball comes from the 314-dimple design which is not the highest numbered dimple pattern, but it is effective enough to reduce the drag.
Performance
We can't say that if you have this model you will have a spotless performance, but what we can say is that this ball has been designed to help you reach your goals in a much easier way. It is a type of the model which will enable you to have less spin and nice flying trajectory with your driver off the tee and from the fairway. It is also designed to deliver responsive feel off the irons and the effect is a penetrating flight with an added roll.
Cost and Value
Many experienced players claim that when you buy golf balls, you should always have a clear idea of why you are buying them and what you expect from them. If you look for ultimate performance and premium quality, and if you disregard the fact that they will eventually lose them, then these are an excellent option to consider. They are fairly expensive, but the quality and the performance are indisputable.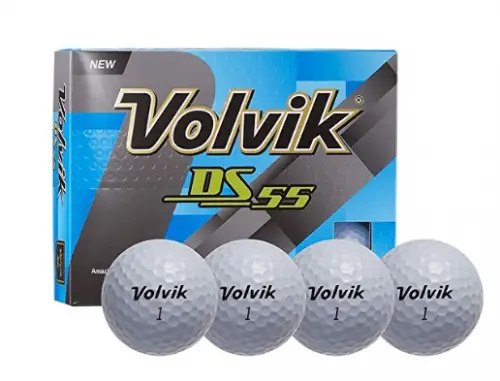 Distance performers, as many players call them, these Volvik balls are designed to enhance the low spin shot which in turn leads to getting further distance, regardless of the swing speed. Volvik claims that these are designed for players of all levels, however, they will most certainly meet the needs of the recreational golfers or those who have just started playing as they help to effectuate each shot into a far-reaching trajectory.
Read more
Features
Volvik has been an established name in the golf ball manufacturing industry and they have been designing a wide range of golf ball products for all types of skill levels. The elastic power core makes them very powerful and accurate at the same type. The high COR and the 55-compression help it to reduce the spin thanks to the dual spin core, but at the same time, it is also effective to create sufficient spin when it comes to greenside spin.
Performance
Whether you need a bit of help to increase the length of the ball flight with as low spin as possible, or you need some assistance with your wedges to create a high launch with extra spin and instant stopping power, Volvik DS55 are the best golf balls for beginners that will help you achieve your goal. The dual soft core produces a very soft and pleasant feel which increases accuracy and control. This soft feel is exceptionally emphasized when using the putter as it allows you to have maximum control over the ball.
Cost and Value
From the wide range of offers that come from Volvik, this beginner's golf ball is exceptionally affordable and it features the lowest price tag. Volvik designers had the high handicappers in mind when they were designing them, so they also took care not to pose a financial burden to players who tend to lose their golf balls, so they make good value for the money.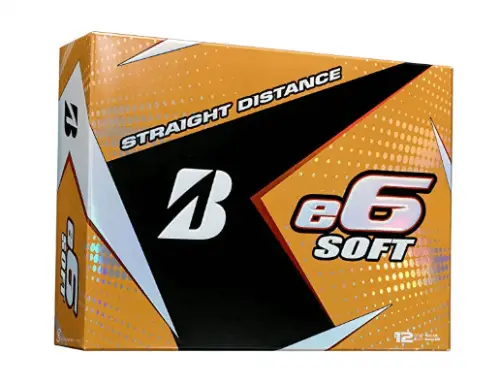 Bridgestone is a company which has been producing golf balls for almost 90 years now and whose experience in this area is unsurpassed. The company is part of the world's largest tire manufacturer and has engaged over 900 rubber polymer science engineers to design and manufacture the highest-performing products of this kind. This model is just a fraction of what Bridgestone has on display, but we have selected it because it matches the target group of our buying guide.
Read more
Features
You have probably realized that those balls that feature soft feel with low compression core, designed to boost distance are the ones that meet the needs of high handicappers and recreational golfers, and, of course, they are best beginner's golf balls. So, E6 is a soft model which produces straight distance. It is a three-piece construction which delivers feel for more birdies and improved accuracy. E6 is made with Delta dimple which allows smoother resistance to the air around the ball in order to resist pop-ups and to maximize straight distance.
Performance
Playing with these golf balls for beginners means getting more sensation, precision, and accuracy. This accuracy comes from the lower side spin that boosts the control by delivering the softest feel when you hit it. But it is not just the long game that it is good at, it performs very well in the short game too. The advanced mantle design and the cover work in unity to provide reliable greenside performance.
Cost and Value
This model is a bit advanced and fits well not only high but also mid handicappers and recreational golfers. So, if you are looking for straighter shots, less spin and softer landing on the green, this is the model you should seriously consider. Money-wise, E6 is not the cheapest model that you will find, however, if we talk about their value, it is totally worth it.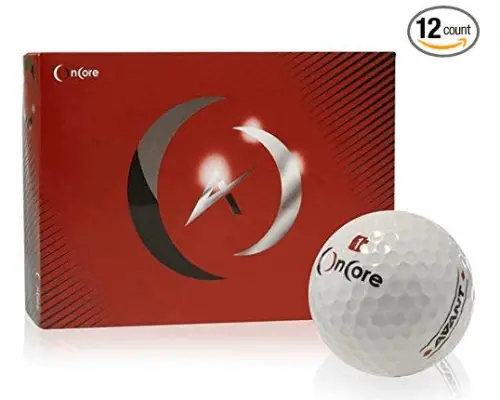 Here we've got one more model that is designed to deliver additional help to those players who have slower swing speed such as beginners, seniors, ladies, or juniors. The help, as you might have guessed, is mainly focused on delivering distance and better, soft feel. Beginner golfers will benefit from these attributes and will enjoy seeing the ball airborne, flying much longer as they have hoped for.
Read more
Features
In order to enable players to have a more successful swing off the tee or from the fairway, the designers from Oncore have utilized their proprietary SoftCell technology in order to make the core with an ultra-low 65-compression rate, which makes it incredibly soft but very powerful at the same time. When it comes to the cover, it is made from equally soft surlyn blend to add a bit more spin when it comes to the approaching the green shots. Oncore Avant conforms with USGA regulations of the game.
Performance
This two-piece Oncore model seems to be among the most forgiving ones that you can find on the market nowadays. It does what the description says, which means, players can achieve longer distance and lower spin in the long game, but the soft cover will allow for extra spin when using the wedges. It has a very soft feel, which is particularly enhanced when players use their putter. With this model, you are less likely to experience side movements such as hook and roll and it delivers straight roll on the green.
Cost and Value
It is not the performance itself that makes Oncore Avant golf balls for beginners as popular as it is, but it is the combination of the low price point and the design that appeal to golfers. As it is budget-friendly it is especially attractive to beginners because, as we have already talked about this, it won't cause much hassle if they lose the balls.

10

. Nitro Ultimate Distance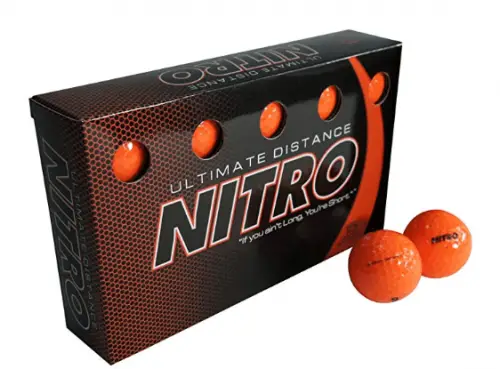 There are a certain number of manufacturers that design their balls to meet the needs of most players, from beginners to advanced levels and which boast extreme versatility and playability. Nitro has been on the market for a while and the extreme performance and durability of their golf balls haven't been unnoticed. We invite you to read below to find out what else Nitro has in store.
Read more
Features
As you can realize from the name, it is made from a titanium core which has an incredible power that enables energy transfer from the face to the ball with an explosive distance. The symmetrical dimple design delivers increased lift and reduced drag and delivers improved feel when using the wedges and the putter. The company claims that the cover is virtually indestructible, cut-proof and made from lithium surlyn. This makes them resistant to cuts, scuff marks, and abrasions. This model is approved by USGA and it fully conforms to all their rules and regulations, appealing to players of all levels.
Performance
The company advertises this model as designed for all handicappers, however, many golfers claim that they are the most suitable for mid and high handicappers. As a matter of fact, designed as they are, they do deliver much greater forgiveness and enhanced playability. The go straight, with low spin and more roll when it comes to the long game, but they also seem to deliver high spin and soft feel when used for short game shots.
Cost and Value
These balls might not be of tour quality and design, however, they do a great job for players who are still struggling to effectuate their shots into a long and further trajectory. Their affordable price won't make you feel sorry when you lose a few of them in the bushes, but if you do manage to keep them, then they boast extreme durability. All in all, they are a great value for the money.

Subscribe to our Newsletter