Best Golf Ball Washers
last updated
Mar 26, 2019
Everybody knows that it is crucial to have your golf balls clean. Not only does it fly or putt better, but it will go straighter and will follow the trajectory you wanted to achieve. Mud is the greatest enemy to your success since it makes it weight more and that makes imbalanced aerodynamics of the ball, so it wouldn't behave as you expected. That's the reason why many golf courses have washers placed to certain spots so that golfers could wash their balls from mud and dirt. However, they are not as frequent as you'd need them to be and plus they might be off the course and that makes them impractical. Therefore, it is much more convenient to get yourself a portable golf ball washer that will be with you all the time and use it whenever you need it. Let's see which are considered the best!
In a Hurry? The test winner after 29 hrs of research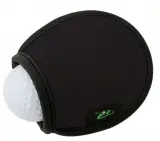 ProActive Sports Green Go
Why is it better?
Made of microfiber lining in the inside and waterproof material from the outside
Lightweight and practical
A pocket-size pouch that fits one ball
In a
Hurry? Editors choice: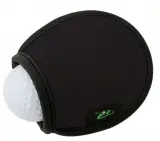 Test Winner: ProActive Sports Green Go

34
Researched Sources
132
Reviews Considered
29
Hours Researching
23
Products Evaluated
Effectiveness
Use
Features
Materials
Durability
By Default
In Depth Review Top 10
ProActive Sports Green Go
BallBrite
Club Clean Club and Ball Washer
KelMAl DCA101
The Twister
Duckbill Waterproof Pocket Ball Cleaner
GDP
Golf Car Galaxy
KinHwa Microfiber Towels
Frogger Golf Amphibian
Table of contents
Criteria Used for Evaluation
Frequently Asked Questions
Sources
Top 10 Picks
1

. ProActive Sports Green Go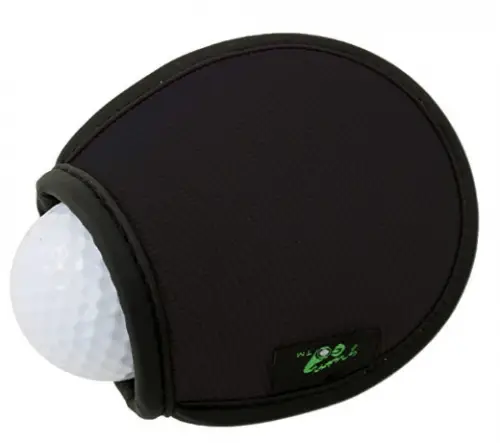 Made of microfiber lining in the inside and waterproof material from the outside
Lightweight and practical
A pocket-size pouch that fits one ball
Not appropriate for cleaning irons
There are many different kinds of golf ball washers, big or small, metal or plastic and maybe the most convenient ones- fabric, towel-like cleaners. If you use towels, you might forget them on the course. They will probably do the job but will make a total mess around and the dirt might get transferred to the golf bag or the other items. So Green Go was designed to put an end of the constant hassle and added mess by neatly cleaning the ball. Let's see how it does it!
Read more
Design
This one looks like a purse, just it is smaller and nicer. It is actually a pouch that comes in five colors and has space for one ball only. The reason? You can't put a towel in your pocket but you definitely can keep your pouch inside. It is the most convenient, comfortable and easy to use pouch ever. The inside is made of a microfiber liner and the outer material is soft and waterproof.
How does it work?
Well, it's a piece of cake, really! What you need to do beforehand is to take out the microfiber liner, make it wet, and put it inside the pouch. Since the outer material is waterproof it is not going to make your pants wet, don't worry about that. When your ball gets dirty just place it inside, rub it until it gets cleaned, and that's it, your ball is ready for action. The pouch stays wet inside but is kept dry outside for the whole round without feeling any moisture at all. After you get home you can wash it in a machine.
Cost and Value
This sport requires an amazing amount of equipment. From the most necessary to the most trivial ones, every piece of detail might find its use here and there. However, when it comes to cleaners, they will find their use every time you hit the course. Convenient, lightweight, practical and what's more, no more mess around for an equally convenient and affordable price. Sounds good, doesn't it?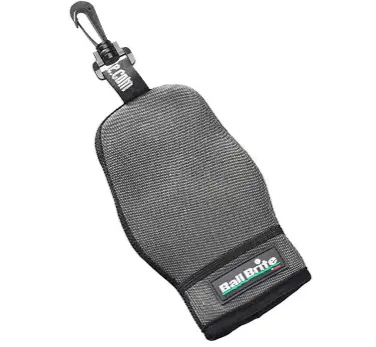 Balls and irons cleaner
Made of unique materials that lock the moisture in the inside and doesn't make the outside wet
It comes with carabineer clip to hang it on your bag or belt
Solid stitching opening makes it a bit difficult to get the balls in and out easily
This cleaner resembles the first one on our list, however as you can see it is much bigger and the manufacturer also advertises it as irons cleaner too. It can fit two balls and does a very good job of cleaning and polishing the balls. As it has a carabineer clip, it can be attached to the bag or to your belt for more convenience. How is this product different from the first one? Let's take a look!
Read more
Design
It does look like a pouch, but a larger one and the design is much more different regarding the shape and materials. It has a patented design and the unique combination of materials that make it far more durable compared to some others. Featuring neoprene material which is specially treated to yield anti-microbial protection and moisture locking technology, will ensure that the inside stays wet and sanitary clean and the outside dry. This means that you can keep it in your pocket without being worried that you might get wet.
How does it work?
The best part about these pouch cleaners is the simplicity and the ease of making the ball clean. You can pour some water in the inside to make it wet and then pour out the excess of water, and that would be all. Some buyer suggests flipping the inside out, make it wet, ring the excess water away and you are ready to go. Every time you feel the ball needs cleaning just put it inside, rub it over and your ball will be polished and clean. Since it is of larger size, it can also be used for polishing your irons too.
Cost and Value
How much are you willing to pay for a pouch cleaner that will always do its job and make your balls and irons clean? Plus, this it is a pouch that is made of such durable material that is bound to last for many years. Some buyers said that they have had it for many years and they show no signs of wear and tear. That said, it means that the price it has is economically justified in long run and it surely is a good value for the money.
3

. Club Clean Club and Ball Washer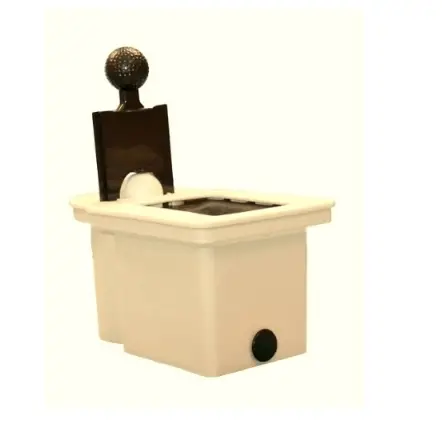 Effective irons and balls cleaning
It can be mounted on any cart
Easy to use and re-use
Some buyer reported mounting issues
If you are a person that highly respects cleanliness and appreciates impeccable game unobstructed by dirt on the ball or grooves, then this mountable cart set will be a perfect solution to keep your equipment neat and dirt-free. It has been voted to be America's number one cleaner and it is very efficient in its intended use. This one widely differs from the previous two models on our list and it has an absolutely different concept and design. Let's take a look at what makes this cleaner as good as they claim to be.
Read more
Design
When you see it for the first time it gives you an impression of an early last century American box for storing things and if you didn't know what it is, you wouldn't guess, especially if you are a golf novice. Anyway, this design makes it easily recognizable and those who have tried it claim that there's nothing better. It is a portable cleaner that comes with universal mounting brackets which can be mounted on every golf cart. The material it is made of is heavy duty and very durable, so once you mount it on your cart you'll know that it is there to stay. There are several color choices that you can choose from to fit your cart and style.
How does it work?
It is designed with a chamber for the clubs and a part for cleaning the balls and it does a pretty decent job in cleaning your equipment on the course and improving your game as a result. The chamber has a patented design with bristles which are able to get to the grooves and make them polished. The same refers to the bristles for the part where you place your balls. The chamber has a T-drain plug which can be easily removed and replaced.
Cost and Value
This patented cleaner is designed to bring improvement in your game provided you get rid of all the dirt and mud that your irons and balls pick up on the go. Since it can be placed on the cart, it will be with you constantly to provide you with its service. It does its job very well, it is durable and reasonably priced too. According to many golfers, it is worth investing in this cleaner.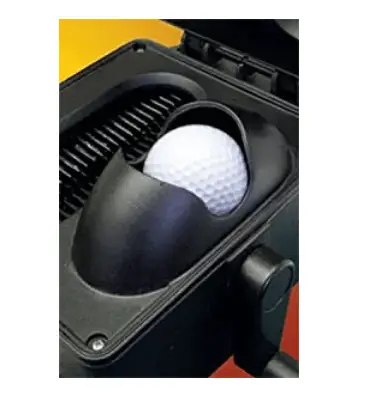 It is easy to carry around washer
Can be attached to a cart without needing additional tools
It can clean four balls at the same time.
The bristles are made of rubber which might not be as effective as expected when it comes to a large amount of dirt
As you can see from the photo, this cleaner features a design that is much more different than many other cleaners that are going to be presented here and it has some attributes that make it unique in its kind. It is portable and lightweight and it can, but it doesn't have to be attached to a cart and you don't need any additional tools to assemble it if you decide to use it on a cart. It is constructed to provide cleaning for clubs and four golf balls at a time. So, let's find out more about this product.
Read more
Design
It is an American product and looks very modern and compact. It looks like a black box with a cover and a handle on the side. In the inside, there is a compartment with bristles made to fit your clubs and on the other side, there is a storage and cleaner for the golf balls. The handle is positioned there and helps you activate the cleaning mechanism.
How does it work?
The chamber with the bristles is designed to provide detailed cleaning to your clubheads by scribing the grooves and removing the dirt. The ball washer has the capacity for four golf balls at a time and the handle on the side helps you rotate the balls through the bristles and make them polished. For maximized effect, the company offers a cleaning solution that has the capacity to neutralize odors and add a fresh cut grass scent to the balls and the clubs. If you decide to make use of the solution you'll need to put a few drops in the water and the water will stay clean for about a week.
Cost and Value
This club and ball cleaner offer the most optimal way to clean your equipment. It is very easy to be carried around due to its practical design and lightweight. It has the greatest cleaning capacity because it can clean four balls at a time. If you consider just the price itself than this cleaner might look expensive, but bearing in mind all the attributes that it has, we qualified it as a reasonably priced cleaner.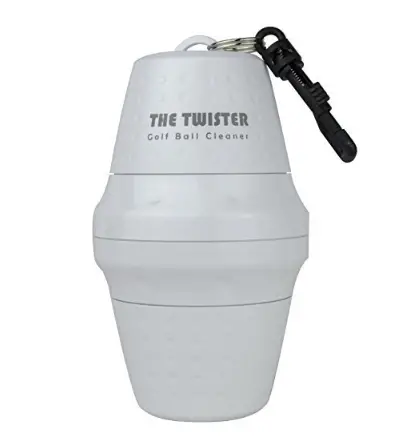 Unique and patented design
Very practical and easy solution to clean your ball
Can be hanged on the bag
Comes with a hefty price tag
This model almost instantly attracted our attention with its unique cup-like design. It is much more different than everything we have reviewed so far and we have to admit it features remarkably different design compared to some well-known and recognizable models. What we first did when we saw it was to check how it worked since we were very curious to see if it really does the cleaning well. Below you can find the specifics of this cleaner.
Read more
Design
It looks like a closed thermos insulating cup to keep your coffee warm, wouldn't you agree? However, the writing on the upper part tells you exactly what it is- a golf ball cleaner. It has a clip and a hook on the top to be conveniently carried around on your bag. It is made of durable plastic and comes only in white color.
How does it work?
That is probably the question that everybody asks after seeing this model for the first time, as we did. Well, the thing is that it features a patented design of bristles which are positioned in a way that when you twist the cup, thus the name Twister, it will encompass the ball and clean it completely. Before you do the twisting you need to add some water too!
Cost and Value
As attractive and cool as it looks, it is also very efficient in the cleaning process it provides. No doubt you'll have a super cool cup that cleans the ball by just twisting it. But cool and innovative usually comes with a price, and that can be said for this twister too.
6

. Duckbill Waterproof Pocket Ball Cleaner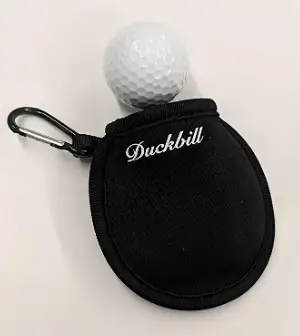 Practical and efficient
Made of microfiber and waterproof materials
Hanging clip included
Some buyers have reported leaking
From big to small, various cleaners fit various golfers needs and requirements. Sometimes what a golfer needs is a ball cleaner that is at hand's reach to just quickly do the job. And it is even better if you can attach it to your bag or belt for better convenience. That is how this cleaner can be shortly described. Let's take a look at what other attributes it has.
Read more
Design
It features a pouch-like round shape which has enough space for one golf ball only. There is a carabineer clip on the side to attach it wherever you think it is convenient. The inside is made of microfiber that is a very efficient material when it comes to cleaning as we all know. The outer material is waterproof and doesn't allow the moisture to go to the surface. Contrary to the other similar models on our list, this one comes only in black color.
How does it work?
To answer the question straight away, it is extremely easy to use it. Before you decide to hit the course all you need to do is to make the inside lining wet, not soaking wet of course, more damp than wet we would say. When you need to clean the ball just place it inside it, rub it for a while and the dirty ball will come out clean.
Cost and Value
There are many satisfied buyers who claim that this pocket-sized pouch is as effective as the manufacturer claims to be. The price though is a bit higher compared to the other similar model on our list, but this one comes with a clip which is a very practical solution to keep it everywhere with you instead only in your pocket.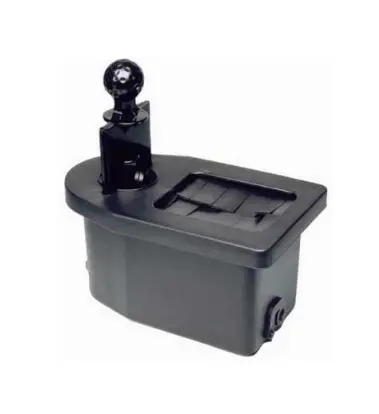 It is easy to carry around
Can be attached to a cart without needing additional tools
It can clean four balls at the same time.
The bristles are made of rubber which has a lower effect on a large amount of dirt
This one inevitably reminds us of the third model on our list. The design is not identical though, just that at first look it shows a striking similarity. It is a cleaner that has a chamber for cleaning the irons and a part that is designed for the balls. It can be mounted to almost any cart type and will provide you with the desired effect of clean balls and irons.
Read more
Design
This model comes in only black color and as we mentioned in the introduction it fits almost all cart types. It is made of very durable plastic and with the package, you get hardware to help you install it flawlessly. There are spacers for posts too, but you need to make the measurements before you make the purchase so that you know they will be suitable.
How does it work?
There are brushes that are placed in the chamber which provide the cleaning. The chamber is slightly bigger compared to some similar models, so you'll need to scrub a bit more. The advantage of the bigger chamber and the looser brushes is that it is suitable for larger club heads, which it wouldn't be possible with some other models. The outcome you get is clean balls and club heads.
Cost and Value
It is never too much to invest in a cleaner that will yield the expected outcome in any possible way and plus to provide additional cleaning for other club heads besides the irons as it is often the case with some other washers. The price fits the average price range for products of this type.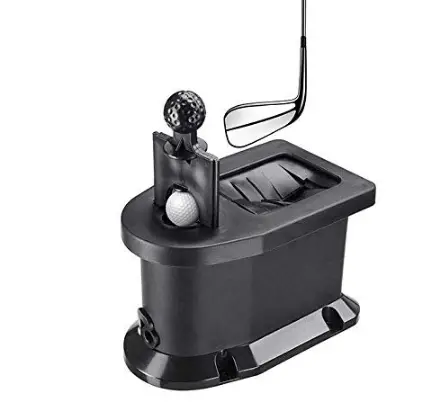 Well-constructed and sturdy design
Appropriate for cleaning balls and club heads
It can be mounted to most of the golf carts
It is just a cart cleaner, so you can't use it otherwise
We are presenting you one more cart adjustable cleaner that is intended to keep your club heads and your balls clean. It comes with brackets and tools to fit it on your cart and generally it fits almost all cart types. It looks similar to some of the cart cleaners that we have described so far, the only difference is the density of the bristles. It is among the most widely used cart cleaners, so let's explore its design and function.
Read more
Design
It features the same box-like design which has a chamber for cleaning your club heads and there's another opening for the ball. The inside of the chamber is filled with densely positioned bristles that are able to penetrate into the grooves of the clubs and clean them flawlessly. The part that is intended for cleaning the golf balls has another set of bristles which are smaller in size, but very effective. In order to remove the dirty water, there is a T-drain plug that is easily removed to leak the water out and replace it with clean water.
How does it work?
As we have previously described these cart mountable models, they are very easy to use once they have been successfully installed on the cart. What you need to do is to just swipe the clubhead inside the opening and scrub against the bristles as long as the dirt is removed. Similarly, the golf ball is positioned in the part designed for ball cleaning and by moving it up and down the bristles clean the ball.
Cost and Value
This is a cart washer that fits almost any model of carts. It is very easy to install provided you follow the directions stated in the guide. It is designed to clean your irons and wedges, i.e. the clubs that mainly feature grooves and balls, very effectively. The price that this gadget has is within the average price tags that similar products have.
9

. KinHwa Microfiber Towels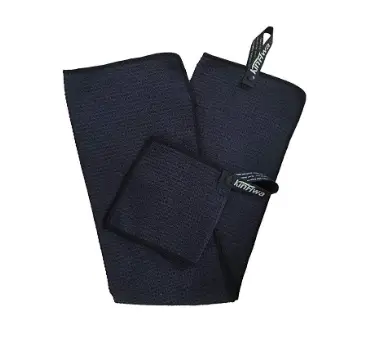 Set of a large towel and a golf ball towel
High-quality microfiber material with anti-microbial properties
Practical and convenient
The material isn't waterproof so you can't keep it in your pocket once it gets wet
Even though we said that towels are mainly unpractical and golfers tend to forget them on the course, we decided to introduce you another variety of towels that are designed for those golfers who are most inclined to use these pieces of a garment as the only option for keeping their gear clean. You might be asking why we have included this particular product on our list and the reason is very simple. It is not just a towel, but a set of two differently-sized towels, one of them designed specially as a golf ball cleaner, so we thought they deserve the chance to be included in the top ten.
Read more
Design
There are two towels of different size in the set. The larger one can be used as a multi-purpose towel for cleaning clubs to cleaning your sweat, whereas the other one is smaller, pocket-size and is designed for cleaning golf balls. Both of them are made of high-quality, super absorbent microfiber which dries fast, and is known to have anti-microbial properties that help reduce the mildew odor. Both have a buttoned strap which allows you to hang them anywhere you find convenient. The larger towel can be easily folded and secured with a strap button.
How does it work?
There's no specific mechanism when it comes to using these towels. The best way to provide efficient cleaning is to make them a bit damp and they clean your gear. They can be used for removing any kind of dirt including mud. They are machine washable and easy to dry.

Cost and Value
Sometimes good things can be purchased by a little sum of money and that's exactly how we can best describe these towels money-wise. You don't have to pay a fortune to always have a high-quality towel capable of cleaning even the dirtiest golf ball. So, we gladly recommend this product as reasonably priced and affordable.
10

. Frogger Golf Amphibian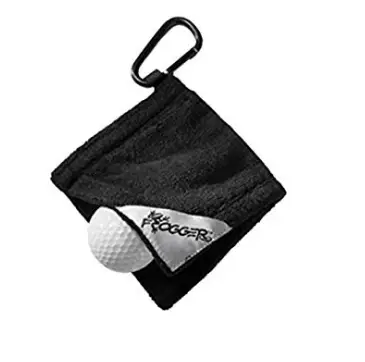 Made of two different materials divided by a waterproof membrane
Provides impeccable cleaning
You can hang it on a bag or a belt
Some buyers commented that the interior dries up much quicker than they expected
We are closing our list with a product that has been rewarded "Best New Product" at the PGA Merchandise Show and which proudly boast being two towels into one. How is that possible? The thing is that designers combined two different materials to make the inside and the outside of the towel exhibit completely different properties which makes this towel unique. Let's read further to find about its design and the way it functions.
Read more
Design
The designers made sure to make it a recognizable piece of garment on the golf course by placing the logo and the inscription of the brand on one-third of the towel. Another thing that they made sure is to provide double function, the inside to act as a cleaner and the outside as a dryer of the ball. Made of 100% polyester and 100% cotton with a waterproof membrane in between, it guarantees optimized function and emphasized effect.
How does it work?
All you need to do is make the inner towel damp, and in the similar principle like some other models on this list, the inside will provide the cleaning function whereas the outer towel, which is made of cotton, will keep the ball polished and dry. Between the inner fabric and the outer fabric, there is a waterproof membrane that prevents the exchange of fluids. This pocket-size towel has a clip which can be used to attach it to a bag or a belt.
Cost and Value
To be able to classify a product as cheap, expensive or medium priced one needs to determine several aspects of that product, such as the efficiency of the intended function, the material used for its production and how it is produced. Of course, there are many more things that are usually taken into consideration, however, roughly speaking these are the crucial ones. So, what we can deduce for this towel if we take those criteria into account is that it is effective in making the balls clean, it is produced by high-quality materials designed in a unique way. These triple checks make the towel a good value for the money.
Criteria Used for Evaluation


Effectiveness
How can we define effectiveness? When you search for a proper definition you get to the point that it is defined as the degree to which a product is successful in providing the desired outcome. And the reason we placed this criterion to be the first is to indicate the overall performance of these washers and the effect they produce. The numbers we have provided are based on the quality of the products plus the users' reviews and the effect they produce when using them. When we talk about golf ball cleaners, the expected result would be clean balls in less time and less effort.


Use
What we meant by this criteria is the ease of use anywhere on the course without needing additional preconditions to make them fully utilized. There are different cleaners as you could see, some are small and can be well kept in a pocket, others can be hanged on the belt or the bag, some are mounted on carts, and we even included a prime model which is mainly used by clubs and can be seen on some golf courses. Regardless of their size and their place of storage, they all perform their intended function very well and that's the reason why they have been chosen for our list as the best.


Features
Features usually refer to certain attributes that mark products' performance and design. These washers exhibit different features because they have a different construction, but what makes them fit the same group is their intended use-to make golf balls clean. Some of the cleaners include a chamber for cleaning the irons or even clubheads, others feature only the ball cleaning option. Another thing is the way they are kept clean. The cart mountable cleaners have a plug which can be removed so that the dirty water leaks out and clean can be added. The others that are made of fabrics, they are machine washable and have the capacity to dry quickly.


Materials
It is interesting how versatile can these washers be in terms of materials and size. Let's discuss the fabrics first. Mostly they are made of microfiber lining in the inside and a waterproof material from the outside so that you don't feel any moister in case you stuff them in your pocket. There was a model that featured neoprene material which is known to be very durable and resistant to wear and tear.
The cart mountable cleaners are usually made of durable and strong plastic and they usually feature either metal or rubber bristles which are placed in the chamber and when you scrub the ball or the iron against them, the dirt or the mud is washed away.


Durability
When we talk about the durability of ball cleaners we usually have two things in mind. The first thing is whether the cleaner will last for a longer period of time without showing considerable signs of wearing and tearing, i.e., if we could count on that washer for several seasons. The other thing is the chance to use the cleaner during the round without causing any frustrations such us not having the capacity to retain the dirt, which can often happen with those made of fabrics during rainy seasons when there's too much mud. In both cases, the products included in the list proved to be durable and their owners gladly recommend them.
Frequently Asked Questions
q:

Do golfers really need washers since you can find washers near every flagged hole?

a:

Despite the fact that washers are part of the courses and clubs regularly maintain them and provide clean towels to wipe the balls dry after you have washed them, many golfers prefer to have their own washers for the sake of convenience. It is much easier to wipe your ball clean with your own washer instead of looking for one.
q:

Is it possible to make my pocket wet if I keep some of the cleaners inside?

a:

Manufacturers of the cleaners that instruct golfers to make the interior of the pouch wet claim that you can keep them in your pocket without making your pocket wet. However, there are comments from users who claim the opposite. The thing is, when you're making the interior wet, you shouldn't leave it soaking wet, but rather damp, so any excess water must be ringed away before you put it in your pocket. That will help you stay dry during the game.
q:

Can I use any solutions or hygiene products inside the chambers of cart cleaners?

a:

Definitely yes! As a matter of fact, some of the manufacturers that make these cleaners offer their own solutions for better convenience. Even if you decide to use your own selection of cleaning solution you won't make a mistake anyway.