10 Best Slicing Golf Balls
In a
Hurry? Editors choice: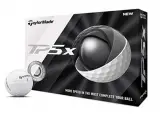 Test Winner: Taylor Made TP5x

It is a common misconception that hooks and slices are errors that can be seen at beginners and
high handicappers
only. Many mid-handicappers and even better players often see them in their ball flights which greatly affects their performance.
And, even though they are influenced by the personal performance of each golfer, mainly due to incorrect setup, body posture or too open face angle of the club, it is the clubs and the golf balls that can make them more emphasized or less.
In this buying guide, we review golf balls for a slice, i.e., those that are made to self-correct the flight trajectory and deliver straight, piercing flights without going away from the golfer and the target. We selected the best slicing golf balls for every golfer's skill, so no matter your handicap, you'll find something for everyone.
Standout Picks
Criteria Used for Evaluation
Features
The task of finding the best golf balls for slice seemed easy at the beginning until we realized that this type needs to integrate certain features for someone to claim that it is a good ball for slice reduction. The complexity lies within the fact that slice is a more or less personal error rather than something that is controlled by the equipment a player is using. This means that everything which is designed to aid golfers to deal with the slice is of secondary importance, the first and the utmost is the golfer's readiness to improve his/her setup, body posture, to time precisely the moment of attack and to know when to release the club.
On the other hand, there are some pieces of equipment which can decrease or increase the number of errors a golfer makes, the most common being slices and hooks. The balls that we have revised and selected above are not particularly made just to reduce the slice, they are made to increase the overall performance, with particular emphasis on enhancing the straight, piercing ball flight by lowering the chances of seeing the ball fly away from where it was supposed to land.
The features that make these balls the best for a slice are distance and speed enhancing, fast core with a soft cover, multi-piece layer that generates energy and quick release, ability to resist external air flow such wind and the soft feel that is generally achieved through the low compression core which is more suitable for high-handicap golfers.
Materials
Materials matter, so what kind you'll find in a ball will directly influence the way the ball behaves under the impact. When it comes to the cover of the balls, the choice is pretty much limited and what you can mostly come across is either soft urethane cover which is very durable and resistant to external impacts or the elastic ionomer which is of slightly lower quality compared to urethane but with higher flexibility. There are hybrid covers too, such as the Callaway's model that has been featured in this buying guide.
Since most of the golf balls for slice reduction that we have selected for this list are made from more than three pieces, it means that all of them feature a mid-layer or a mantle that is usually made from ionomer for greater ball flight and added elasticity. The core is usually made from rubber which differs in its density and type and as it is the engine of the ball, the companies pay special attention to the way it is constructed.
Effectiveness
The effectiveness is one of those criteria that can't be measured by any other way except by personal experience compared with the experience the other golfers have had regarding the same product. This is even more difficult when it comes to best golf balls for slice since as we have mentioned, it is not a straightforward product, but it is influenced by the individual abilities of the golfers and what was effective for one golfer might have been a total opposite for another.
Luckily, these models have a very high rating that and the reviewers agree to a great extent that they do perform the way manufacturer claims they will, which means they feature a high level of effectiveness. Slice is rarely discussed in their comments, but if the above-mentioned features have been fulfilled, the ball is considered to be very effective.
Value
Golf balls are priced differently and there are some very cheap models (none of them on this list though) to some very high-end, premium ones. So, what determines the wide gap between the low and the high end? It is mainly the manufacturing process including all the technologies that are utilized and the materials used. If you read carefully the way they are made and what they integrate, it is a jaw-dropping process and this is where the difference in their prices comes from. However, this doesn't mean that the most expensive ones are ultimately the best, there are many shades that give a particular quality of each type which determines their overall worth.
Versatility
This criterion determines the possibility for these models to be used by a wider category of golfers of different skill levels. It is almost impossible to find a total versatility, however, there are certain models that can be used by a larger group of golfers such as high to mid-handicappers or mid to low-handicappers and these are rated higher.
Find the Best Golf Ball for a Slice
Subscribe to our Newsletter