10 Best Slicing Golf Balls
In a
Hurry? Editors choice: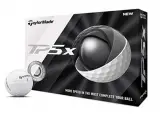 Test Winner: Taylor Made TP5x

It is a common misconception that hooks and slices are errors that can be seen at beginners and
high handicappers
only. Many mid-handicappers and even better players often see them in their ball flights which greatly affects their performance.
And, even though they are influenced by the personal performance of each golfer, mainly due to incorrect setup, body posture or too open face angle of the club, it is the clubs and the golf balls that can make them more emphasized or less.
In this buying guide, we review golf balls for a slice, i.e., those that are made to self-correct the flight trajectory and deliver straight, piercing flights without going away from the golfer and the target. We selected the best slicing golf balls for every golfer's skill, so no matter your handicap, you'll find something for everyone.
Standout Picks
Criteria Used for Evaluation
Features
The task of finding the best golf balls for slice seemed easy at the beginning until we realized that this type needs to integrate certain features for someone to claim that it is a good ball for slice reduction. The complexity lies within the fact that slice is a more or less personal error rather than something that is controlled by the equipment a player is using. This means that everything which is designed to aid golfers to deal with the slice is of secondary importance, the first and the utmost is the golfer's readiness to improve his/her setup, body posture, to time precisely the moment of attack and to know when to release the club.
On the other hand, there are some pieces of equipment which can decrease or increase the number of errors a golfer makes, the most common being slices and hooks. The balls that we have revised and selected above are not particularly made just to reduce the slice, they are made to increase the overall performance, with particular emphasis on enhancing the straight, piercing ball flight by lowering the chances of seeing the ball fly away from where it was supposed to land.
The features that make these balls the best for a slice are distance and speed enhancing, fast core with a soft cover, multi-piece layer that generates energy and quick release, ability to resist external air flow such wind and the soft feel that is generally achieved through the low compression core which is more suitable for high-handicap golfers.
Materials
Materials matter, so what kind you'll find in a ball will directly influence the way the ball behaves under the impact. When it comes to the cover of the balls, the choice is pretty much limited and what you can mostly come across is either soft urethane cover which is very durable and resistant to external impacts or the elastic ionomer which is of slightly lower quality compared to urethane but with higher flexibility. There are hybrid covers too, such as the Callaway's model that has been featured in this buying guide.
Since most of the golf balls for slice reduction that we have selected for this list are made from more than three pieces, it means that all of them feature a mid-layer or a mantle that is usually made from ionomer for greater ball flight and added elasticity. The core is usually made from rubber which differs in its density and type and as it is the engine of the ball, the companies pay special attention to the way it is constructed.
Effectiveness
The effectiveness is one of those criteria that can't be measured by any other way except by personal experience compared with the experience the other golfers have had regarding the same product. This is even more difficult when it comes to best golf balls for slice since as we have mentioned, it is not a straightforward product, but it is influenced by the individual abilities of the golfers and what was effective for one golfer might have been a total opposite for another.
Luckily, these models have a very high rating that and the reviewers agree to a great extent that they do perform the way manufacturer claims they will, which means they feature a high level of effectiveness. Slice is rarely discussed in their comments, but if the above-mentioned features have been fulfilled, the ball is considered to be very effective.
Value
Golf balls are priced differently and there are some very cheap models (none of them on this list though) to some very high-end, premium ones. So, what determines the wide gap between the low and the high end? It is mainly the manufacturing process including all the technologies that are utilized and the materials used. If you read carefully the way they are made and what they integrate, it is a jaw-dropping process and this is where the difference in their prices comes from. However, this doesn't mean that the most expensive ones are ultimately the best, there are many shades that give a particular quality of each type which determines their overall worth.
Versatility
This criterion determines the possibility for these models to be used by a wider category of golfers of different skill levels. It is almost impossible to find a total versatility, however, there are certain models that can be used by a larger group of golfers such as high to mid-handicappers or mid to low-handicappers and these are rated higher.
Find the Best Golf Ball for a Slice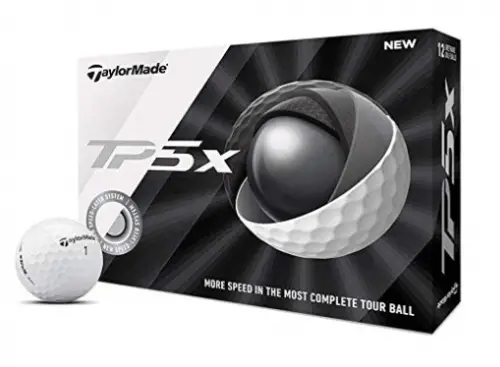 This slicing golf ball is particularly designed for more advanced players because, according to TaylorMade, it is the most complete tour ball that the company has produced. No wonder though, since technology-wise, it takes a person to be a scientist to understand the complexity of the design and how it works. It is a three-layer core design in a five-layer construction and the performance it has is more than impressive. I'm sure we've got your attention, so read below to find out more.
Read more
Design Features
Even though the technology used in manufacturing this TaylorMade model is rather complicated, we'll try to simplify it to get to the point. The core has three layers which function as the engine of this golf ball for slice but without affecting the spin performance. There are two additional layers called Dual-Spin Cover made from durable cast urethane. The innovation is seen in the new Speed-Layer System which comprises four stiff layers that produce more speed. This model features the so-called HFM material which functions like a tightly wound spring that generates energy and then rebounds it quickly so that more speed is released.
Performance
So, what do these technologies do? Simply said, they increase speed to the highest possible level, and if you are an advanced golfer and who knows how to swing the ball, the slice will be driven to a minimum. However, the speed and the distance is not the only feature that this model boasts. It is an all-around performance golf ball for slice that delivers more control, especially during windy days, and much more spin with your approaching shots.
Cost and Value
Better players always seek more, from themselves, from their clubs and from their balls. The secret of being successful lies in putting some more effort and looking for more performance from the gear. TaylorMade made this slicing golf ball as an answer to the demand for more. It took them five years of development to get it perfected and to attract many tour players such as Rory McIlroy, Dustin Johnson, Jason Day, and many more. It will cost you a little fortune, but you'll join the best and get the best.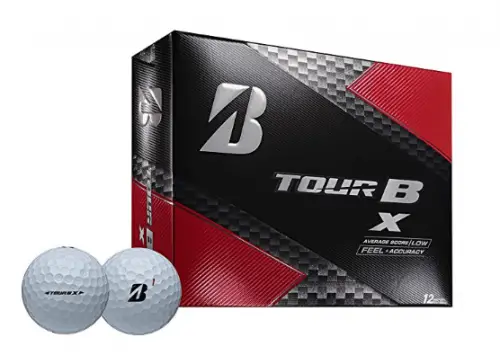 Slice is a tricky thing. It is one wrong angle, wrong setup or wrong ball, and the side spin will take its toll. And the issue with the slice is not limited to high handicappers only. It lingers as a creepy spirit over anyone's performance once you get the wrong move. Well, to err is human, but to get yourself equipped with the best gear is responsible and professional. Talking about professional, we've got Bridgestone Tour B X, as one of those models of golf balls that will help you reduce the slice.
Read more
Design Features
The main feature of Tour B X is the Gradational Compression Core that lowers the side spin which results in more distance and accuracy. In addition, the soft SlipRes cover adds spin control and more feel thanks to the urethane SlipRes cover. The cover is made with the proprietary Seamless Cover Technology which creates a perfectly balanced dimple pattern. But, for this perfect dimple pattern, Bridgestone utilized Dual Dimple Technology which adds more distance and less drag when this slicing golf ball is flying.
Performance
There is one huge reason why we have selected Bridgestone Tour B X for this list. The technologies that we have just described are responsible for less backspin, less drag and consequently, less slice. What you can expect from them are much more distance and forgiveness for the long game and more spin control and feel for the approaching shots thanks to the increased friction created by the SlipRes cover.
Cost and Value
When you see absolutely the best player playing golf with Bridgestone Tour B, this is a message that can't be ignored. Taylor Woods knows what he is doing and the fact that he has given his trust to Tour B, tells a lot about the ultimate quality of these golf balls for slice. Made to meet the needs of low-handicappers, and advertised as the means to score a birdie, these slicing golf balls bring the best of the golf ball industry. And being among the best also means being among the most expensive too.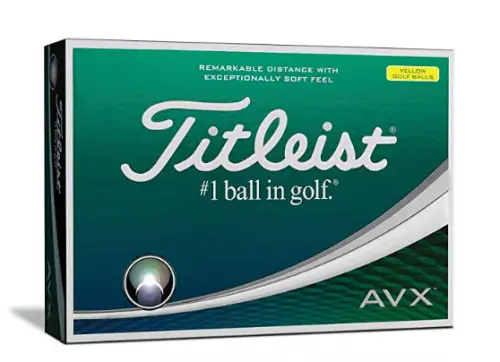 The first thing that comes to a golfer's mind when you mention the name of Titleist is, of course, golf balls. It's not the irons, nor the famous caps that it seemed that everyone was wearing a few years ago, but it is these slicing golf balls and particularly V1 which has been the ultimate winner. But that's not the only successful model that Titleist has made. There are many of them, each being a bit better in a certain area, so for the purposes of our buying guide content, we have selected Titleist AVX.
Read more
Design Features
AVX is a soft, low compression core golf ball for slice, made with low compression core technology which makes the core a very powerful engine which has a remarkable softness. Titleist wouldn't be as successful as it is if it wasn't for its advanced technologies, so the cover of this model features proprietary GRN4 cast thermoset urethane cover which delivers exceptionally soft feel and durability. What controls the spin is the high-flex casing layer which makes it spin when used with the short irons. When it comes to the dimples it features unique spherically-tiled 352 aerodynamic dimple pattern for consistent flights.
Performance
If Pro V1x was all about more spin and high launches, the AVX model is all about distance and exceptionally soft feel. The design itself makes it fly lower with less spin and straighter trajectory. This means that what golfers can expect less slice even on errors and mishits.
Cost and Value
Titleist golf balls for slice are the most praised in the world of professional golf and there's almost no one who would disagree about the quality of their performance. On the flip side though, they are notorious for being extremely expensive and not very affordable. However, this is not the most expensive Titleist model, so if AVX helps you get rid of the slices, it is more than worth the money.

4

. Wilson Duo Staff Professional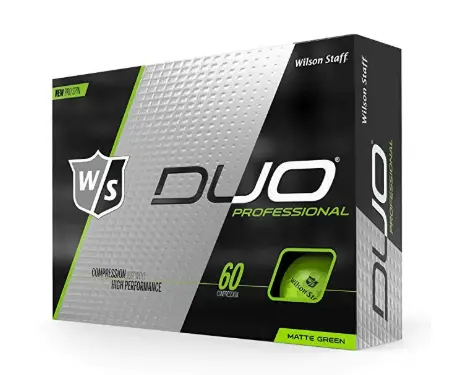 Have you ever had the chance to take a look at all the golf ball for slice models made by Wilson, currently sold on the market? If you have, well, then, you must have felt like Alice in wonderland asking yourself what's next? Many golfers, especially novices get this feeling after being recommended to find a nice Wilson model that will help them cope with the slice. And trust me, it is not only the novices but experienced golfers too who feel lost in all those Wilson models! So, after a careful search, we ended up with this model because of two reasons. It is the newest model, made in 2019 with the latest Wilson technology, and it has already had many glowing reviews regarding its performance.
Read more
Design Features
This is a low-compression (It has a compression rating of 63 according to Wilson scale), 3-piece golf ball made with a very softcore that delivers soft feel, while the hard ionomer layer increases the speed and more distance means more speed. The cover of this slicing golf ball is made from thin cast urethane which delivers spin control, extra high launch and more stopping power on the greens. There are four color choices available for the balls, classic white, yellow, green and orange with a matte finish.
Performance
This latest release from Wilson integrates the most advanced technology which combines premium materials and techniques for maximum performance. The soft feel that comes from the core produces straighter ball flights with less spin and lower possibilities of hitting a slice, while the seamless 362 dimple pattern enhances the trajectory which, in combination with the urethane cover and the ionomer mantle, you get a higher spin on iron shots for more control around the green.
Cost and Value
Even though this is Wilson's latest design and a new release, the price this model has is on the affordable side. No, it isn't even close to being cheap, but compared to other branded models with similar performance, this one will keep your budget from the extra expenditure.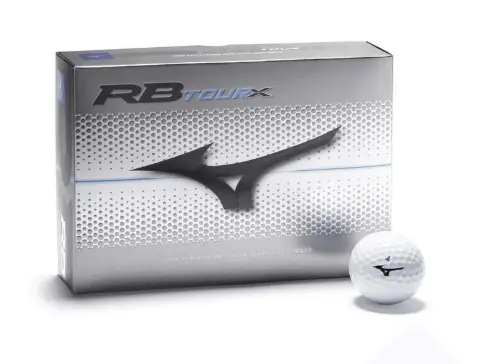 If you happened to look for a Mizuno ball a few years ago in some other parts of the world, the chances were that you couldn't find them as there were just a few retailers who were selling them. However, this model is their first global tour model that can be found online and ordered everywhere. This golf ball for slice is one of the fastest Mizuno tour models which boasts incredible performance even when the weather is windy. It is perfect for slice reduction which occurs even in the performance of better players.
Read more
Design Features
This slicing golf ball is a four-piece construction which features a dual-core with graduated firmness comprised of butadiene rubber that releases very high energy at impact. The high energy ionomer adds additional energy which is very necessary for delivering much straighter shots and far-reaching trajectories without impeding the course of the ball and creating curvatures. The cover is made from very durable urethane, the material which is very soft and responsive around the green. The C-360 dimple design makes it reduce the drag and enhance the speed.
Performance
If you are looking for a low to mid driver spin with incredible speed and consistency in the trajectory even with the strongest winds, this is the model you should give a try. The increased power it has will take this slicing golf ball much further. And, the four-piece construction allows the golfer to make a great spin in the approaching shots and enjoy the wedge spins.
Cost and Value
Many Mizuno lovers know that this company is oriented to performance and quality, so the same can be expected from this model too. It is among the best ones in this category, priced just a bit lower than the top-rated models.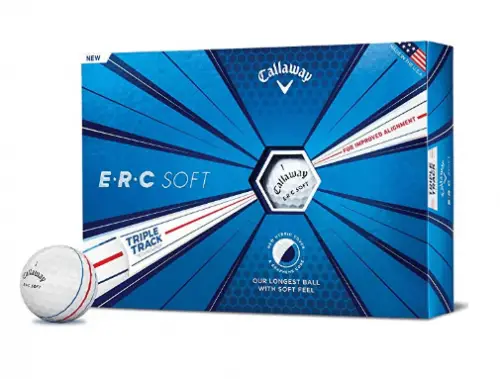 From drivers to irons, from accessories to balls, there's nothing that Callaway has made which failed to succeed on the market. It is one of the most versatile companies, taking great care of its golfers' needs. When it comes to golf balls, they made a real boom with the Supersoft models, however, if you are looking for the longest ball with the softest feel and alignment aid, then Callaway ERC is the go-to model.
Read more
Design Features
There are urethane covers and there are ionomer ones and this is where all the story with the materials ends. Or, does it? Well, no actually. This Callaway model is made from a multi-material hybrid cover which makes it one of the most unique models on the market, which features enhanced speed and very soft feel. The Dual Soft fast core is graphene-infused and it has been designed to maximize compression energy which turns into the longest flight with the lowest spin and reduction of the slice. This model utilizes Triple Track Technology that has improved alignment which differs from the regular side stamp one, allowing golfers perfect balance and control.
Performance
Callaway ERCslicing golf ball brings the longest trajectory with the softest feel, which means the chances for errors will be driven to a bare minimum if you do your part of the job. The soft feel gives you more control while the hybrid cover provides excellent control on the green. The alignment on it will increase your chances for more accuracy to sink more putts. ERC has the highest possible forgiveness found in a Callaway model which means it is a self-correcting slicing golf ball for everyone who needs straighter shots.
Cost and Value
As this is the most forgiving Callaway ball, you will enjoy every shot that you produce with it. The straight trajectory, low spin and the absence of hooks and slices will bring more enjoyment and sense of achievement on the course which is what every golfer ultimately wants. However, try not to lose these golf balls for slice because they are on the higher-end when it comes to their price.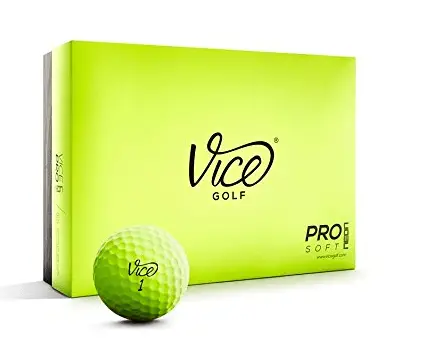 Vice has launched some very nice models lately and many golfers have compared their playability with Titleist's V1, and if a ball is compared with the best model, then surely it is on the right path to stay such. Pro Soft is a softball slicing golf ball, featuring softcore and it is made to deliver more speed and distance. This means that in the long game, this golf ball for slice reduces the spin which will help you generate more spin and less slice.
Read more
Design Features
It is a three-piece construction made with a low compression core that delivers soft feel with excellent feedback at impact. The cast urethane used for the cover and the 336-dimple design makes it very durable and impact resistant. This golf ball for slice is the first matte finish on a urethane-cast cover worldwide and it has undergone a very complex manufacturing process which uses small particles of silicate which are embedded in the coating of this slicing golf ball with a special adhesion to the green. The way it is made makes the ball visible when it is in the air and when the weather conditions are inclement, while the BJ13 coating provides UV resistance and reduces the glare.
Performance
It wouldn't make much sense if you use ten different types of balls while playing golf, which is exactly what most of the companies are trying to do, make all-round models which will integrate playability in the long and the short game. The ball is mainly made to deliver ultimate speed and distance but at the same time maximum control on the green. The proprietary S2TG technology delivers optimized backspin and control which in other words means that the chances to slice or fade the ball are much lower, even if you do happen to attack with an open face.
Cost and Value
If you have ever wondered how you can easily conclude if the golf ball for slice is of a high-quality or not, the best advice given is to take a look at the materials used to produce it and the accompanying technologies. The fact that this is a three-piece slicing golf ball with a proprietary technology that utilizes cast urethane gives us a clear picture that you won't be disappointed by this model. Quality often has a price, so Pro Soft is a fairly expensive model, similarly priced as the other premium models.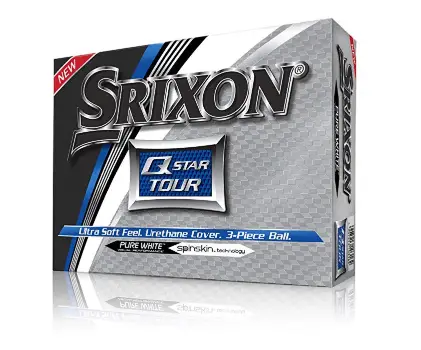 There isn't a magical formula that will help you reduce the slice in your game, and the golf balls are not magic wands that will make it disappear if you don't practice your swing, however, some models such as slicing golf balls are designed in such a way so that they resist the physics of the swing with their aerodynamic design and the dimple pattern they have. Q-Star is a three-piece model that is made to help golfers with moderate swing speed to get more distance and the same time to get rid of the unwanted slice.
Read more
Design Features
As mentioned above, this golf ball for slice is a three-piece model that features tour-caliber cast urethane cover with a lower compression core. This is the third generation Spin Skin technology which uses very soft, an elastic coating that delivers much more spin with the approaching shots from any lie and with any wedge. However, it is the Advanced Energetic Gradient Growth core which delivers optimal energy transfer in the most seamless manner which results in greater speed, low spin with the driver and maximized distance. The 338-dimple pattern in this golf ball for slice is also speed-enhancing and helps golfers to reduce the drag and increase the lift.
Performance
Golfers with moderate swing speed are generally mid-handicappers who, with the little help of their gear, could perform much better and drastically lower their score. The purpose of this Srixon model is to enhance the distance gained from each swing and generate more power into it so that it flies straighter with a piercing trajectory without slicing or hooking the slicing golf ball. It delivers mid-launch, long distance, but more spin with the greenside shots.
Cost and Value
If you are trying to get some more distance, these slicing golf balls are good ones. According to buyers they do deliver boosted speed while at the same time keeping the trajectory straight. The price is less expensive compared to some other Srixon models, mostly because this is the third generation and the company has already launched the fourth.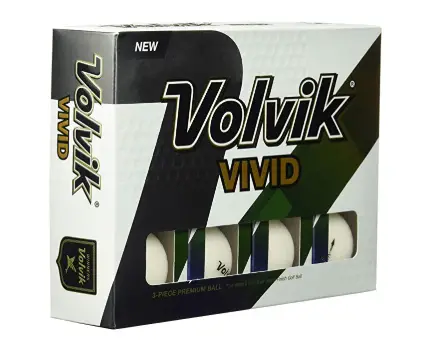 Everyone associates hooks and slices with high-handicappers, but it is actually mid-handicappers who generate most of them in the attempt to manipulate the shot a bit more, resulting in mishits. This slicing golf ball is made to produce less driver spin, and much enhanced straight shots. It features a patent-pending matte design which eliminates the glare, but at the same time, they are more visible in every condition.
Read more
Design Features
This golf ball for slice features a very large core, much larger compared to their previous model to generate more energy which will increase the speed of the ball. It is a three-piece model though, with elastic ionomer cover and 322-dimple design which helps golfers controllable shots with as less as possible slices and hooks and develop more consistency with every shot. This model comes in the greatest number of color varieties, all of them featuring SF matte coating, and there's even a black model.
Performance
If your swing speed is from 70-90 mph and if you strive to get maximum from it, then this is a model that will meet your needs. It has a powerful low compression core that will enhance the distance you'd like to achieve without increasing your personal power. This model also performs very well with the short game and you can notice increased spin when using the wedges. All-in-all, it is a solid ball for mid and high handicappers.
Cost and Value
If you want to fallow the movement of your slicing golf ball without squinting too much because of the glare, the matte finish will reduce it without affecting the performance of the ball, this is one of those rare models that will allow the full pleasure of it. The performance it delivers is also solid and what is crucial for our topic is the straight trajectory with slice reduction. The price of this slicing golf ball is on the higher end but it is the well-know Volvik quality that you'll get, which means durability and performance guaranteed.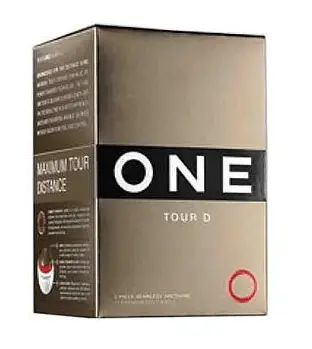 For more than a decade Nike was perfecting these balls to offer golfers superior performance through improved distance, control, accuracy, and feel. As this is one of those tour-oriented models, it was made with maximum perfection to deliver all tour golfers need: impressive distance, incredible accuracy, speed, and distance. When it was first launched it was one of the most complete golf balls that you could possibly find.
Read more
Design Features
These golf balls for slice feature four-piece construction for ultimate tour-level performance. They utilize the Power Transfer Technology that literally transfers the energy from the golfer to the ball with maximum release effect and distance. It features a progressive density core with increased velocity, excess spin, and better feel. There are two covers in this golf ball for slice model, an inner and outer covers with different functions. The inner cover improves the performance of the irons while the outer cover is very soft, made from seamless urethane in combination with 378 dimple design which boosts the consistency of the ball flight.
Performance
The extended feel and workability of this model make it still one of the most wanted models on the market which helps golfers get added distance and to successfully deal with the slice. You will be able to gain some more yard without facing curvatures that result in hooks and slices.
Cost and Value
Despite being an older model, it is still very looked for, thanks to its quality and performance features. And everyone who has just a slight input on how things work in the business sector knows that when there's a demand, but the supply is limited, the prices grow. And this is the case with Nike One golf ball for slice.

Subscribe to our Newsletter