Best Golf Accessories Reviewed & Rated for Quality
In a
Hurry? Editors choice: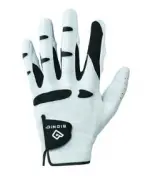 Test Winner: Bionic Glove

Avid players know that having the right equipment will make them confident on the course, right apparel will keep them comfortable and protected and, well, the right extras will provide both. When we talk about accessories we actually mean all those big and small things that might at first glance look totally unnecessary, which in later turn of events might come up as the most needed items for a frustration-free game. There are so many add-ons and if you start making a list you will probably come up with a circa average number of 50 plus items that you could possibly use on the course at a given point of time. This is exactly what happened with our list, so we had to narrow things down to the most necessary ones, i.e. those items that frequently turn out to be lifesavers when it comes to the game.
Standout Picks
Criteria Used for Evaluation
Value
No matter what kind of product we are describing, high-quality is a crucial feature. We prefer products that are constructed in a way that they are not likely to easily break, tear, fall apart or get destroyed after several usages. Here we took into account the way they are manufactured, the way they are put together or the way they are stitched, according to the type of the product the description refers to. We looked for types of materials that are characterized by durability, density, and firmness as a standard for our list.
Advanced Features
We are a generation that strives for more in any sense of the word. Our generation is not easy to please, because we want to have the maximum of everything. Led by these expectations, we made sure that the products on this list meet the expectations of many. The products here have added value, added features and added performance and represent real costumers' satisfaction. Added features refer to additional characteristics not related to the original purpose of the product and they can vary, among which being, but not confined to weatherproof features, more elements in a package, additional aiding technology, lifetime warranty and many more.
Ease of Use
It might not be the first thing that comes to your mind, however, if a product creates frustration and irritability due to its improper or difficult use, then, that is not a well-liked product. We made sure that products on our list will cause no frustration when using them and provide detailed instruction on how to use them.
Materials
No matter what kind of product we are describing, high-quality is a crucial feature. We prefer products that are constructed in a way that they are not likely to easily break, tear, fall apart or get destroyed after several usages. Here we took into account the way they are manufactured, the way they are put together or the way they are stitched, according to the type of the product the description refers to. We looked for types of materials that are characterized by durability, density, and firmness as a standard for our list.
Top 10 Picks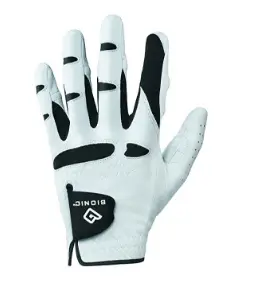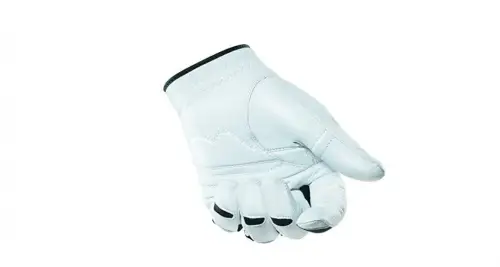 We could have started with anything; however, we believe that if the grip is not good enough and if you often fail to precision, the reason lies in the contact between the hand and the grip of the club. Your hand might be too sweaty, you might have blisters, and there are so many reasons why bare hand won't give you your best shot. So, voila, here comes the glove. But not just any glove, this is Bionic glove designed to mimic a perfect hand. As an accessory, it is one of the most needed and for many it is necessary. These Bionic gloves differ in many aspects, so let's take a look at what makes them so wanted.
Read more
Purpose
The purpose of the Bionic glove is to make our imperfect hands look and act perfectly. For some, it sounds too good to be true, but it is actually a scientifically developed glove that eliminates any interference that comes from natural causes. Take for example the anatomical shape of the hand. It is uneven, so when players try to even out the surface the result is an increased effort, greater hand pressure, and inaccuracy. So, this glove creates 'improved hand surface' which makes the grip stronger and more accurate thanks to the patented anatomical pad system which relieves the pressure by transferring it equally on the hand. Being specially designed for players, it allows more effortless grip which improves your consistency with every swing.

Durability
Many buyers have said that this glove beats every possible competition in terms of durability. It is made of genuine leather that is supported with an added pad on the palm which increases its lifespan. In addition to this function, the pad doubles the strength in those places which are known to be weak points in other golf gloves and tear easily. Another superb feature of this glove is its moisture-wicking feature due to added interior terrycloth and Lycra inside the glove on high-risk zones. This makes the glove suitable to be worn even during scorching days because it provides excellent breathability and comfort. With this glove, you will terminally get rid of excessive sweat and blisters due to its anatomic and protective role.

Cost and Value
This glove offers unique opportunity to have total control of your swings without additional pressure on your hands, it feels as second skin and sweat and blisters won't be a problem anymore. Every player has been in a situation like this and knows exactly how hard it is to keep consistent swing if you are dealing with such issues. And the best part regarding this glove is the fact that is very affordable and it is worth every dollar you pay.

2

. TecTecTec VPRO500 Rangefinder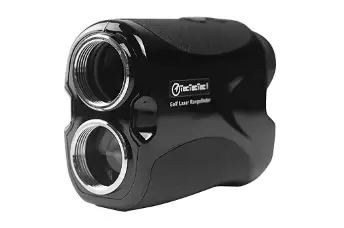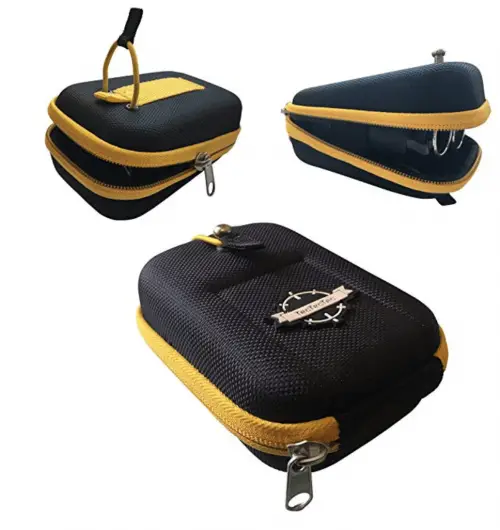 No matter whether you are an experienced player or you're are just starting your golfing experience, rangefinders provide tremendous help to determine yardage of your pin or target. It will help you understand your performance and it will point to the flagstick. The list of rangefinders is long; however, we decided to choose this particular one since it is one of the most accurate ones on the market, recommended by many and it keeps your budget side safe.
Read more
Accuracy
Rangefinders are all about accuracy since that's the point of using one. Guessing a distance can be wasting swings and that leads to an ineffective and tiring game. Many pro golfers use it to improve their capabilities and it is recommended for anyone who has intentions to get better because it helps you get the most accurate distance to the targeted pin and improve your game. This one can boast about its accuracy as being impeccable to 540 yards with accidental misses of +/- 1 yard of distances, flagsticks, hazards or trees.
Modes
It features three modes which will help you master every difficult situation. There is a normal mode that provides a measurement for any selected object and is preferred for fairly close distances and which are mainly straightforward. There is Scan mode that is used to examine the terrain and plan difficult shots and Pin mode, featuring Pinsensor technology to provide aid when the flagstick is surrounded by objects or overlapping subjects.
Durability
It is one of the lightest rangefinders but made of strong and long-lasting materials which are resistant to impacts and waterproof and dust resistant. The rangefinder has a 2-year limited warranty and 30-days guarantee a refund in case you are not satisfied with it. Many buyers say that Customer support is excellent and highly effective when some issues emerged. It comes as a full package which includes not only the rangefinder but carrying case, battery, strap, and a cleaning cloth.
Cost and Value
As we said before, there are many different rangefinders, but this one is the one that is bought the most and tops in getting five stars. It is simple to use, durable, light and accurate. Given the affordable price on the top of it, no wonder it has such popularity among golfers.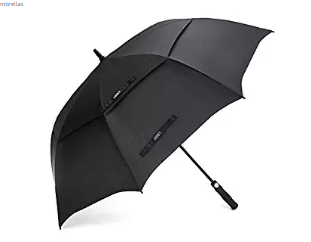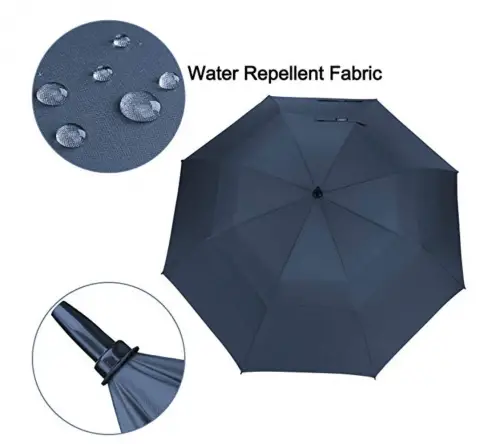 Everyone who has played for some time knows that there is no such thing as perfect weather and there are many distracters that can ruin your game. This item is kind of a must for every player on the course and it true that many professionals players don't even think about going on the open green without having a good umbrella. We chose this particular one because it stands out compared to others in term of size, durability, and protection. Let's take a detailed look at its attributes.
Read more
Ultimate Protection
It functions as a shield protecting you from any natural phenomena you come across, starting from rain, heavy winds, hail, and shine. Nothing can go through this umbrella, even if you are caught in a storm, you will be protected. No matter where you are, this umbrella will shield you. It is available in two sizes smaller and bigger one, which accordingly can provide underneath the umbrella space for two to three people accordingly and you won't experience any side dripping which can be very annoying. It features EVA foam grip which is very durable and it is very easy to open.
How it is made
You have probably seen those funny scenes in real life and movies of umbrellas being turned upside down when heavy winds give a blow. Well, that's something that is never going to happen to you with this umbrella since it is made of the double canopy which creates a vent that helps the wind go through. Can you believe that the frame is actually steel, so no chances for the wind too? The canopy consists of material that is ultra water resistant, quick-drying with SPF50+ and mold resistant. The company is so assured in its durability that it offers a lifetime money back guarantee if any defects happen to occur.

Cost and Value
Until recently we thought that lifetime warranty and money-back guarantee doesn't exist since what's the point of doing business if for every defect you get your money back? The craftsmanship of this umbrella moved the limits a bit further and proved that it is possible. This umbrella is the proof for it and stands as a challenge for many other similar products. The prices range due to its size and color, and you can find good deals for such an umbrella.

4

. Garmin Approach S2 Watch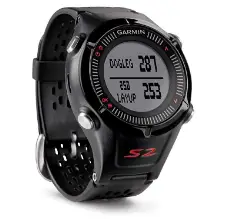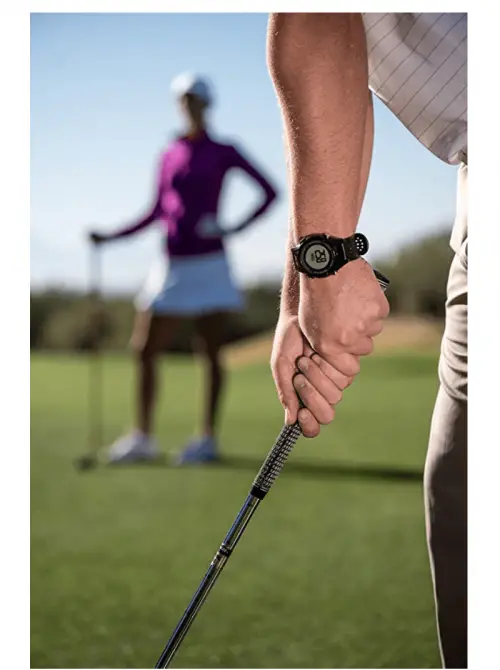 If you happen to be a modern hi-tech savvy player who enjoys taking most from what modern technology provides, then this is a piece of accessory that will have its place in your game. Gamin watches are everything but watch and we decided to represent this model because it appears to be one of the favorites among players. We will take a detailed look so that you can understand the advantage of having a GPS watch.
Read more
Features
Approach S2 is a GPS watch specially designed for players and comes preloaded with more than 40,000 courses from all over the world, plus free lifetime course updates and the GPS receiver gives you accurate data about the greens features. It keeps track on your scorecard so that you can analyze it afterward, shares your scores online on your smart device and it measures shot distances and a course odometer. The GPS keeps track of your location, shows hazards, doglegs, layups or wooded areas and follows up your progress. It constantly monitors your distance, your body performance and everything related to your sports life. It is like having ten different gears into one tiny watch and put on display. The battery life is average and lasts from 3 weeks when it is used as a watch mainly and up to 8 hours when the GPS is turned on.

Display and design
It has a sleek design, comfortable silicon band and it doesn't stand out like some other GPS watches. It is comfortable, lightweight and flexible and it is fairly easy to use. It is button controlled watch, not a touch screen one and many say it is an even better option since touch screens are hard to handle and they require a lot of fiddling. At first glance, it might be difficult to fidget all available options through the buttons, but once you get to know it, there's no better companion that can measure everything you'd like to have measured. There are a variety of colors and bands you can choose from, so it isn't an only practical accessory but a stylish and fashionable one too.
Cost and Value
Garmin is a company which is known to manufacture GPS devices for vehicles, military, and army. Their decision to implement modern technology into watches and make the devices that will reflex overall body performance of sports people, has transformed them into a name that stands out for best quality GPS watches. The GPS precision is impeccable, it keeps life tracks and provides detailed data on golf courses, connects to smart devices and many more other features justify the price tag this watch has. Depending on color choices, you can find a great deal for even half the regular price.

5

. Caddy Daddy Constrictor 2 Travel Cover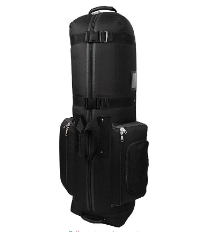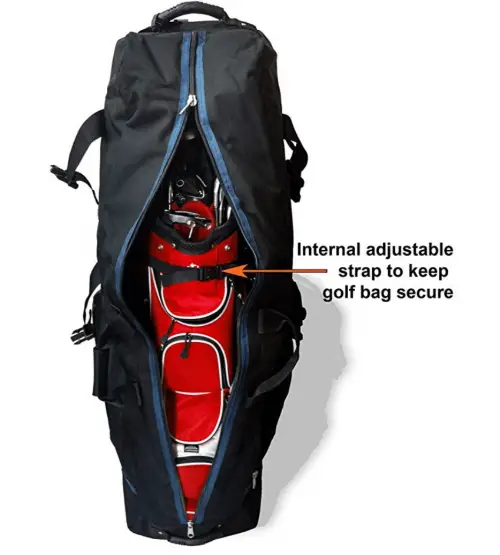 The game is all about traveling, finding a challenging course, searching for some more experiences, looking for another goal to pass. Due to the fact that it involves a lot of traveling, what players need when moving from one place to another, is a certainty that their bags will stay intact and even more importantly, that their clubs will survive the airport hassle. Caddy Daddy designed this Travel Cover as an aid in this respect. It is big enough to fit even pro bags, made of high-quality material, wheels to make it easier to carry and protective pad for the club heads and many more details that make this travel cover worth having it on our list. It turned out that it is one of the most recommended products in this field and players really benefit from having it. Let's see how handy it can be.
Read more
Product Features
This Caddy Daddy Travel Cover is designed to easily fit cart bags up to 10", which means most of the bags including clubs and add-ons. The top has thick padding to additionally protect your club heads. The cover has two heavy-duty zippers that can be locked in the main opening and there are two side pockets that serve for accessories storage and they are lockable too. In order to secure your bag, there is an inside clinch strap for maximum protection and there are additional two outward straps over the zippers. There are three handles, one on the top of it and two in the middle, giving the opportunity to be carried by two people in case need arise. However, for best and effortless transport, it is fitted by two in-line skate wheels which provide excellent help. The manufacturers provide one-year full replacement warranty, a fact that adds to its value.
Design and Fitting
The cover has space to fit large bags and even the longest and newest drives, even with their cover too or even extended driver shafts of 48 inches. It is constructed of weather-proof 1800 denier advanced grade nylon which makes it three times thicker than usual ones. It is amazingly light, weighing only 9 pounds which means tiny added weight to your bag. When you pack your bag inside it stands on its own. There are two molded slots that can be used for providing info about the bag and your info. That can come as an advantage because by indicating that it is a bag, you might prevent the airport handlers to throw it as an ordinary bag. The side bags are big enough for storing shoes, clothes or other accessories. When not used, you can fold it for appropriate storage.
Cost and Value
When we talk about the value of this product we have to take into account all satisfied buyers' comments since there we actually realize if the product behaves as the company advertises it. Indeed, there are so many five-star reviews that describe it as a product that matches the description and is worth every dollar paid.

6

. Wedge Guys Complete Grip Kit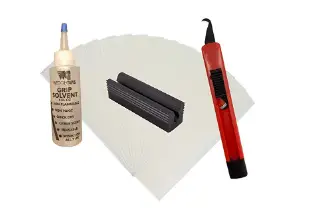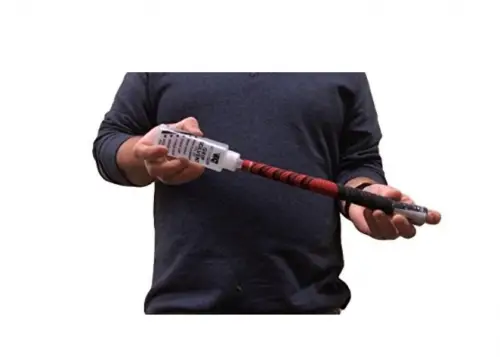 Grips are an important part of the club. You might have a perfect wedge but if your grip fails you at crucial times while playing you might consider replacing the grip as a solution instead of buying a new club. There are also professionals who do this, but why don't you use the comfort of your own home at the time which is appropriate for you for any golf club that you own. Some players change their grips on a frequent basis, some tend to stick to their old ones for a while before they opt for a change, but regardless the frequency, this is something that you should have at home so that you can extend the lifespan of your club. There are several reasons why we have included this kit on our list. Let's go through them.
Read more
All inclusive kit
The manufacturer offers three Grip Kit options with different containing elements. The cheapest, but not so inclusive is called Light Grip Kit and includes tape strips and a solvent to regrip 15 clubs. This is an appropriate option if you already have everything else needed for regripping. The other option is called Standard Grip Kit which includes tape strips, solvent, and rubber vise clamp to regrip 15 clubs. As the name implies it is a standard version and it will be handy if you have some experience and some tools for regripping. And the third option is Deluxe Grip Kit, which is an advisable kit for anyone who hasn't done this before since it includes everything that the Standard Kit offers plus one hook blade and detailed instruction package. The products included are non-toxic and very durable.

Ease-of-use
When an individual is tempted to do something new on his/her own, the first steps might seem gigantic and extremely difficult. We have all been there, thinking that you need extra perplexity to be able to do it. However, the best thing about this All-inclusive-kit is the instruction manual which is very understandable and provides step-by-step instructions on how to do it on your own without destroying several grips before you manage to do it on your own.

Cost and Value
All elements included in this kit are of high-quality and functional. The tapes are adhesive, the solvent is impeccable, the hook blade is made of carbon steel and the rubber vise clamp prevents slippage and can be used for other mending purposes. All in all, this is a valuable kit that is worth the price.

7

. TrunkCratePro Collapsible Organizer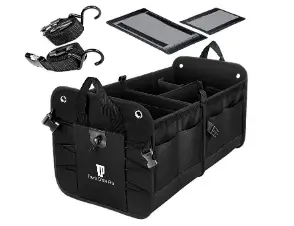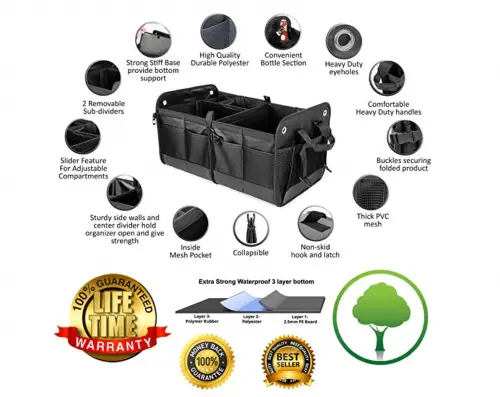 You are a player, right? Just take a look around your staff associated with your favorite game. No doubts that most of them are the ones you need almost constantly, others from time to time, but irrelevant to their frequency of use I think that you'd agree that a good organizer is more than necessary. And if you happen to travel more than you stay at home, then surely you need a good one which provides transparency, good-protection of all of your things and above all, detailed organization of all your golfing elements. This organizer is the most recommended, the most bought and the most loved one among buyers having almost no negative comments and thousands of five-star ratings. We'll try to explain in details why this organizer is the most preferred over the others.
Read more
Multi-functionality
This foldable and collapsible organizer creates order in your disorganized car trunk or basement storage. Primarily designed to put an end to the everlasting chaos in your car trunk, it extended its use almost everywhere you can possibly think of. The way you organize your things is up to you because you set the compartments which total up to 4 and there are 2 removable sub-dividers that can be customized. In addition to this, you can purchase additional dividers if you need smaller compartments. There are 11 pockets that vary in size, i.e. 2 large, expandable pockets, 8 fabric pockets, and 1 mesh pocket. These pockets are perfect for storing small, medium or big items, starting from pins, to ball, from, wedges to shoes. You have the possibility to fold it in half and use it in shopping carts, picnic baskets, car seats; it can find its purpose wherever you think of. When collapsed and folded it can be kept in a drawer.
Features
And, yes, when it comes to features, there are many! Since it is a trunk organizer it has features to provide stability and organization when you're driving it in a vehicle. Just to mention that it is appropriate for any type of vehicle. There is a strong stiff base that provides stability and extra support on the bottom and thick PVC mesh that enhances its durability when handled in and out the car. Under it, there are non-skid Velcro straps that prevent it from sliding while being driven. It is made of extra strong polyester that guarantees durability and intensive use. Plus, the walls are sturdy and inflexible keeping its shape and strength. There are even heavy-duty eye holes that allow you to use it clipped to the back of your trunk for additional safety, especially if you are driving to bumpy roads.
Cost and Value
As this organizer is one of the few that have thousands of five-star ratings it is obvious that the price is far from expensive. Maybe it is not the cheapest car organizer, but provided the multiple features it has, portability and ease-of-use, plus the patent-pending certification, we can only say it is a good value for your money.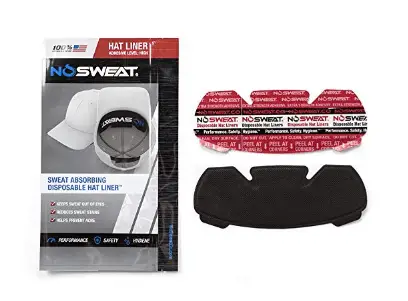 Imagine a situation where you're just about to have your swing, teeing and trying to focus on the pin and suddenly sweat drops start to run down your face and eyes, fogging your sunglasses and making you feel less and less confident that you'll make it. Probably everyone has been in such a situation and knows the feeling; even the most experienced golfers have been there. As a matter of fact, this product is endorsed by two professional golfers Stewart Cink and Scott Langley, who struggled sweat issues and this unique product proved them to be very useful and effective when it comes to fighting sweat issues. That's the reason why we included this Hat Liner, intended to prevent sweat dropping down, hat stains and provides a cooling effect.
Read more
Product Features
This patented liner has amazing features. First of all, it is made by moisture-wicking Sweat Stopper technology that absorbs the sweat and wicks the sweat away so that you don't feel any moisture dropping down your eyes and glasses. By doing so, it instantly reduces the fog in your eyewear that occurs due to the moist on your forehead. Another function of this technology is to prevent sweat stains from happening and keeps the hat intact. It is made with No Scent-Technology so if you have issues with bad smelling sweat, this liner is bound to prevent that from happening. Players with allergic issues can also benefit from this liner because it is hypoallergenic and prevents skin irritation or acne.
Design
This liner is 100% American made a product which guarantees consistency and reliability. It is thin, very soft and comfortable and creates a cooling effect when on. It is very easy to use, you just need to peel it, then stick it to your hat, which can be any kind of hat including even straw hats, and that's it. The design is patented and since it is universal, it provides an opportunity to use it to any kind of headwear.
Cost and Value
The liner is disposable and once saturated it can be thrown away. How often you'll use a new liner depends on the intensity you sweat. The package includes 6 liners and for the offered price, customers say it is really worth it since it keeps your hat free from staining and your confidence and comfort as well.

9

. Weatherproof Garment Co. Classic Jacket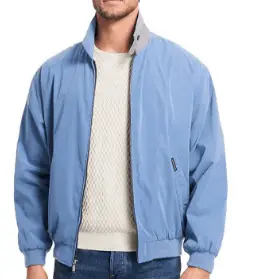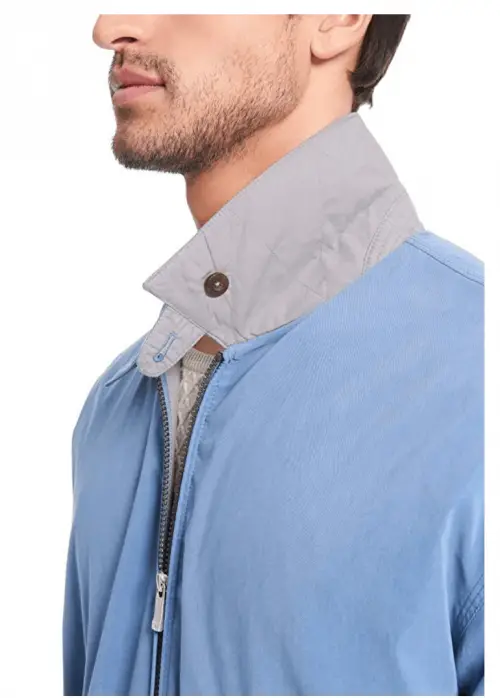 When it comes to being truly prepared on the course unless you have a weather jacket, you can't say that you have all. We have talked a lot about weather influence on players, especially if you play on a course which has the changeable climate, which is most of the courses worldwide. So, in order to have an undisturbed game due to wind, drizzle, breeze or sudden drop in temperature, this jacket was designed just for that purpose. Let's take a look why we have decided to include it on our top list.
Read more
Design
Maybe one of the reasons why customers really love buying this jacket lies in its simple but yet modern design with fashionable details which won't make you unnoticed. It is a zip-front jacket featuring one button on the spread collar giving it a stylish flair. The cuffs and the waist are rib-knitted and elastic for better fit. There are two pockets from the outside and one hidden inside cell-pocket. It is a great jacket for changeable weather and can be worn in any season, except winter. It is water-repellent and wind-resistant; it isn't puffed and doesn't make noise when worn. Regarding sizes, many customers claim that this jacket matches the standard sizing scale, so their order matched their size.
Fabric
The jacket is made of 85% Polyester and 15% nylon and this composition in fabrics is know n to have protective and repelling features such as wind, dust, fog, mist, moist, etc. However, the jacket is not water resistant and it won't protect you when there are heavy rains but it will be sufficient in case of light drizzle. The inside lining is very comfortable to the skin, it is smooth and soft. Another great thing about this jacket is the fact that it doesn't wrinkle, so you don't have to bother ironing it. It can be tossed or tucked in a drawer, no problem -just give it a shake, and that's it, you can wear it! And this is something golfers need, isn't? Just take your jacket from your bag, shake it a bit and no worries about your look.
Cost and Value
This jacket is great piece of accessory for every player; it is something that you should always have in your bag. It is light, comfortable and modern. No doubt that it is a high-quality jacket and those five-star ratings prove that. The price varies in accordance with the size, color, and current deals, and ranges to highly affordable to middle-ranged pricing.

10

. Mile Hugh Life – Variety Combo Package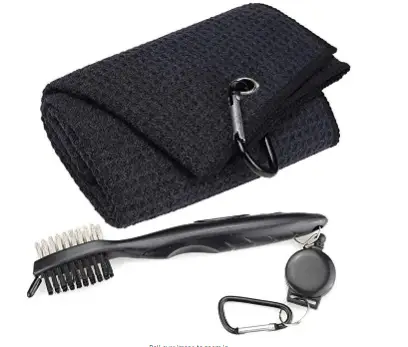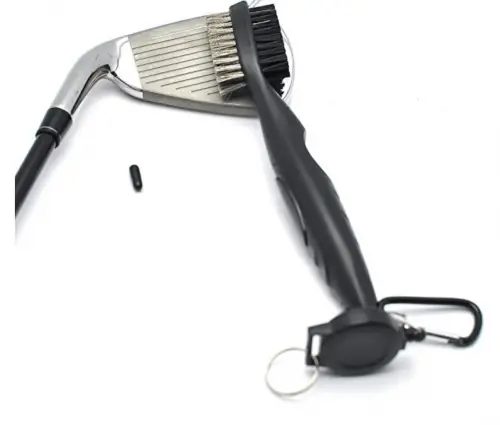 We all love those offers that feature buying several products for the price of one or two individual items. When we took a look at this amazing Combo Package we couldn't resist the temptation to inspect it in details and see if whatever is offered there is worth mentioning it. We got surprised to see that this Combo Package includes a variety of products that if you buy them separately you would spend more money, time and energy.
Read more
A wide range of elements
This combo package includes a variety of items needed in many different situations and some of them represent a bare necessity for players. There is a microfiber towel to start with, and it is better compared with cotton ones since it cleans dirt, mud, grass, and sand much more effectively. There is an aluminum clip on the tower so that you can attach it to your bag. This package also includes a metal fold divot tool which is thus made to fold the sharp edges inside and provide safety with a pop-down button to easily unfold. In addition to this, there is a magnetic ball marker that is attached to the divot tool. And that's not all since this package includes two brushes for woods and iron clubs with an iron pick. So this is the all-inclusive Combo Packet which includes all these items. We have to warn you that there are other less inclusive varieties offered, so in case you want this one make sure you click the right one.
Quality
Regarding the quality of these elements, since they are made from different materials and used for different purposes, we will comment on each one separately. The towel comes in several color options. The towel is made of waffle patterned microfiber of high-quality and removes every possible form of dirt and has a great capacity to absorb water. The brushes' density is thick enough to clean every tough type of dirt easily without leaving scratches on the clubs and there is a sharp pick that can be used for a variety of reasons. The grip is ergonomic and soft and there is a retractable zip-line that can be attached to the bag.The divot tool is metal and the sharp edges can be folded for safety reasons. The other end of the divot represents a magnetic ball marker. It comes in black and blue color.

Cost and Value
Since there are several packets possibilities, the price differs in accordance with your selected option. The more items included, the higher the price. However, it pays off to get the whole package instead of buying item by item separately. These elements have their own purpose in players' daily lives and that's the reason why we included them in our list.

Subscribe to our Newsletter