10 Best Gap and Approach Wedges
last updated:
Sep 16, 2019
Depending on the type of the player you are, you might have from two to up to five wedges in your bag. The pitching wedge is a must and that's the reason why it is included in beginner sets. A sand wedge and the lob wedge will help you get the ball out of the rough.
How about the gap wedge? It is one of the most controversial wedges as it has the sole purpose of filling the gap in the lofts between the pitching wedge and the sand wedge. These are those 50 to 53/54 degrees that help you deliver short, chip shots of about 100 yards.
When looking for wedges, the spin and the feel they provide is of utmost importance, the grind and the bounce add versatility, so you'll need to determine your preferences and we are here to help you choose the best gap wedge.
This is the best product on our list that is currently in stock: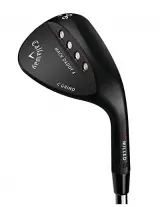 Callaway Mack Daddy 4
Why is it better?
A wide range of lofts and bounce combinations
Four sole grinds for a variety of attack angles
Precise CG locations for each loft and crisp turf interaction
More spin from the Groove-In-Groove technology
In a
Hurry? Editors choice: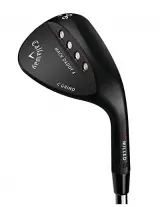 Test Winner: Callaway Mack Daddy 4

35
Researched Sources
178
Reviews Considered
32
Hours Researching
23
Products Evaluated
Loft
Features
Effectiveness
Value
Materials
By Default
Top Rated Gap Wedges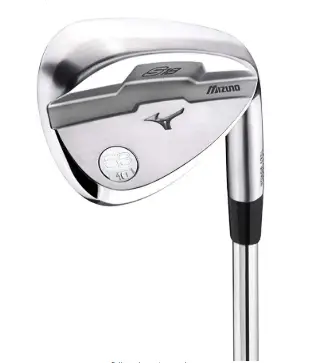 The rounded shape allows the blade to open without affecting the alignment
Thick topline on the highest lofted ones increases the spin
Each loft has a specific profile, sole grind, and groove depth
Grain Flow Forged grooves with Boron infused steel
High handicappers will find it difficult to use
Mizuno's irons craftsmanship is considered to be one of the finest grain crafted techniques in the golf industry and their Grain Forged Flow process that has been constantly developed puts the company's irons and wedges to the utmost perfection. S-18 is considered to be Mizuno's most loft specific wedge and it is characterized with versatility in respect of the sole grind, top line, profile, and groove depth.
Read more
Features
S-18 gap wedge is characterized with a modified club head shape, featuring rounded silhouette which makes it easier for the blade to open, while having a thicker top line on the higher lofts, contributes for more spin consistency from high on the face. This yields more forgiveness on the common miss hits and helps golfers to control their spin. Of course, the grooves hold the responsibility for the spin effectiveness and their durability is enhanced with the use of Boron infused steel, perfected with the use of Grain Flow Forged technology with Quad Cut process which is a new type of milling.
Lofts and Sole Grinds
Versatility is what makes this club special since there aren't many approach wedges that can boast variety in lofts and bounce selection as Mizuno's S-18 can. From the lowest 46 degrees pitching wedge to the highest 62 degrees lob wedge, with variety of bounce angles it offers maximum convenience for the golfers. Lofts are chosen by the one-degree increment to match the particular golfing style. The sole grinds differ in accordance with the golfers' preferences from full to low and each club comes with a built-in gyro for adjustability of the lie angle.
Cost and Value
According to many golfers and experts, S-18 is one of the most sophisticated gap wedges that you can currently find of on the market and which will help you master your short game shots. The 50 and the 52 degrees loft make it an excellent gap wedge for those 100 yards shots. The price it has is on the high-end, but it doesn't come as a surprise considering all the features it has.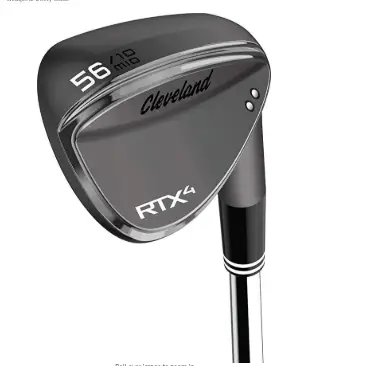 Fourth Generation Rotex Face technology brings maximized face roughness for more spin
Four sole grinds for the utmost versatility
Traditional wedge shape with the higher lofts and straighter edge with low lofts
Adjustable CG in accordance with the lofts
Not for high-handicappers
The company started its history with wedges and even though equally successful with all the other clubs, it is the wedges that they are associated with and with their latest gap wedge RTX 4, they topped up to the leading position. RTX 4 is the fourth generation wedge that features the Rotex Face technology which has marked Cleveland's success with the wedges. The company advertises it as a total transformation of the wedge philosophy and indeed, it is one of the most versatile gap wedges of all time.
Read more
Features
Rotex Face Technology is the key of its workability as its face will provide you with the most of the spin you could ever hope for in an approach wedge. The grooves are much sharper and deeper, while the laser milling makes the face as rough as possible for more spin and friction on all full, chip and pitch shots. The Progressive Feel Balancing Technology moves the CG closer to where golfers hit the ball, by adjusting it loft by loft. This will provide golfers with more consistency, feel, and control for every possible shot depending on the selected loft.
Lofts and Sole Grinds
Depending on the loft we distinguish the wedges and when it comes to RTX 4, they extend from the lowest 46 to the highest 56 degrees with 2 degrees gap between the two. This also determines the shape of the clubhead, the higher lofts featuring more traditional design, while low lofts feature straighter edge for more feel and control. Every swing type needs a special grind, so for more versatility, Cleveland offers four sole grind options. The Full option is the traditional mid-bounce option for pitch shots and full-shots performance. The Mid grind is V-shaped with trailing edge relief that keeps the edge low when it comes to open-face shots. The Low grind has a C-shape for heel and toe relief and brings ultimate versatility. The XLow is the lowest, and it is excellent for tight lies and hits with the face extremely opened.
Cost and Value
Better players know what makes a gap wedge good one. It delivers enough spin, a lot of versatility, and maximum feel. And this is exactly what Cleveland RTX offers to fully indulge you into the greenside experience. Priced to reflect the quality of the club, it is an investment that will change the way you play the game and increase your satisfaction with your short game performance to the fullest.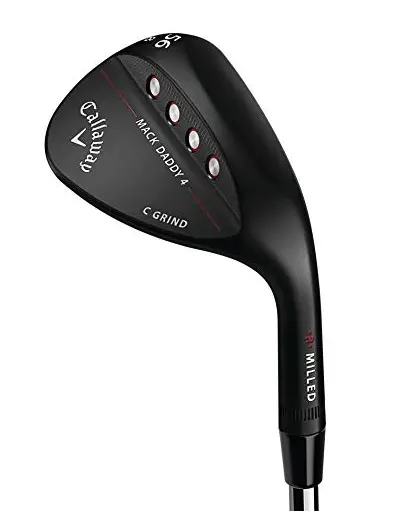 A wide range of lofts and bounce combinations
Four sole grinds for a variety of attack angles
Precise CG locations for each loft and crisp turf interaction
More spin from the Groove-In-Groove technology
Lower lofted-clubs deliver a bit 'harder' feel
We all know that Callaway products boast extreme popularity and high-quality, but not many of us know that the company invests millions in research and development to design and manufacture the most reliable, trustworthy and technologically advanced products for golfers of all skills. When it comes to Mack Daddy gap wedges, even with the first generation it attracted the attention of many golfers, but this fourth line shows superior perfection and performance.
Read more
Features
Shortly said, Mack Daddy approach wedge integrates a very precise groove architecture with the Groove-in-Groove technology that represents a unique set of features which, as the name implies, involves double grooving process within the grooves. This leads to much-enhanced control and spin for all shots. Made from soft carbon steel and loft-specific centers of gravity which deliver optimal performance and the crisp turf interaction with very enhanced feel. It comes in two finishes, Chrome or Black Matte finish.
Lofts and Sole Grinds
There are four sole grinds that can suit different playing styles, different attack angles and many course conditions. The greatest feature of this model is the extra 16th groove which is added just above the leading edge which Callaway called it Nip-It groove and which provides an extra grab for the thinnest hits of the tight lies. The lofts start from the lowest 46-degree pitching wedge to the highest 64 lob wedge. The gap wedge is available from the 50 to 52 degrees in bounce angle of 12 and 10 degrees in S and W grinds.
Cost and Value
This is one of the most elegant and the most advanced Callaway wedges, featuring all the bells and whistles when it comes to a club of this category. The satisfying feel, the four grinds and the versatility of lofts will find a match for any golfers' style. It is priced within the average of most of the brand gap wedges that belong to this category.
4

. Cobra 2019 King Black Wedge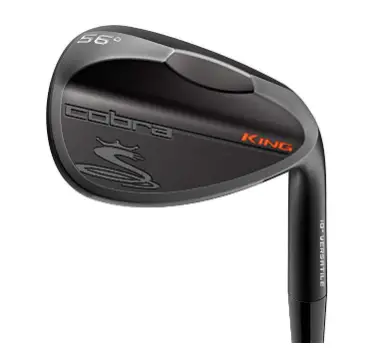 Patented CNC Milling for better spin
The face features variable roughness
Cobra Connect tracking of golfer's performance
Wide range of lofts and grinds
Beginners might find it too difficult
Every year Cobra launches some new designs that turn the attention of golfers to their new baby. This time, it was the Cobra Black Gap Wedge 2019 that was able to win many victories in the category of approach wedges. The latest from Cobra incorporates versatility, impressive precision, and durability with the impressive Diamonized Black Metal finish, tour inspiring grinds and 100% CNC milled grooves.
Read more
Features
The Diamonized Black Metal technology is not just any finish that this it has, it delivers maximum wear resistance and versatility, especially by keeping the grooves accurate and durable, acquired by the CNC milling for an enhanced spin across the face. What Cobra also integrated into this model is the popular shot tracking through Cobra Connect, the grip sensors that track gofers' performance and in conjunction with Arccos, they have the opportunity to monitor their performance.
Lofts and Sole Grinds
When selecting a gap wedge it is more than important to be able to select your grind and the turf so that you achieve maximum accuracy, consistency, and control. Cobra offers golfers to choose from three wedge designs so that every player has the chance to find the one that provides maximum playability and matches his/her style. There are a variety of lofts and bounce combinations which range from the pitching wedge to lob wedge, including the gap wedge, of course.
Cost and Value
Cobra claims that this model is their most precise approach wedge that has tour-validated grinds and shaping, making it the most spin-friendly gap wedge for all turf conditions. These features are going to provide you with much better feel and enhance the performance in your short game. In regard to the price it has, it is in the same category with the rest of the premium group.
5

. Taylor Made Milled Grind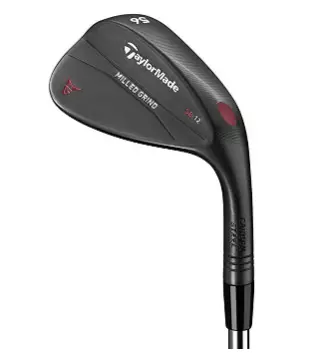 Three grind options, Low Bounce, Standard Bounce, and High Bounce
10g of weight is moved from the hosel for strategically placing the CG
ZTP-17 Grooves with precision milling for more spin
The gap wedge is the lowest lofted option
If you thought that TaylorMade didn't offer good gap wedges, one game with Milled Grind is going to change everything that you have previously heard about TaylorMade's approach wedges. The company developed specialized machinery that milled individually each club's face to make sure it is of the best quality. Milled Grind and HI-TOE are TaylorMade's pearls within this category. What changed the game? Read below to find out.
Read more
Features
Besides the outstanding ZTP grooves which have steeper sidewalls and which are machined for maximum spin, the designers managed to save weight by using a deeper bore design which allows each club with each separate loft to feature a unique center of gravity to maximize the control and the feel. The Precision Weight Port is filled with a soft red polymer which actually moves the weight from the hosel to the center of the club, depending on the loft of the club.
Lofts and Sole Grinds
As golfers drastically differ one from another in their performance style, skills and preferences, thus TaylorMade created different sole grinds to fit each of them. There are three grind options, LB, SB, and HB. Low bounce which is adequate for those golfers who play firmer conditions and whose angles of attack are shallow. High Bounce models meet the needs of those golfers who play softer conditions with steeper angles of attack. Standard bounce, as you can suppose from the name, fits most of the turf and swing types. The leading edges vary from one loft to another delivering optimal turf interaction.
Cost and Value
TaylorMade outperformed itself in this category of golf clubs, providing one more reliable piece of equipment for every golfer who has reached the intermediate point of the game. Since the model is versatile, golfers can select their preferred lofts, including the gap wedges too. And the pleasure that you get from playing with TaylorMade will cost you almost the same as if you picked any other name-brand club.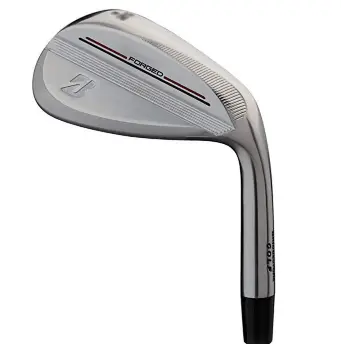 Aggressive U grooves for the purest ball contact
CNC milled face increases the surface roughness and adds more spin
Sure Contact Sole delivers consistent turf interaction
Premium forged steel and elegant, sleek design
Not for high or mid handicappers
How often do you buy gap e or less you know how long the gap wedges last and what to expect from them. And then we have Bridgestone that changes the concept of wedge longevity, allowing you to indulge in the short game, offering a lot of versatility and spin. With a superb feel and control, you can enjoy this approach wedge more than double the time of any standard one and that's due to the fact that it has been heat-treated which considerably expands its life span.
Read more
Features
Another rarity that is not often seen in a gap wedge is the soft feel and the superb ball control. Bridgestone's designers were able to put these to concepts together and to attract low players who seek a refined purity of every single aspect. Aesthetically, it looks very elegant, coming in two finish options, matte black oxide and brushed satin chrome with a teardrop-shaped club face, a preference of many Tour players. It is stainless steel forged design with centered center of gravity which unfortunately isn't very forgiving and requires a good player to get its use maximized.
Lofts and Sole Grinds
This model is all about feel and control and it is due to the Sure Contact Sole that delivers consistency in every lie angle with every shot and the sole smoothly glides through the turf without much effort. The face is CNC machine milled with extreme face roughness that increases the amount of spin that is produced with every shot. The aggressive U grooves are not only performance functional, but they channel the dirt and the debris which means the contact with the ball is highly enhanced.
Cost and Value
If you are a better play who hardly ever skip going to the course and who is looking for maximized feel, control, and durability in a gap wedge, Bridgestone is made to meet your expectations. The elegant look and the utmost performance you'll get make this club one of the most tour-pro premium options for seasoned golfers for a fairly affordable price.
7

. Wilson Staff FG Tour PMP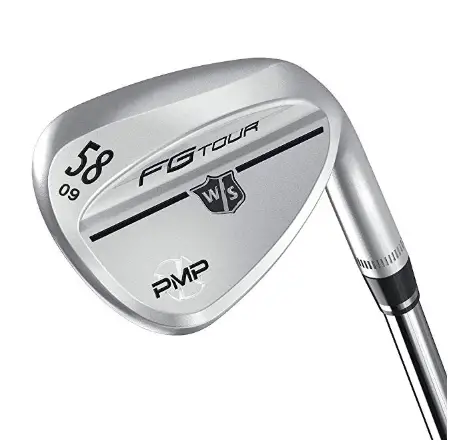 Maximum number of HM grooves for spin on full shots
Laser etched micro lines for ball spin on partial shots
Traditional, Tour Grind and Wide Sole Designs
NBS Hi-Rev 2.0 shaft for optimal performance
There isn't lower loft than 52 degrees
Last few years have marked the unimposing growth of Wilson Staff array, both, in quantity and quality. We say unimposing because the company has been going slowly but steady with new releases without rushing to achieve an annual 'boom' with a new design. However, this year they did come out with FG Tour PMP line, bringing versatility and performance boost with the clubs. FG Tour PMP comes in so far the largest number of finish varieties and a large number of combinations when it comes to the grind and the loft.
Read more
Features
It features maximum volume HM grooves which are enhanced with laser etched Micro Spin Lines that deliver spin on full shots, but on partial shots as well. The perfectly flat milled face yield optimal consistency with each shot. The traditionally shaped heads with the multiple finishes which are rarely found anywhere else, make this approach wedge one of the best looking and recognizable ones on the course, while the sound and the feel are crisp and smooth.
Lofts and Sole Grinds
There are three sole designs, Traditional, Wide Sole and Tour Grind, and three finish options, Tour Frosted, Oil Can and Raw which provide possibilities for multiple bounces and loft options and custom fit adjustability. The gap wedge starts from 52 degrees and that's the lowest loft that can be found, the highest being the lob wedge of 60 degrees. The KBS Hi-Rev 2.0 shaft delivers high launch angle with adds more control, accuracy and stopping power.
Cost and Value
Offering budget-friendly clubs (or at least less expensive than their competitors) is what marks Wilson Staff when it comes to the price of their products. Besides lower prices, they offer decent performance and good quality clubs, and this gap wedge is proof for that.
8

. Tour Edge Triple Grind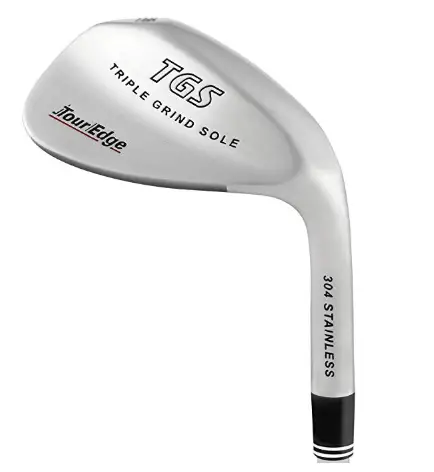 Triple sole grind reduces the weight from the toe and heel
CNC milled grooves to maximum allowed level
TPE insert for better feel and vibration dampening
Variety of lofts (46-62 degrees) and bounce combinations
Might not be challenging for high handicappers
From a total outsider, Tour Edge has become one of those manufacturers that has kept its good work without making a big fuss, while maintaining the constant improvement with much-enhanced performance features with every new release. The Triple Sole Grind that TGS is famous for and the CNC milled grooves bring it closer to the most distinguished golf clubs manufacturers.
Read more
Features
Even though this approach wedge looks a bit traditional with particularly classic pear shape design, the features it has, make it very versatile, yielding the opportunity to use it from different lies and turf conditions. The clubface features TPE insert which replaces the weight that has been largely removed from the center of the flange which allows more weight to be placed in the area of the heel and toe. As it is designed to provide more spin, the grooves are CNC milled with the maximum allowed depth and roughness.
Lofts and Sole Grinds
The most distinctive feature is the triple sole ground that removes the bounce from the toe and the heel areas. As these two areas slow the club down when the weight is placed there, by removing it from them, the speed of the club becomes drastically increased when used in sand or heavy grass, reducing the drag and providing more speed. This in return will bring much more distance control and consistency in the shots. The lofts range from the lowest 46 degrees to the highest 60 degrees with the bounce angles of 7, 10 and 12 degrees.
Cost and Value
This is one of the most versatile gap wedges with a lot of forgiveness suitable for mid to high handicappers who seek more help coming from the gap wedges. The optimal loft options and the different bounce angles allow you to combine them into the most appropriate for your short game club. In addition to this, its lower price will deliver even more satisfaction from buying it.
9

. Harry Taylor Design Series 405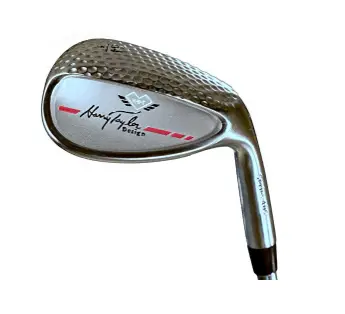 An extremely forgiving wide-dimple sole for any turf condition
Made from very durable 303 carbon that gives a very soft feel
Optimal precision milled face and grooves
Available in four lofts options: 52°, 56°, 60°, and 64°
We all know what it feels like to be a newbie who is struggling to get the ball out from the rough or the fairway, not to mention those flip shots and the sand ordeal that many golfers are going through. Well, Harry Taylor made this gap wedge to offer easy glide through every turf condition, bringing more and more confidence with every strike of the ball. It is forgiving, sturdy and made with specific dimples on the sole for better turf interaction.
Read more
Features
This gap wedge is made to meet the needs of high handicappers as it features super-forgiving wide sole with dimples that ensure that no matter what kind of turf there is, it will quickly glide through it ensuring successful shot. The manufacturer claims that with it the chance to produce fat shots are low and that you don't have to have any special skills to open the face as it will take only squaring it up to take the swing and bring to the hole. It is made with 303 steel which is much stronger and more durable than carbon steel.
Lofts and Sole Grinds
One of the outstanding features of this club is the dimpled sole design that is friction reducing and chunk-proof and which effortlessly cuts-through the rough and the and sand making it the easiest-to-hit wedge from any bunker. There are four available lofts of 52° (the gap wedge), 56°, 60° and 64° allowing golfers to choose their most preferred option to fit their style. With the gap wedge, you can expect successful shots to up to 100 yards and keep the soft feel, while the precision milled grooves, which are grooved to the highest tolerance, allow more spin than you have ever hoped for.
Cost and Value
Harry Taylor is a craftsman that has been involved in clubs designing for more than two decades and which impressive array includes designing clubs for Mizuno and Taylor Made. He has designed these approach wedges to help the average golfer get the most of the game in terms of entertainment, satisfaction and a sense of achievement. And he didn't want to financially stress them too, so you can get this club for a very reasonable price tag.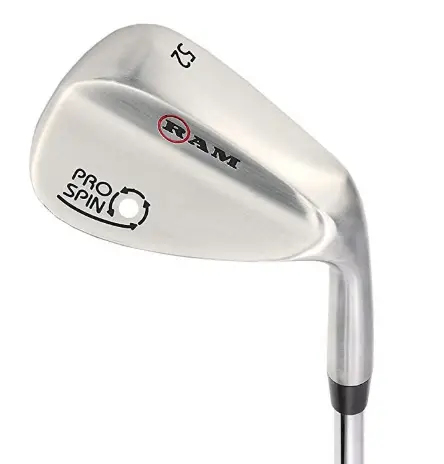 A set of gap, sand and a lob wedge
Made from stainless steel with perimeter weighting
A lot of forgiveness, consistency, and feel
Regular flex steel shafts with standard grips
There are golfers who hit the course now and then and who frequently borrow clubs from their friends as they can't find financially justifiable reason to buy themselves clubs that they will use them ten times a year. However, thanks to the advancement in the modern technology and its never-ending growth, many emerging companies, aware that it takes a lot of time and effort to get to the same level as top-tiers in the golf industry, decide to appeal to average, recreational golfers and offer them budget-friendly options which will motivate them to get themselves their own clubs. Such a company is Ram Golf, which has been making performance-oriented and inexpensive clubs.
Read more
Features
Unlike all the other offers in this buying guide, this one comes as a set of three, a gap wedge, asand wedge, and a lob wedge. They are made from stainless steel which delivers great feel and consistency. The wide sole design and the perimeter weighting provide enough forgiveness and consistency to avoid fat shots. The milled faces and the grooves deliver more spin and roughness for more stopping power.
Lofts and Sole Grinds
Maybe there isn't much versatility when it comes to custom fitting and combinations available as in many premium-designed branded clubs, but the ones that come in this set are functional and effective enough on their own to meet the needs of recreational golfers. The GW comes with 52 degrees loft with 8 degrees bounce, the SW comes with a loft of 56 degrees and 10 degrees bounce, while the LW comes with 60 degrees loft and 8 degrees bounce.
Cost and Value
If you are looking for the most budget-friendly clubs which will allow more versatility within this category, then this Ram Golf set has plenty to offer. According to the golfers who have been using these clubs, they are more than functional and very reliable if you are hoping to get a game-improvement wedge.
Criteria Used for Evaluation


Materials
When it comes to materials, they are more or less limited within this club category, however, they do play a great role in the performance of these clubs. Mostly the difference is made in the type of steel used, distinguishing from stainless steel to carbon steel up to 504 steel. Also, another distinction is made in the type of head design in terms of forged and hollow design. The forged ones are usually less forgiving and require more centered shots, whereas hollow designs are more forgiving and feature perimeter weighting. Materials determine the durability of the clubs, so the stronger and the harder the material is the better and longer it will last. The most long-lasting is the Bridgestone model which is heat processed.


Features
All specific characteristics that determine the use and the function of each club This means the more distinguishing and versatile they are, the better performance is expected from them. Even though the subject of our discussion is specifically the gap wedge, almost all manufacturers deliver the full set of specifications to meet the needs of many golfers. The gap wedge is the club that has from 50 to 53/54 maximum degrees loft and which is expected to deliver distance to up to 100 yards. Some of these models come with many several lofts option in various bounce angles and several sole grinds. This versatility contributes to developing better performance practices that match varieties of golfers' styles and needs. The feel and the control are also much appreciated when selecting the right wedge, too. Plus, what truly matters for high-handicappers is the forgiveness and the easy-to-hit possibility which makes the game more indulging and fun.


Value
Wedges are one of those clubs that easily wear out and especially if you are an avid golfer then you tend to replace them as often as in every 12 to 18 months. This means that you are exposed to higher expenses yearly and that is the reason why many average golfers avoid buying them as frequently as they are supposed to, resulting in a decrease in their performance, as the roughness of the grooves is becoming flattered and flatter. Therefore, it would make no sense to pay an extreme amount of money for something that has a limited duration. We did consider or budget possibilities that can be found on the market, and the list includes varieties of price tags from the cheapest and the most expensive. Of course, the more expensive ones feature more performance-oriented features, however, we selected budget-products that deliver the effective game-performance and are worth the money.


Loft
We differentiate all wedges types in accordance with the loft they feature and this is what determines them. So the lofts that you can find on the market range from 46 degrees and that's for the pitching wedges to the highest 64 degrees for lob wedges to ultra lob wedges. The gap wedges range from 50 to 53/54 degrees and id it wasn't for them the gap between the pitching and the sand wedge would be too wide. Even though there isn't a specific way on how to play it and specific turf conditions associated with it, it will get you a 100 yards distance that will get the ball out of the rough. Within this category, we valued more those clubs that offer the possibility to choose from all possible degrees, as some have just fixed number of degrees.


Effectiveness
Whatever you decide to buy, it needs to be effective to bring an appropriate functionally in accordance with the purpose it has. The role of gap wedges is rather obscured as it was designed to provide a sufficient gap in lofts and help golfers to reach about 100 yards in the short game. So, if you need a club that will help you get a better and a more convenient way to get the ball out of the rough and send it next to the closest flagpole, consider the lofts from 50 t0 54 degrees lofts. And the better features a club has, the more effective it will be.
Frequently Asked Questions
q:

What can I use the gap wedge for?

a:

There's not a specific and well-defined role of this club. Mostly, it was created because the need for it somehow self-appeared and it functions to fill in the gap between the pitching and the sand wedge. It is used for little chip shots, or for 100-yard pitches.
q:

Can beginners have any benefit from it?

a:

Even though the use of wedges as clubs is considered to be advanced on its own, mastering the shots from earlier level creates the sense of feel and control with the approaching shots. So, yes, if you are an aspiring golfer who is eager to learn all the aspects of the game, you can give it a try.
q:

Which loft degrees does the gap wedge cover?

a:

It starts from 50 degrees to 53/54 degrees.