10 Best Game Improvement Irons of All Time
In a
Hurry? Editors choice: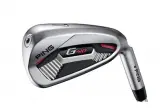 Test Winner: Ping G410

You've been dedicated to improving your performance, keep your scheduled session, practice as much as you can, but it seems that everything's in vain. After some time you lose interest as frustration is the only thing that progresses while your performance is stagnating and drives you nuts. You start thinking that you weren't born for this game…

But, wait! Perhaps it's not you! Have you paid close attention to the clubs you've been using? New findings claim that the wrong clubs can deteriorate golfers' performance to up to 28% and that's huge!

Fortunately, manufacturers are aware of this fact and they've been launching some very nice clubs lately. Game improvement irons have been particularly designed to boost your performance and get the game going.

Therefore, we dug up the market, scrutinized their features, analyzed the reviews and selected the best game improvement irons that bring your confidence back.

Standout Picks
Criteria Used for Evaluation
Ease of Use
Game improvement (GI) irons have one particular goal and it doesn't take anyone to be Einstein to get it. They are made to make those tricky shots easier, to boost your confidence and to increase your the level of your performance by lowering the score. There are different types of GI, some are made to help beginners, seniors, and high handicappers, others are made to provide sufficient help for better players but not on the account of distance and speed. Therefore, our buying guide is compiled of GI irons which can be of sufficient help for players of all skills from beginners, to tour players offering the best in each category.
Features
Regardless of the type of the irons, all of them have one thing in common and that's the high level of forgiveness these clubheads have. The forgiveness is achieved by extending the sweet spot and delivering successful shots even when they are mishits. Many average companies fail to deliver sufficient forgiveness without decreasing the speed and the distance, however, the selected models do deliver distance and speed as prime features of their performance. It is also important for irons, i.e, short irons to deliver adequate control, distance and accuracy, especially when it comes to the short ones.
As a matter of fact, when we talk about features we usually focus on all those characteristics that make up a product, characteristics that define that product and those that distinguish it from the others. So, the more distinctive features a product has, the higher the rating it was given.
Materials
As it is often the case, the type of the materials used in a certain product will greatly determine the durability, the performance and, in the case of irons, the distance, accuracy, and control in the game.
In the past, game improvement irons were mainly designed for beginners and they featured cavity back design which was made from cast stainless steel. And that was it! However, the concept has been drastically changed nowadays and we see different designs which do not include just stainless steel but much more. If you carefully read the reviews of our selected products, you must have noticed that more than a half feature a multi-material construction to deliver better performance.
These other materials often include tungsten, a material that is double the weight of steel and it has found its purpose in weight distribution on smaller areas with a better effect. Also, there's urethane, the material which is used to dampen vibrations and improve the feel and the sound. For this purpose, in F9 we could see three materials combined into a medallion that dampens vibrations, aluminum, acrylic foam, and TPU. In Mizuno's model, we could see the use of Chromoly 4140M which according to them is more durable than stainless steel.
Versatility
What we mean by versatility when it comes to game improvement irons, it is the ability to be used by different levels of golfers, i.e. the level of their playability. This mainly refers to irons made to meet the needs of average players so that even when they progress in the game, they would still have the chance to use these clubs. Of course, it can't be expected tour-designed clubs to be adequate for beginners and vice versa, but the higher the playability and versatility span, the higher the ranking on our list.
Value
Buying a set of irons means investing a lot of money in part of your golf equipment and usually they come with a hefty price tag. This particularly is valid when we are talking about brands that have established themselves to be the best in quality and durability, always taking care to provide the best of each club for greater performance. And these manufacturers will provide you with after purchase service, replacement and repairs, so the price includes much more than just the clubs. So, yes, they are expensive, but you'll be using them for a long time.
The rating that we have attributed to the selected product was in accordance with the quality of the products and the price they are sold, paying attention that the price is not over the roof but at the same time you get a good quality set.
Top Rated Game Improvement Irons
Subscribe to our Newsletter