Best FootJoy Golf Shoes Reviewed & Rated for Quality
In a
Hurry? Editors choice: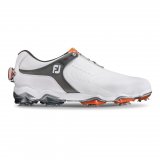 Test Winner: Tour-S

We have covered golf pants, golf shirts, and golf polos, we have even covered different brands of golf shoes. However, this particular brand excels at being one of the best. Therefore, we had to give them a spot of their own on our list. We are eager to talk about and share the top ten best FootJoy Golf Shoes.
Standout Picks
Criteria Used for Evaluation
Value
When conducting our research on the top ten best FootJoy golf shoes, we found that the overall quality of this brand is superb. Their items are highly touted among one of the best in the industry and they have long been known for producing excellent quality items. Therefore, we knew going in that selecting the top ten would require a bit of elbow grease in ensuring that the top ten where well designed and excellent. This is where the overall reviews of the product came into play. As one of the key criteria, we factored in how well individuals liked that particular shoe and compared it to other shoes within the same category from the brand. With that, it helped us identify the best shoes from different categories and styles from the brand, so we had a wide variety of items to share with our audience. Which brings us to the next criteria we took into consideration.
Style
As the next key criteria that we factored when selecting our top of the line shoes, we considered the many different varieties of this brand. This required a level of knowledge about the many different branches of shoes that they have. With that, we discovered a whole world of opportunities within one single brand. They have shoes ranging from classic golf shoes to modern blends, and sporty shoes with low profile designs. They have simple shoes with lace-up technology and shoes with classic shorter laces. They have so many different styles that it was difficult to keep up, but we did it!
With that, some of the styles presented on this list include the Freestyle 2.0 which is a more modern sporty and comfortable shoe focusing on sporty traction and comfort. We also shared the Tour-S Spikeless golf shoe which focuses on traction control and grip alongside a stealthy and modern design. How could we forget the most notable shoe of all, the DrJoys Traditional Golf Shoe with a modern edge of style and comfort? All of this together and more include the accentuating styles and different versatility of this brand.
Brand
As the last primary criteria that we considered when selecting our top ten, we found value and cost to be an important factor. This brand alone is not known for having the most affordable products. The reason being is that precision and quality are worth paying for and they know it. With that, we wanted to ensure the best quality material value and benefits when it came to sharing our top ten best shoes. What we found was a blend of quality appearance, longevity and durability, comfort and features, and overall quality customer satisfaction. With that, their shoes are priced in a way where individuals can get the most of what they are paying for. With that, we wanted to share a wide variety of different priced footwear that still had tremendous value for the individual.
Outsole
We found the outsole to be one of the most important aspects to consider when it comes to the overall design quality of each product. The reason being is that the outsole of each shoe is designed differently. For example, their most notable shoe is actually designed from a carbon fiber heel design. With this level of expertise, we believe this brand deserves all of the recognition that they get. Other outsole designs include traction spikeless bottoms that are low profile and have ridges and plugs, while some shoes are designed for shock absorbency for a better golf stance. We can alone spend hours talking about the value of each independent outsole.
Subscribe to our Newsletter