Best First Aid Kits Reviewed & Rated for Quality
In a
Hurry? Editors choice: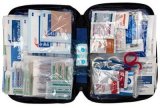 Test Winner: 2First Aid Only

On the golf course, or during any adventure, you never know when an accident may occur. You never know fully when you may get a cut, scrape, or even have allergies or touch something dangerous. With that in mind, an emergency kit is one of the most crucial items that an individual may need on the golf course or in general. As the next topic that we want to discuss with our audience, we not only want to shed light on the top ten first aid kits on the market today but also some emergency preparation tips for golfers.
Standout Picks
Criteria Used for Evaluation
Materials
As the first aspect, it's important to assess the quality of the exterior of the product. The exterior will determine how well constructed the product is – and what type of environments it could last in. The reason For this alone, we want to share the most common materials of the exterior.
Nylon
Polyester
Plastic
Stainless-steel
These four materials are the most common and they all have different design benefits and purpose. Plastic and stainless-steel is extremely durable and creates a very high-quality design. Most of the time it has a snap or some kind of closure lock system that allows for the product to be displayed in a bathroom without the contents falling out. The other two materials are actually made of fabric and allow for the kit to be more portable. Nylon is more durable than polyester because it tends to be rip resistant. Polyester and nylon both have moisture-wicking and water-resistant design benefits as well. When considering the exterior material, you also want to consider if the product has zippers are not. Reason being is some have zippers for added storage, or the zipper for the main compartment tends to be water-resistant as well.
Value
As the next aspect, if we are talking about the exterior, we also have to talk about the interior. This criterion is important to evaluate because there are many different types of emergency kits in the industry all with different interior styles. For the purpose of this article and topic, we shared a wide variety of different interiors. However, we find the labeled interiors that are most organized to offer the best quality and value. Reason being is that the labeled interior allows for an individual to easily recognize where the most important contents of the kit. It also allows for easy organization because you can replace a specific item and place it right in the same place. This is more beneficial than most kits which happen to have everything organized together in one packaging without any real labeling.
With this said, the quality of the interior is also important as far as moisture resistance. Many interiors tend to be moisture resistant because they have important items such as gauze, bandages, and small scissors or items that can rust easily. However, now that we have covered the quality of the interior, it is time to move forward and talk about the contents of the interior.
Features
As the last criteria,, we obviously had to look at the contents and the benefits of each particular kit. With that, our primary intention was to share variety. So, golfers will notice that there are kids' sets with a maximum of only 70 pieces and there are also major sets with a maximum of 400 pieces. Now, when evaluating the contents we wanted to ensure that everything was of the best possible quality. For instance, you may want to consider a set with high-quality stainless-steel scissors, clippers, and other gear compared to a set that has plastic scissors or clippers. Also, it is important to consider how well designed all of the other elements are such as gauze, the bacterial wipes, bandages, tissues and more. Even the packaging is an important factor. As far as the contents of the interior, we want to share a list of the most important items that every individual should have in their kit.
Adhesive spray.
Itching cream or spray.
Sterile gauze pads.
Benadryl
Tape
Adhesive Bandages.
Scissors
Gloves
Tweezers
Pocket Mask.
Safety pins.
Knife
Emergency information card.
Insect repellant.
Ointment
Resealable bags.
Sunscreen
Thermometer
These are only some of the major and most important aspects of a quality kit. With this in mind, you can create your own emergency kit at home. However, it may be most costly to buy everything from scratch compared to purchasing a quality kit. We hope our criteria have shed some light on different important aspects to consider and we want the chance to answer some of the most vital and key questions individuals may have.
Subscribe to our Newsletter