Best Face Creams
In a
Hurry? Editors choice: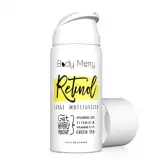 Test Winner: Body Mary Retinol

As you brush your teeth and wash your face, thus you need to proceed with applying moisturizer as a rule with no exception when it comes to skin care. Having your skin constantly hydrated means that it won't be prone to premature aging which leads to the appearance of fine lines and wrinkles, it won't leave your face dry, and it won't exhibit skin irritations and imperfections.
Don't forget your sunscreen
too if you are spending much of your time outdoors too! And that is particularly relevant for golfers since avid golfers are daily exposed to weather elements. Even those who take golf lightly must have their face protected from external aggressors and solar radiation. The greatest favor that you can do to your face is to protect it with the most nourishing and nurturing facial creams. Here's the list of the best ten.
Standout Picks
Criteria Used for Evaluation
Effectiveness
How can we determine if a moisturizer is effective and worth spending money on it? First of all, we need to define the expected outcome from a particular moisturizer. A good moisturizer is expected to hydrate the skin to its deepest layers and deliver visible results after some time. Regardless of the skin type, these moisturizers that we have selected are proven to yield optimal hydration to the skin and make it healthy looking and vivid again. We took into consideration experts' opinions and the reviews of the users when making the selection. The score regarding this criterion next to each product reveals the level of effectiveness of the creams, and as you could see they all feature a high effectiveness rate.
Features
Since this is a broad category, we needed to determine which factors we would take into account when narrowing the list down. First of all, this list features moisturizers that are going to provide choice for every skin type, from oily to combo skin, from sensitive to dry. Another factor that contributed towards selecting the creams was the gender neutrality, i.e., creams that are mainly suitable to be used by men and women which means that these moisturizers are mainly fragrance-free and deeply hydrating, We did include a stronger male and female variety, however, most of them are neutral. We also took care to make sure that there will be at least one cream that will be able to tackle specific skin issues or conditions starting from acne and blemishes, to extreme sensitivity and conditions such as itching, cracking and etc. We also included moisturizers that feature broad-spectrum sun protection with SPF 30 + making the list extremely broad and all-inclusive. So, the higher the scoring is, the more components from the factors above, the moisturizer includes.
Product Purity
All dermatological products are subject to intensive control when it comes to ingredients. Due to the fact that they are applied to our skin, it means that they become quickly absorbed into our body and bloodstream. So, the concern of many people when it comes to the ingredients list should not be relativized and therefore we took it seriously. The greatest purity can be expected and seen in products that are formulated with natural and organic ingredients that don't contain any potentially harmful ingredients upon human health and are not stated as forbidden by the FDA.
Protection
Our skin is exposed to bacteria, microbes, weather elements, pollutants, it reacts on internal impacts and it is the first line of defense. Therefore it is our job to keep it healthy and protected. Good skin is healthy skin, and this means keeping it hydrated and nourished. The sooner you start taking care of your skin, the healthier and smoother it will be. The moisturizers that we have selected provide utmost protection of the skin to its deepest layers, they deliver soothing and calming properties, and they restore it and make it refreshed and vivid. Plus, the best-ranked creams feature broad spectrum UVA and UVB protection from the harmful sun rays.
Best Face Creams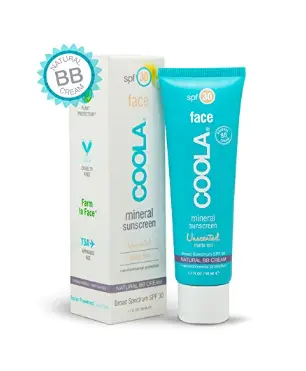 In case you are struggling with acne-prone skin, oily or combination skin that we feel your frustration when you need to apply sunscreen. Most of the sunscreens are particularly inappropriate for these skin types since many of them are either too thick, too greasy or hard to be absorbed. The frustration is even much more stressed out if you have an important game of golf during summer, hot days when going out without sunscreen is practically unimaginable. Search no more, Coola comes to put an end to all that you have been going through and deliver ultimate sun protection without irritation and frustration.
Read more
Features
It is very practical and convenient when your moisturizer is actually a sunscreen too. This moisturizer is among the most effective ones when it comes to providing the double role of skin hydration and sun protection. It is made of natural and organic ingredients that are proven to provide intensive hydration and protection. The zinc dioxide and titanium oxide are minerals that provide powerful UVA and UVB protection featuring SPF30. It is water resistant for 40 minutes which is another plus because walking and swinging during summer golf mean a lot of sweating too. The formula contains Rose Hip oil which is packed with antioxidants that protect the face from environmental aggressors. It is easy to apply and absorb leaving matte tinted finish.
Effect
Contrary to many creams that contain zinc and titanium, this one doesn't leave any chalky white residue on the skin. It has a silky smooth texture which, when applied leaves velvety feeling and matte finish with a slight tint. The formula contains Shea butter which makes the skin super soft and retains the moisture within the skin. It is also an ingredient that is known to provide soothing and anti-inflammation features. The plankton extract is a phyto-protector that is excellent in moisture restoring and skin rejuvenating properties. The Rose Hip Seed oil contains fatty acids which are crucial in retaining skin structure and its ability to retain hydration to the deepest skin layers. The final effect of this moisturizer is healthy toned skin that is vibrant and protected.
Cost and Value
This moisturizer is have-it-all when it comes to skin moisturizing and protecting. It will provide you with an immediate matte finish, and it will fight the first signs of aging by protecting you from the UVA and UVB sun rays in the most natural and healthiest manner. It is very lightly tinted, it doesn't contain any preservatives or nano-particles and it very effective. The price it has is higher compared to the other creams on the list, but it definitely pays off and delivers amazing results.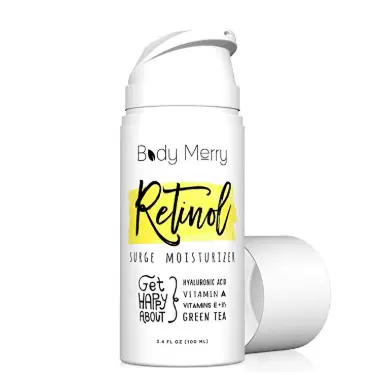 In case you have always wondered what and why this retinol thing has been the top subject in many cosmetics-related topic discussions, you should know a few facts about it. It is a vitamin A derivate that is a bit weaker than the prescription derivate retinoid and clinical trials have proven it to be very effective in boosting collagen so that fine lines and wrinkles are reduced. It is also effective in unclogging pores and it speeds the cell turnover to reduce discoloration. This effect is much more emphasized in the medical retinoid, but retinol is also very effective in producing the same results just in a bit longer period of time which would be circa 12 weeks of use. However, this moisturizer doesn't only contain retinol, but a blend of ingredients that prevent the aging process.
Read more
Features
This cream is based on natural and organic ingredients which deliver antioxidants, vitamins, and minerals to the skin. It is formulated with 2.5% retinol and hyaluronic acid which provide the rejuvenating and hydrating effect to the skin. Plus, it contains organic aloe which is known to have soothing and antibacterial properties, organic sunflower oil which is rich in vitamin E, organic jojoba oil which is an exceptional skin enhancer, organic green tea which is packed with antioxidants and organic dandelion. It can be used as a day or night cream, by both men and women. Make sure to use sunscreen if you use it as a day cream.
Effect
This moisturizer seems to contain everything that skin could ever wish for. So if you notice on your face any fine lines and wrinkles, if you have skin damage or brown spots, if your pores are large and clogged, this moisturizer is going to tackle every issue you have with your skin. The blend of the ingredients is not only working towards making your skin rejuvenated and clear, but it has soothing abilities that will calm it, prevent irritation, remove redness and inflammation. Thousands of buyers confirm that this moisturizer has helped them obtain much younger and cleaner look.

Cost and Value
This cream is an exceptionally valuable source of ingredients. Besides the retinol and the hyaluronic acid, it is packed with the most nourishing and organic ingredients which are proven to have beneficial skin effect. Bearing in mind that many other cosmetic products have price tags ten times higher than this one, and it is an excellent value for the money.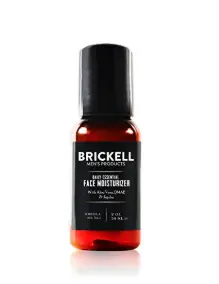 In the recent decade or two, men's cosmetic has been rapidly growing, bringing out products that specifically appeal to men's skin needs. Men's skin differs from the woman's skin in several aspects, among which is its thickens, which means it needs stronger moisturizer, i.e. stronger active ingredients. Plus, it needs extra nourishing ingredients that will soothe and calm the skin after shaving and keep it soft and deeply moisturized. And, preferably, it needs to contain as little synthetic ingredients as possible to match the needs of any skin type. So, only five years ago, it was launched on the market a moisturizer that made a difference in man's skin care. Read below to find out more.
Read more
Features
When you are on the course, you definitely don't want your face to be shining on the sun's reflection as a signal light, nor do you want to have it feel stretched as if someone was pulling it off. So, regardless of your skin type, this moisturizer will have your skin all set. It is made of a very powerful blend of natural ingredients that penetrate deep down the skin surface and make it revived and quenched. It contains 100% natural ingredients and 83% of them are organic such as Aloe Vera, Hyaluronic acid, Jojoba Oil, green tea and many more. It is scented with natural essential oils of peppermint, lemongrass, and eucalyptus. It doesn't contain any artificial substances, parabens or sulfates and it doesn't leave any greasy or sticky sensation.

Effect
Men's skin is hard to please, but not with this moisturizer. The Aloe Vera deeply penetrates the skin, moisturizing it and providing antioxidants to the skin. The Hyaluronic acid retains the water molecules in the skin, making it fresh, smooth and toned. The green tea is a very powerful anti-oxidant that fights the free radicals, which prevents the skin from aging and reverses the signs of aging. The jojoba oil creates a protective layer of the skin helping it to retain the moisture and has anti-irritation and anti-inflammation properties. The skin will feel refreshed and clean and wherever you are, you'll feel comfortable in your skin.

Cost and Value
This moisturizer is made to provide tender care with masculine effect and fragrance. It suits any skin type and it is strong enough to provide the desired effect, but mild enough not to irritate the delicate skin. Even though packed in a travel size bottle, a little goes long way, so you'll have it for about a month if used as instructed and the price it has is just right.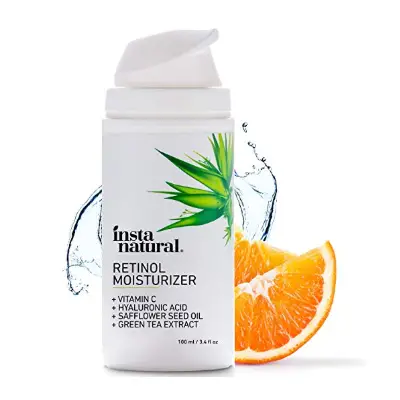 Our skin is the first line of defense against the external aggressors such as pollutants, weather elements, bacteria, microorganisms and it needs to be adequately protected to be able to perform its function. It needs proper attention and care so that it doesn't start getting dry, damaged and flaky. The first step towards protection is skin hydration, as dryness leads to loosening of the skin structure, making the skin lifeless and wrinkled. Golfers spend a lot of time outdoors and their face is often exposed to those external aggressors, so it is very important for every golfer to devote some time on their facial skin. InstaNatural is a moisturizer that can provide deep hydration for both men and women and prevent it from premature aging.
Read more
Features
The initial goal of Insta Natural as a company is to offer its users products that will feature only natural ingredients that will provide the same or even greater results than those synthetically made. This moisturizer, which is part of the all-natural line of cosmetic products, boasts a blend of vitamin A derived retinol, vitamin C, Hyaluronic Acid, green tea extract and safflower seed oil which provide amazing skin effects. The formula doesn't contain any chemicals such as parabens, synthetic dyes, preservatives, mineral oils and similar common synthetic ingredients used in other creams. It can be used as a night or day cream by men and women.
Effect
This moisturizer is formulated with retinol, a vitamin A derived protein that is clinically proven to provide excellent results in the natural exfoliation process of the skin. It has the capacity to smooth the wrinkles and the fine lines, to even the skin tone and remove blemishes or skin imperfections and together with the Hyaluronic acid they hydrate and plump the skin cells, activate the production of collagen and make the skin look young. The role of the Vitamin C is multiple and besides taking part in collagen production it brightens the tone of the skin and makes the completion tighter. The green tea extract is known to have an extreme effect in fighting against external elements and the safflower oil regenerates and protects the skin. So, this moisturizer will help you hydrate your skin, make it smooth and tone, drastically reduce the fine lines and wrinkles and make it soft and refreshed.
Cost and Value
When we talk about the value of a product, we need to ask ourselves what we expect to get from it and if that product. If your expectations from this product are to make your skin look and feel smoother, brighter, cleaner and more vibrant, then you are likely to have that effect, according to thousands of reviews. The price you'll have to pay for that effect is surprisingly affordable since many similar products are sold for hundreds of dollars.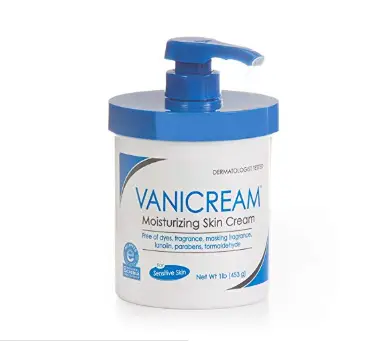 People struggling with sensitive skin are fighting daily battles when it comes to applying cosmetics to their sensitive skin and dealing with external aggressors. So, finding the most suitable moisturizer for some might be as if looking for a needle in a hay stick since many companies promise amazing results, but rarely meet the expectation of the users. However, that's not the case with Vanicream since the company is known to be very successful when it comes to delivering products which are made to exceed the expectations of the people who are on a daily battlefield when it comes to their skin.
Read more
Features
If you are a golfer who enjoys spending hours on the course, but at the same time is having nightmares just by thinking what ordeal it will be if there's wind or if its colder than usual, than this cream, is the right thing for you. It has a thick and smooth texture and when it gets applied to the skin it immediately starts working on restoring the moisture level of the skin and balancing its work. It is a powerful moisturizer that is effective and gentle to the most delicate skin. It helps in restoring skin irritations and imperfections. In case you suffer from excessive itching, cracking, redness or any other eczema or dermatitis associated symptoms, it quickly helps to relieve the condition and makes the skin soothed and calm.
Effect
This is an ideal solution for the most delicate skin type. Since it doesn't contain any chemical irritants and synthetic substances such as fragrances, parabens, lanolin, formaldehyde and similar ingredients it won't cause any irritation. Even though it has a thick structure, it absorbs very quickly and it doesn't leave any oily residue. Thousands of users who had suffered from severe skin conditions before trying this moisturizer say that this cream is real magic that will put an end to the daily ordeal with your skin. It is a family moisturizer and it is so mild that can be used even on toddler's skin.
Cost and Value
Your search for a good moisturizer for sensitive skin can freely stop here because, according to many users, it has a powerful formula that is fast-acting and extremely efficient. You can enjoy any kind of weather without having to stay at home in order not to get your skin worse and you won't have to go through the daily torture of feeling tense, painful and irritated. All of that for a very affordable price tag. It is an excellent value for the money.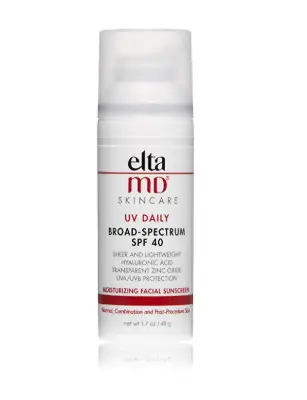 Being all day exposed on the sun is a serious thing and should be taken seriously by anyone. This is particularly important for golfers who spend hours on the course and if they don't adequately protect their skin, they are facing the risk of premature skin aging, flaky skin, and dark spots and in extreme cases, the UVA and UVB can lead to skin cancer. Well, you'd better be safe than sorry and bear in mind that SPF 30+ sunscreen will have you protected to up to 97%. But, if you are not kind of a person who has several creams in the locker for various purposes, then why not chose a moisturizer that has broad-spectrum protection, such as Elta MD.
Read more
Features
Elta MD is a serious dermatological company which is primarily known to produce wound healing products. As skin structure and protection have been their field of expertise, these daily moisturizers are an excellent choice for normal or combination skin, or post-procedure. It can be worn under makeup or alone and since it isn't tinted or scented, it is gender neutral. It can be easily applied and easily absorbed into the skin and it isn't greasy. It provides SPF 40 broad range sunscreen protection which is almost 99% of the total protection. It is formulated with 9.0% transparent zinc oxide which is a natural mineral compound that is photostable and safe for all skin types. The hyaluronic acid helps the skin get hydrated, retain the moisture and prevent the appearance of wrinkles and fine lines. Plus, it has a blend of antioxidants that help the skin fight free radicals.
Effect
If you are looking for a moisturizer that will play the role of a sun blocker, then you have found it, especially if you spend a lot of time outside. It will make a difference in the way your skin looks since not only will it be protected, but it will get hydration which will make it smoother, softer and calmer. Contrary to other sunscreens, this one doesn't leave any whitish, oily or sticky residue, so it can be worn every day.
Cost and Value
Even though this cream has a higher price compared to some other on this list, it has a double role and it works well as a moisturizer and a sunscreen at the same time which practically it means you will get two products for the price of one. Not to mention that it is highly effective in both roles, so you will get excellent value for the money.

7

. Neutrogena Hydro Boost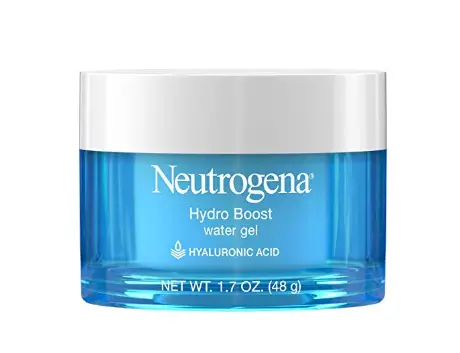 Dry skin is very hard to quench, as it always feels and looks thirsty, dull and flaky. Add windy or cold weather to it, the result you get is extremely tight skin that often gets irritated and even cracked. Well, it isn't easy to spend hours golfing with such tense sensation in your face, is it? Neutrogena seems to have found the solution that will help you moisturize your skin to its deepest layers and make it vibrant and smooth again. Plus, its formula contains moisture-locking ingredients that will help you retain its moisture for a long time.
Read more
Features
This cream looks and feels like a gel and it is quickly absorbed as a gel too, however, the effect it provides and the long-lasting hydration is the one of cream. The main ingredient that this moisturizer has is the hyaluronic acid that is naturally found in the skin and it is the component that gives the skin retaining moisture and collagen-dense structure. However, over time, this acid is lost and if it is not stimulated or added, the skin loses its firmness and its elasticity. It acts as a sponge and has the ability to retain moisture ten times more of its weight. The texture of this moisturizer is watery, very light it isn't comedogenic and it doesn't clog the pores. It has intensive hydration properties but it won't leave your skin greasy or sticky, so it can be used by all skin types, even though dry and sensitive skin will benefit the most.
Effect
The first effect that you'll feel after applying this moisturizer is the instant thirst satisfaction and momentous tightness release. It will soak your skin as you have never felt it before. As you continuously use it, you will gradually notice that the dry patches are gone and your skin will be much fresher and toned. As it is a powerful moisturizer, it will provide temporary relief for minor skin itching and irritations due to skin conditions such as rashes and eczema.
Cost and Value
In the ocean of moisturizers, you can come across different types with different prices, in accordance with the effect they provide, the ingredients that are used and the technologies they feature. However, when talking about the cost and value of this moisturizer, then the reason why this is among the most sold moisturizers is its reasonable pricing. It is affordable gel-cream that will deliver the effect of much more expensive similar products.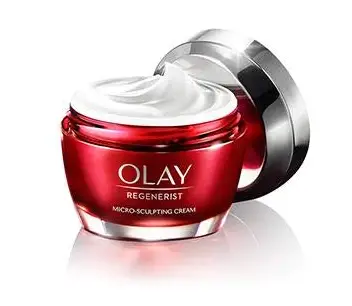 I am sure that everyone dreams of having soft, smooth and toned skin that will look healthy and radiant. And there are thousands of different moisturizers out there promising to deliver this effect and rejuvenate the skin. But, are they as effective as they claim to be? The clinical research that was carried out confirmed that Oley Regenerist was able to provide the desired skin-aging effects starting from day 1, outperforming many much more expensive creams claiming to provide the same effect. The results were stunning and showed a transformative effect in just four weeks.
Read more
Features
This moisturizer hydrates the skin in much more advanced level thanks to the supercharged formula with key anti-aging ingredients such as Amino-Peptide Complex II which regenerates the surface skin cell and makes it look fuller and smoother. Combined with carob extract which has long known to be strong antioxidant and rich in vitamins that has exfoliating and soothing properties, together with the hyaluronic acid with its high hydrating and plumping effect and the skin calming effects of the vitamin E, it provided the desired results in less than a month.
Effect
As Oley is a company that is scientifically backed up with numerous in-depth clinical trials and research, it successfully manages to outperform many more expensive moisturizers that are said to provide the desired effect. However, the research has shown that 93% of the participant who took part in the trial were able to detect skin toning and increased firmness only after two weeks of using it. As this formula is designed to penetrate ten layers deep under the skin surface, it effectively improves the hydration, restores the skin structure by visibly removing the wrinkles and fine lines and makes the skin look 10 years younger.
Cost and Value
The top-notch formula of this moisturizer has beaten its much more expensive competition in terms of effectiveness and providing much faster results in reducing the skin-aging markers and skin imperfections. The skin will look younger, rejuvenated and hydrated, and all this for a price that won't drain your budget. It is a premium cream with great value for the money.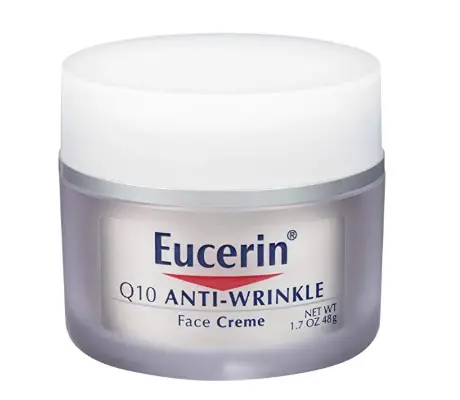 Moisturizers need to be part of the daily skin care in order to prevent the skin from premature aging and looking dull, wrinkled and unhealthy. Eucerin, as a century-old skin care company has been carrying out researches on skin properties and finding ways to produce products that will deliver optimal skin improvement and satisfaction. They offer plenty of cosmetic products that are suitable for the most problematic skin types and are very successful in delivering viable solutions. In this manner, they came up with Q10 anti-wrinkle cream that is suitable for delicate skin types without making the skin surface irritated.
Read more
Features
The coenzyme Q10 is naturally occurring in the body and it is responsible for the prevention of skin aging, wrinkling and sagging. It is a very powerful antioxidant that neutralizes free radicals which are one of the main causes of skin aging. And in combination with vitamin E and Beta-Carotene, they make a blend of ingredients that are vital for skin health, resistance to natural aggressors and skin boosters. The moisturizer is non-comedogenic, it doesn't have any added fragrances, alcohol or dyes and it isn't irritating to any skin types and can be used by men and women.
Effect
This moisturizer has a very gentle formula which doesn't cause skin irritation and the clinical studies showed that it can deliver a reduction of fine lines and wrinkles within 5 weeks of use. Plus it will deeply hydrate the skin making it refreshed, rejuvenated and radiant. According to the users, this moisturizer truly works and will make your skin look younger, healthier and radiant.
Cost and Value
You don't have to spend a fortune to get yourself a moisturizer that will make you look and feel younger and Eucerin Q10 is the existing example. It is probably the most affordable moisturizer that you could come across that provides similar results. For what it does, we could say that it is even underpriced.



As the skin is getting more and more mature, it loses its elasticity and collagen structure and it becomes loose, dull and wrinkled. Skin aging is an inevitable process which unfortunately can't be stopped, but it can be slowed down with amazing success. As science is progressing and more and more technologies are used in dermatological products, the choice of skin aging prevention creams is broader. Among the most effective moisturizers that help the skin retain its freshness and liveliness is L'Oreal Age Perfect which has shown incredible success rate in helping the skin regain its healthy look back again.
Read more
Features
Skin aging is a complex process and it all starts when the skin starts losing its ability to retain water which leads to loosening its structure, the collagen and elastin and the inability of the skin to adequately respond to natural aggressors. This cream is made to fully revive mature skin and bring it back to life. It is formulated with Imperial Peony extracts and LHA which exfoliate the dead cells from the skin which are usually caused for skin irritations and clogged pores and stimulate the renewal of the skin every single day as you use it. Plus, the rosy pigment brings back the natural rosy tone of the skin. The moisturizer will provide total cell turnover and make the skin healthy-looking and radiant without leaving an oily residue.
Effect
As this moisturizer has a rosy pigmentation, after you apply it you will notice a natural glowing rosy tone that makes your dull skin look fresh and vivid. It is especially recommended for skin that is mature, dry and pale. Many elderly users claim that the moisturizer reversed the years back and they have never felt their skin so vibrant and energized. The moisturizer feels light and once you apply it, it will instantly soak in the skin and it won't make your face shine. The overall effect is revived skin that looks and feels rejuvenated.
Cost and Value
L'Oreal creams have been among the most sold on the market due to their long-term experience in the field of cosmetics and scientific research and understanding of what each skin type needs. This product is said to be very helpful when it comes to concealing the skin age and bringing back the life of the skin. It isn't a cheap moisturizer, but it isn't expensive too. So, for the price, you pay you to get a decent quality cream that won't disappoint you.

Subscribe to our Newsletter