Best Electric Golf Trolleys Reviewed & Rated for Quality
In a
Hurry? Editors choice: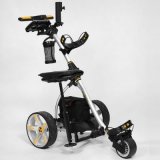 Test Winner: Bat Caddy X3R

When it comes to golf, individuals know that there is no other sport that requires more walking, unless you are just walking. With that in mind, golf can be one of the most entertaining and advanced sports in the world. However, nothing is less fun than having to
haul a golf cart bag
in 95-degree weather. Therefore, we want to make life a bit more simple for our readers by sharing the
top ten electric golf trolleys and electric golf push carts that an individual can buy today
.
Standout Picks
Criteria Used for Evaluation
Model
Automatic / Manual
As we discussed in the intro of our article, there are many different styles of electric trolleys. However, the mechanism that moves the trolley can either be manual or automatic. Automatic is known as a remote-controlled trolley that does not need to be pushed, it simply follows the individual or can be controlled with a remote. However, a manual trolley does need to be pushed the whole time.
With that in mind, we can say that remote control trolleys tend to be the fan favorite for numerous reasons. Reason number one is that they are simpler to use and give the individual unprecedented abilities and freedom when it comes to the golf course. Reason number two is because if the battery runs out, it can also be used manually and pushed so it is never stuck on the course.
Advanced Features
The Technology
As point number two, we found that the technology behind a trolley is detrimental for the success of the overall item. First, the way the machine functions is crucial. Meaning, some trolleys are automatic but can only be controlled in a specific way, while some trolleys come with a remote control. It is synonymous however that most automatic trolleys come with a left, right, reverse, stop, and forward feature to make it easy for the user to use.
Alongside this, the most innovative trolleys come with a slew of technology features such as automatic follow, which automatically follows the golfer through a sensor system. The second most innovative feature is the slope up-hill and down-hill feature which makes the cart more cautious.
Battery Life
The Battery
As the third point to cover, we wanted to ensure that the trolley came with the best possible battery. Now, it is important to note that if a trolley is more expensive it will come with a better-quality battery. For instance, many premium brands have rechargeable batteries that last as long as 38+ holes. However, some brands have batteries that need to be replaced after a specific amount of time. All of this together will help determine the overall cost of the item.
Accessories
The Accessories
As the last major point that we focused our attention on, we found that many brands will either include or have different accessories as options when it comes to their products. These accessories include everything from cup holders to scorecard holders. To us, we wanted to include both varieties that included the accessories as attachments or did not, but individuals had the options to buy them separately.
Ease of Use
We wanted to make sure that the products we put on this list were easy to use for whenever you need it. Having an electric trolley makes golfing a lot easier and keeps you from putting strain on your shoulders from carrying your golf bag. We also wanted to make sure that it can be packed up into and out of your vehicle so you can bring it with you wherever you go.
Not only that we also looked to see how you use them. Are they remote controlled, sensory operated (where you wear a sensor and then the trolley will follow you automatically) or manually operated? No matter what one you get it will help you conserve your energy for your game. Some are easier to use than others but, most of them require basic technology skills. Some even come with a distance timer where the trolley will move the designated amount and then stop automatically. This feature really comes in handy because if you leave your trolley on the side and go to hit your ball in the middle of the course you don't have to walk all the way back to get it because you can set it to come right to you instead.
Top 10 Electric Golf Trolleys
Subscribe to our Newsletter