10 Best Golf Driver Headcovers
In a
Hurry? Editors choice: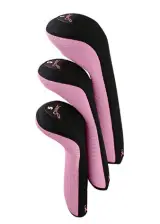 Test Winner: Stealth 3HC

If you are looking for an addition to your existing driver headcover (unless it was stolen or damaged so you had to find a replacement) you must be a stylish, cool golfer who feels that his/her style should be emphasized straight from the
golf bag
. Even if this article popped up while searching for something else, it might give you an idea of how you can stand out on the course along with your performance.
So, we have selected the most popular 10 driver headcovers that speak style, quality, and functionality. By the way, besides expressing personality, their primary function is to protect your driver from scratches and external impacts. They are made from different materials and some of them are absolutely unique, so read below to find out why these are the best ones and what benefits you can have from getting one for your driver.
Standout Picks
Criteria Used for Evaluation
Materials
What is noticeable about this criterion is the versatility of the materials used to produce them. There are many different types, and in accordance with their style, such materials have been chosen to produce them.
PU Leather- it is a substitute of genuine leather, however, at first glance, it is hard to make a distinction between this material and the genuine one. On the second look though, if you are a good observant and if you know all about genuine leather, you will notice that this one is shinier and smoother and it is a bit harder. It is made from polyurethane cover, which is used either on a thin piece of genuine leather or less frequently on other material. This synthetic product is durable and easy to maintain, less expensive than the genuine one, however, not as durable as the genuine leather.
Neoprene- this is sports performance material and it is used for the production of sports gear, accessories and slimming aid. The material is fairly durable, easy to maintain and very soft. It has high protective rate, it soft and thick but isn't bulky.
Wool- There is one knitted product that is made from acrylic yarn which is double knitted. This material isn't as durable and protective as the previous two, however, it is popular thanks to its style and design. Among not that frequently used ones we come across wool, suede, etc.
Style
"Style is a way to say who you are without having to speak." - Rachel Zoe
It is one of the hardest to determine criteria as style represents personal preference and personal definition of what beautiful is. This is the reason why we have included a variety of designs in our attempt to make this buying more appealing to everyone's style. Personalized, sports models seem to be very popular, but nothing less can be said about branded ones and of course, the ones that resemble stuffed animals. Some might think they are teenage-like and made to appeal to this category of golfers, but you'll be surprised to hear how many PGA tour players have actually used included them in their golf bag.
However, we did need them to score them and even though reluctantly, we still rated them in accordance with users' comments and opinions regarding this criterion. So, basically, we followed the principle of 'majority wins', meaning, the more positive reviews the product has had, the higher the rating it got.
Fit
Staying on the club and protecting it from any external impacts and damage, is the main purpose of headcovers, so this criterion is of great significance but it is often neglected because of the general opinion that governs, thinking that all of them will fit as they should. Unfortunately, this is not the case and we needed to pay a closer look at the choice of the products that we have selected because there are many of them out there on the market which does not adequately fit the designated club head type or a number. The products that we have selected to deliver the right fit and whatever you will choose, they will stay firmly on the club to provide sufficient damage-free performance. Furthermore, to make sure that the headcovers will stay where they are supposed to be, some come with a zipper, a strap or a magnet, while others have an elastic lining that keeps that snag.
Durability
When purchased, drivers usually come with a headcover because it is the longest club in the bag and it stands out with its large head. Manufacturers use this opportunity to provide a cover with the name of their brand which functions as a free ad. However, in case it gets worn out, lost or the golfers want to express their own personal style rather than the company's, a new one is always an option. And when you invest in a new one, then you'd like to have it for some time.
Regarding durability, basically, the leather is the most durable followed by PU leather, neoprene and then the knitted ones. The one particular product that features animal character comes with a lifetime guarantee, which obviously shows that the material used in its production are of the highest quality. But it isn't just the choice of the materials that determine the durability, the way they have been put together influences their lifetime too. Double-stitched ones and those that feature more seamless constructions are much more durable.
Value
There are many different headcovers sold on the market for very different price points, ranging from very cheap to very expensive. But what matters the most when discussing the value of the products is their actual quality in relation with the price tag they have been sold at, which in other words would mean, determining their value for the money. And this has helped us to narrow the selection down because all the above-mentioned criteria helped us to make the choice. So, we picked products that are durable and of high quality and whose price won't break the bank. The price for most of these products is a reflection of their quality and therefore they are considered to be a good value for the money.
Top 10 Picks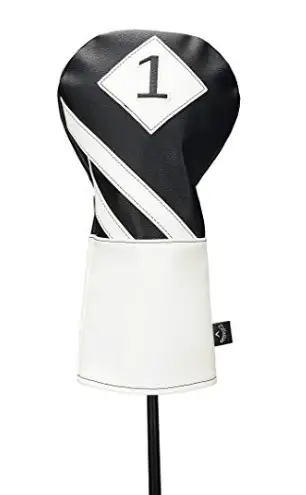 If you are a golfer who sticks to traditional designs which come from the most reputed companies in the world of golf, then Callaway has it all for those with exquisite style. As driver headcovers are the ones that mark your golf bag, then they need to be the ones that will represent your personality in the best possible manner. Well-designed and outstanding are the first two words that describe this product, so read below to find out more.
Read more
Material
Callaway Vintage driver headcover is made from polyurethane construction which means it is very durable and of high quality. As a matter of fact, if you know a bit more about the materials used in the production of golf balls, you must have heard about urethane-basedgolf ball covers as they are of premium quality and usually are much more expensive compared to surlyn ones. In the same way, this material ensures a high degree of protection for your club and long term usage.
Design
This model is made from a combination of two colors which are contrasting and which look traditional, elegant and vintage. There are several color combinations that golfers can choose from, allowing golfers to match them with their particular style. It features a form-fitting design which means it adapts to the shape of the club once you put it on. The length of the sleeve is designed to protect the lower part of the shaft too.
Cost and Value
When you buy a Callaway headcover, one thing is for sure, it is going to last long and it will never be out of fashion. And, for a Callaway product, we have to admit that the price isn't over the roof, so for a reasonable price point, you will get a timeless design and high-quality product.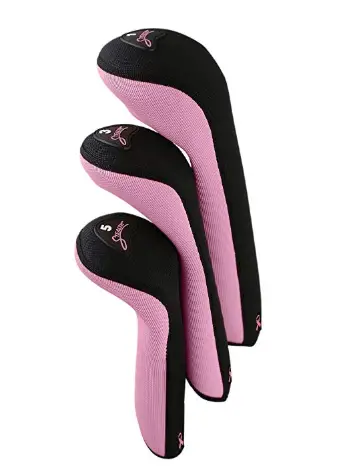 If you are the kind of person who has a modern and trendy style but at the same time you do pay attention to the hygiene of the covers and want them to be constantly spotless and shiny, then we advise you to take a look at Stealth 3HC. They come as a three-piece set, including one for your driver, for the wood-3 and the wood-5, offering durability and individuality. Take a look below to see why we have selected them and what their most significant features are.
Read more
Material
Material is an important feature as it directly influences the quality and the durability of these products. They are made from high-quality neoprene which is among the most durable materials capable of withstanding the test of time. This material is perfect to fit the clubs compactly without being too snag and at the same time not to look too bulky.
Design
Each of the three pieces is designed to fit the suitable club number so that it keeps it adequately protected. They are long enough to keep protected the first bit of the shaft but not to jam inside the bag. The material allows gliding the cover on without posing the need of any bulky zippers, straps or magnets. You can wash them as much as you can and always have them clean. They come in many different color choices to match with the rest of your equipment.
Cost and Value
At first glance, they might seem expensive, however, bear in mind that this price is for a set of three, so the individual price of each product is fairly reasonable. They are easy to use and easy to maintain while keeping your clubs safe from any damage. These driver headcovers are convenient and won't break the bank.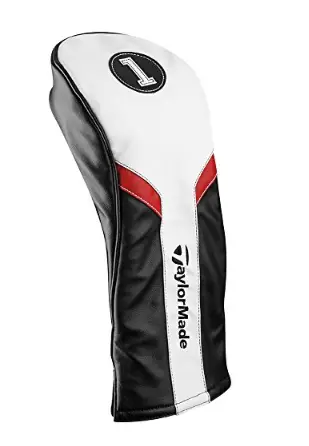 You don't have to have a driver TaylorMade to own a TaylorMade headcover. But if you do, it will be a perfect match for your club. Many golfers opt for Taylor Made driver headcovers because the brand itself speaks status, recognition and premium quality. TaylorMade is always an option, as it will reflect the same attributes it has on the golfers who own a piece of their product array. So, if this piece is what you think will match your style the most, take a better look at it.
Read more
Material
Leather has always been an option for making high-quality pieces of gear and you can see it used in a variety of products such as hats, gloves, bags and so forth. The reason why it is considered a premium material, is the fact that it is durable, it is relatively easy to clean and it can be stitched perfectly well. These are exactly the reasons why TaylorMade has decided to use synthetic white PU leather for this product.
Design
When it comes to the design it has the recognizable TaylorMade style, characterized by premium stitching and exclusive style. It has the standardized length to cover the upper part of the shaft too and it is made with three differently colored pieces. The front and the back are dominantly white while the sides are black with the TaylorMade branding in the lower part, and there are two red side stripes which make it more variant. There are elastic invisible parts underneath in order to keep it tight on the club.
Cost and Value
When considering a TaylorMade driver headcover, there are a few things that buyers need to bear in mind. The driver headcovers are of the highest quality, they represent the ultimate golfing style and stand for status and superiority. This means they are not inexpensive, however, what you'll get will be an excellent value for the money.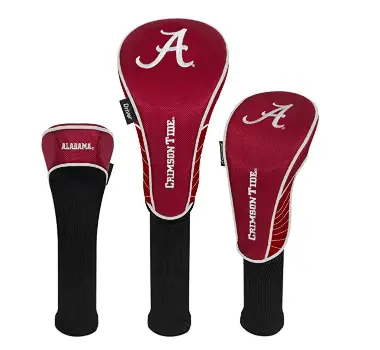 Some manufacturers, in their attempt to appeal to as many golfers as possible, often decide to offer an extended number of covers, to protect the larger and the most protruding clubs-the driver, the fairway and the hybrid. In that way the pleasure is mutual. Golfers get one matching design for all those clubs, while the manufacturers get a free advertisement as the golfers walk around the course. Collegiate made this attractive, sporty style protective covers to attract the attention of the young golfers with youthful spirit, so read below to find out more about them.
Read more
Material
The material they are made from is one of the most durable and impact-resistant 420D nylon which has been often used in the manufacturing processes of many sports goods. The material is easy to maintain as it is resistant to liquids and stains, so you will be able to clean it with a damp cloth only. Each of them has an expandable sock which is designed to protect the part of the shaft that is the most vulnerable to damages.
Design
The sporty style is obvious as they feature the Alabama Crimson Tide logo and design, so many young golfers will find them attractive. There is a wide range of vibrant colors and clubs' logos to fit every golfer's fun club and personalize his or her equipment. The stitching and seams are well-made and each of them has a corresponding woven tag which identifies the type of the club. The driver is made to fit most of the club heads that have size 4600cc and all of them are embroidered with Alabama Crimson Tide trademarks.
Cost and Value
These ones are excellent for personalization as they are not something that you frequently see on the course, so when one has them, everyone knows who they belong to. The Alabama Crimson Tide logo makes them look dominant in your bag and they do claim authenticity and remarkable quality. The price is a bit higher, but many golfers claim that they are worth every dollar spent.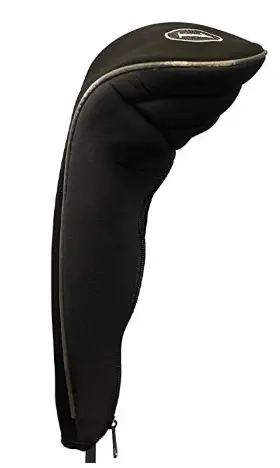 If your style is traditional and you don't really want to stand out on the course but at the same time, you need proper protection for your driver, then PGC has designed this golf driver headcover to appeal to golfers with more modest style-related preferences. What most of the buyers agree about this model, is its functionality and durability as it is very well made to deliver long-lasting protection for your club. Read below to find out more about this product and what it is made from.
Read more
Material
Neoprene is the material that the designers used to make this cover as it is one of the most durable materials when it comes to sports goods. This material is stretchy so that you can easily fit your club inside, but at the same time, it is thick and soft enough so that it stays protected and secured. The material is washable, so you can easily keep it clean.
Design
The plain black golf driver headcover is embroidered with white sewn-on numbers which can be easily seen. On the back of the cover, there is a long zipper which is added to keep it from falling off the club. It is long enough to protect part of the shaft as well. The thickness of the material and its softness keep the clubs safe from clanking in the bag, from scratches and paint chipping.
Cost and Value
If you are looking for a good -quality product for an excellent value for the money, you have most definitely found it. This neoprene cover fits most of the clubheads with size 460cc and it fits well. The zipper seems solid and nice, so it is a highly recommended product.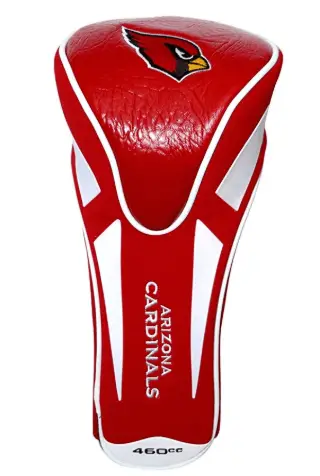 Team Golf has been into business for more than 20 years and it is a licensed company for producing golf gear and accessories. The company boasts a complete line of golf gear for 900 teams so that avid fans can choose from the wide variety of team-branded accessories. And talking about accessories, the actual featured model has the logo and the name of the Arizona Cardinals and it looks absolutely amazing.
Read more
Material
Golf clubs can be exposed to a lot of external impacts, and that's the reason why these covers exist first place. However, as they are the ones which will take those impacts upon themselves, they need to be made from super durable materials to withstand the constant use. That's what the company had in mind when it decided to use buffalo vinyl and synthetic suede to make these driver headcovers. This combination makes them exceptionally durable and long-lasting so that they can withstand the test of time.
Design
The designs vary as the number of the teams vary, so we will focus on this particular one which features the Arizona Cardinals team. However, all of them share some attributes such as the sleek design, 4 location embroidery and the ability to fit oversized clubs. This one is made in red and white, featuring the team's colors and you can read the name of the team on the sleeve which is long enough to protect the shaft, while the team's logo can be seen on the top of the cover.
Cost and Value
This is an excellent looking driver headcover that will make many golfers pleased with their choice. It fits the oversized clubs and the material is of decent quality. The price point is also acceptable, it is neither cheap nor expensive, just the right value for the money.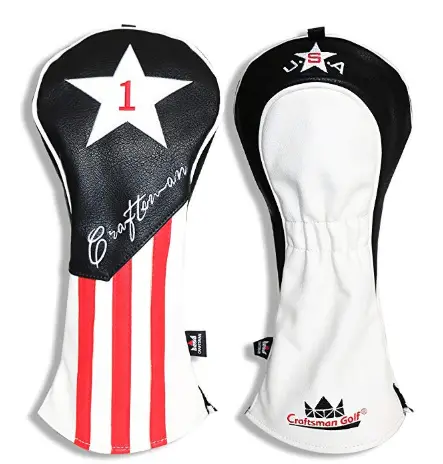 If you are a proud American golfer who wants to have instantly identifiable headcover at a glance, with an accent on the American flag design, this is the option that you should consider. This is one of the many options offered by Craftsman Golf, a company that is committed to making the best-advanced golf accessories with a wide range of products designed to protect your equipment and improve the way you play the game.
Read more
Material
Many companies have decided to switch to high-quality PU leather from moral and practical reasons, so this golf driver headcover is also made from such material. It is easy to maintain, it is very durable and it can be easily kept clean. This material guarantees durability and long-lasting effectiveness under various circumstances.
Design
The three red vertical stripes and the white star on the black layer having embroidered the number 1 on the top of it, stand as a symbol of the American flag, making it look peculiar in any way. Below the star, you can see inscribed Craftsman in handwriting while on the back of it there's the logo. There aren't any zippers or magnets, just elastic piece which is built-in and which keeps the club secured. The stitching is well made and it is long enough to protect part of the shaft.
Cost and Value
This is a well-designed golf driver headcover that will make you feel unique and special on the course. Made with high-quality materials from the company that has been specialized in the production of various different types of golf accessories. The price matches the quality and the design, making it fair value for the money.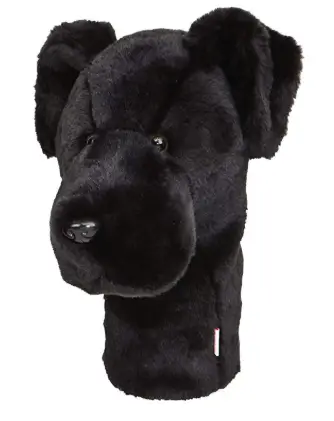 Oh yes, this is, indeed a golf driver headcover for your driver. We talked about the expression of style and personality, and the best way to manifest your uniqueness is to choose from Daphne's animal collection, specially designed for golfers with special love towards animals. The owners of this cover will have their individuality and personality expressed in the best possible way. But, besides the style, it is firm and very protective, so read below to find out more about the product.
Read more
Materials
What golfers praised the most about Black Lab is the high-quality materials used in its production. The soft suede material on the outside and the wool from the inside with the elasticized lining guarantee a secure fit for all clubs, including the oversized ones too. The company guarantees lifetime durability and offers a free replacement in case something happens to it.
Design
This fun design of a black Labrador of this driver headcover will make everyone smile since it looks absolutely adorable and irresistible. Its shiny eyes and nose and the soft fur with the floppy ears make it look as realistic as possible, but at the same time, the firmness of the material with the exceptional stitching deliver utmost protection to your clubs.
Cost and Value
This golf driver headcover doesn't have any negative reviews, as a matter of fact, it doesn't even have three-star ratings, proving that it lives up to the description. It is a bit bulkier and takes up more space than any other regular counterpart, however, if expressing individuality while protecting your clubs is what you have been looking for, then go with Daphne. The pleasure will cost you about twice the price of those averagely priced ones, but this one will last for a long, long time.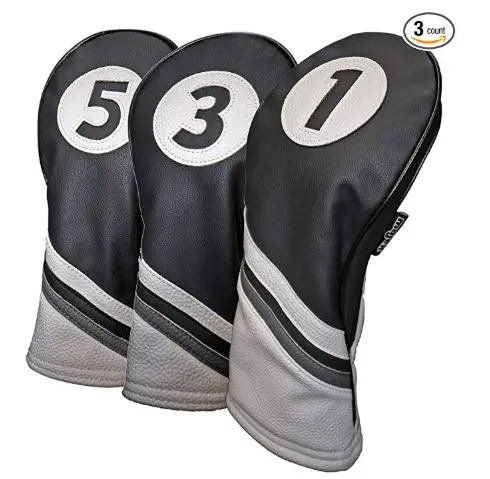 If you are looking for leather style ones that have a vintage look and excellent quality, take a look at the Majek Golf headcovers which have been the choice of many senior golfers with sports spirit. There are three pieces with designated numbers 1, 3 and 5, meaning they are designed for the driver, the fairway and the hybrid. Many golfers have had a delightful experience with them, so take a look at their features below.
Read more
Material
Made from durable PU leatherette material, this driver headcover guarantees long-life and tough protection. This material is made to resemble genuine leather, however, it is different as it has polyurethane cover which makes it shinier and more flashy. Some of the perks of this material are the ability to easily keep it clean and resistance to scratches and external impacts.
Design
The inspiration for their driver headcover design comes from the classic lines of headcovers of the Vintage Retro Golf Headcovers. They are engineered to have a snug fit so that they can stay on the clubheads and won't easily fall off. The driver is made to fit most 460cc models and generally speaking most of them fit the clubhead sizes. The stitching is of high quality and the diagonal pattern of contrasting colors gives them a nice look.
Cost and Value
If you read golfers' comments regarding Majek driver headcover, you will realize that all of the buyers share the same opinion, they are indisputable of good quality and many of them would purchase them once again. They fit well, the protective function is impeccable and they look timeless. The price is a bit expensive, however, the material they are made from guarantees long-lasting use.

10

. Scott Edwards Stripes Style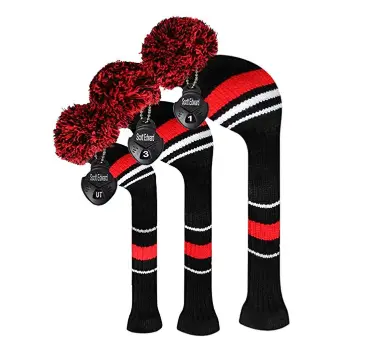 These surely remind you of your grandma's knitted winter hats with the sizeable pom poms on the top of it, and probably they bring back some memories of the childhood winter days. Designed to bring back the spirit of good old days, these knitted covers will be an excellent completion to your golf bag which will undoubtedly mark your style. The set comes in three covers, designated with numbers 1,3 and 5 to mark the fitting club.
Read more
Material
Obviously, these are made from wool, more precisely, acrylic yarn, knitted in double layers. This material is durable and delivers a snug fit to the clubs. As it follows the line of the club it won't take up much space in your bag. Plus, this material is anti-wrinkle, anti-pilling and machine washable so that you always have the new look. There are many color choices to fit men's and women's clubs.
Design
These are very individualized covers that are made to bring back the old times winter flair to nostalgic golfers. They are very soft and thick and can fit even the 460cc club head. Plus, they are very easy to put on and off and the double-layer enables them to provide sufficient protection to the clubs from scratching and paint peeling. The pom poms are adequately proportioned to the clubhead size so that they don't look too big.
Cost and Value
If your style is traditional and vintage, these driver headcovers will be an excellent addition to your bag. When it comes to the color possibilities there are many to choose from, allowing you to make them as much personalized as possible. Regarding their price point, we'd say it is the lowest, making them more attractive for golfers who prefer switching among styles and designs.

Subscribe to our Newsletter