Best Deep Cycle Battery For Golf Carts
In a
Hurry? Editors choice: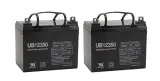 Test Winner: Universal Power Group

Why is a good deep cycle golf cart battery a must have? If you are a golfer who'd like to take full control of your experience on the golf course, then golf carts can be a lifetime investment so that you get full enjoyment on the course. Walking is good, but if you repeatedly rent a cart every time you get on the course, then you should consider renting one on your own.
It is a well-known fact that a
golf cart
will be as good and functional as the quality of the batteries it has. And here we get to the point where many golf cart owners have the misunderstood belief that the most appropriate battery for the cart is the original one. However, that's far from the truth since the best batteries for golf cart can be found in replacement batteries.
Standout Picks
Criteria Used for Evaluation
Battery Life
Getting to know the type of the unit you need means greater satisfaction and meeting your needs
It is always a good idea to clearly define what kind of deep cycle golf cart battery you'll need for your cart and what kind of expectations you have so that the unit you buy meets your expectations. On the market nowadays there are many different types and models, but the three basic models are the following: flooded lead acid battery, gel lead acid battery, and AGM lead-acid battery. All of them perform well and in accordance with the purpose and the type of the cart they can be the right fit, however, there are some differences that distinguish them.
Flooded lead-acid batteries are those that you'll probably come across first and which are the most common on the market. These units come in various sizes and have multiple functions, however, they aren't sealed which means that you can replenish any lost electrolyte within. These units feature lead plates which are based on sulphuric acid.
Gel lead acid batteries are mostly recommended for rough terrains because they are solid and impact resistant, so even if the casing cracks, the cart won't be prevented from riding on the course. They have a thickening agent which has the ability to keep the electrolyte still and it is a fully sealed unit which requires no maintenance.
AGM lead-acid batteries are the ones that are fairly new on the market and as being the latest production, they feature more sophisticated features. They utilize a fiberglass separator which keeps the electrolytes in place. They are considered the most durable and robust because they can endure a lot of pressure, impacts, they are spill-proof and resistant to vibrations.
Durability
When choosing the right battery, look for those that have longer cycles of charging and discharging.
Nothing lasts forever, so you must be aware that these units have a limited life span too. The number of cycles each battery provides is the duration time that you can expect and that will practically mean knowing ahead how much time you can rely on that deep cycle golf cart battery. And, in case you are a total novice when it comes to these products and were wondering what cycle means, that means the number of times the electricity will charge and recharge. So, every time you discharge it and then charge it again, its lifespan is getting shortened. The average number of cycles that you can find today ranges from 700 to 1,500 cycles. What we considered in this article are the units that have more sophisticated and advanced technologies and which are capable to retain each cycle for a longer period of time. For the purposes of your golf cart, you'll need a unit which is capable of going through long cycles, which means they have a higher capacity for greater utilization. This, in turn, results in longer cycles of charge and discharge which is obtained through the utilization of lead plates with higher density and added reinforcement.
Capacity
The higher the capacity of the deep cycle golf cart battery, the greater power the cart will have and less charging and discharging sessions it will endure.
As varied as they are in terms of type and size, they vary in their capacity too. When we talk about their capacity we usually mean the power that each unit has to hold and supply power. This in practice means, if the unit has lower capacity, your golf cart will have less power on the course and it will need more frequent charging sessions compared to those which have higher capacity. When choosing the capacity of the battery, look for the symbol AH or amp which means ampere-hours. Of course, for greater satisfaction and reliability, it is recommended to chose the ones that boast higher capacity because this means preserving the cycles and longevity. However, not all carts are capable to use the ones of the highest capacity, so before buying the battery with the highest capacity make sure it will be a match to your cart. However, there's always the possibility for the batteries to be combined and for that, a parallel connection must be created. This connection provides the opportunity to connect both, negative and positive terminals of each battery.
Features
Premium features allow for maximum reliability and better performance.
​The basics that we have discussed are just basic directions of how to start your search when looking for a quality and reliable battery. However, premium features usually distinguish each model from the others within the same category, so, we'd like to share some tips when choosing the right make for you. Especially if you are determined to shell out some extra cash then consider some extra benefits like warranties, maintenance-free options, vibration and impacts resistance so that you have a premium experience too.
Deep Cycling - as we have previously discussed, these batteries are going to prolong the life of your cart and it is worth spending some extra cash on units that aren't going to frustrate you after a while. These are designed to last much longer and to exhaust them to their fullest.
Maintenance Free - maintenance free batteries are actually sealed units which don't provide you with the option to replenish the level of the electrolytes and they are hassle-free. You won't have to check the battery for any leaks or loose connections, replenish it with distilled water and control the level of electrolytes, you will be able to cut down the time you spend on maintenance, etc. However, these are less durable and don't provide the deep cycle opportunity.
Rugged Construction- This type of construction usually feature those batteries that are of higher quality and they are made from very high-density components which feature integrated electrical short protection which keep it protected from any power shortage. This means you can travel on bumpy terrain and power it without worrying about any power surges.
Vibration Resistance- this is also a practical feature to relieve the unit from any shocks and impacts while going on the rough.
Top 10 Picks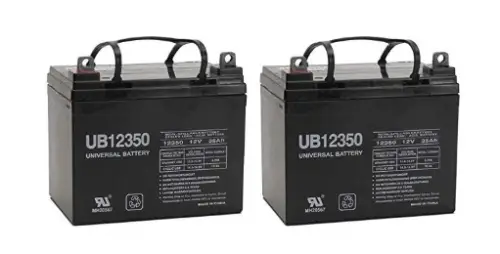 When your golf cart gets to the point that it needs a replacement for the battery then choosing the right type is the key to being satisfied with the cart. So, you will need something reliable that can take you throughout the course, such as Universal Power Group. We know that there aren't many batteries that can be the real match of the quality of the original one that was integrated into the cart, but this model has increased compatibility features. As for the beginning, it is quite versatile and sufficient to be used not only to power your golf cart batteries, but also other devices such as a wheelchair, scooters, and bikes. And in case you are using solar panels in your home, these batteries will be sufficient power for the night.
Read more
Features
The batteries can fit in most of the golf carts which means you'll shorten the time for looking for the right one. Another important feature that makes these batteries perfect is that they are maintenance-free, so no adding distilled water or checking the electrolyte level, Plus, these batteries are non-corrosive and have a fiberglass mat. Also, they feature microfiber separators that are efficient in capturing the electrolytes. There are flexible connections on the top and the side which enhance their strength and durability. As a result, the battery provides power in the same manner and intensity as the top battery brands with a higher price tag.
Durability
These deep cycle golf cart batteries can be charged fast and it usually takes approximately four to five hours. The batteries feature complete protection against over-voltage, overcharges, overload, and short circuit to deliver uninterrupted power supply. There are other characteristics that make the battery durable such as ABS plastic shell. When we talk about its durability, it is worth mentioning that It is shatterproof, so don't worry about bumpy rides. It has a very slow discharge rate which is enough for all day enjoyment on the course. Regarding your safety, the battery is spill-proof, regardless of its position and it is vibration resistant too which means it can be used in many vehicles.
Cost and Value
You don't have to break the bank so that you get yourself a decent deep cycle golf cart battery that isn't going to fail you after a month of use. This type has been checked, used and confirmed by many users as a reliable one. So, this one makes it a good value for the money, particularly if you consider its versatility.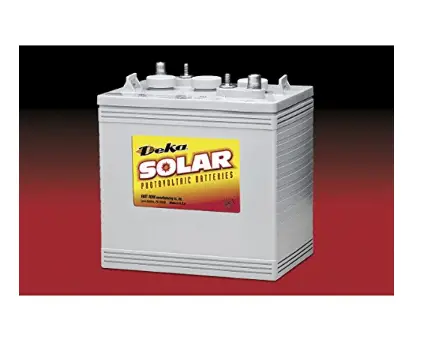 Deka battery is a 6 Volt, 180 AH Gel battery which is a deep cycle battery which is designed to last for a long time. This battery is maintenance free and completely sealed which releases you from the obligation to water it in case there's spilling or fumes. It is maybe the most advanced of all and very well made, however, it is the most expensive battery of all. But that's not surprising since it can respond to the most demanding tasks of all.
Read more
Features
When looking for the perfect match that will make you satisfied on the course, you might have seen this one and I'm sure that the price has got your attention. Have you ever asked yourself what makes this one as expensive as it is? First of all, the quality of the composition and the brand says a lot. Then, measuring only 10.26 inches, this deep cycle golf cart battery weighs about 68 pounds, which means it is portable and can be taken anywhere. Then, it is the latest technology used in its production that guarantees longevity and endurance. The fact that this is an AGM battery, the electrolyte stays where it is supposed to be, even though you might use it for the toughest terrains.
Durability
As this is an AGM battery, it guarantees maximum performance and reliable service. As we know these batteries are the most durable and warrant workability even when the construction is cracked. According to reviewers, it is a unit that you buy once and you know that it will be years after you start thinking about buying another one.
Cost and Value
It is a fact that it is one of the most expensive deep cycle golf cart battery units that you can come across on the market, however, the model the company, the way it is made shout quality and perfect performance. It comes with a two-year warranty from manufacturer's defects and peace of mind that you have wisely invested into a premium quality product.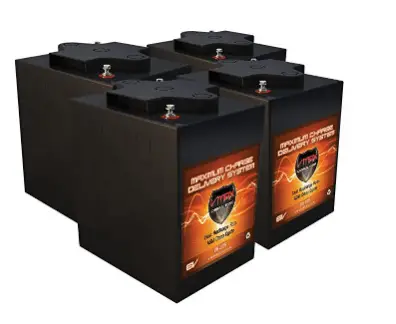 Imagine you could buy the best deep cycle golf cart battery with a capacity of 6V which could be used in your golf cart, maybe a wheelchair, cleaning equipment, mobility equipment, solar power and it worked perfectly! What if I told you that it existed and it is right here, waiting for you? This is the one that features deep cycles and has the capacity to retain high reserve so that it never leaves you in the middle of the course or the road. It is one of the highest ranked one, so read below to find out more about it.
Read more
Features
Qty 4 VMAX makes use of an electrolyte suspension system which integrates Absorbed Glass Mat technology which prevents leaking or spilling of the acid so that you can enjoy the unit without worrying that you will have to take about it. The manufacturer's claim that this unit will meet your expectations and provide you with the desired durability and power supply is confirmed by the materials used in its production. It is made by heavy-duty lead-tin alloys that provide an extra performance and service life in cyclic and float applications. Sized 9.5″ x 7.3″ x 11″ it might not be the tiniest and the most lightweight one, but it is portable.
Durability
The material this unit is made by and the technology used in its production guarantee that you will use it for a longer period of time without being anxious that it might fail you. The military grade plates increase the margin of performance so that you can happily indulge in the activities you enjoy doing.
Cost and Value
There are four units there are sold in bulk which constitutes a very solid power for multiple purposes. This unit is extremely high rate with no negative reviews and the satisfied buyers claim that it indeed matches the description. Each of them comes with a 12-month warranty.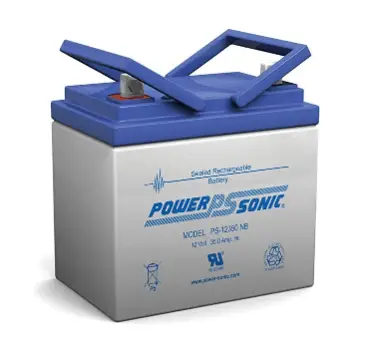 Powersonic deep cycle golf cart battery is a very powerful type, with a very low return rate and high life expectancy. It is the type that is primarily used for field off-grid applications. It weights quite a bit, with about 24 pounds due to the lead content and posts for bolt connections can be found in different configurations. However, with the handle on the top, you can carry it around quite easily and use it for multiple purposes on different applications.
Read more
Features
This Powersonic model utilizes HEM technology which gives it a longer service life and it allows it to charge faster. The seal lead battery allows for maintenance-free workability which is valve regulated and keeps you from the hassle of keeping constant check-ups. The Absorbent Glass Mat technology allows for superior performance yield unsurpassed energy density. The rugged case is made from impact resistant ABS plastic which ensures smooth work even in bumpy terrains.
Durability
The battery allows for low discharge and deep cycle rate so that it has a prolonged life. The unit is VdS approved and standardized by following certain procedures and fire protection standards guaranteeing maximum safety at work. With the purchase of this unit, you get one year warranty from manufacturer defects.
Cost and Value
Produced by a reliable company which has been producing this kind of products for more than 40 years, this is unit guarantees the safety and high-performance that only premium manufacturers offer. The unit is slightly more expensive than the others, but all the certifications are enough proof that you'll get a great value for the money.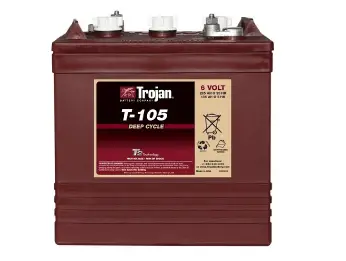 Trojan batteries have been considered the forerunners when it comes to flood-leaded units. They claim the longest life and the least cost per ampere-hour, making them a real trustworthy power partner for your device. However, as there's always the other side of the story, this reliability is two-sided, meaning, you need to regularly maintain it, check the electrolyte and water level and make sure that everything is working properly.
Read more
Features
So, if you agree to trade your occasional effort with the high AH of 225 hours at a 20-hour rate. That means that you can expect about 750 cycles and that means rounds and rounds on the course. Trojan batteries boast multifunctionality and versatility, and they can be found in a variety of uses besides golf carts such as electric cars, scooters, and solar power storage. They are can even find their use for multiple outdoor applications, like camping. They can be easily and quickly charged. In Trojan units, you can see the use of the most advanced technology related to deep cycle cells in order to prevent any occurrences of degradation. As they provide the best amp output per hour, they make sure that you get a constant power flow for the unobstructed running of the cart. Trojan T-105 is a unit that has a constant performance and regardless of the terrain, its workability isn't going to get diminished.
Durability
Trojan is not only functional, but it is one of the most lightweight deep cycle golf cart batteries too, weighing only 64 pounds. Each unit goes under strict quality control which is impeccable and detailed, having more than 200 inspection points. That tells the buyers a lot since the possibility of getting poor batch are reduced to a bare minimum. This is where durability can be observed since it is enough confirmation that the buyers will get what they were hoping for. Trojan was made by incorporating T2 technology, which is currently the best in the industry when it comes to optimal energy, performance, and lifespan. At 50% DOD, it is expected that Trojan T-105 will be able to achieve 1200 cycles while at 80%, it can reach 800 cycles.
Cost and Value
Many manufacturers advertise their products as durable, but when you provide an existing certification od durability and performance, accompanied with inspection and ongoing control, then the product is bound to function the way it is supposed to be functioning. Plus, with the purchase, you get 36 months warranty from manufacturer defects and excellent customer service. The price for the quality you get is reasonable and by no means expensive.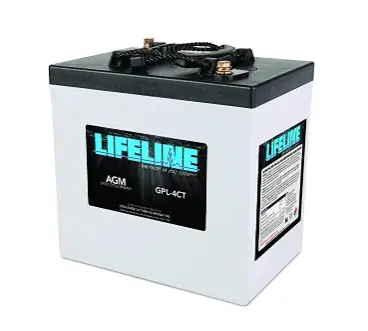 Many Americans swear that the label 'Made in the USA' shouts quality and excellence. Their reason probably lies behind the excellent quality control and adherence to procedures so that the final outcome is of the finest quality. That is especially important for products that are made to bring convenience, transport and practically products that you rely on. You probably get the hint, we are talking about Lifeline Marine which boasts excellence in its construction and consistent power support. It is relatively lightweight and stores sufficient power for a full round of golf.
Read more
Features
The first thing that strikes your attention is the fact that it is very lightweight and trendy made. We then move onto its power capacity. One thing is for sure. You'll have plenty for a whole round of golf. Next thing, which gofers particularly like is the fact that it is maintenance free and it is closed cell construction, so you don't have to bother cleaning up because you no acid spills are expected at all. It features low internal resistance which makes sure that the power output is at its highest.
Durability
The deep cycle golf cart battery is quite impressive of itself and has an impressive discharge rate of 2% per 25 degrees centigrade – which is the benchmark for super quality and the durable unit even when it is in storage. The power that the car will have means that it will be able to smoothly glide across the course with no difficulties at all and without the need for additional charging. However, there are several procedures that you need to follow such as avoidance to deplete it more than 50% and never leave it half charged. The cables that you need to use must be of the highest quality, such as welding cables. This is a versatile model too which can be used for multiple purposes such as solar power, boats, and scooters without failing your expectations.
Cost and Value
The market nowadays abounds in various types of deep cycle battery which are characterized with different features. This product is claimed to bring satisfaction and reliability at their fullest. Even though pricey, buyers say that it meets the expectations and it is worth the money.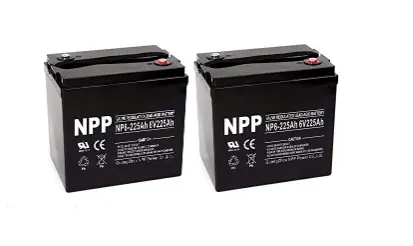 What kind of power unit do you need so that you have a reliable power so that you are sure that you will be able to get to the 18th hole effortlessly and smoothly without any frustrations caused by low power or ineffective performance? NP6 is the kind of the power unit which comes with 6 V capacity that offers maximized performance for your golf cart, but for other applications too.
Read more
Features
This power unit is made from rugged, non-conductive ABS plastic case which is highly-impact resistant, vibration-proof. This directly contributes to the durability of the unit itself, since it means that you can indulge in the activity you are doing. It is a versatile, multipurpose power unit which can find application not only in carts but in boats, solar systems, electric wheelchairs, computer standby power systems, etc.
Durability
As this is completely sealed, a maintenance-free battery which is strictly controlled from the first of production to the last guarantees optimal use and productivity. There are several certifications that guarantee that you can trust this power unit to its fullest such as ISO 14001, ISO9001, UL and CE. Plus, it is not only vibration and impact resistant, but it is also resistant to weather impacts, heat, and shock.
Cost and Value
This is a power unit set consisting of two batteries that offer increased power source. Certified and approved, it is the power unit you can most certainly rely on. When it comes to its price, the set can be purchased for a pricier tag, but it worth the money.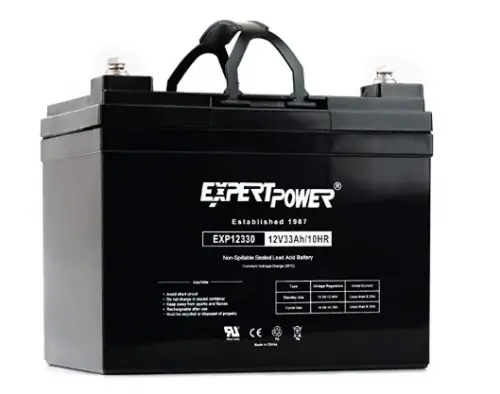 This type is one of the best when it comes to those that are rechargeable and which has the capacity to power almost anything, from golf carts to boats. It is a lead-acid deep cycle sealed battery which boasts high durability. Expert Power 12v 22ah will provide you all day golfing experience on the course without losing its power and strength. Read below to find out what else it does.
Read more
Features
ExpertPower is a type of unit that is made with advanced technologies in order to deliver deeper cycles and extend the duration of the battery itself. It is made as a no-spill type which is sealed with screws on terminals and it features glass-mat technology. This technology makes sure that id the acid from the deep cycle golf cart battery spills it will get absorbed between the places and the fine fiberglass mat will keep it there without damaging the construction. This spill-proof construction allows golfers to operate it safely and use it in any possible position. Lastly, it is ultra-tough from a non-conductive ABS plastic that is a shock, vibration, and heat resistant.
Durability
When it comes to durability, it is one of those deep cycle batteries which have a longer lifespan if properly operated. It is made by extra-strong and non-conductive ABS plastic. This material is resistant to vibrations, shocks and impacts and heat. Plus the extra protective features make it durable and easy to use without worrying where your cart goes.
Cost and Value
This user-friendly and easy to use a unit with one-time installation and no maintenance at all will save you from all the hassle with sufficient power to make full use of it for whatever it can be charged by using it. Plus, it is very reasonably priced and you can get a good deal if you are lucky enough.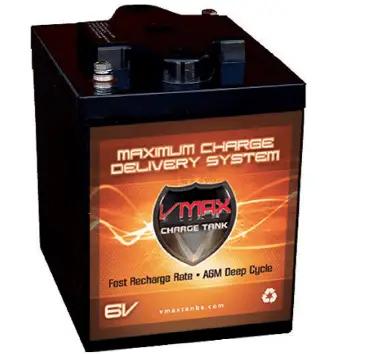 If you are looking for a truly long-lasting deep cycle battery VMAXTANKS is among the most durable. It is considered to last for about eight to ten years which will be a decade investment. This model is made with absorbed glass mat technology which utilizes an electrolyte suspension system of maximum porosity that fully absorbs and contains the electrolyte. Because of its high capacity, VMAX battery is particularly recommended for those golfers that make use of a golf cart on a regular basis.
Read more
Features
As some other batteries on our list, it is maintenance free keeping you free from the constant hassle that frequently occurs when there are spills and corrosion. What the other batteries often pose as a problem is adding distilled water when it runs out, however, this one doesn't require from you to make constant checks on the electrolyte level and refilling. Besides, you can also use this unit for a wide range of motor-operated devices such as scooters, solar power, wind energy appliances, etc. And, even though this is a lead-acid battery, it is lighter and it can be easily transported.
Durability
As this is an AGM deep cycle golf cart battery, there are some precautions that you will need to take into account when using it. The most important one is to make sure that you are using the most appropriate charger, not a standard one because, according to some reviewers, failing to do so results into problems such as incomplete charging, inability to start the cart or even inability to use it at all. However, as is with all AGM batteries, you will need to be careful with the charger you use. Plus, some of the users say that when it comes to durability, some of the reviewers say that replacement batteries are not as effective as one might expect from such a product.
Cost and Value
The duration of this battery unit is impressive and the capacity it has means that you are going to have worries-free use for quite a while. However, what some of the users have experienced, is the quite short life of the unit after the warranty expires, but they did compensation from the company though. This unit comes with a year exchange warranty and 30-day money back guarantee.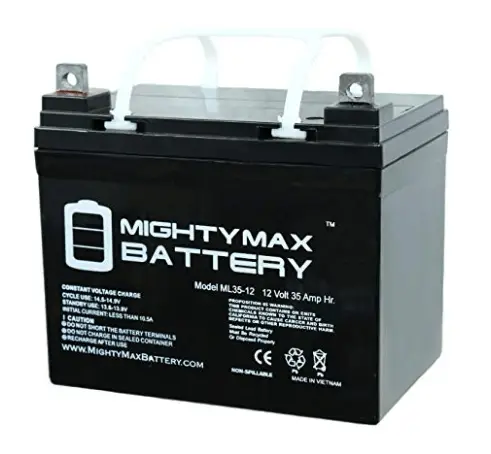 Mighty Max is deemed as one of the most compact and reliable 12V golf cart batteries which will never fail you or leave you in the middle of the course without any power. As expected, reliability means a compact set of features that provide the desired effect. To mention a few, the battery is maintenance free, so you don't have to deal with the hassle of checking or refilling the electrolyte level, making it an excellent choice for those golfers who don't feel like bothering with batteries at all.
Read more
Features
This unit is excellent for taking outdoors since it is lightweight and portable, so you can easily move it around, as a matter of fact, it is just a half size and the quarter of the weight of the standard ones. Mighty Max is a sturdy unit which features a calcium-alloy grid, for durable and long-term use. It comes with an absorbent glass mat that protects from corrosion and leakage. It has the capacity to withstand extreme temperatures, while the thicker plates protect from discharges, letting you use the cart for long. What makes Mighty Max unique is the ability to charge five times faster than the standard charging time.
Durability
Mighty Max boasts long-lasting performance and exceptional durability, so investing in it means that you won't have to worry for some time about its performance. It can be mounted on any position, making it a convenient unit in terms of installation and use. Plus, it is resistant to vibrations and shocks, so if you have had any issues about having it disconnected after several bumpy rides, set those worries aside. Like some other similar products on our list, Mighty Max can be used on kayaks, boats, scooters, etc, and it is convenient for solar installations too.
Cost and Value
Many reviewers say that Might Max has exceeded their expectations in any sense of the word since it lives up the description provided by the manufacturer. However, should you have any issues with its performance, you have the opportunity to have a refund in a period of 30 days. In addition to this, the product comes with a year warranty, so it is called a good value for the money.

Subscribe to our Newsletter