Best Cooler Bag
In a
Hurry? Editors choice: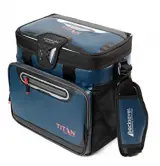 Test Winner: Artic Zone Titan Deep Freeze

What's the most convenient way to enjoy full, unobstructed golf performance? Besides having all prepared in advance and being able to focus, you surely need sufficient hydration and energy-boosting food. The feeling of being hungry or thirsty can distract you from your focus resulting in mishits and frustration.
Therefore, it is very important to always have with you something to drink, preferably your favorite drink, and good
food that will boost your energy
instead of making you slow. However, in order to always keep yourself refreshed you need a drink that isn't going to taste like semi-warm tea and disgust you any time you take a sip.
So, for always fresh drinks and fresh food, having a good cooler bag is more than a necessity, especially if you have decided to go for the 18th shot without being defocused. Below are the best ones.
Standout Picks
Criteria Used for Evaluation
Capacity
These cooler bags come in many different shapes and sizes offering a wide range of sizes available for different purposes and occasions. When we discuss the capacity of these coolers we consider the availability to store as many cans as possible. If you are a person who needs a cooler bag that will serve him/her for the purpose of keeping the food cool during office hours then you'd choose a smaller one, with a smaller capacity. However, if you need one for family gatherings and frequent get-away from the city, then you'll focus more on the bigger ones. Almost all of the coolers that we have on our list are made in different sizes and you can choose from the smallest, which usually ranges from 8 to 12 cans, to the biggest ones having the capacity of more than 50 cans.
Effectiveness
The effectiveness of these products is determined by analyzing their ability to keep the ice as long as possible as a key factor for their success and determination if they match the description provided by the manufacturer. We took into account the buyers experience with these products and the experts' opinions in our attempt to select the best ones. As you can see from the scoring they have next to this criterion, all of them are effective in keeping the products cold for a long time, the best ones are able to retain ice for more than two days which makes them short term refrigerators.
Insulation
All these products are able to retain the desired state of keeping the food and drinks cold or hot due to the integrated insulation and the materials they are made from. The best types of insulation feature integration of closed-cell foam which makes enhanced insulator and it has the ability to keep the ice for a longer time. The best insulators don't absorb heat but they reflect it and they are enhanced with different layers. They have the capacity to either keep the freezing temperatures much longer or to retain the heat and provide a greater effect.
Features
This criterion is actually the one that usually narrows things down and clearly defines which of the products deserve to be called the best ones. There are several characteristics that we took into account when making the selection. The first thing was the high-quality material that is used to produce the exterior of these coolers. We chose those that feature welded-seam and that have the capacity to resist most of the elements. Secondly, the quality of the materials is directly related to the durability of these products, so the more they are able to resist external impacts and the wear and tear, the higher their durability. Then, we considered the added pockets and dividers that provide easier organization of the items and protect the soft food from being smashed. Lastly, we included within this criterion the maneuverability, i.e. we observed whether they are lightweight and whether their shoulder strap is padded with the ability to center the weight load and avoid muscle straining. So, the best ones are lightweight, easy to carry around, made from extra strong material with extreme endurance and offer a wide range of organizational features inside and outside.
Value
This criterion usually encompasses the cost and value segment in terms whether the price each product features matches the description provided by the manufacturer, then if the customers get the desired effect and whether the products are worth the money you pay. Since the products are differently priced, we scored the highest those products that provide the best effect for the lowest price. There is one product that considerably stands out with its price as being a highly established name-brand that has been long known to dominate the high-end market for luxury products.
Top 10 Picks
1

. Artic Zone Titan Deep Freeze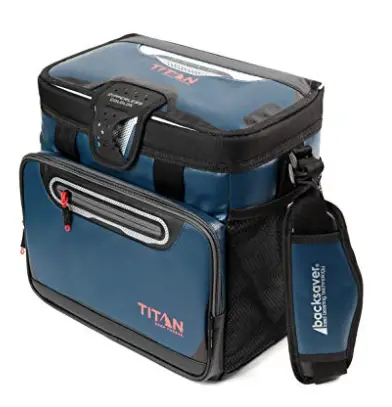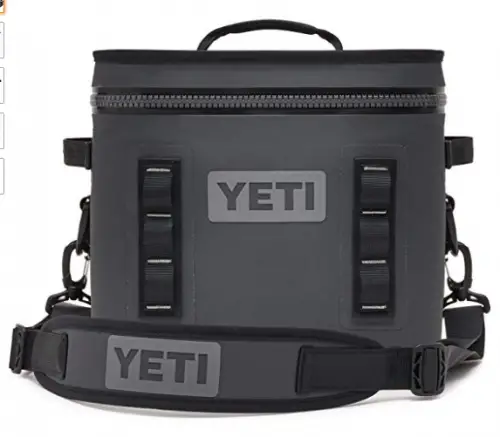 Can you imagine having the possibility to have your freezer with you wherever you go? No, huh? What if you had the mini version of it for your cans of cold beer, some food, a bit of ice cold water for the super-hot golfing day? That's exactly what you can have with Arctic Zone Titan. It is your mini-fridge on the course, at your disposal anytime you'd like to treat yourself with an ice cold drink or a snack. It is compact, well made, and ergonomic.
Read more
Features
This compact roomy bag can function as your mini fridge that is made from high-quality insulation that has a barrier which instead of absorbing heat, it reflects it, and a triple layer Cold Blockbase, making the ice stay longer, and keep the food and drinks inside frozen. Instead of a zipper, it has a patented lid that allows faster and more convenient access to the things inside. The bag is made with a front pocket that is insulated too and which can be used for storing your extras or valuables since it is waterproof. The exterior material is made of Rhino-Tech material which can be wiped easily, it is stain and water resistant and tough on external impacts. Plus, it is certified Ultra Safe meaning it doesn't contain PBA, PVC, phthalates, lead and other toxic elements and it is FDA and CPSC compliant. The bag features an adjustable back saver shoulder strap that is padded and which centers the load weight so that it lowers the muscle stress.
Capacity
The interior of the bag is made of long-lasting HardBody liner featuring SmartShel which is actually a divider that makes possible to separate the hard items like bottles and drinks from the soft ones, like the food preventing it from being crushed. This shelf can be easily removed in case you'd like to use the whole liner as one compartment. There are three sizes, the smallest has the capacity of 16 cans and it keeps the ice for 2 days, and the medium and large bags have the capacity of 30 and 48 cans accordingly, and they can keep the ice for 3 days.
Cost and Value
Arctic Zone is a company that has brought many innovative designs in the soft-sided insulated products and change the way people transport food and drinks for their own convenience and pleasure. This bag is definite proof that high-quality, long-lasting, safe and well-made products can go hand in hand with affordable price as the company has always appealed to more and more customers worldwide.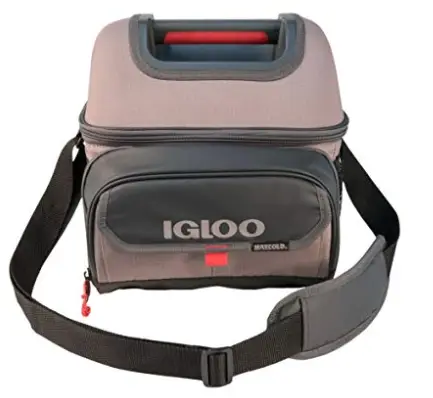 Igloo has never ceased to launch better and better products, so this one is not an exception too. It is a sturdy bag that can provide maximum efficiency in keeping your food and drinks cool, some even semi-frozen in case you add a freezer pack. In practice, imagine you set off early in the morning for your scheduled golf game, you have already prepared your daily lunch, grabbed some frozen beer cans, placed some energy bars and some fruit, and after several hours, the food and the drinks are as cold as they were when you have placed them inside.
Read more
Features
The bag looks very compact, firm and sturdy. It features MaxCold insulation which has added 25% more foam so that it creates a prolonged cooling effect and keeps the food and drinks colder. The front compartment is made of crushproof EVA molded material which is zippered and fully insulated. There is an added separate compartment for dry storage which is protective, tent-toped and which can be used for storing small items such as a wallet, a smartphone, some keys, tees, golf balls, etc. The liner is antimicrobial, it is resistant to leaking and very easy to clean. The bag has a rubberized grip handle which is ergonomic and comfortable and an extra-long strap which can be adjusted as needed.
Capacity
This bag has been proven to last for a very long period of time and has been effective in delivering cold food and drinks hours after they have been placed there. It has a storage capacity of 22 cans and plus there are side meshed pockets that can serve the purpose too, but not the effect. Many users say that it holds up well even when overused, making it a reliable bag for the all-day-stay on the golf course.
Cost and Value
Most of the customers claim that this bag was the best money spent and that they truly recommend it. It is durable, sustainable and matches the description. The fact that this bag has no negative reviews whatsoever tells a lot, so for the money you pay, you to get undisputed quality.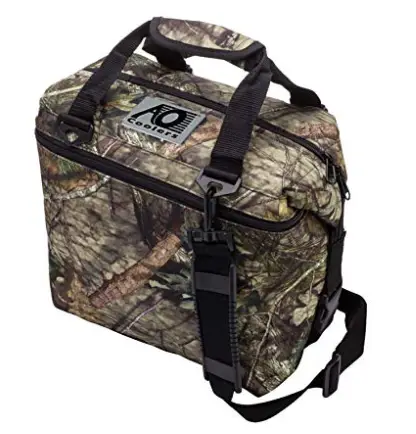 Here's one more bag that has the sturdiness of a real fridge in its micro version. Made to endure weather and external impacts, it is the bag that you'd gladly have on the golf cart every time you play golf. And, this one looks more like a freezer than a fridge since it has the capacity to hold ice for 24 for hours even when the temperatures are very hot. But, that's not all! If you place hot food inside it will keep it warm and fresh! Pretty amazing, huh? Let's explore the possibilities that this fabulous product offers.
Read more
Features
This is a real rock when it comes to the quality of production. This TPU liner is made of the exactly the same material which is used for making above ground pools and waterbeds and it has resistance to tearing, impacts, abrasions and more. The insulation is of high-density of closed cell foam and it is ¾ thick. There are four different sizes, each having side pockets where you can store dry items, there is a removable shoulder strap and clip-down ends. The smallest one meets the airplane requirements for hand luggage. It is made with welded seams, five layers and it is very easy to maintain.
Capacity
As we mentioned, there are four different sizes, the smallest one has the capacity for 12 cans and about 5 pounds of ice. The other three sizes are 24, 36 and 48 cans and 14, 10 and 15 pounds of ice respectively. The liner is leak-proof and it can hold ice for 24 hours in temperatures that are up to 120 degrees. Plus, in case you'd like to enjoy hot, homemade lunch while you are off the trail, hiking or playing golf, this bag will suit your needs.
Cost and Value
The glowing reviews are enough confirmation that this icebox won't disappoint you regardless of the purpose you use it for. It is perfect for all day golfing, hiking, short plane trips or just a family lunch with your family and friends. Made not to be broken or damaged it will exceed your expectations like no other similar product before. However, premium products come with a price, so this one is fairly pricey too, no matter which size option you have chosen.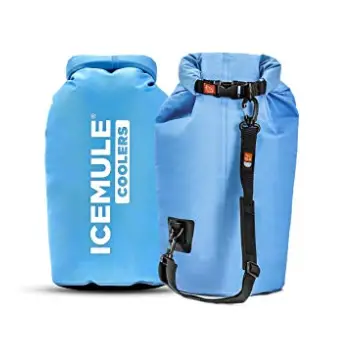 There's no other product like IceMule in terms of unique design, the materials, and technology used in its production and the ability to keep the ice for 24 hours intact. It looks very sporty and trendy with vivid colors, reflecting the unstoppable youth spirit of seeking more and never ending impetus for adventures. Young or old, golfers or mountaineers, you will all get impressed by the performance of this backpack cooler.
Read more
Features
This backpack is made to impress with its high functionality. It is made with an extra strong outer fabric called MuleSkinET and with a very firm interior layer called MuleSkin EV and when they combine, the final product is a rugged shell that has extreme protection level against elements and which has the capacity to retain ice for much longer time regardless of the high temperatures. It features unique PolarLayer insulation foam that makes it completely waterproof and which boosts its effectiveness. Plus, these are the only coolers that add air for additional insulation through the IM valve. This valve can also release the air which makes the backpack thin and can be rolled up for storage.
Capacity
This backpack will be your perfect travel companion wherever you are off to go. From hiking trips, to spending the day on the course and have the 18th hole, from motorbike journeys to scouts' adventures, you will have your food and drinks in perfect freezing cold state for more than 24 hours. It has the capacity of 6-8 cans plus ice, or four wine bottles plus ice when it comes to the smaller size. There are also larger sizes of 15 and 20 l. The backpack is completely waterproof due to the welded seams and the polar layer insulation, it doesn't have any zippers and it is extremely easy to carry.
Cost and Value
When a product stands out in its quality and design, it means that a lot of effort was put in order to achieve the state of perfection and excellent performance rate. This backpack will allow you to experience a new and impressive perspective of how you perceive coolers. The price is definitely higher than many other products on our list, however, it is totally worth it.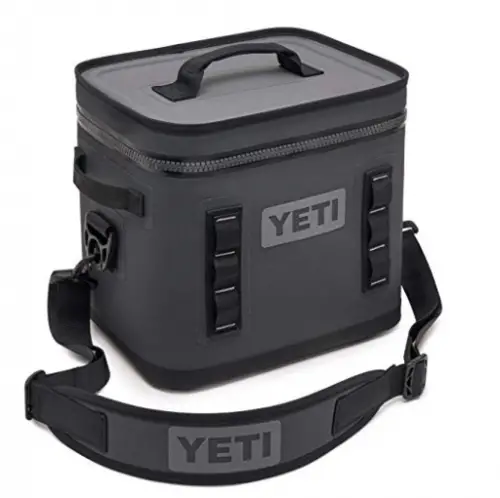 This one is on the high-end, both financially and quality-wise. Yeti has long been recognized as the company that excels in coolers production and this model is not an exception either. When you look at the way it was made and the perfection of every single detail, it becomes clear that it is a premium model. So, if you want to dominate the golf course with a name-brand cooler that boasts status and power, besides your game, then this is the product to go to.
Read more
Features
This icebox reminds of metal (but soft one) box that is practically resistant to everything that comes from the inside. It is made from high-density fabric which is resistant to UV rays, punctures, mildew and bacteria. The inside liner is designed from food grade material that is FDA approved. What makes this cooler differ from the others is the closed-cell rubber foam that provides much more superior insulation than any ordinary similar product. It has a wide top opening for easy access which is opened/closed with Hydroloc zipper which, according to the company, is the toughest, leak-proof zipper.
Capacity
This compact cooler will keep your adventure going while providing reliable refreshment and keeping the food safe and protected. This model has a capacity of 12 cans with 15 pounds of ice. It is fairly compact and small and it is an excellent option for the daily walks to the park, for the golf course or for the office. Since the material is the one used for whitewater rafts and HazMat suits, it is extraordinarily tough, so you can make sure that whatever you put inside is going to be intact.
Cost and Value
With certainty, we can say that this is the most expensive product on our list. Yeti is a well-known and reputed company that has proven itself on this market as the leading ones, offering undisputed quality and premium design. The sturdiness, the compactness, the impeccable attention on details, everything has been neatly organized and packed. So the price you pay includes the quality, the warranty and the exclusivity of the brand.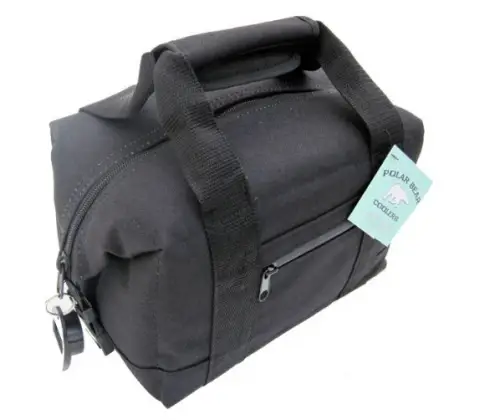 From the basic need of keeping a few cans of beer or soda cold while hitting the nearest course to have ten holes, to the capacity of 48 cans where full lunch box is included for you and your family and friends, this icebox is designed to keep your eating and drinking habits uninterrupted wherever you are. Plus, it has the ability to keep your hot meal hot enough without compromising its quality and flavor. Practically, the enjoyment with this product is going to last as long as you are outdoors while having the indoors quality of eating and drinking.
Read more
Features
The outer shell is made of heavy-duty material that is comprised of 1000 denier Cordura nylon which of the highest quality which is water and impact resistant and plus it features high-density open cell foam. It doesn't leak when the ice melts down, it is rugged and tough and it won't easily wear or tear. It is easy to maneuver, there are two joint handles to be carried around or a strap for the shoulder. It is lightweight and it doesn't add up to the weight that you are already carrying and when it is not used it can be easily folded and packed. Also, it can boast with top-notch craftsmanship because of the impeccable stitching and the excellent seams and the robust zipper, handles, and liner. Plus, the interior liner features double coated anti-microbial FDA TPU nylon.
Capacity
This is a versatile model that has the capacity to cool things down and, as matter of fact, it can hold ice for 24 four hours in 100 degrees temperature which means it guarantees icy cold food and drinks and even doubles the time of keeping them cold. When you store hot food inside without added ice, then it has the capacity to keep the food hot to up to 200 degrees for many hours. This practically means that you can have your lunch prepared in the morning and have it with the same quality and heat in the afternoon.
Cost and Value
It is one of those bags that can be taken anywhere due to its design and compactness. They come in five different colors and four different sizes and designs, making these bags a high-quality choice for an indulging day outdoors. As there are several different sizes, each size has a specific price, which we have to admit isn't very low, but the quality is exquisite too.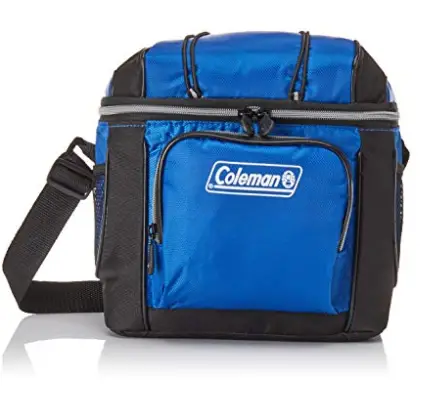 When you don't feel like bothering and carrying several bags, this versatile icebox can be an excellent selection to store your things and to keep your food and drinks cold. It can be the one you needed for your cart and have everything at hand's reach. It is made with several pockets to store your accessories in addition to your drinks. It is excellent for family lunch in the park or for outdoor activities, picnics or boat trips.
Read more
Features
This sturdy and firm icebox that reminds of a school bag due to its compact design. It is made with an antimicrobial plastic liner that prevents the occurrence of mildew, mold, and odors, and which can be removed in case you'd like to pour out the melted ice or to add some more ice packs and make it less sturdy. It is leak-proof due to the heat-welded seams that are designed to prevent leaks and even if you use it without the plastic liner it won't leak out or sweat. As we mentioned in the introduction, it has multiple pockets, among which, one is large and zippered and the other side pockets that can serve various purposes that you need at hands reach. Plus it has dry storage pouch and lid bungees that can be used for added storage. For easier and hands-free carrying there's an adjustable shoulder strap.
Capacity
Coleman has a wide range of models and various sizes-bags. This model that has been the most preferred by the buyers has the capacity of 9 cans. It has a well-organized structure, and it is very handy. It is the smallest size of the many varieties that Coleman offers, but it is the perfect size for Sunday golf since it will provide you with the most necessary food and drinks that you need while playing.
Cost and Value
There is a good reason why this bag is among the most sold ones. Besides the compact and exquisite design it keeps the food and drinks cold for a long time, it keeps them clean and it is easy to be carried around. On top of it, it is its reasonable price that makes a difference first place.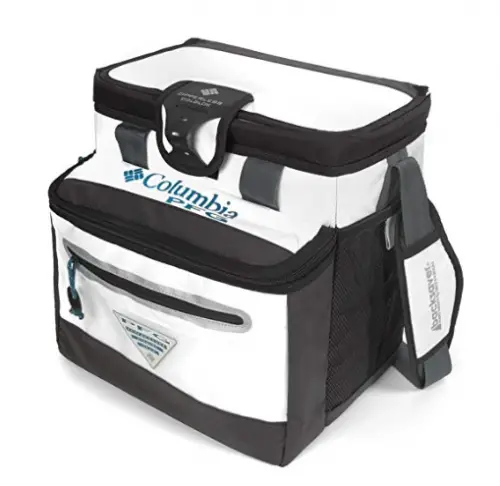 This is one of those sturdy bags that gives the impression of durability and compactness, and indeed, among the features it boasts, it is the long-life and the ability to resist wear and tear. This is the smallest of the three sizes that Columbia offers for this model and it is a perfect companion for keeping your daily homemade food and some drinks in case you have decided to spend the day on the course practicing, or you have to work long hours.
Read more
Features
This bag has a patented, zipperless lid that lets you access the goods in a fast and convenient way by just pulling the Velcro tab and it gets opened and closed. It features ThermaCool insulation which has radiant heat barrier which makes possible for the ice not to get melted for hours. The inside liner is made of durable HardBody which has a removable shelf that divides the soft food from the hard cans and bottles. In case you don't need the shelf, it can be easily removed to allow you to use the whole large compartment. The interior of the liner is leak-proof and it can be easily maintained. Plus, there is another insulated, expandable, leak-proof front smaller compartment which can be used for storing smaller goods. The bag has a padded shoulder strap that centers the weigh so that the muscle strain is reduced.
Capacity
These excellent coolers will provide you with optimal functionality when it comes to keeping your food and drinks cold. Columbia PFG offers three sizes of this model, the smallest one has space for 22 cans, the middle sized has the capacity for 38 cans, and the large one that is truly large offers space for 58 cans. It keeps the drinks and the food cool for a considerable amount of time and when the ice melts, it won't leak.
Cost and Value
This cooler looks good, provides roomy storage in two compartments and does its job well. It has made many customers satisfied due to its endurance and functionality. When it comes to the price we can say that is slightly above the average compared with similar models and that refers to all three sizes.



Many cooler bags offer quality and exquisite performance, however, a few stand up to the line of perfection focusing on the slightest details to meet the needs of the pickiest travelers and people with unique needs and preferences. The manufacturer describes this product as the one that was designed to appeal to the flight attendants as the ones with the most specific needs, meaning it is a have-it-all bag. It is perfect for long and short trips and it has the capacity to store various types of items.
Read more
Features
The first thing it boasts about is the durability of the materials, i.e., it is made from an 840D ballistic type of nylon which is resistant to daily wear and tear and it is lightweight and portable. The liner inside is made of PVC-free PEVA which keeps the food cold and safe. You can carry it on your shoulder, with the handles or you can use the pass-thru pocket and attach it on your luggage. The multiple pockets are handy and practical for storing various extras.
Capacity
This multifunctional lunchbox has much room to store your lunch and over ten cans of drinks. It consists of two main compartments for carrying food and drinks. The top compartment is smaller and is intended for dry goods of various types, whereas the larger main compartment is the insulated one that performs the cooling function. There is one large zippered pocket which can be great for keeping things at hand's reach such as a tablet or a mobile, some documents or a wallet, there is an inner meshed pocket on the upper compartment for keeping eating utensils or similar things, and there are two meshed pockets for keeping beverages. This is probably the best-detailed cooler ever.
Cost and Value
Designed to excel everyone's expectations, you will fall for this product even at first glance. The design, the compactness, everything is well-suited. Even if you use it as an ordinary regular bag it isn't expensive, so, when you add the isolated compartment as the main feature, then you get an all-purpose bag that can perform multiple functions. It is an excellent value for the money.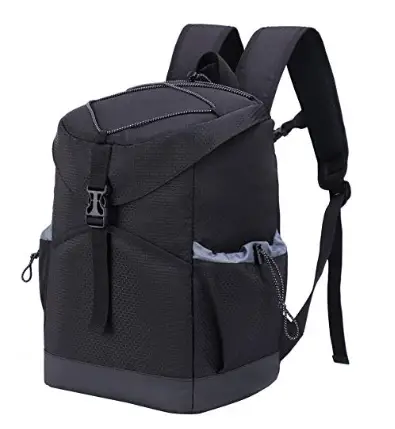 This extraordinary backpack looks just like an ordinary one, however, it features top performing characteristics and high-quality craftsmanship. It can be a very convenient replacement for your golf backpack, especially if you are up to staying a long time on the course and enjoy the lunch outdoors with your buddies, or for a family trip to the beach, park, picnic site…it is practically suitable to be taken everywhere. You can attach it on your bike, motorbike or you can easily carry it on your own since it is lightweight and very practical and features breathable padded sternum straps that transfer the load from the shoulder to the rest of the body.
Read more
Features
The outer canvas of the backpack is made from hexagon fabric that is extremely durable, water resistant and tear-proof, while the inside is fully insulated PEVA liner which is leakproof and which can keep the food and the drinks cold or hot, depending on your preferences. Besides the main compartment which has a wide opening that is very convenient for practical organization, there is a mesh pocket that is placed inside the lid, one buckle pocket that provides security and additional storage space, there are two side pockets that have spring buckle that prevent the things from falling down, and on the top of the lid there is a stretch cargo cord that can be used for blankets, towels or table cloths.
Capacity
This backpack has an extreme capacity to endure heavy weight, so don't worry if you decide to test its endurance by over packing it with heavy items. The heavy-duty construction of the fabric and the special attention that has been paid to all known stress points, ensure its durability. So, it has the capacity for at least 20 cans plus the ice which means it is a roomy backpack with the capacity to accommodate several lunch boxes and drinks.
Cost and Value
Due to the capacity it has and the high-quality material it was made from, this backpack is excellent for your golfing, sporting or hiking adventures. The stripes are very comfortable and since they have the ability to transfer the weight, you won't feel overloaded. The price is on the lower-end, so this is an excellent option if you are on the budget side.

Subscribe to our Newsletter