Best Compression Socks for Golfers
last updated:
Mar 25, 2021
Did you know that many golfers decide to give up the game because of the constant pain that lingers down their feet and ankles? The feeling, as some of them say, is quite unbearable, especially if it is followed by swelling and muscle cramps.
Sadly, most of them hadn't even tried wearing compression socks before they decided to quit, missing the great opportunity that these provide in alleviating the pain and discomfort. Whether that be plantar fasciitis, edema, vascular disease or DTV, these socks are designed to increase the blood circulation and deliver more oxygen to the leg and thus get you back on track. Their therapeutic effect is confirmed, so if you are suffering from any of the above-mentioned symptoms, this article is for you.
Since they are crucial for golfers well-being and performance, we recommend the following ten golf compression socks mostly based on their effectiveness.
In a Hurry? The test winner after 4 hrs of research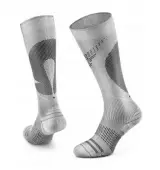 Rockay Vigor
Why is it better?
Targeted compression zones provide different levels of support
Increased level of circulation and oxygen flow
Lightweight, breathable and fitting fabric
They maintain feet stability, reduce pain from foot conditions and recover
Compression
Comfort
Breathability
Materials
Style
By Default
10 Best Compression Socks For Golfers
Targeted compression zones provide different levels of support
Increased level of circulation and oxygen flow
Lightweight, breathable and fitting fabric
They maintain feet stability, reduce pain from foot conditions and recover
A few reported issues with the quality
A new kid on the block, Vigor from Rockay, has done a great job proving its worth from the jump. We can see that some serious design planning has gone into these socks before moving into production, as far as the overall construction goes. Also, an added bonus is the fact that these are manufactured using recycled materials.
Read more
As far as comfort goes, you can wear these all day without discomfort or dealing with them sagging or falling down around your ankles. There are no protruding seams that rub over the toes, which we still see with some other brands, and can be super irritating.
Jumping into the overall performance, These work perfectly according to the science of applied graduated compression. They were actually designed for distance running, which is why they were designed with durability and extended wear in mind.
Another added feature is under the midfoot section of the sock. There is added arch support that is great for those longer days on your feet, and even better for those who reealy need that extra support due to pronation or other foot issues.
Made from merino wool which has natural anti-bacterial features
Added light mesh ventilation zones
Padding on all sensitive areas to protect from injuries and blisters
Arch compression and increased blood circulation
Extremely durable, comfortable and breathable
When building the walls of endurance and stamina, it is a process that requires a variety of building blocks called patience, persistence and adequate gear and equipment. And, while the first two are personally and internally created and conditioned, the third one depends on the athlete's choice and his/her ability to choose high-quality clothing. Being a golfer does require persistence as the key factor of being successful on the course, but this persistence means nothing if your feet are aching and you are not capable of walking. To avoid such scenarios, we represent you Rockay socks, a European brand with supreme quality that is overtaking the world's socks market. There's a lot to talk about these socks, so read below to find out more.
Read more
Design Features
When a superior technology and the innovative manufacturing approach meets the merino wool from sheep in South America, then you get the excellence of Rockay which has been unsurpassed in their durability and the breathability. Even though merino wool has the capacity to naturally repel bacteria and the unpleasant smell that comes as a result, the way they are made enhances this capability even further. The ventilation zones added on the padding reinforce their capacity to deliver increased air-flow, which makes your feet dry and soothed. The padding itself yields intensive impact and shock padding which fully engulfs your feet and keeps it protected from blisters and any irritations.
Performance
The designers in Rockay have dedicated themselves to make compression socks that will outperform the others in all aspects. The reinforced padded heel stretches up to the heel, while the arch features anatomically fitting compression which stimulates the blood circulation which in turn enhances the recovery process of the feet and protects from swelling, plantar fasciitis and other related issues. Runner, golfers, and hikers are sure to make an immediate distinction between Rockay and all the others because spending hours on your feet makes your feet sensitive to what you wear, and according to many buyers, once you put these on, you'll fall in love with them.
Cost and Value
Some buyers consider them to be pricey, but let's summarize first what you get for the price they are being sold. Firstly, merino wool-based products translate into superior durability and breathability which is boosted with the added mesh ventilation on the padding. Then, arch compression and padding on the sensitive areas protect you from blisters and injuries. And lastly, you'll feel dry as long as wear them thanks to the moisture-wicking properties. All in all, you get durability and performance for a good price.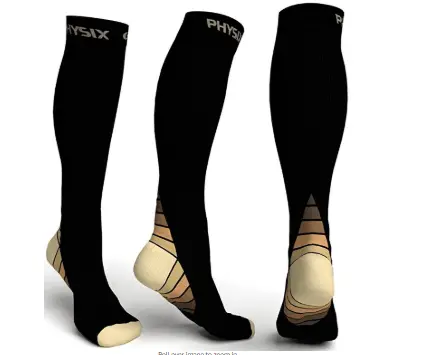 Stamina compression stocks for added endurance
Made with reinforced stitching and seamless toes
Anti-odor, moisture-wicking and quick dry properties
Keeps your feet cool in the summer and warm in the winter
A very few buyers experienced quality control issues
We all know that getting to the next hole is important and getting to the 18th hole is the ultimate goal for many avid golfers who never give up despite the difficulties they encounter. However, in the case of excruciating pain, those goals might seem impossible to reach. Luckily, there are many aid products that allow golfers, and all athletes out there, to find relief and persist in their determination to achieve what they are hoping for. Psysix golf compression socks the ones that most definitely get you to the last hole on the course, and if you were wondering what makes me so certain say that, well, take a look yourself at their features and the tens of thousands of reviews given by the satisfied buyers.
Read more
Design Features
What these boast the most, are their durability and comfort which hasn't been compromised at all. The double stitching carried out with perfection and the antibacterial fabric will provide the comfort your feet and legs so much strive for, in addition to keeping them free from odor because the fabric kills the odor creating bacteria that cause the notorious bad socks smell. The material is also moisture-wicking, so you won't feel your legs and feet wet even though you spend hours in them. The high-quality lycra fabric is seamlessly stitched on the areas where we can mostly find stitches and which cause irritations, so expect no blisters or any irritations. This material allows for easy pulling on and the stay-on cuff don't allow any slipping.
Performance
Physix socks provide a medical level of compression of 20-30 mmHg to let your feet do their job the best they could without pain, discomfort, muscles and similar conditions stand on the way of your performance. Once you put them on you are most likely to experience instant stress and shock absorption and you will feel the difference almost instantly. Regardless of your problem and the purpose you buy them they will bring relief and will notice a considerable difference in the way your feet treat you.
Cost and Value
From shin splints to stamina and surgical recovery, these golf compression socks will cover it all, and let you step up your game the way you once used to do it. Plus, the way they are designed boasts quality and endurance for improved, pain-free performance. When it comes to their price, besides being reasonable and affordable, it comes in many discounts, special offers, and deals so that you could benefit the most from it.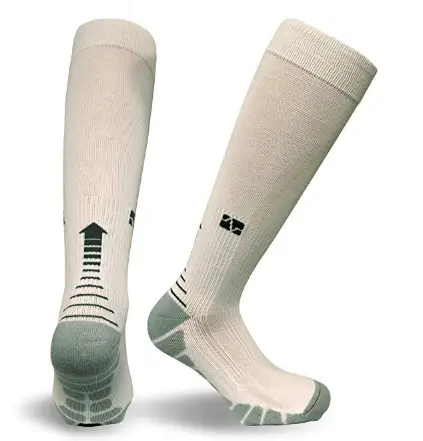 Made with silver drystat fiber which prevents the growth of microbial and bacteria
They will keep your feet and dry
Patented compression that starts at the midfoot and continues with graded levels up to the knee
Increased circulation for faster recovery and better performance
A few buyers commented about losing compression after a while
Vitasox has been a leader in compression socks production for more than 25 years bringing revolutionary products and patented designs to bring out the best of the modern technology into footwear that will deliver maximum comfort, increased performance, and symptoms relief. Plus, the company has launched many products consisting of unique materials, among which silver fibers which make the material much more reliable and comfortable to wear. I am sure that you'd like to know more about this product, so read below to find out more.
Read more
Design Features
These compression socks are made of a very specific blend of materials, i.e., they are made from 70% silver drystat which provides the unique performance of the golf socks, 10% spandex, 10% lycra and 10% nylon. The high technical performance of silver drystat consists of quick-drying polypropylene which is infused with silver provides extreme anti-bacterial and anti-microbial properties so that it inhibits the growth of the bacteria which means it is powerful anti-odor material too which doesn't hold odor. They are lightly padded on the top of the foot and at the ball so that they prevent blisters and eliminate abrasion. Another unique feature is their four-way stretch property which is rarely found in products of this kind. Each pair is hand tested for performance and they are washed in fabric softener so that they are ready to wear right out of the box.
Performance
The manufacturer claims that they are the only patented compression socks and the graduated compression starts at the midfoot to provide support to plantar ligaments and full arch support and the compression is tested so that it reaches maximum circulation increase. Wearing this model will provide you with 40% faster recovery time with enhanced athletic performance. They are perfect for a wide range of activities, from extreme walking and running, pregnancy and maternity, to sitting long hours and traveling.
Cost and Value
These Italian products are among the most sought among people who need enhanced circulation and supported performance. Made with sophistication in every detail, individually checked, tested and approved, you will find an enhanced comfort while wearing them. Plus, even though they feature many benefits and one-of-a-kind properties, their price is not over the roof and you get an excellent value for the money.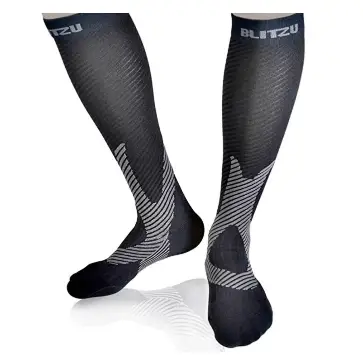 Improve the blood flow and oxygen delivery
Prevent cramping, heal the muscles in a much faster way, reduce swelling
Moisture-wicking and odor prevention
3D kinesiology anatomical design for a perfect fit
Made from power+performance fabric
Golfers who frequently walk for more than four hours a day and who rarely use carts are frequently complaining from muscle cramps, swelling in the ankle area, shin splints, etc. These conditions are often followed by constant pain which prevents them from delivering good swings and spending effective golfing time. Even if you have to sit in your office for more then eight hours every day or travel for long hours, they provide considerable relief from the related issues.
Read more
Design Features
Blitzu unique compression socks combine the effect of compression fabric with the stability of the kinesiology taping for Achilles and tendons stabilization, which enhances the blood flow with a therapeutic effect of graduated compression of 20-30 mmHg. The circular knit structure is of superior grade which delivers 360-degree stretch to enhance the flexibility and the durability of the material. The cuffs are non-slip to prevent from constant pulling and annoyance. The material is vibration and shock absorbent due to the twill design and it also prevents from cramps on the calf. The vertical ribbing technology helps to stabilize the arch area, while the seamless toe design and heel cushioning prevent toe irritation and alleviate pressure.
Performance
Blitzu socks are a must for everyone who needs a feet- and-lower-leg support for a bunch of activities, from sports performance to spending office hours in sitting positions, from after-surgery clot prevention to marathon runners and golf. They provide instant comfort without squeezing the joints of the toe area and are made to prevent blisters too. The graduated compression they provide the highest level of pain relief, maximum swelling reduction and extreme support in keeping up with your activities.
Cost and Value
When advanced technology meets the medical needs of people who need proper care on their lower leg, you get enhanced circulation booster in a form of a compression sock that alleviates swelling, pain, discomfort, reduces the risk of injury, helps you recover faster and improves your performance. The best part is the fact that they are made to appeal to everyone who needs them which means that they are much more reasonably priced than many other similar products.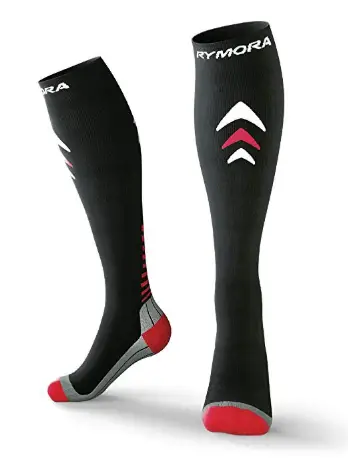 Seamless toes and padded heel for less irritation and blisters
Laboratory tested graduated compression
Enhanced circulation and oxygen
Comfortable and durable
A few buyers said that they were too tight
If you are looking for golf compression socks that have been clinically proven to provide the sufficient gradual compression which reduces from the ankle to the knee, then Rymora is the product that you should look for. Its functionality is confirmed by the UK Surgical Materials Testing Laboratory. What you can expect is increased blood flow and oxygen level which leads to fewer occurrences of muscle cramping and lesser muscle fatigue. And, it is not just the lab testing that proved them functional, but it is the exceptionally high-rating that places them on the top of our list.
Read more
Comfort
Comfort is what puts them on the prime position thanks to the extra smooth seams that are almost invisible and totally invisible ob the feet. That means no irritation or blisters since they won't have any hard stitches to rub from. The sole of the foot is cushioned which delivers 'walking on clouds' effect and with the graduated compression technology you will forget that you are wearing this type of socks. The non-slip cuff ensures that they will stay put, even if you are doing intensive exercises. There's added compression zone at the Achilles so that there's added support to avoid injury, the extra padding prevents blisters and there are ventilation points at each padding so that there's increased breathability.
Performance
Made for men and women, these are highly-functional and premium quality socks that are going to bring relief in the way you play the game. They are made to deliver boosted circulation so that the pressure and swelling are relieved. You can feel free to enjoy the course with these socks, especially if you have been prevented to reach the 18th hole due to swelling or cramps.
Cost and Value
Some products combine the perfect formula for extra performance with unique design and affordability to get the most sold product. Such is the case with Rymora, which offers very affordable, fit to size and highly reliable compression socks, which makes them an excellent value for the money.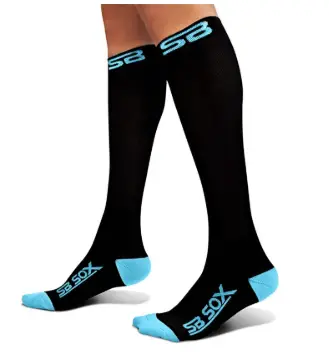 Made from moisture-wicking nylon and spandex which keeps you dry
Provide increased oxygen delivery and blood circulation
They feature graduated compression technology (20-30 mmHg)
Prevent from blisters, blood pooling, swelling, plantar fasciitis, etc
Excellent for increased performance, soreness reduction and soothing your legs and feet
A few buyers reported quality control issues
We have discussed many times that if a product has many five-star ratings and actual reviews given by buyers who have been using those products, that means that we are talking about products that definitely stand out in the way they perform their function. So, you must have already guessed, SB Sox are such products, i.e., compression socks that perform their function very well. They are preferred by many athletes, coaches, trainers and of course golfers who spend hours and hours on the golf course. They are also highly recommended for frequent travelers, pregnant moms and anyone who is struggling with low circulation, so let's see why are these ones so special.
Read more
Design Features
Made from a premium quality nylon and spandex, they ensure breathability so that can be an ideal fit for every occasion. The material is moisture-wicking which means you are not going to deal with sweating issues and the annoying feeling of being wet because they pull the moisture on the surface and make your skin instantly dry. They are so meticulously designed so that they provide maximum blood flow and maximized oxygen level to the lower leg. The reinforced toe and the reinforced heel increase their durability, prevent from blisters and provide optimal cushioning while the arch support reduces the symptoms of plantar fasciitis or prevent its occurrence. On the ankle area, there's joint protection which boosts blood flow and in case of injury, stimulates faster recovery. And to help them stay place, they are made with a no-slip cuff. Designed like this, they provide graduated compression on a medical level of 20-30 mmHg.
Performance
SB Sox are made with elastic layers that, when combined together, they function as stimulators of the blood flow and contribute towards enhanced circulation. They are especially recommended if someone has suffered an injury, then, if a person suffers from swollen ankles and feet or varicose veins, muscle cramps, plantar fasciitis, blood pooling, and many conditions related to feet and leg conditions which slow you down on the golf course or prevent your performance. The materials they are made from will provide you with a comfortable and relaxed feel and will considerably enhance your ability to keep long hours on your feet.
Cost and Value
The glowing reviews and the high-rating these socks have, leave a little to discuss further. It is even more attractive the fact that they can be worn by men and women. They are durable, comfortable and high-quality pairs of socks. Priced reasonably, they are great value for the money.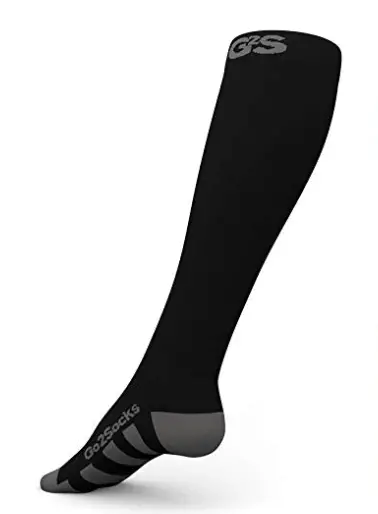 Medical 20-30 compression strength
Improved circulation, performance and stamina
Excellent for reducing feet pain, cramps, swelling, etc
Made from highly durable material with a thicker insulated bottom
Moisture-wicking and odor-free fabric
Having to wear compression socks for some might be very limiting in terms of keeping their style and design, but that is not going to happen with Go2Socks since you'll find many different patterns and designs in their range without sacrificing their function. They provide medical level compression from 20-30 mmHg which is required for injury recovery, stamina, maternity, travel, and improved performance.
Read more
Design Features
According to many buyers, these are one of the best pairs that will make you feel comfortable and change the way you feel your legs and feet. The bottom of the feet is thicker and provides more reinforcement and softer foot landing with every step. They are made with anti-slip cuff bends which ensure that they will stay on place. They deliver graduated compression and with enhanced compression on the ankles which slightly decreases as it goes up the calf. The high-quality fabric they are made from, guarantee that you will be protected from odor and the feeling of being wet and uncomfortable. Plus, they have an anti-microbial coating that protects from bacteria and as many reviewers have said, they are one of the best socks that prevent itching.
Performance
As it is the case with the rest of the products on our list, they are also successful in providing sufficient relief from numbness on your feet, swelling reduction, issues related to the circulation or prevention of varicose veins and shin splints. They are also clinically proven to prevent edema and DVT and they are capable of managing the feet related pain and discomfort. Recommended for many activities that require standing on the feet for more than five to six hours, or sitting for a long time, they are perfect for golfers who walk across the course.
Cost and Value
What more can be said about Go2Socks? They are durable, fashionable and trendy and, as the buyers agree, do their job perfectly well. When it comes to their price, it changes considerably, based on the design and the size you choose and if you are going to use any of the special deals that the company offers.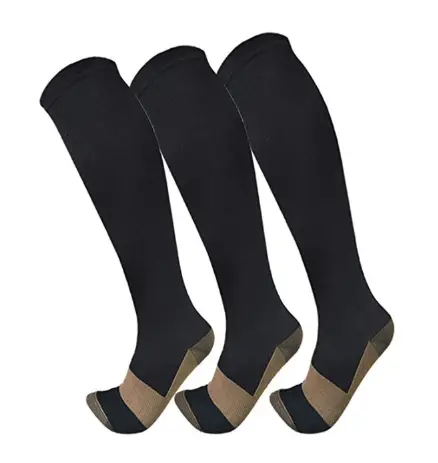 Made with copper fiber and performance fabric
Anti-odor, anti-microbial and moisture-wicking properties
Suitable for any weather conditions
Keep the feet warm when the weather is cold and vice versa
Enhance the blood circulation and oxygen flow to muscles
Some buyers say that they run small
There are several different types of compression socks made from different materials which are particularly chosen to enhance the blood flow from the legs and to remove the stress from the feet. FuelMeFeet chose copper for that purpose because copper is known to feature excellent conductive electricity properties, so the designers extended this property to create copper fibers which are capable to revive the circulation of the blood. In addition to this rejuvenating effect, keep the feet and the legs fresh and comfortable.
Read more
Features
Copper fibers have been increasingly utilized by many footwear manufacturers since they are considered to be highly stimulating for the blood circulation and keep the temperature a bit warmer so that they can enhance the healing processes in case of an injury. Plus, the fabric is extremely breathable, moisture-wicking and it has a unique property to maintain warmth when the temperature is cold and it keeps the feet cool and dry when the weather is hotter. Copper is also used to keep bad odor at bay. It has anti-microbial and anti-bacterial properties, so in a short period of time, it kills all bacteria, yeast, and microbes. The compression they provide ranges from 15 to 20 mmHg.
Performance
The boosted blood circulation, the mild squeezing, and the warmness is an excellent base for relieving achy feet and swollen ankles. They are capable of stimulating every cell so that any stress, fluid retention, and the impact are gradually removed from the lower leg area. Also, in case you are suffering from plantar fasciitis, they can relieve the existing pain and constant discomfort. The graduated compression can easily support your feet, prevent injuries, cramping, soreness and fatigue which makes them perfect for golfers who spend hours walking on the course. But, they are also recommended for runners, athletes who put a lot of stress on their feet, people who spend a lot of time sitting.
Cost and Value
The copper fibers and its excellent properties make these socks differ from the others, providing basic compression of 15 to 20 mmHg. They are durable and very comfortable. The fact that they come with a warranty and can be replaced in case of any manufacturing issue makes them a good value for the money.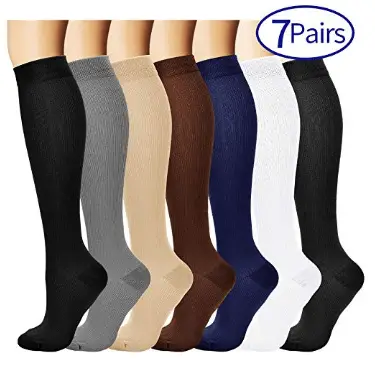 Reduce blood circulation, swelling, help in muscle recovery, varicose veins
Made with 85% nylon which provides 360 degrees stretch and flexibility
Antibacterial and moisture wicking material which dries easily
Anti-odor and breathable fabric
Run larger and a have a bit loose fit
When you bind together advanced technology with science and fashion, what you get is Leite Hebe, golf compression socks that look modern and trendy and which are made for man and women equally. They deliver comfort and flexibility by bringing support to achy feet and legs. These are made to say goodbye to your pain, varicose veins, swelling and water retention by gradually enhancing the circulation in your feet and calves. They come in many different styles and designs to keep up with your style.
Read more
Design Features
It is easy to notice the high-quality design that these have and the careful construction which delivers improved fabric strength with much-enhanced softness. The fabric is moisture-wicking and easy to dry, and in addition to this, it also features anti-odor property which means it kills the odor-creating bacteria and yeast to deliver fresh feel. The 360-degree stretch nylon makes them very flexible and ultra-durable so that everyone can wear them. The support goes from heel to toe and there's a wider cuff for the top bend which keeps them on the position where they need to be without slipping down.
Performance
It is a well-known fact that compression socks are mainly worn to increase the circulation around the ankles and the lower part of the leg. This model provides 15 to 20 mmHg strong and balanced compression in the area around the ankle and then it gradually decreases the compression as it moves upward. This type of compression lowers the chances of lactic-acid build-up, alleviates muscle fatigue and decreases feeling pain. They can be also helpful for preventing varicose veins, recurrence of thrombosis after surgery and even protect your legs from small scratches. They are perfect for the golf course, sitting down for many hours or frequent long traveling.
Cost and Value
When you are looking for a style, fashion, and compression, then Leite Hebe model is the ones that can fit your style. They are comfortable, easy to handle and most importantly, they are going to boost your performance and lessen your pain. When it comes to their price, their price is a bit higher, but there are some good deals that you can find for a much more affordable option.
Criteria Used for Evaluation

Compression
It comes naturally to expect this criterion to be the first since that is the topic of our discussion and the readers need to make an informed decision when it comes to this criterion. Those socks are designed to apply sufficient pressure on the lower leg and feet to maintain blood flow, reduce discomfort and pain and boost healing of injuries. There are various degrees of compression that range from mild ranging from 8 to 15 mmHg, medium from 15 to 20 mmHg, firm, which is considered to be medical level and ranges from 20 to 30 mmHg and doctor prescribed 30-40 mmHg level. All of them feature gradient support which means the compression is the firmest on the bottom and the ankle level, while it gradually releases as it extends upwards towards the knees.

Comfort
Besides being functional, any piece of clothing needs to be comfortable too. So, we aren't going to talk about much of what comfort means, but what is expected from these socks so that they provide comfortable and snug feel. So, most of them, at least those that we have selected as the best ones, are knee-length, and regarding this size, they tend to slip downward causing discomfort and fail to provide the needed support. Therefore, we carefully analyzed their construction and the reviewers' comments so that we could select those which stay firm no matter how intensive is your exercising tempo. The extra padding and reinforcing on the weakest points besides adding to greater functionality, they significantly increase the level of comfort and prevent against blisters.

Breathability
It would be unimaginable to wear performance socks that lack this feature. Breathability means increased air-flow which in turn leads to better ventilation and reduction of moisture. Some of the best socks have ventilation mesh fabric that increases the ventilation process, which leads to the cooling effect and keeping the feet or the leg dry. Almost all of them feature moisture wicking property which means, the perspiration is pulled towards the surface of the socks so that it dries easily. Also, some of the best have the ability to keep the feet cool during hot weather and retain body warmth when the weather is hot. That all-weather feature makes them a perfect choice and a perfect investment for the benefit of your legs.

Materials
The choice of materials directly contributes towards the final effect and the success of these products and it is understandable that everyone should have the basic knowledge of the performance of each material so that he/she knows what to expect when buying a certain product. So, we list below the most featured materials that are used for compression socks and which can deliver the best performance and function.
Merino Wool – This is probably the most widely used material for socks due to its softness, durability, and anti-itching performance. It is also naturally resistant to bacteria and microbes, odors and shrinkage. It has a high capacity to absorb water but it is also very breathable so it doesn't retain it for a long time. It's very popularly among those high-end manufacturers that make superior products and the only disadvantage is its expensive price tag.
Spandex – This material is often used in combination with elastane to provide elasticity and perfect fit, and it is responsible for keeping the socks on their position without slipping down. It comprises not more than 10% of the overall blend of materials.
Nylon- As with spandex, you'll never see a stocking made from nylon only because it is slippery and it causes itching, but in combination with other materials it enhances the durability of the product and makes it more comfortable. It is also responsible for fast-drying, cushioning and cooling effect.
Acrylic- This material resembles Merino wool and it is most closely related to it in terms of easy maintenance, good cushioning and anti-odor properties and it dries very quickly.

Style
Everyone wants to look good, so the style is not something that is overlooked when searching for the best stockings of this kind. Always match your socks with the color and design of your golf shoes and the clothes you are wearing. Another point of consideration is the size and length. There are four, broadly speaking, lengths that you can choose from, no-show, ankle-length, crew length and knee length which you can choose from in accordance to your need and style. When it comes to their size you should buy the right fit, not bigger or smaller because they need to feel snug to deliver the right support. And the last thing we considered was the availability of many different colors and patterns which allow you to be much more detailed in color combinations or stand out as someone with a unique style.
Frequently Asked Questions
q:

What are the compression stockings most commonly used for?

a:

These stockings are designed to increase the blood flow and the oxygen level on the lower part of the leg and help alleviate symptoms such as swelling around the ankles, blood pooling, pain, and discomfort. They are particularly useful if you suffer from plantar fasciitis, varicose veins, DVT, edema, cramps and muscle fatigue.
q:

What does mmHg stand for at these stockings?

a:

The mmHg indicates the degree of compression or millimeters of mercury based on the blood pressure. Most of the socks that we have reviewed here have moderate pressure rating from 15-20 or firm from 20 to 30 mmHg.
q:

Are golfers advised to wear this type of stockings?

a:

These stockings are recommended for anyone who spends hours walking, standing, running or hiking or the other extreme goes to those people who spend hours sitting down, like office workers or long-flights travelers. So, since golfers spend hours walking on the course they are highly recommended, especially if they suffer from any of the conditions stated above.
Subscribe to our Newsletter