Best Compression Socks for Golfers
last updated
Sep 17, 2019
Did you know that many golfers decide to give up the game because of the constant pain that lingers down their feet and ankles? The feeling, as some of them say, is quite unbearable, especially if it is followed by swelling and muscle cramps.
Sadly, most of them hadn't even tried wearing compression socks before they decided to quit, missing the great opportunity that these provide in alleviating the pain and discomfort. Whether that be plantar fasciitis, edema, vascular disease or DTV, these socks are designed to increase the blood circulation and deliver more oxygen to the leg and thus get you back on track. Their therapeutic effect is confirmed, so if you are suffering from any of the above-mentioned symptoms, this article is for you.
Since they are crucial for golfers well-being and performance, we recommend the following ten golf compression socks mostly based on their effectiveness.
In a Hurry? The test winner after 4 hrs of research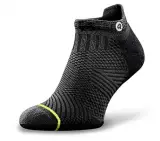 Rockay
Why is it better?
Made from merino wool which has natural anti-bacterial features
Added light mesh ventilation zones
Padding on all sensitive areas to protect from injuries and blisters
Arch compression and increased blood circulation
Extremely durable, comfortable and breathable
In a
Hurry? Editors choice: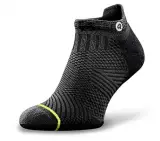 Test Winner: Rockay

Compression
Comfort
Breathability
Materials
Style
By Default
Criteria Used for Evaluation


Compression
It comes naturally to expect this criterion to be the first since that is the topic of our discussion and the readers need to make an informed decision when it comes to this criterion. Those socks are designed to apply sufficient pressure on the lower leg and feet to maintain blood flow, reduce discomfort and pain and boost healing of injuries. There are various degrees of compression that range from mild ranging from 8 to 15 mmHg, medium from 15 to 20 mmHg, firm, which is considered to be medical level and ranges from 20 to 30 mmHg and doctor prescribed 30-40 mmHg level. All of them feature gradient support which means the compression is the firmest on the bottom and the ankle level, while it gradually releases as it extends upwards towards the knees.


Comfort
Besides being functional, any piece of clothing needs to be comfortable too. So, we aren't going to talk about much of what comfort means, but what is expected from these socks so that they provide comfortable and snug feel. So, most of them, at least those that we have selected as the best ones, are knee-length, and regarding this size, they tend to slip downward causing discomfort and fail to provide the needed support. Therefore, we carefully analyzed their construction and the reviewers' comments so that we could select those which stay firm no matter how intensive is your exercising tempo. The extra padding and reinforcing on the weakest points besides adding to greater functionality, they significantly increase the level of comfort and prevent against blisters.


Breathability
It would be unimaginable to wear performance socks that lack this feature. Breathability means increased air-flow which in turn leads to better ventilation and reduction of moisture. Some of the best socks have ventilation mesh fabric that increases the ventilation process, which leads to the cooling effect and keeping the feet or the leg dry. Almost all of them feature moisture wicking property which means, the perspiration is pulled towards the surface of the socks so that it dries easily. Also, some of the best have the ability to keep the feet cool during hot weather and retain body warmth when the weather is hot. That all-weather feature makes them a perfect choice and a perfect investment for the benefit of your legs.


Materials
The choice of materials directly contributes towards the final effect and the success of these products and it is understandable that everyone should have the basic knowledge of the performance of each material so that he/she knows what to expect when buying a certain product. So, we list below the most featured materials that are used for compression socks and which can deliver the best performance and function.
Merino Wool – This is probably the most widely used material for socks due to its softness, durability, and anti-itching performance. It is also naturally resistant to bacteria and microbes, odors and shrinkage. It has a high capacity to absorb water but it is also very breathable so it doesn't retain it for a long time. It's very popularly among those high-end manufacturers that make superior products and the only disadvantage is its expensive price tag.
Spandex – This material is often used in combination with elastane to provide elasticity and perfect fit, and it is responsible for keeping the socks on their position without slipping down. It comprises not more than 10% of the overall blend of materials.
Nylon- As with spandex, you'll never see a stocking made from nylon only because it is slippery and it causes itching, but in combination with other materials it enhances the durability of the product and makes it more comfortable. It is also responsible for fast-drying, cushioning and cooling effect.
Acrylic- This material resembles Merino wool and it is most closely related to it in terms of easy maintenance, good cushioning and anti-odor properties and it dries very quickly.


Style
Everyone wants to look good, so the style is not something that is overlooked when searching for the best stockings of this kind. Always match your socks with the color and design of your golf shoes and the clothes you are wearing. Another point of consideration is the size and length. There are four, broadly speaking, lengths that you can choose from, no-show, ankle-length, crew length and knee length which you can choose from in accordance to your need and style. When it comes to their size you should buy the right fit, not bigger or smaller because they need to feel snug to deliver the right support. And the last thing we considered was the availability of many different colors and patterns which allow you to be much more detailed in color combinations or stand out as someone with a unique style.
Frequently Asked Questions
q:

What are the compression stockings most commonly used for?

a:

These stockings are designed to increase the blood flow and the oxygen level on the lower part of the leg and help alleviate symptoms such as swelling around the ankles, blood pooling, pain, and discomfort. They are particularly useful if you suffer from plantar fasciitis, varicose veins, DVT, edema, cramps and muscle fatigue.
q:

What does mmHg stand for at these stockings?

a:

The mmHg indicates the degree of compression or millimeters of mercury based on the blood pressure. Most of the socks that we have reviewed here have moderate pressure rating from 15-20 or firm from 20 to 30 mmHg.
q:

Are golfers advised to wear this type of stockings?

a:

These stockings are recommended for anyone who spends hours walking, standing, running or hiking or the other extreme goes to those people who spend hours sitting down, like office workers or long-flights travelers. So, since golfers spend hours walking on the course they are highly recommended, especially if they suffer from any of the conditions stated above.