10 Best Budget Golf Rangefinders
In a
Hurry? Editors choice: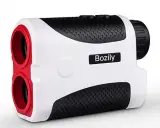 Test Winner: Bozily

What golfers need the most to be able to lower the number of strokes, is a reliable rangefinder that delivers accurate measurements and durable and reliable performance. Until recently it has been tough for golfers to decide to spend hundreds and sometimes thousands of dollars on such
GPS devices
and often they had to guess the distance to the pin, hazards or woods. This resulted in several failed shots and bad performance.
Luckily, the times have changed, and as modern technology has started to penetrate into every area of manufacturing processes, it enabled many companies to start producing cheap rangefinders without affecting their performance and durability.
We know that many recreational golfers or
those with a tight budget
are reluctant to spend a lot of money on high-end units, so we have selected the best 10 that offer excellent value for the money.
Standout Picks
Criteria Used for Evaluation
Accuracy
"Fast is fine, but accuracy is everything."- Wyatt Earp
Talking about cheap rangefinders also means talking about accurate distance measurements. That is the main reason why companies produce them and if the unit isn't designed to deliver accurate reading, then that unit is more or less useless. Some research has shown that golfers have considerably lowered their score once they have acquired distance trackers as they didn't have to guess the distance to the next pin, hazard or the woods. Therefore, it was the first criteria that helped us single out the most accurate ones that can be purchased on the market today.
Features
Features answer the question "What is it?", benefits answer the question "What's in it for me?".- Tom Abbott
Features, there are plenty and when it comes to these units, they clearly distinguish them in their performance. The first distinguishing feature is the measured distance which spans from 600 to 1,200 yards, depending on the product. Next is the precision accuracy which also ranges from +/- 0.3 to more than 10 yards, and of course the smaller the better. Pin locking feature, continuous scanning, vibrations and ability to control the vibrations once the target is locked, slope mode which can be turned off for tournaments are some of the features that make these products from one another. Plus, there are some differences in the lens quality and the display. Some feature multilayered lens with a high-quality optics and LED digital screen with 6x zoom for clearer target visibility. And finally, those that are water and fog resistant can be used during rainy and foggy weather, a criterion that extends their overall functionality.
So, all these functions make one budget rangefinder better, and if one happens to have them all, then we can place it higher on the chart. This means that the higher the score in this category, the more features it has.
Effectiveness
This criterion is closely related to the first one, as expected, the unit has to be accurate in order to be effective and functional. Plus, the effectiveness of a cheap rangefinder is seen in the ability of the device to bring forth readings in the fastest period of time which will be reliable and trustworthy. Also, their effectiveness is seen in the ability to scan and precisely measure overlapping objects and lock the flag. Then, the ability to use them during unfavorable weather conditions extends their level of effectiveness, so, all in all, the more functions the product performs, the better.
Visibility
Another important criterion is the lens quality and the way it is made so that golfers can benefit from it. Some lenses are multilayered with wider pupil and greater visibility perimeter which is especially important for the scanning mode. The adjustability of the eyepiece for clearer and crisper images and 6x zoom which is set as a standard, allowing golfers to get a better understanding of what's in front of them, means that they can better plan their shots. Most of the rangefinders discussed here come with a digital, LCD display which is much brighter than their predecessors. So, it is clear that the score we have attributed to the products next to this criterion is a match to the quality of the visibility they are made to deliver.
Value
This article is focused on two things: efficient rangefinders for a cheaper price, so this was the criterion that was decisive when we were narrowing them down. To do that, we needed to set a maximum price point which would serve as a borderline and group these products within this category. This price point was 200 dollars, so we considered everything that fits below it. Even though the title says cheap, there's nothing cheap in them when it comes to quality since, according to the actual users, they perform almost equally as the popular, expensive ones, so we'd rather say they are an excellent value for the money.
Top 10 Budget Rangefinders for Golfers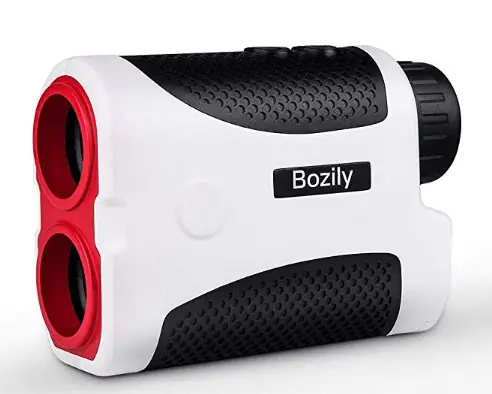 If you are looking for tournament legal rangefinder within the budget category, one that claims all the bells and whistles and which can be easily compared with the most expensive tour-designed ones, get a closer look at Bozily, one of the best golf laser rangefinders for the dime. It is compact, well-designed and most importantly, it is very accurate and reliable. That is more or less every golfer's dream and in fact, the correct measurement is the key to excellent performance and even getting a birdie. Read below to find out more about this product.
Read more
Lens Features
We have to agree that this is one of the best lens found on a cheap golf rangefinder with LCD digital display and a high-definition camera. It allows magnification up to 6 times with diopter adjustment functionality and 7 degrees field of view. The objective lens is 25 mm while the eyepiece lens is 16 mm with a fully multi-coated lens. The display shows the measurement to the target, the flag, the battery status, and the mode.
The Technology Behind
Bozily uses the latest technology to provide the most accurate measurement with accuracy within one yard to help you find the distance to flags, hazards or trees. It features JOLT technology with fast focus system and easy distance reading. There are four available modes for multiple applications. The General Model provides space distance and angle measurements, the Golf Mode provides the angle and the slope distance between the flag and the golfer, the Vertical Mode measures the vertical and the horizontal distance and the Speed Mode measures the accuracy within +/- 5 km/h. The Slope Switch Technology provides the straight line distance and the compensation distance with calculated slope measurements.
Additional Features
This is a very lightweight and convenient device which is tour approved and functions accordingly. It is ergonomic and portable but what matters the most is the fact that it is waterproof and portable. The purchase includes a CR2 Battery, a carrying case, a cleaning cloth, a lanyard and a color box with a user manual. The product comes with a 12-month free replacement in case of defects.
Cost and Value
For many buyers, their search for budget rangefinder has ended with this product. It is one those products that have included almost anything you need (and don't need) and it is even hard to find any flaws at all.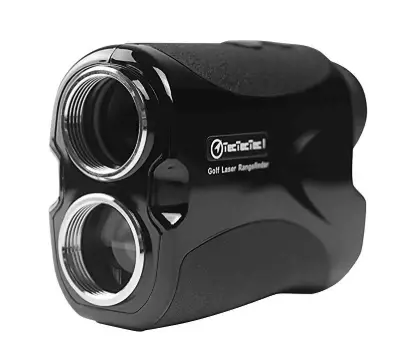 If you've been searching the net for a cheap golf rangefinder, any kind of it, then this is one of those options that pop up as the best one regardless of the type of the budget rangefinder that you are looking for. VPRO 500 has been the most successful model of TecTecTec, spiking up its sales with unsurpassed success for a product of this type. The success of VPRO 500 has been shaped by two criteria: it is less expensive compared to most of the premium competitors and it performs as being a high-end product, some even claim that it is even better than most available ones on the market today.
Read more
Lens Features
The lens of this cheap rangefinder delivers very visible and easy to read images because it features ultra-clear and premium quality optics that is constructed of several layers. The lens display indicates the distance that you'd like to measure, the battery meter and continuous scan measurement mode. The diopter adjustment functionality makes the aims more visible and the measurement locking function will boost your confidence.
The Technology Behind
This cheap golf rangefinder features an updated Pin Sensor technology which accurately measures overlapping subjects which is something that we don't see in budget models. It is excellent to measure hazards, wooded areas, and golf flags. The golfers can choose metrics or yardages and the accuracy of each measurement is up to one yard.
Additional Features
What golfers love the most about VPRO 500 rangefinder is the fact that it is very small, hand-held size and extremely lightweight. This means it isn't going to add weight to your overall packed golf bag and you can have it attached on the bag as it comes with a carrying pouch and a strap. The device is water and dust resistant, so it can be used while raining or when it is windy. In addition to the pouch and the strap, it comes with a CR2 battery, a microfiber cloth, and a quick guide. The best part is that it comes with two years warranty and lifetime customer service.
Cost and Value
There's nothing cheap in VPRO 500 even though the price it has is significantly lower compared to the premium models. It is excellently made, durable and most importantly, it is accurate. It features almost all functions that pro models have and according to the buyers it does match the description.

3

. Precision Pro Golf- NX7 Pro Slope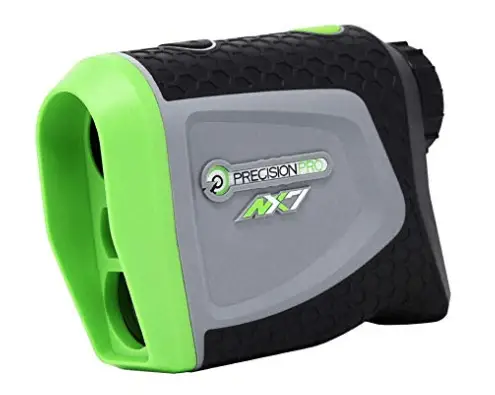 Guessing the distance of your next target is a tricky job and you can't possibly lower your score if your guesses are wrong. It was until recently that only a few golfers could afford to buy a rangefinder, but one of the perks of modern technology is an easier manufacturing process and more affordable prices. Precision Pro Golf is an aspiring company that has made a few very successful cheap rangefinders and NX7 is the one that fits our targeted category the most, so let's take an in-depth analysis of this product.
Read more
Lens Features
This award-winning cheap rangefinder is made with optics that deliver clear vision to objects distanced to up to 400-yards range, and it can display from 1 to 10-yard measurements which can be set in yards and meters. The Target Acquisition Technology (TAG) allows the device to scan the objects in the vicinity and it focuses on the desired target with accuracy using its 6X magnification.
The Technology Behind
The first technology that we have already mentioned was the TAG technology, the other one found is PULSE Vibration Technology. This technology delivers a short vibration when the target is acquired and you can target practically anything on the course. The accuracy is set to 1 yard and according to golfers, it is one of the most accurate ones within the price range.
Additional Features
This is a small-size device with a size of approximately two golf balls. It is a non-slope and water resistant device which comes with a hard carrying case, a lanyard, a cleaning cloth, a battery, and an instruction manual. Plus, with the purchase, you get a two-year warranty and a lifetime battery replacement service.
Cost and Value
If you are looking for a simple and budget rangefinder that is going to confidently bring the right distance at the reach of your hand with accuracy then NX7 will surely do the job. The company claims that all their devices have been made with the help and the feedback of the real golfers and it was tested by independent experts. For the price, you get excellent quality and reliability.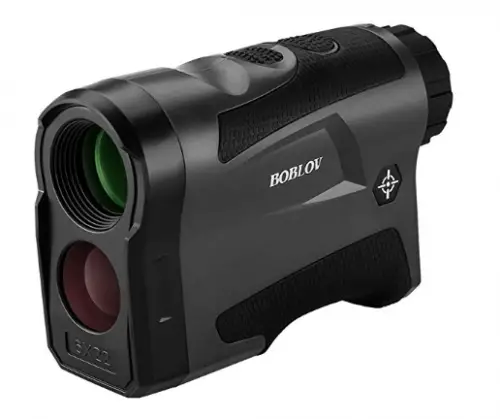 If you have approached the game of golf seriously, even if that 'seriousness' is for recreational purposes only, you won't be able to lower your score unless you are able to determine the distance from/to the pin, the hazards, the woods, shortly said, anything that is worth measuring. And if buying a highly-rated, top-notch premium brand seems just too much for your tight budget, then Boblov is a serious bargain deal, offering an excellent budget rangefinder for the money.
Read more
Lens Features
When it comes to visibility, this cheap rangefinder displays the target with a clear and crisp image delivering maximum visibility. The visibility is further enhanced with the possibility to zoom the target to up to six times without deteriorating the quality of the image.
The Technology Behind
What premium models do, this is what Boblov does, because it features Pinssensor technology that delivers measurements within +/- 1-yard accuracy for a very short time up to 600 yards. Plus it is very accurate when measuring overlapping subjects and flags. Unlike many other similar models that either lack or have it always on, the vibration mode of this model can be switched on and off when the flag distance is locked. There are three modes, Speed mode, Ranging mode and Flag locking mode and then it can also provide slope distance, which can be turned off if used in tournaments.
Additional Features
There's another feature that distinguishes this cheap rangefinder from many others, which is the USB battery charging and the possibility to remove and replace the battery. The battery is extremely durable, it requires many shooting sessions before you will need to charge it. When you buy Boblov, you get a pouch, a manual and a USB charger.
Cost and Value
The purpose of the buying guide is to find the best ten cheap golf rangefinders that fall into the budget category and represent them to the readers like you. So, yes, it is very reasonably priced (some would say even too reasonable), but the fact that it is inexpensive doesn't influence its performance, so this is a very good product that meets the effectiveness criteria.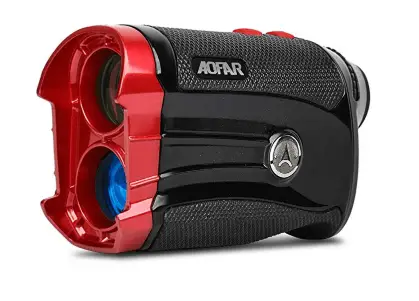 Accuracy is everything that golfers need to lower their score and when you have a piece of reliable, distance-indicating equipment, the chance to improve your performance is greater. AOFAR is a company that has been focused on researching and producing first-class budget rangefinder and compass products and their success is marked by having their products sold all over the world.
Read more
Lens Features
If there is anything that G2 cheap rangefinder can boast about it is the G2LCD display that shows the images in very bright and vivid colors. It has high-quality optics with diopter +/- 3 degrees and wearing glasses is not necessary, even if you have bad eyesight. Plus, the rotating eyepiece allows golfers to zoom the target up to 6 times without deterioration of the image clarity.
The Technology Behind
There are a few technologies that stand behind this budget rangefinder and which allow golfers to indulge in their golfing techniques completely. The Flag Locking technology allows you to scan from far to near and once you get the flag distance you get an indication that you have locked on the target near to you. Scan mode will allow you to get the distance of overlapping objects. The Angle and Slope Technology measures an uphill and downhill angle and the Slope Switch technology allows you toggle between the on and off function, depending on which option you'd like to use.
Additional Features
This is a compact, lightweight and waterproof unit which measures the distance at 600 yards with an accuracy of 300 yards. AOFAR G2 budget golf rangefinder comes as a full package which includes a high-grade carrying case, a carabiner, a cleaning cloth, a lanyard, a Panasonic battery and a manual.
Cost and Value
The manufacturer seems to have been gaining a lot of trusts all over the world thanks to its high-quality and user-friendly products, first place, but also thanks to their price point which is more than competitive.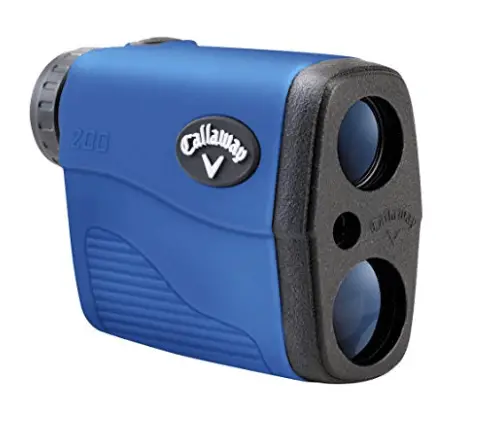 It seems that there's nothing Callaway can't produce, and whatever the company produces, it is of exquisite quality and impeccable performance. As a matter of fact, the name itself guarantees that every product is made with due care and special attention. And, if you thought that Callaway is a brand that endorses its products with a mind-blowing price tag, you will get surprised from the price of this product. The fact that it is listed in this buying guide says a lot, firstly, it tells you it is affordable and reasonably priced, secondly, it is a cheap golf rangefinder that boasts excellent performance. Take a look below.
Read more
Lens Features
One of the most recognizable features of Callaway is the fact that the company has always been quality oriented using the most advanced technology. The same refers to this unit and to start with, its optics is supreme and brings clear and bright images. The LCD display is easy to read and shows yards/meters to the target and the pin indicator.
The Technology Behind
The engineers working for Callaway know what they are doing and know what matters. This means that the whole technology behind this unit has been developed to enhance golfers' performance in the easiest possible way by offering them accuracy and authenticity. Pin Acquisition Technology (P.A.T) is designed to lock onto the pin from up to 275 yards with impressive accuracy to +/- 1 yard. This laser rangefinder precisely scans the landscape to get the distance to multiple targets such as water hazards, bunkers, and woods.
Additional Features
This unit most certainly boasts Callaway quality and it is built to meet your needs regardless of the conditions. It is fog and waterproof and therefore it can be used even under inclement weather conditions. It comes with a case and a clip which can be easily hanged on the golf bag or your belt.
Cost and Value
It is very surprising that we see a Callaway product priced within the lowest price range when it comes to cheap rangefinders, however, it doesn't mean it is of low quality. On the contrary, it is a very basic and functional device which might be void from all the bells and whistles but at least it has kept the Callaway quality and performance and it offers excellent value for the money.



Among the perks of the broad offer of various budget golf rangefinders, Saybien has found a way to stand out and make a way towards the best. There are two reasons why it has been selected, it replaced the expensive CR-2 battery with the more budget-friendly, lithium-ion battery which is USB charged. The other reason is its incredibly long range of shooting to get precise distances at 1,300 yards with 200 yards to golf pin. There's much more in-between, so read below to find out more.
Read more
Lens Features
The designers of Saybien's budget golf rangefinder took great care to make sure they included the highest-quality optics. The 2mm objective lens which has a rotational eyepiece can be adjusted to get a clearer focus on the scanned object. The 6X magnification gives clear and crisp imaging of everything that is within the scanning scope, making it much easier to get a clear perspective of what's ahead.
The Technology Behind
There are two modes of measurements, the straight-line distance measurement and slope adjusted distance measurement. The straight-line measurement is compliant with USGA Rule 14-3 and it can be used for tournaments as in this mode the measurements are legal. The slope mode is used for practice purposes only and it delivers slope adjusted distances. This means you will get the idea of how much the undulation of the course can affect the play downhill and uphill. The two modes allow the possibility for quick scanning, i.e. panning over multiple distances to get the distance to the pin and to all the hazards. Another beneficial feature is the buzzing sound you get when the device has locked the flag.
Additional Features
This is a very well made unit that boasts accuracy within a yard. It is small, lightweight and ergonomic. It is very easy to use since there are two buttons only that control its work. When purchased you get a very stylish case zippered cover, a strap, a cleaning cloth, a charger box, and an instruction manual.
Cost and Value
This budget rangefinder has everything that you can easily find in much more expensive, name-brand ones which cost up to five times the price of this one. It has a high accuracy rate and it is consistent in the measurements it provides, making the game much more enjoyable and fun. Being part of this list means that it belongs to the inexpensive, but a well-performing group of rangefinders.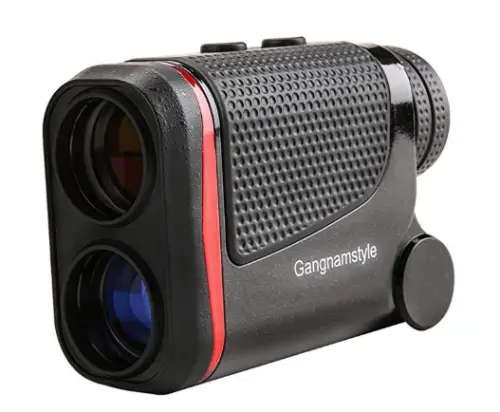 I'm sure that you danced to the catchy melody of the 2012 Gangnam Style hit, and reading the name of this rangefinder must have brought your memories back, however, the two are totally unrelated as Gangnam is just a territory in Seoul. Well, back to this unit, it will impress you with the far-reaching measurement ability to up to 1093 yards with 0.3 yards accuracy in the distance and 0.3 degrees in angle. It has some more fancy features, so read below to find out more about it.
Read more
Lens Technology
Talking about the lens, it is of the highest quality, featuring diopter adjustment functionality so that the golfers can get a clear view regardless of their eyesight. It has an adjustable focus and is capable of taking measurements in just a fraction of seconds at any point with 6 times zoom. The LCD display delivers bright and crisp images with a very high resolution.
The Technology Behind
The technology which makes this budget rangefinder very precise and accountable is called Target Acquisition Technology (TAG). It is an advanced measurement technology which delivers precise measurements of overlapping targets and it is also great to measure sand traps, woods, and location of the pin. There are seven different modes to choose from which toggle among distance, horizontal and vertical height, angle, closest target, continuous measurement, and flag-locking mode. Plus it has the ability to recognize the weather conditions so that it provides accurate measurements when the weather is rainy or foggy.
Additional Features
This unit is a very lightweight and portable cheap rangefinder which can be carried anywhere. It has a firm and water resistant body that can be used even when the weather is rainy or foggy. The anti-slip and the ergonomic design allow you to hold it firmly in your hand. When you buy this product you get a carrying pouch with it, a cleaning cloth, and the best part is that you get a year warranty and lifetime customer service.
Cost and Value
This is obviously one of the most technologically packed units which are sold for such a low price. It has mostly everything that high-end budget rangefinders have for more than a fifth of the price.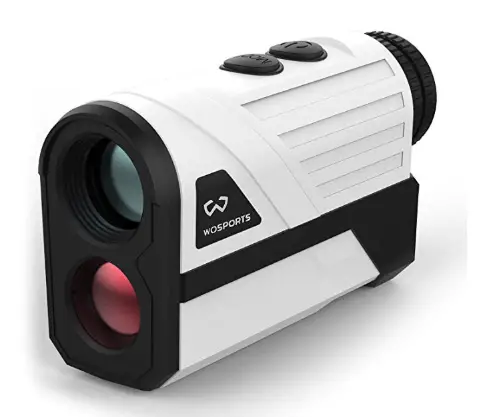 There are different types of cheap rangefinders on the market nowadays which have been designed to make the game more productive and enjoyable. Predicting the distance might be fun for some time, however, if you have passed the beginner level, then you will want to have mode productive performance on the course, and this is where rangefinders step in. It doesn't have to be the best of the best, you need reliable and accurate which will provide you with correct measurements. We selected Wosports as one of the trusted and best cheap rangefinders on the market.
Read more
Lens Features
The optics of Wosports used in this cheap rangefinder is of high quality, as the laser type is Class I as well. The display visibility is very high and it offers 6 times magnification. The size of the optic lens is 22 mm while the exit pupil diameter is 3.7 mm.
The Technology Behind
This is a very basic model that provides the golfers with the most crucial data regarding the distance to the flag. It measures up to 650 yards to everything that you consider target and 180 yards to a flag lock. There are three modes, the flagpole lock, and two more range modes. What can be noticed about Wosports is the innovative design it features- the blend of the battery cover and the device itself form one single, inseparable unit. The measurements it provides is expressed in metrics and yardages.
Additional Features
This is a very lightweight, practical and portable budget rangefinder which works on lithium battery (CR2-3V) which, as we said, comes together with the device. It comes in a carry bag with a lens cloth and operation manual. Plus, the manufacturer offers an 18-months satisfaction guarantee.
Cost and Value
This is one of the basic but the best-rated products that we have selected on this list thanks to its consistency and reliable readings it delivers. It is also within this list the most inexpensive one, so according to many golfers who use it, it is an excellent value for the money.

10

. Breaking 80 Golf IS500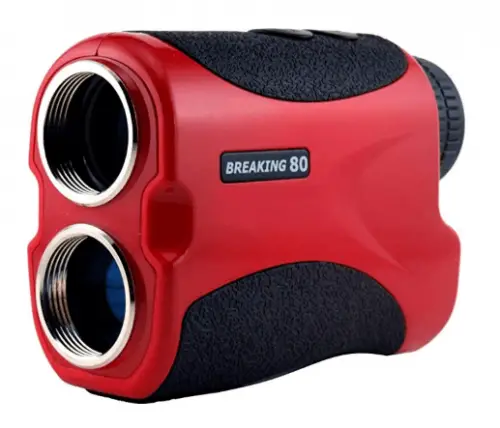 The aim of all golfers is to be able to lower their strokes off the round and thus lower their handicap. Many companies have been doing research on how to enable golfers to swing more precisely and have a more satisfactory game. Not surprisingly, some of the findings state that having a rangefinder has increasingly lowered the score, as golfers have been able to accurately get the distance to the flagpole and deliver precise shots. However, its expensive price has often deterred many potential buyers. Luckily, there have emerged companies that offer an alternative to the expensive ones, without decreasing the quality and performance such as Breaking 80.
Read more
Lens Features
The lens is crisp and clear and delivers bright images of what you are targeting. The eyepiece rotates and magnifies the objects, which helps the golfers to focus on the target. The lens is clear and it doesn't get foggy during humid weather.
The Technology Behind
PinSensor technology in this budget rangefinder is very efficient in delivering the results relatively fast (not the fastest though) and it is able to pick the yardage to the actual target, not just front, middle or back. It doesn't have any issues in picking up railroad tier, water hazards, pins, trees and mounds surrounding bunkers. Since it is a basic unit, it doesn't vibrate when it locks on a target, nor does it have a slope function.
Additional Features
The unit is handheld, very lightweight and water resistant so it means that you won't have any problems if used during a drizzle or light rain. When purchased, it comes with a carrying case and a strap and an instruction manual. The manufacturer took great care in providing confidence towards its costumers by offering 60-day money back guarantee, 1-year warranty, and lifetime replacement plan.
Cost and Value
It is excellent that nowadays we can choose what we want and how much we'd like to pay for that. The versatility in this respect is huge and that can be seen in the price range of rangefinders. From extremely cheap to extremely expensive, you can get your own item that will meet your needs for the price point you need. This one is basic but reliable and the price points it absolutely affordable.

Subscribe to our Newsletter