Find Good Cheap Golf Balls
In a
Hurry? Editors choice: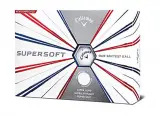 Test Winner: Callaway Super Soft

If you are a golfer who tends to lose his/her golf balls during every game and if you feel that you are wasting your money every time you visit the course, then you should do something about it. If you have found yourself in this description then you must have realized that there are cheaper ways to practice and lower your score then using branded ones and go home empty-handed.
If you are
a beginner, high-handicapper or a recreational golfer
, then the chances are that you are less likely to make a big difference between the expensive and the cheap golf balls, so you'd better stick to the cheap variety anyway. Plus, as you will read below, these selected choices are made to boost your performance and help you reach distance, control, and accuracy. We answer all your questions in this guide, so read to find out more.
Standout Picks
Criteria Used for Evaluation
Value
The main emphasis of our guide is focused on the price of the products, but the price itself is not an indication itself if we fail to consider the value included within the price. So, yes, we did include those products that feature a price tag below the standard but at the same time, we took special care to offer the ones that feature the greatest value for the money. The selected products are of high-quality and optimized performance, the score attributed next to each of them shows the value they have for the money you pay and they are simply some of the best budget golf balls on the market.
Model
Since there is an endless number of manufacturers and even more types of balls, it was very hard to make a selection of best cheap golf balls, so after doing careful research we realized that the brand and the model play a significant role when golfers made a decision on which product to buy. As you could notice, most of the manufacturers that we have selected are the ones that have been established on the market for a longer period of time and which have developed a wide selection of different models and types. So, regarding the selected models, we chose those that do not only fit into the budget category but those that are aimed towards helping golfers to achieve distance, less spin on the long shots, and accuracy, and control when it comes to the short game. So, even though we can say that the selection is mainly oriented towards the average golfers, everyone can benefit from the chosen products.
Features
When it comes to features, there are several aspects that we took into consideration. The way they are made plays a big role in the way they perform. Since we are talking about cheap ones, we most certainly bear in mind that these balls will be used by high to mid handicappers or beginners who look for distance, less spin accuracy, and control. Such balls are made to be more forgiving and therefore are made to deliver a softer feel and feature two- or three-piece construction. These kinds of models have a softer core and usually harder cover to deliver longer flights and less spin, but at the same time, they are designed to allow better control and precision when with the approaching the green shots. The one-piece ball is harder and it is usually oriented towards pro players who look for maximum power.
Materials
As we have previously said, these balls usually feature a two- or three-piece construction constituted from different parts. The core is usually soft, low compression and made from rubber, while those that are consisted of three parts include an outer core that is mostly made from resilient polymer. The cover is made from ionomer or trionomer which is durable, impact and scratch resistant. The pattern of the dimples matters, since they allow for better grip and spin when it comes to the short game, reduce the drag and the backspin, and provide enhanced stopping power.
Effectiveness
Many people say that you get what you pay for, so if we rely on this saying then we shouldn't expect much from these budget balls. However, the selected models are proof that there are many shades when it comes to the saying itself, so they are indeed almost as effective and playable as the ones that cost double or triple the price. As effectiveness is hard to measure, we had to rely on users reviews and experts opinions to get a real insight into the effectiveness level these products have. The summary of our research regarding this criterion can be perceived in the score attributed next to the product, and to our delight, these do seem to be highly effective, playable and functional.
Top 10 Cheapest Golf Balls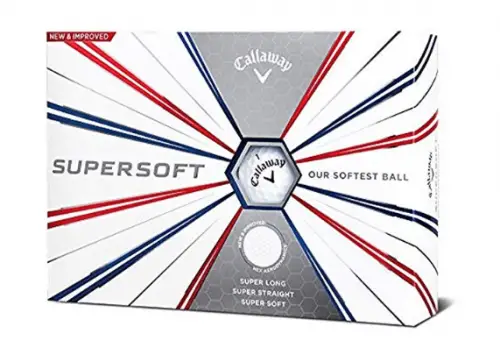 As Callaway has established itself to be one of the best brands in the pro golf market, it might seem unusual that we have even included them on this list. However, if you are an average golfer who's been playing golf now and then, the chances are that you have already played with the prior generation of this updated 2019 model and you loved them. That model has been literally selected to be the best in the super soft category and these cheap golf balls even better and it is expected they deliver improved feel. Therefore, we suggest that you read below to find out more.
Read more
Design
As with the other budget golf balls, these ones also combine the lowest possible compression with HEX Aerodynamics in order to deliver lower drag. These two-piece balls feature a trionomer cover that is made with advanced and upgraded HEX pattern, a design that guarantees straight and long distance ball with a very low spin. You can find them in five different colors for a more customized look and better and hotter visibility on the ground or in the air.
Performance
If you have already played with Callaway softballs you already know what to expect, but if you still don't know what to expect, here is a detailed explanation of their performance. So, the main characteristic they have is the fastball speed and much-increased accuracy, grip, and control when you approach the green. They are probably the softest balls that you will find on the market with an exquisite feel, longer carry, and distance.
Cost and Value
Callaway Supersoft model is made for golfers who appreciate good quality and great value of golf balls for a lower price. The soft feel and the quality design is the added bonus from one of the leaders in the golf manufacturing world. The previous model has been unsurpassed, and this one is expected to continue the tradition of being the best softballs on the market.

2

. Taylor Made Project (S)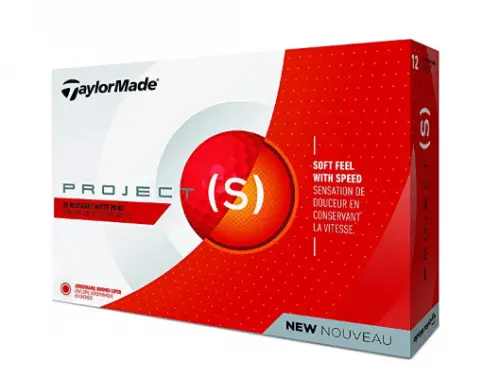 If you are a beginner you are less likely to notice any difference in the way the ball is made and how it performs. But, if you are a golfer who has been playing for some time and knows what to do, then you will most probably benefit from the kind of the ball you are using. So, among the wind range of Taylor Made products of this kind on the market, Project (S) type has been designed to boost the speed, and therefore they appeal to low-swing golfers. We invite you to take a look at this model if you think that your swing isn't as fast as it should be.
Read more
Design
As they are made to bring productivity to your otherwise slow swing, they feature a three-layer design which is peculiar for this category. The designers from Taylor Made have decided to introduce an all-new core that that is considerably larger but softer which helps to reduce the spin and deliver much better feel. In addition to this inner core, there's an outer core that is made from a resilient polymer which helps the ball to keep the velocity and thus extend the distance. The third part is the ionomer cover which delivers less spin when you use your driver and the long irons and which improves the control, feel and accuracy when it comes to your short clubs. They come in red matte color which is UV resistant and non-fade.
Performance
This cheap golf ball model was launched last year, but it turned out to be a great success as it completely matches the description. The 3-piece construction, the softer compression, and 342 dimple pattern help the golfers reduce the drag and the backspin while at the same time achieve the distance they are aiming even though their swing isn't as fast as they would prefer. In addition to the distance, you get control and feel, so, all-in-all, you get a well-performing product. The targeted golfers are those that range from 8 to 18 handicap.
Cost and Value
There are two reasons why we have included this Taylor Made model in our guide. The first reason is the low compression and the well-made design which is particularly beneficial for older players or those who can't deliver a high-speed swing. The second reason is the price they have and the company they come from. As you know, Taylor Made is not a joke, so when you have them being sold for a price that is lower than the half of the other Taylor Made golf ball models, you understand why they deserve to be on this list.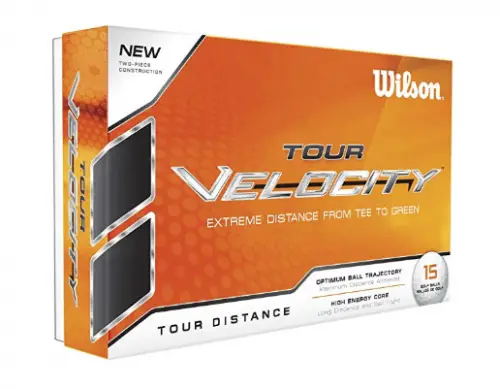 When you are at the tee the first thing you expect from your swing is the ball to fly as far as possible with a straight trajectory and less spin. But that is hard to achieve unless you are a pro. Luckily, Wilson is one of those manufacturers that took care to design balls that will enhance the performance of those recreational golfers who can't dedicate much of their time on practicing their swing speed. Tour Velocity is one of Wilson's models that are going to help you achieve the distance you have always wished for and add more spin when approaching the green. Read more about this all-around good cheap golf ball to find out more.
Read more
Design
This is a low compression ball that is a bit harder than most of the balls made for recreation players, however thanks to its design, it delivers very high playability and performance. It is a two-piece, low compression ball with 70 core construction. The cover is made from hard ionomer which enhances the distance and the roll, while the optimized dimple pattern features power and aerodynamics that provide the ball with superior playability. Plus, made as they are, you'll find them resistant to impact and scratches which significantly increases their life span, in case you don't lose them.
Performance
Even though this model features hard ionomer cover, it delivers soft feel thanks to the low compression core. What you can expect from this model is an exceptional distance when it comes to your long game and greater feel, control and accuracy with the approach shots. According to the golfers who use these cheap golf balls, they have considerably increased the yardages, so they are worth giving them a try, aren't they?
Cost and Value
When we were selecting the best budget class balls, the price they have wasn't the only criterion we focused, but the value they have in regard to the price. This model is considered to be very playable and highly functional, so many high to mid handicappers prefer it for their all-around game. Plus they do boast high quality and scratch resistance which makes them an excellent value for the money.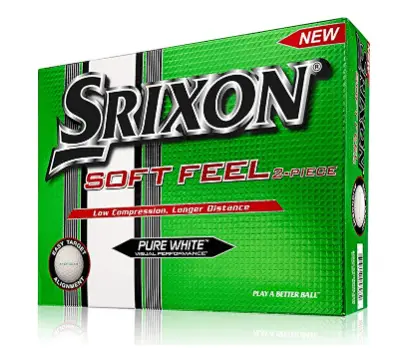 On the market today you will find golf balls that feature extremely low price to extremely high price, so if you feel unsure which ones are truly worth the money, we feel your confusion. Before deciding which ones will find their place in your golf bag, you must know what you are looking for in accordance with your golfing skills. This Srixon golf ball is not only affordable but it is equally playable, so read below to find out more about the features that this Srixon model has.
Read more
Design
As most of the models featured in this guide, Srixon Soft Feel also features super soft, 71 compression core which is highly resilient with superior aerodynamics. This low compression design is responsible for a high moment of inertia which leads to increased accuracy, especially when it comes to off-center hits. The surface features 344 aero power dimple design particularly beneficial for increased lift force, trajectory and distance. Unlike the rest of the products here, these come with an alignment aid, i.e., an arrow that promotes a target focus for greater accuracy.
Performance
This model of good cheap golf balls are soft and intended to deliver high launch with as low spin a possible in order to help golfers achieve greater distance and control. They are specially designed to meet the needs of moderate-swing golfers to help them have a high and straight trajectory. The advanced dimple design provides a significant reduction of the drag, a higher lifting force, features that add up to the achieved distance and stability. The 'hit straight' alignment arrow additionally helps the golfers to get maximum accuracy on the green.
Cost and Value
We are never satisfied with a low price only if the product that we buy doesn't provide sufficient playability and performance. Luckily, Srixon Soft Feel puts together all the concepts of a playable, long and soft golf ball with the low cost it has. That's an excellent value for the money and if you are a moderate-swing golfer this model will suit you well.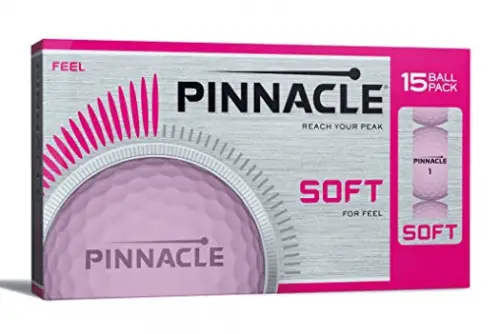 Many golfers define soft feel differently and that often depends on which perspective is being considered, and in case you didn't know, there isn't a 'softness' scale that provides precise softness feel. However, when companies manufacture soft, that often means that they make the core soft while the cover is usually firmer. Designed like this, it will often produce longer and straighter shots that will have as low spin as possible, but that is taken from the long game perspective. However, it takes employment of specific technologies for the companies to be able to produce balls that will make the short game playable too. So, take a look at the design and the performance of Pinnacle Soft to get to know them better.
Read more
Design
Pinnacle Soft model has been designed to give high handicappers more boost from their swing and achieve more speed and distance. In order to do so, Pinnacle's designers made the core function as the engine. It is a low compression core that delivers high energy while at the same time the golfer gets the softest feel and almost no spin when it comes to the long game. The cover is made from a very soft ionomer, but what makes these balls excellent for the short game too is the advanced icosahedral dimple design which features 332 dimples. There are three color choices you can choose from, white, pink and blue.
Performance
The proprietary design of the high energy core makes Pinnacle Soft model an excellent choice for beginners or recreational golfers who need assistance from the balls as well, in order to perform much better. When using the driver for off the tee shots you can expect long distance and much more speed with very low spin, while those 332 dimples allow good grip and stopping power when it comes to the short game.
Cost and Value
There is a reason why Pinnacle Soft has been rated so high. Many golfers claim that they got the chance to have their yardages improved after starting using this model, so it isn't only the price good, but their performance itself. Good value for the money was our first criterion when we narrowed these products down, so this model definitely boasts a supreme value for what you pay for.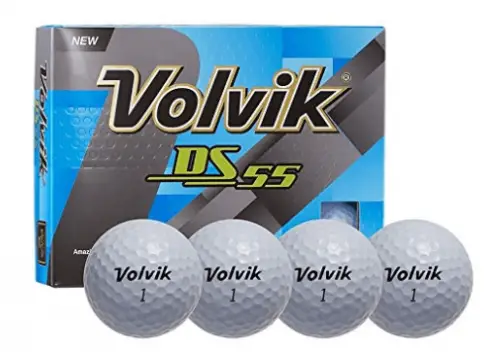 As with many other manufacturers we have included in this buying guide, Volvik is a company that offers a wide range of different kind of balls intended to meet the specific needs of various golf players. The ones that we have selected feature a budget price and high performance. They are equally used by professional golfers and beginners and deliver distance, accuracy, and control. The way they are made makes them suitable to be used with drivers, irons, and wedges, and therefore, below we provide you with detailed info about this model.
Read more
Design
The dual spin core technology makes this model highly efficient and versatile which allows being used for different aspects of the game. They are made with a high COR that delivers maximum ball speed and the low, 55-compression core reduces the drivers spin, which in other words means that golfers can expect much longer distance. The softcore delivers a very soft feel, especially when playing with wedges or when you use your putter, an important feature that increases accuracy and the overall performance.
Performance
And talking about performance, Volvik seems to have tackled some of the issues that are facing beginners and mid-level players, the issue with extra spin with the long irons and the driver. The high-velocity core that features dual spin technology appears to be highly efficient in removing the spin in the distance shots and keeping the spin, accuracy and feel in the short shots. So, all-in-all, it is a performance model with highly versatile use.
Cost and Value
This cheap golf ball model is one of the most budget-friendly that Volvik has produced. It doesn't specifically appeal to a certain type of players, but many golfers classify it in the average category simply because it's dual-core function and the significant impact on the distance. When you join good performance and low price, the final outcome is a good value for the money you spend on that product.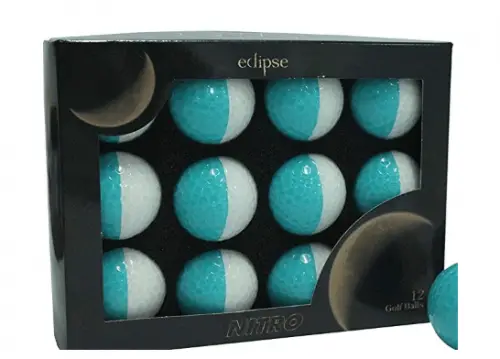 What are the greatest problems of all beginners? Among the struggle to get the ball airborne and having it in the hole, they frequently face the problem of losing their balls. So, if you are a golfer who is just starting to learn how to play then it is not really advisable to waste your money on expensive golf balls that will soon end up in the woods with little chance to retrieve them. Therefore, Nitro came up with a great idea of making balls that feature dual color and which have excellent visibility during the flight and afterward.
Read more
Design
The striking difference between these and the other budget golf balls on our list can be easily seen in the dual color design that Nitro Eclipse feature. They come in several color varieties and make an excellent choice for golfers who frequently lose their balls. The Tu Tone's technology is responsible for the semi-transparency with the blend of titanium polybutadiene in the core. This technology delivers a very soft feel and great distance which helps golfers to achieve much better performance.
Performance
Beginners usually make no difference whatsoever among various kinds of balls, but recreation golfers do thanks to their experience. And many of them say that they love the soft feel they get from Nitro Eclipse. They are made to enhance the speed and the distance and come with easy putting alignment. Plus, even if your ball frequently ends up in the woods, there are much greater chances to get it back thanks to the design it has and not many golfers will confuse it with their own.
Cost and Value
Nitro Eclipse model is uniquely designed that will not only allow you to get them back from the woods, but they will also help you get more yardage from the driver swing. The unique design and the soft feel are enough guarantees that you will enjoy playing with them and the price they have is more than affordable.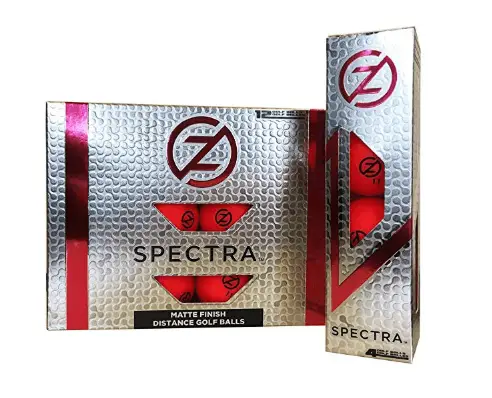 When it comes to versatility, colorfulness, and vibrant performance, Spectra peaks up, ticking all the boxes on the list. This is Zero Friction's latest model that combines durability and soft feel to deliver enhanced performance and playability. They are especially preferred by high handicappers and beginners as the high visibility of the ball reduces the chances of losing the ball when hit into the woods.
Read more
Design
This cheap golf ball features two-piece performance construction which consists of an extra-fast core that enables golfers to effectuate their shots into explosive distance trajectory with a very high launch and further roll off the tee. The source of this power comes from the core which is mid-soft, featuring 80 compression rate. The cover is soft, made from surlyn and for extra grip and wedge performance they feature 312 dimple pattern which also helps the ball roll on the green. There are six available colors that you can choose from and the model features matte-finish.
Performance
This ball is all about distance and unprecedented performance, powered by the engine of the ball which is its core, you can expect about 10 yards further distance, at least that is what the experts say. However, distance is not the only perk it has. If you consider the 312 dimple design, you most definitely can expect good grip, stopping power and a smooth roll on the green.
Cost and Value
You might have associated Zero Friction with high-quality golf gloves, however, these budget golf balls have surprised many buyers who decided to give them a chance and see how they perform on the green. The quality found in the gloves can be found in these balls too, so, in case you hesitate whether they are worth the money, according to the buyer, they most certainly are.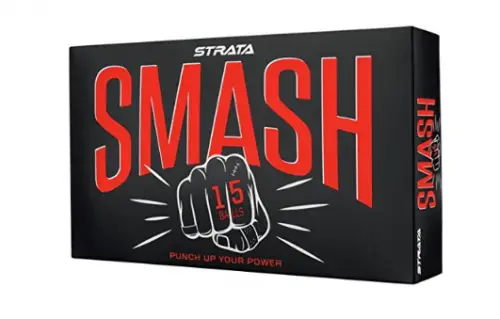 Contrary to most of the balls in this guide that features soft feel, Strata model offers a bit of a hard feel with strong, far and explosive power. Unless you are a pro, buying expensive ones would make no sense, especially if you buy them for recreational reasons or for practice. Strata balls for many beginners to intermediate level golfers seem to be the number one choice thanks to the distance they can achieve and the high-quality they feature.
Read more
Design
Even when you take a look at the knuckle logo on the surface of the balls, you immediately associate them with power and strength, which is what they represent. They are particularly designed to deliver long distance shots off the tee with a great feel and feedback. The core is soft while the cover is very durable and resistant to impacts and scratches.
Performance
As we mentioned a few times in this guide, if you are a beginner, then it will make no difference what kind of cheap golf balls you are using, however, if the ones that you are using allow you to have your ball flying long and high with maximum force, then you'd probably stick to them. Well, Strata model matches the description in every bit, and according to many golfers, they deliver more than you would ever hope for. The raw feel that intermediate golfers recognize is an additional booster for a powerful swing.
Cost and Value
The two-layer design of Strata is excellently made to explosively deliver high-velocity shots with every swing and if you look for balls that will enable you to have your ball distance improved then these are the ones. Strata are a lower category of Callaway balls, however, they do keep the quality design and the best part is that they make an excellent value for the money.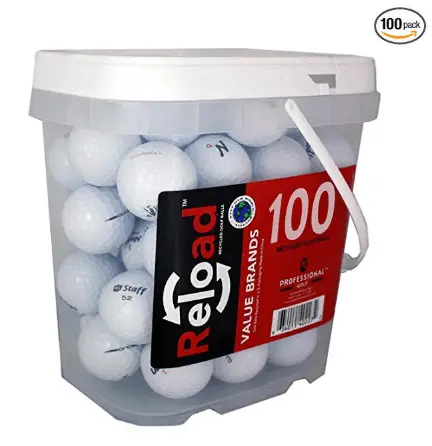 It is absolutely admiring how this company has found a practical way to offer golfers recycled balls and at the same time to clean the environment from all those lost balls found in the woods and the water hazards. That is exactly how the process starts and once they are retrieved from the environment, their recycling process starts. The final stage delivers high-quality balls that can be purchased for a much lower price than the original one.
Read more
Design
The company has proudly announced that over 655 million golf balls have gone through their system and they have been transformed into playable models by carefully selecting, processing and transforming them into the much alike their previous version. In the recycling and the refinishing process, they separate the balls depending on the manufacturer they come from, and after they are carefully cleaned, remade and colored, they still regain their manufacturer's logo and are packed to be sold in a near mint condition.
Performance
As these cheap golf balls represent a mixture of various brands, they are perfect for practicing without stressing out whether or not you are going to lose the ball. The near mint condition means that they resemble the new ones with a minor cosmetic blemish or an insignificant imperfection. They look like a brand new ball that has been used 3 to 4 times with a variable shine and color. The most important thing is that their flight characteristic and their integrity haven't been compromised at all, and they are as playable as the brand new ones. Since they are a mixture of various brands, you can expect a full range distance and superb performance thanks to the technologies used to manufacture them.
Cost and Value
If you are looking for absolute value for the money and decent performance, your search is supposed to end here as this model offers an extraordinary value for the money. You get a hundred pieces for the price of barely one pack of regular ones which makes an indisputably good value for the money.

Subscribe to our Newsletter