Best Cell Phone Cases
In a
Hurry? Editors choice: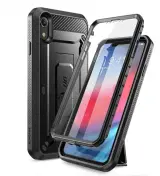 Test Winner: Supcase

We live in times of technological advancement which can be seen in the design of products. Smartphones of today stand out with their ultimate perfection and detailed designer precision, but, when it comes to keeping them safe, it seems that this technology has failed to provide the desired results. It has often happened to many golfers to accidentally drop their phone as they try to
measure the range
or follow a map on the golf course. In such situations, if your smartphone isn't protected enough, it can easily get damaged. Sometimes it just seems senseless to spends hundreds or thousands of dollars on a super fancy smartphone but you tend to save a few bucks on the protective cover. We strongly believe that the fragile design of the phones must be protected so we chose the best ten cases that add protection and style to your phone.
Standout Picks
Criteria Used for Evaluation
Protection
Smartphones have become an inseparable part of our daily lives and it is almost unimaginable to go on throughout the day without utilizing some of the functions they provide. From simple chatting and social networking to bill payment and using golf app, they have imposed them to be convenient, practical and more and more necessary. So, since we handle them as often as it could possibly be, they are exposed to a number of unwanted accidents. It is up to us to provide sufficient protection by choosing the right, most protective smartphone cover.
How can we be sure which one is the best one? There are many different choices and designs out there, but more or less what we wanted to pay attention to is the way they retain the original design, completely protect the phone and "add" few millimeters and a "bit" of weight on it. We selected the cell phone cases which mostly provide overall protection and which do not interfere or drastically change the design of the smartphone.
Shock Absorption
Our smartphones are exposed to shocks and bumps constantly, therefore it is very important to choose a cell phone case which gives exceptionally good protection for such unwanted accidents. The cell phone cases that we selected provide sufficient shock absorption due to the air-cushioning technology used in their production which creates a vacuum-like resistance making the phone fall on the artificially soft surface. So, the selection that we have made is based in accordance with the technology that has been used in their production, the user's reviews, and their satisfaction level.
Features
When we considered features that characterize the smartphone covers, firstly, we took in to account the design of the cases. We valued those that are slimmer, those that don't look bulky and which are easy to hold i.e., the ones that provide a good feeling while handling it. We realized that 3D covers and those that add extra style and design are considerably popular, so we considered them too. In line with the style, we also valued those that are transparent and which don' cover the actual style and design of the phone itself. Another thing what we took into consideration was the convenience in a combination with protection. We paid attention to the adaptability of the cell phone case to the cover and if all phone buttons and ports are easily accessible or if there is a discrepancy between them.
We also considered different peoples tastes in a combination with practicality, and the added extras to the cover itself, i.e. if the smartphone case has an additional storage place for cards, straps, kickstands, belt clip or if it is waterproof or not. Above all, the most important feature was the protective one though.
All in one, the best cell phone case is the one with a good and elegant look which is not add bulk to the phone has perfect cutouts which exactly matches all phone ports and buttons, and gives good protection to the cell phone.
Materials
The best solution to choose a cell phone case, are those which are made of materials that are shock absorbing and scratch resistant. Among the most commonly used materials are silicon, (TPU) thermoplastic polyurethane, gel, rubber and leather (real or artificial). The main characteristic of all these materials, except the leather, is that they can easily be handled so that the users' needs are satisfied. Amon the most effective and the most durable materials is the TPU which is resistant to impacts, wear and tear and which can endure even the most aggressive impacts. This material has a nice grip and can't easily slide from the hand. Some of the products feature a combination of two or three of the materials which makes them much more durable, stylish and protective.
Top 10 Picks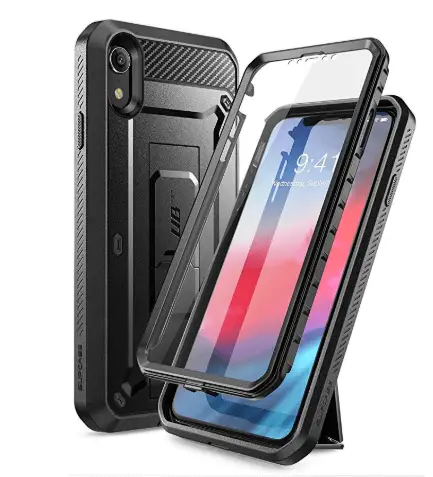 If you are ready for extreme adventures and you do not care about the looks of your smartphone, but your priority is protection in extreme situations, this cell phone case offers a very high degree of protection to your smartphone! It is very popular among mountain climbers or persons who deal with risky situations. This cell phone case is the best solution for the best protection of your smartphone!
Read more
Protection
It is constructed in two parts, the front and the back parts of the phone cover which gives complete protection to your smartphone. The front cover has raised edges and it is touch sensitive and it provides protection to the phone screen from scratches and it is very easy to operate, whereas, the back cover which is made from shock – absorbing and drop – resistant materials protects the phone from bumps. Additionally, this cell phone case has a screen protector which includes extra protection to the phone screen. This cell phone case is made from TPU and PC materials, which are of the highest quality.
Features
The quality as we said above is just amazing. It does add some bulk and weight to the smartphone because it encases the phone from all sides. It also gives a completely different feeling while you are handling your smartphone. But besides the bulkiness, there's nothing else you could possibly worry about since your smartphone has excellent protection.
This cell phone case has rotatable belt clip holster which is very durable and useful, especially if you do not carry an extra purse with you. It has also kickstand with high quality and it is very useful as well. It clicks into place easily and fits snugly. The cutouts of the cell phone case are precisely made giving easy access to all phone ports and buttons of the phone.

Cost and Value
This "super cell phone case", provides the ultimate protection of your smartphone and we know that you will not be disappointed by choosing it! We definitely recommend this cell phone to you and you will be able to make the difference!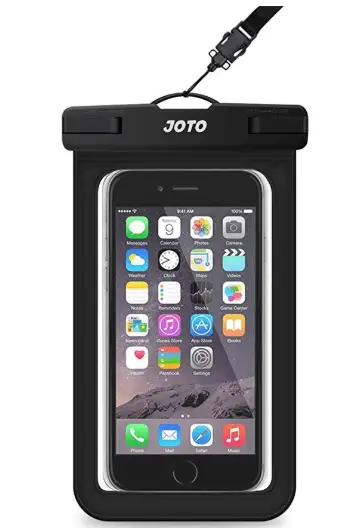 Smartphones have become the most necessary devices for people today. Therefore, people want to keep their phones almost everywhere close to themselves. But if you are carrying it everywhere, it is necessary to keep your smartphone safe and protect even if you go swimming, skiing, fishing, rafting or other places that are characterized by the presence of water, snow, oil, moisture, dust, and sand, and which represent a potential danger if your smartphone is not protected. Waterproof cell phone case is a safe solution for your vacation wherever you are, providing complete protection of your phone.
Read more
Protection
This is a universal waterproof cell phone case, suitable for all types of smartphones. It gives complete protection to your phone, so your worries that your smartphone will be damaged or destroyed are already past. For conveniently carrying your smartphone, this cell phone case has a neck strap on it. This is also perfectly suitable phone protection for disabled people because it can be safe alternative protection for their smartphones. It's scratch resistant so even if it falls it wan;t get damaged.
Features
This waterproof cell phone case, besides protecting your phone, it can serve as a bag, where you can keep your money, credit cards or ID card, or some of your personal belongings safe and dry, while you are on on the golf course or on vacation. It has a secure lock seal, protecting all your stuff. This cell phone cover provides you with the opportunity to use your smartphone underwater, and it is perfect for taking pictures and making videos. It has crystal clear windows on both sides which allow easy operation.
Cost and Value
We recommend this type of cell phone case primarily if you are an adventurer and if you travel very often. This cell phone case can satisfy all your needs, as it can contribute to your enjoyment during your vacation and at the same time your smartphone will be protected all the time, even in extreme conditions. It will really exceed your expectations!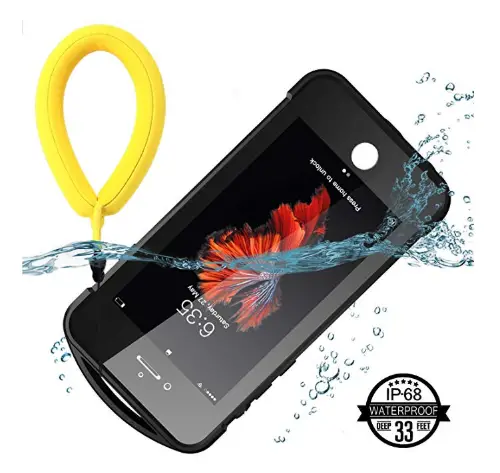 As you play golf on the course, besides dealing with the regular hazards, there are hazards for your phone too. And if you are the type of person who frequently uses the smartphone on the course, then you probably know that a good cover can protect it from various impacts.
Read more
Protection
This remarkable cover provides excellent protection to your smartphone! It shields it from bumps, falls, scratching, sinking and dust! It is scratch and water resistant. Whenever you are close to water, there is always the possibility to have it dropped in, but with this cover, you can stop worrying because the floating strap will protect your smartphone from sinking. Also, it is designed with a small carabineer hook which gives the opportunity to get it attached with a snap hook to your bag if you go hiking so that your smartphone stays protected from some unwanted bumps or falls. This cell phone case gives full body protection to your smartphone.
Features
This cell phone case is lightweight and it is very comfortable in hand.
The case doesn't affect the work of the phone in any way, and your smartphone functions perfectly fine. The touchscreen works smoothly as if it didn't have any protection. Although all phone buttons are protected, the cover material is soft and easy to press, so they are functioning properly. Also, the quality of the sound is quite acceptable.
This cell phone case has a special design, quite different then any ordinary cases and provides a nice and elegant look of your smartphone.
Cost and Value
The best solution for protection, functionality, quality, and stability of your smartphone! People simply love it! If you want full protection for your smartphone, this cell phone case is an ideal solution for your needs and it's really worth it!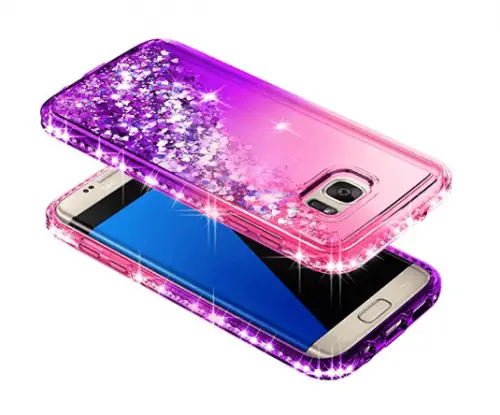 As smartphones take up most of our time and as they are becoming the thing that we hang out most, many producers have made them look and reflect as being part of us. What does that mean? Well, many cases are no longer just cases, they tend to reflect our style, preferences, our uniqueness so when you look at the case you already know whose is that one. This case features a fashionable and glowing style that will mostly appeal to girls who want to make a say with their belongings.
Read more
Protection
This impressive and glittery cover is made of soft and quality TPU material and gives good protection to your smartphone especially from scratching and impact damages. It's also dust and heat resistant, so it is practical to use it while you are on a holiday or in a place where is hot because the cell phone case does not heat up the smartphone. The cell phone case features raised bezel so that it can provide added protection to the screen and the camera of the smartphone.
Features
This cell phone case is flexible and lightweight and it is very comfortable in hand. Due to the fact that this shiny cover is water resistant, it is decorated with glitters flowing freely within the mid-chamber, which additionally adds to the stylish design and attractive looks. The smartphone perfectly fits the cover and it does not make the cell phone bulky. The holes for the phone ports and buttons are precisely cut out making it easily manageable.

Cost and Value
The cell phone case has a fancy look and the glitter gives a kind of girlish looks. The cover is fun to have and if you are a person that wants to stand out, the glitter on the back will definitely attract the attention of the others. Whatever the reason you use it for, it is a good solution for protection of your smartphone and it is really worth it!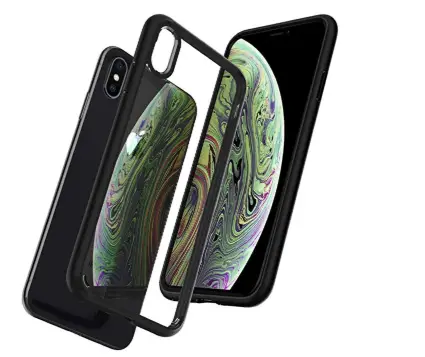 As accidents with our smartphones could happen almost anywhere, we should make sure to protect our phones from all kind of various mishaps. As often as it gets, just in the blink of the eye, our phones can be scratched, cracked or even overheated. Just because of it, a well-designed and high-quality cell phone case is the simplest and the best way to protect your smartphone from all unwanted situations.
Read more
Protection
If you are wondering what kind of protection you need to use for your smartphone, always make sure that besides protecting your smartphone, it should ensure normal operation of all buttons, such as the lock key and the volume keys. This type of smartphone cover provides exactly that. It is designed in such a way that is made of solid rear part which gives good protection to your phone as well as flexible side part that contributes to the protection of the lateral parts and allows for normal function of the buttons that are covered and protected. This hybrid model has slightly raised front and back frames on the corners, which contribute to the protection of scratches, and they also provide sufficient protection to the rear camera.
Features
It may not leave such impression, but this cover yields good protection and at the same time still preserves the original design of the phone. It has the perfect cutouts for all phone ports. The protective frame is made from a good rubber material which is of good quality and gives a feeling of safety and comfort while handling the phone. This smartphone cover has transparent and clear back as it shows its real design and it is resistant to becoming nuanced.
Cost and Value
Your iPhone XS will be thankful for having it protected thoroughly since this cover will provide great cushioning if the phone accidentally drops it will most certainly provide phone protection. The phone looks sleek with it and we definitely recommend this kind of cell phone case for those who are looking for a minimal design which provides sufficient protection while not interfering with the elegance of the smartphone. The quality and the technology used in its production make it a good value for the money!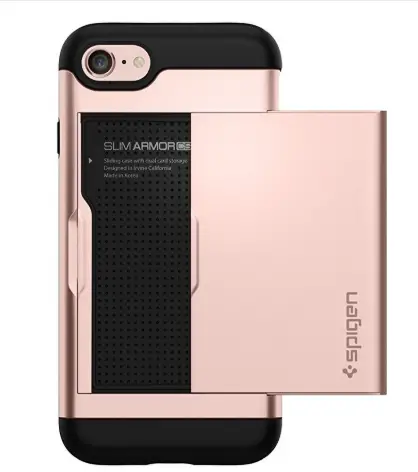 How many times have you left your home in a hurry without your wallet and all the necessary cards in it, like your driving license, ID or credit cards? This cell phone case gives you the opportunity to keep all these items in one place. This cell phone case has card storage, where you can keep your cards, within secure closing, which provides for its unusual design. But in spite of being uncommon, it delivers good protection to your smartphone and it looks stylish and modern!
Read more
Protection
This smartphone cover boats all the bells and whistles because it ensures protection for your smartphone and at the same time it keeps your bank cards in the card storage, safe and protected. It is made of TPU material in a combination with a rigid PC. The cell phone case covers the back of the phone and it is made to fully absorb the shock in case of drops, and it also provides protection to the rear camera. It does not cover the front, but besides that, it has raised edges around the screen, which offer additional protection, even to the screen too.
Features
The cell phone case is simply one of the best! It's very convenient and added features and due to that the design it has os very interesting. It's slim, easy to hold and not bulky, which gives you a good feeling in the hand while handling it. It can fit in the pocket. This cell phone case is designed with durable rubber but has precise cutouts on all phone ports. All phone buttons are covered and protected, but easily accessible. The card storage compartment has secure closure with easy sliding.
Cost and Value
This cell phone case is awesome! Even if you are skeptical to buy it, you will be surprised by the functionality and the convenience it provides with the extraordinary shielding it does to the phone. It is definitely an excellent value for the money!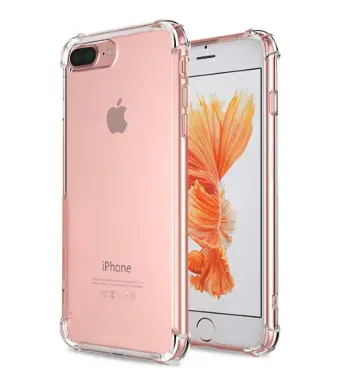 You've got your fancy iPhone and you are all over it, but before you know it, it can accidentally drop and all the excitement will pop out like a bubble. That's the worst case scenario though, however, it is always better to be safe than sorry. So, here's Matone to protect your smartphone and since it is transparent and very thin, it won't cover the design of your smartphone.
Read more
Protection
This type of cover provides good overall protection to your smartphone and it is the most appropriate choice if you want an ordinary, transparent and unobtrusive cell phone case. It covers and protects the back area of the phone, the sides and especially corners are highly protected in case of drops. It has bumper buffers to the corners which offer increased protection and delivers effective shock absorption. With this cell phone case, lock key and volume keys are covered but still enabled to function without any problems. It has raised bezels which delivers protection for screen and camera as well.
Features
This type of cell phone cases is made of soft and very flexible TPU material which has a peculiar design which does not considerably change the look and the dimension of the phone. It's got kind of soft feel and because of it, it is effective in preventing the phone from scratches. This cell cover has precise cutouts designed to fit perfectly to the smartphone's buttons. What is more, it gives comfortable feeling in the hand, it the material is anti-slip and it is comfortable to carry. It is easy to clean and maintain!
Cost and Value
If we compare this smartphone cover with some other we can easily notice that it is simplistically made and that's the reason why people like it. The simple design, good protection, and very good price make this cover highly appreciated by many. It is a good value for the money!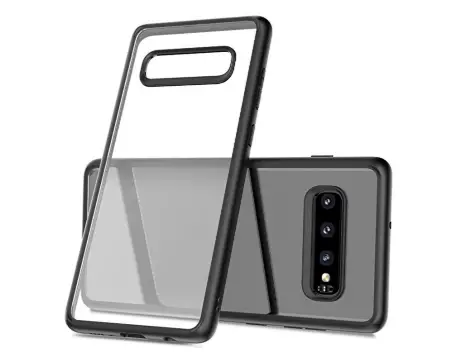 If you want to protect your smartphone from some unwanted mishaps, the most important thing what you have to do, right after buying your new phone is putting the cell phone case on. So, you've got yourself the latest Samsung S10 edition, the next immediate step is to cover it up in a nice case that will guarantee that you'll be using the S10 for a while. A good with all-inclusive protection can contribute a lot to keep your new smartphone safe.
Read more
Protection
Even though S10 is far from simple, this cover is simple and nice. It can protect your smartphone from bumps, scratches and all the impacts it is exposed to. It is made of soft TPU material with clear PC back. The corners are only slightly raised, enough to keep the screen or the back part of the phone safe and protected when dropped. The case features back protruding lip which is positioned around the rear camera, which is made to provide additional protection from scratches. Also, this cover is designed to prevent from fingerprints or watermarks. The soft rubber frame gives great feeling in the hand and it gives a good grip so that the phone will not slip from your hand.
Features
The smartphone itself is very stylish and elegant, so the clear back area of the case can only contribute to keep the good look of the smartphone and to give protection at the same time. This cover is one of those that won't affect the size of your phone, neither will it affect the looks because the transparent design of the cover makes the phone visible, but it has added extra features, such as mirror effects. The case fits perfectly to the phone, with cutouts which exactly match all phone ports, so they are correctly aligned.
Cost and Value
You simply can be having an ordinary case for an extraordinary smartphone, because you will decrease phone safety and its good design. However, this one is the cover that will protect your phone and won't make it look cheap for a reasonable price. It's definitely a good value for the money!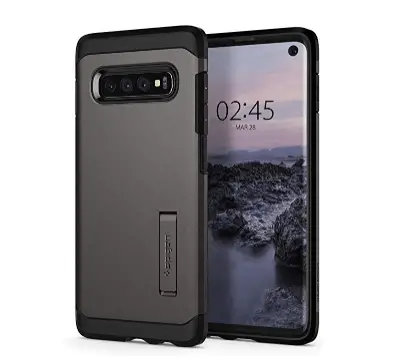 If you are looking for an attractive, elegant and slim design of a smartphone cover which boasts with maximum protection from all possible mishaps then this is the right choice for you! It looks and feels compact and sturdy and some people consider it to feature a timeless design! And, it is kind of expected for a phone that beasts all the bells and whistles to be accommodated into a matching cover which will fully have it protected. Let's take a look at the specifics of this cover.
Read more
Protection
The modern technology incorporated into the design of this cell phone case stands on the same side with the modern technology used to make the phone itself and therefore, it provides it with the greatest protection to your smartphone. The cover is made from durable material which provides very good protection to your smartphone. It is designed with protruding edges so as the screen of your smartphone won't make contact with the floor if it's dropped. It is also designed with raised lips which yield protection around the rare camera of your smartphone.
Features
This cell phone case fits fine to the phone. All the buttons and holes are precisely cut out and they are perfectly lined up. The material feels exceptional and firm to hold and it provides superb grip and it is not slippery at all. It doesn't display fingerprints on it. The kickstand makes the cell phone case unique and it sits perfectly flush with the case, and at the same time, it is not noticeable when you are holding the phone.
Cost and Value
If you find that the design of this cell phone case shows your personality, then for sure you will not be disappointed with the performance of it. The price even though slightly more expensive, reflects the real value it has so it is definitely good value for the money!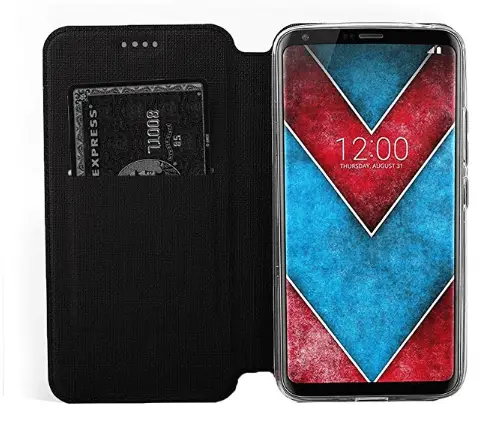 If the design of your cell phone case is more important than the design of your smartphone than this one can be ideal for your taste. It represents a combination of excellent protection, functionally and elegance! Plus, it comes with handy features that make it a mini wallet.
Read more
Protection
This cell phone case completely embraces your smartphone and provides a total protection. The leather shell from the outside and the soft TPU shell inside gives full body protection to your phone, including protection from being scratched, falling, cracking, bumping and external shocks. This cell phone case provides added protection to the phone corners. It is designed in a way that it features small inner pocket, where you can safely keep your cards or some private belongings.
Features
This cell phone case has a wallet style design with anti-drop texture, which helps to keep it from slipping out of hands. It is made from leather and it is pretty light, thin and durable. It has a flexible stand holder, which can allow you to enjoy watching some videos on your smartphone or if you have a video chat you can use it without holding it, which is much more convenient. The phone fits perfectly in the cell phone case and you can use it without taking it out from it for battery charging, headphones оr earphones, i.e., it has accurate cutouts for all phone buttons and ports. It has a magnetic mechanism that opens and closes the phone and it works fine.
Cost and Value
Because of the high – quality materials from which this cover is made, it offers long-term reliable use. It is a case with a very impressive look, attractive and beautiful! You will definitely like it because it is a good value for the money!

Subscribe to our Newsletter