Best Cavity Back Irons Reviewed
In a
Hurry? Editors choice: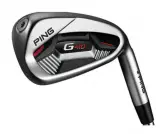 Test Winner: Ping G410

It is a well-known fact that many
high handicappers
have many issues when it comes to
using their irons
. And let's face the reality, the long ones do require special skills to be able to handle them successfully while short ones are difficult to use because golfers need to be able to exhibit well-balanced control.
Even though cavity back irons were used mainly by high-handicappers up until the beginning of this century, with the development of the modern technologies, tour players turned to them as they started realizing that they could benefit profoundly in their performance.
So, regardless of your handicap, cavity back irons feature cutting-edge technology that will help you effectuate your game with
more forgiving shots
, longer distance, and more precision. We have selected the best ones that appeal to a wide range of
golfers
, including sufficient data about their characteristics.
Standout Picks
Criteria Used for Evaluation
Ease of Use
Traditionally speaking these clubs were used to provide easier performance for high-handicappers and better golfers used to avoid them. However, as the technological advancement took its turn in golf too, we could see a change in the approach of cavity back clubs and gradual switch towards them. This change in their design can be observed at the beginning of this century and throughout the years, it has been a common notion that a cavity back is no longer just for high handicappers, as the advanced golfers realized that they could also benefit from these clubs.
Having said this, we get to the point that it is all about being able to use them in the easiest possible way. These clubs are lightweight compared to muscle back and allow golfers who have a weaker swing to achieve greater distance when they swing with the lower numbered irons and greater control and precision when they use the short ones. Plus, some of them are made with larger head size and face flex which offer extreme forgiveness and ease of use. But, it is never only about forgiveness as more advanced golfers rely more on the feel and the sound, so we practically took into account all parameters to be able to make a conclusion regarding this criterion.
Advanced Features
As we have discussed above, cavity back irons have drastically changed their design and the way they are manufactured, abounding with features that make them look, feel and behave in much golfer-friendly way compared to those from the past. These modern technologies are actually responsible for attributing features not previously seen in cavity back clubs.
Each manufacturer has its own way to represent their products with advanced features and appeal to golfers in a most peculiar way. So, we can notice multi-material construction to promote better feel by dampening vibrations, one-length size for all the clubs, we even realize that some of them are designed with CNC milling and have deeper and larger grooves that can be seen in blades, and being stacked with high-quality graphite shafts. The best one, F9 Speedback, comes with performance tracking sensor inserted in the grips and in cooperation with Accros provide golfers with exact data on their performance. In a nutshell, the more features the set comes with, the better for golfers and the higher on the list.
Materials
Materials are the ones that deliver good or poor performance, and when it comes to clubs, they play the role in maximizing the ability of the golfer to achieve distance, accuracy, and control. The way the material is made seems to be even more important because that influences its ability to endure impacts and the mix of certain materials allow for better feel and sound, which for many golfers, are leading criteria for good performance. Since it is irons we are talking about, stainless steel can't be avoided, however, the combination of other materials is what makes them stand out. What the best clubs boast with is the use of tungsten weighting because of its high weight and small size, so it can be placed in a different location on the club to adjust to clubs' needs. Also, some manufacturers decided to make use of titanium, urethane, aluminum, and TPU to promote better feel, enhance the performance and dampen vibration. Shafts are also important, so most of the manufacturers have included the highest quality graphite shafts, even though we could see that steel shafts are also used, usually in lower quality ones, or at least they stand as a cheaper option for the buyers.
Value
There's a well-known saying 'You get what you pay for', but in the world of tight competition, many manufacturers are trying to appeal to buyers by offering something more than they pay for, which in other words it is translated into excellent value for the money. And when it comes to these clubs, we come across a huge variety in the price range. Probably the price was the first thing that you looked at when you started reading this guide, and you could see a huge discrepancy in the offers but there are also enormous differences in the way these products were made and, as we mentioned above, in the materials used in their production. So, it isn't just that name brands that have high price tags because they are reputed and renowned, but because their quality and the production are top-notch. So practically, in this case, good value for the money would mean a good price, but an excellent quality too.
Top Cavity Back Irons
1

. Cobra King F9 Speedback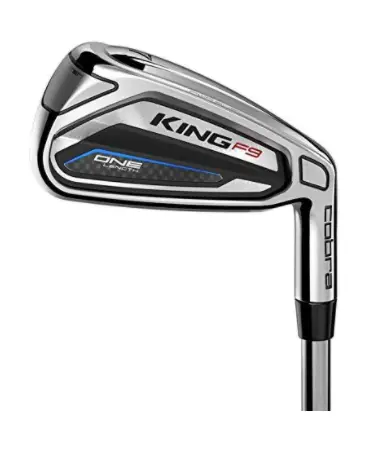 There's so much to talk about regarding this set of cavity back irons, especially when it comes to the innovative technique which has been used to deliver not only enhanced forgiveness, distance, and speed, but performance tracing and convenience while playing. Let us start first with the one length concept that Cobra decided to re-establish and offer after Dechambeau used one length irons on Tour. Another revolution is the use of Cobra Smart Technology performance tracking in cooperation with Arccos which allows golfers to compare and monitor their performance. And there's so much more, so read below to find out more.
Read more
Distinguishing Features
If you were wondering what's the point of having all your clubs in one size, the philosophy is that it is one set up for all your swings, which enhances the consistency and the accuracy of each swing. Another distinctive feature which is not normally found in this type of cavity back irons is the 3-piece multi-material medallion that blends acrylic foam, aluminum, and TPU in order to dampen vibration resulting in a softer and more responsive feel. The clubs are designed with more mass which is added low and wide, i.e., 33 g tungsten is added on the heel and toe in the 4-7 irons for increased MOI, higher inertia, stability, ball speed, forgiveness, and distance. What you will find odd here are the CNC milled face and grooves that are typically for forged faces but not for cavity backs.
Forgiveness and Playability
The accuracy and the control are established with the progressive hosel lengths, so short hosels can be found in the long irons with the purpose of lowering the CG for higher launch and distance, mid irons have medium hosels and long irons feature taller hosels in wedges in order to raise the CG and enhance the control and the accuracy. The low center of gravity is actually achieved with the belt of steel around the back perimeter of the head, while the variable thickness face expands the Sweet Zone to produce greater distance for off-center hits.
Cost and Value
Before we talk about the price, let's first summarize what you get from Cobra F9 Speedback. It a set that offers one length performance for all shots, performance tracking through the sensors integrated into the grips, progressive hosel lengths, CNC milled face and grooves, tungsten weighting, variable thickness face and a multi-material thickness for vibration damping. It is an impressive technology that will bring every golfer's performance to a higher level for a price tag that is fairly high.

2

. Cleveland Launcher CBX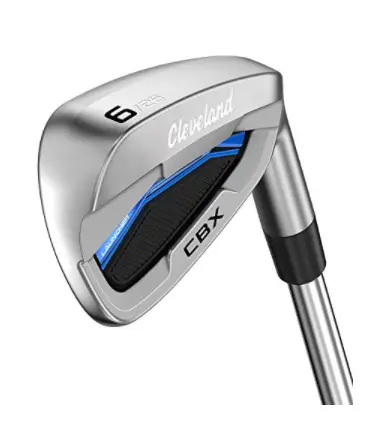 Remember when we said that cavity back irons of today are so much reshaped by the latest technological advancements, that they, technologically speaking, don't even resemble the ones from about 30 years ago? Well, Cleveland belongs to that group of innovation launchers and with this year's CBX Launcher Irons, they were able to hit the target of being the best. The CBX Launcher is packed with technology which delivers maximum distance and accuracy that you often see in wedges. If you want to know more about the way it is made and what you will be able to achieve with it, read below.
Read more
Distinguishing Features
The technology Cleveland used for these iron is the same wedge spin technology used for more accurate wedge shots and the Laser Milling and the Tour Zip Grooves add roughness for increased friction and distance control expected for cavity back irons with much more enhanced forgiveness so that your swings are easier to perform. The distance is achieved by using a thicker top line and low profile at long irons and thin top line and compact shape for greater control.
Forgiveness and Playability
What Cleveland did to make sure that maximum forgiveness is achieved was to add high-strength steel around the perimeter and make the face thinner with the help of Launcher Cup Face technology that makes the face flex at impact which transfers more energy to the ball making little distinction between center and off-center hits. This, in other words, means more forgiveness and greater distance. The V Shape sole grinds are versatile in relation to the iron number, but all of them cut smoothly through the turf without speed loss. And good performance means consistent performance, which is achieved by the microcavity in the hosel that moves the center of gravity nearer to the middle of the face which provides greater feel and control of the distance.
Cost and Value
When Cleveland designed this iron set, they had in mind average golfers who look for more distance, extreme control over the club and the ball, greater speed, consistency, and accuracy. The golfers who have been using these cavity back irons claim that Launcher CBX matches the description to each of the irons. The set contains seven clubs and the price is on the higher end, even though it is not the most expensive one on the list.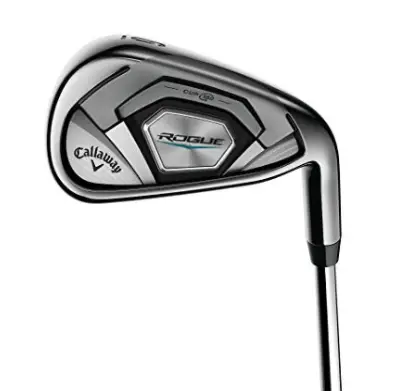 If you asked a senior golfer to explain what a cavity back iron is, and if that person had no insight into the modern technologies, the answer would be pretty much straightforward: a perimeter weighting, stainless steel cast head that provides greater forgiveness. Except for the forgiveness part, the rest would be hard to apply in the modern concept of these cavity back irons. Let's take Callaway Rogue for example. In a quick glance of its design, we notice urethane microspheres, tungsten-infused wave, multi-material construction (not just stainless steel) and much more.
Read more
Distinguishing Features
The proprietary technologies are what makes each manufacturer's product differ from the others on the market, so Callaway used 360 Face Cup technology with Variable Face Thickness Technology (VFT) which expands the sweet spot and deliver a faster speed of the ball. This is achieved by utilizing flexible, shallow rim that encompasses the face perimeter which flexes and releases at impact, making the ball fly at a much faster speed. As the face is of variable thickness, it influences off-center hits to deliver increased distance and speed.
Forgiveness and Playability
These cavity back irons are designed to deliver the optimal possible playability by making use of the tungsten weighting that positions the center of gravity in each of the irons with extreme precision at the most optimal place for greater control at each separate loft. The reason why tungsten is getting increasingly popular is in its weight because it is twice the weight of the steel, so the designers were able to position it into a tiny intricately shaped place that controls the center of gravity. Plus, to dampen the expected vibrations, the designers used elastic-urethane microspheres that make the sound and the feel much more pleasant.
Cost and Value
Callaway is one of those so-called 'big fours' companies that is characterized by extreme sophistication and innovation in each release of new clubs. Not surprisingly, the latest Callaway upgrade is a refreshment for golfers that seek undisturbed distance, forgiveness, and accuracy, which is why this set is so popular. The award-winning Callaway Rogue comes with a price tag typical for a name-brand of the premium category.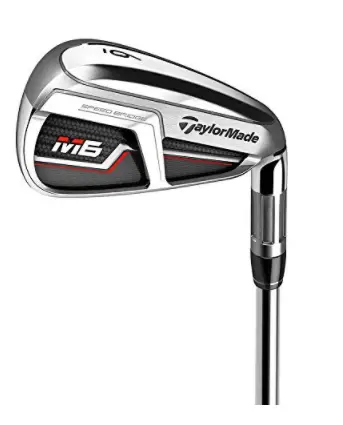 The year 2019 has brought some remarkable novelties in the world of golf clubs and we have seen some jaw-dropping designs and features that we had never even thought they were possible. As the game is getting more and more popular and has engaged more people than ever, clubs manufacturers seem to get equally inspired to offer clubs that will bring golfers' interest into the game to further limits. So, when we are talking limits, let us introduce distance with no limits and equally broad forgiveness found in Taylor Made M6.
Read more
Distinguishing Features
M6 is not only advertised as a club with explosive distance, but it is also also the cavity back iron best cavity back iron that will provide you with maximum forgiveness too. And talking about advanced technologies, we see an innovation in the Speed Bridge structure that features the proprietary flexible thru-slot Speed Pocket that puts together the top line with the back bar of the iron so that the club becomes more rigid and that enhances the speed. The face is one of the thinnest we have seen, designed with Inverted Cone Technology which boosts the speed over the entire area.
Forgiveness and Playability
The ability of the club to allow greater forgiveness lies in the very low center of gravity which is obtained via a Fluted Hosel and the 360 degrees undercut. Thanks to the Inverted Cone Technology, the sweet spot is maximized resulting in straighter shots, regardless of the golfer's handicap. That provides faster ball flights even when the impact has been effectuated low on the face. What is also very peculiar at M6 is the vibration dampening with advanced HYBRAR that delivers much better sound and soft feel on each shot.
Cost and Value
M6 redefines speed and forgiveness by utilizing modern technology into a set of clubs that make every golfer faster and more skilled. By combining MOI, massive sweet spot, and high launch golfers have the chance to boost their performance without changing their swing. And it is Taylor Made we are talking about, so these bells and whistles come with a price which is surely not low.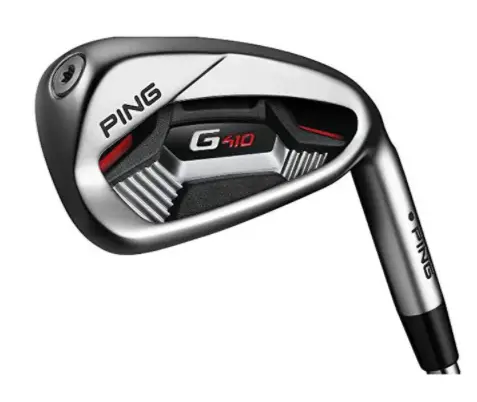 The latest technology abounds not only in core innovations, but we have seen some redesigns and interesting gameplay of old and new elements. That is exactly what can be seen in the latest Ping's edition, G410. Well, if G400 was one of the most forgiving irons on the market, Ping's designers managed to even extend the forgiveness in this model, so basically it has outperformed its predecessor. It has been reshaped by using game-improvement technology with less offset and shorter blade length, but without sacrificing MOI so that the forgiveness is enhanced. And that's not all, so read below to find exactly what you can expect from this club.
Read more
Distinguishing Features
Maybe the most distinguished technology when it comes to Ping's technology is the COR-Eye technology that features cascading sole design and deep undercut on the top-rail. When it comes to dampening vibrations, we have seen that companies have been the most innovative. Ping has found a way to deal with vibrations by utilizing full-cavity, co-molded aluminum and elastomer badge.
Forgiveness and Playability
When you combine a free-moving and flexible speed and perimeter weighting, you get unsurpassed forgiveness that produces great distance and higher ball height and greater control and precision. The weight savings are positioned in the toe and hosel which raise MOI of 8% for more consistency and forgiveness. The hydropearl 2.0 finish allows smooth glide through the turf with 40% less friction without compromising the speed.
Cost and Value
The success of G400 was bombastic and the sales of this one are spiking too, particularly when you consider the super forgiveness it provides. The refined profile and the shorter blade make the cavity back iron look much cleaner and detailed. From the materials used, the co-molded cavity badge and the hydro pearl finish, everything speaks premium design and quality, which, as it is expected, comes with a hefty price tag.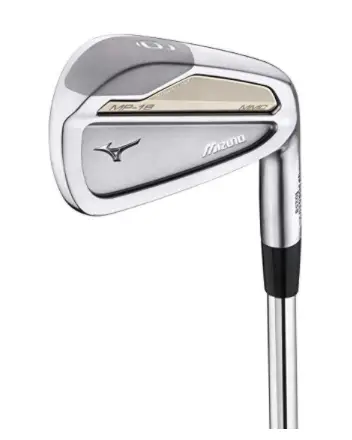 We have mentioned several times in this article that modern cavity back irons have little in common with the last century ones, and among those models that truly represent modernity in its core is this Mizuno model which comes with a multi-material construction which provides stabilization with every shot. The set delivers extended forgiveness and ability to reach better control with the short irons, and further distance with the long irons will take your performance to another level. Aesthetically speaking, they look impeccable, and that's just one segment of what you can expect from this set, so read below to find out more.
Read more
Distinguishing Features
The use of the three materials, i.e., the mild 1025E carbon steel head, the lightweight titanium and insertion of heavier tungsten parts which are sealed within the head, make these clubs highly playable while ate the same time they maintain the tour profile offering piercing ball flights, precision, and control. It is interesting to note that each club has a 'human touch'. Company's most experienced craftsman puts personally the finishing grinds to every cavity back iron from 3 to PW. The head is characterized with shorter blade length and shorter heel profile while the narrow topline features added camber which gives them a refined look.
Forgiveness and Playability
These clubs merge the forgiveness found in the game improvement irons and the tour profile markers such as trajectory, extreme accuracy, and control. The cutting-edge technology which is kind of typical of Mizuno allows for customization with the desired specification for golfers to choose from short, split or full set. With the use of Harmonic Impact Technology the head is characterized with fine-tuned geometry which provides the golfers with almost perfect feel and feedback. Also, according to golfers, the grain density in the impact area delivers consistent, solid and soft feel.
Cost and Value
If you are a golfer who is eager to feel the tour-feel profile of every single cavity back iron but at the same time you are looking for added forgiveness and enlarged sweet spot then the perfect combination can be seen in these clubs. The personal YORO craft master's touch gives them a premium and sophisticated touch which talks class and luxury. As this is a high-end set, you can expect a high-end price which, according to buyers, is worth the money.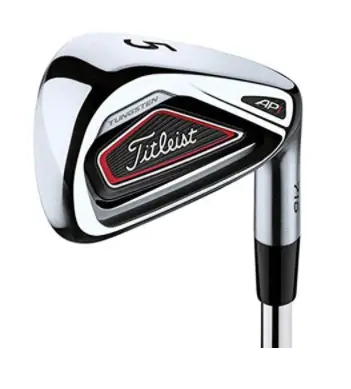 Despite being a few-years-old model, it still holds the prime position among the cavity back irons and that's mainly because of its length and forgiveness. Plus, the technology used in their design is still competitive and easily provide the same effect as the most recent ones. And when it comes to the effect, golfers say that they produce much faster ball flights with greater forgiveness when it comes to the long irons and much more control and accuracy when it comes to short irons.
Read more
Distinguishing Features
What Titleist's designers point about these irons is the fact that the 360 degrees undercut cavity creates an ultra large, unsupported thin face which is designed to increase the speed and the launch for increased distance. The head is cast from stainless steel and even though we have seen other, stronger materials nowadays, it is strong enough to endure a lot.
Forgiveness and Playability
Since we are talking about a set which boasts forgiveness for off-center shots, we need to say something about how the designers were able to deliver it. What golfers don't see on the club, but which affect the performance of the club is the high-density tungsten that moves the CG low to the perimeter. This increases the moment of inertia and keeps the speed of the ball when it is not a center hit.
Cost and Value
If you are thinking of investing into the best cavity back irons that feature everything that you'll need to get your performance to a higher level, then this is one of those that do not price with four digit number and which are professional enough to keep you feeling satisfied. The Titleist signature is guarantee enough that you will have all the satisfaction on the course.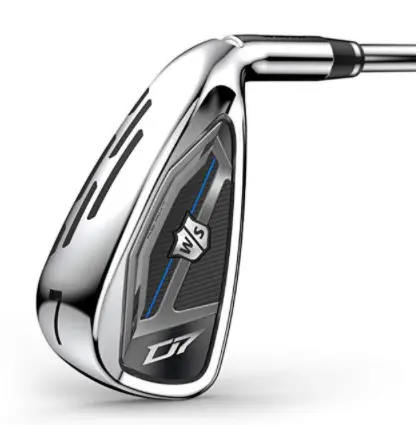 Even though the company might seem to feel like being left aside by the 'big four', D7 brings Wilson back on a track featuring new, unique technologies that enable Wilson to compete with what is currently being sold on the market. The clubs feature RE AKT technology which enables them with power when golfers need it the most. So, what we are looking at are power holes and optimal weighting which make them accurate, with the extreme feel and distance control.
Read more
Distinguishing Features
What makes these clubs unique is the RE ACT technology that utilizes progressive power holes. These Power Holes come in a different number, depending on the number of the iron they are attributed to, so short irons have fewer Power Holes for increased precision and control while the long clubs feature three rows of them in order to increase distance and speed. The Power Holes are fully absent at wedges for optimized weighting and maximum feel. The face is ultra-thin, hot and responsive which turns each hit into longer ball flight and much better feel.
Forgiveness and playability
The lower center of gravity and the improved weighting make these clubs ideal for distance players and those who appreciate the quality, soft feel and enhanced playability. These cavity back irons are made with the highest MOI and thinnest face for the straightest distance that Wilson has ever created. The clubs are exceptionally forgiving, aesthetically well designed and many golfers claim that their performance has actually improved thanks to the softer feel and ability to exercise control over the short balls.
Cost and Value
These clubs are made to appeal to golfers who are struggling to achieve distance while using the long cavity back irons and control when using the short ones. They are extremely forgiving and are made to meet the needs of mid to high handicappers. Price-wise, they aren't the most expensive clubs that you'll find on the market for sure, but neither are they cheap. According to golfers who use them, they are a good value for the money.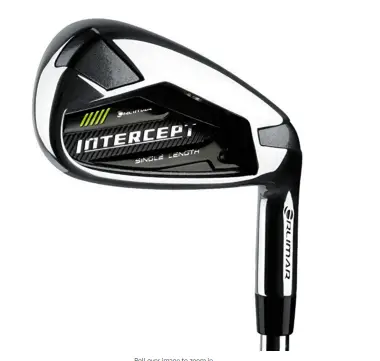 One length cavity back irons concept is gaining in popularity, an even though less than 10% of the total irons sold on the market are one length, they are all about developing consistency, precision, and accuracy. Orlimar probably decided to follow Cobra and offer golfers a budget-friendly alternative for those golfers who have found one length concept more suitable to their golfing style. These are game improvement irons that are designed to meet the needs of mid and handicappers.
Read more
Distinguishing Features
Definitely, the most distinguishing feature is the one length of all the clubs which fit the size of a 7-iron. This means that golfers have the chance to play each swing in the same posture, ball position, balance and stance, which considerably alleviates the thinking and hitting process. Since the head weight is the same too, this means that the golfers can easily get used to the weight of the whole club and develop consistency with every possible shot.
Forgiveness and playability
In order to make these clubs as easy to play with as possible, the Orlimar Designers have developed game improvement technology that includes added perimeter weighting by focusing the added weight to the places where it is most needed, depending on the number of the club. The FlexFace Technology utilized in number 5 and 6-irons helps the golfers develop distance gaps and higher trajectories, while the undercut cavity delivers extra accuracy. The varied face thickness makes the face hot with enlarged sweet zone, while the different gaps ensure control, spin, and consistency.
Cost and Value
The playability and the forgiveness this set is offering are indisputable, as many golfers were able to make the much-expected improvement in the game. One length size seems to be more and more attractive and in combination with low CG and perimeter weighting, it is a formula for success. One more thing that makes this set super attractive is its price which is more than affordable and more than a third of the big name brands.

10

. Srixon Z Utility U65 Iron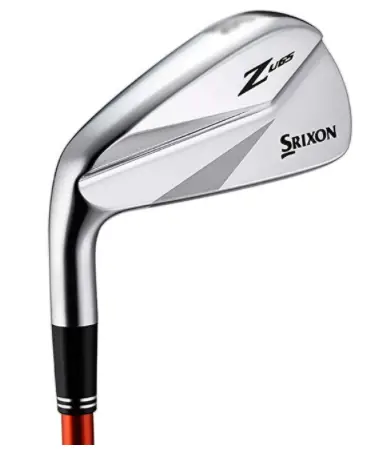 This Japanese brand seems to have attracted a lot of attention, especially after seeing it on the major competitors and trusted by many PGA golfers such as Keegan Bradley, Russell Knox and many more. This utility cavity back iron is not their latest edition, however, it is the most popular and the most highly rated and there is one very basic reason for that. Since most of the utility irons are designed to appeal to professional golfers, Z U65 is exceptionally forgiving which means many mid and even at some point high handicappers can find it useful.
Read more
Distinguishing Features
It features hollow clubhead design that has more weight positioned towards the toe with deeper CG and a higher MOI resulting in higher launch angle and much greater forgiveness. The face is ultra thin with larger grooves and it is double milled to deliver increased spin control. Plus, it features increased offset to enable straighter ball flight especially when the golfers are attempting to launch the ball higher with higher spin.
Forgiveness and Playability
This utility iron is designed to replace long irons and to provide better performance in the long game. It has an oversized clubhead, low and deep center of gravity and hollow construction, features recognizable for game improvement clubs. Plus, it delivers distance, low spin and trajectory control, something that is a must for more advanced golfers. So, basically, what you could expect from these clubs are extreme forgiveness for mid handicappers and performance that resembles low handicappers.
Cost and Value
If you thought that Srixon offers only clubs for advanced level players, this model proves it otherwise. The accent on the forgiveness and the oversized club heads is an indicator that mid-handicappers can find it playable too. Considering the make, the design and quality it is made with, particularly the Miyazaki graphite shaft that the set comes with and which usually considerably raises the price, it is a good value for the money.

Subscribe to our Newsletter