Best Cavity Back Irons Reviewed
In a
Hurry? Editors choice: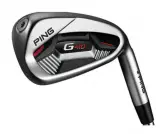 Test Winner: Ping G410

It is a well-known fact that many
high handicappers
have many issues when it comes to
using their irons
. And let's face the reality, the long ones do require special skills to be able to handle them successfully while short ones are difficult to use because golfers need to be able to exhibit well-balanced control.
Even though cavity back irons were used mainly by high-handicappers up until the beginning of this century, with the development of the modern technologies, tour players turned to them as they started realizing that they could benefit profoundly in their performance.
So, regardless of your handicap, cavity back irons feature cutting-edge technology that will help you effectuate your game with
more forgiving shots
, longer distance, and more precision. We have selected the best ones that appeal to a wide range of
golfers
, including sufficient data about their characteristics.
Standout Picks
Criteria Used for Evaluation
Ease of Use
Traditionally speaking these clubs were used to provide easier performance for high-handicappers and better golfers used to avoid them. However, as the technological advancement took its turn in golf too, we could see a change in the approach of cavity back clubs and gradual switch towards them. This change in their design can be observed at the beginning of this century and throughout the years, it has been a common notion that a cavity back is no longer just for high handicappers, as the advanced golfers realized that they could also benefit from these clubs.
Having said this, we get to the point that it is all about being able to use them in the easiest possible way. These clubs are lightweight compared to muscle back and allow golfers who have a weaker swing to achieve greater distance when they swing with the lower numbered irons and greater control and precision when they use the short ones. Plus, some of them are made with larger head size and face flex which offer extreme forgiveness and ease of use. But, it is never only about forgiveness as more advanced golfers rely more on the feel and the sound, so we practically took into account all parameters to be able to make a conclusion regarding this criterion.
Advanced Features
As we have discussed above, cavity back irons have drastically changed their design and the way they are manufactured, abounding with features that make them look, feel and behave in much golfer-friendly way compared to those from the past. These modern technologies are actually responsible for attributing features not previously seen in cavity back clubs.
Each manufacturer has its own way to represent their products with advanced features and appeal to golfers in a most peculiar way. So, we can notice multi-material construction to promote better feel by dampening vibrations, one-length size for all the clubs, we even realize that some of them are designed with CNC milling and have deeper and larger grooves that can be seen in blades, and being stacked with high-quality graphite shafts. The best one, F9 Speedback, comes with performance tracking sensor inserted in the grips and in cooperation with Accros provide golfers with exact data on their performance. In a nutshell, the more features the set comes with, the better for golfers and the higher on the list.
Materials
Materials are the ones that deliver good or poor performance, and when it comes to clubs, they play the role in maximizing the ability of the golfer to achieve distance, accuracy, and control. The way the material is made seems to be even more important because that influences its ability to endure impacts and the mix of certain materials allow for better feel and sound, which for many golfers, are leading criteria for good performance. Since it is irons we are talking about, stainless steel can't be avoided, however, the combination of other materials is what makes them stand out. What the best clubs boast with is the use of tungsten weighting because of its high weight and small size, so it can be placed in a different location on the club to adjust to clubs' needs. Also, some manufacturers decided to make use of titanium, urethane, aluminum, and TPU to promote better feel, enhance the performance and dampen vibration. Shafts are also important, so most of the manufacturers have included the highest quality graphite shafts, even though we could see that steel shafts are also used, usually in lower quality ones, or at least they stand as a cheaper option for the buyers.
Value
There's a well-known saying 'You get what you pay for', but in the world of tight competition, many manufacturers are trying to appeal to buyers by offering something more than they pay for, which in other words it is translated into excellent value for the money. And when it comes to these clubs, we come across a huge variety in the price range. Probably the price was the first thing that you looked at when you started reading this guide, and you could see a huge discrepancy in the offers but there are also enormous differences in the way these products were made and, as we mentioned above, in the materials used in their production. So, it isn't just that name brands that have high price tags because they are reputed and renowned, but because their quality and the production are top-notch. So practically, in this case, good value for the money would mean a good price, but an excellent quality too.
Subscribe to our Newsletter