Best Bushnell Rangefinders Reviewed
last updated:
Aug 13, 2019
Modern technology is taking its course in every sphere of our lives. Golf is no exception and as a matter of fact, no sport has benefited from modern technology as golf has. Take for example rangefinders, no matter whether GPS or laser, they have changed the way golfers play the game, the way they interact with their surrounding, and the way get the distance. One of the best companies that are worldwide known for manufacturing premium rangefinders is Bushnell. The fact that unbelievable 99,3% of the tour players use the devices made by this company says a lot. They offer incredible accuracy, mathematical precision, reliability and confidence that you have acquired the right distance. Packed with top-notch features, these rangefinders will change your golfing experience. We have selected the ten best currently sold on the market so that you can indulge the game even more.
In a Hurry? The test winner after 36 hrs of research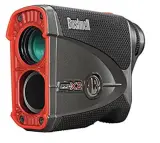 Pro X2
Why is it better?
It features Dual Display Technology to choose from a red display or a black display
You can shift from slope to non-slope mode
It features pin-seeking JOLT technology
Fully waterproof design
Ranges from 5 to 1300 yards and 450 yards to a flag
In a
Hurry? Editors choice: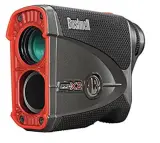 Test Winner: Pro X2

46
Researched Sources
65
Reviews Considered
36
Hours Researching
15
Products Evaluated
Accuracy
Features
Effectiveness
Durability
Bottom Line
By Default
Top 10 Picks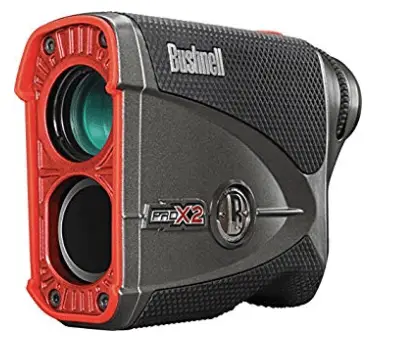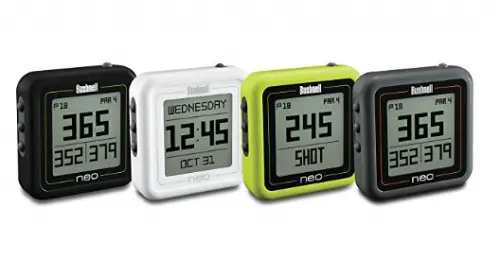 It features Dual Display Technology to choose from a red display or a black display
You can shift from slope to non-slope mode
It features pin-seeking JOLT technology
Fully waterproof design
Ranges from 5 to 1300 yards and 450 yards to a flag
This device is a premium, high-end model that offers everything that you could expect from such a sophisticated rangefinder. This model features Slope Technology, but it is manufactured to choose from slope mode or non-slope mode, a very important fact since slope mode is against regulations in tour golf. It has a range of 1,300 yards that is more than many other models and it features the well-known and patented JOLT technology for flag location in a distance up to 450 yards. There is so much more to say about this model, so let's go into details and see what makes this device so powerful.
Read more
Technology
One thing is for sure; with it, you'll get an unprecedented performance and impressive measurement distances. One thing that definitely puts this device on the throne is the dual display technology which makes it possible to choose from a bright red display or black display in accordance with the lighting conditions or your own preferences. In addition to this, it features the patented JOLT technology, the one that makes you certain that it has locked onto a flag once you feel the vibrations. When you have the slope mode on, you will have measurements that are based on the degree of the slope which is much more accurate. However, this feature is not in accordance with USGA regulations, so you have the Slope-Switch technology which turns off the slope mode.
Use
There is a power button which activates the display; aim the circle toward the target and hold the button down until the range is displayed in the bottom. Once you get the reading, you can release the power button. To switch the modes, or to receive new measurement pres the power button again and repeat the procedure. To switch from slope to non-slope mode just slide the button on the left up and down. The 6x magnification can be controlled by rotating the eyepiece while the display is in focus.
Design
One more feature that distinguishes this device from the others is the fully waterproof property due to rubber armored metal housing which protects is. Regardless of the weather conditions, you will be able to use it without being afraid that you might get it damaged. It is small and compact, but it is a bit heavier compared to other models because of a metal housing. With the purchase of this rangefinder, you get the Bushnell app that provides you with more than 36,000 courses, including 3D flyovers, holes layouts and distances.
Cost and Value
This is an amazing premium rangefinder that will provide avid golfers with everything they need for a flawless game. It features all possible technologies that make a rangefinder exceptionally fast, accurate, durable and easy to use. Plus, it comes with a two-year warranty against any defects in materials and workmanship. For such a performance and with so many attributes it is not easy to guess that it comes with a premium, high-end price.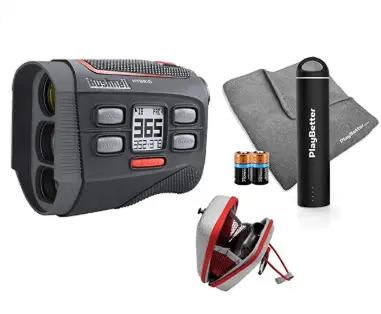 A laser and GPS device with a fully integrated screen
The laser's ranges to a 400 yards flag
JOLT Technology and 5x magnification
The GPS is preloaded with more than 36,000 courses which can be updated through the Bushnell app
One yard accuracy range
Bulkier in size and no slope mode
It takes some time while it acquires the signal and the course
We have already mentioned that Bushnell is a company of innovations and advanced technology, right? Well, it shouldn't surprise us the fact that the year 2018 brought the first laser rangefinder that features GPS as well, and that features a fully-integrated display that shows the laser and the GPS distances. It has advanced hi-tech features that will allow golfer's experience extensively detailed and organized reading on their measurements.
Read more
Technology
With Bushnell can nothing surprise us, so this combination of laser and a GPS into one device makes things much easier and much more accurate. This is the world's first rangefinder that has a display which provides the measurements taken from both, the laser and the GPS. It also features the distinctive JOLT technology that is super accurate and which yields super accurate measurements of the pins with 5x magnifier up to 400 yards. Once the flag has been confirmed, there're vibrating pulses that notify the golfer.
Use
To set and operate the device there are four buttons on the side of the display, including the 36,000 courses that have internal storage. The update of the stored courses can be carried out through the Bushnell app that connects the device with your smartphone. On the course, you get the front and the back yardage and there is another function that measures individual shots. The GPS screen is powered by a rechargeable lithium-ion battery and can be charged through a USB cable, whereas the laser works on CR2 battery. This double powering approach means that in case you forget to charge the USB, the laser will still work.
Design
Compared with the Tour V4 models that we will talk about below, this one looks bulkier, but that is kind of expected since there are actually two devices into one. It comes with a case and a carabineer bag clip, a charger for the GPS, two CR2 batteries for the laser, lens cleaning cloth and a microfiber towel.
Cost and Value
It has always been better two have two instead of one, and it is even better to have the two into one. When they created this device they knew what they were doing and that's the reason why over 90% of tour players have chosen this model to rely on. The price tag is indeed hefty; however, the certainty that you'll get the best of the best makes it a good value.


Features JOLT technology that makes it vibrate when it locks onto a flag
Slope-Switch Technology allows golfers to toggle in and out the slope mode
Yields 400 yardages to a flag and ranges to 1000 yardages
It doesn't provide good reading if you're playing in low light
This updated version is going to provide you with a slope mode and just with the slide of the button, you'll get a non-slope mode which is very important for complying with the tour regulations and plus you'll get the measurement units in both, yards and meters. It also boasts JOLT technology and high precision in getting the right distance without making several shots before you make sure that you've got the right one. This model is lighter and a bit smaller than its predecessor and fits perfectly in your hand.
Read more
Technology
There are several technologies that are used to provide golfers with the exact data they need. JOLT technology is what distinguishes the later Bushnell models from the others on the market. As we have already described this technology in the previous two models, we will just remind you that it confirms a found flag once the laser has locked onto it by providing vibration bursts. The slope compensation technology is able to calculate and adjust the yardage distance in accordance with the degree of the slope. However, to make it tour appropriate you can just switch it to a non-slope mode. And it also features Stable-Grip technology that eliminated blurred imaging that arises from an unsteady hand.
Use
It is very easy to use since practically there's just one power button that you need to downpress it and wait for a while to get the measurement or to switch through modes. On the right side, there is a slide button that regulates the slope option by just gliding it up and down. It is very long-ranging, capturing distances to up to 1000 yardages with 5x magnifier and inconsistency rate of +/- 1 yardage. You can range to targets that are even beyond the green such as hazards, but what you need to know that JOLT feature refers only for flags. The Bushnell golf app comes included with the purchase of this model.
Design
It is compact, smaller and lighter and fits perfectly in any hand. It is built by high-quality materials that make it able to withstand bouncing and light impacts. Plus it comes with a case, a battery, and a protective silicone cover.
Cost and Value
This model isn't inexpensive at all, but all good things come with a price, don't they? What you'll get for the price are accuracy and reliability and that is what matters the most.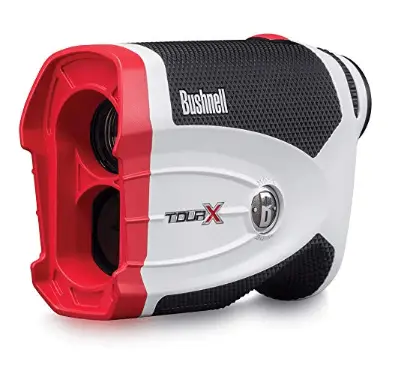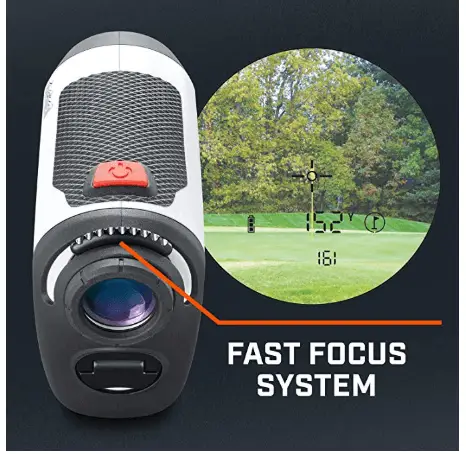 It features JOLT technology
You can replace the faceplates for slope or non-slope mode
It gives exact measurements from 5 to 1300 yards and 450 yards to the flag.
Dual displays for various lighting conditions
Issues with the mirrored lens
This model is the predecessor of X2 and features almost similar characteristics compared to that one. The ease of use has been a bit of issue here and not featuring the waterproof construction, the rest is more or less the same. Shortly said, you've got the dual displays, extremely fast and accurate measurements, the yardage distance of 1300 and 450 yards distance to a flag, the 6 x magnifications and JOLT technology. Let's go into details of this model.
Read more
Technology
Dual Display Technology makes this device much more different than many others since it can easily adapt to different lighting conditions and display bright red display or black display. This model features Exchange Slope Technology meaning that you can go from slope to no slope mode. However, the switching isn't that easy since you need to replace the red faceplate which has the slope on with the black faceplate that conforms to USGA regulations of no-slope mode on. This model also features JOLT technology that makes it vibrate when it locks onto a flag.
Use
The standard way to use the device is to press the power button to activate the display, and then you need to aim toward the target hold it until you get the measurements and that's it. If you want to make an additional measurement press the power button once and repeat the procedure. In order to use the slope mode you need to place the red faceplate and in order to use the non-slope mode, you'll need to replace it with the black one, which is not as simple as the newer model. The 6x magnification range can be controlled with the rotation of the eyepiece.
Design
It is a small and compact unit that fits any hand. It has a rubber grip that has anti-slip properties. It comes with a protective silver case which can be attached on a hanger and a carry pouch for easier transport plus the red and black faceplates.
Cost and Value
This is an excellent rangefinder that brings to display everything you need to measure, i.e. the exact location in all lighting conditions. It has an exceptional accuracy that ranges to up to 1300 yards and 450 yards to the flag with 6x magnification. And since this an older model, you can have it for a lower price compared to the one when it first appeared on the market.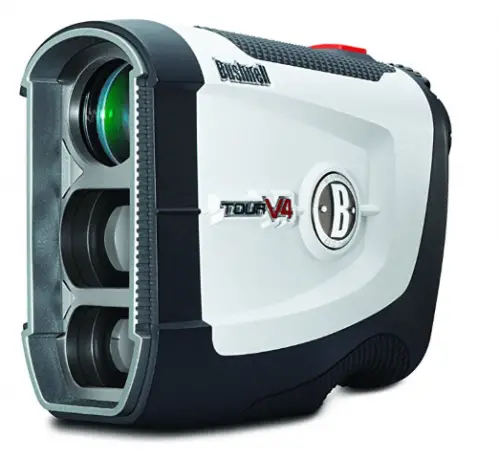 Mathematical precision to 1 yard
It ranges from 5 to 1000 yards
It pins flags locations using JOLT Technology
It doesn't include a slope feature
Pricey
Rarely can we see a golfer nowadays that frequently hits the course without a rangefinder in his/her bag? Among the rangefinders that Bushnell offers, this model has been the most sold and a very popular one because it offers extreme accuracy, speed and features JOLT technology that makes it vibrate when it successfully acquires and locks onto the flag.
Read more
Technology
Experienced golfers and top players know that in order to achieve top results you need to have top-notch functional equipment that will aid your performance and won't expose you to an unnecessary burden. This model is designed to make your game exact and mathematically precise when it comes to calculating distance. The JOLT technology, one of the coolest in this range, is able to acquire the target beyond trees and hard terrains with maximum precision of the yardage without having to check it twice. The magnifier that has the capacity of 5x zoom is able to provide you with a clear image of the flagstick and its yardage at the first try and you'll know it is the right thing because you feel the vibrations that confirm the distance.
Use
Tour V4 is able to provide you with measures in meters and yards. Fiddling through measurements is very easy and the only thing you need to do is just to hold pressed the power button until vibrations are felt. Switching through modes requires the same action, pressing, holding, vibrations, and you are all set. If you want to refocus the scope you can use the magnification slider which is placed on the side of the scope by just using your finger. With the purchase of Tour V4, you get the app to connect it with your smart device. It has some super cool features such as access to more than 36,000 courses, including 3D flyovers with distances and hazards.
Design
The general impression, the color, and the design, everything looks and feels hi-tech and sophisticated. It has an ergonomic shape and it is smaller than some previous models. It comes with a carry case that has a great silver design with a red zip. There is a clip on it that can be attached to your bag.
Cost and Value
This American based company is reputed for producing the most trustworthy rangefinders in the world. The quality is undisputed since this device will provide accuracy to 1 yard; it ranges from 5 to 1000 yards and 400+ yards to a flag. It has 5x magnifier and the focus system is very fast. If you are a serious golfer than even though expensive, it is totally worth the money.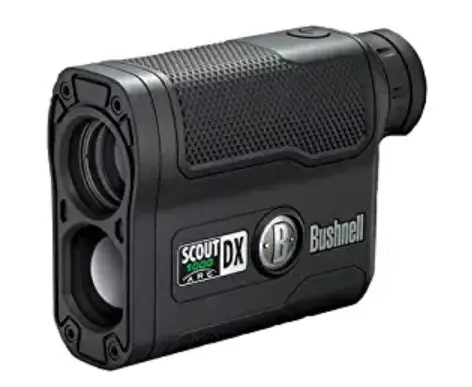 Suitable for golf and hunting
Provides very exact measurements in both, meters and yards
Many ranges of modes to chose from
Waterproof and weatherproof
It has diopter adjustment for an extremely clear view
There's built-in inclinometer that provides ARC
Doesn't feature JOLT technology
This model has a double purpose, i.e. it can be used for hunting since it features some hunting requirements and it can be used for golf too. It can bring accurate readings of the distance of up to 100 yards range and will help you plan your swing in accordance with the data that you've received. It features Extreme Speed Technology that will bring exact measurements with a consistency of half a yard. It is well designed, small, compact and waterproof.
Read more
Technology
In order to provide you with the exact measurements, it features extreme speed precision technology. There is a build in inclinometer that features different ARC displays that indicate the aim, the bow mode (this one is for hunters), the laser activity, numeric display, a bull's eye mode, etc. As advanced as it is, it will show you the exact angle through -/+ 90 degrees of elevation and that is the problem-solving feature for golfers of how to bypass inclines due to their extremity. It gives distances in both measurements, yards, and meters. There are several targeting modes, such as Selective Mode that allows for adjustment in relation to the environment and the weather conditions. Among the other useful modes is the Automatic scan which is able to scan reflective objects or the Bull's eye indicator that provides targeting small objects without considering the background.
Use
It is activated by pressing the power button. To switch and select modes you need to press the power button and release it immediately. For different modes the instructions to activate them are different, so we will mention just the ones that are useful for golfers. For example, if you want to activate the Automatic scan mode you should hold the power button down for a few seconds and then swiftly go through multiple objects and the device will record the yardage among all of them. Bull's eye indicator will be activated when you align it on the target and by slowly moving the beam over the target until the crosshair matches with the bull's eye.
Design
The device is very thin and durable even though it is made of plastic. It is very lightweight and compact and is totally waterproof. It can be used in freezing conditions and the design features easy to hold grip. It is available in black or real tree design. When purchased it comes with a carrying case, a battery, and neck strap and it is also compatible with the magnetic attachment system.
Cost and Value
This is an excellent rangefinder which offers excellent performance in every lighting and weather conditions. It has many hunting features; however, it is perfectly appropriate to be used for golf too. And compared to many golf only rangefinders, this one has a very reasonable price too.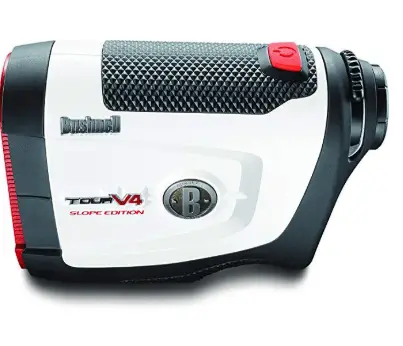 It features JOLT technology
The Slope Technology provides compensated yardage based on slope inclination
Ergonomically designed
Reasonably priced
It doesn't feature advanced options of the latest models
We are presenting you a model that does not feature all the bells and whistles as the first on the list models do, but which will provide you will everything a modern and dedicated golfer needs for precise measurements of the targets. Fortunately, it does feature the JOLT technology which is a basic hallmark of Bushnell latest models. This is a slope version, so this means that it will yield compensated distance that is based on the hole inclination.
Read more
Technology
There are two remarkable technologies that are used in the production of this model. The first one is the well-known JOLT technology that we have so much talked about. Just for the reminder, this technology is super accurate in searching for pins and once it has locked onto a flag it starts vibrating. The distance range for flags is 400 yards. Another technology that marks this device is the Slope Technology that provides measurements on slopes. Since the new tour regulations now allow using rangefinders that have the slope mode turned off, you don't have to be worried if you are breaking the regulations anymore.
Use
It is extremely easy to use. What you need to do is to just press down the power button to activate the display and then aim it toward the target. You will get the distance in no time with incredible precision of one yard. It also features 5x magnifier that will provide a better and crystal clear image.
Design
It looks similar to all Tour models, compact, sturdy and lightweight. It fits perfectly to any hand and it has a rubber grip to avoid slippage. It comes with a case and a battery with a two-year warranty.
Cost and Value
From the description, you can realize that this is a compact unit which performs its intended function perfectly well. It is very reliable when it comes to measurements and it isn't as pricey as the previous models.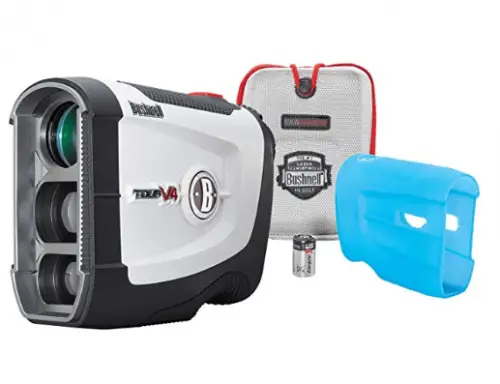 It features JOLT technology
Comes with the Bushnell golf app
Small and compact design
It measures up to 1000 yards and flags to 400 yards
A basic model that doesn't feature slope mode and other more sophisticated options
This basic but neatly packed rangefinder comes from the latest line of JOLT technology integrated rangefinders that offers the quickest, the most accurate and the most practical way to notify golfers when it has acquired the right measurements. As with all V4 models, with the purchase of this model, the golfers get free access to the Bushnell Golf App. And what is more, you get a two-year limited warranty.
Read more
Technology
The main technology featured in this model is JOLT technology. It seems that this technology dominates the latest Bushnell devices and there is a good reason for that. Not only is it award winning but it is the fastest way to get the right measurements. When it has locked onto a flag the device vibrates, confirming that the distance is correct without picking up background targets. It is able to acquire distances up to 1000 yards, or when it comes to flags, the maximum distance range is 400 yards. Since it doesn't depend on reflectors, it is able to provide distance to bunkers, trees, literally anything on the golf course.
Use
The way you use this rangefinder is fairly easy and isn't complicated at all. To activate it, you'll need to press the power button. Once it gets activated, you need to aim it toward the desired target and in no time you'll get the right measurements by feeling the vibrations. To proceed to the next target, what you need to do is to repeat the procedure. In order to get the targets closer to you, the eyepiece features 5x magnification that brings the objects closer by rotating it.
Design
Since this is a V4 model from the same line, it resembles the similar V4 models in its design and size. It is very compact and lightweight and it fits perfectly into any palm. It has a rubber grip on the top and the bottom in order to prevent slipping. The package includes a metal casing that can be hanged on the golfer's bag, a battery and a silicone protective skin.
Cost and Value
Even though this is the most basic model of Tour V4 series, it will provide the intended function with maximum precision and effectiveness. It is fast, precise and comes with the app which is a great asset since you'll get a very sophisticated layout of more than 36,000 courses around the world. The price is much less expensive compared to the top rated models on our list, so it would be a perfect opportunity for those who are on a budget to have a prime quality rangefinder.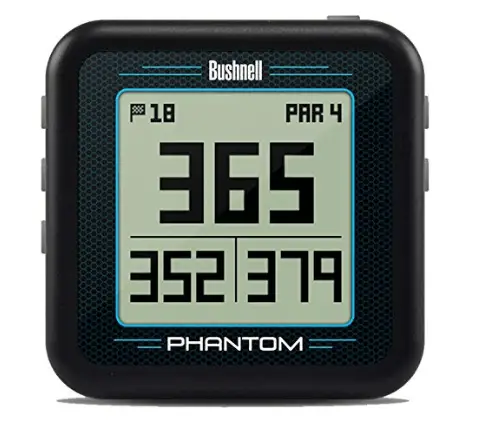 A GPS device that provides accurate and fast distances
Easy to read display under every weather conditions
Preloaded with more than 36,000 worldwide courses which can be updated via Bluetooth connection
Bite Magnetic Mount technology allows being mounted on any metal surface
Some buyers reported magnet issues
So far, we have talked about standard, laser rangefinders, however, Bushnell has a line of GPS rangefinders that are easy to use, practical and accurate. These utilize the GSP location to inform golfers about the yardages, hazards, and courses instead of the infrared light that is common with the laser rangefinders. This model is the updated version of the older Ghost version which is the last product on our list. It is very small with a big screen, displaying the data with large numbers. It comes packed with 36,000 maps which can be updated through the Bluetooth connection.
Read more
Technology
The GPS integrated locator is swift and fairly accurate to provide the golfers with the exact distance to courses. Once you have selected the right course it will further display readings of the green yardage and front and back distances. The screen is very readable and bright and it has unobstructed visibility even in the brightest sunshine. It features Bite mount technology, i.e. there's an integrated magnet on the back that allows you to attach it on your golf back or on any metal surface or to attach the clip to hang it on your belt.
Use
It is one of the easiest to use GPS rangefinders. After you turn it on you'll wait for about 30 seconds to get the signal and you'll have the courses displayed. In the middle, with big black numbers, you have the green yardage displayed and below you'll see the front and back distances. When you push the 'Select' button, the nearest hazards are displayed, two at a time. There are several abbreviations that tell you what is what, some of them being easily comprehensible, such as LGB which means Left Green Bunker. There is a shot measurement option that provides the measurements of drives and approaches.
Design
It has a very stylish and small design that comes in four different colors, red, blue, yellow and black. It charges via mini USB cable and once charged it has the capacity for several rounds. It is a bit bulkier compared to the Ghost but that's due to the magnet on the back. All in all, it is a handy and practical device.
Cost and Value
This is an excellent device that provides the average golfer with all the crucial measurements on the golf course. It is portable, practical and very easy to use. The price is much lower than the premium laser devices which makes this model a great value for the money.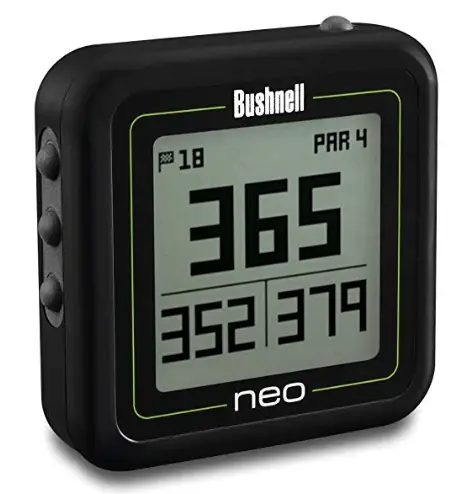 The battery has the capacity for three rounds
It displays front back and center distance
It comes preloaded with more than 35,000 courses
Small, compact and very easy to use
It lacks update for the courses
Some buyers reported quality control issues
It is the older version of Phantom, so it is a bit less advanced compared to it; among the things that are different we can mention the magnet function being absent in this older model and instead of the magnet, it comes with a clip that can be attached to a belt or a bag. It is very small and handy and it is surprisingly accurate. It features auto course option and auto hole advance, plus it is also preloaded with more than 35,000 courses, however, this model lacks the Bluetooth connection for additional updates.
Read more
Technology
It is a basic rangefinder that uses GPS location to provide distance measurements. When you turn the device on the GPS locator searches your position and automatically recognizes the course. It has the option to provide you with instant hole advancement measurements and it reads the green yardage, front, back, and center. When it comes to hazards, it has the capacity to display four per hole, two at the time. The preloaded golf courses come handy to provide you with the layouts and the specifics of the course, however, check in advance if the course has been altered in any way since the update option is missing in this model.
Use
It is very easy to use and go through data and ranges displayed on the screen. There is the power button on the top, three buttons on the right and two on the left which have their function indicated on the back of the device.
Design
It is a pocket-sized device which comes in four different colors. You can keep it in your pocket or attach it on the clip that goes with it and place it on your belt or the bag. It is a mini USB charged device that has a long battery life for about 3 rounds.
Cost and Value
This is a very basic GPS device that has the capacity to read front, back, and center distances, to display up to four hazards per hole and to automatically recognize the course. As it is probably the most basic model that comes from Bushnell it features the most affordable price compared to all the other models described here. So, for the price, you get a decent device that we'll provide you with the crucial reading for your game.
Criteria Used for Evaluation

Accuracy
The utmost goal of any rangefinder is to provide the most accurate distance to the targeted object. So, it comes naturally to have this criterion as the first one on the list and that determined the scoring of the devices. But that wasn't easy at all because we knew that we were reviewing Bushnell devices, the most dominant company in the world when it comes to rangefinders of any kind. And indeed, if you take a look at the scoring related to this criterion, at all the products on the list, you'll notice that the numbers are the highest here. This points to the fact that accuracy is the highest selling point of Bushnell and that there are many other criteria that distinguish the best from the others.

Features
This section is what makes a big difference among all the devices on the list and greatly contributed to the order of their appearance on this list. Here we include all the technologies used to provide unhindered game performance in any aspect. The patented JOLT technology is the one that made all the fuss in the latest models that the company made for golfers. Devices that feature this technology provide a quick location of the pins and notify the golfer once they have locked onto the flag by emitting vibration pulses. These devices are very successful in marking the pins without considering the surrounding objects up to 450 yards at the best models or up to 400 yards for the average ones. The ultimate distance that they can reach is up to 1350 yards or 1000 for the average ones. Another thing that makes difference between the best and the average ones is the slope function and the way it works, i.e., how easy it is to disable it. What we considered next was the ability to detect targets in low light conditions and under various weather conditions. And finally, we searched for the ability to connect the device with your smartphone and utilize the free benefits that the app provides.

Effectiveness
The importance of this criterion is self-explanatory and in our case, it meant effective reading of the distances without false positives. There are many rangefinders out there which claim to provide fast and effective distance and get correct readings, but unfortunately, they fail to do perform the intended goal. So, we focused on this criterion and closely examined if these Bushnell rangefinders are as effective as they are described. Generally speaking, they all perform their intended function properly, with some exceptions here and there and that can be seen in the numbers provided.

Durability
Here, we mostly relied on customers' comments and reviews regarding their experience with these devices. One thing which must be mentioned regarding durability is the limited two-year warranty that the company provides starting from the purchase day and it is against manufacturing defects. So, what we were interested in was the durability and the effective performance beyond the warranted time limit and if they provide correct reading after that period of time. Another thing that was examined within this section was their resistance to the everyday wear and tear on the golf course and the resistance to some weather elements. More or less the reviews and the comments confirm the manufacturer's claim of high durability and resistance to outer elements with some exceptions.

Bottom Line
In this last section we tried to summarize the overall performance of the devices and it is a sublimate of all the previous criteria taken together. Here we also considered the price tags that these devices have and if they are a real value for the money and if the golfers receive real benefits by having a certain device or not. Another thing that was considered within this section was the overall level of satisfaction of the customers and the ease of use. So, these are many bits and pieces that make up the complete perception and the performance of the products.
Frequently Asked Questions
q:

How do GPS rangefinders work?

a:

They are GPS devices that provide distance, locations, and measurements based on the satellites signals that they have locked onto. This data exchange lasts for about 15 to 6o seconds most of the time.
q:

How do laser rangefinders work?

a:

All laser devices utilize the same concept of work. The device emits laser beams when the device is turned on and those laser beams need to bounce off distant objects' surface. The device has a high-speed clock that measures the time that was needed for the beams to travel to and back.
q:

What kind of rangefinders do pros use?

a:

As strange as it might sound, incredible 99.3% of all tour golfers use Bushnell laser rangefinders because they have been the most reliable devices on the course for some time now.
q:

I am a beginner golfer and I was wondering if I could benefit from purchasing a good rangefinder?

a:

Regardless of your skills, if you are serious about playing golf you need a rangefinder. You don't have to invest a big sum in that premium, have-it-all rangefinders, however, you'll definitely need one that will provide you with the flags distances, you'll get the notion of how far you hit and you'll save yourself from guessing and extra walking.
Subscribe to our Newsletter