Best Bug Spray
In a
Hurry? Editors choice: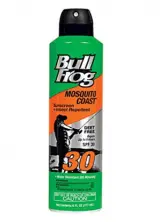 Test Winner: Bull Frog Mosquito Sunscreen

To some, nothing is more relaxing than spending an afternoon out on the field playing golf. With warmer seasons just around the corner, golf enthusiasts everywhere will soon be getting their clubs out and eagerly waiting to enjoy the game once more. In no time
golf courses
will be filled with players ready to spend the day doing what they like to do most.
Nothing could be more distracting than the small flying critters buzzing around your faces, getting in your hair, or leaving nasty bites. There is enough to worry about like getting just the right angle and making sure that
swing is perfect.
Luckily no one is completely defenseless against flies, mosquitos, or any other insect is seen hanging around. Listed here are the best insect repellents to make sure that your day is spent swinging at
golf balls
instead of insects.
Standout Picks
Criteria Used for Evaluation
Materials
Materials are important ingredients
Not all customers want the same type of insect repellent. Some are glad to have a formula with a high content of DEET. Others prefer to have as little as possible, and some like to keep it at a happy medium between the two. Every product was chosen to give buyers a wide range to choose from. The ingredients were thoroughly looked through to make sure no matter what type of repellent it was it contained quality products. This list shows the most aggressive down to the mildest formulas to help everyone find the perfect repellent for them.
Effectiveness
Effectiveness is important when looking for protection
When purchasing a repellent the most important question is will it do its job? Insects thrive in warm weather and once they are out, keeping them away seems impossible. Spending time outside will guarantee a few run-ins with unwanted insects. To be considered effective a repellent must be able to not only keep the user free from bites but also prevent other insects from swarming around them all day.
Ease of Use
Ease of use ensure easy protection
If not applied properly you may be completely protected on one area of your body, but be attacked by bites and insects on another. It is important that repellent can be applied evenly, and entirely over all exposed skin. To make sure you get the best use from the products they were researched on their ability to be simply applied and used. Most of these repellents could be applied by yourself and do not require a lengthy waiting time or any special care
Value
During a busy day, there may not be time to stop and frequently re-apply layers of insect repellent. So, to make sure that the best insect repellents were on this list close attention was paid to the amount of time a repellent could stay on without the need for reapplication. Under normal circumstances, these repellents should stay on for 6 hours and up. Some are meant for lighter activity, while some are meant for high endurance activity.
Top 10 Picks
1

. Bull Frog Mosquito Sunscreen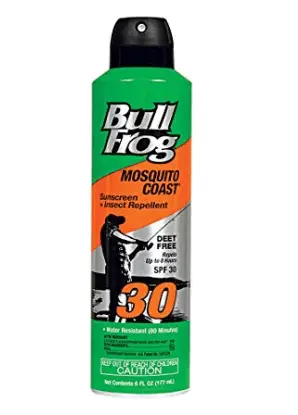 This product is useful because it protects you and your skin not only from the insects but from the sun as well! This particular DEET free sunscreen/mosquito repellent features a continuous spray type bottle that makes it easy to cover your entire body quickly and generously. And it is safe for kids too.
Read more
Longevity
Bull Frog Mosquito Coast + Sunscreen will keep you protected for up to eight hours. However, it should be applied again after eighty minutes if you've done activities such as swimming or anything to cause excessive sweating. For continuous UV protection, it is best to reapply every two hours.
Scent
This particular product is not unscented. The insect guard has a smell that can be best described as citrus or orange peel. After it is first applied the scent is more noticeable, but it soon fades and becomes very light. Even those sensitive to smell had no complaints on the fragrance the repellent has. Most customers agree it has a pleasant aroma.
Feel
Despite being a mix of sunscreen and repellent this product has a lightweight feel. Instead of suffocating your skin it leaves a thin layer that gives big protection. Another great feature is that it won't leave behind a greasy feel after which is common with other similar products.
Cost and Value
The can holds 6.4 ounces of product. Not only will you be getting a great amount of product, but it is also a 2-in-1 product that offers a wide range of protection. This repellent is an amazing investment for those who are going to be spending time outdoors. You get more protection that will last you a while and keep you ready for the insect-filled, sunny months. This is one of the best repellents and you definitely get your dollars worth.

2

. Ben's Mosquito, Tick, and Insect Repellent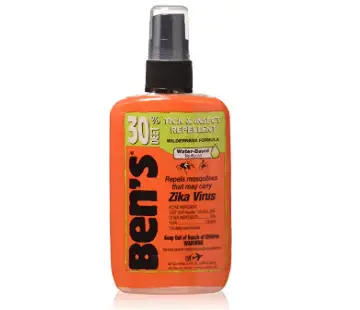 This is another long lasting bug repellent that is packed full of insect-fighting power. One of the things that makes this repellent appealing to some customers is that it is made with only 30% DEET which is what the CDC recommends as the lowest amount of DEET to keep insects like mosquitoes, ticks, and other biting insects away. DEET is an oily liquid used in insect repellent that some choose to avoid.
Read more
Application
Applying this product is very simple. With the pump bottle spritz the product over any exposed skin. When you apply it to the face be sure to not dispense directly onto your face. Instead, get some of the repellent into your hand and then gently rub onto your face and avoid the eye and mouth area.
Protection
As a given, this pest repellent keeps away insects. However, that is not the only thing it's keeping people safe from. Because this repellant is so effective in keeping away bugs that bite like mosquitoes it is warding off the diseases these insects carry. There are several insect-transmitted diseases such as the West Nile Virus, Zika Virus, Lyme disease, and countless others that people are potentially at risk for when bugs are involved. Thankfully, covering yourself with this insect repellant helps keep the insects and their diseases away.
Size
This bottle is great for travel. It is 3.4 ounces, which complies with TSA standards so you can take it wherever you travel to. With a convenient size, it can easily fit in your pocket or bag. But the size shouldn't deter you, only a few pumps can keep you protected for eight long hours.
Cost and Value
This is the perfect repellent if you are looking for something to keep around for quick protection. The modest price makes this product an easy choice for many outdoorsmen and anyone who plans to spend a day outside. Anyone who buys this knows that they're paying for amazing quality at an affordable price.

3

. Repel Insect Repellent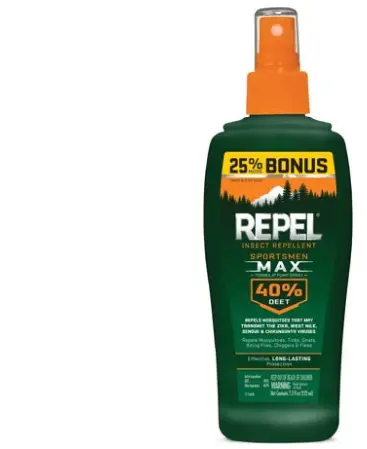 Repel Sportsmen Max formula insect repellent is an amazing aerosol style formula that helps keep dangerous insects like fleas, mosquitos, gnats, and many more away. Unlike some other products listed here, this particular one contains 40% DEET which is only slightly higher. It is targeted mostly to those who will be spending many hours a day outdoors or in areas with a high insect concentration.
Read more
Deet Content
Many would agree that 40% DEET is just the right amount. Going any higher can cause some irritation to children or those who have sensitive skin. However, going lower can shorten the amount of protection you receive. The amount in this product is seen as a midway point between the two, keeping you safe without harming the skin.
Duration
A very important factor in purchasing a repellent is how long you will be able to use one can before needing to buy another. In most cases, a single person who spends most of their days outside such as fishermen, hunters, and hikers can go an entire summer and even into the fall season on just two cans. The mist that it applies makes it simple to save and conserve by making it easy to not over apply the product.
Design
This repellent comes in a sturdy, forest green can with its ingredients and benefits conveniently listed on the front. It also has a large label located near the top so those with eyesight troubles will know what it is they are using. The can itself is aerosol, which some prefer over other styles because of the mist it creates.
Cost and Value
Many who want to keep at a lower price point will reach for this product first. Purchasing this product means getting more use for less, without having to sacrifice an effective, quality repellent. At 6 ½ ounces per bottle, buyers get a great amount of repellent they can keep for longer without overpaying.

4

. Sawyer Clothing Insect Repellent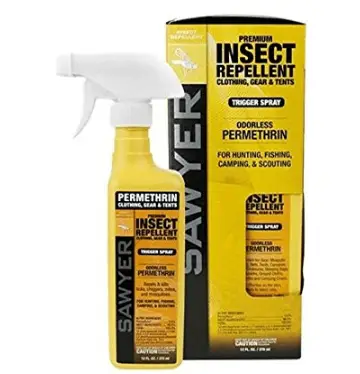 If you want to avoid putting any products directly onto the skin, then this is another option. To push insects away with Sawyer Insect Repellent apply it to clothing and other fabrics instead. It stays on your clothes or gear for up to 6 weeks or 6 washes, without leaving behind stains or odors. The only sign that it has even been applied will be how far away the bugs keep.
Read more
Effectiveness
Permethrin was developed for the specified purpose of protecting by applying to fabrics. It sticks to items such as clothing for prolonged periods of time, keeping you free from insects without the need for daily reapplication.
Application
Because it is not meant to be put onto human skin the application process is slightly different. It is suggested that when handling this product it should be somewhere with a guard against the wind, such as a garage, to prevent the contents being blown into your face. It should be noted that no issues should arise if this were to get indoors or if it were to be used in an enclosed space unless the user had a severe breathing problem. When applying simply coat the front and back of an entire outfit and let dry.
Cost and Value
Although Sawyers comes at a slightly higher price, many would agree it is well worth it. At 24 FL ounces, it gives buyers an option to keep themselves defended without the need for frequent reapplication. It contains enough insecticide to coat about four complete outfits consisting of a shirt, pants, and socks, for 42 days. That's over a month of time outside without the concern of insects.

5

. Natrapel Mosquito, Tick, and Insect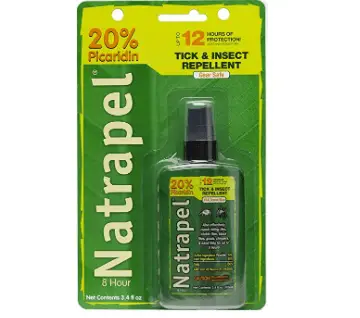 For those who want a completely DEET free repellent that is safe for skin, this is the perfect product. Natrapel has been praised as one of the most effective alternatives to other repellents that are made with DEET. However, unlike Sawyers, it doesn't contain Permethrin either. It is made with a completely different ingredient called Picaridin.
Read more
Advantages
In a recent trend, more people who are shopping for bug repellents are seeking out products made with Picaridin. The reason being is it has been widely reported that it is easier on the skin and causes less irritation than DEET. It's chemical make up doesn't have the same concerns in regards to neurotoxicity as DEET does. Because of that, it is less harsh, so it is still effective against mosquitos, ticks, and other bugs without the adverse side effects such as "softening" or in extreme cases melting nylon and plastic goods.
Protection
Ticks, Mosquitos, and other insects that are known to bite are always a concern when going outdoors. But thankfully the 20% Picaridin solution is incredibly effective in keeping these types at bay. With the threat of diseases being spread through the bites of these insects being a constant concern, this formula takes away that worry by using a scent style defense to make sure that the user stays safe against anything they could be harmed with by these insects.
Style
Like many popular repellents, this is an aerosol can. These types of cans are by far the most popular and easiest to use. Due to the design, it can be sprayed in an even mist from any angle, including upside down. Pump bottles cannot be used this way making it difficult for self-application.
Cost and Value
This is another budget-friendly option. The 6 oz. can delivers amazing quality while keeping skin free of excessive toxins. With protection that can last up to twelve hours, it will keep you insect free day after day. In addition, it's DEET free formula is also recommended for children as well. it can protect those of all ages who want to spend the day outdoors and eliminates the need to purchase a separate product for younger users.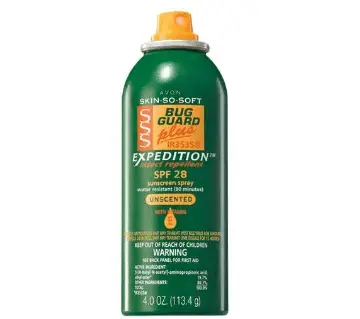 When people think of Avon they usually think of someone coming to your house trying to get you to buy products from their catalog. It may seem surprising to some that one of those products is a very effective insect spray. Avon has been a trusted brand for years, it's helped people keep skin healthy in the past and now it's keeping skin safe from insects too.
Read more
Strength
Don't be fooled by the name, this is a strong repellent meant to keep away stubborn insects. With ingredients like amino propionic acid and aloe barbadensis leaf extract, it's potent enough to do great as a repellent without irritating the skin. It's been proven to do well in hot and humid climates where mosquitoes, flies, and other insects thrive. Marketed as expedition strength it's a great option
Additional Features
With this product, you get more than just a repellent. It also doubles as a sun blocker, which is very helpful to those who plan on spending a day out in an area without much shade. But on top of that, it has been infused with vitamin E for added skin benefits such as keeping your skin soft throughout the day.
Design
While some of Avon's other products feature colors that stay within the same pastel shade range with pink tones, this particular design differs from the rest. The aerosol can is colored in forest green and orange, keeping the theme gender neutral. Unexpectedly it looks very ordinary when it comes to insect repellent, which in this case isn't necessarily a bad thing.
Cost and Value
Despite being a product of a name brand company, this repellent falls just under the medium price point. With 3.2 ounces, it gives the user ample product to stay protected longer, especially with it's promised 12-hour protection. With the added features of skin softening aspects and sunscreen protection, this product is not only protecting but also improving skin with every use.

7

. Cutter Backwoods Insect Repellent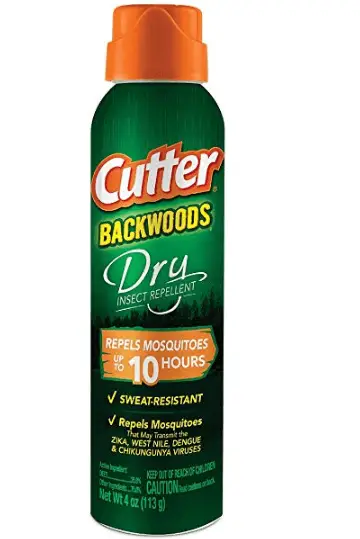 When this product was made, it was designed with one thing in mind; spending an entire day out in the hot sun with no re-application and no bugs. With 25% DEET, it does just that. The dry formula keeps you comfortable yet protected so you can spend as much time as you'd like outside without the worry of your repellent wearing off.
Read more
Comfort
One thing that can either make or break an insect repellent is its feel on the skin. Often times the biggest downfall for a repellent is the sticky, greasy, or even stiff feeling it leaves behind. However, that is not a concern with this repellent. With its dry spray technology, it lays on the skin and gives a clean, fresh feeling. You may even forget you're wearing it, as it seems to disappear after application. Although it may feel as if it's vanished it is still intact, keeping bugs at bay without leaving behind the heavy unwanted feeling of an oily repellent.
Sweat Resistance
When outside, there is always a chance you could find yourself in a sweat-inducing situation. The last thing anyone wants to do is stop their outdoor activities to reapply their insect repellent. Luckily with this repellent that won't be an issue. This product was formulated to stay put even during the most strenuous, sweat-inducing activities. Hikers, bikers, and many outdoor enthusiasts have put this to the test in the most physically challenging activities and the repellent still held up.
Hold
This product is meant to keep you outside all day. It will stick with you for up to 10 hours, even though the worst humidity, making it one of the most sought after repellents. The lightweight spray is meant for endurance, the only time it would need to be reapplied is after swimming and drying off with a towel.
Cost and Value
A can of this repellent is bound to last any user dozens of trips outside. It contains 4 ounces per can and provides superior protection with every application. With the lower price tag, it has gathered its own crowd of loyal customers.

8

. Repel 100 Insect Repellent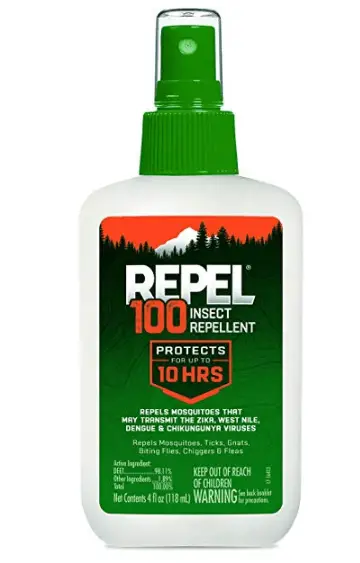 In some areas, even a trip to the back yard can bring an unwelcome swarm of insects. In these cases, an extreme repellent is required. For anyone wanting to prepare for even the worst insect conditions Repel 100 Insect Repellent is definitely worth the purchase. With a strong formula containing 98% DEET, insects will be virtually nonexistent around anyone wearing this.
Read more
Extreme Protection
This repellent contains more DEET than most other repellents. Because of the high percentage, it is one of the best and only choices for those who are traveling to areas with a high bug population or are just very prone to attracting insects. Although it is meant for extreme cases, it is still safe to use if you just want to keep yourself extra protected against any possible insect bombardments.
Safety
With such a large quantity of DEET, some may have concerns regarding the safety of it. While it is possible to have reactions to DEET, they should not be severe unless the user has sensitive skin. In some cases itching and irritation have been reported, however, most of the time there is a simple solution. Just discontinue use and rinse the affected area. If it is ingested or gets into someone's eyes emergency services should be contacted.
Defense
A formula this powerful is going to keep many different kinds of insects very far away. It keeps a strong barrier between you and mosquitos, biting flies, ticks, and other disease-carrying bugs. Users who are prone to attracting a number of annoying insects often praise this repellent for being the best solution to this problem.
Cost and Value
Although it may be a very potent formula, customers of this company would agree that it does not let them down. After being put to the test in some of the worlds toughest environments, it has shown amazing strength in staying in place and keeping its users protected from the moment they put it on. With a reasonable cost, it has become an essential item in many outdoor kits

9

. Cutter Skinsations Insect Repellent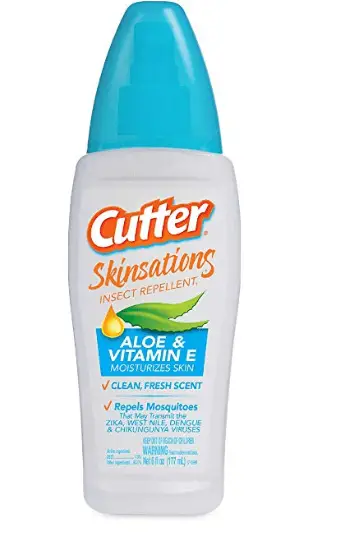 For a much lighter, yet still effective solution to insects, this is one of the best options. The DEET levels of this particular repellent are considerably lower than some other repellents. The percentage of DEET in this formula is only 7, making it the ideal option for places with a slightly lower insect population and for consumers who would like a product that is not as strong those with larger amounts of certain chemicals.
Read more
Feel
Due to the low levels of DEET, this product does not have the same heavy, uncomfortable feel to it. In fact, it leaves a refreshing feeling behind that leaves many users more ready for activities outside. Because of the non-greasy formula, this could be described as one of the repellents that you do not even notice after a few minutes. Not only does it feel fresh, but it is infused with aloe vera to simultaneously add moisture to the skin.
Scent
One of the best features besides repelling insects is its scent. When a formula contains a higher level of chemicals it leaves behind a prominent scent. But because of its ingredients, this product gives off a faint smell that can be described as floral but goes away within minutes of its application. Nothing about this product is considered very heavy or overpowering, and the delicate fragrance helps contribute to the fresh feeling it brings to those who use it.
Additional Feature
In most cases spray bottles can be difficult to use when applying the contents to yourself. This is because a majority of these bottles cannot be used when upside down. However, this bottle features a 360-degree pump which allows it to be used from all angles including upside down. This gets rid of the need to ask for assistance from others when attempting to put the product on.
Cost and Value
Often times, people look for something a little softer to take care of their repellent needs. If the insect problem is not too serious then the price shouldn't be either. This is a great low-cost solution for anyone who needs to keep insects away but does not want to douse themselves with a potent insect repellent.

10

. Coleman DEET Free Repellent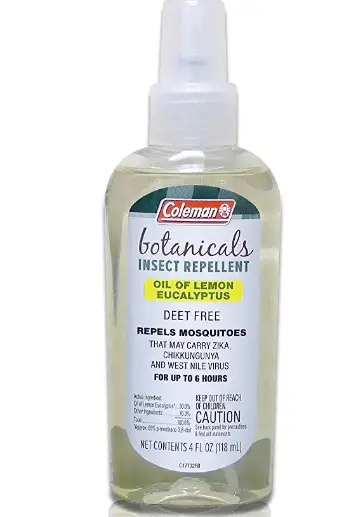 If low levels of DEET are still too much and completely natural ingredients are needed, then this is the insect repellent to go for. There is no DEET at all in this naturally based repellent, making it the ideal product for those trying to keep chemicals out of their routine and incorporate DEET free alternatives instead.
Read more
Ingredients
What draws people to this repellent more than anything is the ingredients. The naturally-based active ingredients have been derived from plant extract to give the strongest protection possible without harsh chemicals. One of the main components to the formula is Lemon Eucalyptus oil. This oil, in particular, is one of the four active ingredients that the CDC recommends to ward off mosquitos.

Effectiveness
A concern with a chemical-free insect repellent is its ability to protect against insects, as well as repellents with chemicals, do. While it is true that repellents containing chemical ingredients are most often more effective, Lemon Eucalyptus oil has been scientifically proven to be the best alternative to chemical formulas and just as effective.
Benefits
The question is why do people prefer a natural repellent. One of the first reason is health consciousness. Some fans of natural goods worry that by putting chemicals on their body they could be letting harmful toxins in. Some also feel more at ease having a better understanding of the types of components they are putting into their body. Additionally, the natural route may be better for someone with sensitive skin or allergies to man-made repellents because of its ingredients.
Cost and Value
A recent trend has risen which involves a lifestyle free of chemicals. Certain individuals have gravitated towards products made almost exclusively found in nature. Because of this need for DEET and chemical free repellent, it can be difficult to find one that is actually effective. However, this is one of the few that have been proven to work. Due to high demand and the process of making these products, they usually come with a not so cheap price tag. However, this product falls at just about the midpoint for the price range, making it easy to stay natural at a great cost.

Subscribe to our Newsletter