Best Budget Golf Balls
In a
Hurry? Editors choice: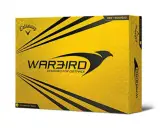 Test Winner: Callaway Warbird

Golf ball
manufacturers tend to produce balls promoting various, wide-ranged features in order to provide a better overall performance. The competition really puts pressure over manufacturers to extend their research for improved design further and further, in order to achieve a higher differentiation of products as much as possible.
Even if you do quick research in the golf balls market you will notice an extremely wide range of products that might confuse even highly experienced golfers. On the other hand, many golfers, even professional ones, tend to loose up to 5 balls in an average training, which really makes one's budget soak.
So for this reason, we explored the market to single out the best budget golf balls that are alternative to high-end balls but will provide the same performance as the premium ones.
Standout Picks
Criteria Used for Evaluation
Durability
During our research to find the best golf balls you can buy when your budget is tight, unfortunately, we found balls that break on the very first hit! So, to provide you with the best quality ones, we considered only balls that besides their price tag, do not end up having scratches or damages that would compromise their performance on the next hits.
These balls are suitable to be used in a number of rounds since all of them had a good quality outer cover. Maybe you could think that Nike's recycled balls are an exception here (since we have mentioned that they might come in the box with a few scratches), their performance is like being new because the possible scratches are minor and do not influence the ball performance.
Features
The balls revised are made to achieve the desired speed and distance as one of the main features characteristics. All golf players regardless of their level of preparedness and experience in golf, look for a long distance flying performance. All of the products reviewed feature a type of core that transfers high- energy and gives the ball a long distance flight on every hit.
Having in mind that many golf balls on the market are made to achieve various driver distances and speed, we took into account the dimples, the grip and the type of the material used for their cover. Additionally, the ability to achieve a good trajectory makes them suitable to play in every weather condition- even when the weather is windy.
Materials
The soft feel was one of the criteria we took also into consideration while reviewing products. All of the balls we evaluated are soft feel type which is obtained thanks to the material used in their production. You might think that soft core golf balls are slow- well, they spin less off the tee but have in mind that most of the balls we reviewed actually have high compression cores. The compression of the core is actually more important than the soft feel itself since it influences the distance. The new technology of golf producers seems to have overcome the issue of low spin and the soft feel would not much contribute to a shorter performance of the player. Bottom line: a long ball goes long, and a short ball simply spins more and has a shorter trajectory, regardless of your swing speed.
Value
In this guide, we have taken into consideration the low price tag golf balls which are competitive in (almost) the same range as the expensive ones. The new technologies, as previously mentioned, have been taken to the state-of-the-art nowadays and they do their best to upper the standard of quality of these products. This means that the price is not an imperative that determines the quality of the balls and you don't have spend a fortune on them since even the budget ones they all comply with the quality standards in terms of performance and durability. So, regardless of which ball you opt for, you get a really good value for the money, plus a feel that you play like a pro.
10 Top Rated Budget Golf Balls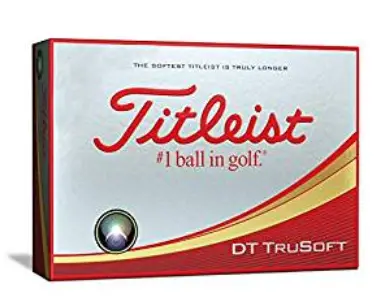 This is the Titleist two-piece design ball type produced with manufacturer's proprietary technologies such as TruFlex and TruSoft, having a soft, low compression energetic core, with a thin cover made of ionomer, with a simple design to provide long distance shots. Although it is in the budget golf ball category, they really do the job like it is a pro version. Many golfers swear by Titleist's quality of products, so this one is warmly welcomed by many golfers. The DT TrueSoft technology has replaced the former SoLo technology and therefore achieved a better quality, giving a low compression core, for a softer feel. Besides the new core, it also comes with a new formulation of cover. Titleist achieved the goal to deliver more speed on short shots and less spin on long shots.
Read more
Features
These balls are the softest that Titleist has produced. Their outer coating- TruFlex cover, utilizing the proprietary technology of manufacturer- is made of soft ionomer, having a pattern of spherically- tiled dimples (376 tetrahedral) which are designed to give the ball a consistent and long- distance flight, without being compromised by any weather conditions. This type of Titleist ball has a soft core- called the TruSoft core- actually the softest one this brand manufactures, and a low compression which is characterized by low spin and a long distance. The design of these balls, as stated by the manufacturer as well, is great for any golfer- from amateur to practitioner planning to take a tour- as it retains a stable movement on every swing.
Performance
This golf budget ball is great to provide a comfortable game to golfers. Their design and quality of materials make them competitive even to the pro versions. Golfers who have already tried them swear to the soft feel they provide, offering a reliable, short game. The ball's dimple design reduces spin on long shots while creating more spin on short shots. They work really great off the club, as well as on the green and around. Also, you will like the crisp sound it makes off the club, although some might feel that the ball's sound feedback is not enough, depending on the putter-type used.
Cost and Value
Beginners and mid- lever players will love this ball, and professionals could like them too, especially when they want to save money on balls, at least when practicing. Golfers who like soft feel will benefit this ball, since its low spin provides a great distance off the tee, flying long and steady until hitting the greens. It is also reliable with the short game too, having the power to stop on the green and they are so worth the money.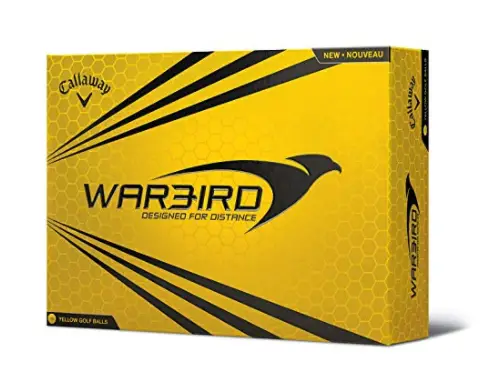 Are you looking to buy a golf ball that will enable you to perform like a pro, without spending an unreasonable amount of money? They often tend to end up in the woods, so buying expensive types, for some, is a complete waste of money. On the other hand, you can't possibly practice golf without a quality ball, can you?
When there are thousands on the market, it can be exhaustion to look for for a well- performing, a long-distance flying ball that will satisfy the standards of the pickiest golfers, be it a recreational or a pro, a low, moderate or high handicap. Ultimately, if you are the type of a golfer who simply wants to have a long ball flight, we are almost certain we have found just the right product to recommend.
Read more
Features
Callaway Warbird golf ball has a soft, high-energy core and a thin cover, just to provide a great distance off the tee while giving you a soft feel on every swing. The ball is made by a combination of two of Callaway`s proprietary technologies that guarantee the quality and performance of this ball. These are the Warbird core which is soft and enabling faster speed of the ball while achieving a steady, penetrating distance, and the HEX Aerodynamics which gives the ball stability during flight, while keeping the trajectory of movement straight as you hit the ball, even during windy weather. Actually, these budget golf balls fly well in every weather conditions thanks to the straight and steady line they have during flight. This type of ball is available in traditional white color and optical yellow, which is excellent to track the ball while in the air or when it hits the ground.
Performance
These balls are an excellent choice for distance- seeking golfers. The combination of technologies used to produce this ball gives it a great performance on every swing: its core, besides being softer than usual golf balls, also is a bit larger core than the average made by many manufacturers, which gives great ball speed that provides maximized distance and stable trajectory of flight, and the thin coating gives you an extraordinarily soft feel. The low-speed lift of Callaway Warbird ball additionally contributes to achieving a stable trajectory of ball movement and a holding a long line of the ball flight off the tee.
Cost and value
Having in mind the quality of this two-piece manufacturing technology along with the amazing characteristics of the ball, we must confess it comes with a very competitive price on the market. If you opt for these budget golf balls, you will enjoy the good quality and see how they boost your overall performance. The brand Callaway itself enjoys high reputation while being considered reliable among golf lovers, so you will find it a great pleasure to have this affordable product in your (professional) golf equipment. High performers will know what we are talking about here.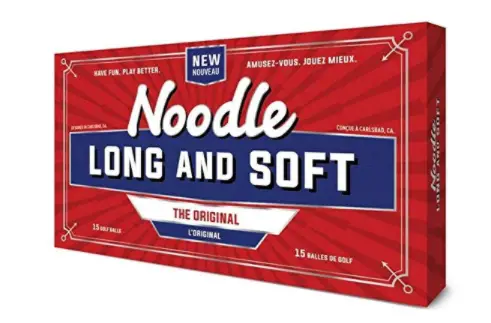 If you have been for a while in the game you must have had the chance to play with at least one Taylor Made ball since they make one of the best ones. As they offer a wide range of product, we can also see their versatility in the golf balls the produce. Noodle model provides a very soft feel thanks to their soft compression core (34) and you will have this soft feel from the very first hit. The distance they fly will definitely please even the least experienced players, as they have a very good control during the complete trajectory of ball flight. These features make them suitable for mid and high handicappers. Also, you will absolutely like the sound they produce with every swing you take.
Read more
Features
TaylorMade balls - Noodle Long & Soft Golf Balls - are designed by using the proprietary aerodynamic 342 dimple design to enable easy flight even in windy weather conditions. This model is made of super softcore, made to provide exquisite soft feel on a swing, thus making it easy to be used even by recreational golf players. The cover is made of soft urethane, which improves the durability of the product. This combination of materials and design makes this golf ball offer a great golf experience during every game.
Performance
One of the main characteristics of this model is the extraordinary soft feel they provide every time you hit them. They are designed to fly far and fast- which is exactly what they are advertised for. These balls will work well for slow swingers, since their core is low compressed, without compromising distance. In fact, they will give you a great distance on every hit, having in mind their good design and advantageous features. Many golf players appreciate the aerodynamic form of these balls which makes them penetrate nicely in the air, keeping straight movement, as well as good performance once they hit the greens. Even if you just need them for a shot or two on the court, you will get lots of it because their affordability does not really compromise the overall ball performance.
Cost and value
Non- official statistics (confirmed by golf players though) say that every golfer loses 3 to 5 balls on every play. This means that the less expensive the golf balls- the better. What we know you'll like about these balls is the distance they fly and the soft feel that they deliver. We can, therefore, conclude that the value you receive for the cost you pay is really justified, so we gladly recommend to have them in your golf bag.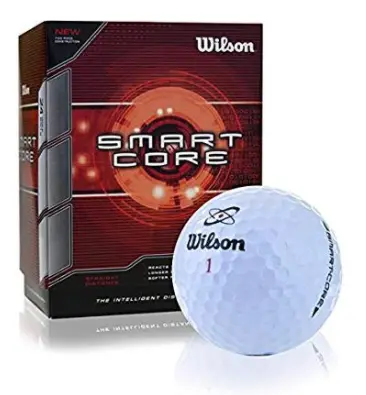 If you are looking for exceptionally good value for the money, this Wilson Smart Core is made with the much appreciated and desired ionomer cover which is one of the most durable features attributed to these products. It has a smart design core which contributes to easy control over its flight on every swing- meaning, a nice control on your overall game as well. The response of this ball is firm off the tee, and the response is soft on the green while giving an exceptional feel to the player.
Read more
Features
Wilson Smart Core Golf Balls are designed to play smart as they are produced by using the patented Wilson formula known as "Smart-Core". As a matter of fact, their core is made with this technology, which enables the ball to adapt to the swing speed of every player individually. The design of these budget golf balls enables them to spin more on player's short shots or spin less on long shots, in order to ensure as long distance as possible, as well as to provide a straight flight, good control, and superior feel. The cover is made of ionomer, which is durable and resistant to different weather conditions.
Performance
You will like this ball no matter what kind of shots you are playing with them. The ball's design is great to provide control on the short shots with faster spin speed, but when it comes to golfers who hit long shots this smart ball minimizes spin and thus provides a good distance and great accuracy. Beginner players will also find it easy to play golf with Wilson since it is designed to behave "intelligently" on every hit. Additionally, what comes as a plus is a fact that it is designed to react according to the swing speed of each player. They tend to fly quite straight, which is good to add distance on every swing and they land well on the greens as well. Whether you are an amateur golf player, a beginner, a recreational player or one who prepares to take the tour, this ball will do the trick for you during your game.
Cost and value
Golf players often opt for a golf ball which doesn't cost a fortune, at least when it comes to practice, regardless of their skill- possession level. When it comes to beginners though, buying a budget-friendly ball comes as a must. Wilson Smart Core Golf Ball is designed to be performance oriented and also quite affordable. It is designed to provide a good distance for different types of golf players, as it behaves as intended with every hit.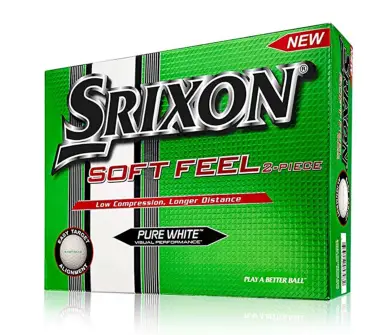 Nicely designed in order to stick to the Srixon quality, while maintaining low price tag, this Srixon is often a practice option for beginner golfers as they tend to produce mishits which end up in the water hazards or the woods. But as the company advertises it, it suits greatly the golfers who play with a moderate swing speed but doesn't compromise the long distance and the soft feel it gives. The ball will work well for mid- to high- handicappers, offering them an extraordinary control on every trajectory.
Read more
Features
This ball is specially designed for high launch while producing low spins, just to create a great distance while retaining control on ball trajectory. It is designed having a soft core which is highly resilient, giving a soft and a special feel for medium or slow speed and with aero- power design of dimples which improves lift force while giving a penetrating trajectory of ball flight. This two piece golf ball with a soft center part, which gradually goes firmer, can reach for at least 70 miles per hour. The cover of this ball is made from ionomer, designed with 338 dimples, contributing to the reduction of the drag just to maximize ball lift. It is thin at 1.6mm in order to enable improved feel to the golf players, and it should generate more spins, although not like premium golf balls.
Performance
Golf players who care about maintaining the launch conditions optimal and achieving an increased speed should consider this product. Srixon Soft Feel Golf Ball offers a unique alignment arrow- "hit straight", which provides a square setup and also ensures a very good accuracy on the greens, having a high inertia moment. It delivers long and straight flight while achieving a great distance until it hits the greens. This is a low compression golf ball in pure white color to enable good visibility on the course, enabling you to follow the ball flight.
Cost and value
This model is Srixon's budget-friendly generation of balls. It is designed to perform well by delivering soft feel, making each shot easier, especially if you are struggling with the short game. The capability to achieve longer distance is another advantage of this ball, as well as its great flight control and a good quality ionomer coating on the surface, which make this ball a great value for the money.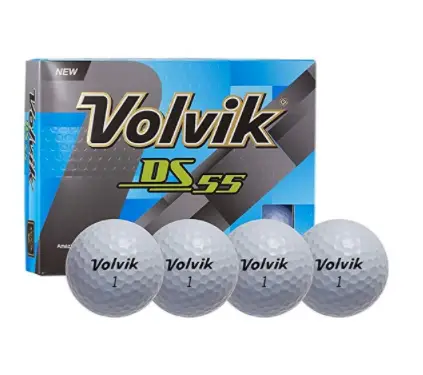 Every manufacturer tends to repair different issues on golf balls, tending to make them suitable for specific golfer needs. This golf ball is specifically constructed to benefit 60-90 MPH range, golfers while providing them the accuracy and distance they need for higher results. This ball comes as the softest version from Volvik, thus giving a soft feel, without compromising ball flight in terms of distance and accuracy. This product might be actually the softest version on the market in this price range, making this ball very desirable among golf players of the specific range. These budget golf balls have a low spin on an initial driver and it creates reliable accuracy of stability during flight. They also provide almost tour pro spin around greens by high-wedge spin. And do all these features tell you these might be the balls you need for overall better performance?
Read more
Features
Maximum speed is one of the main features attributed to this model. Its core is a 55 compression, high COR, so it provides reduced driver spin and achieves an extreme distance on every single hit. Its core is dual spin (elastic power), so it produces fewer spins off the tee. It gives a soft feel, as well as quite accurate control on the shot and a pleasant soft putting. Volvik DS55 White Golf Balls are made to provide the necessary accuracy while delivering more distance. Its reduced rate of spins is enabled with the ballaTMs core, elastic power, which additionally improves the ball accuracy.
Performance
This ball by Volvik is highly recommended to players with 60-90 MPH swing speeds. It gives a soft feel thanks to the DS 55- meaning a 55 compression design. It flies with great penetrating trajectory while retaining a low spin thanks to its low compression core which delivers the exceptionally soft feel. It will work well for amateurs and recreational players, as well as the professionals who push themselves to achieve their best result. This ball is characterized by reduced side spins, so this means a good accuracy on shots off- center.
Cost and Value
You cannot be disappointed with this ball because it comes as an improved version of Volvic older models. It has been tested on overall performance and its 55 compression core does the job well. Its soft core with high velocity makes it a worthy buy for soft feel seekers- and you receive an unprecedented one though. The ball's extra soft design seems to come as most beneficial to newer golf players who will feel the good control of the ball on every swing. The reduced side spin of this ball makes it additionally easier to use by inexperienced golfers, although the more experienced ones will be equally satisfied.

7

. Nitro Maximum Distance


Nitro Maximum Distance is a two-piece ball made with quality materials and extreme durability (in case it doesn't end up in the woods). Having said this, we must add that you will enjoy the game with an economy ball that leaves the impression of being of premium design. This budget golf ball achieves a great distance on every hit and it will fly long for sure, but are you really ready to try it in your game? Well, let's not guess and see what exactly it has to offer.
Read more
Features
This ball is a two-piece golf ball coming from Nitro. It is produced with a quality titanium core to give an extraordinary distance to golf players on every hit. One of its main features is the energy transfer that contributes to fewer spins in order to achieve greater distance. It has symmetric dimples on the surface which are designed to improve lift while decreasing drag. This ball seems to be indestructible since its cover is cut-proof giving a great duration of this ball. Its cover is made of DuPont lithium surlyn material that is very resilient, as well as greatly resistant to abrasions and cuts. Additionally, as a plus, this ball is made in vivid orange color just to be easily tracked when flying the distance.
Performance
Nitro Maximum Distance Golf Ball is designed to satisfy the needs of any level golf players: from recreational to professional. The specific design of the outer cover is aerodynamic, so it has a straight and consistent trajectory, making fewer spins to achieve a good distance. Its low- compression design gives the soft feel that many golfers prefer. This ball's Titanium core makes it super reactive and maximizes the transfer of energy from club to ball. This ball is USGA approved, which means it conforms to rules of USGA. It is designed to reduce drag and therefore provides a long distance. It is available in an energetic orange-bright color which makes it super visible during every flight.
Cost and value
Suitable for any kind of golf player, it will satisfy the golfers' needs on every single game. Its sound quality, resistant to scratches, cuts and any kind of abrasions and high visibility makes it a desirable option. We know it can always get lost somewhere in the woods or in the waters, but even if that does happen, its price tag is good enough to make you feel like you haven't spent a fortune on something that got lost.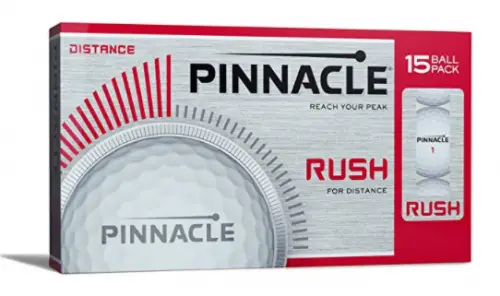 Coming from Pinnacle, the "rush" ball is all about long-distance shots on every swing. This ball comes packed up with good quality materials which are produced with advanced technology and carefully designed to achieve a good performance on every game. Choosing the right golf ball means choosing the right tool for a better game which will, in turn, help you play better. And that does not necessarily mean choosing an expensive ball which will soak your budget in a round.
Bottom line, if you are in the midst of your research for a well-performing, budget ball which is not as soft as some of our models presented here, Pinnacle golf ball offers a variety here. So read more to find out.
Read more
Features
Pinnacle Rush has a core which can be compared to an engine. This proprietary and high-energy core are excellent in achieving a great speed so that every golf player hits the ball farther. Its simple design is icosahedral, with 332 dimples. Its cover is thin and soft, made from ionomer, although it gives a bit firmer feel on the swing. The core of this ball is of high- energy and medium compression, which can provide an overall good speed, with low spin and steady trajectory of every flight.
Performance
Firstly, the combination of the design and materials make this ball fly powerfully, consistently and longer in order to achieve peak performance. It is an excellent alternative for distance seeking golf players since the combination of technology, design, and materials is all about providing a really long distance. Actually, the long yardage is considered one of the main characteristics of the ball. It is made a bit firmer than the other ones within this price range, and it produces a specific sound on hit- something which, at least a bit more experienced golfers will notice on the very first swing.
Cost and value
Put aside the popularity of the brand which is owned by Acushnet, the parent company that stands behind the popular Titleist, this budget golf ball is promising for every beginner and amateur golfer because it really fits every budget, without compromising the quality. This brand is considered reliable among most golf players, and it justifies the price quite well. It can be compared to a high-performance ball, although the price tag is very affordable. Is it worth buying and trying this ball? Definitely yes, especially if you are not willing to pay a high price for a premium ball.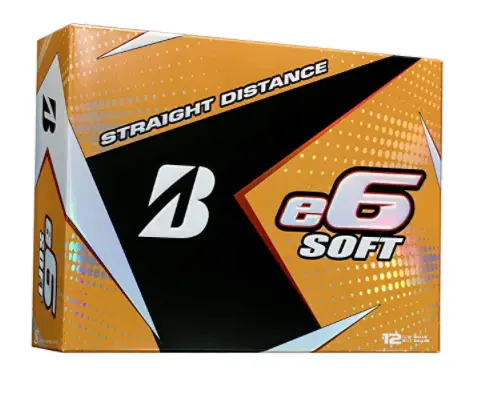 The best way to describe these balls is to call them premium balls at a reasonable price. The Bridgestone E6 model is very popular among golfers, offering an improvement on swing and distance as well. E6 model is manufactured with a state-of-the-art combination of features such as the extraordinary delta design of dimples and the super softcore, giving a fabulous feeling while playing. Also, the manufacturer enjoys a great reputation when it comes to the quality of golf balls and these premium quality balls are among the top budget golf balls chosen by players.
Read more
Features
Bridgestone E6 model represents soft feel balls whose surface is designed with the Delta Dimple pattern (330) so that they achieve good air resistance while flying a long distance. This is a three piece ball, manufactured with a Surlyn cover and having an additional anti- spin coating, with a soft, mid- compression core, to provide a soft feel. The company's proprietary technology used in the production of this ball is of high quality, state-of-art technology, although not much reflected in the price tag. Its medium compression core additionally gives good performance to the ball with a low spin during flight. The model is available in white and optic yellow shades just to provide the right visibility, depending on your color preference.
Performance
These balls are characterized by accuracy, as they retain a straight movement during flight. They are soft feel, high-performance balls, manufactured with the well known Bridgestone golf technology. The straight distance they achieve is their biggest advantage, thanks to the E6 soft core and delta dimple outer layer combination. In the short game, they have optimized launch, as well as good stopping power. These balls fly long distance on every hit, enabling you to achieve the performance you actually seek. The soft feel they give is the main characteristic on which the manufacturer was mainly focused and we totally agree: they feel soft from the iron and from the wedge as well. The resistance to different weather conditions and other pop-ups when in the air is another positive characteristic of this three-part golf ball, designed to give you an exquisite experience of the golf game.
Cost and value
These balls are considered to be a high-performance alternative to many golf balls from high-quality range among manufacturers. The obvious premium quality Bridgestone offers in this three-layer model makes it an excellent worth for every buck spent on them. They do the job extraordinarily well off the tee and fly long enough to make it to the holes.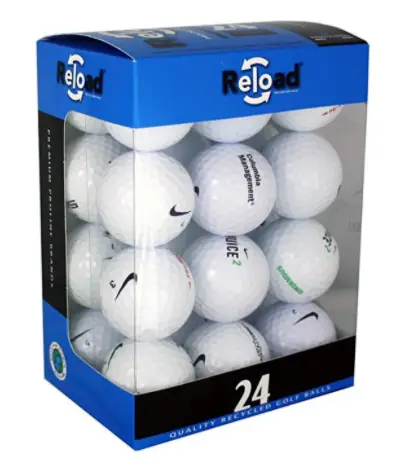 Nike golf balls are a choice of many famous golf players, such as Tiger Woods. They all appreciate the quality of these balls and the feel they give when swinging the ball. It is known (unofficially, or as Nike advertises) that these balls literally give confidence to golfers- the one they actually strive to get. These budget golf balls by Nike are all about the exquisite soft feel, precise fly and great distance they tend to achieve on every hit. They are two-piece balls, with a very well appreciated quality, and if purchased new, it is not quite an economic option. Luckily, recycled ones are affordable.
Read more
Features
Since these balls come in different packaging, the model may vary as well. But, the balls are original and produced with the high-quality Nike technology, appreciated by the world's most famous golf players. The design of all types of Nike balls is aerodynamic and they behave very well in all weather conditions, even in windy. Some of the models are even made of plastic, but it is of high quality as well, having great elasticity.
Performance
High-quality recycled balls have no adverse effect on the overall performance of golf players whatsoever. That is maybe the top reason why you could opt for recycled ones like Nike's. These balls are of good quality, regardless of the possible scratches or blemishes you might notice on them. Their longevity and distance are by no means compromised since the brand Nike itself guarantees the reliability of its own products. These balls are the right ones for practice, for losing them in the water and to enjoy your play without overthinking too much about the price that you have paid for them. Nike balls are characterized by a great, exact direction of movement, steady and straight trajectory of flight while having a great spin control.
Cost and value
Nike Reload packs come in a super economy pack of 24 pieces with a low price tag. Although already played, they tend to keep the initial product quality, therefore offering a pro golf experience to the players. Very often, when choosing between new and recycled products we tend to opt for the new ones. In this case, though, it might not be the right decision: you would miss a value versus cost! In the case of these Nike recycled balls; they are very well worth the amount you pay. We all must confess that when we pay less- we feel sorry less.

Subscribe to our Newsletter