Best Beginner Golf Club Set
last updated:
Nov 08, 2019
If you are reading this article, most probably you are a golfer who has just started exploring one of the most fulfilling games and have realized that you need a good beginner set to further enter the realm of golf.
A good starter set is recommended by many experts because of the following reasons. Firstly, you will have your own set of clubs that you will start getting used to and will develop certain skills related to them. Secondly, a good set always contains the most necessary clubs, so you don't have to think about which club to buy. Thirdly, a bag with carefully selected clubs is way less expensive compared to buying separate clubs.
This article contains useful information about what needs to be considered when buying a set of clubs and, of course, we recommend the best ones.
This is the best product on our list that is currently in stock: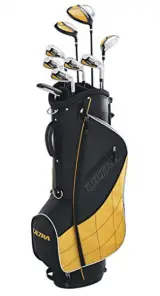 Wilson Ultra
Why is it better?
9 game improvement clubs coming in a stand bag and head covers for the drivers
The driver is made from titanium with low CG
The irons feature perimeter weighting with a large sweet spot
Ergonomic bag with a stand activating stand and a lot of storage pockets
In a
Hurry? Editors choice: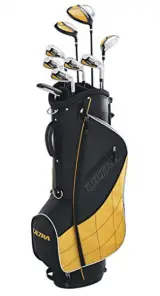 Test Winner: Wilson Ultra

54
Researched Sources
132
Reviews Considered
43
Hours Researching
31
Products Evaluated
Ease of Use
Durability
Materials
Value
By Default
Top 10 Best Beginner Set of Golf Clubs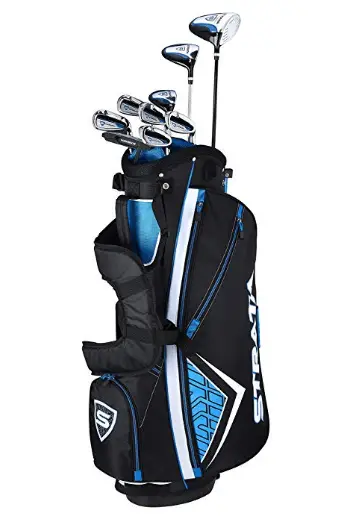 12-piece set that includes 9 clubs, a stand bag, and two head covers
The driver and the wood are made from titanium
The clubs are exceptionally forgiving for enhanced performance
The bag is of high quality, offers ample storage and looks stylish
A few buyers reported issues with the quality
If you have passed the initial getting-to-know-golf stage and you have developed a special liking for the game with a resolution to dedicate yourself more on it, then this is the number one beginner golf set according to the buyers and the experts. There are many reasons for this, the first one is most definitely the status of the company in the world of golf, particularly their reputation for making the best drivers. In essence, you will find in these clubs the well known Callaway technology which translates into high-quality and performance. So, let's take a look at what this set contains and what you can expect from it.
Read more
What It Contains
Beginners usually find themselves baffled when it comes to clubs selections as there are literally hundreds of different offers, so they often end up with either well-known name-brand clubs which are designed for more advanced players or with clubs that fail to provide the workability of the beginners' golf club sets. Callaway Strata comes in several variations regarding the number of clubs included, from the 12-piece set to the 18-piece set, the most popular being the 12-piece set which includes a stand bag, 9 clubs (a driver, 6-9 iron, 3-wood, 5-hybrid, a pitching wedge, and a putter), and two head covers. It is the most popular because it is performance-focused and includes the clubs that the golfers will actually use.
Clubs Features
This beginner golf club set is designed to meet the beginners' needs and to provide decent performance offering, excellent forgiveness and a chance to use the clubs for many golfing seasons. It is noticeable that the longer irons are excluded from the bag and instead, a 5 hybrid is included to deliver an alternative for the long game since it is much easier to play with it. As drivers are a trademark of Callaway, the one included here is of supreme quality. It is 460cc forged driver, made of titanium head with huge sweet spot and outstanding forgiveness, so it basically hard to miss. The 3-wood is as forgiving as the driver and you are bound to produce extra long shots thanks to the aerodynamic head shape. The irons and the wedge allow you to practice and establish control over the ball, while the mallet putter comes with alignment that ensures consistent precision. And finally, the stand bag they come with is of the same high-quality with a lot of pockets for storing accessories.
Cost and Value
When investing money in golf gear, it is very important to first figure out what your future intentions for the game are. This pack comes from a serious manufacturer that has engineered each piece with a superior quality that guarantees durability. This means it is more expensive compared to some other on our list, but the endurance and the quality are unsurpassed and that's the reason why this is the most sold beginner golf set on the market.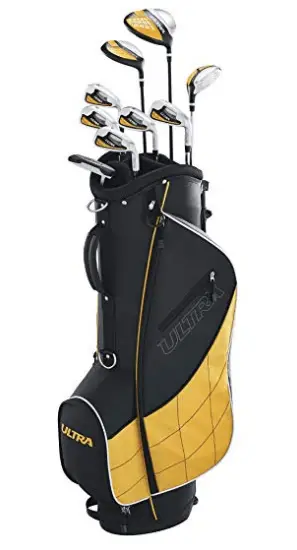 9 game improvement clubs coming in a stand bag and head covers for the drivers
The driver is made from titanium with low CG
The irons feature perimeter weighting with a large sweet spot
Ergonomic bag with a stand activating stand and a lot of storage pockets
Some buyers reported durability issues
What is the most difficult thing for beginner golfers? Most of the time you will hear answers such as inability to have the ball airborne, not enough distance, not enough speed, hard to hit the center of the club, etc. If you are struggling with these issues, then you are not the only one, since there are many beginners out there who are facing the same issues as you are. However, golf companies are pretty much aware of the problems that beginners are dealing with and many of them, especially Wilson, have dedicated themselves to making the game of golf much more inspiring and productive for beginners. This beginner golf club set is actually what many golfers got motivated to proceed with their dedication to master the game, so let's take a look at the features it has.
Read more
What It Contains
Wilson is an experienced company that has a wide insight into the needs of golfers when it comes to game improvement clubs. Even though you will find sets that include everything that pro golfers use, the designers in Wilson are aware that beginners would take much time until they start using all of them, especially higher-degree wedges and long irons. So, what they included here is a combination of 12 forgiving clubs (a driver, 6-9 irons, a fairway wood, a hybrid, a pitching wedge, and a putter), a stand/carry bag and headcovers.
Clubs Features
When we are talking about game improvement clubs, the forgiveness of these clubs is the key feature that they need to have. It means that the golfers will have approximately the same effect of distance and speed when they hit off-center which is usually achieved with the center shots. So, all the clubs are made with an enlarged sweet spot and a lower center of gravity, the key factors for improved performance. The driver, the club that starts off the game at the tee, is made from titanium and it features a large 460cc lightweight head with a hot face and low CG which helps the golfers to easily tee off. The irons are also forgiving with perimeter weighting which makes the off-center hits much more successful. The alignment putter is designed so that golfers have a clear aim and stroke with a much-controlled precision. It is evident that the long irons are missing from the beginner golf set and they are replaced with a hybrid which is much easier to handle. Finally, the bag is ergonomic, stylish and of super quality too.
Cost and Value
One should be thinking much over the value of this product since according to the buyers, it is the product which has the greatest value for money. The clubs are what every beginner needs in order to make improvement in his/her game.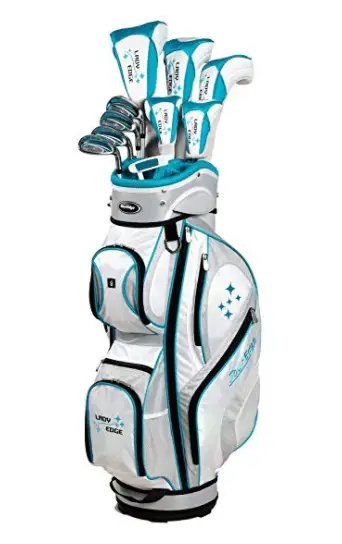 Design technology engineered to deliver accurate and high-flying shots
The center of gravity is positioned deep and low
A high lofted 460cc driver, stainless steel woods and hybrids, stainless steel irons and mallet style putter
Deluxe cart bag with 9 pockets for storing accessories
Reported issues with the headcovers
Tour Edge is a company that has a very wide product line, offering extremely sophisticated, pro golfers' gear, but with this offer, we can see that they have mastered the art of super forgiving, game improvement clubs. All of them are designed with the proprietary Tour Edge gravity weight technology that is designed to get the most of every player. Plus, the bag is very well designed with plenty of large zippered pockets for storing your accessories. Read more in details to find out what you could expect from this bag.
Read more
What It Contains
We'll start first with the cart bag since it is made with 9 large pockets of different sizes so that you can get comfortable with the things you get on the court. The bag comes with a total of 10 clubs, including a driver, two hybrids, a wood, 5-9 irons, a pitching wedge, and a putter. There are matching headcovers for the woods and the hybrids. This is the full version that we are recommending here, however, you can make a purchase of the 7-piece beginner golf set too.
Clubs Features
The Lady Edge beginner golf club set features a high lofted 460cc driver that can help high handicappers achieve superior accuracy and distance. The fairway woods and the hybrids are made from stainless steel and they feature a low center of gravity for higher and longer ball trajectories. The irons are also oversized and made from stainless steel with undercut design and heel-to-toe center of gravity, making them very forgiving for off-center shots. The mallet-style putter features a high MOI which is an important feature when it comes to effective beginners shots.
Cost and Value
Tour Edge is a serious golf company that has proven itself to be very dedicated to aiding golfers with the right gear for enhanced performance. The price is a bit more expensive compared to most of the products on our list, but if you add on that the lifetime warranty and the 30-day play guarantee, you'll get a tempting offer that is hard to reject.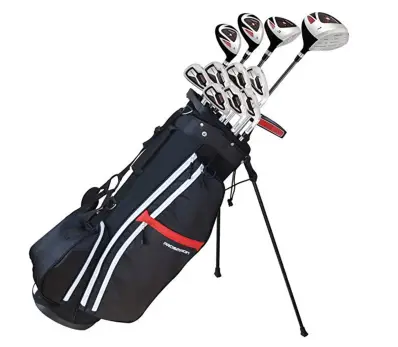 Titanium 460cc driver with a graphite shaft and a headcover
3-wood (10.5 degrees) with a headcover
3 and 4-hybrids designed to replace hard-to-hit long irons
5 to PW cavity back irons with steel shafts
A stand bag with 7-way padded top and full-length dividers
Tall players don't find them suitable to play with
If you are reading this article, most probably you are a golfer who is looking for some cool clubs that will get you some help to have a more consistent way to nail the shots down, have a good round of golf with some distance to send the ball down the fairway and at the end of the game to feel pleased with yourself. And, no, the golf club set is by no means created for those golfers with a clubhead speed of 120mph, nor are the clubs made to sustain that kind of an impact. However, these are an excellent choice for the beginners and this updated V2 version is based on the success their previous X9 model had.
Read more
What It Contains
These game improvement clubs are designed to make every shot productive, regardless of the place of the impact thanks to the large sweet spot that offers excellent forgiveness at each of the clubs. The long irons are replaced by hybrid clubs that are much easier to hit, so basically it is created to make the golfer happy with his/her performance. The stylish bag contains a driver, a fairway wood, number 3 and 4 hybrids, 5 to PW irons and a putter. The bag is well designed and it features a 7-way top with auto pop legs, rain hood, dual shoulder straps, and many pockets.
Clubs Features
The popularity of the company's previous model X9 is upgraded with this V2 model which makes the clubs even easier to hit and with much larger forgiveness. The driver is oversize featuring 460cc with a graphite shaft and a head cover. The 3-fairway wood also comes with a graphite shaft and a headcover while the hybrids feature steel shafts and they also come with headcovers. The 5 to PW irons are cavity back and steel shafts which deliver much better shot for beginners and easier management of the clubs. The putter is long 35" long and for maximized performance, it comes with graphite shaft as well.
Cost and Value
So, we said that these are good clubs if you are new in the game, but they are also a great choice for those golfers who haven't played for a while and are coming back to golf. They are made to boost the motivation and the lower the handicap of the aspiring golfers and the design they have fits their purpose. They way they are made and the number of the clubs included are just as great as the price they feature.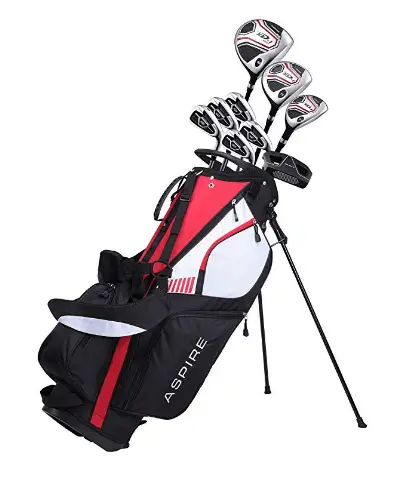 Titanium driver, 6-PW irons, fairway wood, and a putter
Stand bag and 3 headcovers with the same design as the stand bag
Stainless steel irons
Titanium 460 cc driver
Graphite shafts on woods
True Temper steel on irons
The stitching on the bag is not of the greatest quality
It is awesome when you learn the basics of how to play golf and when you first start producing real shots. Having the ball up and high is what newbies find difficult, but once they are past that stage, there's another obstacle waiting behind the corner. Getting accurate shots is the second of the big issues and even if you get one or two good shots, consistency is what you are going to struggle with. However, you can find considerable help in the clubs you use, provided that they are game improvement clubs, such as Aspire XD1, which will help you get better results on the course.
Read more
What It Contains
It seems that manufacturers have found the formula for successful dealing with a high handicap since, from what we can see, most of the beginner golf sets which are of the highest quality offer more or less the same types of clubs and the same choice of materials with some differences that we can see here and there. So, when it comes to the clubs that are included in the bag that comes as a set, we can expect to find a driver, fairway wood, irons starting from number 6 to 9, a pitching wedge, a wood, a putter for beginners and there are three head covers for the larger clubheads.
Club Features
The driver starts the game off the tee and golfers are expected to have a high trajectory that will launch the ball as far as possible, which is hard to achieve, especially if you are a beginner. Golf clubs designers claim that if the driver is a lightweight, oversized and if it features a graphite shaft, it will be much easier for the golfer to have the ball airborne with sufficient speed. The one you'll find in this beginner golf set is of that kind, made from titanium with head size of 460cc. The woods and the irons are made from stainless steel and true temper steel shafts on irons, while woods feature graphite shafts. The dual strap stand bag is well made and it offers enough storage for your accessories.
Cost and Value
This is by no doubt an excellent starting set which includes everything that a starter would need in order to see an improvement in his golfing skills. The quality of the materials they are made from is very decent and according to buyers, you will soon start seeing lowering your handicap. The price is affordable, but it varies based on the selected size and model.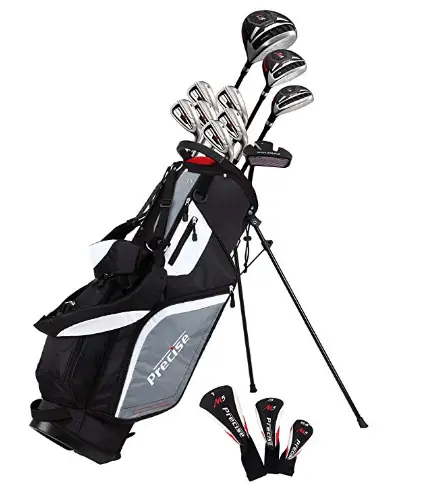 10 clubs, three headcovers, and a deluxe bag
All clubs feature oversized clubheads and large sweet spot
The driver is made from titanium and it features offset for easier ball flight
The irons are made from stainless steel
There are just one hybrid and no sand wedge
If you are a beginner golfer who is considering buying new clubs, you should take the advice of the most experienced golfers who claim that beginners will be much better of if they buy a whole beginner golf set instead of buying club after club. The reason behind this is very simple, it is much more affordable and beginner golfers never benefit from the sophisticated technologies that are utilized for the production of prime, tour clubs. Speaking of affordable and convenient, we have Precise M5 here, a beginner golf set that has been recommended by many beginner golfers, so read below to find out more.
Read more
What It Contains
Game improvement clubs are characterized by larger club heads, which automatically means a greater sweet spot and much greater forgiveness. Designed in accordance with the needs of high handicappers, Precise clubs are all designed to enhance the performance of the beginners. Especially troublesome for beginners is getting the ball airborne starting off the tee, so the size and the design of the driver is particularly made for beginners. In addition to the driver, you will find a wood number 3, a hybrid, irons from 5 to 9, a pitching wedge and a putter. The driver, the wood and the hybrid come with headcovers, all of them nicely packed in a deluxe bag which matches the design of the headcovers with many pockets for storing accessories.
Clubs Features
The oversized clubheads and the offset design are a guarantee that high handicappers will be enough encouraged to improve their skills since the larger the head is, the larger the sweet spot. The 460 cc driver's head is made from titanium with a low center of gravity which is very easy to use. The irons are made from stainless steel and the long irons are replaced by the hybrid and the wood. There are two types of shafts that are included, i.e., the irons feature true temper steel, while the woods come with a 100% graphite shafts.
Cost and Value
When considering the value of a certain product, one should always bear in mind what the product offers and if it matches the description accordingly. These clubs are very highly rated by the golfers who have bought them and don't even have a negative rating. The price is more than affordable if you bear in mind what you get from the beginner golf club set.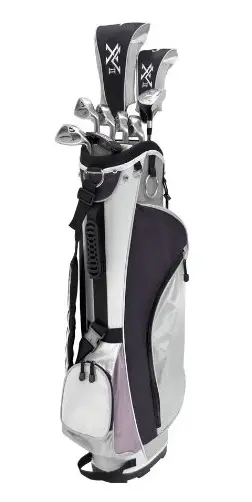 Good value for the money
It consists of a driver, 4 and 5 hybrid, 6-PW irons and a putter
The clubs feature ultra lightweight technology for greater speed and distance
Low CG and cavity back irons
Perimeter weighted clubs
Not suitable for golfers with a high-speed swing
When it comes to sports performance and gear, women differ greatly from men in many different aspects, starting from the obvious differences seen in the size, to the strength and the way they play the game. The need for clubs designed just for women is felt as early as the beginning of the learning process because the size of the clubs and their length needs to be in accordance with the women's general measurements. Plus, the design, even though not crucial for the performance, is also something that matters on the course, so lady's sets tend to distinguish from men's too. Knight Golf is a beginner golf club set that has been designed to meet women's needs, so let's take a look at its features.
Read more
What It Contains
The black and the subtle pink design appeals to women right away and it fits perfectly the silver shine from the steel clubs. The clubs come in a padded top divided cart bag which has a strap to be carried or to be left on the ground. The bag has one big pocket and many smaller-sized pockets. It comes with a driver, 4 and 5 hybrid, 6 to 9 irons and a pitching wedge and a putter. From what we have seen so far, these are the crucial clubs that beginner golfers will need and therefore this combination of clubs is most frequently seen in beginners' golf sets.
Clubs Features
This beginner golf set is an excellent set for a lady who is just starting to take up the game more seriously, or for someone who plays the game every now and then. They feature ultra lightweight technology that guarantees faster clubhead speed which results in a greater distance. The driver is 12.5 degrees made from titanium featuring a graphite shaft, while the 4- and 5-hybrids are extremely lightweight and replace the long irons. The irons are engineered with a deep undercut design which positions the weight to the perimeter of the club head resulting in unmatched forgiveness. The putter is also perimeter weighted designed with a precision face and it is easy to align.
Cost and Value
We have said enough about this set, so we'll proceed immediately with the price. And the great news about the price is that it is very affordable and some golfers say that it is even underpriced if we consider the quality of the clubs which according to some golfers is much better than more expensive ones.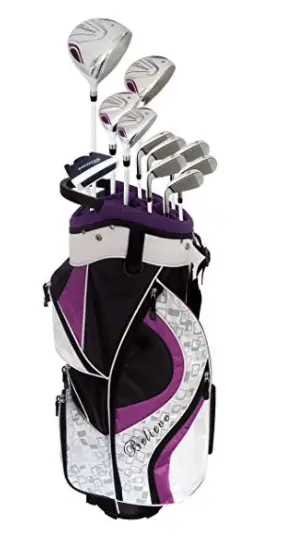 Very forgiving clubs designed with the latest game improvement technology
The bag contains a driver, 3-wood, two hybrids, six irons, and a putter
Stylishly designed bag with 14-way divider top and many extra pockets
There are four headcovers for the woods and the hybrids and rain cover for the bag
5 dollars are donated from each purchase to support the fight against breast cancer
The bag is not a stand bag
It won't be wrong if we say that women often tend to make purchases based on visual stimuli rather than quality only, which is a fact well-known not only to fashion designers but to golf-related-gear designers too. Therefore, this beginner golf set represents a combination of a very tacky and stylish golf bag with matching clubs that will make everyone's head turn on the course. But, it isn't the design itself that is attractive, it is the technology behind the clubs that make them popular among women golfers. So, let's take a look at what kind of technology we are talking about.
Read more
What It Contains
It is a beginner golf set that consists of the most forgiving clubs that you will find on the market, designed with the latest game improvement technology and aimed to meet the needs of female golfers. So the bag contains a driver, 3-wood, two hybrids, six irons, and putter. The bag itself is very well-made with 14-way divider top, umbrella sleeve, 7 zippered pockets, glove holder and towel ring. Plus, there are four headcovers for the woods and the hybrids and a rain cover.
Clubs Features
As we mentioned in the introduction, all the clubs are engineered with the latest game improvement technology with a super large sweet spot for maximum forgiveness. The 460cc driver and the low profile 3-wood will make your ball fly higher and reach further distance. As we have seen in most of the other models, long irons are excluded and instead of them, there are 2 hybrid irons for easier management of the club. The stainless steel irons feature wide sole and perimeter weighting for easier launching the ball out of the rough, The mallet-style putter features an alignment system that helps golfers practice their putting skills.
Cost and Value
Aesthetically and practically, this is a very good beginner golf set made to inspire more women to take up golfing as their regular free time activity. It is averagely priced compared to the other products on the list. What makes the set unique is the signature of the pink ribbon emblem that stands as a symbol for the fight against breast cancer. The reason is the dedication of the company to help women get free mammography screening, so with the purchase of this set 5 dollars are donated for the cause.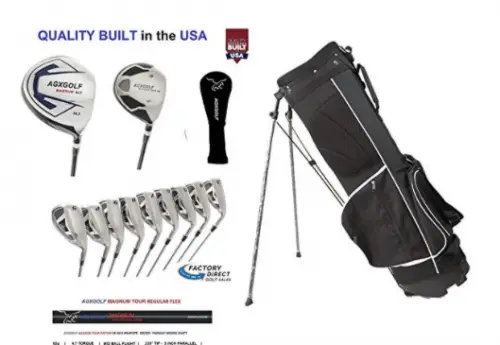 It includes an oversized driver with a large face profile
3 to 9 irons, a sand wedge, and a pitching wedge
Low profile 3-wood
The putter comes with an offset hosel and advanced alignment system
6-way stand bag
There are no hybrids which beginners might find that odd
These American made clubs boast advanced technology which can go toe to toe with the premium clubs. Many might not have heard about this brand, but golfers who have actually tried it claim that it matches the description provided by the manufacturer. It is a beginner golf set that it doesn't only appeal to beginners, but mid-handicappers can benefit from it too, thanks to the superior craftsmanship of the clubs and the more inclusive number of clubs.
Read more
What It Contains
Unlike most of the beginner golf club sets that we have discussed so far, these clubs there are more clubs and in addition to the standard 5 to 9 irons, here we can see that the designers included 3 and 4 irons as well. Because of the inclusion of these long irons, there are no hybrids here, but 3-wood for long flights down the fairway. What also differs here is the addition of the sand wedge that, again, is rarely seen in beginner sets. And, of course, there is a putter which has advanced features that we are going to talk about below. The exclusion of the hybrids and the inclusion of the 3 and 4 irons makes the set a bit more advanced compared to some of the most basic ones that we have on the list. The stand bag is made to endure a lot, it has 6-way top dividers, lots of pockets and a dual strap that can be easily carried.
Clubs Features
We will start with the driver since that is the club that golfers use from the tee box. It features forged 7075, oversized 460cc head which has, as expected a large face profile to deliver high forgiveness. The 3-wood features a lower profile head in order to easily get the ball out of the thick rough and the tight lies so that it travels a long way down the fairway. The irons are made from high-quality precision 431-grade stainless steel, cavity back heads which are oversized with perimeter weighting and maximum forgiveness. In addition to the pitching wedge, there is a sand wedge and both clubheads are designed with wide soles for a greater sweet spot. The inclusion of the sand wedge here also points to the fact that not only beginners but even more advanced players can find these clubs useful. And finally the putter, which is R1 type, flange putter which comes with an offset hosel and an advanced alignment system.
Cost and Value
What comes as a real surprise regarding this beginner golf club set is the fact that it can be used even by a bit more advanced golfers thanks to the inclusion of the sand wedge and the 2 and 3 irons. And when you have such a set, then usually the price it has is a bit higher than usual, but it is not the case with AGX Golf clubs which are sold for an exceptionally reasonable and affordable price.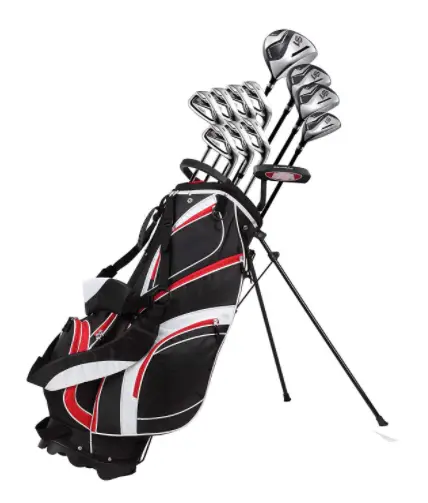 Titanium driver with a large sweet spot
Very forgiving 3 and 5 woods for high and long-flying shots
5-to PW stainless steel irons
Blade style putter with an alignment system
It comes with a sand wedge
It is engineered just for right-handed golfers
Even though there are many similar offers on the internet, not many of them can boast five-star ratings as this one does. The reason behind this is the fact that it offers golfers easier club handling which in turn it helps them have the ball higher in the air and with a faster speed. All the clubs are oversized and designed to allow greater forgiveness so that the mishits don't feel like being mishits. If you want to find out more about this product, read below.
Read more
What It Contains
As you might expect, in a beginner set there's a driver which is oversized and which will allow a larger sweet spot for more successful shots such as the one that is included here. Then, for super forgiveness, you get 3 and 5 fairway woods and 4-hybrid which, again, as expected comes as a substitute for the long and hard-to-hit irons. Talking about irons, what you'll find in this set is irons starting from number 5 to pitching wedge and then, of course, the putter for your shortest game. Something that distinguishes this set from most of the others is the inclusion of the sand wedge that is rarely found. The bag they come with is a stand bag with ample storage and top divider.
Clubs Features
Many experienced golfers claim that if you want to have an explosive shot, you need a lightweight driver with great forgiveness so this titanium, 460cc driver will help you have the ball up straight from the tee box. The fairway woods are extremely forgiving for long, high-flying shots which will inspire you to give your best. The lightweight blade style putter features an alignment system so that you have more controlled shots. All the clubs feature dual-compound grips and True Temper iron shafts.
Cost and Value
When investing in golf clubs, one needs to be sure that those clubs will provide the golfer with the maximum performance and they will last long enough to justify the investment. Therefore, most of these sets were selected based on their value for the money, so when it comes to this one, according to the buyers, it is priced according to the value it has.
Criteria Used for Evaluation


Ease of Use
Game improvement clubs have one main goal: to enable beginner golfers to launch the ball the highest and furthest possible in the easiest way, so having this criterion as the first one comes naturally. Basically, the main distinction between game improvement clubs and the advanced ones lies in the size of the club and the sweet spot which is much larger in the previous ones. When the sweet spot is larger, that means that golfers are 'allowed' to produce miss-shots which will be 'forgiven', meaning, they are going to have a similar effect as the center shots. That makes the club much easier to be used and more effective too. So, it is obvious from the scoring that all selected sets are very easy to be used which is why they are recommended.


Durability
Regardless of the type and the purpose of whatever product one is buying, every buyer expects a certain level of durability. When it comes to golf sets, even though they are the cheapest compared to buying club by club, the price one pays shouldn't be underlooked since it is more than a few bucks per set. So, it is an investment by itself and the clubs are expected to last for at least several seasons. The durability is usually insured by the materials used in the production process and the way they are made and the best way to know if a product is durable or not is to simply try it out. So what we did was to take a detailed look at the reviews of the buyers and materials that are used in their production, to determine how durable they are.


Materials
When it comes to the materials that are used for the game improvement clubs, they aren't much varied as we see in some pro versions, however, their purpose is to enable them to produce the much-needed effect. So, as it is almost a standard, the driver is made from titanium, while the irons for beginners usually feature a cavity back stainless steel. They are designed in this way so that the center of gravity is distributed low towards the heel and toe so that it allows greater forgiveness. When it comes to shafts, the drivers and the hybrids and sometimes even the putters come with 100% graphite while the irons have stainless steel shafts.


Value
Hardly will you find any other sport that requires the players to spend so much on gear as golf does. Many advanced golfers have clubs which are worth more than a few thousands of dollars, so when you compare a full set with a single club, especially with, let's say a driver, it seems that the sets are too cheap. But, in reality, they represent an investment and even if you are in the initial stage of your golfing career, no matter if you are going to play it recreationally or more frequently, you still need to make a wise purchase. The prices of these sets vary in accordance with the number of clubs included in the set and the quality of the materials used, so it is better to make an informed decision before you decide to make the purchase. From name-brands to total anonymous brands, our list includes a wide selection to meet everyone's preferences. Most importantly, we valued the worth of the sets in relation to the price tag, so the attributed score gives you a clear perspective.
Frequently Asked Questions
q:

Why beginner sets almost never include a sand wedge?

a:

When beginners first start playing golf, the most important steps are to learn how to properly raise the ball up high and how to putt it in the hole. Taking the ball out of hazards is a skill that is learned in the more advanced stages of the game and therefore it is never used.
q:

Why should beginners need to buy oversized clubs?

a:

Oversized clubheads translate into a larger sweet spot and greater forgiveness. This means that when the golfer hits the ball further from the center it will be more successful and it won't feel or behave as a mishit.
q:

I am a beginner golfer who started playing golf a few months ago. I'm into the game so I am considering buying some clubs. What kind of clubs should I look for?

a:

Beginner golfers are always advised to invest in sets that include all the necessary clubs for advancing the game. Buying a single club is much more expensive and it will feel like wasting your money in case you start losing interest in the game.
Subscribe to our Newsletter