Best Arch Support Insoles for Golfers
In a
Hurry? Editors choice: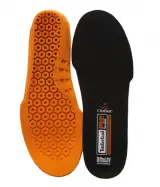 Test Winner: Timberland Pro

As you progress from one hole to another, you start to feel that burning sensation in your feet which gradually turns into a
throbbing pain
that extends from your feet to your knees. You gave up last time, most likely you are about to give in the pain and go home. Now it is more than evident that you have to do something about it. Otherwise, it is not just the golf you need to say goodbye to, the normal course of life can be greatly affected too.
If you see yourself in the situation above, the alarm is ringing for you to act quickly and help yourself. Before making drastic changes though, it is advisable to change the insoles of your shoes and get yourself one of the most recommended arch support insoles that we have on our list.
Standout Picks
Criteria Used for Evaluation
Comfort
If the insole isn't comfortable enough it won't be used.
There's one rule of the thumb that states: "If the product, especially footwear, isn't comfortable, then you aren't going to wear it." And that is a fact. Since the purpose of these insoles is to provide increased comfort while at the same time alleviating the pain that golfers struggle with, we paid substantial analysis on the extent to which they deliver the much-desired comfort. We compared the materials they are made from, and the way they work. Then we read customers' reviews and compared and contrasted them with the preselected models. That helped us narrow the list to these ten that are reviewed as the most comfortable ones.
Features
Moisture-wicking ability, odor-resistance, and fitting are among the most important features when it comes to insoles.
Regarding all those specific characteristics that all products have and which are commonly called features, we also paid close attention since they helped us narrow the things down. There are many specific features that make the insoles better and more efficient, such as moisture wicking ability and the cooling down technology. Also, closely related to moisture wicking ability is the ability of the material to kill the odor creating bacteria and yeast and provide a fresh feeling. The ability of the insole to fit every shoe was highly valued and the possibility to be used by men and women. All these features taken together provide the score that you can see next to each product.
Durability
Don't get satisfied if your insoles last shorter than six months!
Getting good-quality insoles isn't cheap, so when a customer invests in them, he/she expects to be able to use them for a longer period of time, i.e., for at least within the time span that the manufacturer claims they will be wearable. That means that the shortest time one can hope to rely on their shoe inserts is about six months, while the maximum time is about two years. When we talk about this time range, that means that after the designated period of time the wearers should expect to see the first signs of wear and tear. Plus, we valued those products that can be returned in case they fail to meet the buyers' expectations or those that provide a free replacement in case of manufacturing flaw.
Materials
Materials are important since they deliver the desired effect.
Since it is all about the materials, it comes naturally to talk about them. Different types of materials provide very subtle function, so we were careful to select the most functional ones. If you carefully read each review of the products on the list, the most dominant material used for making insoles is EVA foam which is very soft, comfortable and shock absorbing. Another material which is among the most favorite is the memory foam which is characterized by high flexibility and cloud-like feel. There's one product that is made from thermoplastic and rubber. There are other materials which are found in specific products such as silicone, recycled foam, etc. Regarding top layers, they are usually synthetic and provide increased breathability, wick the moisture away and inhibit the spread of odor-creating bacteria.
Support
Getting the right arch support can help you reduce the foot conditions you are suffering from.
The type of arch support or the possibility for variety is significant since it provides an opportunity for the customers to select the insole which they need. Mostly we selected the most versatile ones or those that are designed to provide considerable relief at people who suffer from many foot related conditions such as flat feet, arthritis, painful feet/ankles/knees/back, overpronation, plantar fasciitis and many more.
Top 10 Foot Arch Support Insoles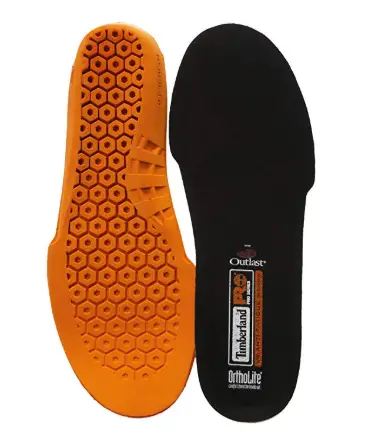 The name of Timberland stands for extra durable footwear which provides maximum comfort for the most unfavorable conditions. As it is unsurpassed in the footwear range, nothing less can be expected from such a company that strives to deliver the best comfort, stability, and performance regarding the insoles they make. In addition to being leaders in footwear durability and craftsmanship, the company set a new standard in the use of sustainable and recycled materials in all the products they use. All in all, these arch support insoles incorporate the best of Timberland, so read below to find out more.
Read more
Features
Your feet may suffer when walking, but once you try Timberland Pro you are most likely to forget all your pain and discomfort. Integrating multiple technologies, these inserts are everything that your feet could ever wish for. They feature Anti-Fatigue Technology Insole that utilizes inverted cone foam which functions as a shock absorbent and it returns the energy to your feet with every step you take. Made with Ortholite rebound open-cell foam, the inserts are moisture-wicking, antimicrobial and breathable and environmentally friendly.
Support and Comfort
What you can expect from Timberland Pro is a superior performance that will allow you to walk freely in every environment for every condition. Designed with dynamic arch and anatomically contoured with temperature regulation and odor control, you will never have to postpone a round of golf just because your feet hurt.
Cost and Value
The best way to assess if a product is successful or if it matches the description given by the manufacturer is by analyzing reviews provided by the customers. When it comes to Timberland Pro they are glowing and stand as enough confirmation of the exquisite quality these inserts have. It comes as a surprise the fact that even though they feature multiple technologies and are made by one of the most reputable companies in the endurance footwear, they are averagely priced making them an excellent value for the money.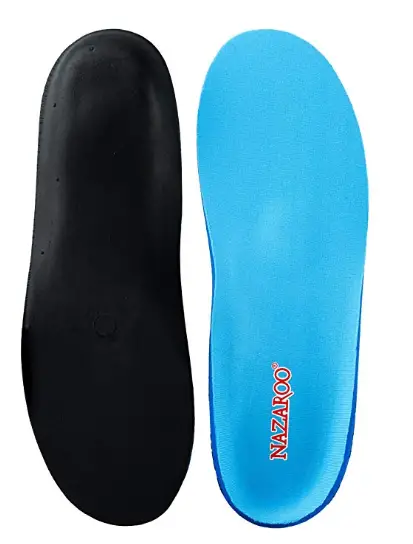 Your feet are aching and you don't feel like going to the court once again. Are you going to let painful feet ruin your day once again, or you'll finally do something about it? If you decide to take an action, try Nazaro insoles, comfortable and pleasant to wear, and which have helped many golfers alleviate their symptoms of flat feet, foot/ankle/knee/back pain, arthritis, overpronation, supination, plantar fasciitis and many more.
Read more
Features
These arch support insoles are designed to make you feel better and have a productive day with excellent performance. There's deep heel cup with a reinforced stabilizer cap which keeps your feet stable, aligned to the shoe and stress-free even in the most high-impact activities. The arch support is of medical grade and enhances the stability and comfort of your feet. They are made from high-impact foam layer which acts as a spring to your feet providing energy with every step you take. What makes Nazaroo different is the use of silicon as a material in the heel pad which is very effective in reducing pressure. The top layer is made from a breathable material which keeps your feet dry, odor free and cool.
Support and Comfort
Golfers often have excessive movement and they put a lot of pressure on their joints, muscles, and wrists which results in many foot problems. Nazaroo shoe inserts are made to provide relief from the pressure and absorb any shock that comes with every step. They distribute the weight evenly and make a difference in the way you go through the day. The firm arch is responsible for keeping the feet stable and balance in any possible type of shoes you decide to use them.
Cost and Value
We have said many times so far that reviewers provide the most unbiased insight about the functionality of any products, so the consistent number of reviews says a lot about how effective Nazaro shoe inserts are. In addition to being functional and effective, they are durable too, so for the price which is just a third of the most expensive arch support insoles, you get a terrific value for the money.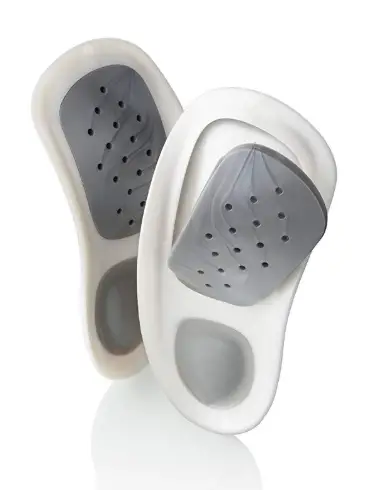 As you have already realized, these insoles differ greatly from everything else that we have discussed so far, both in their design and their construction. WalkFit Platinum solve your plantar fasciitis, over-pronation, feet pain with one simple, and yet complicated concept: by realigning your feet, you will have your body realigned. They are designed by doctors and focus on supporting your tendons, ligaments, muscles, and bones and thereby reduce the pain you feel.
Read more
Features
Unlike the other arch support insoles that we have on our list, these are made from thermoplastic and rubber proving to be 99% efficient in delivering foot pain relief, 98% efficient in helping relieve back and hip pain and 97% reported a decrease in their knee/leg pain. The unique possibility to customize the arch inserts which range from low, medium and high, as well as the special Reflexology acupressure massage insert, make them comfortable and adjustable for your specific needs. They also provide intensive cushioning and advanced shock absorption. The gel insole comfort technology is added to the Bio-Lock heel cup which is particularly designed to provide stability and reducing the risk of injury.
Support and Comfort
The advanced performance these insoles have will not improve the way you feel your feet, but the way you live your life too. They are engineered to help you align your spine and pelvic areas so that the pain that stretches from your feet to your back is maximally reduced. As you walk, the weight gets evenly distributed over your feet and that decreases the stress on your joints and ankles.
Cost and Value
When you have sharp and constant feet pain you look for the best solution to alleviate your pain and discomfort. That's what thousands of people did and were very satisfied with these Walkfit. Another positive thing about WalkFit is the fact that you get four different types of inserts for a very reasonable price that won't break the bank.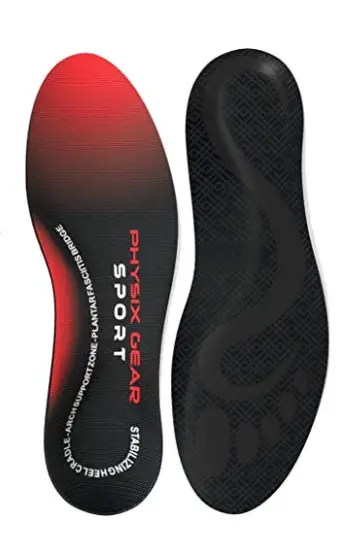 It is hard to be enjoying your daily tasks if your feet ache, if your heel spurs, or if you suffer from muscle fatigue or back pain. It is even harder to go to the course and indulge golf because it is hard to even get to the 4th hole, rest aside 18th hole. Not to mention conditions such as Achilles Tendonitis, plantar fasciitis, arthritis and many more, when even the thought of being longer on the feet causes pain. It is more than evident that you need help, and therefore Physix has been developed relief for all those conditions.
Read more
Features
The inserts have been ergonomically designed to help you re-align the feet and control pronation and flat feet. They have dual-layer cushioning with durable and medical grade EVA foam and PU material as their base is made with Variable Cushioning Technology which provides long-lasting comfort with a supportive arch system. Made with deep heel cradle designed for stability, ultra thin with a low profile design, they will help you stand on your feet as you are supposed to. Plus, the top layer is anti-microbial so, say goodbye to the bad odor too.
Support and Comfort
Their robust functionality is going to allow you to get your feet back and get back on your track. They are comfortable enough to be inserted in any types of shoes, most preferably to daily casual shoos or sports footwear. Meticulously designed to reduce pain, the heel cup, and the semi-rigid arch support increase stability and prevent excess pronation. As this condition is the contributing factor in many sports injuries, by wearing them you prevent your feet from getting additional foot-related issues.
Cost and Value
When a product lives up to its description it gets thousands of positive reviews just like these inserts do. They are functional and versatile, providing added comfort for many types of ordinary or strenuous activities. Priced just half the price of name-brand inserts, satisfied buyers claim that you will get the same comfort and support as the one delivered by premium products. Plus, in case they fail to meet your expectation you can have your money back.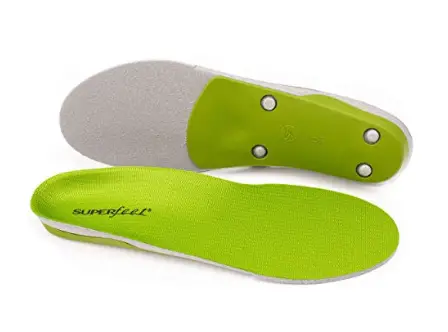 For about 40 years this model has been sold with unsurpassed success and it has been barely changed due to its high quality and the support it provides. It is a heavy duty shock absorbent which provides professional-grade orthotic support. Superfeet provides stabilization of your feet when you need to walk for a long period of time through the distinctive shape of the liner with the deep and structured heel cup. This model is suitable for medium and high-volume footwear ranging from sports or hiking shoes to casual footwear.
Read more
Features
It is the design and the performance that has made Superfeet so popular over the years. On the base, there is a stabilization cap that provides stability and structure to the foam layers, while the heel cup absorbs the shock. The closed-cell foam layer is of high density which delivers superb cushioning and long-lasting comfort. The coating is organic and eliminates the odor-creating bacteria leaving your feet fresh and cool.
Support and Comfort
Superfeet offers effective and longterm feet support that allows you to freely move around the course or anywhere you are up to. These are high-end products that have a very detailed and structural shape made to aid your feet. The deep heel cup is much wider and deeper and is very effective in absorbing the shock from the impact. Biomechanically shaped, it reduces the stress on the feet, knees and the ankles.
Cost and Value
Superfeet is known to be very effective in delivering premium arch support and cushioning, however, they are also known to be very expensive, costing more than a pair of shoes. Interestingly enough, that doesn't prevent them from being the most sold insoles because people have recognized their quality and endurance and are willing to pay more for a product that guarantees a superb feeling of comfort and pain relief.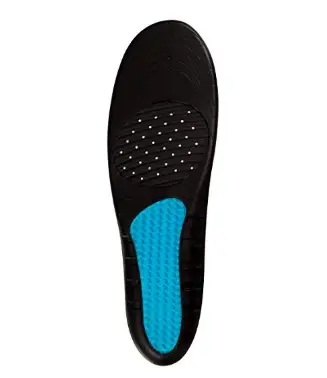 There are different types of insoles made from Dr.Scholl, however, we have decided to single out this one because it has one extra feature, a gel-massage cushioning. They are specially made for people who spend their days on hard surfaces or people who walk long distances. These insoles make a good choice for golfers who spend more than 4 hours of intensive walking on different court conditions which often leads to increased feet pain and muscle fatigue.
Read more
Features
The feeling is awesome when you know that there's cushioning and support in the shoes that allow you to extend your walking or standing time without causing feet and muscle pain. These insoles do a great job by gently massaging your feet with the added gel cushioning on the heel area which causes enhanced circulation and energy return. Plus, they help your feet feel fresh and cool thanks to the air vents which prevent moisture retention from sweating.
Support and Comfort
We all need feet massage from time to time because it helps blood flow and circulation, which means you feel less tired and heavy. Thanks to the cushioning gel waves which act as springs which cushion the feet, you get comfort all day. They are especially recommended for anyone who suffers from muscle fatigue, achy, sore and tired feet, i.e. people whose feet are flat or with a high arch, overweight people and those who spend the day on hard surfaces or walking long hours. Dr.Scholl will make you feel energized and the effect can be seen almost immediately.
Cost and Value
Never underestimate the power of a good sock liner since it is the first contact with your feet and when it is well made and designed to provide relief to your achy feet, your daily chores and the enjoyment you get from your favorite activities will get back to normal. Dr.Scholl a good choice with all the features it has it is most definitely something that is worth trying. Another plus is the reasonable price it is being sold for, so it is a great value for the money too.

7

. Sof Sole Athletic Performance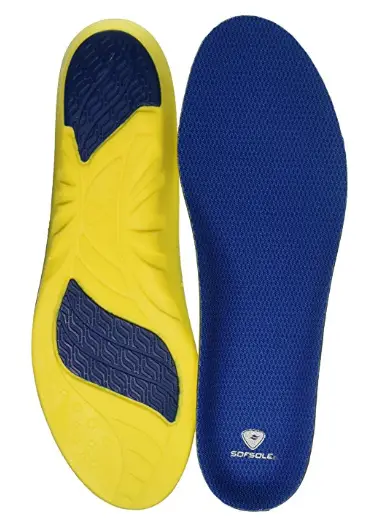 We couldn't have made our list complete without Sof Sole, the company that has been growing steadily throughout the years offering various foot care and footwear products. The Athletic Performance insoles are most definitely not the only inserts that the company makes, but they fit our preferences because they are specifically made to fit athletic or casual footwear. They feature a neutrally contoured design of the arch which fits most of the foot types. The gel pads provide added cushioning and increased performance, so if you are a golfer who is determined to walk for 18 holes, then these might be the perfect option for you.
Read more
Features
The Athlete Performance is specifically designed for sports activities and walking and it is a great all-purpose insert that improves the way you feel your feet. They feature Hydrologix treatment which provides moisture-wicking control while the gel pads which can be seen in the heel and the forefoot deliver added comfort to the areas of the feet that are most prone to impacts. The antibacterial Microban which is embedded in the foam inhibits the growth of all the bacteria that cause odor, yeast or microbial. Plus, it protects from stains, it is easy to clean and protects from wear and tear.
Support and Comfort
Athlete Performance is designed to provide cushion and shock absorption which deliver ultimate performance and comfort. It isn't easy to spend your days walking on the court for hours when your feet just don't feel right and when you know that you have to get something which will make your days easier, Athletic Performance is the right choice. Plus, feet have another enemy-the odor creating bacteria! Because of this, these inserts are bound to keep them away from your feet and make your feet dry.
Cost and Value
Athlete Performance is intended for daily use and fits casual and athletic footwear. It relieves your feet, provides extra cushioning, controls the moisture by wicking the moisture away and keeps your feet dry and fresh. The counter neutral arch design makes them suitable for most footwear types. They are reasonably priced for the effect they have and are a truly good value for the money.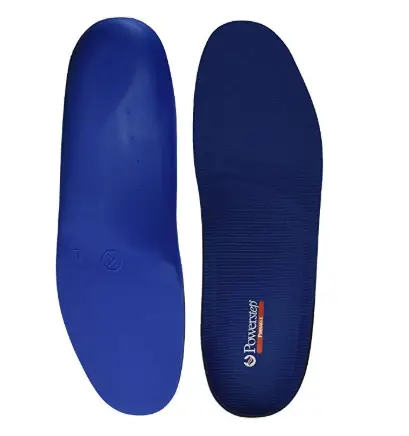 There are many foot conditions that can drastically deteriorate people's regular lifestyle and if you are a golfer who is suffering from plantar fasciitis, flat feet, sore and tired feet, metatarsal pain, to name just a few, then you are probably more frequently skipping your rounds then attending them. No wonder though since these conditions if not treated or alleviated, then they can cause difficulties when walking which means golf might not be an option for you. But, you can help yourself by choosing the right shoes and the right insoles, such as Powerstep Pinnacle, which is made to aid your walking when you are facing foot conditions.
Read more
Features
Made from EVA foam on the base and plush on the top, this liner is soft and designed to provide you with maximum controlled and targeted cushioning delivered by Variable Cushioning Technology. The plush fabric reduces friction and manages the heat, helping your feet stay dry and cool even if you are doing a strenuous activity. And, as we know that bad odor is often associated with wet feet, the absence of moisture will lead to a reduction of bad odor too.
Support and Comfort
This liner features semi-rigid support which is a bit firmer and thicker than many ordinary ones but it has deep heel cradle which increases the stability and the support of your feet. The way it is made provides increased motion control while walking. In addition to the support, these liners are ideal orthotic for pain reduction caused by many feet conditions and can be used from one shoe to another. The liner is suitable for all arch types and all shoe types.
Cost and Value
Your feet condition can be manageable if you know what to look for. Pinnacle orthotic can help you put the pain under control and have those 18 holes without feeling overwhelmed by your feet conditions. If that is what you are looking for then these liners aren't as expensive as it looks at first glance.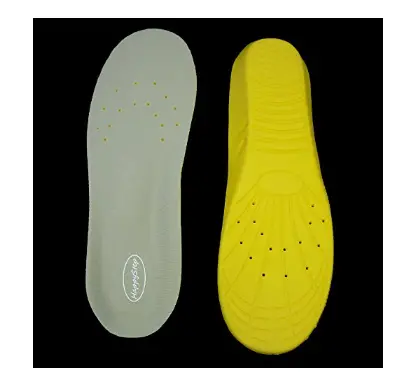 Do you know which is the most flexible material when it comes to insoles? I am sure that you have heard a lot about the memory foam and its ability to adapt to the shape of your feet. This material is widely used in footwear products because it provides unmatched comfort and evenly distributed balance. Plus, the memory foam is good at providing arch support and absorbing heel shock.
Read more
Features
This insole type is made from memory foam that is very effective in providing long-term arch brace and very reliable cushioning throughout the day. The memory foam has thermal sensitivity that reacts to the heat coming from the feet, allowing to be shaped by the contours of the feet. That increases the stability and the balance, making you feel relaxed and relieved from any pain, discomfort or muscle fatigue.
Support and Comfort
There's no doubt that memory foam is one of the most comfortable materials that allow cloud-like feeling. Since the insert is suitable to be worn for all types of medium and high-volume footwear which can have their insoles removed, it can be a great fit for your golf shoes. Plus, many happy customers say that they are very durable and the effect doesn't diminish over time. So, to sum up, if you are looking for extra comfortable shoe inserts that help you reduce the pain from the aching feet, try HappyStep.
Cost and Value
Not only are these hoe inserts the most comfortable and supportive ones, but they are also very reasonably priced, and definitely the cheapest on our least. But their inexpensive price has nothing to do with their performance and durability since they last longer and provide you with excellent flexibility and comfort.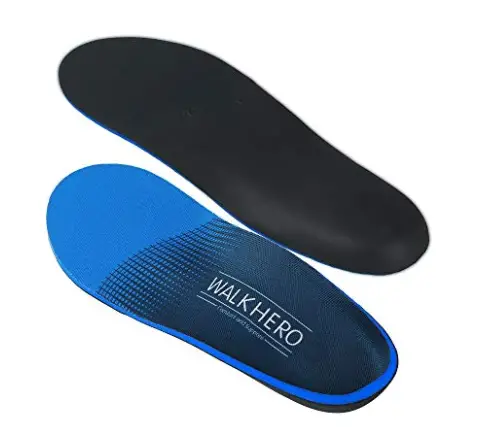 Did you know that most of your ankle and knee pain, muscle fatigue and even back pain come from your feet, i.e., the inappropriate support in your shoes? Add to this your condition such as plantar fasciitis, arthritis, flat feet, supination, etc and what you get as a result is painful feet and inability to walk properly. Some of these conditions such as plantar fasciitis can be particularly associated with golfers because it usually occurs when the person walks too long with improper heel brace. We have selected WalkHero as one more product which has been successful in solving these issues.
Read more
Features
WalkHero is made from a soft EVA material which is an excellent shock absorbent and helps the wearer feel comfortable with every step. The top fabric has a heat management system that delivers a cooling effect and anti-microbial treatment that kills 99.9% of the odor-creating bacteria. The liner is designed with a deep heel cup that maintains the appropriate heel positioning and protects it from heavy impacts. These insoles are designed to fit wider walking shoes or boots for your daily needs.
Comfort and Support
The design of this liner is made to allow your feet to stay stable and in the most natural position so that they don't feel overburdened and strained. It allows foot and leg alignment which is crucial for normal and pain-free body posture. The high-density foam layer manages to provide superior cushioning and energy return even for high impact sports. The 7mm arch support is designed to reduce the stress of walking caused on ankles, knees, and feet.
Cost and Value
For medical-grade foot support and increased stability, WalkHero is designed to help you go back to your most favorite activities. The price is affordable and the company offers a return and replacement policy in case you are not happy with the purchase.

Subscribe to our Newsletter