Best Adidas Sneakers
In a
Hurry? Editors choice: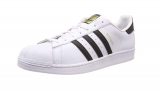 Test Winner: Originals Superstar

There aren't enough words to describe the most iconic brand when it comes to revolutionary sports footwear. Starting from the revolution they made in football shoes, up until the present date, they have never stopped to impress and inspire sports people around the world. Their success lies in the dedication to provide comfort, style, and performance to a level further to where they are. Motivated from their constant success to be the best by always integrating new advanced technologies, and driven to reveal new unknown spheres, they currently sell hundreds of different shoes for all sports with different styles and features. These ten that we have selected are just one fragment of their wide range of offer. Our focus is mainly on those
shoes that are suitable for playing golf
, even though not all of them are specifically designated as
golf shoes.
Standout Picks
Criteria Used for Evaluation
Materials
Materials are an integral part of each shoe and depending on what you need them for, you need to search for specific types of materials. For example, when it comes to the upper materials, there are several types of materials that are manufactured with proprietary Adidas technologies like ClimaProof or PrimeKnit. Among the most used materials, synthetic leather is the one that provides the greatest durability and protection from the weather elements. Other materials used for the upper are synthetic mesh, polyester and some models have suede accents.
Regarding midsoles, there are several materials that Adidas utilizes to provide well-known comfort and functionality. PU or Polyurethane midsoles are typical for higher-end brands, which means for the most expensive models. They are very durable, they can be endlessly compressed without being flattened and they resist to wear and tear even after being worn for many times, so they are an excellent option for those who frequently run or walk, such as golfers. The most common material found in Adidas shoes is EVA (Ethyl Vinyl Acetate) foam which also provides tremendous results in cushioning and durability. This material is capable of adapting to the feet of the wearers and provides synchronized and unobstructed movement and it is especially recommended for people who suffer from certain feet conditions. The downside of this material is the fact that it is prone to wear and tear and easy flattening. Another material used in Adidas sneakers is TPU which can be seen in Adidas Boost models and consists of small Styrofoam pellets that have high shock absorbing capacity, they are excellent in returning energy and are heat resistant. They are the new favorite and even though they appeared only in running shoes, they are now being used in almost all other models and styles.
Comfort
Of all the things you wear, footwear is the most important for providing general well-being and if your shoes aren't comfortable, then you are not going to feel comfortable too. As Adidas has about hundreds of different models and many different styles, the comfort will certainly depend on your foot type and the purpose of why you need them. So, in accordance with their materials and the purpose, you can choose the best ones to suit you well. What is directly related to the comfort is the air-flow and the moisture-wicking capacity, i.e. shoes that won't create the feeling of being hot and sweaty.
Durability
When durability is at stake, one should think twice when buying shoes. Again, durability is a factor that is closely related to the type of materials used and the technology used in the manufacturing of the products. So, as we mentioned above, those shoes that are made of leather or feature PrimeKnit technology in combination with TPU Boost sole are expected to last longer and provide greater endurance. If we talk about golf shoes, then we would expect this type of outsoles in combination with spikes and more determined points of contact as a guarantee of maximized effect.
Style
The style of the shoe matters since every individual has her/his own remarkable style that is part of his/her own personality and which defines the way he/she thinks about herself/himself and how the environment perceives that person. We, the common people, often tend to be driven by the fashion styles that many trendsetters feature and identify with them. Adidas has long been aware of this fact and therefore has appointed many celebrities to promote them by tracing new paths towards a much more integrated sports-fashion industry and recognizable styles. Many of the models that the company has launched on the market are truly unique and can't be related to any other, so that is definitely a sign of clearly defined vision and remarkable versatility.
Outsole
Since this is a golf-related site and since this article was more inclined toward the best sneakers that can be worn on the golf course, we considered mostly those shoes that feature outsoles that have good grip for terrains that match golf courses or similar. Therefore, we scored the highest within this criterion, golf shoes that feature TPU outsole with cleats.
Best Adidas Sneakers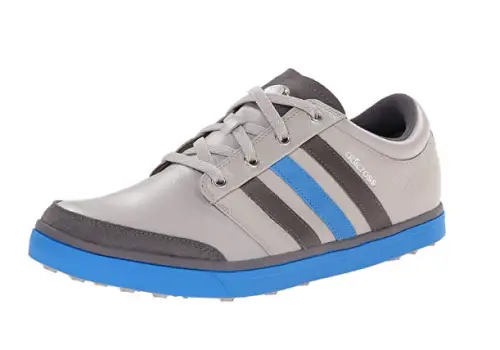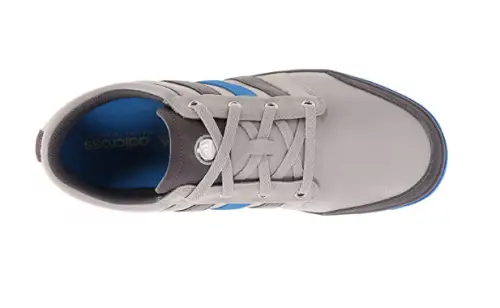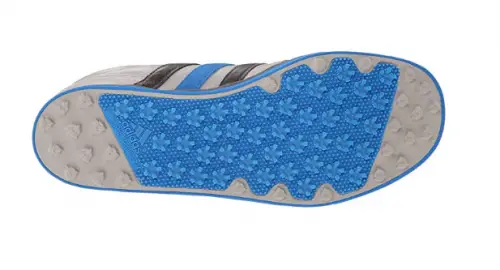 These tour winning champion golf shoes are mastery of themselves. First, the design is ultra-modern with a reminiscence of the classical models, but the technology used in their production is more than advanced. Secondly, they integrate premium materials in their craftsmanship that are rarely seen in other models. They are versatile, they boost performance and appeal to anyone who appreciates the value of excellence.
Read more
Upper Design
The upper is made from 100%synthetic leather, while contrast stitching, suede added accents, metal eyelets and a metal badge on the top of the tongue, add on its stylish design. It features ClimaProof technology which adds a barrier between the shoe and the weather elements and thus prolongs their durability. The soft lining and the suede top provide maximized comfort and increased breathability.
Sole Features
The insole these shoes have is very soft, featuring Fitfoam PU which increases the cushioning and the comfort that the golfers feel. The midsole also features PU foam which has a vulcanized sidewall that gives a sleek and stylish look and enhanced comfort. The outsole has been brought to the level of perfection featuring 43 grip cleats that provide 243 points of contact which drastically increases the performance.
Cost and Value
Many golfers claim that there haven't been any better golfers' all-seasons shoes. They are stylish, functional and very comfortable. Having all those features, one might expect to be priced much higher, but, no, their price fits within the average range of golf shoes which makes them an excellent value for the money.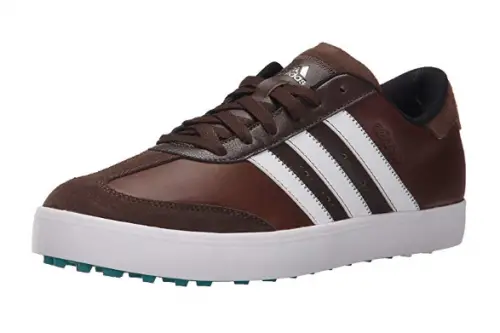 Golf is a game of style, elegance and particular sophistication in terms of game thoughtfulness, focus on every single detail and superiority. Nothing less is these spikeless golf shoes, made to inspire golfers who know what exquisite design and elegance on the course mean. The full leather upper makes them suitable for several weather seasons and the construction provides stability and balance, as the key factors when it comes to golf shoes.
Read more
Upper Design
Inspired by classic elegance and driven by advanced technological possibilities, Adidas was able to blend the past with the future making the leather and suede upper a perfect combination to inspire on the golf course. It features Climastorm technology, which is a water-resistant technology applied on fabrics, which protects you from moisture getting into your feet but at the same time allowing intensive breathability and air-flow so that any perspiration that occurs inside your feet is quickly released and dried out. The lace closure and the three stripes mark them as authentic Adidas design.
Sole Features
The sole is made of rubber and the outsole features the adiWEAR technology that makes it super resistant to wear and tear and gives it the capability to stay firm on the turf. Together with the PureMotion spikeless technology, which utilizes 72 strategically placed points of contact, provide stable grip and traction and make the feet stay stable on the ground without being exposed to the danger of sliding. The insole offers superior cushioning, even when walking on the hard surfaces since it features Cloudfoam that molds to shape of the feet providing effective and long-lasting comfort.
Cost and Value
This classy elegant golf shoe provides versatile use on and off the course. It is lightweight, comfortable and it will keep your feet protected from the elements. It is appropriate to be worn for long hours and it will give you the feeling of energized feet which are fresh and relaxed. For the effect it provides, we can say, and the buyers agree, that it is a good value for the money.



These new generation golf shoes will take you to a different level of your golf performance, making your stay on the golf course more enjoyable, less tiring and super effective. The branding, the construction, the laces design, they provide an improved and new offer for the golfers on the course who appreciate innovation when it comes to shoe comfort. Based on long term scientific research and combined with the biomechanical science, these shoes are created to alleviate golfers from all previously known obstacles regarding long-term walking and the effect it created.
Read more
Upper Design
The upper is made of 100% microfiber leather that has enhanced air-flow and breathability and prevents perspiration and moisture retention. It features ClimaStorm technology that protects your feet from weather elements and makes it completely waterproof. This material is easy to maintain and it resists to staining. What is remarkable when it comes to the upper design is the L6 BOA closure system situated on the top of the tongue which allows for greater micro adjustability and totally different Powercage saddle construction instead laces which retains the power.
Sole Features
Even though it is regular fit, it is designed with wider forefoot featuring added support on the heels and the mid of the foot. It comes from the flexible cushioning that is designed for the midsole and which allows better bounce which in turn prevents muscle straining and impressive energy return. The outsole construction features 6-spike TPU construction which places secondary lugs on strategic positions to provide greater stability, balance and tour-proven grip.
Cost and Value
When you want to receive extra energy form the shoes as feedback to what you have given, then these shoes are ready to respond in the most comfortable manner ever, in a way that it will exceed your expectations in the most comfortable way. They are the new favorite among the golfers and the price corresponds to what they offer.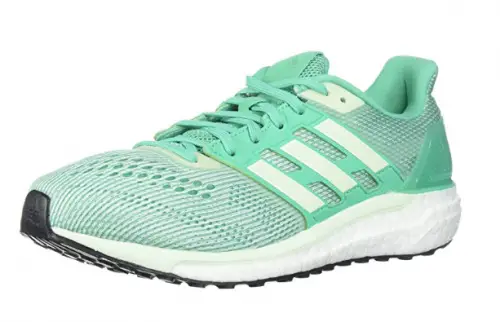 The Supernova series has always been among the favorite models of runners and this updated model hasn't considerably changed. These shoes will allow greater performance for lesser energy since they have the capacity to boost the energy back and provide unrevealed new comfort. Many runners prefer these as their featured choice and they can be also appropriate to be worn while training, including golf, due to their anti-slippery grid.
Read more
Upper Design
The mesh that this model is designed with, even at first glance looks different, and it certainly is because it is an improved engineered mesh which is made to allow extra air-flow. That delivers the effect of dry and cool feet which helps prevent over perspiration when you get heated. The fabric is seamless and perforated, while the synthetic pieces support the back of the heel and laterally.
Sole Features
This outsole is a bit different from the previous series due to its grip which is very lightweight and made of Continental TPU rubber made to provide stability in all conditions. The StretchWeb technology has a web-like design that integrates the midsole with the outsole to provide a full-length boost and to feel less fatigue and more energy. The Boost foam which is made from TPU pellets delivers spring-like energy boost, while the Torsion System, i.e., the supportive piece placed in the midsole, decreases the extra flexing on the foot arch and connects the front and the back of the feet. That way, the whole foot has more control, it is has enhanced protection, balance and stability.
Cost and Value
These are among the best running shoes according to many buyers. They are comfortable to the level of perfection, your leg is protected when you wear them and it boosts your performance. When it comes to the price, it was much higher when they were first launched, however, these days you can find them much cheaper on promotions and special deals. It also varies depending on color choice and size.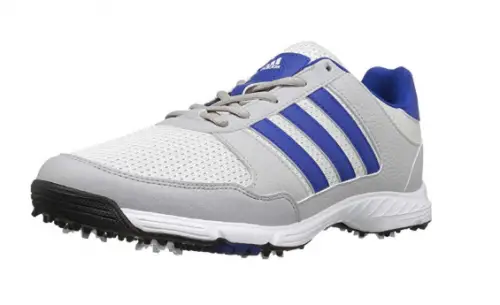 If you are a golfer than you are familiar with the feeling of tiredness in the feet as you approach the 18th hole, especially if you walk throughout the course. Adidas golf shoes are designed to meet golfers needs and provide them with the feeling of added comfort by trying to neutralize the aching-feet moment in the most cushioning shoes. These golf shoes are the most unobtrusive and yet elegant and stylish shoes that will deliver optimized performance as you stroll confidently on the court.
Read more
Upper Design
As they are blending two types of materials, 75% microfiber leather, and very airy mesh, they maximize the air-flow and enhance the breathability so that your feet don't get hot and sweaty. Featuring the minimalistic Adidas style with the three stripes and the classic look, they definitely leave an impression of a designer thoughtfulness and golfer's elegance. The three stripes and the lace closure fit perfectly in, while the multiple color choices appeal to different golfers' preferences.
Sole Features
What represents the winning feature in these sneakers, is the technological perfection in the sole construction. The extended comfort is achieved by the removable EVA insoles which adapt to the feet while walking. The outsole features adiWEAR durable rubber which is resistant to wear and tear while the ThinTech low-profile technology enhances the stability and traction on the court by integrating 6-spike removable configuration.
Cost and Value
This golf shoe is made to relieve golfers from feeling their feet heavy and restless. They are sophisticated and yet low-profile, elegant and very lightweight. The combination of golfer's outsole for better traction and grip, the comfortable design of soft and flexible insole and midsole make it one of the most sold Adidas shoes. In addition to these perks, they are also one of the most reasonably priced golf shoes, so you get a great value for the money.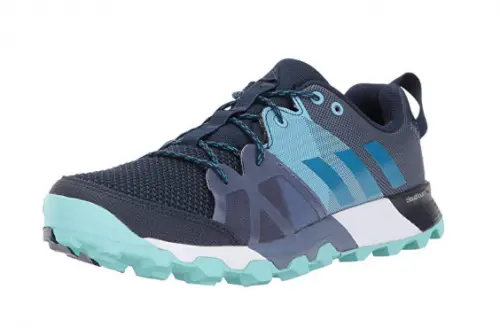 These shoes will provide extra relief if you are a hiker, a walker or a golfer since they are designed to be worn for many hours. Golfers and hikers are especially aware of the fact that when it comes to walking, it is more than crucial to have the right shoes on to prevent blisters, foot swelling or excessive tiredness. When such distractors occur, they considerably change the performance rate, lower the confidence and the feeling of satisfaction. Let's take a look at this shoe design and see what makes it be one of the most preferable Adidas models.
Read more
Upper Design
If you are familiar with Kanadia series, you will notice that the latest design has been revamped to make them more durable and feet-supportive. They are made of sturdy ripstop material which is particularly durable and which has added synthetic underlay that functions as side support. The mesh provides increased air-flow and superior breathability, while the synthetic part is smoothly joined together with the laces that provide the closure. The vivid combination of colors increases their peculiarity and attractive design.
Sole Features
This model features Traxion outsole which uses rigged luge that is designed for any outdoor sport that is played under different surfaces because it has a super sturdy grip made from blown rubber and carbon, which provide excellent durability and traction. This model also features molded Cloudfoam midsole which has the role of cushioning every landing impact. The well-known Ortholite insole made of soft foam provides added comfort and doesn't absorb water.
Cost and Value
These shoes are designed to impress both, the wearer and the surrounding. Regardless whether you wear them on the golf court, hiking trail or for your work, they won't fail your expectations and will provide a feeling as if walking on a soft pillow. This premium comfort isn't going to cost you more than any other averagely priced Adidas shoes, so they make a good value for the money.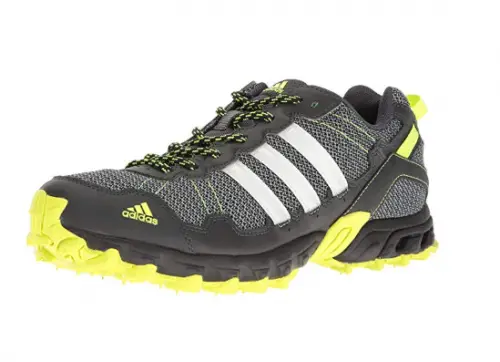 Some shoes give you confidence once you see them and make you realize that they will provide you with the most exquisite feeling of pleasure and performance. The sturdy look this shoe has and the visual aesthetics which is welcomed by many, make this shoe stand out. Even though it is advertised as a running shoe, the rugged outsole with the added grip makes it suitable not only for trail running but also for playing golf since it will prevent slipping on the course. This shoe will provide you with a secure step on a flat and slippery surface and soft, but stable support of the feet, ham, and ankles.
Read more
Upper Design
One of the things that are seriously praised in this shoe is the upper design and the attractive looks it has. It is made from mesh and a knit material which enhance the air-flow and the breathability, making the feet feel comfortable inside without getting too hot or too sweaty. Plus, it has added synthetic overlays that add strategic support making the whole construction sturdy and compact and which create the frame of the shoe itself. The cushioning this shoe provides doesn't only come from the soles but also from the tongue and the collar which are padded and soft.

Sole Features
The reason why many buyers buy this shoe, including golfers, is the outsole design that uses adiWEAR technology, making it extra strong and rubberized and which resists to wearing and tearing regardless of the harshness of the terrain. The gripping lugs are easy to release gathered mud and sludge, so they are going to retain their lightweight while confidently taking you to any terrain. When it comes to the midsole, it provides the maximized protection of the feet and impacts the shock when the feet land the ground, while the molded Ortholite insole made of molded foam extends the cushioning and supports the arch.
Cost and Value
This versatile shoe is praised by many buyers to be their number one choice when it comes to trail running, walking on different surfaces or playing golf due to the grip design and the sporty robust looks it provides. The shoe is very lightweight and comfortable and supports your feet. The price is more than reasonable when it comes to this type of Adidas quality.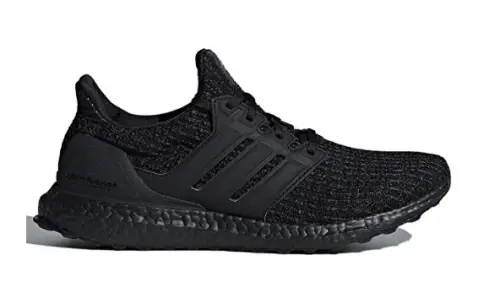 When you put your feet in these extra light shoes you'll experience another level of comfort that only Adidas is able to deliver in the most unique way. What makes these running shoes stand out in the myriad of plenty of other options, is the specific design that allows them to adapt to the individuality and specifics of each unique feet. They are so lightweight and comfortable but at the same time energy engaging that you'll feel better wearing them than being barefoot.
Read more
Upper Design
The upper design looks strikingly different to a point that it has become a distinguishing feature of being an individual Adidas design. Some say it reminds them of knitted socks, and indeed, at first glance, it does so, however, there's serious technology behind. It features the proprietary PrimeKnit Adidas technology which is a method that provides the knitting in a digital manner, so the entire upper is made into one piece with fused yarn that provides fine-tuning of sufficient support and flexibility which is needed in every segment of the shoe. It is strikingly breathable, shapes to your feet and provides a snug and customized fit. It has a coating that makes the shoe water resistant and it comes in more than ten color choices.
Sole Features
The other specific characteristic that this model has is the extreme cushioning which is responsive to the energy you provide. Made with a rubber sole which has a molded heel counter that allows unobstructed movement in the back of the heel. It features Torsion System which is actually a thermoplastic arch that assists the forefoot and the back of the foot to adapt to different surfaces without straining the muscles on the foot and making the mid part of the foot to adjust to the ground. When it comes to the insole, it is made of waffle-textured EVA material and it has Ortholite insole. The outsole features STRETCHWEB rubber that has great flexibility and which delivers significant traction in all weather conditions.

Cost and Value
This is an amazing shoe that can adapt to any feet size and shape. It is one of the most frequently bought models because it does give proportional feedback to the energy that you give. It is a neutral model that can be used for training and doing many sports, including golf too because of the rubber sole that has good traction and grip. The price is not low, but it goes in line with the quality of the product.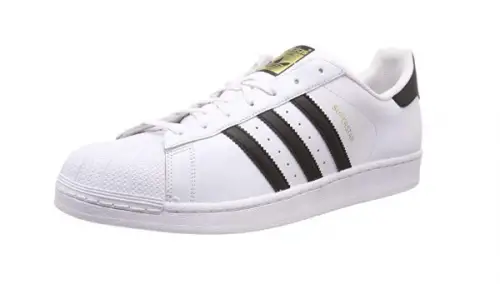 We can't be possible talking about Adidas, without including the cultural icon that traced the path of glowing success into the street fashion and youthful pop culture. This shoe has marked the historical success of Adidas shoes being worn literally for every occasion and many famous trendsetters like Chris Brown or Gigi Hadid wear them and promote them as their favorite shoe choice to millions of people worldwide. Its versatility and multi-functionality seem to never get it out of fashion and so far it has had 20 special editions.
Read more
Upper Design
In direct opposition to its popularity stands its minimalistic design featuring only the three stripes and the trefoil logo on the tongue which just marks the make of the shoe but which is at the same time strikingly visible between the laces. The upper is made of 100% leather which is rather stiff but which keeps the overall structure of the shoe. In the toe area, there is a rubber shell that is unique of its kind and which adds to its durability. The low-cut structure provides greater comfort around the ankle, but at the same time, it supports the foot to stay firm inside.

Sole Features
The outsole is made of rubber which is designed to provide excellent traction and grip. As they originally were designed to be basketball shoes, it features good herringbone patterned grip to prevent sliding. It has a synthetic leather lining which adds comfort while wearing. The overall feeling while wearing them is stability, fit snug and balance.
Cost and Value
When you want to make a fashion statement you can't go wrong with this shoe, as many trendsetters have already confirmed it. This is the shoe that can be worn with any types of clothes in various occasions, from training to bars, for many generations. It is the shoe that has prevailed in the world of sports fashion for many years and generations. The second best thing is its affordability, and therefore its popularity.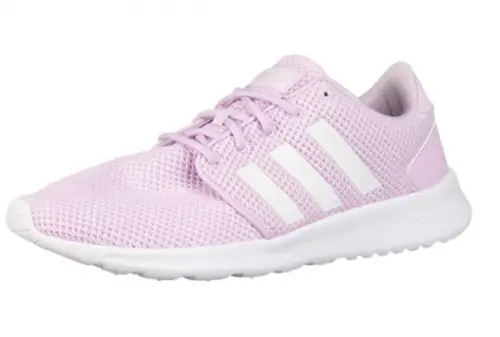 There are different types of shoes for different purposes, and these might not be the perfect golf shoes, however, these are excellent on-the-go daily walkers that will take you long distances without feeling pain in the feet or discomfort. People describe the feeling they provide as walking on the clouds and definitely that was the intention of Adidas when making these shoes. They are super light and let your feet truly rest in them.
Read more
Upper Design
For those that incline more on the low end, these shoes will provide satisfaction coming from the seamless three stripes and the Adidas quality design. The upper is made from textile mesh which is very lightweight and provides snug and stable feel. The mesh is soft and comfortable with a certain amount of breathability with lace closure on it. They come in a wide range of colors varieties.

Sole Features
The sole in the shoes are made of rubber and it is extremely light, flexible and comfortable. The midsole features EVA heel pad cushioning which provides maximized cushioning and enhanced foot support. The sock liner features Cloudfoam memory which has the capability to mold to the foot which in turn results in much superior comfort while walking or running. The outsole is a blend of Eva material and rubber which makes the shoes flexible and supportive.
Cost and Value
This is a basic Adidas low-top model that delivers comfortable and light walking which is not going to make your feet tired or painful. They are on the low end when it comes to their price too, so if you want to have the three stripes and the basics of Adidas, these are an excellent option to keep your budget.

Subscribe to our Newsletter