Best Adidas Sneakers
In a
Hurry? Editors choice: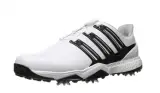 Test Winner: Powerband BOA

There aren't enough words to describe the most iconic brand when it comes to revolutionary sports footwear. Starting from the revolution they made in football shoes, up until the present date, they have never stopped to impress and inspire sports people around the world. Their success lies in the dedication to provide comfort, style, and performance to a level further to where they are. Motivated from their constant success to be the best by always integrating new advanced technologies, and driven to reveal new unknown spheres, they currently sell hundreds of different shoes for all sports with different styles and features. These ten that we have selected are just one fragment of their wide range of offer. Our focus is mainly on those
shoes that are suitable for playing golf
, even though not all of them are specifically designated as
golf shoes.
Standout Picks
Criteria Used for Evaluation
Materials
Materials are an integral part of each shoe and depending on what you need them for, you need to search for specific types of materials. For example, when it comes to the upper materials, there are several types of materials that are manufactured with proprietary Adidas technologies like ClimaProof or PrimeKnit. Among the most used materials, synthetic leather is the one that provides the greatest durability and protection from the weather elements. Other materials used for the upper are synthetic mesh, polyester and some models have suede accents.
Regarding midsoles, there are several materials that Adidas utilizes to provide well-known comfort and functionality. PU or Polyurethane midsoles are typical for higher-end brands, which means for the most expensive models. They are very durable, they can be endlessly compressed without being flattened and they resist to wear and tear even after being worn for many times, so they are an excellent option for those who frequently run or walk, such as golfers. The most common material found in Adidas shoes is EVA (Ethyl Vinyl Acetate) foam which also provides tremendous results in cushioning and durability. This material is capable of adapting to the feet of the wearers and provides synchronized and unobstructed movement and it is especially recommended for people who suffer from certain feet conditions. The downside of this material is the fact that it is prone to wear and tear and easy flattening. Another material used in Adidas sneakers is TPU which can be seen in Adidas Boost models and consists of small Styrofoam pellets that have high shock absorbing capacity, they are excellent in returning energy and are heat resistant. They are the new favorite and even though they appeared only in running shoes, they are now being used in almost all other models and styles.
Comfort
Of all the things you wear, footwear is the most important for providing general well-being and if your shoes aren't comfortable, then you are not going to feel comfortable too. As Adidas has about hundreds of different models and many different styles, the comfort will certainly depend on your foot type and the purpose of why you need them. So, in accordance with their materials and the purpose, you can choose the best ones to suit you well. What is directly related to the comfort is the air-flow and the moisture-wicking capacity, i.e. shoes that won't create the feeling of being hot and sweaty.
Durability
When durability is at stake, one should think twice when buying shoes. Again, durability is a factor that is closely related to the type of materials used and the technology used in the manufacturing of the products. So, as we mentioned above, those shoes that are made of leather or feature PrimeKnit technology in combination with TPU Boost sole are expected to last longer and provide greater endurance. If we talk about golf shoes, then we would expect this type of outsoles in combination with spikes and more determined points of contact as a guarantee of maximized effect.
Style
The style of the shoe matters since every individual has her/his own remarkable style that is part of his/her own personality and which defines the way he/she thinks about herself/himself and how the environment perceives that person. We, the common people, often tend to be driven by the fashion styles that many trendsetters feature and identify with them. Adidas has long been aware of this fact and therefore has appointed many celebrities to promote them by tracing new paths towards a much more integrated sports-fashion industry and recognizable styles. Many of the models that the company has launched on the market are truly unique and can't be related to any other, so that is definitely a sign of clearly defined vision and remarkable versatility.
Outsole
Since this is a golf-related site and since this article was more inclined toward the best sneakers that can be worn on the golf course, we considered mostly those shoes that feature outsoles that have good grip for terrains that match golf courses or similar. Therefore, we scored the highest within this criterion, golf shoes that feature TPU outsole with cleats.
Subscribe to our Newsletter