Aztec Secret Indian Healing Clay
Like many of us today, we enjoy spending time outside, whether it's playing golf or partaking in a wide variety of different outdoor activities, especially in the summertime. Being in the sun all day can definitely drain your energy, so what do you do to relax? With that in mind, after spending the day outside, do you have a skin care routine that you follow to keep your skin looking and feeling refreshed and smooth? Taking care of your skin is not only important for your health but it also important for your appearance. From clogged pores and acne to sun spots and breakouts, we discovered that this deep pore cleansing facial and body mask by Aztec Secret will make a great addition to your skin care routine and help maintain healthy and smooth skin. This at-home mask is made of 100% Natural Calcium Bentonite Clay. From our research, we discovered that this unique clay is formed once volcanic ashes age and naturally removes toxins from your skin.
This product by Aztec Secret is very very popular and in high demand in the market today. This option can be used by anyone and is a great choice for those who golf often as well. It is very easy to use and we guarantee that you will see a difference in your skin once you use it. For this review, we extensively researched this wonderful product my Aztec Secret, continue reading to learn what we found!
Pin for later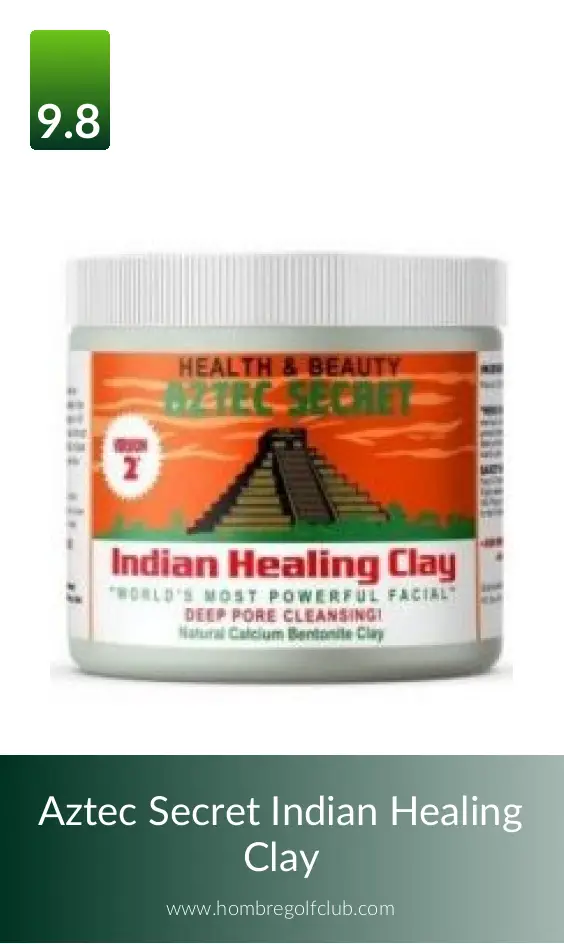 Editor's Pros & Cons
This product is made of 100% Calcium Bentonite Clay
Cleans deep into your pores and removes dirt, build up, oils, and dead skin
When using, a little product goes a long way
No additional additives are added to this product
Contains 2 all natural ingredients, the mask mix, and water or apple cider vinegar
Simple to apply and use
Can create multiple different masks that will suit your needs
Provides healthy, natural benefits to your skin
Some reviewers state that after using this mask it will leave your skin red but it is normal and will go away
Must use with a non-clogging moisturizer after use for best results
Benefits
I am certain we can all agree that using a cleansing face and body mask comes with a plethora of benefits from healthier skin, protection against harmful and harmless skin conditions to allowing yourself some alone time to sit back and relax. If you battle with skin discoloration, blackheads, acne, and other skin issues, this product by Aztec Secret is a great option. Continue reading to learn more about these benefits in depth.
After doing extensive research we found that this product by Aztec Secret is one of the very best on the market. Are you looking for a
skin regime
that will keep your skin clean and clear? Using this product can definitely help you with that. Using a cleansing face and body mask will help you achieve more refined pores and clearer skin. How this works is, once applied, it cleans deep into your pores and effortlessly removes dirt, dead skin, and oils. Regularly cleaning out your pores will help stop build up and prevent clogged pores.
Another benefit we would like to point out is
how hydrated
your skin becomes when you start using this product. If you suffer from dehydrated or dry skin, this option by Aztec Secret will help your skin stay hydrated and moisturized. Just like how it helps keep your pores clean and unclogged, this product is
designed to improve
your skin's elasticity and softness by passing through your skin epidermis level.
We also discovered that using this product regularly will help reduce the appearance of wrinkles, discoloration, and fine lines. Medical News Today states that Hyper-pigmentation or discoloration occurs when your skin produces more melanin, which is the pigment that gives your skin color. Hyper-pigmentation is a common skin condition but don't fret, it is harmless and can be prevented by avoiding extreme sun exposure and picking at scabs on your skin. Overall, the benefit that this product offers for hyperpigmentation is that it helps even out your skin color and texture.
Spending hours on the golf course can leave you exposed to harmful UV rays from the sun. Using this cleansing facial and body mask by Aztec Secret will ensure that your skin texture and tone is smooth and even. Lastly, we found that using this product after a long day will
support relaxation
. Who doesn't want to relax after a long day outside? De-stressing will not only make you look and feel better but with less stress, you can focus more on the golf course.
Ingredients
If you are in search of an all natural product for normal and sensitive skin, this option by Aztec Secret is an exceptional choice. It is made of 100% natural Calcium Bentonite Clay and raw apple cider vinegar or water. These natural ingredients have been studied and proved that Bentonite Clay removes dirt and toxins from your skin. Once applied to your skin you will immediately feel these natural ingredients getting to work. This product is free of fragrances, additives, and is not animal tested. This product by Aztech Secret is a great option for those who want to keep their skin hydrated, smooth, and healthy.
Ease of Use
This face and body mask is very easy to use but before you do so it is highly recommended that you do a small test on your arm to ensure you are not allergic to this product. The manufacturers state that you must mix the clay with equal parts of water or raw apple cider vinegar. They also recommend for best results that you mix these ingredients in a wooden, glass or pottery bowl. Once everything is placed in the bowl, mix it until you achieve a smooth paste like texture. If you need to add more clay or liquid to the mix you can do so as needed. Once you achieve the smooth paste-like consistency and amount, it is recommended that you apply ⅛ to ¼ of an inch thick layer as even as possible to your face or area of your body you want to use the mask on.
Once the mask is applied, all you have to do is wait a few minutes to let it dry. Now, how easy was that? Some have stated that they have left the mask on for 5 minutes, especially
if you have sensitive skin
. On the other hand, others have left it on for 15 to 20 minutes. Next, once you are ready to remove the mask, the instructions state that you must use warm water to wash the clay off. Some reviewers have said that once you remove the clay you may notice some redness which will disappear in about 30 minutes.
Additional Features
With all the benefits this product by Aztec Secret offers we were very surprised to learn that there are more features than the ones we listed above. Our skin is exposed to all the different elements on a daily basis and some of these molecules can damage your skin by attaching and weakening your skin cells. Continue reading to discover a few more features we found that will not only help and protect your skin but will assist in lowering your stress levels.
From our research, we discovered that by adding equal parts of brewed green tea and a minimum of 500mg of Vitamin C to your clay mix, will create an antioxidant mask. If you are not familiar with what antioxidants really are, don't worry, an article written by Chloe Metzger for Marie Claire perfectly breaks down in layman terms what antioxidants are. Overall, antioxidants are vitamins and minerals that protect your skin. With that being said, vitamins and minerals such as A, E, C, and even green tea are the most popular. By creating this antioxidant mix with Aztec Secret, your skin will be protected from these harmful elements. We found that antioxidants can also reduce irritation, smooth hard facial lines, and even
brighten your skin
. The use of green tea and Vitamin C in this mask will surely make your skin smooth and bright but also protect you from the loose particles in the environment.
Doesn't a relaxing foot facial sounds amazing after spending a full day standing and walking around on the golf course? Well, we discovered that you can create a foot facial by adding Pau d'Arco Tea and tea tree oil to your Aztec Secret clay mix. Beauty reports all across the market say that healing teas will help you achieve youthful and healthy skin. Pau d'Arco tea specifically provides a plethora of natural health benefits which include anti-bacterial and anti-microbial to the acceleration of the healing of wounds and scars on your skin. This is a great option to keep bacteria from growing on your feet due to being enclosed in your golf shoes all day.
Cost and Value
Like many of us, the value and price of a product are very important and something we all take into consideration before purchasing an item. After doing extensive research on this amazing product by Aztec Secret, it is safe to say that compared to other masks on the market, this one hits a home run. It is not only the best bang for your buck but with all the benefits it provides, it is extremely hard to beat. Who wouldn't want smooth and healthy skin, right?
We discovered that for under $15 you receive 1 pound of clay. Compared to others, this is a great value - especially since a little bit of product goes a long way in this case. If you don't already have raw apple cider vinegar, you will have to purchase that separately, don't worry though, it
will not break your bank
. If you prefer to use water, which is free, that works too. Overall, this all natural product by Aztec Secret is a great option.
Key Features
After all our research it is evident that this product by Aztec Secret is the best deep pore cleansing face and body mask on the market today. Its features improve your skin no matter if it's your face or another part of your body. Its natural ingredient, Calcium bentonite clay is one of a kind. It will not only remove toxins from your skin but it will protect your skin from allergies, irritants, and build up.
Spending a long day on the golf course can definitely wear you out. Coming home and doing a mask will give you the relaxation you are looking for and additional benefits.


Safe to use on all skin types (if your skin is sensitive, do not leave the mask on for more than 5 to 10 minutes)


Made of 100% Natural Calcium Bentonite Clay


Highly recommended for serious and non-serious skin issues


Provides healthy natural benefits


Very easy to use


Bottom Line
When all is said and done, who wouldn't want to relax after a long day on the golf course right? As we mentioned above, using a mask, whether on your face, body, or feet will help you de-stress and find some peace before taking on the next day. We believe that this is the perfect way to prepare for a long day ahead on the golf course. No matter if you are just going to play a few rounds for fun or in a competition, this option by Aztec Secret offers amazing benefits.
In conclusion, there is no need to look any further for the perfect mask because we have done all the research and footwork for you. If you like using masks, we highly recommend that you
give this one a shot
. On the other hand, if you've never used masks before, also give this a try - you will be pleasantly surprised with all it has to offer. We guarantee that this all natural product will help you keep your skin healthy and you'll be more than happy to add this to your skincare regime.
Subscribe to our Newsletter