Adidas Trefoil Hoodie
What I like most about Adidas are their timeless designs that seem to never go out of fashion no matter what. And when talking about always popular and trendy sweatshirts, take the Adidas Trefoil Hoodie which has been rocking around since its first debut in 1972 when people got to know the Trefoil hoodie. We can just say the rest is history, but we would deprive you of the interesting facts about this unbeatable in popularity hoodie. 
It is interesting how Adidas has managed to produce some so simple but at the same time never going out of fashion models, and we have to admit that it deserves the throne of ruling the world of sports-to-leisure-time designs. This is the sweatshirt that you are most likely to come across when you hit the gym, it is the hoodie that is claimed favorite by a third of the teenagers around the world, and even their parents can relate to it, and share some good memories about not so recent past events. 
Even if you are a fashion freak who follows the footsteps of your loved celebrity, then I bet you remember seeing them at least once wearing their favorite Adidas hoodie. No, it isn't by chance, they never grab a piece of clothing just like that, there's always a well-thought-of plan regarding the impression they leave once they step outside. So, is Adidas Trefoil hoodie a sweatshirt worn to fit fashion purposes, we say yes! Adidas cooperates with multiple fashion designers to bring about new and more comfortable urban fashion pieces, and strangely enough, this hoodie has never been left out.
Yet, it is a sports sweatshirt, and along with its casual use, athletes of literally every sport love it too.  We all know that you can actively do your training sessions wearing it, but for light warm-up exercises, to get to your sports center, and to make yourself warm before and after a match or training, it just perfect. The same refers to golfers too, as this might not be the choice of a whole round of golf, but to swing a few balls off the driving range, practice your skills or simply start and finish the game during colder days, it can just fit its purpose.
So, for the golf course or a walk to the park, this unisex Adidas hoodie definitely deserves your attention, so we analyzed the way it is made, read the reviews that buyer left, tried it out, so here are all the details.
Pin for later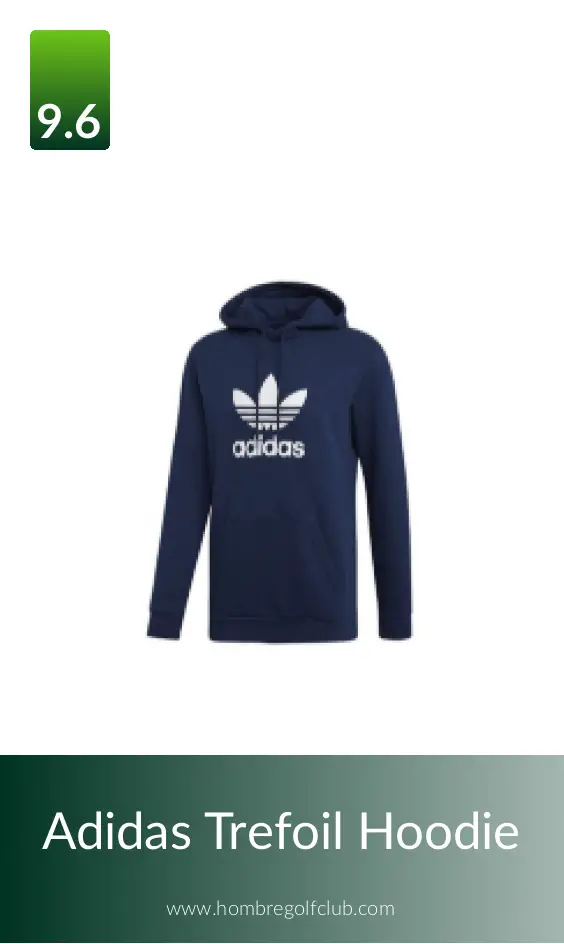 Editor's Pros & Cons
Multiple colors and pattern choices
Made from French Terry material
Timeless design and superior quality
Regular fit which is neither too loose nor too tight
Kangaroo pocket and a hoodie with an adjustable drawcord
Stylish design and versatile use
Golfers might find it distracting
The Origins
Starting as a shoe company, Adidas has made a name for itself when it introduced the football shoes as we know them of today, and it wrote the history when the German team won the World Cup wearing the newly introduced German football shoes. And, once you get a World Cup, then you've got all the attention needed to have your say, something that has been happening for over seventy years now.
But, to have a say, and impact the world around you, you need to be very careful what you are saying and who you are addressing, the two key guiding principles of the Adidas founder. He was very careful about how he approached the athletes' needs, and his method has proven to be the most effective. He was listening to what they were saying and asking for, he was cooperating with them and he developed designs that are very hard to beat.
When in 1972 Germany was hosting the Olympic Games, Adidas thought it had been high time to mark its dominance there, by introducing a completely new range of models, and the new Trefoil logo which was meant to stay, in addition to the well-recognizable three stripes design. The new Trefoil logo symbolized performance and it is then that this hoodie saw the light of the day.
Today it is a symbol of the never-surpassed Adidas quality design and exquisite performance. It marks the well-known
Adidas Originals
collection that has been part of an urban lifestyle and sports fashion.
Looks
It won't be an exaggeration if we say that there hasn't been another model that has been a subject of so many copies and fakes, as this hoodie. But, why are we starting the design description mentioning the fakes though? Because the design is one of the simplest, and yet unique, recognizable and trendy.

Indeed, if you just think better, there's nothing much that defines the Adidas Trefoil hoodie besides the huge trefoil logo on the front and the kangaroo pouch pocket, which back in the seventies was a huge thing. However, it is this simplicity in the design, along with the hoodie which is oversize, that attracted so many people.


Designed for Anyone
The design might be as simple as it is, but the Trefoil logo is attractive, unique, and definitely leaves an impression. It looks as if it screams Adidas style and quality, and nowadays it is even a symbol of being urban fashion-conscious, and following the trends. If you have felt that there is something odd in the fact that a forty-and-something-year-old design is a trendsetter, you are not the only one, however, that's a fact and one can't go against the facts.
One of the things that have given it the status of an always-trendy hoodie is its unisex design which makes a perfect fit for men and women equally. Plus, the design itself is not age-defining, so it can be the favorite sweatshirt for a teenager as much as it can fit a senior.
Plus, it has an extremely wide range of color options to choose from and the latest, updated models feature differently patterned designs that are very fashionable and stylish. Some designs, especially the
women's collection
has been drastically modified in terms of patterns and stylish details so that it is more suitable for going out rather than leisure and doing sports.
Design Features
The way you look in your clothes is mainly determined by the proper fit, the way it is made, and the integrated details. What is striking at first sight is the huge Trefoil logo that always comes in white color, positioned on the frontal chest area, accompanied by the name of the brand just below it. Underneath the only design that is presented on the hoodie, you'll find the large kangaroo pouch pocket that is a through and through the model and which can gather multiple things inside. So, if you are a golfer who is off to the golf course wearing your favorite Adidas Trefoil Hoodie, the pocket will suit you well for having with you the most important golf items such as a few tees and golf balls, and a few more things here and there.

A hoodie is to be worn during colder weather, so for a neater look and greater protection from the elements, the waist bottom and the cuffs are ribbed and tighter. The hood is larger and it has a unique look when you put it on, a look that has been recognized all around since it gives an impression of wearing a large cape or a cloak with a sporty flair. The hood can be adjusted with the included drawcords for a better fit and customized looks.

Since this sweatshirt features a sporty, casual style, it comes in a regular fit which is neither loose nor tight and which can be worn as an outer layer over a polo shirt or as a base layer with a jacket. Regardless of how you wear it, you will never look baggy or improper to the set requirements.
Style
If you've been asking yourself what made the Adidas Trefoil Hoodie thrive for almost half a century on the market, the answer might involve the quality design, the comfort, the choice of materials, but the style plays a role too. Maybe it is all about style since it has never got out of fashion regardless of the trends it has been going through.

If we have to define the style, it is now considered to be an urban, street style for casual occasions. But, I'm sure you remember Rhiana wearing it even for an official ceremony. And this versatility in style makes it so popular among, well, anyone! Plus, you can combine it with any kind of outerwear and mix different styles.
Materials
A review is never complete if materials aren't included in the overall presentation since the materials are generally responsible for the performance of the overall product. The materials used for the production of the Adidas Trefoil Hoodie 100% cotton French terry which integrates 30% performance polyester for the outer part. Adidas is using the finest cotton and it is partnering with the Better Cotton Initiative to improve the conditions of cotton farming globally and increasing the quality of cotton production.

So, used in the blend of the so-called French terry, you get a knitted fabric with loops and soft piles of yarn on the inner side, and a very smooth surface on the front side. What you get as a result is a very lightweight, absorbent and moisture-wicking material that makes you feel extra comfortable and warm, but without making you sweat. It doesn't behave like the ordinary cotton since it dries much faster and it has the ability to wick the moisture to the outer surface. This is why it is so pleasant to wear in different conditions.
Maintenance
Taking care of this hoodie is easy too. It is machine washable at a warm temperature with a medium tumble dry cycle. You can expect just a minimum shrinkage which is often unnoticeable. Cotton easily gets wrinkled, so you need ironing too, but it is material that is easily straightened too. We need to warn you that in case you wash it at an extremely high temperature, then it is likely to shrink a while and even have the logo peeled off.


Key Features
From what we have said so far, it turns out that the Adidas Trefoil Hoodie is indeed a sweatshirt that is a must-have for anyone who appreciates urban street style in combination with sports appeal. It is stylish, it combines with any other piece of garment, and it has one of the most versatile uses. It can be worn as an outerwear or under a jacket. It comes in many different colors and patterns.
Key Features


Multiple colors and pattern choices


Made from French Terry material


Timeless design and superior quality


Regular fit which is neither too loose nor too tight


Kangaroo pocket and a hoodie with an adjustable drawcord


Stylish design and versatile use


Bottom Line
Adidas Original, the symbol of performance, reminds us that when something is made with lots of love, dedication and ultimate desire to get closer to people who understand quality, style, and performance, it is meant to stay. For almost half a century the Trefoil design has been the proud proud representative of the Originals lineup and this hoodie has managed to outlive everything it has been competing with. There's almost no athlete that hasn't got one in their closet, and the same refers to modern golfers too. This is a hoodie that doesn't have any limitations to where, how and what with you are going to wear, the number one reason why it is one of the most popular hoodies on the market.
Subscribe to our Newsletter